The fourth Confession in Darkest Dungeon 2, Ambition, pits players who reach the Mountain against the Ravenous Reach. This grasping monstrosity is arguably the game's most straightforward end boss, but that doesn't mean it will be an easy fight!
Related: Darkest Dungeon 2: How To Beat Focused Fault
Ravenous Reach can deal a lot of damage quickly, but telegraphs its attacks to give you time to prepare. With the right Skills in place to counter the boss's offense, you can turn the tables and clear the path to the game's final Confession. Read on to find out how you can defeat Ravenous Reach!
Phase One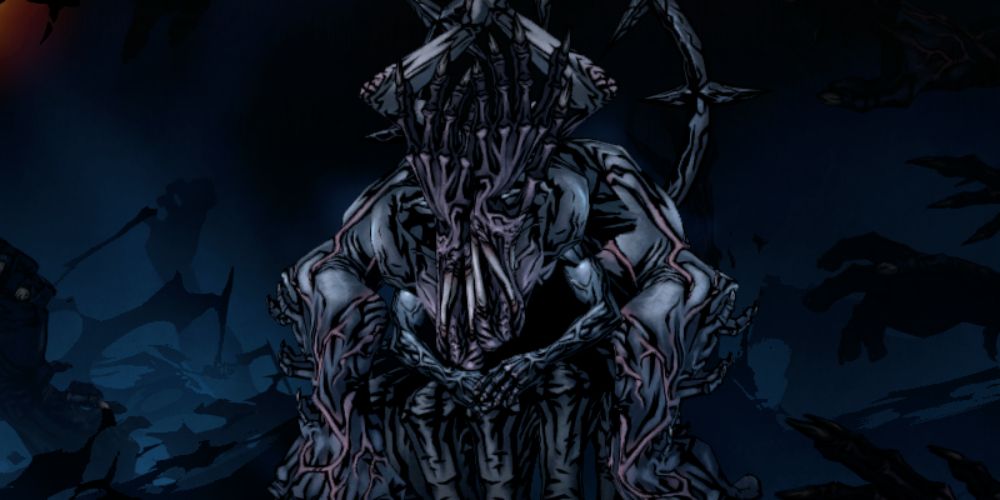 Ravenous Reach has three forms, each slightly more powerful than the last. The first form has 65 HP and a no-nonsense attack pattern; it uses Setback on the frontmost Hero, dealing them a solid blow and knocking them to the rear of your formation. Its last action in each round is usually Ideation, which inflicts Stress on a Hero and loads up the boss with Block+ tokens.
Set up Block tokens of your own to reduce the amount of damage that you take from Setback. The main obstacle in this phase are the Block+ tokens, which reduce the damage that the boss takes from attacks by three quarters. Try using Skills like the Highwayman's Highway Robbery or the Leper's Break to remove the tokens all at once, clearing the way for full damage on subesquent attacks.
Attacks that apply Vulnerability tokens can also be used to negate Block tokens
Blight, Burn, and Bleed damage aren't affected by Block, so another strategy is to load up the boss with these effects and let its HP drain away over time. Once the Ravenous Reach's HP hits zero, it will regenerate and enter its second phase.
Phase Two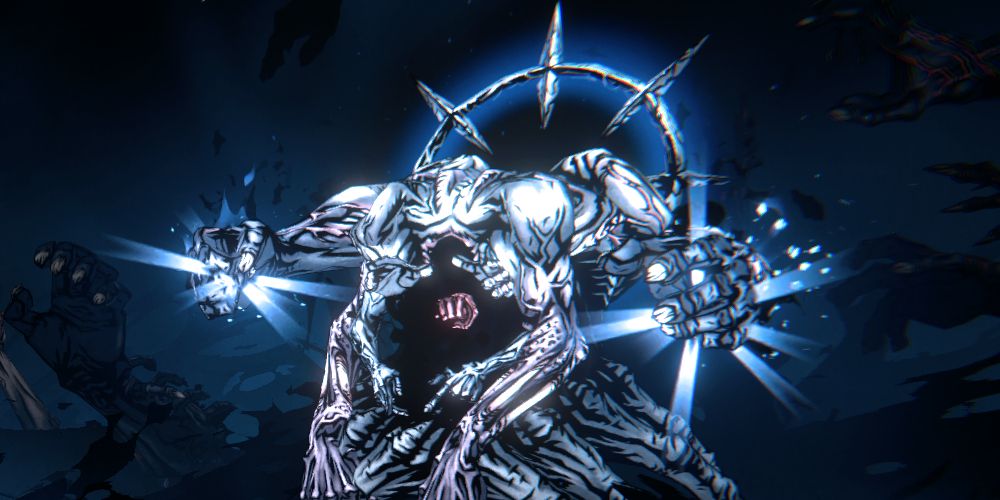 The second form of Ravenous Reach deals less damage overall, but attacks more aggressively and inflicts Bleed on Heroes. Its own Resistances are quite strong, so you may have trouble reciprocating with your own damage-over-time effects. It's not impossible, though, so don't give up on solid attacks like Incision or Punish just because their effects might not stick!
The Ravenous Reach starts the second phase by marking two Heroes with Precise Intent. These Heroes will soon be targeted with Teardown, dealing a small amount of damage while causing them to Bleed. Be ready with Bandages or Skills that can stop the Bleeding, such as the Runaway's Cauterize, Vestal's Ministrations, or Plague Doctor's Battlefield Medicine. It's also a good idea to boost Heroes' Bleed Resistance at the start of the phase with Ounce of Prevention or Clotting Powders.
You can't divert Teardown via Taunt because of the mark from Precise Intent, but the attack can still miss due to Blind or Dodge. Use a combination of these effects to keep your Heroes safe.
As long as you can keep the Bleed damage from getting out of hand, the second phase of the fight is fairly easy. Use this to your advantage, recovering HP and Stress as best you can before removing the last of the boss's 75 HP and triggering the final transformation.
Related: Darkest Dungeon 2: How To Beat The Exemplar
Phase Three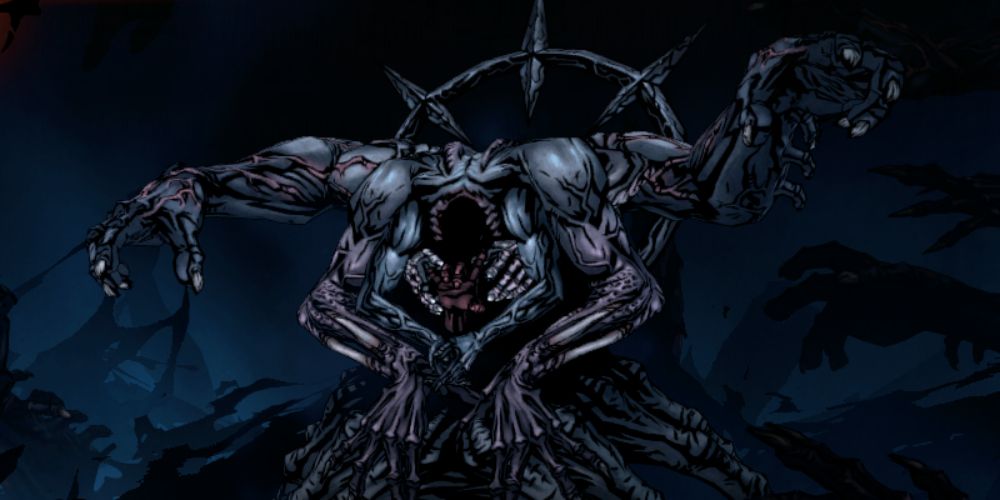 When it reaches its third and final form, the Ravenous Reach stops holding back. Topped up with a fresh 100 HP, it starts by casting Rumination, inflicting both Horror and Bleed on multiple Heroes. Keep an eye on your Heroes' Stress levels, as a sudden Meltdown can reduce their HP and make them extremely vulnerable to attacks.
After setting up your team with Rumination, the Ravenous Reach unleashes its ultimate attack, Last Grasp. This attack hits your entire team – usually for around 20 to 25 damage apiece – and recovers some of the boss's HP. As long as you're keeping up with damage, you can easily outpace the boss's healing factor, but if the fight starts to get away from you the Reach's recovery can be a problem.
Last Grasp also gives the Ravenous Reach Riposte tokens, making every attack a risk considering all the damage that you'll be taking. Clear the Riposte tokens with the aforementioned Highway Robbery or the Man-At-Arms' Bellow, or use Blind and Dodge to evade the boss's retaliatory attacks.
The boss's third form also brings its Blight, Bleed, and Burn Resistances back down to reasonable levels, so you can more reliably inflict them on it.
Ultimately, this fight is about managing the Ravenous Reach's buffs. As long as you can get around its defenses, the Ravenous Reach doesn't pose much threat to a well-equipped party. Best of all, this boss has no Deathblow Resistance, meaning that it is guaranteed to die when its final form reaches zero HP. If both the boss and your surviving Heroes are almost dead, go for broke and finish the job – you can't lose this fight to lucky Deathblow rolls on the part of your enemy, a rare luxury in Darkest Dungeon!
Next: Darkest Dungeon 2: Complete Plague Doctor Class Guide