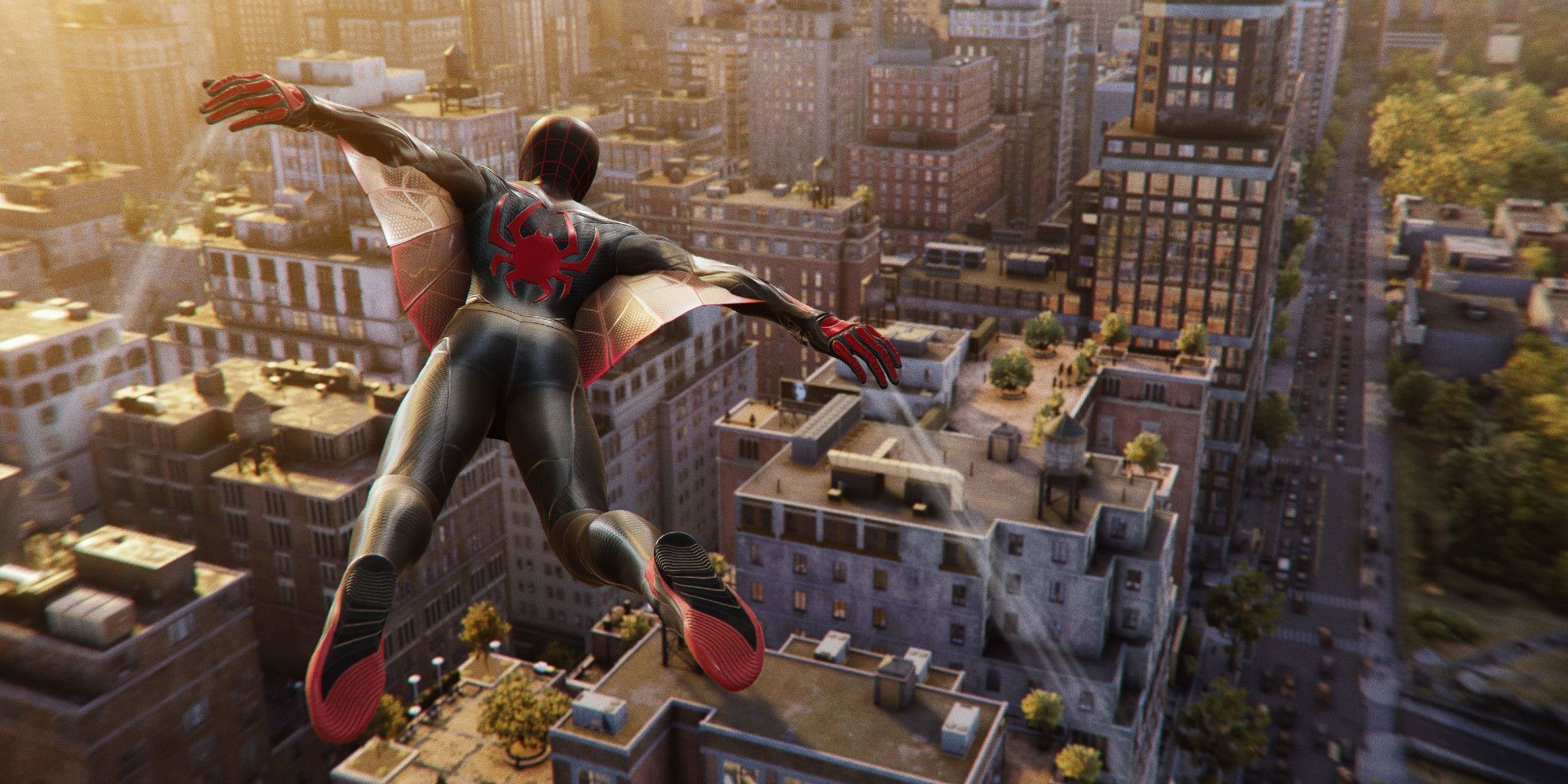 Last month's PlayStation Showcase gave us a much-needed extended look at Marvel's Spider-Man 2, including Peter Parker's new symbiote suit, Kraven and Lizard, and a bunch of new traversal mechanics. However, there was a lot that the trailer didn't quite tell us, including how big the open world is going to be this time around. We were told afterwards that the borough of Queens will be explorable, but we've now been told that Spider-Man 2's map will be "double the size" of the original.
According to an article from The Washington Post detailing everything we can expect from Spider-Man 2, creative director Bryan Intihar reveals the game will not only include Queens, but it will also let players swing and glide around Brooklyn and some other boroughs, as well as the Manhatten area that featured in the first game. That's a whole lot of ground to cover, but Intihar explains that the smaller, less built-up areas of New York will be perfect for Peter and Miles to show off their wing suit abilities.
Related: Spider-Man 2 Needs Web Of Shadows' Symbiote Morality System
While the larger map was fairly expected from a sequel looking to build on the good things that the previous two games did, this news should at the very least shut up all of those angry that a Spider-Man game is taking place in new York again. Yes, you read that correctly, as a few days after the new trailer for the game aired, a very vocal minority were irritated about spotting locations included in the first game, claiming Spider-Man 2 is the "same game" as the first. Nobody tell them that most Spider-Man media is set in New York, or they might pop a blood vessel.
Another rather interesting bombshell this article dropped was the fact that Insomniac apparently never had plans to make Spider-Man 2 co-op. Before Insomniac itrself shut down the theory last month, rumors floated around regarding co-operative play due to both Peter Parker and Miles Morales being playable. Instead, we now know that Spider-Man 2 is strictly single-player, and that the game will let you instantly switch between the two characters outside of main missions.
Unfortunately, the article didn't include a release date, something which we're still waiting for Insomniac to reveal. Spider-Man 2 is still set to launch at some point in Fall though, so it shouldn't be too long before we get an official date to jot down in our calendars.
Next: Go To Steam Right Now And Buy A Game