Pokemon Unite has added their fourth "Eeveelution" to their roster of playable Pokemon, different Pokemon that evolves from Eevee. With their latest update, you can now play as Umbreon, coming to the game as a Melee Defender.
Related: Pokemon Unite: Wild Pokemon Rotations Guide
This Dark-type Pokemon possesses a handful of unique attacks and abilities, proving extremely effective when used properly during a Unite match. This guide will help you master these attacks and abilities, making you an unstoppable force within Pokemon Unite.
When To Pick Umbreon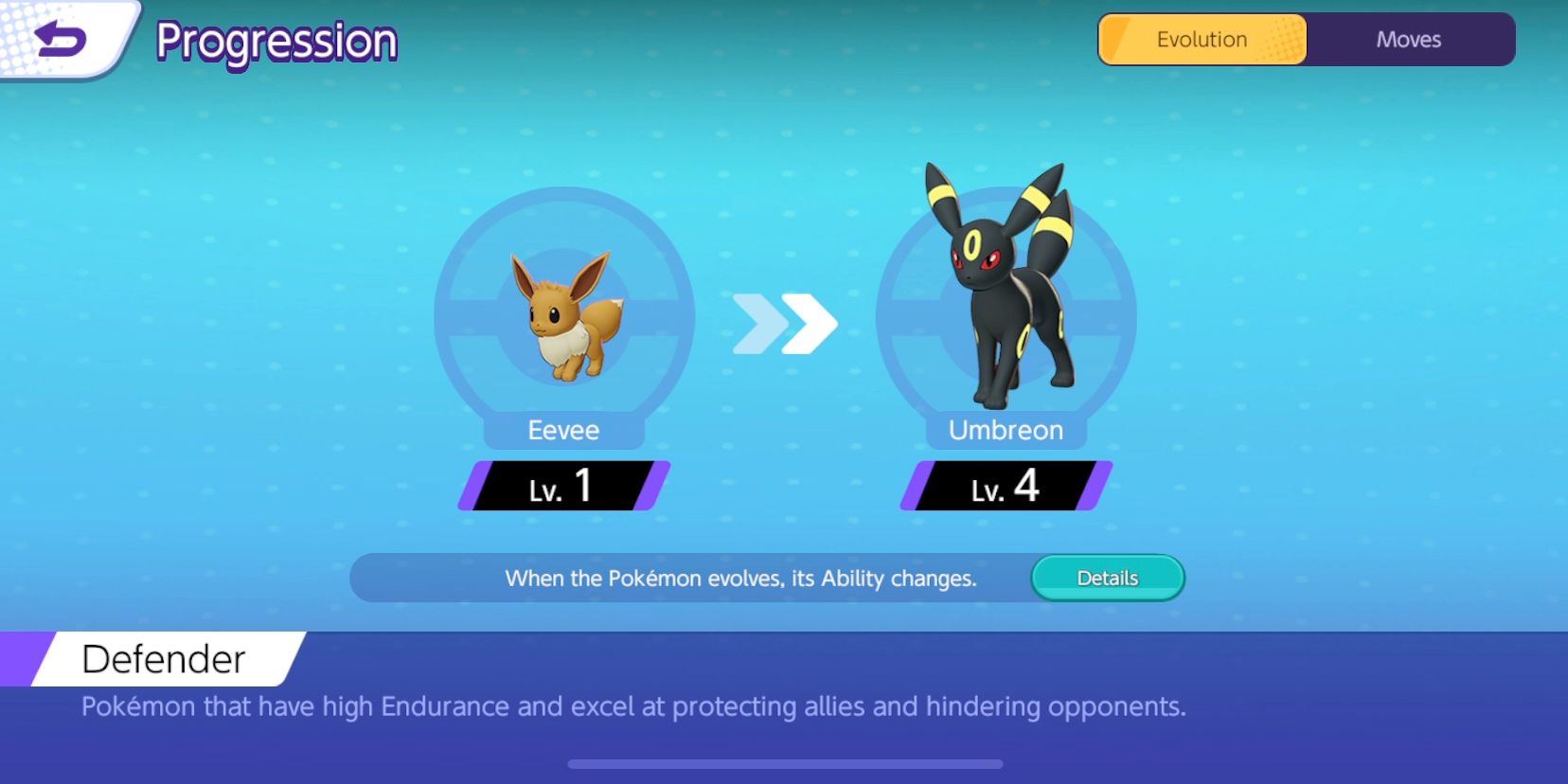 Although Umbreon is a Defender, this Pokemon proves to be extremely versatile on the battlefield. That being said, it's best to play as Umbreon when you're looking to get close to the enemy team, attacking them with moves that can both deal damage and hinder them.
Umbreon possesses several tools that help its overall survivability, allowing you to outlast the competition. This comes in the form of a boosted Basic Attack that restores HP and a passive ability that prevents Umbreon from being stunned or hindered.
Umbreon's passive ability also increases its Defense and Special Defense for a brief time after activation.
With moves that can be used to support allies and hinder enemies, it's best to play as Umbreon in either the top or bottom lanes. This will place you in the vicinity of teammates at all times, allowing you to truly take advantage of all your moves and abilities.
Overall, playing as Umbreon provides you with a relatively flexible defending experience, allowing you to either focus on supporting your allies or hindering the opposition.
Umbreon: Mean Look Build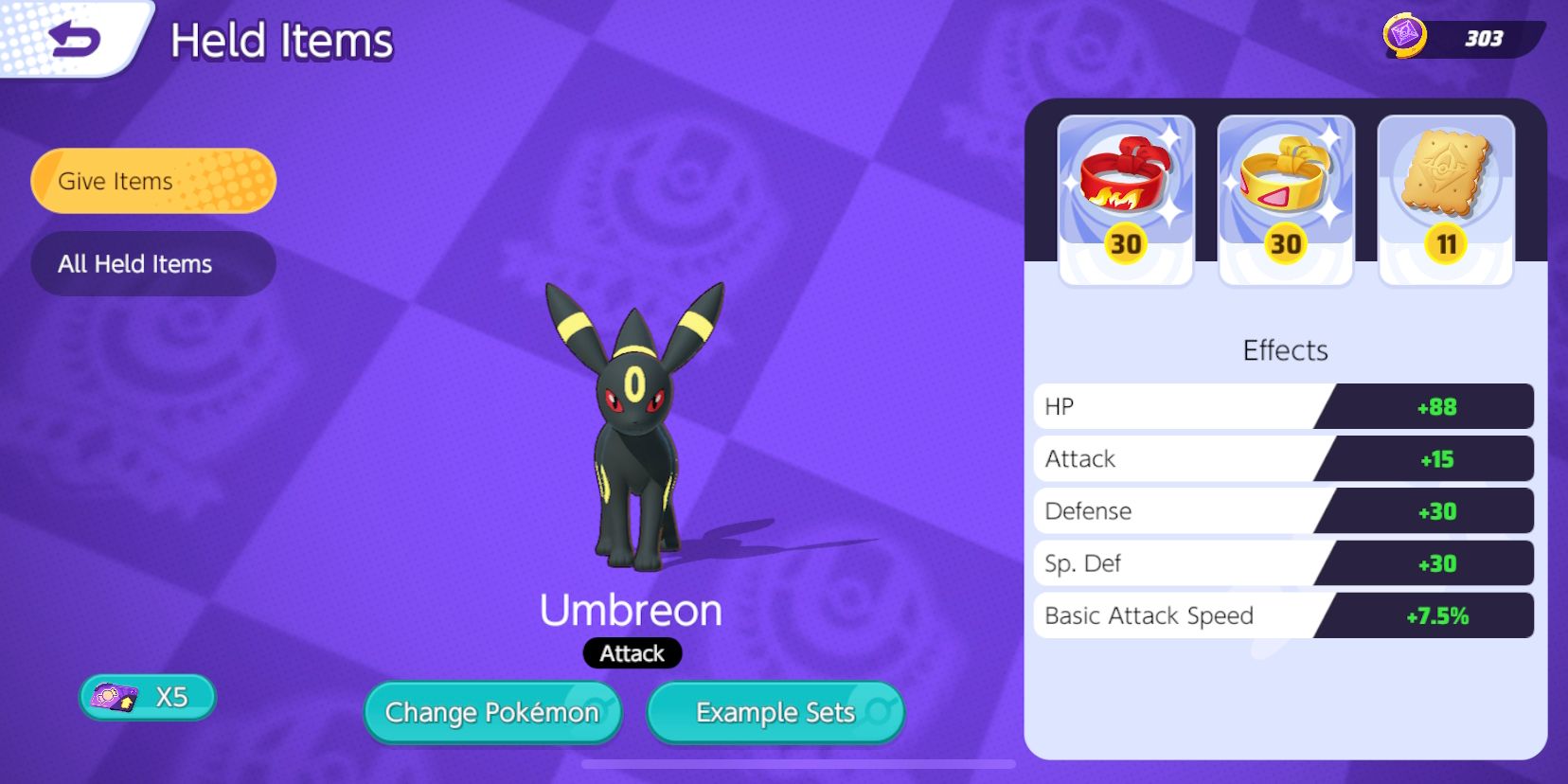 This build focuses on Umbreon's ability to heal allies and itself; while also having the potential to deal significant damage to the opposition.
Move Selection
For this build, you'll want to start by choosing the move Mean Look, used to trap an enemy in a circular area for a short duration. On top of this, all of Umbreon's Basic Attacks become boosted when used within this area, dealing more damage than they typically do.
Pair this with the move Wish, a move that can be used on yourself or allies, reducing incoming damage for a set amount of time. Following this period of increased defense, the Pokemon that Wish was used on will regenerate a portion of their HP.
With Umbreon gaining HP each time they use a Boosted Basic Attack, target enemies that you used Mean Look on. This will essentially make you unstoppable while also dealing massive damage to the targeted opponent.
If needed, use Wish on yourself to increase your sustainability; otherwise use it on allies to support them and keep them alive.
Held Items
With Umbreon's Boosted Basic Attacks being such a large part of its kit, Muscle Band is a must when it comes to Held Items. For this specific build, pair this with Held Items like the Focus Band and the Aeos Cookie.
The combination of these three Held Items will massively increase Umbreon's already superb sustainability, further making you impossible to be knocked out.
Battle Item
There isn't a specific Battle Item that's a must with this build, although there are a few options that prove to be effective. This includes Held Items like X-Speed and Eject Button, both adding to Umbreon's mobility, something that it generally lacks.
Related: Pokemon Unite Build Guide: Chandelure
Umbreon: Foul Play Build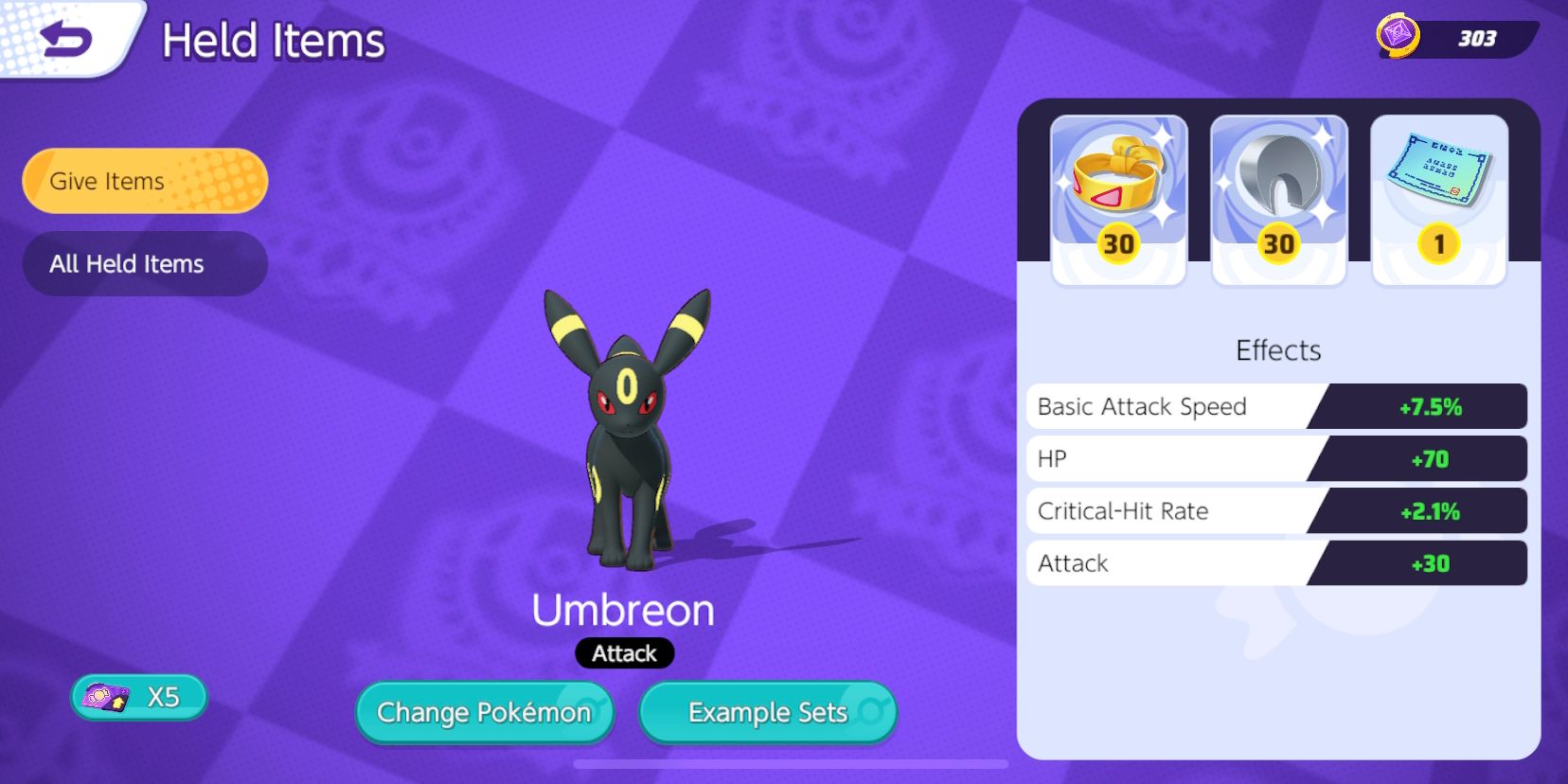 This build focuses more on Umbreon's ability to stun and deal damage to different opponents, utilizing its offensive abilities on the battlefield.
Move Selection
Start by opting for the move Foul Play, a melee attack that deals damage and slows enemies that it hits. If an enemy is hit by this move, Umbreon gets a second attack, shoving the enemy while also dealing more damage and slowing them further.
Pair this with Snarl, an attack that constantly deals damage in a small circular area around Umbreon. In addition to dealing damage, enemies hit by this attack will have their Attack, Special Attack, and movement stats.
Using Snarl will also grant Umbreon a shield for a short duration.
At the end of this move, Umbreon will release a final shout, briefly stunning those who are hit by it. Additionally, those hit by this final shout will have their Attack and Special Attack reduced further.
To make the most of this build, you'll want to make sure you're constantly damaging and hindering the opposition.
This will give you and your allies several opportunities to knock out vulnerable enemies.
Held Items
Again, it's best if you're using the Muscle Band Held Item, as it pairs perfectly with Umbreon. For this build, it's recommended that you're using Held Items like Razor Claw and Weakness Policy.
Both of these items add to Umbreon's offensive abilities, allowing you to not only hinder the opponent but also deal significant damage.
Battle Item
Even with this build, it's best if you are using either the Eject Button or X-Speed Battle Items. These will help make up for Umbreon's lack of mobility moves or abilities.
Umbreon: Stats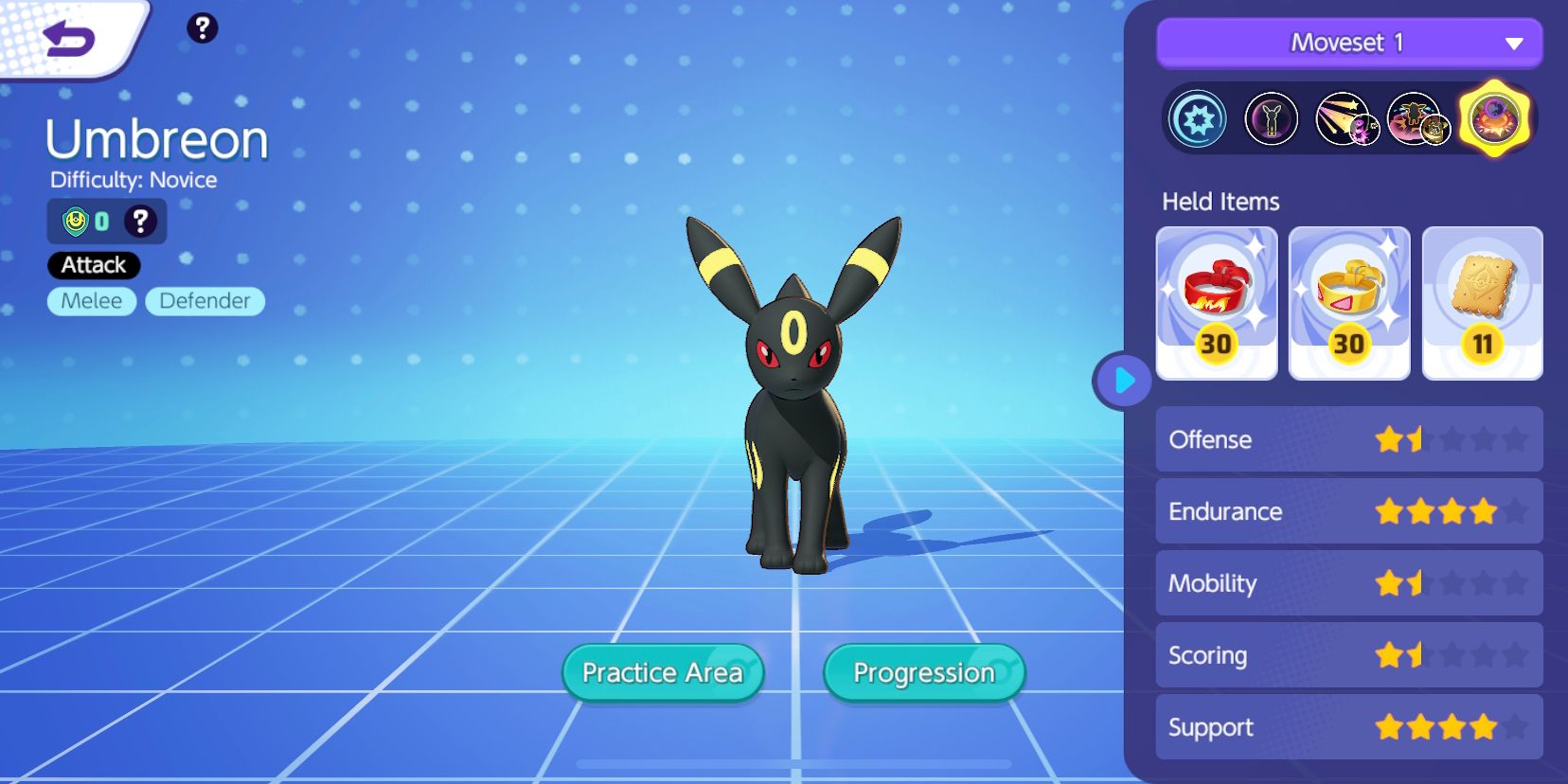 | Level | HP | Attack | Defense | Sp. Attack | Sp. Defense | Speed |
| --- | --- | --- | --- | --- | --- | --- |
| Level 1 | 3,300 | 170 | 95 | 20 | 70 | 3,700 |
| Level 2 | 3,439 | 174 | 104 | 22 | 77 | 3,700 |
| Level 3 | 3,598 | 179 | 114 | 24 | 85 | 3,700 |
| Level 4 | 4,407 | 202 | 166 | 36 | 128 | 3,700 |
| Level 5 | 4,618 | 208 | 180 | 39 | 139 | 3,850 |
| Level 6 | 4,861 | 215 | 196 | 43 | 152 | 3,850 |
| Level 7 | 5,140 | 223 | 214 | 47 | 167 | 4,000 |
| Level 8 | 5,461 | 232 | 235 | 52 | 184 | 4,000 |
| Level 9 | 5,830 | 243 | 259 | 58 | 204 | 4,150 |
| Level 10 | 6,255 | 255 | 287 | 64 | 226 | 4,150 |
| Level 11 | 6,744 | 269 | 319 | 71 | 252 | 4,300 |
| Level 12 | 7,306 | 285 | 355 | 80 | 282 | 4,300 |
| Level 13 | 7,953 | 304 | 397 | 90 | 316 | 4,300 |
| Level 14 | 8,696 | 325 | 445 | 101 | 355 | 4,300 |
| Level 15 | 9,550 | 350 | 500 | 114 | 400 | 4,300 |
Next: Pokemon Unite Build Guide: Glaceon