In the Sword & Shield era, changes tended to come swiftly to the meta in the Pokemon TCG. Now, as Scarlet & Violet commences, a dramatic rotation in permissible official-play cards has shaken things up all the more so. New powerhouses replace old ones. Stall tactics that worked three months ago are eviscerated.
Related:Pokemon TCG – The Most Nostalgic Cards From The Base Set
But it's not all evolutionary. There are a handful of stalwarts — Boss' Orders isn't going away anytime soon, even as we wish a fond farewell to things like the Inteleon Engine. And a well-calibrated spin on the original Mew VMAX keeps decimating rival decks all over the world.
Updated on December 27, 2022 by Quinton O'Connor: With the Scarlet & Violet era of the Pokemon Trading Card Game not far off now, and a belated rotation pending in early 2023, it's difficult to say whether we'll have future cause to return to this article. But we've done so today, clarifying a few techniques and including a sample deck list. There's no telling how much longer this will hold true, but for now, Mew VMAX remains an absolute behemoth on the battlefield.
Changes For Scarlet & Violet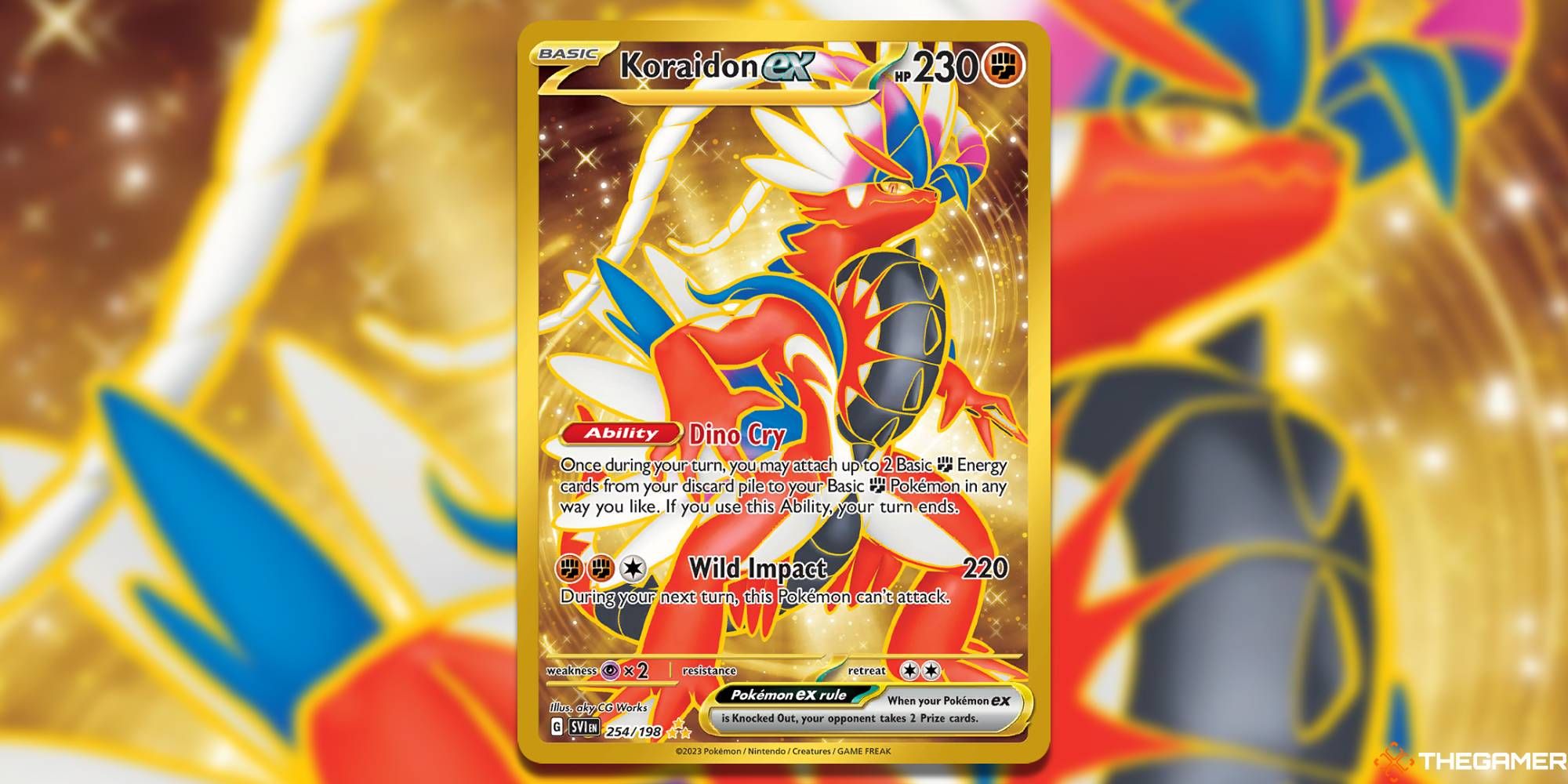 Now that a solid chunk of cards from the Sword & Shield era have exited via the latest rotation, several of the more prominent decks in the recent meta have been hurt in predictably harsh ways, leading creative fans to find bold new ways to maintain their relevance. We're seeing this – and the nifty end results – all over the landscape.
That said, Mew VMAX doesn't really suffer as much as most, so the number of card shifts is relatively slim. This is thanks in large part to the newness of the key cards; so many stem from the more recent half of the Pokemon TCG's trip to Galar. As you'll learn below, stuff like Battle VIP Pass and Power Tablet are great examples of powerful holdovers.
Still, the changes can be felt. We've even taken this opportunity to adjust our original deck list to suit strategies that had arisen toward the end of the prior rotation; and of course, we've needed to nix certain concepts altogether. Quick Balls are replaced with a mixture of alternatives, for example. They mostly get the job done.
In fact, the changes reflected at the end of our guide don't have much to do with the first batch of Scarlet & Violet cards available as of this update. In time, that may change. But rather, top players have been replacing earlier Galarian cards for latter ones. Case in point: Switch Cart, Forest Seal Stone, Cyllene. Sure, Judge has already returned, but it hasn't gone anywhere yet in Sword & Shield, either.
What Makes Mew VMAX So Special?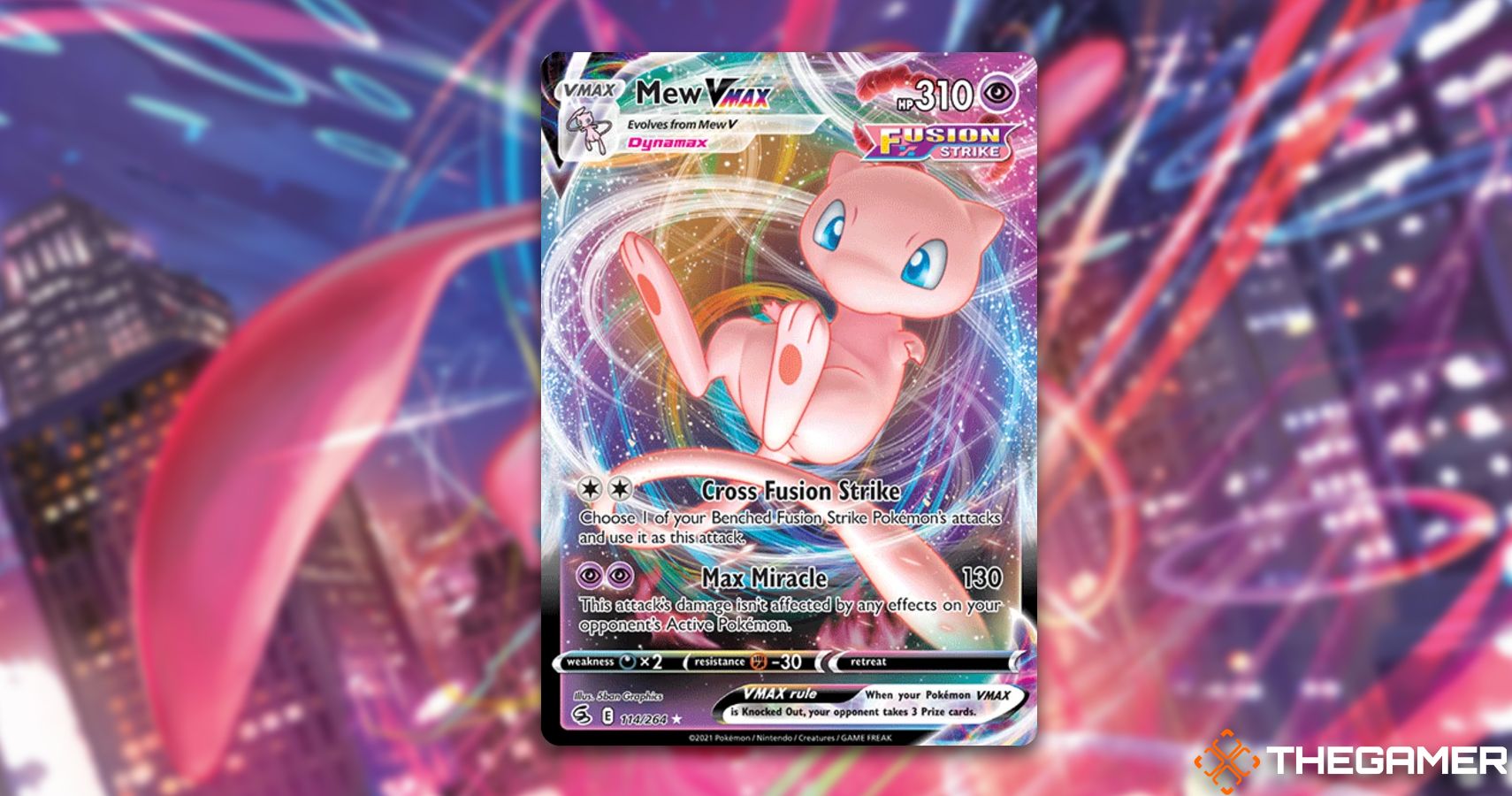 Is it all about Cross Fusion Strike? Two Colorless Energy is all it takes to mimic one of your benched Fusion Strike Pokemon's moves against your opponent. No. Strings. Attached. This kind of attack defines a generation. It's not unlike Clefairy's Metronome, except, you know, a hundred times better.
Of course, it revolves around using a Fusion Strike deck. But that's not such a bad thing when Fusion Strike decks rock. Here's the most common approach: get a Mew VMAX on the field. Keep Genesect V on the bench. Tap into Genesect V's Techno Blast attack. This dishes out a very solid 210 damage, with a couple of disclaimers.
First, it costs two Steel Energy plus one Colorless. Hardly the most daunting deal, but it requires you to have a steady supply of Steel Energy, which you won't need for the Mew VMAX deck. The second problem is the important one. On its next turn, Genesect V cannot attack.
A two-Energy retreat cost will eat you up swiftly if Genesect V is your primary fielder, but Mew VMAX has zero retreat cost, meaning it can switch out every turn, keep its two Colorless Energy, and get replaced with (ideally) another Mew VMAX. Rinse and repeat. With 310 HP, Mew is surprisingly bulky, too — just watch out for Dark-types.
Don't disregard Mew VMAX's other move. It won't be the all-star, but it makes for stellar backup. Max Miracle hits your opponent's active Pokemon for 130 at the modest cost of two Psychic Energy. 130 from a VMAX doesn't sound earth-shaking on its own, and in truth, it sort of isn't.
But Max Miracle's got an ace up its sleeve. It breaks through any barrier, so your foe cannot rely on any form of special effects in the game to stop it. If their own deck is built around blocking, they'll probably be in trouble. Remember Zamazenta V's Dauntless Shield? Not so dauntless anymore, pupper.
Related:Pokemon TCG: The Best Expansions, Ranked
How to Build A Great Mew VMAX Deck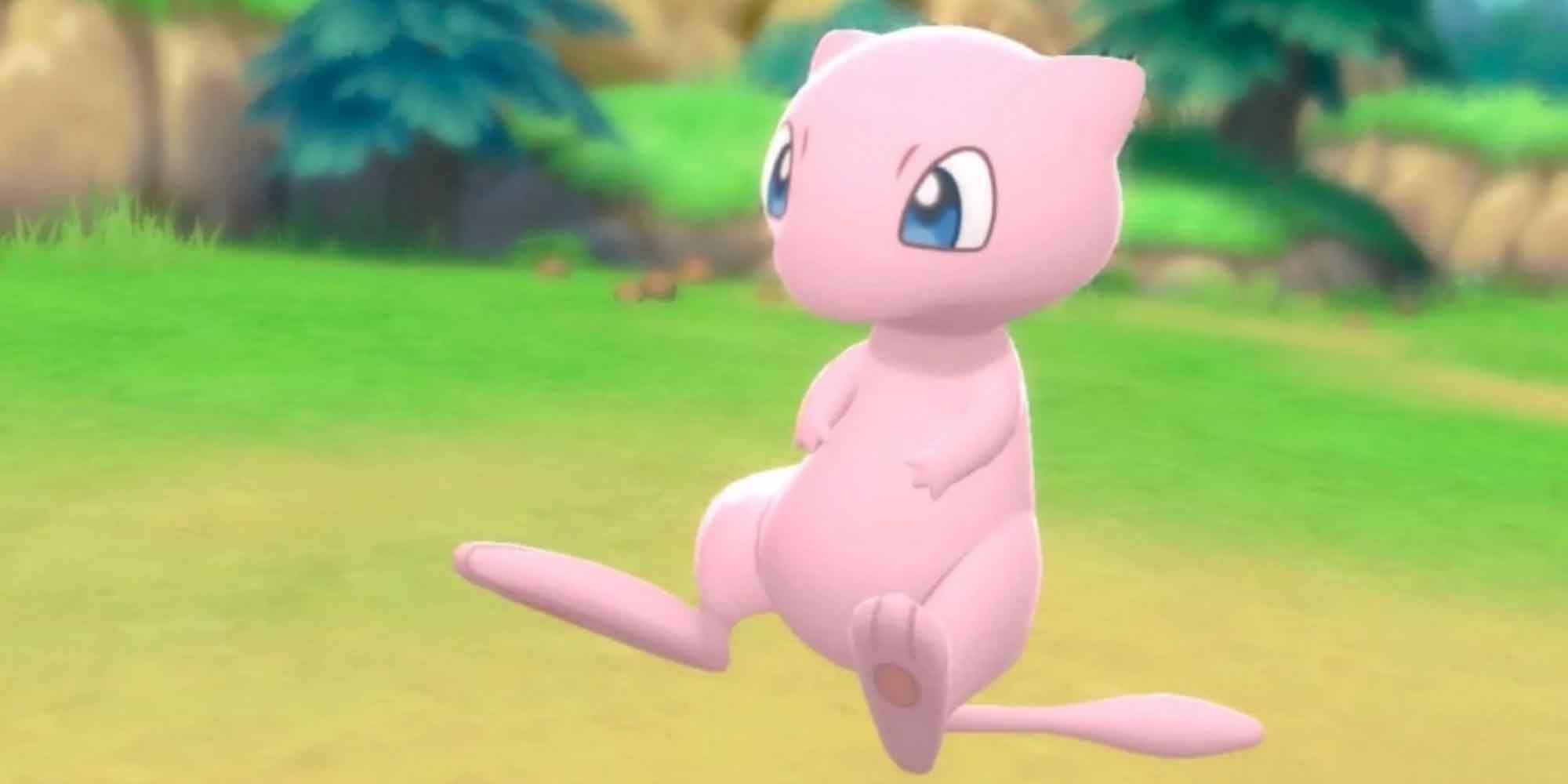 Look at that cutie. Surely, it can't terrorize the human race. Surely, he's worth a Mew VMAX deck list.
Fuse It Or Lose It
Since this is a Fusion Strike deck, you should avoid including any Pokemon outside the Fusion Strike system. Maybe it goes without saying; maybe it doesn't. But the synergy that these cards can achieve can't be overstated. You wouldn't toss a Squirtle into an all-Fire deck. Presumably.
Take Mew V, for example. You'll want four of these since they're the ladder to your two Mew VMAX. (The 4:3 ratio is quite common in the meta, though 4:2 works better sometimes.) One of the nice things about the Mew VMAX deck is that your Mew Vs aren't just ladders, though.
For one Psychic Energy, Mew V can search your deck for any Energy and attach it to a Fusion Strike Pokemon, bulking up your forces early on or even near the end if you've struck a bizarre stalemate in the match.
Mew V's Psychic Leap deals 70 damage for that one Psychic Energy and leapfrogs the card back into your deck. "Why would I want to toss my Mew V back into the deck instead of evolving it into VMAX?" You wouldn't!
What you might do instead is push a Mew V onto your bench and have an active Mew VMAX use Psychic Leap once it's on its last leg, prohibiting your rival trainer from scoring three Prize Cards. If you have another VMAX lined up, do remain sporting, but feel free to let out a chuckle.
How To Use The Updated Deck
Nothing lasts forever, and as we've already harped on about, the Mew VMAX deck has needed some fine-tuning, not to mention the hard requirement of tossing out rotated cards entirely. (Unless you're playing outside official rules, in which case, hey, have a blast.)
We've given you the archetypal winning formula in terms of Pokemon, and that hasn't changed with rotation, but what about Trainer cards? In truth, the world is your Cloyster on this one. The more you switch things up, the better you may catch enemy teams off-guard. Freely experiment with newer cards. Don't forget, this deck started out heavy on Trainer cards, and new changes have only made it heavier.
That said, there are some staples you won't want to do without. Boss' Orders, for one. Power Tablet boosts the damage from a Fusion Strike Pokemon by 30 for one turn. Here's the neat bit: you can use all four of them in your deck at once if you'd like. Are things inching closer to a loss than you'd like? Maybe dropping these to boost Mew VMAX will be the decisive blow.
Sample Decklist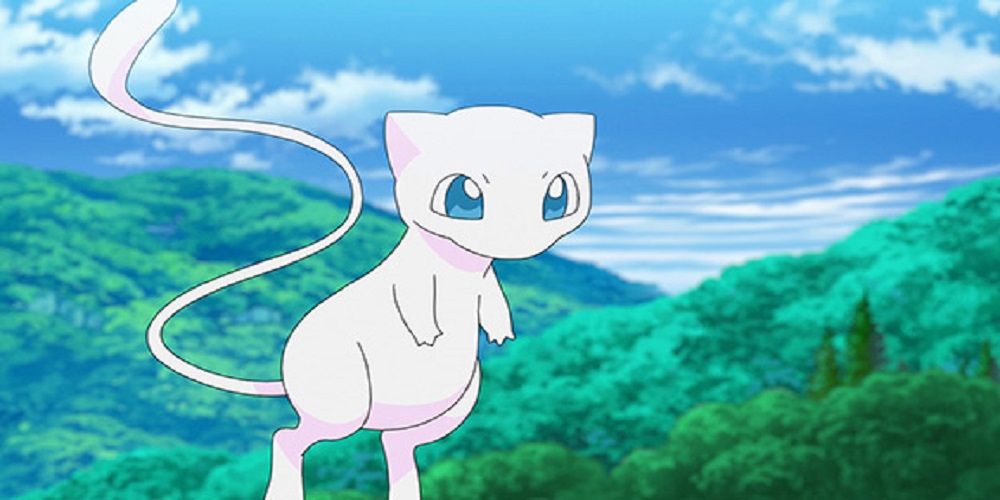 Let's share a sample Mew VMAX build, so you can see it all come together. As always, remember that you're free to adjust to your heart's content. Some cards are essential; others can be gently maneuvered or outright altered. The most important cards (apart from the Mews, because duh!) are the Genesects, the Fusion Strike supporters, and the aforementioned importance of Boss's Orders and Power Tablet.
Battle VIP Pass and Forest Seal Stone are newer adds that are arguably just as important. Fusion Strike Energy is an obvious must, and the three Double Turbo Energy do a fine job covering further bases, giving this an impressively lean seven-Energy build. Just remember, the point behind that leanness is to load up on Trainers, not Pokemon. It only takes ten critters to make this click.
2x Mew VMAX
4x Mew V
4x Genesect V
1x Meloetta (Fusion Strike)
1x Oricorio (Fusion Strike)
4x Fusion Strike Energy
3x Double Turbo Energy
4x Battle VIP Pass
4x Power Tablet
4x Ultra Ball
4x Cram-o-matic
3x Boss's Orders
2x Trekking Shoes
2x Choice Belt
2x Forest Seal Stone
2x Escape Rope
2x Elesa's Sparkle
2x Nest Ball
1x Feather Ball
1x Heavy Ball
1x Echoing Horn
1x Lost Vacuum
1x Lost City
1x Collapsed Stadium
1x Path to the Peak
1x Switch Cart
1x Judge
1x Cyllene
Cram-o-matic Panic
The four Cram-o-matic adds are fresh for most players here. It'll lower your hand size, and a simple heads-flip gets you precisely the draws you'll need, snagging other Trainer cards (or Energy) in an instant.
Switch Cart Deluxe
What's better than an easy Switch? An easy Switch that heals for 30 damage. This is a simple explanation, but then, it's a simple concept!
How will the Mew VMAX change further on? It won't be too long, of course, before it has to be broken down and discarded entirely. But the core aims, the way it functions, those could be brought forward into similar cards. It's a great approach, and as our deck list has morphed over time, clearly it's also a malleable one.
Next:Pokemon TCG: Palkia VSTAR Deck Guide