My wife and I have a Christmas tradition – every year when we put up the tree, we watch The Muppet Christmas Carol. It's the perfect length, charmingly relaxing, and never gets old. That's also the intent behind Funko Games' latest release, The Muppet Christmas Carol Season of Giving, and it just about manages to pull it off.
The game itself is very simple – you have three cards, and they have to match. The cards are a variety of colours, and have the different characters on them – from the obvious ones like Kermit and Robin as Bob Cratchit & Tiny Tim to the more minor parts like Bean Bunny as the Christmas Caroler. You have three cards in front of you at all times, and by drawing new ones, need all three to either be the same colour, or the same character, with wild cards (all colours and characters) thrown in for good measure.
The table set up for play, and the special cards
It's simple, but there are attempts to add a little bit of complexity and strategy to the game. Two of your cards are face up, the middle one face down, so as opponents discard their cards, they don't know if you'll benefit. You also make four decks, one for Scrooge and the others for the Ghosts, each unlocked as you go. With Scrooge in play, you can only draw a card from the deck, but other Ghosts let you draw from the discard pile (Past), swap two cards on the table (Present), or even reveal that face down card (Yet to Come).
That last one is especially thematic (for flavour, is done by wordlessly pointing in that player's direction), but not that useful in a smaller group. It does tie in a little bit to the game's name, however. When you get a set of three, you claim a present from the pile, with a number on for your score. However, if you gift a card to someone else so they make a set, you get to draw two presents – one for them, and one for yourself.
Related: The Best Card Games In 2023
This adds a nice layer to play as you're looking at other cards too, but it feels incomplete with one of the cards covered. Then again, the other strategies are much thinner if you can see all cards, so I guess that balance is worth it. It's not the sort of game you want a million metas for with hours of play anyway, it's a short and easy game that relies on luck and strategy in equal measure, all while capturing the warm and cosy feeling of Christmas.
The cards covered, then uncovered as a winning hand is drawn
It lists itself as for two to four players, but with one big deck rather than splitting into four you could house up to six and still have a good time. With two, the 'giving' element is reduced as there's less room for politicking the table, but you get to gather a lot more presents. With four (or breaking the rules for more), each win counts for a lot, so gifts are easier when you know you benefit yourself. What type of player you are will matter too, but this is a good interpretation of the movie's message inside a gentle matching game.
We play a lot of board games together, and while I usually prefer a more complicated, longer adventure, sometimes you need something simple to grease the wheels, and The Muppet Christmas Carol Season of Giving is the perfect game for that. It's given us a new Christmas tradition, and I'm sure we'll be playing it throughout the year too.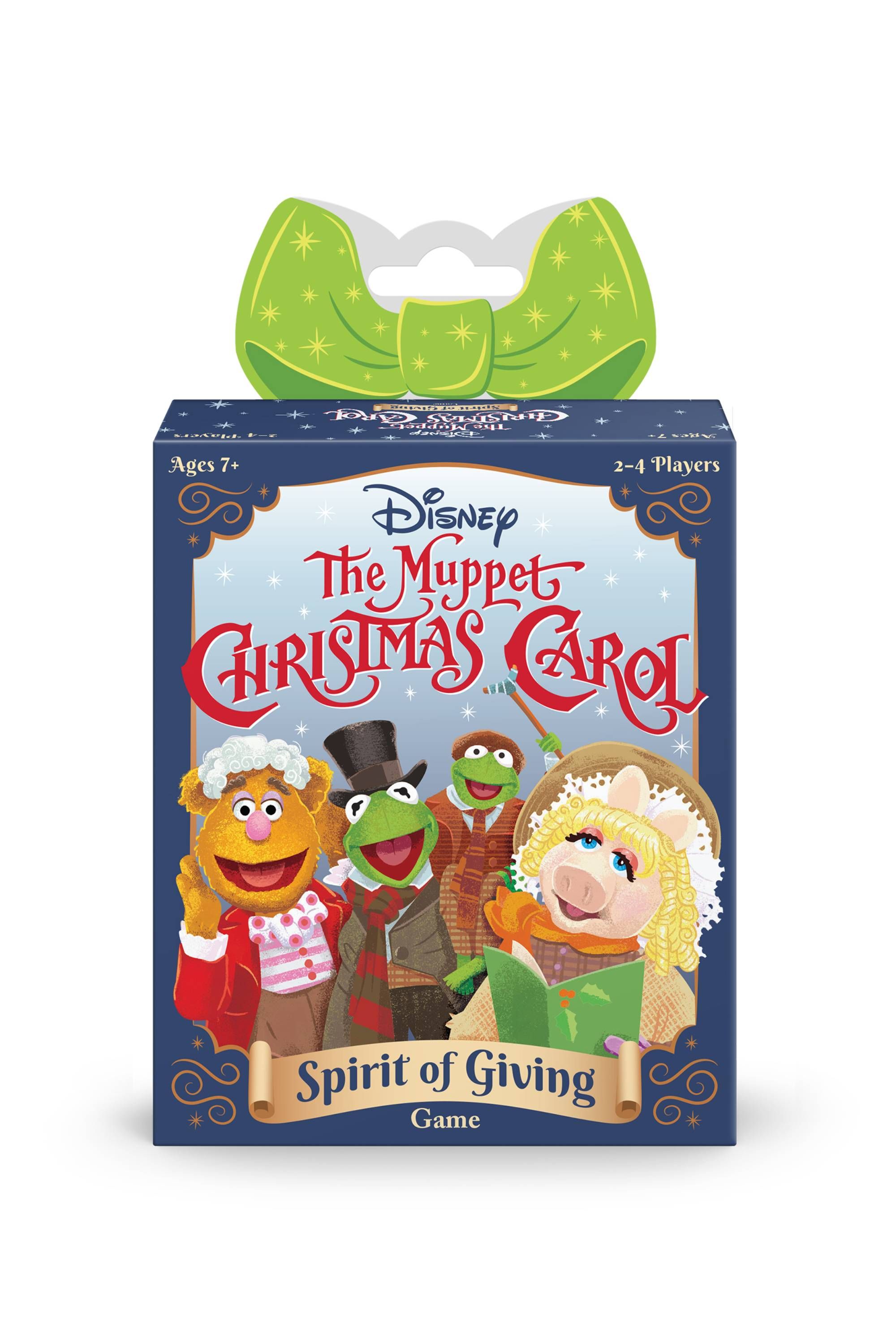 The Muppet Christmas Carol: Spirit of Giving Game
Franchise

The Muppets

Original Release Date

2023-00-00

Age Recommendation

7 years and up

Length per Game

~20 minutes

Publishing Co

Funko Games
The game was provided by Funko Games for review purposes. All images were taken by the reviewer.
Next: The Best Single-Player Card Games In 2023