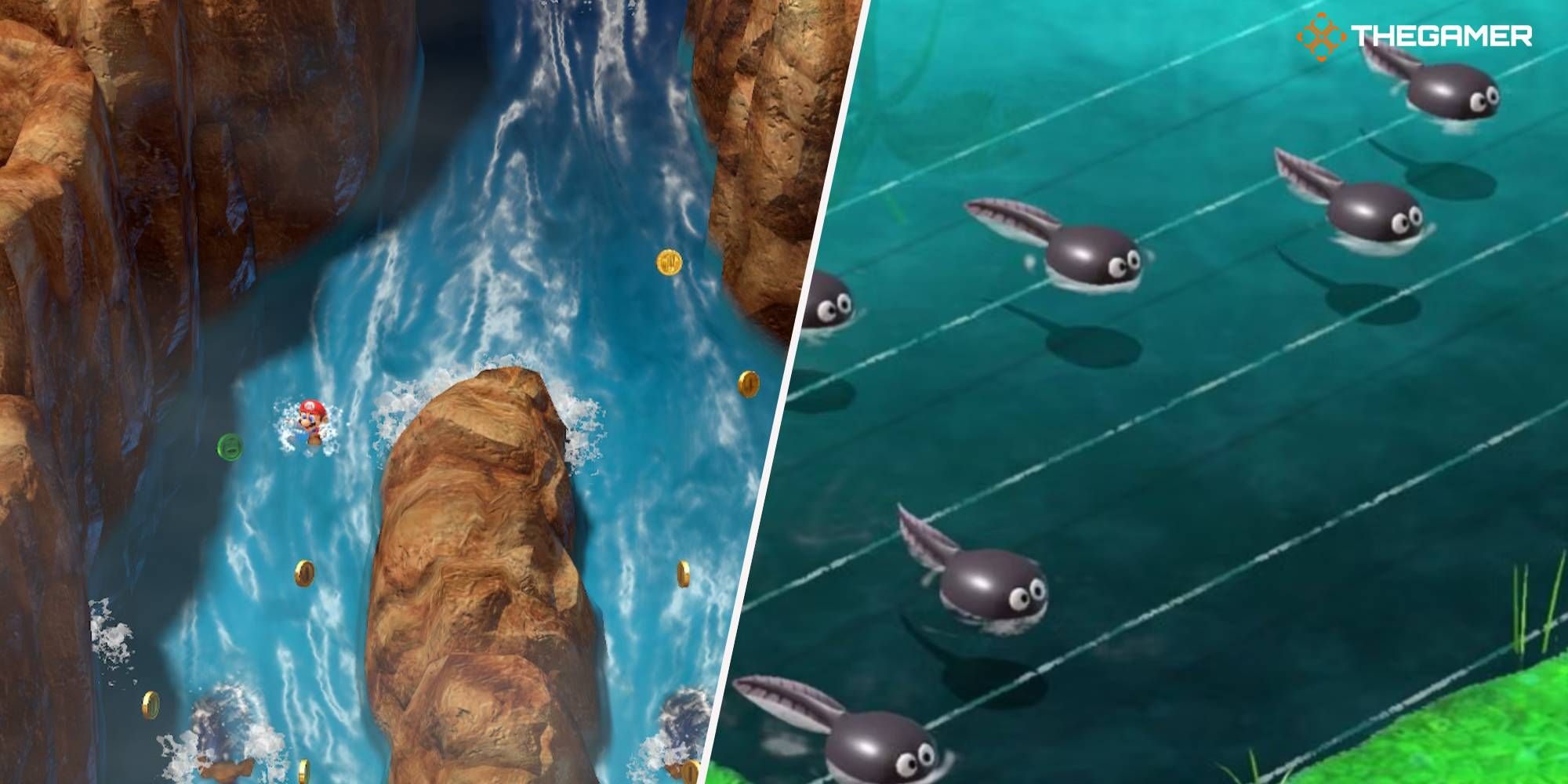 Midas River
West of Tadpole Pond
You'll participate in this automatically for the first time after exiting the Kero Sewers.
In the first part, Mario is descending Midas Falls, but you can slow the fall in order to acquire coins and Frog Coins.
You can also enter a few caves to trigger events either helpful or harmful.
In the second part, the barrel-jumping part, you must have Mario leap from barrel to barrel at the appropriate times or else go off-course.
Going off-course isn't necessarily a bad thing, as you can acquire further coins this way.
Avoid the fish that jump out, or else you'll lose some coins.
The more coins Mario obtains, the better his prize. It costs 30 coins to play.
Rewards include Frog Coins. 81 coins fills out a spot in your Play Book.
You'll receive the Koopa Shell weapon for Mario after your inaugural trip.
Tadpole Songs
Tadpole Pond
On the rightmost screen at Tadpole Pond, you'll find a body of water that Tadpoles will appear in. Toadofsky, famous composer, is on the far end.
By playing the correct melody, Toadofsky will be 'inspired'. There are three melodies, though you must return later on to play the others.
The minigame is played by timing your jumps between Tadpoles to specific tunes.
The eight basic sounds (Do, Re, Mi, etc) are represented by the four lines in the water and the spaces between them.
Each song you successfully play rewards you one of three Juice Bar cards.
The Alto Card is for Frog Sage's Suite. The Tenor Card is for Moleville Blues.
The Soprano Card, which unlocks the best items, is for Monstro Town.
As far as we can tell, you must unlock these in order.
Beetle Race
Booster Hill
Your goal here is to keep up with the foe, with Mario reaching out to touch Peach as many times as possible during the chase.
Please, for all that is holy, do not misunderstand what the previous bullet point means here.
This is a one-time minigame, so do your best!
Every time Mario reaches Peach, you'll gain a Flower.
Acquiring set numbers of Beetles will reward you with coins.
Return here without a Beetle Box later, and you can scoop up a few Flowers.
Booster Family Portraits
Booster's Tower
We have a complete guide to this minigame!
A weapon for Bowser, the Chain Chomp
Goomba Thumping
Pipe Vault
This is essentially Pop the Weasel, Mario-style. You're trying to jump on Goombas while avoiding Spikeys.
There are two types of Goomba: the normal ones and the rare gold variety.
Normal Goombas get you one point. Golds get you three. Each Spikey that Mario lands on subtracts your score by one.
Reaching 20 points gets you a Flower Tab. 26 gets you a Flower Jar.
The remaining rewards are coins.
Yoshi Egg
Post-Battle Screen
There's a chance you'll play this minigame after battles. Doing so hinges on acquiring the 'Lucky Bonus Flower' from certain enemies.
The acquisition of Lucky Bonus Flowers is luck-based, but you shouldn't have trouble finding a fair few throughout the game.
Other methods include using the Lucky Jewel item to guarantee the status.
It's a rotating cups game – you want to keep your eye on the egg containing Yoshi, selecting it at the end.
In our experience, the rotations are fairly easy to keep track of.
Successfully choosing Yoshi doubles your EXP and coins rewards from the fight.
Molevill Minecart
Moleville Mountain
You'll be invited to play this at your leisure after getting the third Star Fragment and rescuing the children.
Don't bother spending ten coins for this. Choose 30 instead, since that's the only option that gets you coins.
The 50 coins you can receive here hinge entirely on whether you've beaten your prior record.
The minigame alternates between two-dimensional and three-dimensional parts.
Gather mushrooms to increase the cart's speed, and be sure to snag some extra coins along the way when you can.
Consider going slowly on this at first, because you'll hit a point that your own record just isn't going to get broken, at which point there's… really no point in this.
Cliff Scaling
Land's End
The goal is to jump from shell to shell until you reach the summit. Rewards are based on the speed at which you achieve this.
If you poorly time your jumps, the shells will be right above you, and they'll thwart your efforts.
As such, you'll want to get a good read on the shells' individual routes. This will take a few rounds.
Ten or fewer seconds gets you the Troopa Medal. This raises the equipped character's attack stat at the cost of prohibiting bonuses from well-timed strikes.
Otherwise, the rewards are Frog Coins.
Marrymore Wedding
Marrymore
We'll have a full guide for this in-depth minigame soon!
Yoshi Racing
Yo'ster Isle
This is something of a rhythm game, racing than a straightforward racing game.
You'll be aiming to time your button presses to the 'A' and 'B' button prompts.
This game is kind of infuriating, to be honest.
You'll bet with Yoshi Cookies, and earn Yoshi Cookies based on your performance.
Yoshi Cookies can be used to summon Yoshi in battles. When he eats enemies, you'll sometimes gain foe-specific items.
Sunken Ship Puzzle
Sunken Ship
We have a complete guide for this minigame!
N/A
Knife Guy Juggling
Bean Valley
You can't participate in Grate Guy's Casino until you acquire the Bright Card.
Head to Booster Tower for this. Ascend, and you'll find Knife Guy.
Keep an eye on the yellow ball Knife Guy juggles, and correctly guess which hand he's holding it in afterward.
The Bright Card is your reward for accomplishing this multiple times.
Look The Other Way
Grate Guy's Casino
Mario needs to look left if the guy looks right – and vice versa.
This is pretty much a coin flip each time, but it's mercifully fast.
Winning one hundred – yes, one hundred – times earns you the excellent Star Egg.
Otherwise, your reward is randomly selected from a list of five items ranging from awful to great.
Card Memory
Grate Guy's Casino
You'll see some cards with Mario characters on them. Afterward, you'll need to remember which characters are on which cards.
You should aim for at least three successes per round, as your rewards begin from there.
Amusingly, this used to be Blackjack back in the original Super Mario RPG. Is Blackjack really that bad?
Various recovery items, chosen at random.
Prize Blocks
Grate Guy's Casino
It's Slots. Make no mistake, it's just Slots. Another change from SNES to Switch!
A wonderful secondary change here – it's free, whereas it used to cost a few coins.
Line up three mushrooms for a Mushroom (naturally.)
Line up three flowers for a Flower Syrup.
Line up three stars for an Energizer!