Mario Kart is known for both establishing and ruining friendships. One of the best parts of the series is its iconic courses, and none are more legendary than Rainbow Road. It is featured in every game, providing endless smiles and rage-quit moments.
RELATED: The Best Tracks From The Mario Kart 8 Deluxe Booster Course Pass
Rainbow Road has eight main entries, with some versions being remade in later games. Some courses offer obstacles and curves, while others throw jumps and multiple tiers to navigate. No matter which one you're racing on, you're bound to have a good time. Invite some friends over, pick your favorite character, and try not to fall off Rainbow Road!
Updated on November 19, 2023, by PJ Molloy: It's a bittersweet time for Mario Kart fans. The Mario Kart 8 Deluxe Booster Course Pass DLC has finally ended, adding eight new characters and 48 tracks to this beloved title. If that wasn't enough, Nintendo will no longer be adding content to Mario Kart Tour.
There's a lot to love about Mario Kart 8 Deluxe's DLC, but the remade versions of some iconic Rainbow Road tracks are the best parts. Similarly, Mario Kart Tour provides two remixes of classic Rainbow Road courses. With support for these titles ending, now is the perfect time to see how the new Rainbow Road tracks compare to the classics.
The following tracks are ranked based on difficulty, uniqueness, ascetics, and fun factor.
10
SNES Rainbow Road – Super Mario Kart
You Have To Start Somewhere
The Rainbow Road that started it all makes for a perilous race, with vicious Thwomps that try to crush you and no guard rails to save you from plummeting to your doom. However, that's all there is to this course, making it feel a bit dull by today's standards.
The remastered version from Mario Kart 8 Deluxe offers a tiny coat of fresh paint by having the Thwomps shake the road when crashing to the ground, providing makeshift ramps to trick off. It's a welcome addition that adds some oomph to this classic track, but it still falls short compared to its successors.
9
RMX Rainbow Road 2 – Mario Kart Tour
A Slight Update To A Classic Track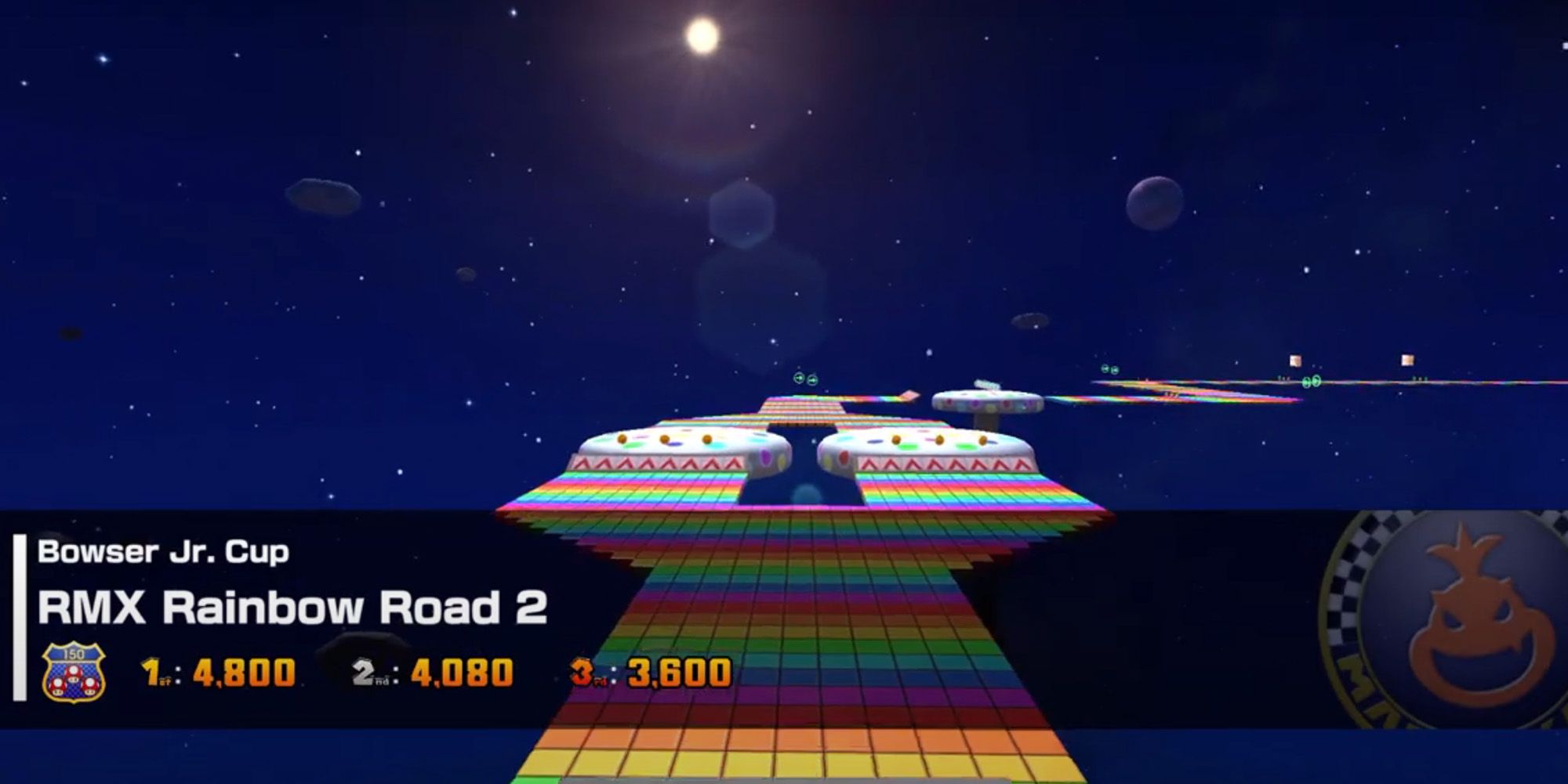 RMX Rainbow Road 2 is the second Mario Kart Tour track inspired by the original Rainbow Road from Super Mario Kart. This version borrows the track design and obstacles while adding a new twist for some extra pizzazz.
The gimmick here is that the road is filled with large, bouncy mushrooms that act as trampolines. They undoubtedly make the course more interesting, but it doesn't address the track's simplistic design or make any significant changes. It's a step up from the original, but not by much.
8
RMX Rainbow Road 1 – Mario Kart Tour
A Better Take On SNES Rainbow Road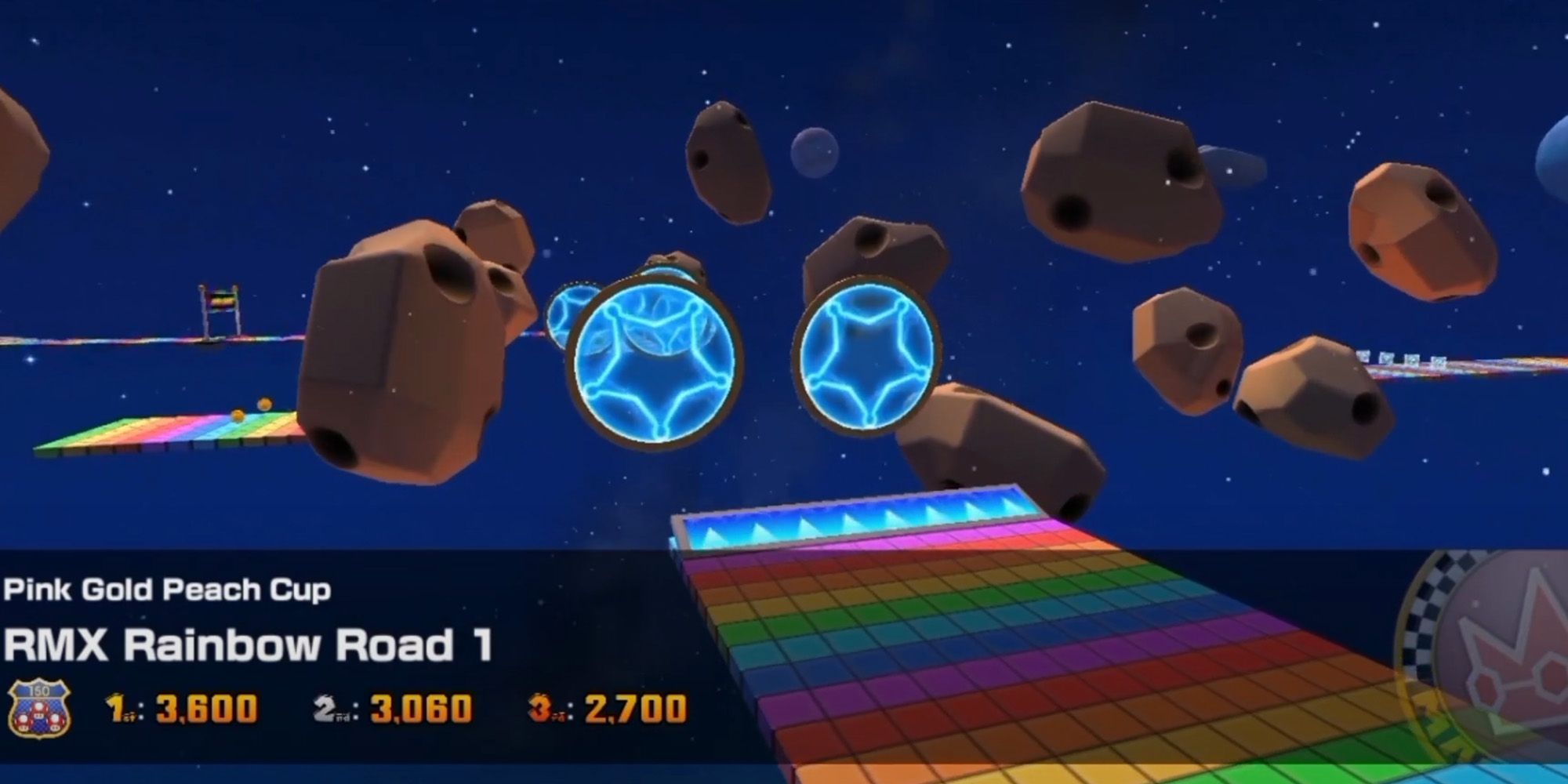 The first remixed Rainbow Road track from Mario Kart Tour adds a more interesting twist than its successor. This time, the track includes a few gliding sections where you're launched into the air and must dodge massive asteroids before landing.
RELATED: Mario Kart: Every Game In The Series Officially Ranked
This new idea offers a much better challenge than RMX Rainbow Road 2, making for a more engaging race. It's a refreshing way to update a classic Mario Kart track, and it works fine for a mobile game. Despite that, the simplicity and lack of major design changes keep it from being one of the best.
7
Rainbow Road – Mario Kart: Super Circuit
The Perfect Course For Speedrunners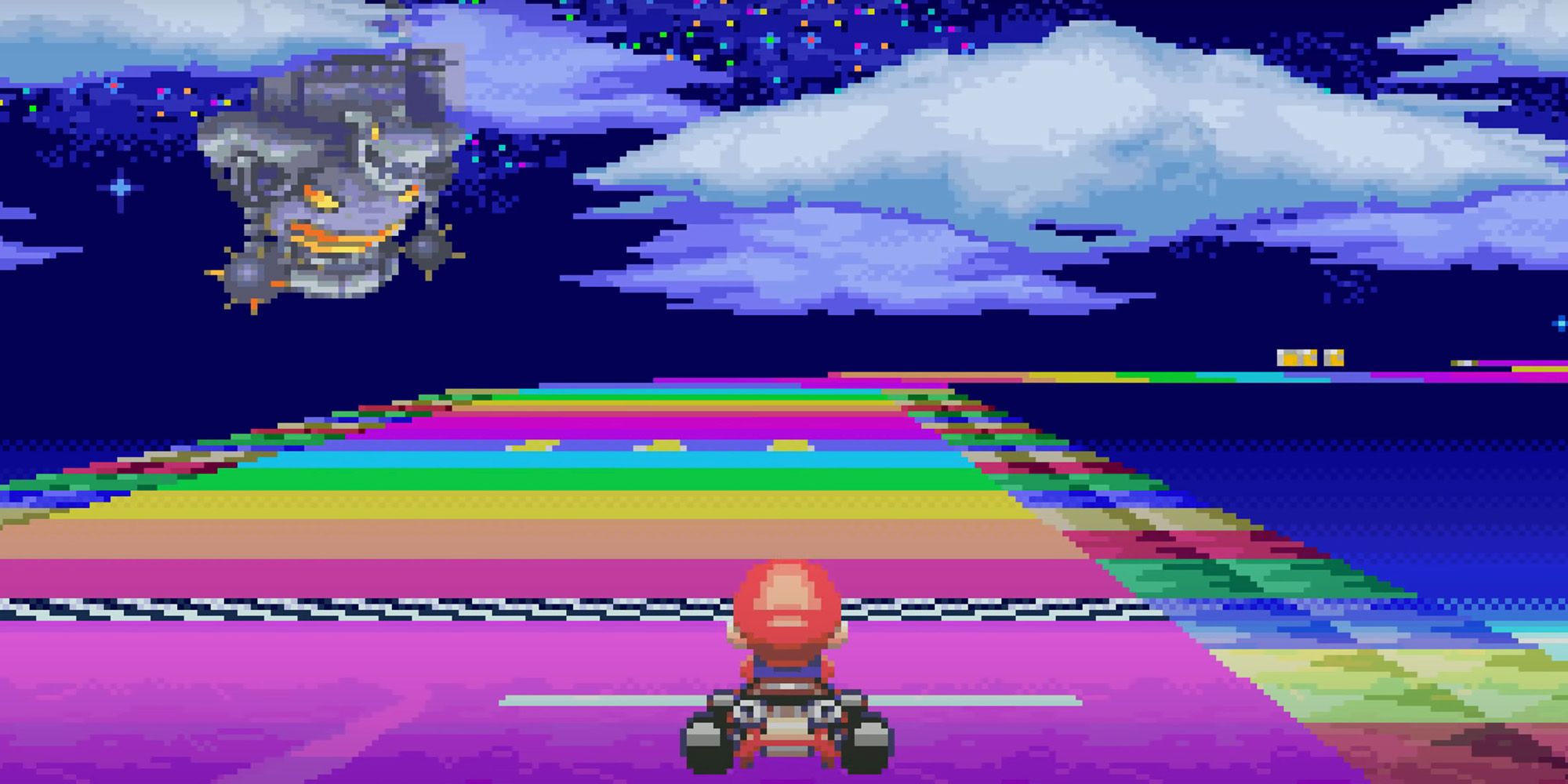 Super Circuit's Rainbow Road is pure eye candy. There's a surprising number of things to see for a Game Boy Advance title, like shooting stars that crash onto the road and thunderclouds that shrink you if you pass under them. Bowser's Castle from Paper Mario even makes a cameo in the background.
As for the track design, it's understandably plain, given the GBA's hardware limitations. Luckily, the course is packed with sharp turns, jumps, and hidden shortcuts to make things interesting. Despite its simplicity, Rainbow Road makes the best of the hardware and remains a fun course.
6
N64 Rainbow Road – Mario Kart 64
A Nostalgic Track With An Even Better Remake
N64 Rainbow Road is a legendary course, thanks to the gorgeous fireworks resembling the character's faces and its whimsical music track. Despite that, this stage is held back from being the best Rainbow Road course due to its easy-to-dodge Chain Chomps, guard rails that prevent you from falling, and tedious length.
Thankfully, the remake from Mario Kart 8 Deluxe fixes most of those issues, while adding new surprises. The Chain Chomps take up most of the road, a flying train tosses coins onto the track, and the course has been shortened to a much more reasonable length. While the N64 version feels like a chore, the Switch remake is a thrill to speed through.
5
Rainbow Road – Mario Kart DS
A Giant Roller Coaster In The Sky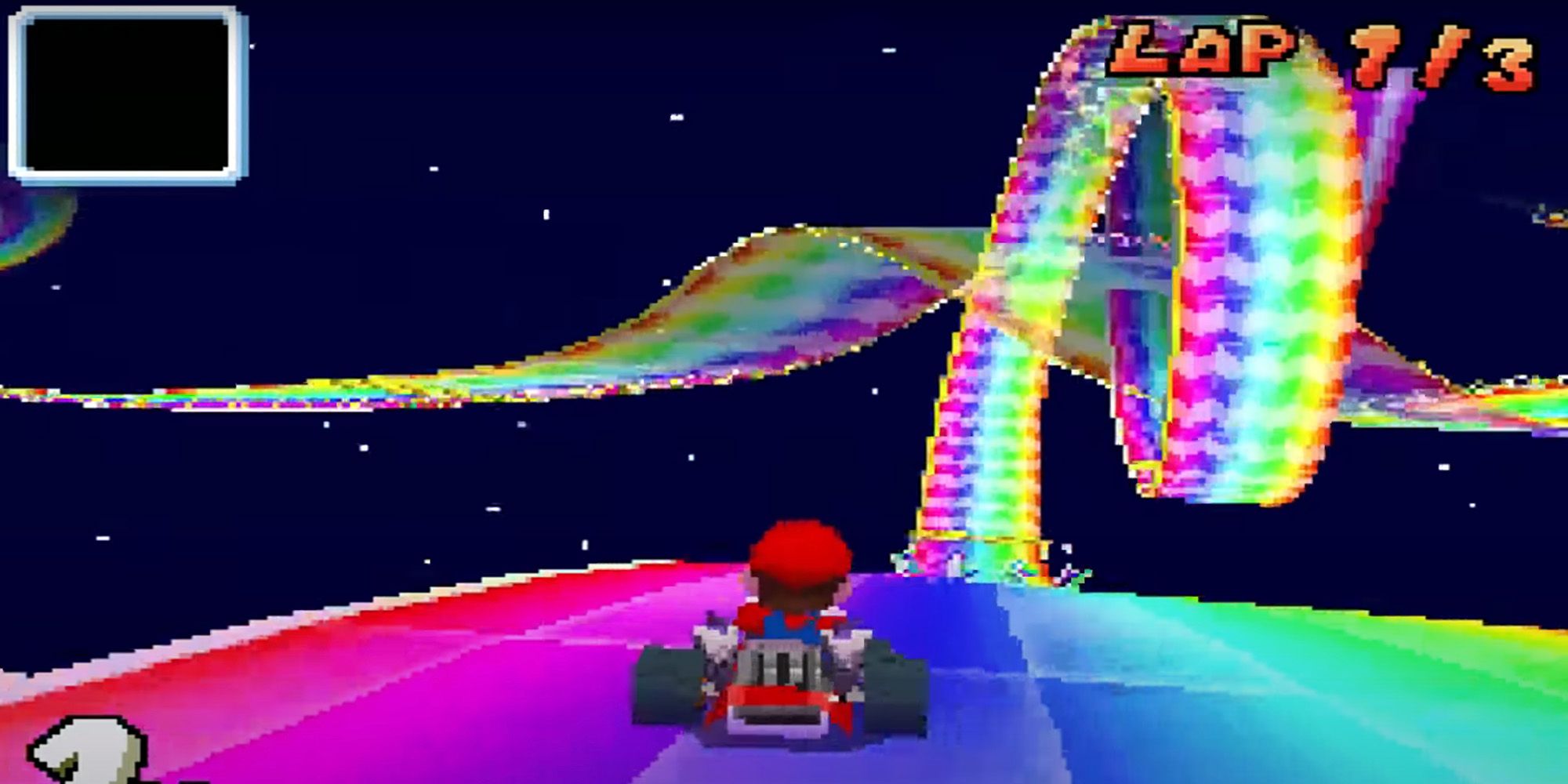 Rainbow Road from Mario Kart DS feels like a cosmic roller coaster. The track is filled with loops, spirals, curves, and well-placed boost pads to help things speed along. With little guard rails to help you, you need to stay on your toes if you want to zoom into first place.
RELATED: Mario Kart 8 Deluxe: All DLC Racers, Ranked
While there aren't any unique set pieces or concepts, the many twists and turns keep you enthralled from start to finish. Overall, it's a solid Rainbow Road course, albeit a little too easy to fall off. At least Lakitu stays employed.
4
Rainbow Road – Mario Kart Double Dash
An Underrated Gem Of A Mario Kart Track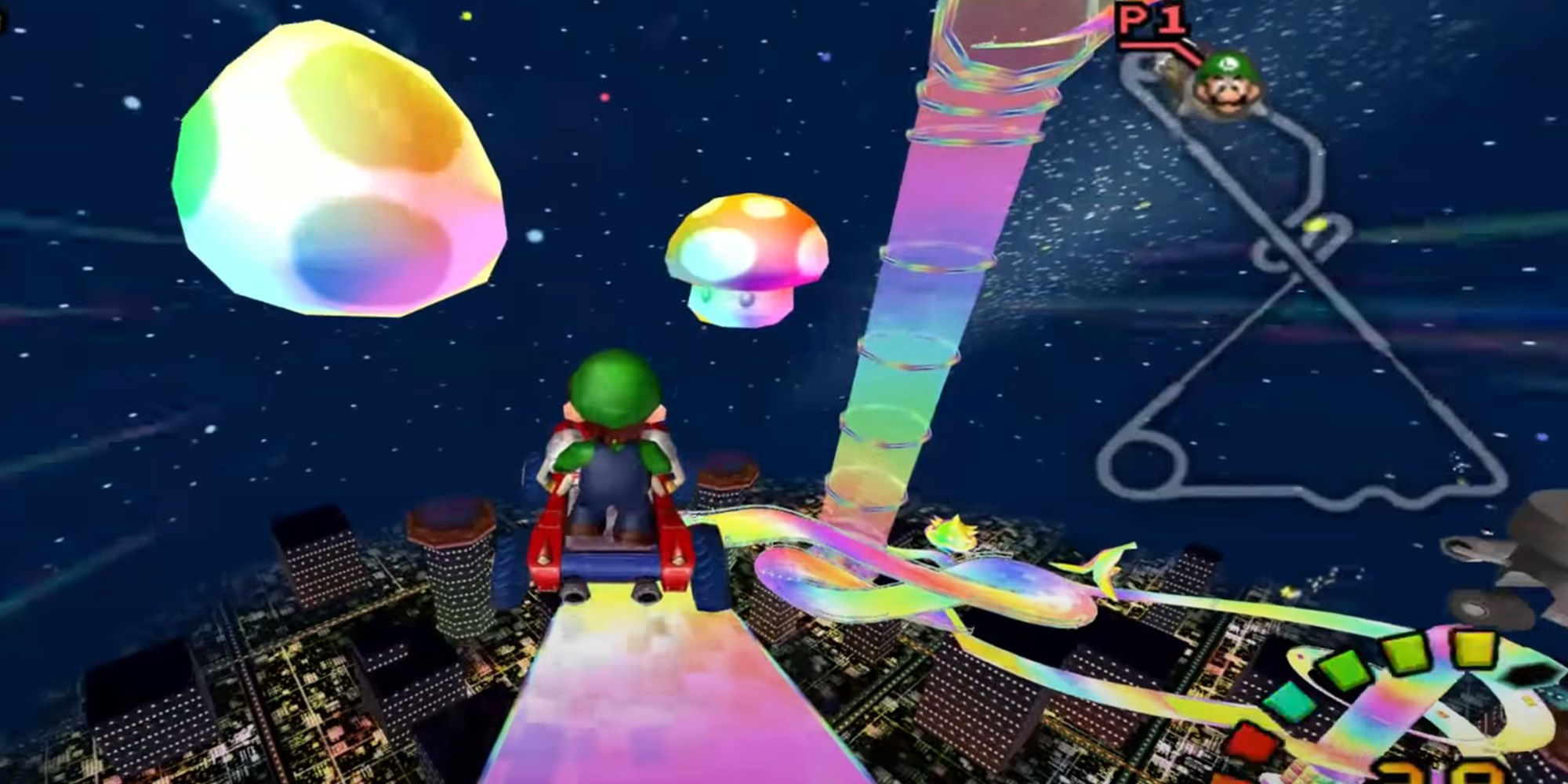 It's a shame this version of Rainbow Road never returned because it's a gem of a course. This track is a spectacle to behold, with a stunning view of a city to provide a unique flare. To top it all off, there are plenty of boost pads, sharp corners, and spirals to keep you hooked until you reach the finish line.
Thanks to Double Dash's character-specific special items, this version of Rainbow Road offers a distinct challenge compared to others. The track is pretty narrow, meaning a well-timed giant banana peel from Donkey Kong or a massive Koopa shell from Bowser requires expert skill to avoid. Good luck!
3
Rainbow Road – Mario Kart 8 Deluxe
An Epic Anti-Gravity Race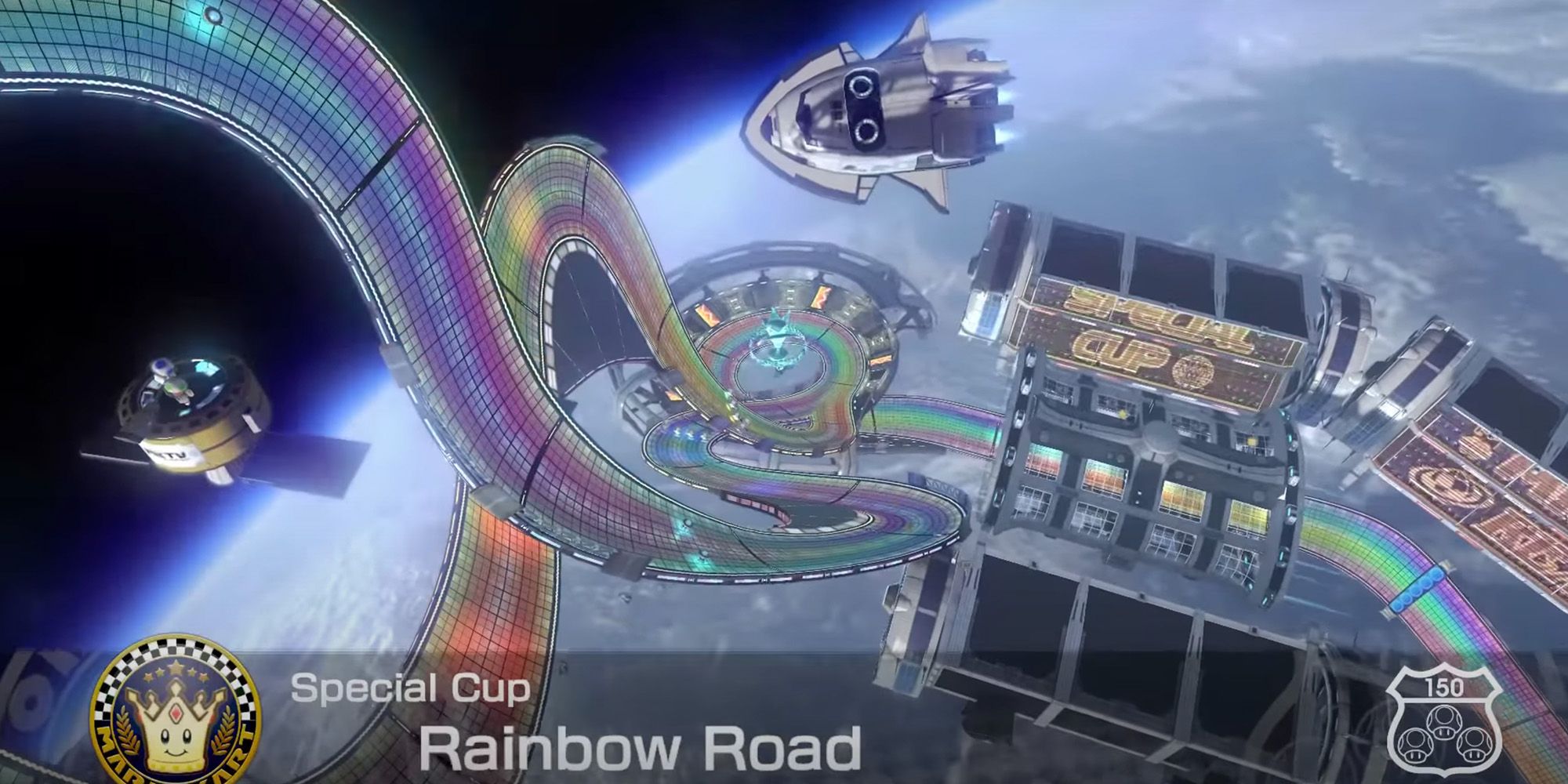 Mario Kart 8 Deluxe's Rainbow Road stands out for taking you off the road to launch you into a massive space station. This segment offers a delightful challenge, thanks to its conveyor belts, which can either help or hinder you depending on the direction they move.
The anti-gravity mechanic blends perfectly with Rainbow Road's sci-fi concept. Since bumping into other racers gives you a speed boost in anti-gravity mode, you must race strategically to ensure you don't accidentally boost out of bounds. With plenty of twists, branching paths, and gorgeous set pieces, this Rainbow Road is a dream come true for Mario Kart fans.
2
Wii Rainbow Road – Mario Kart Wii
An Oustanding Throwback To Super Mario Galaxy
If you like Super Mario Galaxy, you'll love Wii Rainbow Road. With dozens of star bits littered across the track, launch stars that propel you into the air, and a stunning view of Earth beneath you, this course provides the same liberating sensation of soaring through space as Mario's beloved Wii adventure.
RELATED: Mario Kart 8 Deluxe: The Best Booster Course Shortcuts
Wii Rainbow Road was remade for wave six of the Mario Kart 8 Deluxe Booster Course Pass, and it's still a joy to play. The new graphics emphasize the vibrant colors, ensuring every second of the race is breathtaking. This track is just as thrilling as when it debuted in Mario Kart Wii.
1
3DS Rainbow Road – Mario Kart 7
The Best Rainbow Road Track
3DS Rainbow Road is nothing short of a magical journey through the wonders of Outer Space. One moment, you're speeding across the rings of a planet. Next, you're dodging massive Chain Chomps on the moon. This course offers so many surprising twists and thrilling ideas that it's enough to make you stare in awe.
The best part about 3DS Rainbow Road is that every lap is different and introduces a new, exciting idea. This course was remade in wave three of the Booster Course Pass, allowing you to experience this majestic track on the TV for the first time. This version is not only the best Rainbow Road track; it's one of the best Mario Kart courses ever.
NEXT: Mario Kart 8 Deluxe: The Hardest Tracks To Perfect