Moonstone Island is an excellent game to play if you're craving adventure and Alchemist Training. Still, one of the most notable aspects of the gaming experience is the opportunity to encounter and befriend other characters. Part of those interactions includes romance, with each romanceable character having unique personality traits and quirks and different ways to win their hearts.
Related: Moonstone Island: Romance Guide
If you're open to finding love on Moonstone Island, knowing which characters are available to romance is critical for the best playthrough. If you're ready to find these romanceable characters and start building a relationship, you've come to the right place.
11
Ossono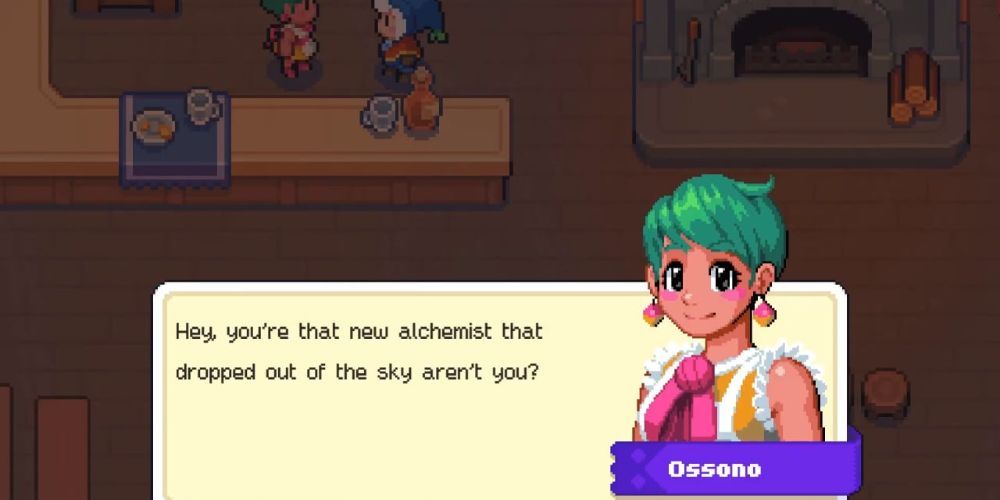 Ossono is one of the first characters you'll meet after arriving at Moonstone Island. She works as a bartender at the tavern she owns on the island, working with Quill to serve happy patrons. Ossono is a friendly character, and her two greatest loves are alcohol and flowers, so consider giving those two items as gifts when courting her.
Best And Worst Gifts For Ossono
Avoid giving Ossono food as a gift. The results are a coin flip, especially when gifting fruits and veggies. Find or purchase beer and wine to grow your relationship. Stun flowers and fire flowers are other notable gift options. You can find these flowers at the Electric Sky Islands and Fire Sky Islands, respectively.
10
Paolo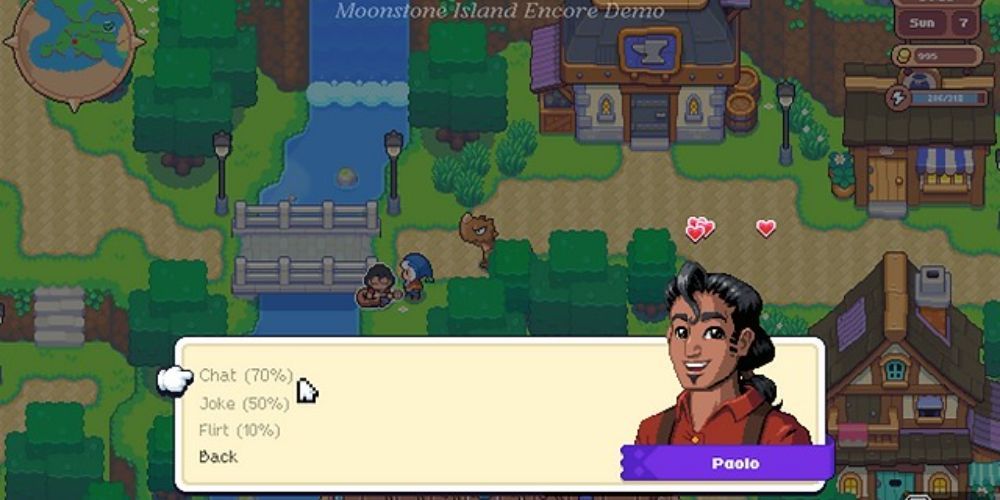 Paolo is another character who is open to romance when you're visiting Moonstone Island. He works as the carpenter on the island, and he's noteworthy for his relaxed and kind demeanor. You can often find Paolo working at his carpentry workshop or off playing guitar in Ossono's tavern.
Best And Worst Gifts For Paolo
Crafted gifts are the way to go when planning to court Paolo. He loves crafted furniture and crafted bridges, fences, and gates. You can also gift wood to Paolo if you're seeking a quick and simple gift to win him over. Find wood by chopping down a few trees on the island with your axe.
9
Cleo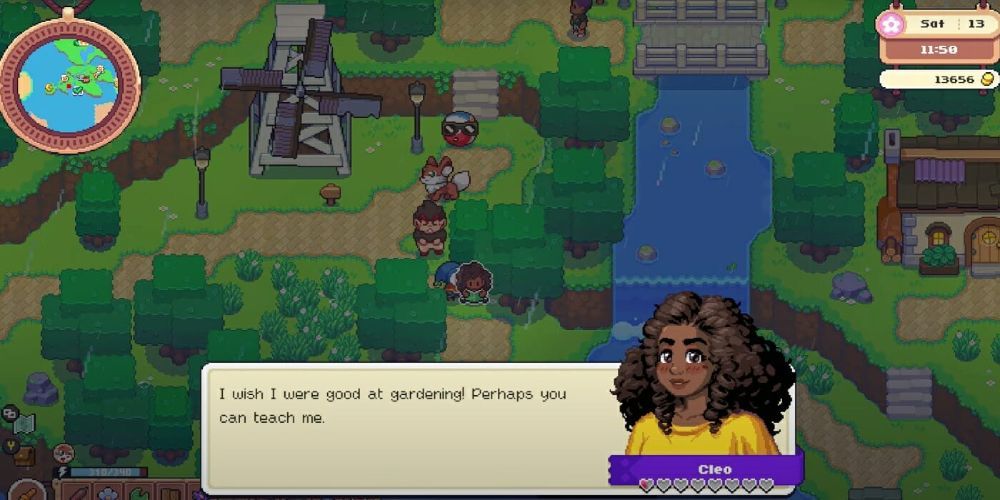 If you're a history lover, you'll have met your match when you meet Cleo during your time on Moonstone Island. She loves any gifts with historical significance or intrigue, so keep that in mind during your travels if you're set on winning Cleo's love.
Related: Moonstone Island: Best Starting Spirit
Best And Worst Gifts For Cleo
Cleo has also had negative experiences with electricity, so avoid gifting items you find on Electric Sky Island when creating a positive impression. Flowers are another no-go, as Cleo suffers from allergies. It's best to give gifts like old boots, island treasure maps, and books to make her happy.
8
Zed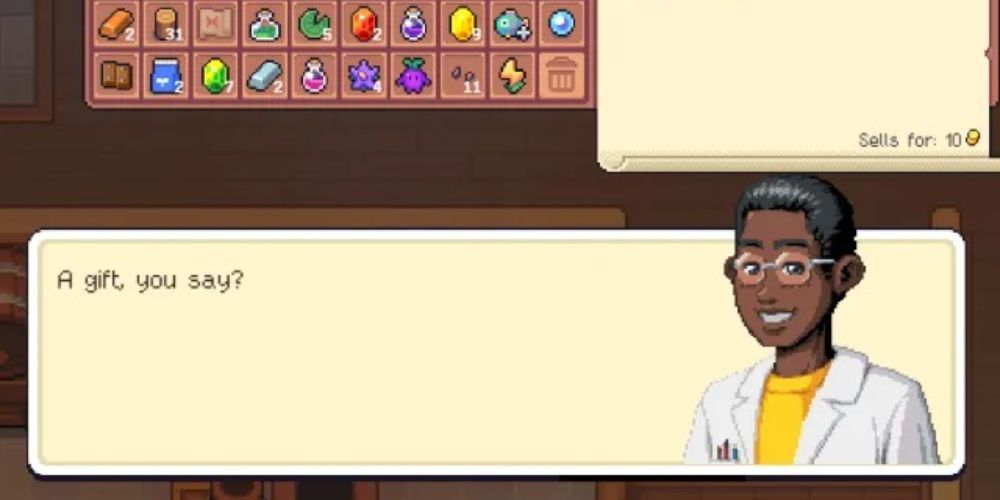 Despite his focus on his work on the island, Zed is another character you should consider pursuing a romance with. Zed spends much of his time investigating the island's Spirits, and you'll have the opportunity to assist him with your discoveries.
Best And Worst Gifts For Zed
Zed is a calm character, and it's best to give him gifts geared toward healing and conducting further research on Spirits. Avoid giving him stones and other items from nature due to his allergies. Coffee and powerful fruits like the beach peach and applum are excellent items to give to Zed when pursuing him romantically.
7
Ferra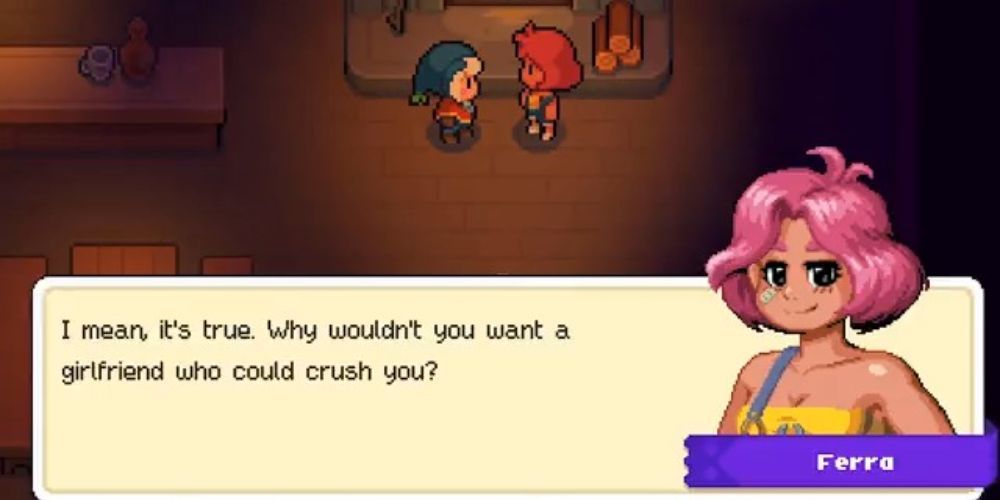 Ferra is a prominent character on Moonstone Island, and she serves as the community's blacksmith. You'll love Ferra's happy and optimistic outlook when interacting with her while studying Alchemy. The best gifts to give are items that align with her interest in metalworking.
Best And Worst Gifts For Ferra
Ingots and ores are an excellent starting point when you begin courting Ferra. Fluffy items, like the Nimbus Plant, are another path toward building strong bonds with her character. Avoid giving circular gifts, like Moonstones, when getting to know Ferra.
6
Rowan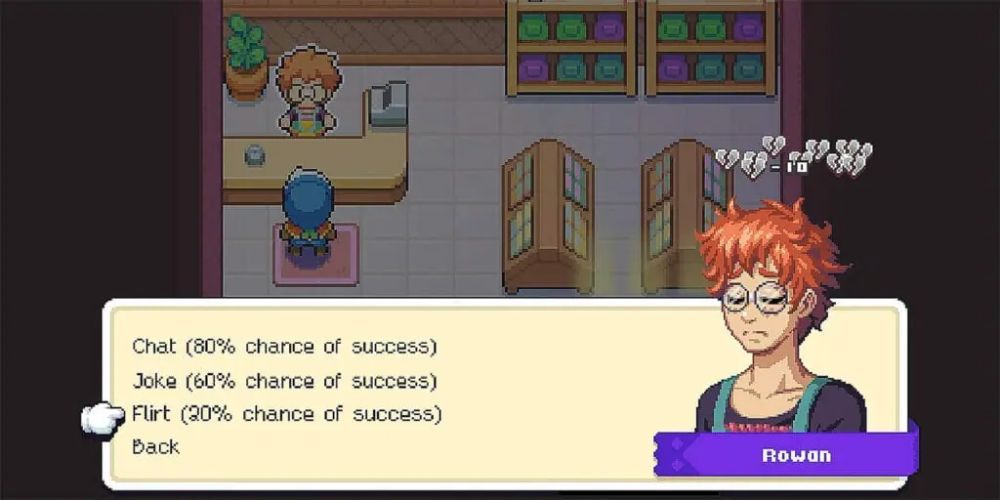 You'll likely meet Rowan when visiting the General Goods Store on the island. They're known for their intense love and interest in scary items or crafted pieces, with scary items helping them to overcome the fears they face. Rowan struggles with crafting, so avoid giving ores and ingots when building a relationship.
Related: Moonstone Island: Beginner Tips
Best And Worst Gifts For Rowan
Safe gifts are a safe bet with Rowan, so consider gifting items like balloons. Other options worth gifting include the Dark Spirit Egg and the Ghostshroom. These scary items will help Rowan overcome their fears, with the Dark Spirit Egg providing a Spirit companion.
5
Tobin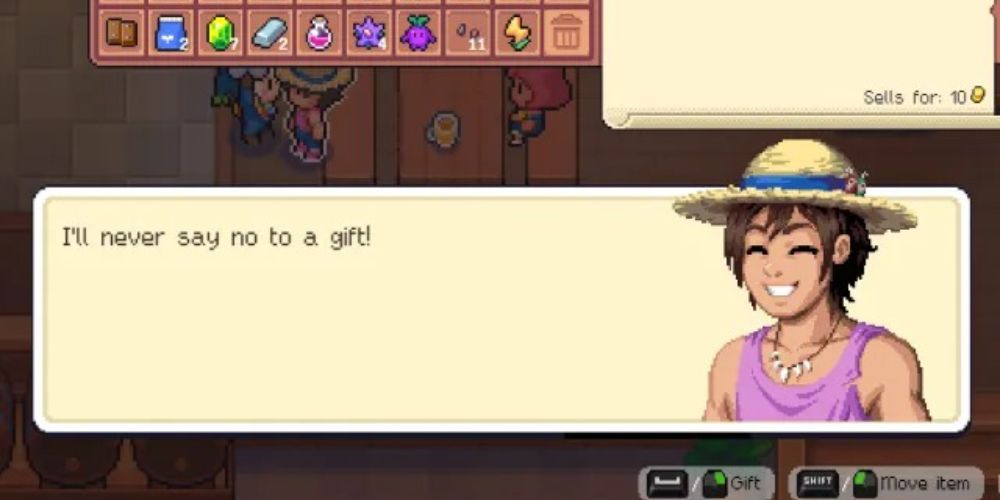 If you're into cheerful and kind individuals, Tobin checks many boxes when exploring the best romance options on Moonstone Island. Tobin is a local fisherman who can be found selling fishhooks and fishing rods at a shack on the island's beach. He has specific likes and dislikes, so you'll need to move forward with caution.
Best And Worst Gifts For Tobin
The worst gift you can give to Tobin is the Zenfish. Gifting him a Zenfish will make him sad, and it could change his perception of your character. Focus on catching Moonfish, Jewelfish, and Cinderfish to impress Tobin and gradually win his heart.
4
Quill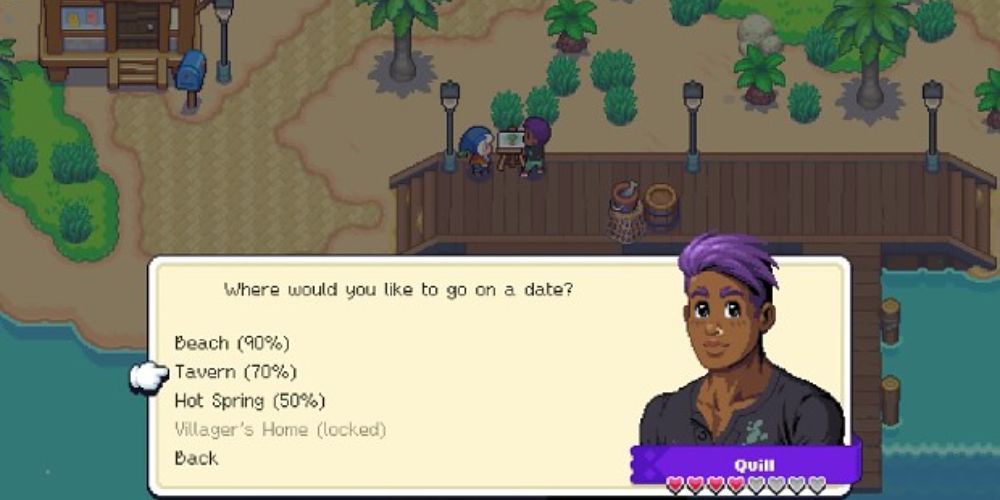 As mentioned earlier, Quill is often found in the tavern helping Ossono. When he's not there lending a hand, he's often using his artistic talents to paint. You can give Quill gifts related to his passion for art when courting romance with his character.
Related: Moonstone Island: How To Tame Spirits
Best And Worst Gifts For Quill
The best gifts to collect and give to Quill are fiery and spicy options. You'll leave him disappointed if you gift him colder items. Cinderfish is an excellent food gift, while plants like the Heat Plant and Fire Flower will warm his heart toward your character.
3
Gaiana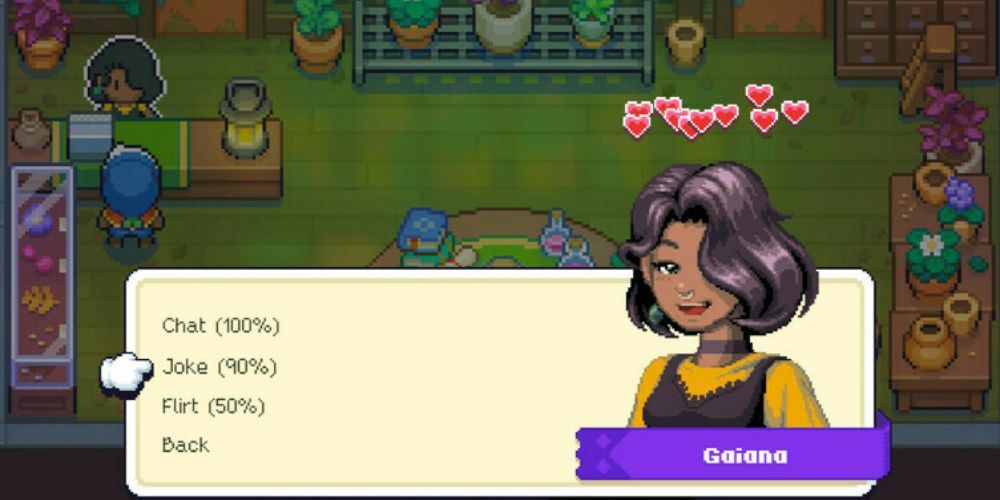 Gaiana presents a significant challenge as a romantic partner, as she is the most guarded romanceable character on the island. She works alongside Ofelia as an assistant herbalist on the island, and she has a love for plants and flowers. You can find her when visiting the greenhouse.
Best And Worst Gifts For Gaiana
Avoid gifting fish to Gaiana when attempting to break down walls and form a stronger bond with her. The best gifts to give include Prickly Plants, Grumpkins, and fertilizer to assist her in her herbalism endeavors.
2
Magic Man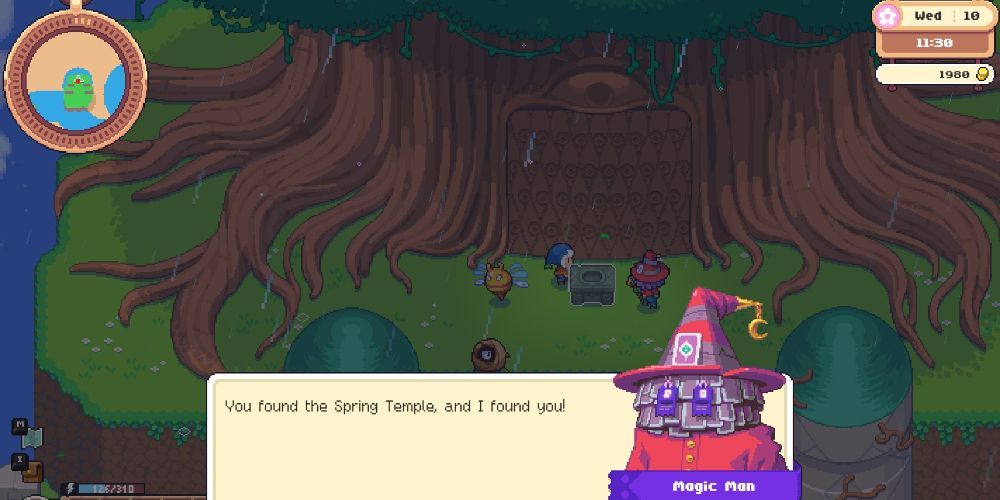 Magic Man is arguably the most interesting romanceable character on Moonstone Island. He's also referred to as Waldo, and he acts as your character's guardian when exploring the island to help you return to your home. Waldo has a strong connection with his original home on Moonstone Island, and gifts that remind him of that home are appreciated.
Best And Worst Gifts For Magic Man
The Magic Man will also never turn down a gift of beer or wine. Add in food made by Ossono at her tavern, and you'll find yourself on a one-way path toward Waldo's heart.
Next: Moonstone Island: How To Find Moonstones
1