Beauty is subjective, but that only goes so far. You put me next to pictures of Ana de Armas and Margot Robbie, and nobody's choosing me. Between those two though, you'd be looking at a pretty even split. As video games get more realistic, there's more room for subjectivity, and different forms of beauty can appear. Baldur's Gate 3 is a great example of this, especially through Dame Aylin.
I'm going to let you in on a little secret. Every week I get a dozen or so emails from casino websites who have done 'research' to tell me which video game character is the most popular in Texas, or how many Gen Z kids recognise Squirtle, or that my hometown is the fourth best place in the country for game developers to work. I don't know any site that actually runs this 'research', which is usually just random facts pulled from a couple of seconds searching the internet anyway. They give us the information for 'free', on the condition that we link out to their casinos. And in the mix is usually some list about which video game characters are the most attractive – always with the same few names.
Here's a slideshow of all the things I've learned from these emails down the years
Lara Croft, Tifa, and Samus Aran are always near the top of the list, and I'm not denying that they're pretty, but they're also basically the only women who existed in gaming for over a decade. Samus began life as a 'reveal' wherein a pixelated woman stood there in a vague shape that looked like a bra to reward you for beating the game. Over time, with Zero Suit Samus, she has evolved into a bombshell-style character with archetypal 'prettiness'. Most female characters from the early eras of gaming went through this – they were designated as attractive by virtue of being the only women that existed, and as graphics improved they were designed with their cliched attractiveness preinstalled.
It's probably why newer female characters with more organic, realistic designs end up being criticised so much. Ellie, MJ, Aloy, and Abby have all endured this idea that they're not pretty enough, even though they all look far more realistic than Samus or Tifa did back in the day. Then it comes full circle as Abby, described by trolls as ugly and manish with her bulky frame at The Last of Us Part 2's launch, now has Florence Pugh (current face of Valentino Beauty) as her number-one fan cast.
Spoilers follow for Baldur's Gate 3 Act 2
This is why I find Dame Aylin so fascinating. She's already one of the game's most interesting characters – you spend Act 2 looking for the Nightsong, believing it to be a weapon, only to discover it is instead Dame Aylin, a godly Aasimar who can grant immortality. She is Ketherick Thorm's prisoner, doomed to keep him alive. She's also in love with Thorm's mortal daughter, Isobel, which makes the whole thing very personal.
Dame Aylin is not necessarily pretty, but she is beautiful. Beautiful in the Romantic sense, in the 16th century statue sense. She has some of the traditional features – long blonde hair, bright eyes, full lips – but she also has a long face, a large nose, a blocky chin. There's no Disneyfication here as her nose is shrunk down to a peanut so her eyes can dominate her face. She resembles Cate Blanchett, especially in her role as Hela.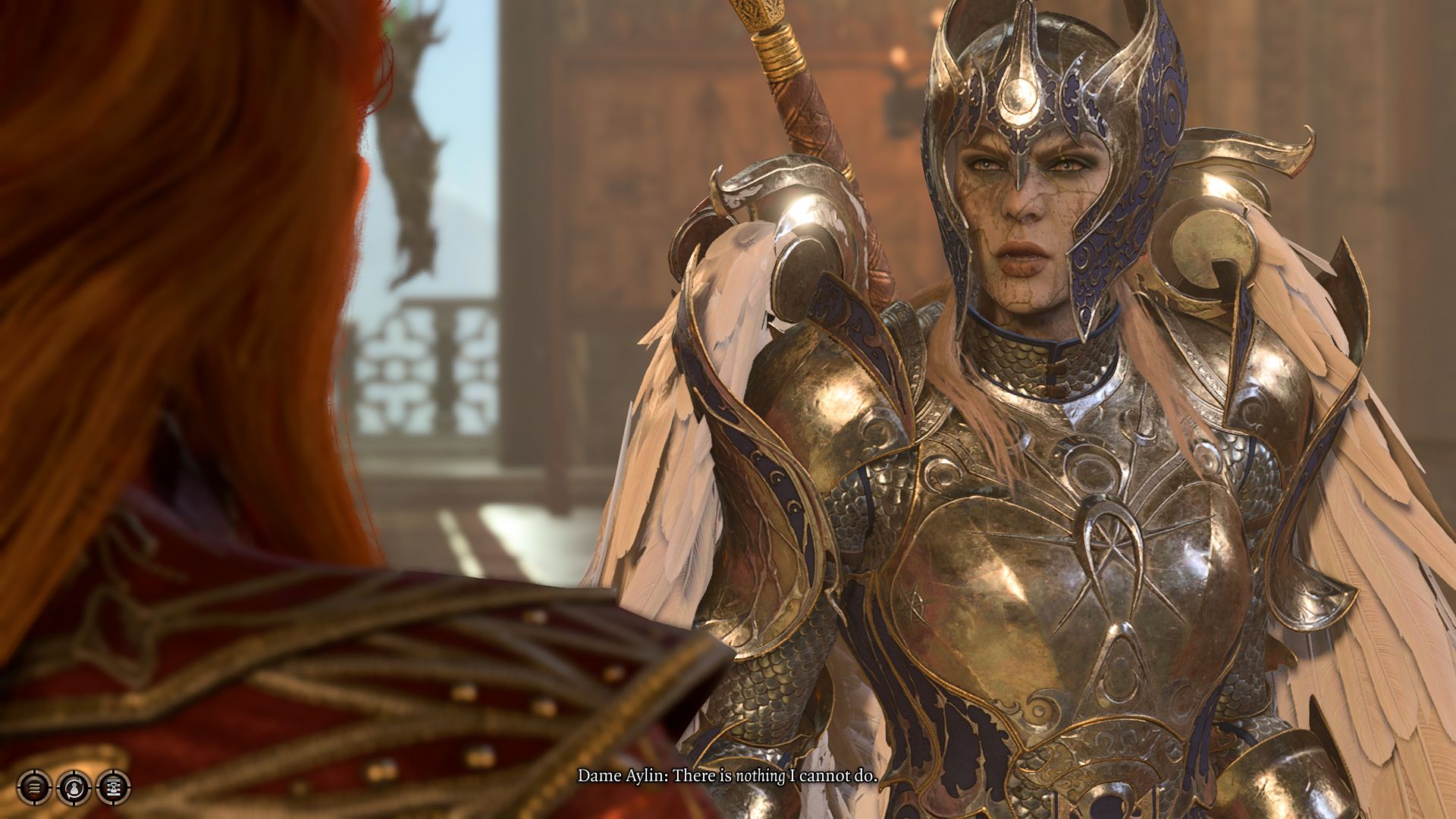 Aylin feels like if you asked a woman to design an attractive woman, rather than a character cobbled together from male fantasies a decade later once graphics caught up to the pixels. Cate Blanchett, Sarah Paulson, Mackenzie Davis, Evan Rachel Wood, and Kate Winslet all feel like ingredients to Aylin – attractive women who appeal primarily to other women, and rarely feature in the supermodel/popstar dominated lists put together by male votes (and presumably, casinos).
It's not just the look though, it's the power. Aylin may be rescued by you, but she is no damsel in distress. She is no motherly healer, nor does need to strip down to breathe through her skin or use any other tired justification for her flesh on show. She marches into battle in full and resplendent silver armour, chopping down her foes with a mighty swing of her sword.
Dame Aylin's beauty is not just skin deep, and she's a highly admirable character who highlights the depths of Baldur's Gate 3's narrative. The subjectivity of beauty and the realism of gaming's current graphics should mean more characters like her that challenge our medium's beauty standards and look good while doing it.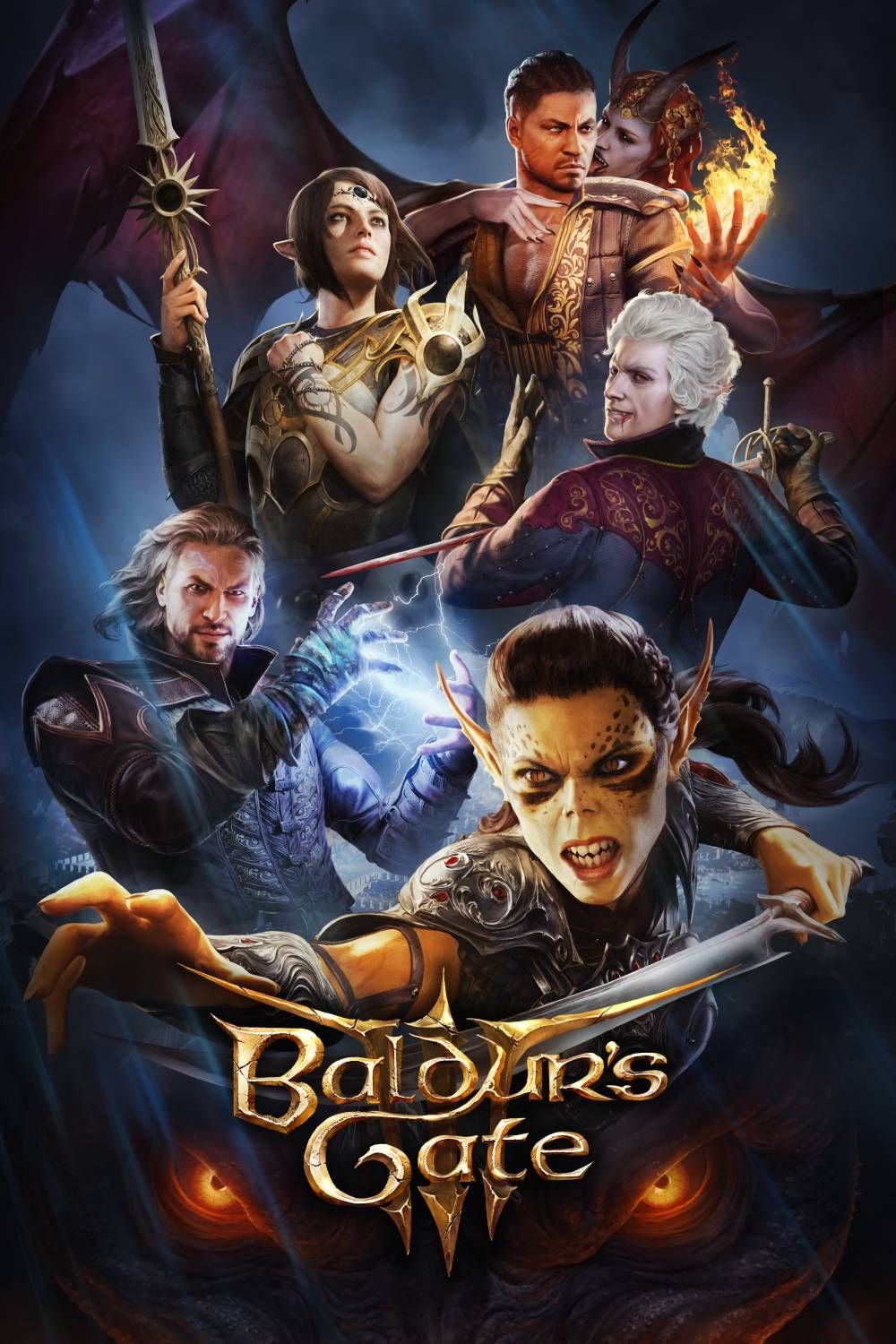 Baldur's Gate 3
Platform(s)

PC, PS5

Released

August 3, 2023

Developer(s)

Larian Studios
Next: Baldur's Gate 3 Has A Serious Lack Of Kobolds