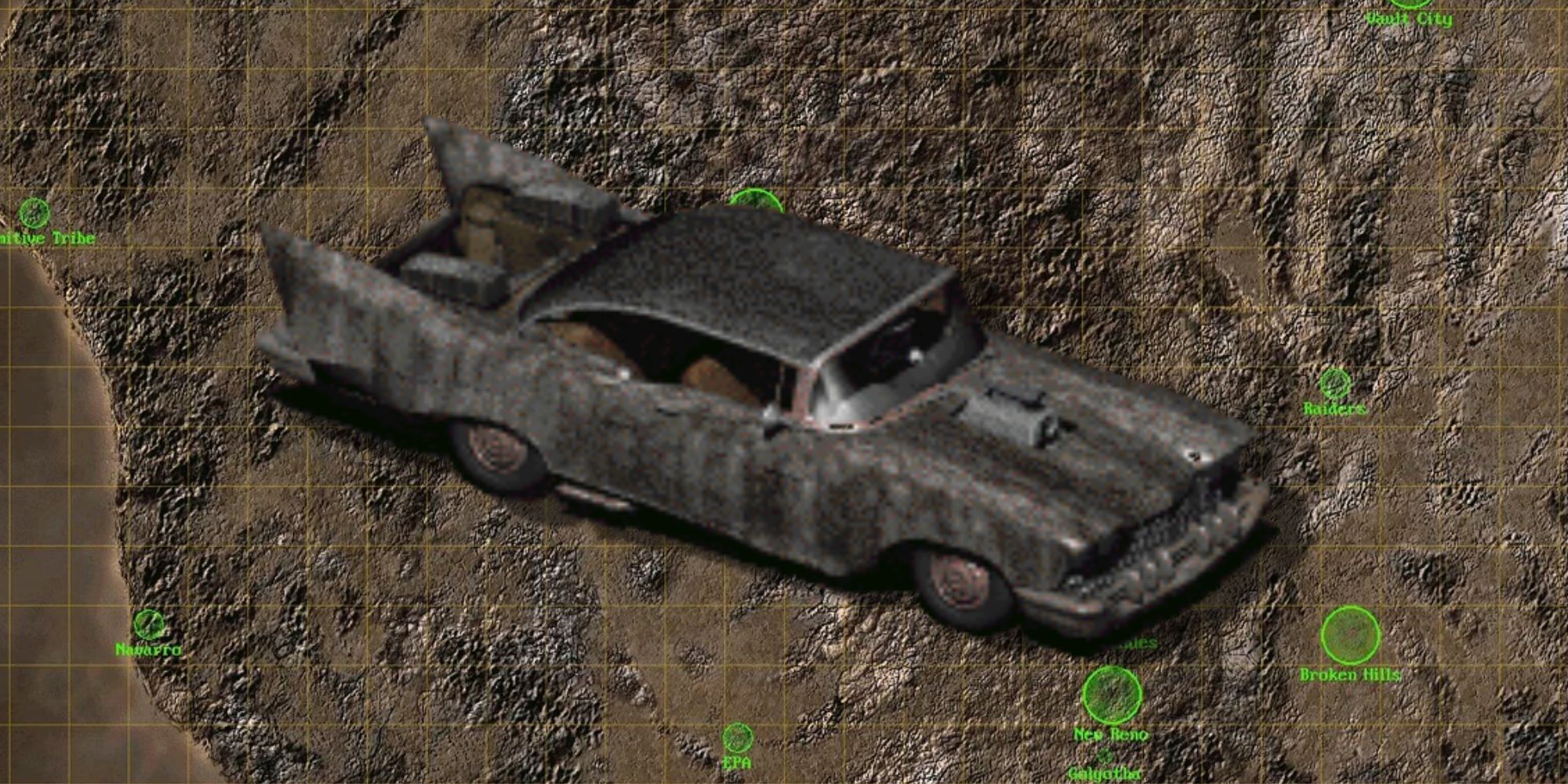 Fallout: New Vegas Day last week was a hit, bringing a bunch of fans together to celebrate the whole series, but with a particular focus on Obsidian's spin-off. However, one dedicated fan repped the often-overlooked Fallout 2, turning up with the iconic car you can find to get around the wasteland.
Any Fallout 2 player will recognise the Highwayman. Not only does it make getting around the map infinitely easier and faster, but it also comes with a banging soundtrack. Now, some fans got the chance to see one in person, done up to look like one of the cars you'd find lying around the Fallout wasteland.
This find was shared by RPG YouTuber TKs-Mantis, and as we can see in the background, it was shown off in Goodsprings during the Fallout: New Vegas Day celebrations last week. We covered that event ourselves, sharing some of the snaps taken of the various cosplayers that amassed at the iconic New Vegas location to celebrate the game.
As you can see in the video, even the interior looks straight out of Fallout. It's impressive how worn it looks while still looking like it could function – like it's been tirelessly repaired with spare parts a dozen times over.
Oh, and for the full Fallout 2 experience, please treat yourself to the sweet sounds of My Chrysalis Highwayman, quite possibly one of the best pieces of music to grace the Fallout series.
That wasn't all that the Fallout community had on offer at Goodsprings this year. In the photos, we saw a wide range of cosplayers, representing all the characters from fan favourite villain, Benny, to hulking soldiers in power armour. This was the second annual Fallout: New Vegas Day, and with it being so successful, we can expect the residents of Goodsprings to invite the fans back next year.
Fallout 2 was developed by Black Isle Studios and published by Interplay. Bethesda bought the IP in 2007 for $5.75 million. Fallout: New Vegas was then developed by Obsidian Entertainment, a company made up of former Black Isle Studios devs.
Obsidian itself was at the event too, so the celebration got some official backing. Developers from the studio shared some of their favourite cosplays, so they're clearly well aware of how much love New Vegas is getting all these years after release. Maybe, just maybe it means we'll get another Obsidian-developed Fallout one day? …Or a remake of New Vegas? C'mon Fallout 3 is getting a remaster, so a girl can dream.
Next: Kaitlyn Dever's No One Will Save You Is A Solid Audition For Abby On The Last Of Us