Do you feel your PC lagging behind when you're running the latest games? Are the blue screens haunting your nightmares? We hate to say it, but your power supply could be the culprit. Guys, the PSU is easy to overlook, but remember, it's responsible for powering up your rig in the first place.
Related: A Beginner's Guide To Installing A CPU Cooler For Your Gaming PC
Like changing the oil in a car, upgrading your PSU can extend the life of your build. This guide will cover selecting the ideal new supply for your setup's needs and budget. We'll walk through safely removing your old unit and installing the fresh upgrade, the whole nine. So grab your tools and strap in!
Preparing Your Workspace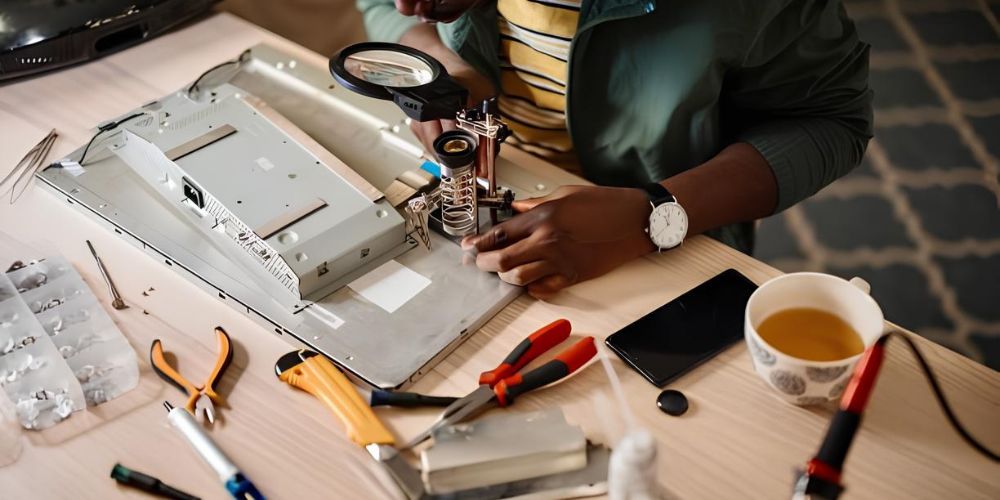 Before you go ahead with anything, you gotta shut down the PC and unplug all power to it. Safety is key. We even say hold down the power button for a good five to ten seconds once it's off to drain any residual juice still hiding in there.
Now let's clear off a nice big workspace on your desk, table, workbench, wherever you're setting up shop. We're talking removing anything and everything within the work area to give tons of open space around the open case.
Gather the new power supply box, your best Phillips head screwdriver, any spare mounting screws, zip ties for cable management, and most importantly, the instruction manual!
If you're working on a carpet or another fabric-y surface, we'd highly recommend clipping on an anti-static wrist strap. This grounds any static charge through your arm as you work, keeping it far away from your precious PC parts. Don't want any shocking surprises! (yeah, we went there)
Lastly, set up in a bright spot with good overhead light, so you can see every wire, port and connector clearly. No dark gloomy corners or tight spaces either, give yourself lots of room to maneuver.
Removing The Old Power Supply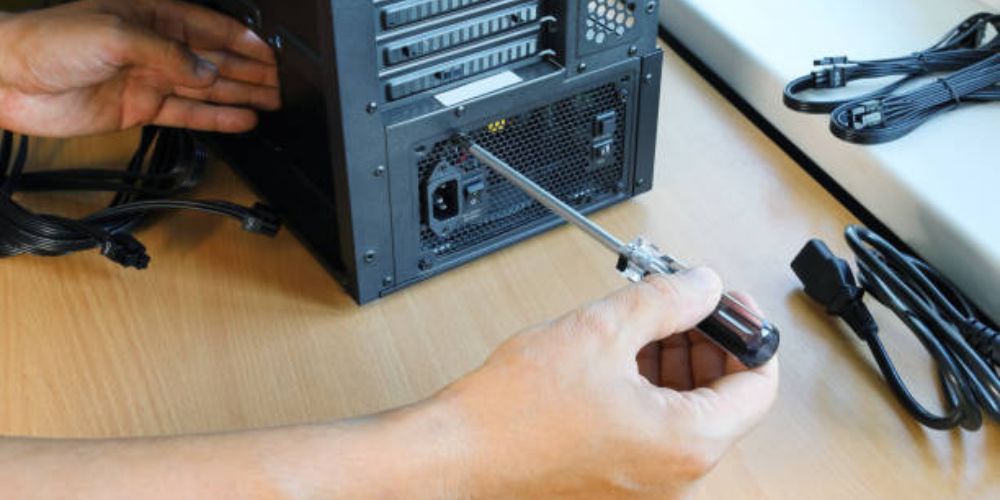 Now that you've prepped your workspace and gathered the proper tools, it's time to get hands-on and remove the existing power supply to make way for the new upgrade.
First things first, unplug all those power cables from the components and the rear of the PSU itself. That means carefully disconnecting the motherboard cable, GPU, hard drives, SSDs, fans. Basically, every cable coming from this guy's gotta go. As you unplug each one, keep those cables organized and take some notes on exactly what went where.
Once unplugged, pop open up the case side panel and locate the power supply. It'll be mounted to the top of the back section of the case interior with a handful of screws. No need to squint, it's usually the largest thing in the back by the rear opening.
Grab your trusty Phillips head screwdriver and remove all the screws anchoring this thing into the case. Some cases have the PSU enclosed in its own little box, so you may need to remove a cover panel to access the mounting points. Just take your time and get every single screw out. Set them aside someplace safe for later!
You can now gently begin pulling that power supply out towards the rear opening. We advise some caution here. Be extra careful not to bend or torque any of the internal wires or connectors as you fish it out. Side note, you may need to gently loosen up some cable ties that are threading wires through the case to fully extract it.
When it's finally fully out the back panel, carefully lift it free and set it aside. Make some detailed notes on exactly which cables were hooked up where. This is going to be handy later on.
There is a completely optional sixth step here. You can set aside the old supply in a small plastic box and deliver a heartfelt eulogy while playing this song. Is it going to help in any way? Not at all. But then again, what's life without a little whimsy?
Installing The New Power Supply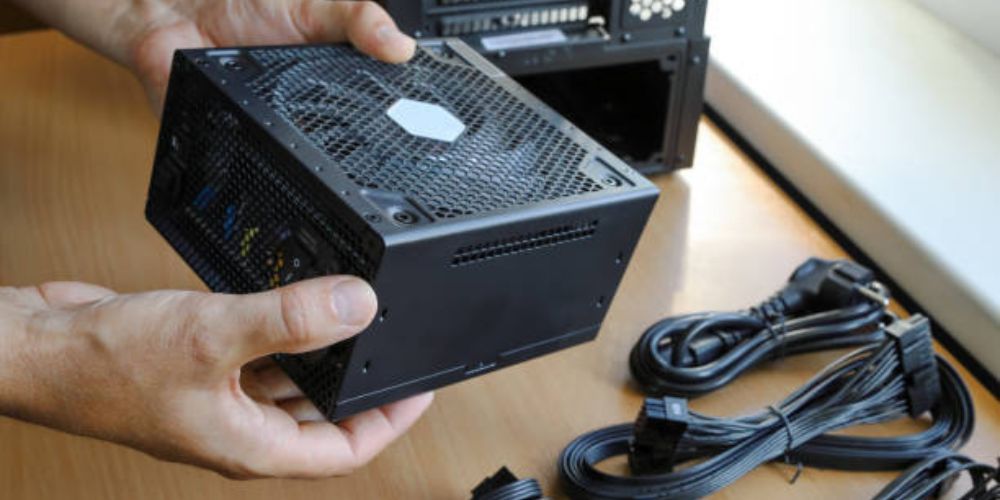 Alrighty, now that the old power supply is outta there, it's time to pop this spiffy new upgrade in and get it hooked up. Lots of steps here, but we'll go through it together:
Let's start with a good long look at the new PSU to make absolutely sure nothing's busted, bent or damaged before we dive in. Give that fan a spin to ensure it's moving smoothly with no weird noises or wobbles. Yes, yes, we know reading manuals is a snore, but it's worth it to understand all the various cables, ports, switches, and specs, so this install goes off without a hitch.
Now, before sliding this new power supply into the case, let's clear out any dust bunnies, cables, or other junk from those rear case vents. We wanna make sure our new PSU can breathe easy back there! Carefully slot the PSU into place, taking it nice and easy while ensuring no cables get pinned or bent. Keep sliding it in gently until the PSU is fully seated in the ideal position.
Got the PSU firmly slotted into the perfect position? Fan-freaking-tastic. Let's secure this thing down now with the mounting brackets and screws, so it doesn't wiggle around when powered on. Snug those screws down but be gentle and careful not to overtighten. Remember, we don't wanna crack the PSU housing. Just secure enough, so it doesn't rattle or vibrate when up and running.
Moving on to the real fun part…wiring it all up! Let's start by safely attaching that big ol' 20 or 24 pin motherboard power cable. Make absolutely sure you have those finicky little CPU power pins lined up perfectly before locking them in. Now we can start routing and plugging in the array of SATA cables, PCIe connectors, and any other cables needed, one step at a time. Consult those manuals closely so every component gets hooked up just right.
For you lucky folks working with a modular PSU, only connect the cables you need for your specific setup to avoid choking up the interior with a tangled mess. Wrap up and neatly organize any unused cables with zip ties or other fasteners to maximize airflow. And be super gentle about bending those modular cables when plugging them in to avoid damage.
Once everything is wired up, let's do a double check, no triple check, that each and every component is hooked into the proper new PSU cables and getting that sweet power. Safety first! Only after we're 150-percent sure everything is perfect do we plug that rear power cable into the outlet.
Now we button the case back up, flip the power switch on the PSU itself and press that front case power button to fire it up! Don't be alarmed if it takes a couple of tries for the BIOS to detect and play nice with the wattage and specs for your new power supply. It's gonna get there, give it a bit of time.
And boom! Just like that, your desktop is officially rocking the upgraded power supply. Monitor those temperatures and airflow closely during initial power on to make sure it's smooth sailing. Then sit back and enjoy all that newfound power! (We say this like you found the One ring, but really, it's just a power supply).
Related: A Beginner's Guide To Installing RAM For Your Gaming PC
Troubleshooting Common Installation Issues
Power supply installations don't always go flawlessly. If your newly upgraded desktop experiences problems turning on or function issues, try these troubleshooting tips:
Carefully inspect that all component power cables are fully seated and locked in at both the power supply side and the component side. Loose connections or cables that vibrate free are a super common culprit of power issues.
Try plugging the computer power cable into a different wall outlet, preferably on a different circuit, to rule out any outlet voltage fluctuations or faults. Use a surge protector power strip if available for additional protection.
In case you're installing a much higher wattage power supply compared to your old one, the new PSU may require a higher electrical load before turning on.
Use a digital multimeter to carefully check for any shorts or abnormal missing voltages between power supply cables.
Carefully space out cables, tie them down cleanly, and avoid crossing power and data cables to eliminate any possibility of loose cables short-circuiting.
Make sure to follow all these instructions to the T and installing your new supply should be a breeze. And with your corroded old unit replaced by a high efficiency PSU, you can rest easy knowing your components are powered safely.
Next: Best Power Supply Units (PSUs) For Gaming Rigs