Highlights
Super Mario RPG Remake on Nintendo Switch is packed with hidden details and references that will delight fans of the SNES classic.
The remake offers new surprises for Super Mario RPG veterans to discover, including unexpected cameos from Final Fantasy and other Nintendo series, hidden cutscenes, and a brand-new boss fight.
Easter Eggs in the remake include appearances by characters like Link from The Legend of Zelda, Samus from Metroid, and Luigi expressing his love for his older brother Mario. Additionally, there are references to other games like Star Fox and F-Zero.
Super Mario RPG is famous for its many Easter Eggs and secrets. These hidden details and references wowed Mario fans back in the SNES era, and you can find all of them in the remake on Nintendo Switch. There are even some new surprises in the remaster for Super Mario RPG veterans.
RELATED: The Best Super Mario RPG Characters
Super Mario RPG Remake has a lot to offer, which is even more apparent if you take the time to explore each area. If you look closely throughout the adventure, you may notice some surprising cameos from Final Fantasy and other Nintendo series, hidden cutscenes, and even a brand-new boss fight.
10
Link From The Legend Of Zelda Makes A Cameo
Even The Hero Of Time Needs His Beauty Sleep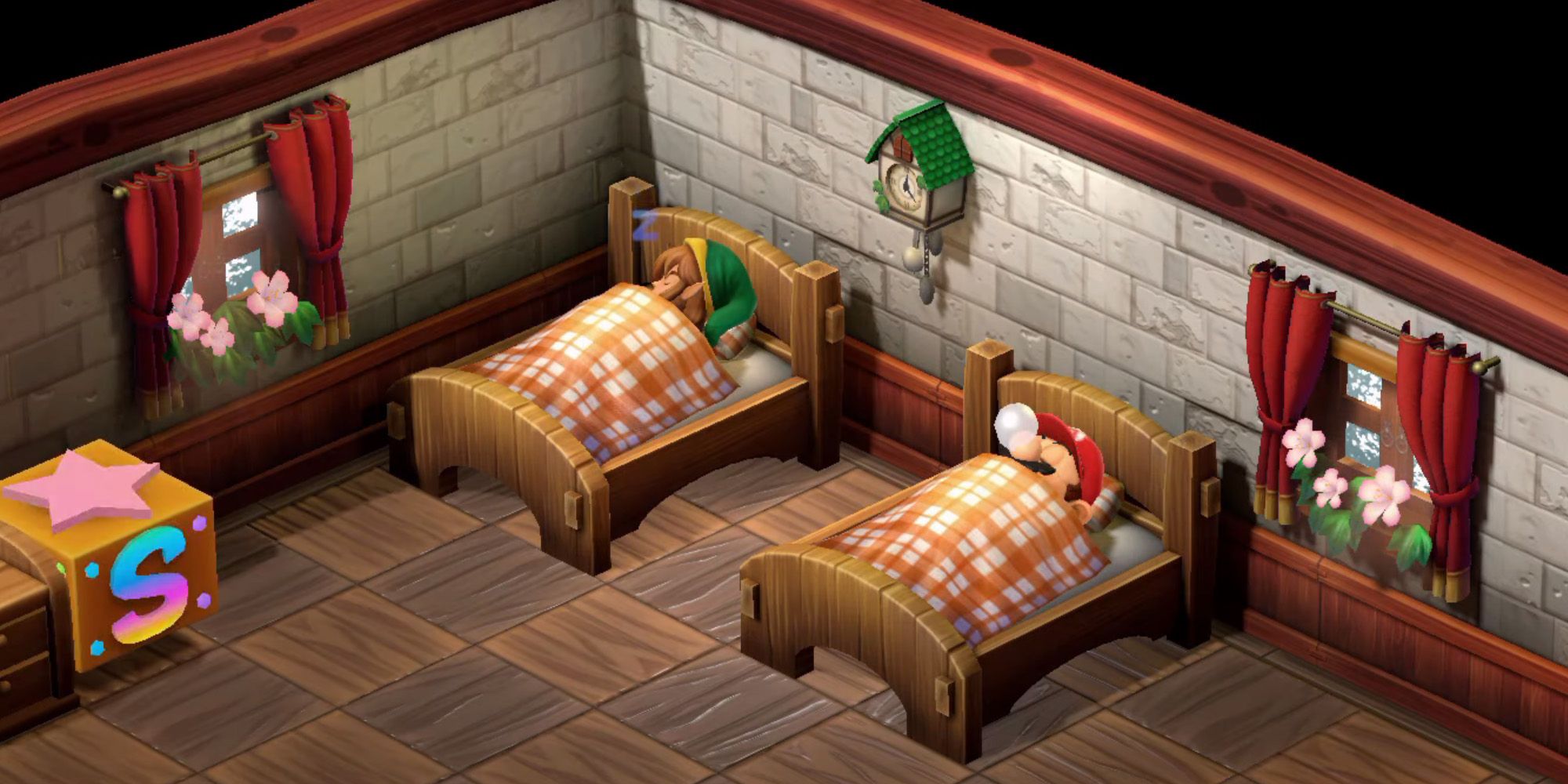 This legendary Easter Egg can be found after defeating Bowyer in the Forest Maze. Once you've recruited Geno and collected the second star, head back to Rose Town and take a nap at the Inn. You'll notice a familiar face in the bed beside yours when you wake up.
Link from The Legend of Zelda snoozes peacefully in the corner of the room. If you try to talk to him, you'll hear the iconic "secret found" jingle from the Zelda series. In the original Super Mario RPG, this was the first time Link appeared in a Mario game.
9
You Can Play As 8-Bit Mario
A Blast From The Past
Booster's Tower is packed with secrets and Easter Eggs, and the best one happens when you come across a room with two curtains. If you go behind one of them, you emerge as Mario's 8-bit sprite from Super Mario Bros on NES.
As you run around the room, you hear the overworld theme from the NES classic. If you try to leave, Mario's sprite shrinks to its tiny form, and the music speeds up like it does when the timer is running out. When you return behind the curtain, you hear the "life lost" jingle, and you'll re-emerge as 3D Mario.
8
Mario Gets A Kiss From Bowser And Booster
The Love Triangle Of The Century
During Booster's wedding, you must get four of Peach's accessories back from a group of Snifsters and Booster before they finish lighting the candles. Do it quickly, and you're rewarded with a kiss from the Princess. If you take too long, Mario will get a smooch from someone else, depending on how many candles are lit.
| Lit Candles | Kiss From |
| --- | --- |
| Three or four | Bowser |
| Four or five | Booster |
| All of them | Bowser and Booster |
This is undoubtedly the most wholesome Easter Egg in Super Mario RPG. Who knew Mario was so irresistible?
7
Luigi Makes A Wish
A Heartwarming Easter Egg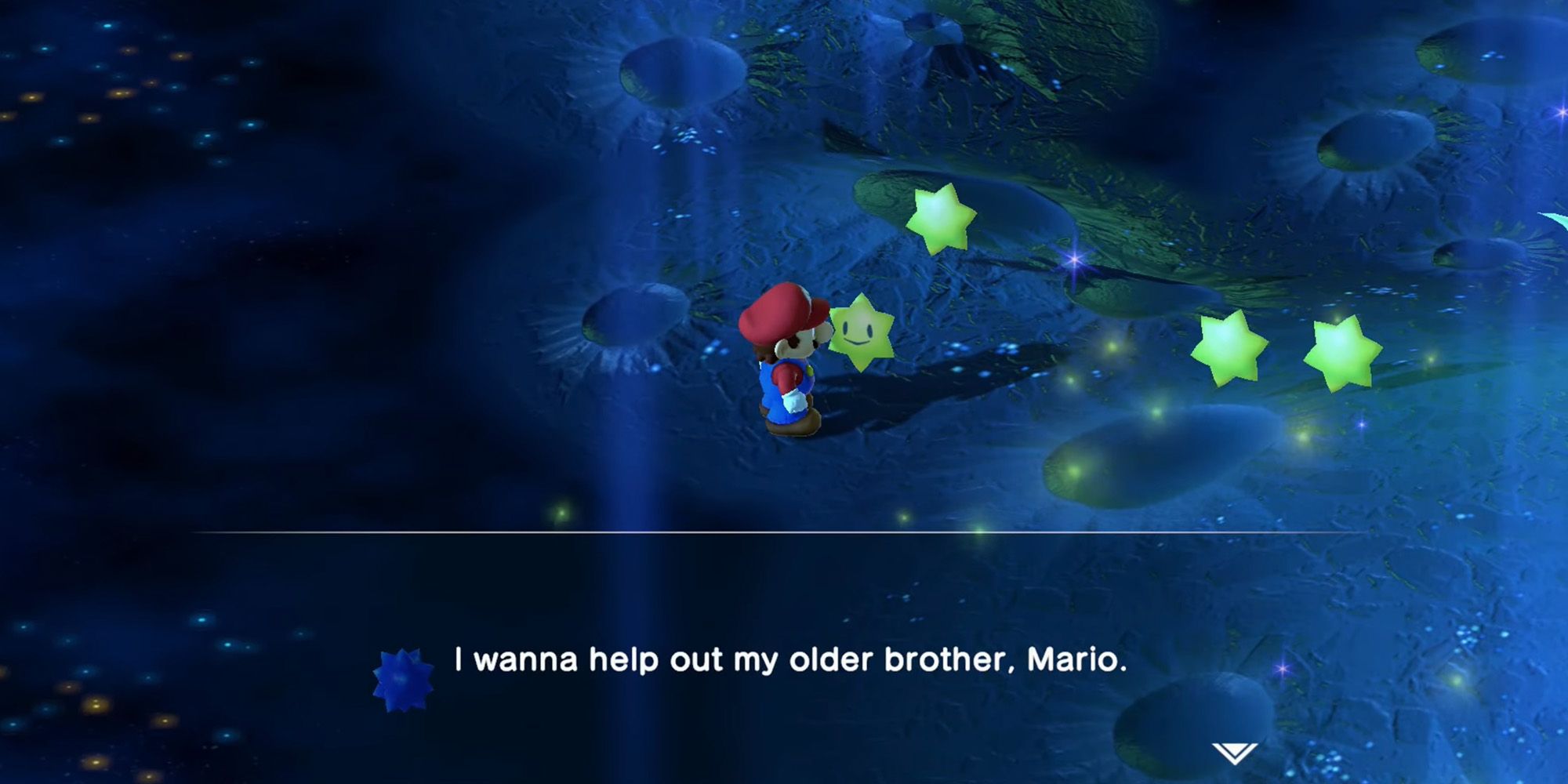 Luigi doesn't physically appear in Super Mario RPG, but you can hear him speak when you get to Star Hill. This gorgeous area is filled with tiny stars that contain wishes people make from all across the world. One of them carries a wish from the famous green plumber.
RELATED: Every Mario RPG, Ranked
If you talk to one of the stars, you hear Luigi's voice saying, "I wanna help out my older brother, Mario." Even though he's not in the game, Luigi's love for his brother remains as strong as ever.
6
Booster's Toys
Final Fantasy And Miscellaneous Cameos
Many Easter Eggs are hidden in Booster's Tower as toys. The first one can be found when you enter the building. Looking closely at the reception desk, you'll see a figure of the Magitek armor from Final Fantasy 6.
There are more references in a toy box on the top floor. Next to the Peach doll, there's Samus from Metroid, the red car from the SNES game Stunt Race FX, and the mascot for the Famicom Disk System, Diskun. When Booster takes the Peach doll, you can see Rob the Robot was underneath it the whole time.
5
Samus From Metroid Takes A Nap
Saving The Galaxy Is Exhausting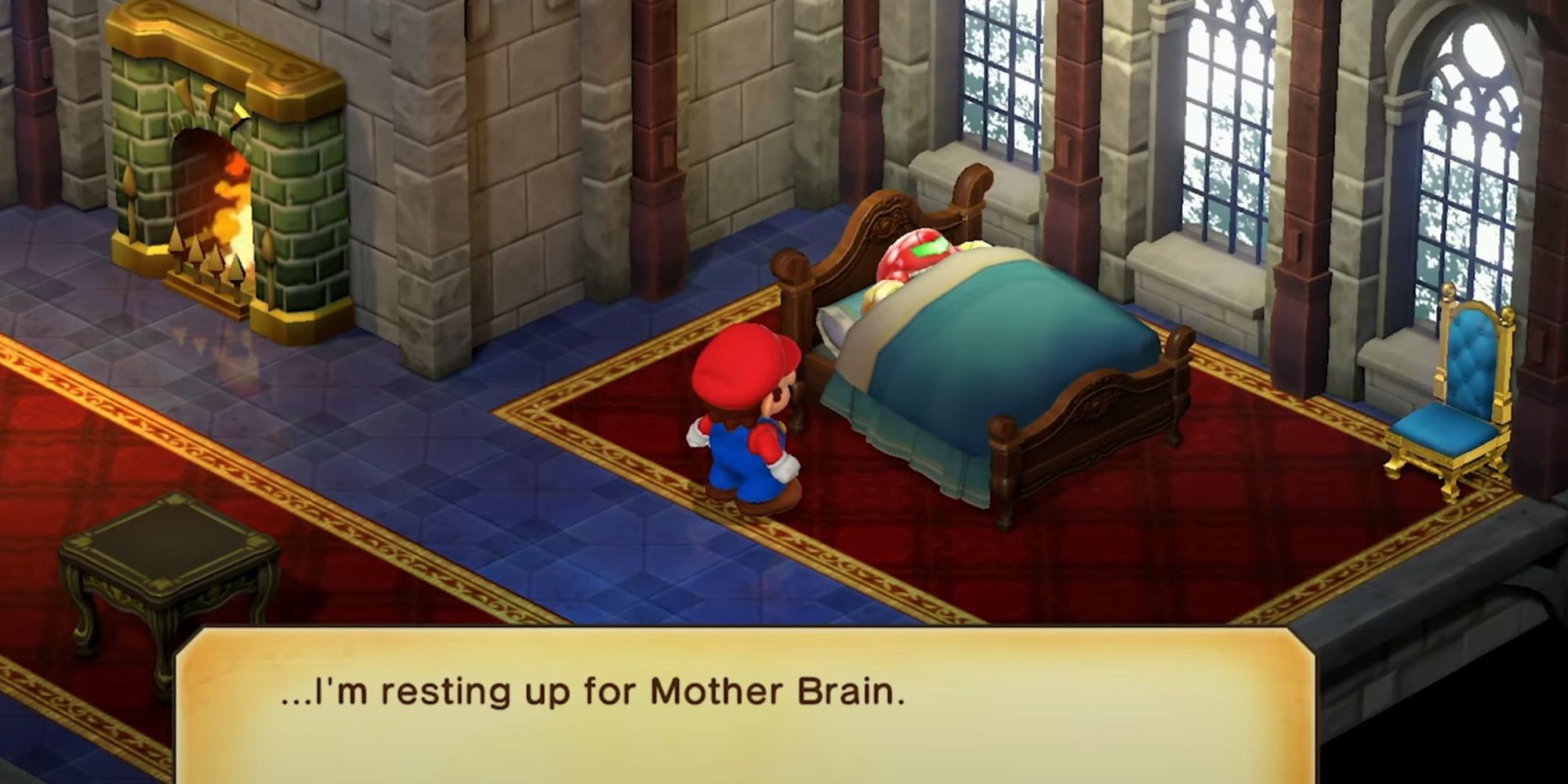 Someone at Square Enix must love Metroid because Samus makes two cameos in Super Mario RPG. In addition to the doll in Booster's Tower, you can find the real Samus sleeping in a guest room in Peach's castle.
After you defeat Speardovich in Seaside Town, return to the Mushroom Kingdom to find the famous galactic bounty hunter napping. If you talk to her, she tells you she's resting up for a big fight against Mother Brain. Why she sleeps in full armor is a mystery.
4
Peach's ???
What Is The Princess Hiding?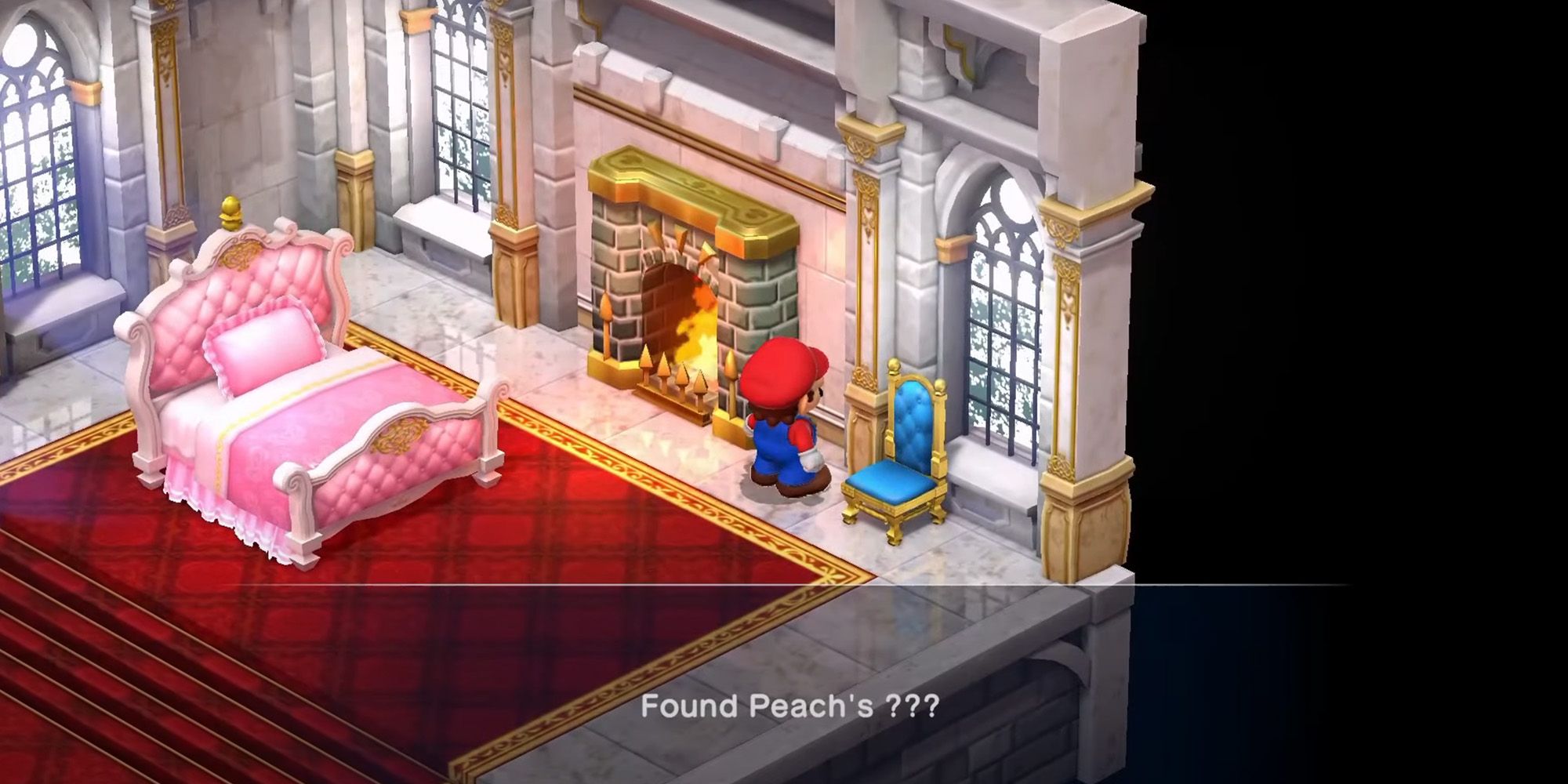 One question has puzzled Super Mario RPG fans since the original launched: what is Peach hiding behind her fireplace? This Easter Egg can be found right at the start of the game. If you go into Peach's bedroom and examine the mantelpiece, you find a mysterious item called "Peach's ???".
While the game never says what this object is, one of Peach's attendants will run up to you and give you a mushroom if you promise to forget you saw it. If Peach is in your party when you find it, she yells at you to mind your own business. What could the Princess be hiding?
3
Star Fox And F-Zero References
Cameos From Beyond The Stars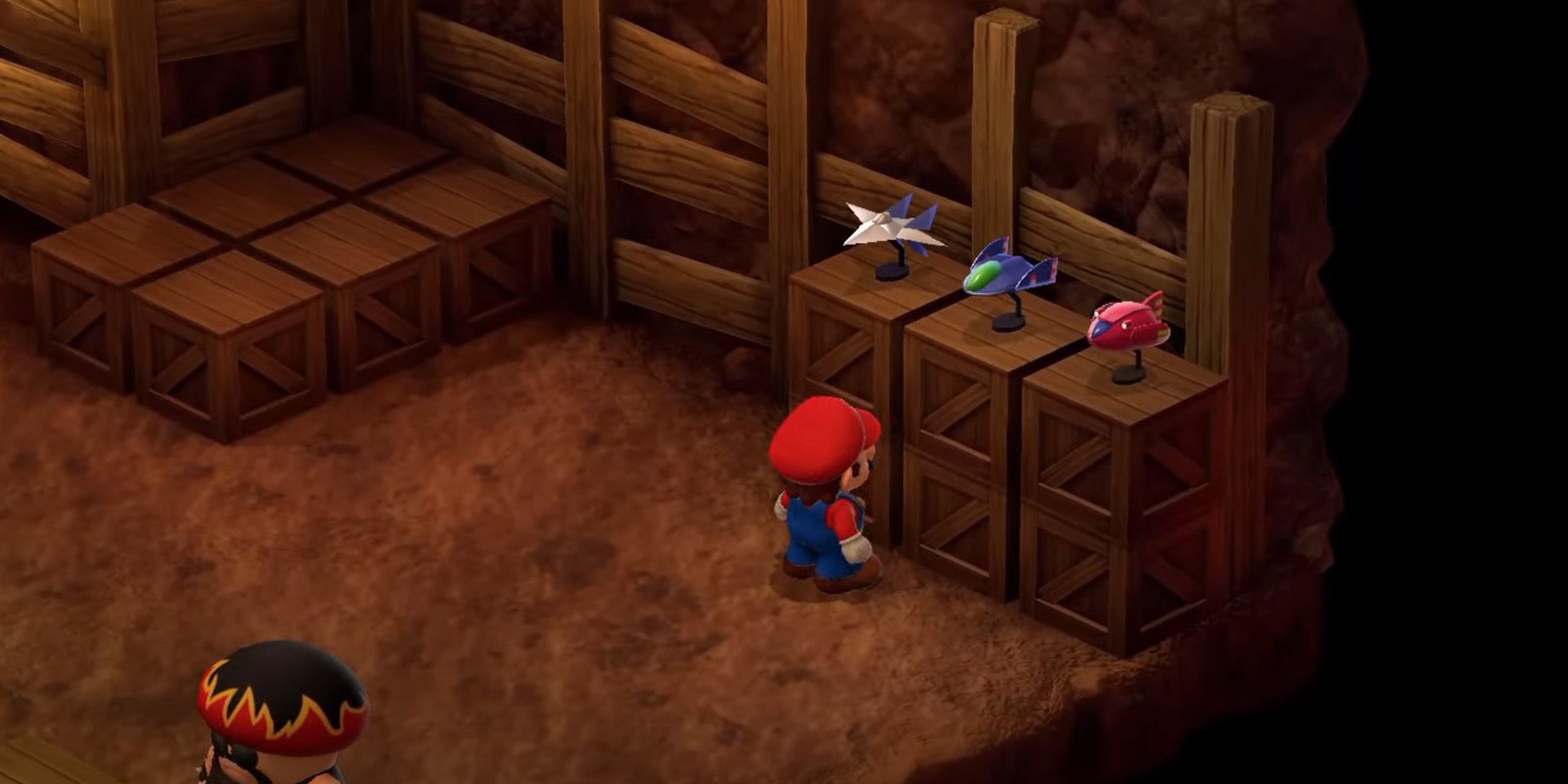 Three cool Easter Eggs are tucked away in the corner of Cinder Mart in Barrel Volcano. If you head to the back of the shop, you'll see three figurines on a stack of boxes. On the left is an Arwing, Fox McCloud's spaceship from the Star Fox series.
RELATED: How Long Does It Take To Beat Super Mario RPG?
The other two are ships from the F-Zero series. In the middle is Captain Falcon's Blue Falcon, and on the right is Samurai Goroh's Fire Stingray. Both series made groundbreaking debuts on the SNES, so it makes sense to see them represented in Super Mario RPG.
2
Big Yoshi
Everyone's Favorite Character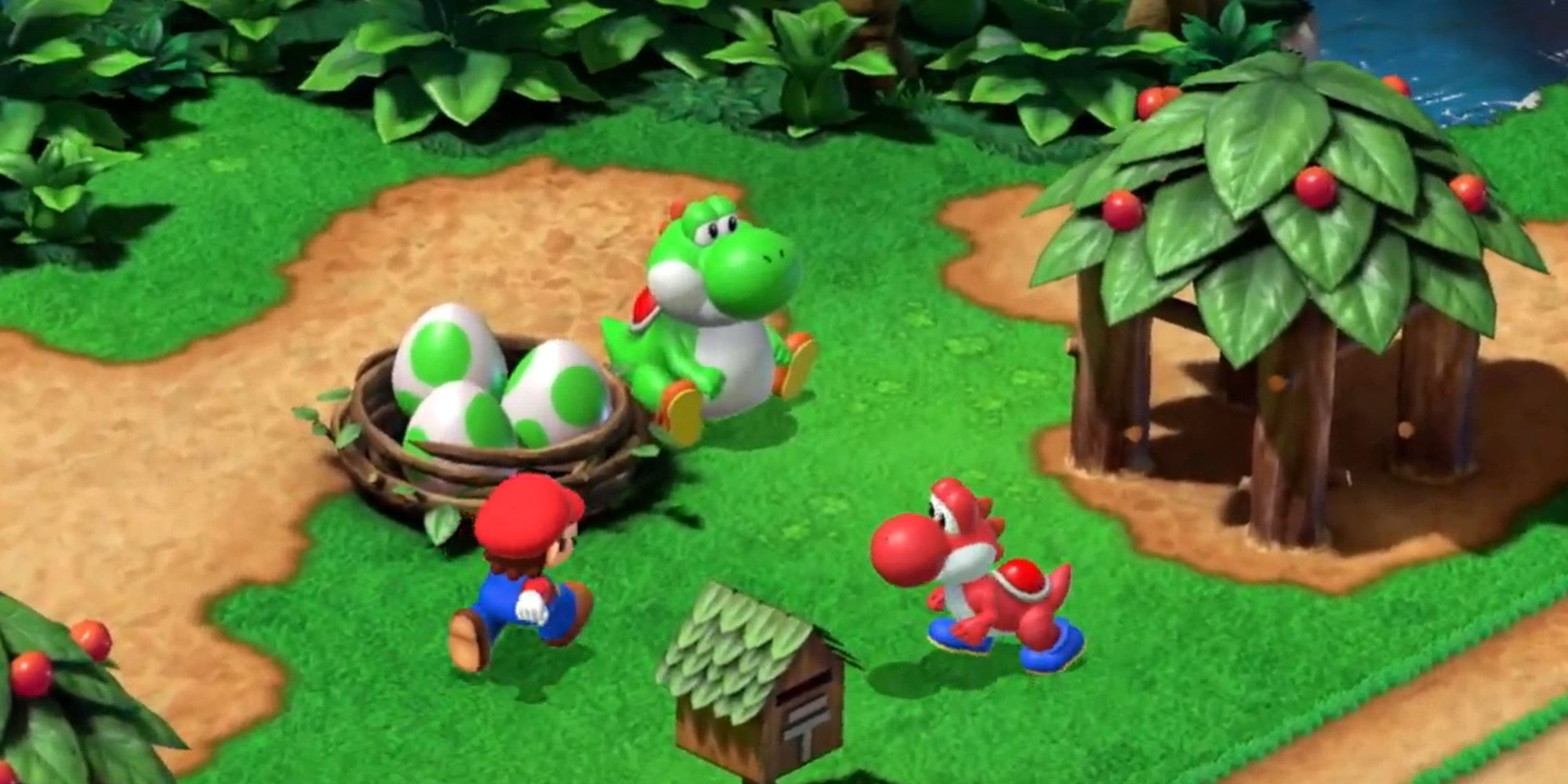 You may recognize this Easter Egg since it has become a meme over the years. If you return to Yo'ster Isle after defeating Bundt and Raspberry in Marrymore, you'll find a baby Yoshi resting in a nest of eggs. Feed him at least 30 cookies, and he'll grow up into Big Yoshi.
If you continue giving him cookies, he'll reward you with random items, including Red Essences, Yoshi Candies, Energizers, and Yoshi-Aide. If you happen to have some cookies, it's worth visiting this lovable Yoshi once in a while.
1
Culex And The New Secret Boss
The Ultimate Final Fantasy Reference
Culex is the infamous secret boss from the original Super Mario RPG, and he's back with a brand-new rematch fight after you beat the game. Here's how you find him for the first battle:
Go to Moleville and talk to the girl with the pink bow. She'll trade you her Shiny Stone if you give her some fireworks.
Head to the house to the girl's left and talk to the mole inside. He'll sell you fireworks for 500 coins.
Trade the fireworks with the girl to get the Shiny Stone and head to Monstro Town. Find the sealed blue door and use the stone to open it.
The first time you fight Culex, he appears as his 16-bit sprite from the original Super Mario RPG. The song that plays during the battle is the boss theme from Final Fantasy 4. Once you beat him, he vows to return for revenge. That's when the fun begins.
How To Find The New Secret Boss
After you beat the game, you can start the new post-game quest involving rematches with some of the bosses. When you've found and beaten each boss, return to Monstro Town and open Culex's door with the Extra-Shiny Stone, which you get after one of the rematches.
Culex will appear before you in full 3D with a new orchestration of the Final Fantasy 4 boss theme. This time, he has some devilish tricks up his sleeve. Good luck!
NEXT: Nintendo Games That Need A Super Mario RPG Style Spin-Off