Rise of the Floodborn. It's in the name of the set. The Floodborn characters in set number two of Disney Lorcana are the big focus. With the number of these characters being doubled from The First Chapter, there are tons of new abilities to explore.
Related: Disney Lorcana: Every Legendary in Rise of the Floodborn, Ranked
The staple piece for any Floodborn characters is their shift abilities. These abilities let you play them earlier in the game on top of a character with the same name. It'll cost you less to play a Floodborn character if you can shift them onto a lower-cost version. Whether you choose to shift them down or not, they can have an immediate impact on the game.
10
Flynn Rider, His Own Biggest Fan
He wants everything for himself.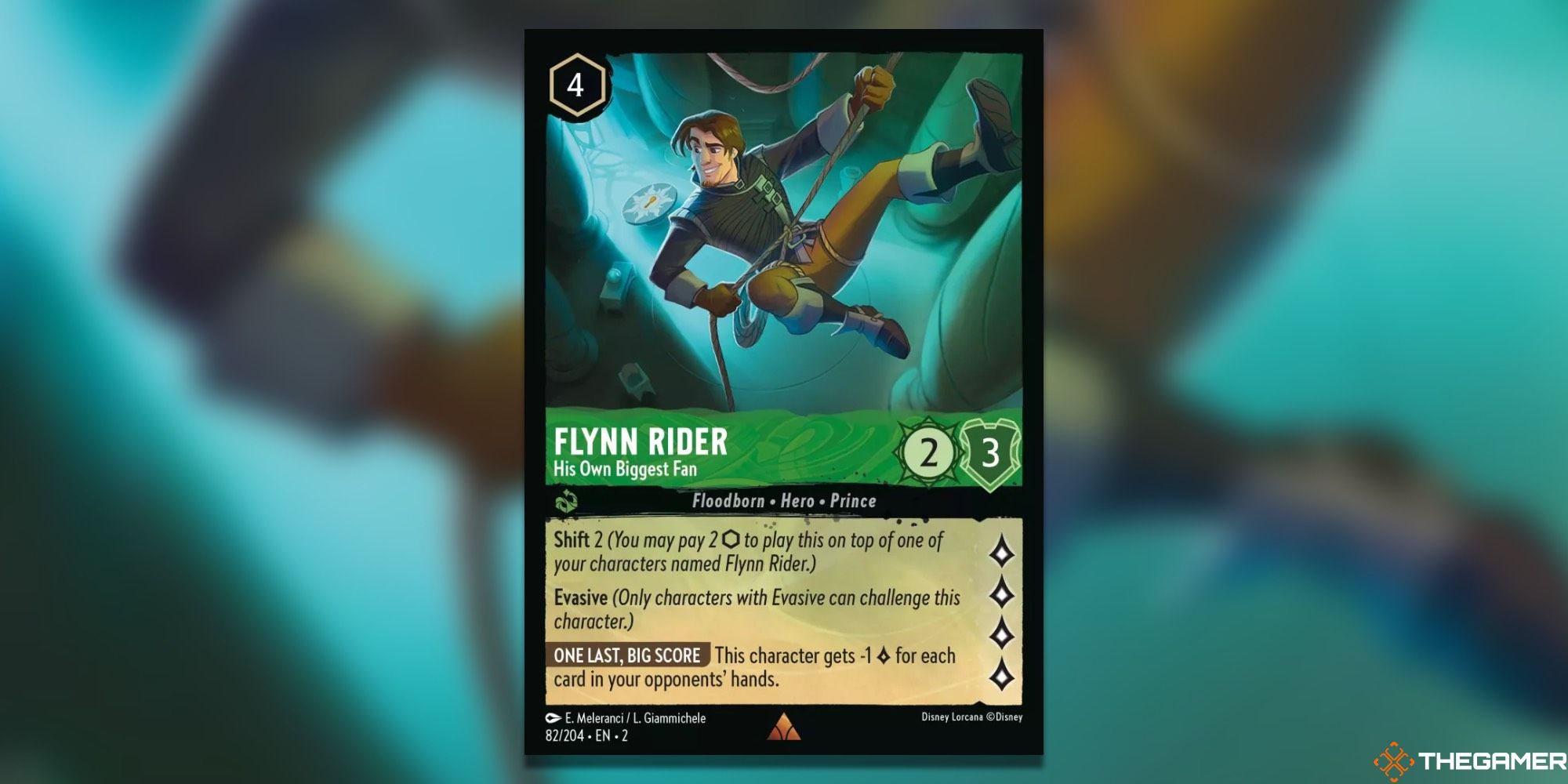 When you look at Flynn Rider, His Own Biggest Fan, the first thing that pops out is his base lore stat of four. There is a big catch to that, though, and that's his One Last, Big Score ability. It says that Flynn Rider gets minus one lore for each card in your opponent's hand.
This ability all comes down to how many cards you can play that discard cards from your opponent's hand. There are a plethora of these cards in many different colors, so there is room for this card to see play. It all comes down to consistency in the end.
9
Queen Of Hearts, Sensing Weakness
She's doing everything she can!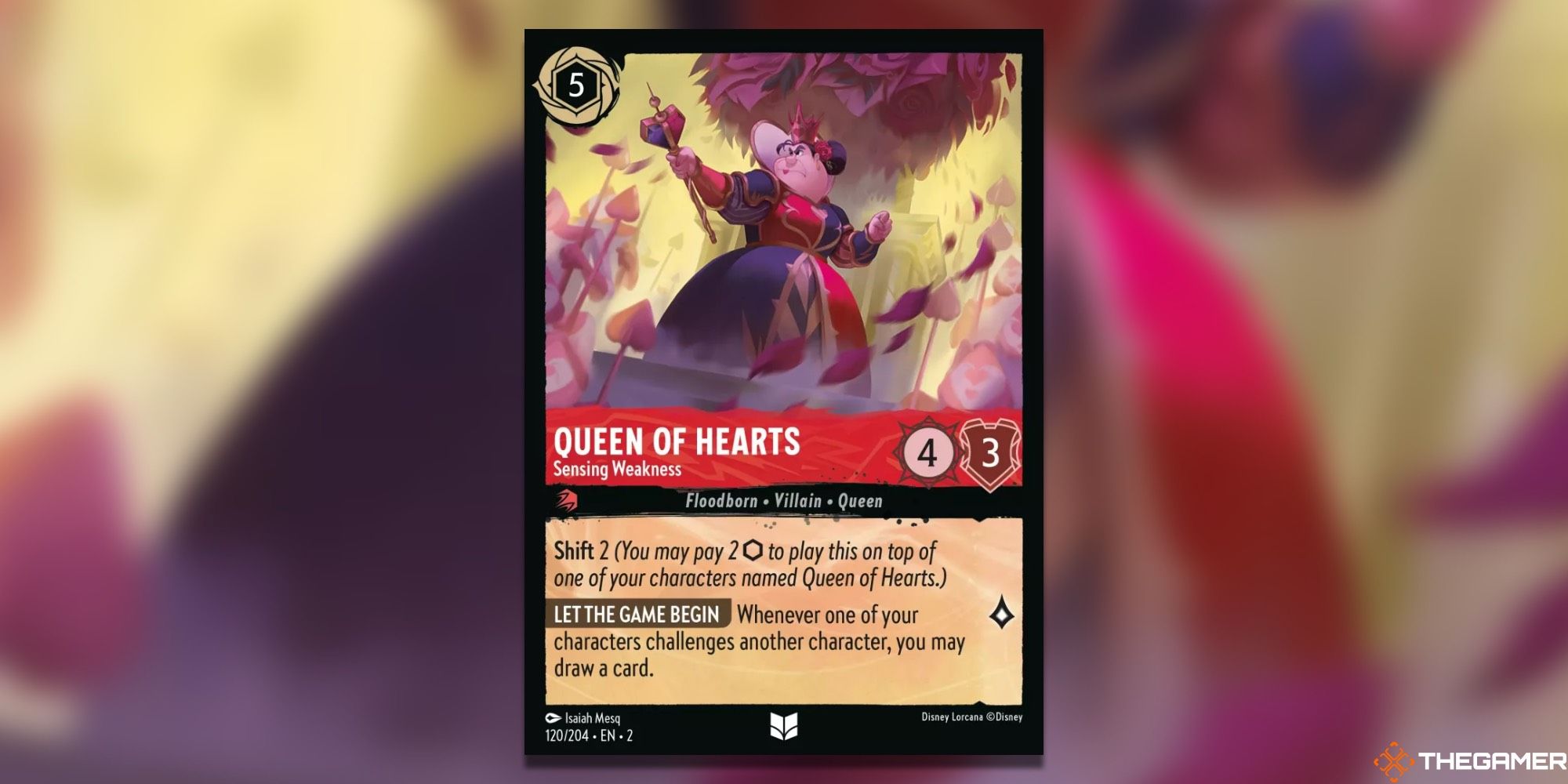 As obligatory as it may seem to want to quest or challenge with a character, Queen of Hearts, Sensing Weakness almost wants you not to do that. Her ability Let The Game Begin says whenever one of your characters challenges another character, you may draw a card.
Related: These Rise Of The Floodborn Cards Will Instantly Upgrade Your Old Lorcana Decks
The key here is her shift two. We currently don't have a one-cost Queen of Hearts, so the earliest we can get her down is turn three. Nonetheless, being able to get her down and have her ability active is great as it lets you draw every time you challenge and helps to keep replenishing your hand.
8
Lady Tremaine, Imperious Queen
She's as wretched as they come.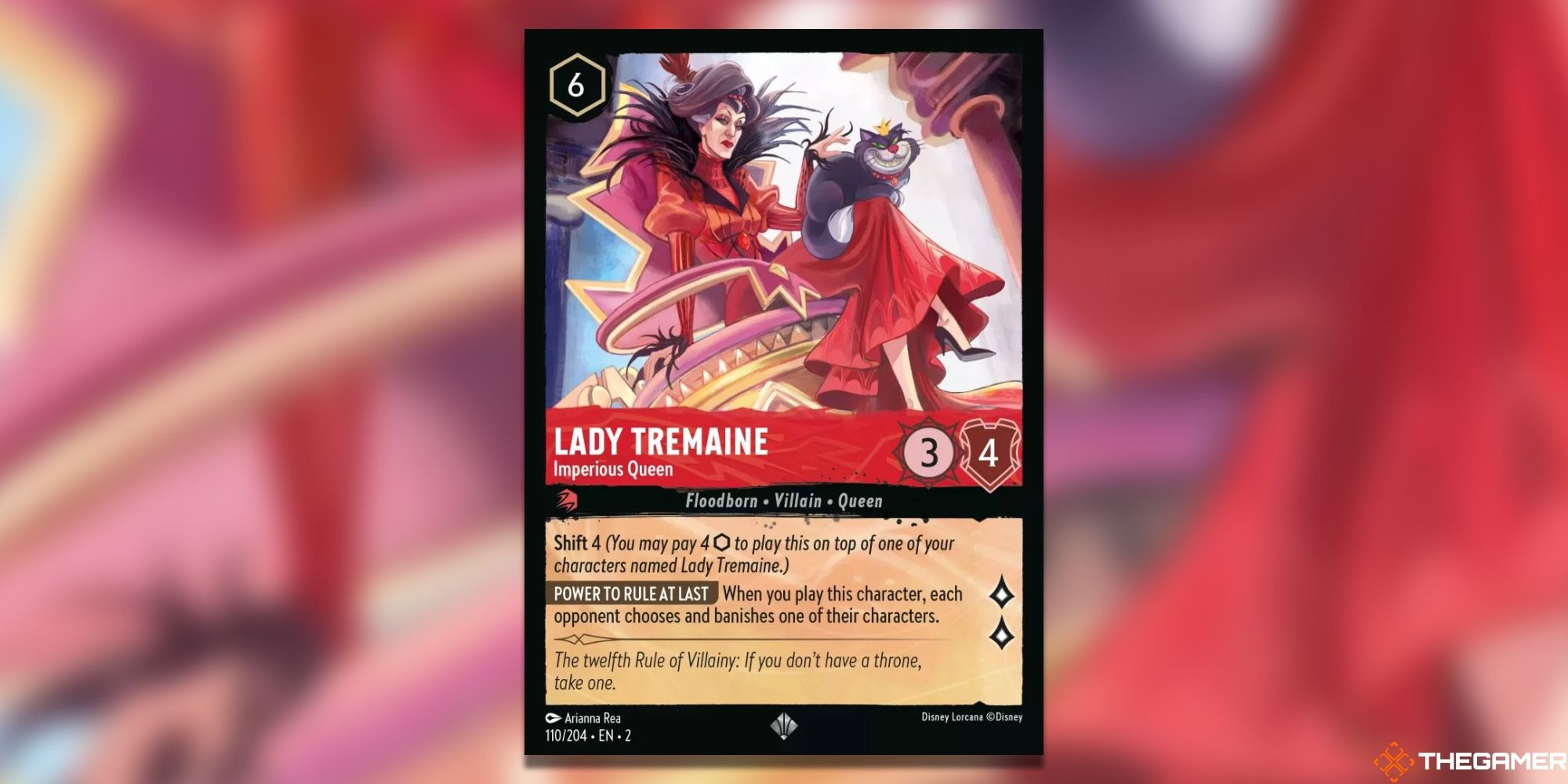 If you're looking to remove multiple characters from the board at one time, Lady Tremaine, Imperious Queen, is the go-to card for you. Her ability Power To Rule At Last says when you play this character, each opponent chooses and banishes one of their characters.
This card sees a healthy amount of play, specifically in multiplayer. Being able to take a character off the board, albeit your opponent does get to choose it, is still great. It can shift their strategy and really shake up the game depending on what they have to get rid of.
7
Mulan, Reflecting
A beautiful song always calms the mood.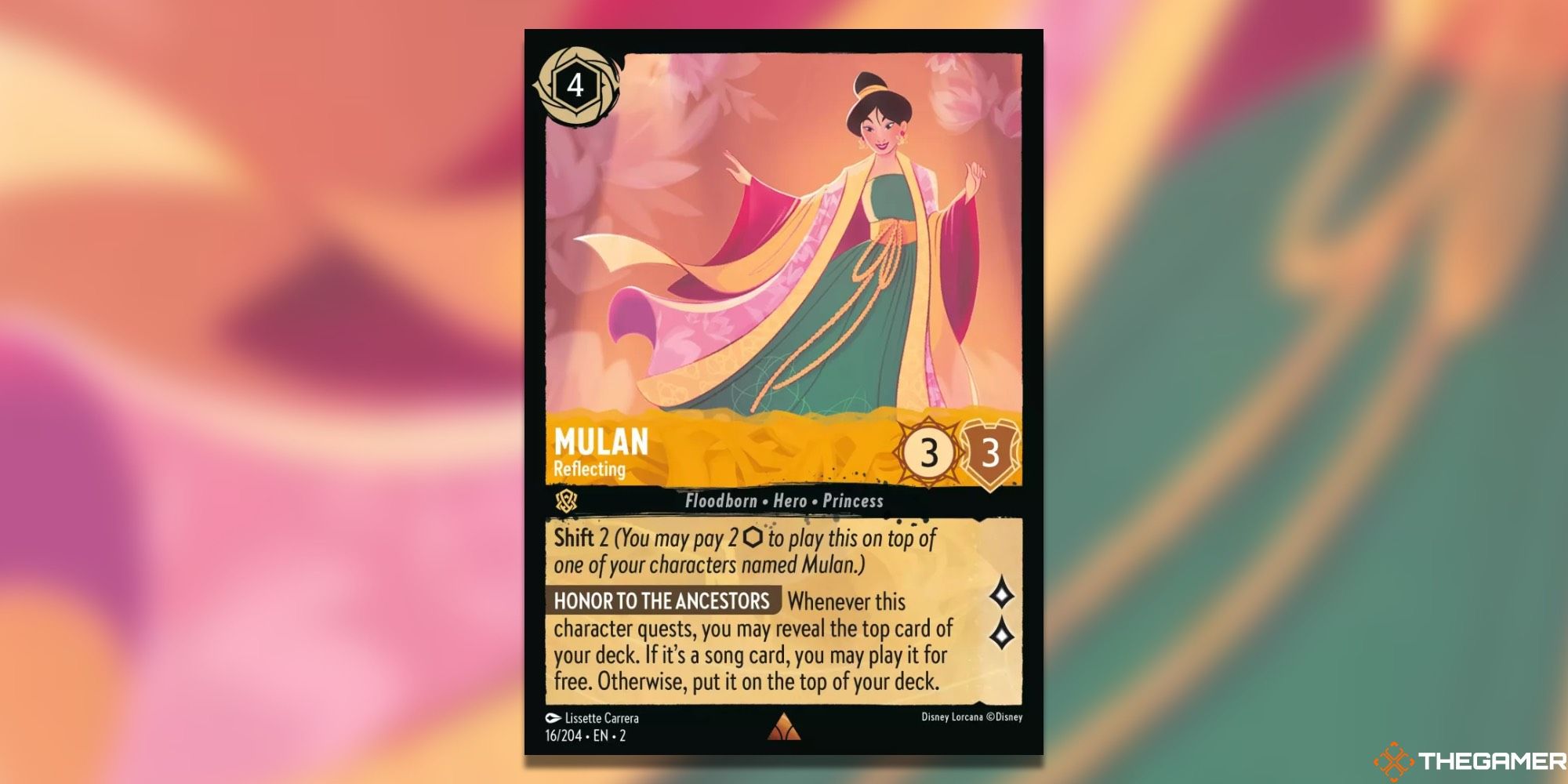 Who doesn't love getting to play cards for free? With Mulan, Reflecting's ability, you have the chance to do just that. Honor To The Ancestors says whenever she quests, you may reveal the top card of your deck. If it's a song, you may play it for free, or if you choose not to play it, put it back on top of your deck.
In an ink such as Amber that has a healthy number of songs to begin with, Mulan fits right in. The key thing to watch out for is the consistency in being able to hit a song every time she quests, but she has a place in those heavy song decks.
6
Snow White, Well Wisher
She's wishing on a win for you.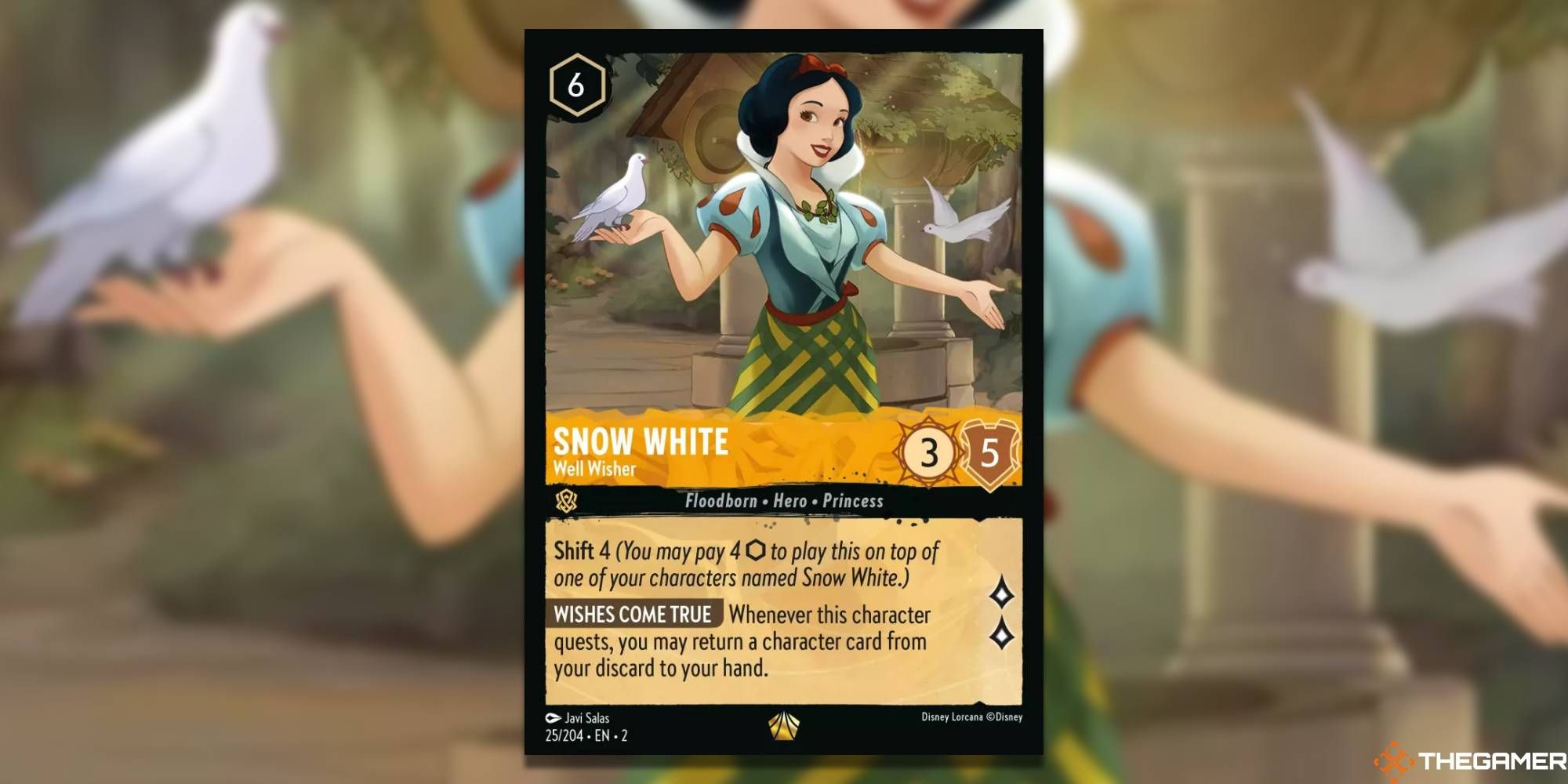 Another uninkable Floodborn, Snow White, Well Wisher, shows why she has that uninkable trait on her card. Her ability Wishes Come True, lets you return a character card from your discard to your hand whenever she quests, if you so choose.
Related: So Who Is Rise Of The Floodborn's Big Tink?
If you are looking to retrieve a key piece to a combo or get back a big body that you want to play again, Snow White can help with that. With her five willpower, there is also a chance you'll get to do that many times with her, which makes her that much better.
5
Cinderella, Stouthearted
Ready to stand brave for Lorcana.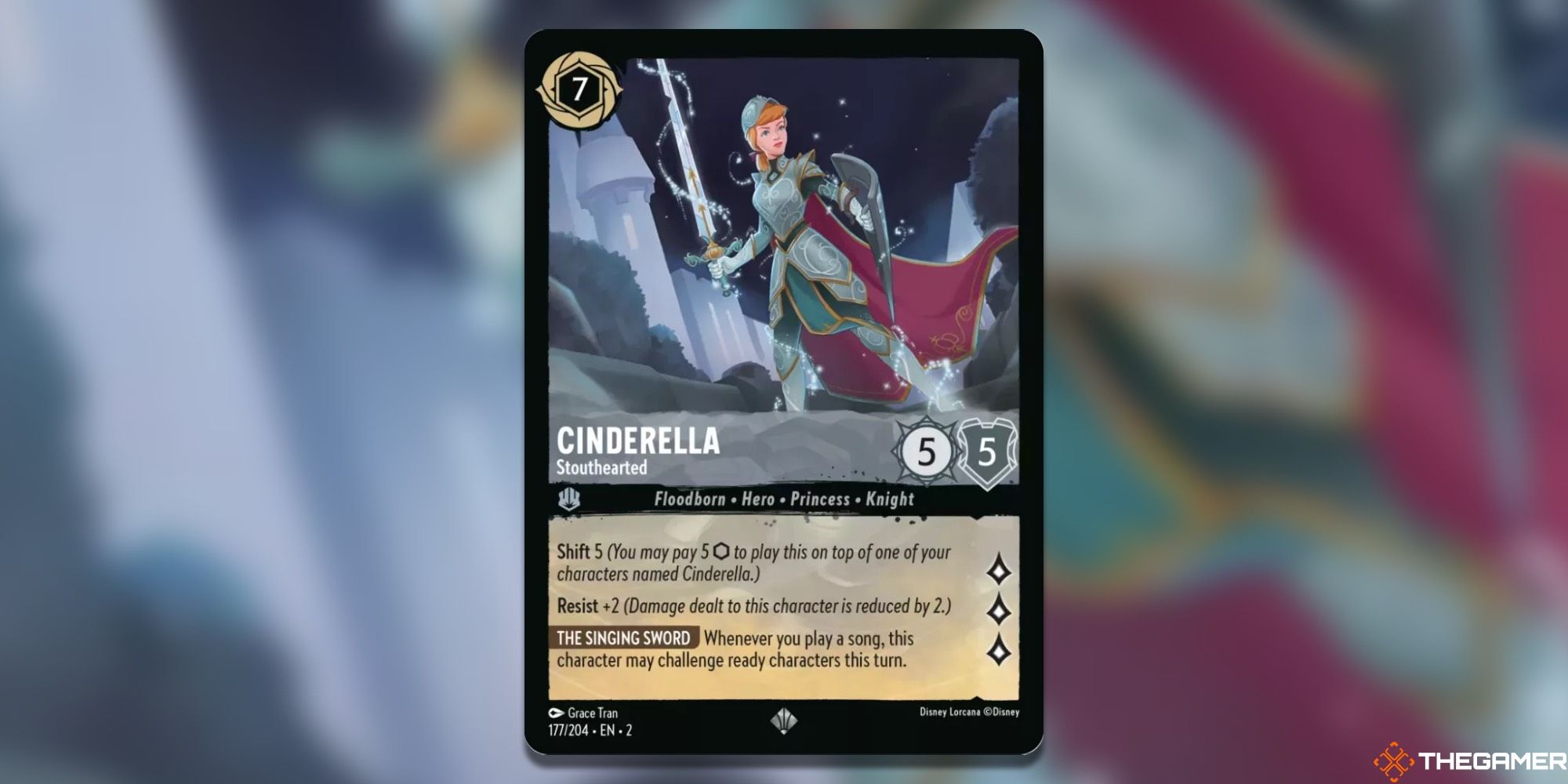 Cinderella, Stouthearted, was one of the first characters that introduced the Resist keyword into Lorcana. The baseline of the ability is whatever number comes after the word, which is two for Cinderella, is subtracted from any damage dealt to that character. This essentially puts her five willpower at seven. It also makes your opponent have to do more math when challenging her.
Her ability, The Singing Sword, says whenever you play a song, she may challenge ready characters this turn. That ability opens up a lot more opportunities when looking to clear an opponent's board.
4
Raya, Leader Of Heart
This Glimmer is always ready for battle.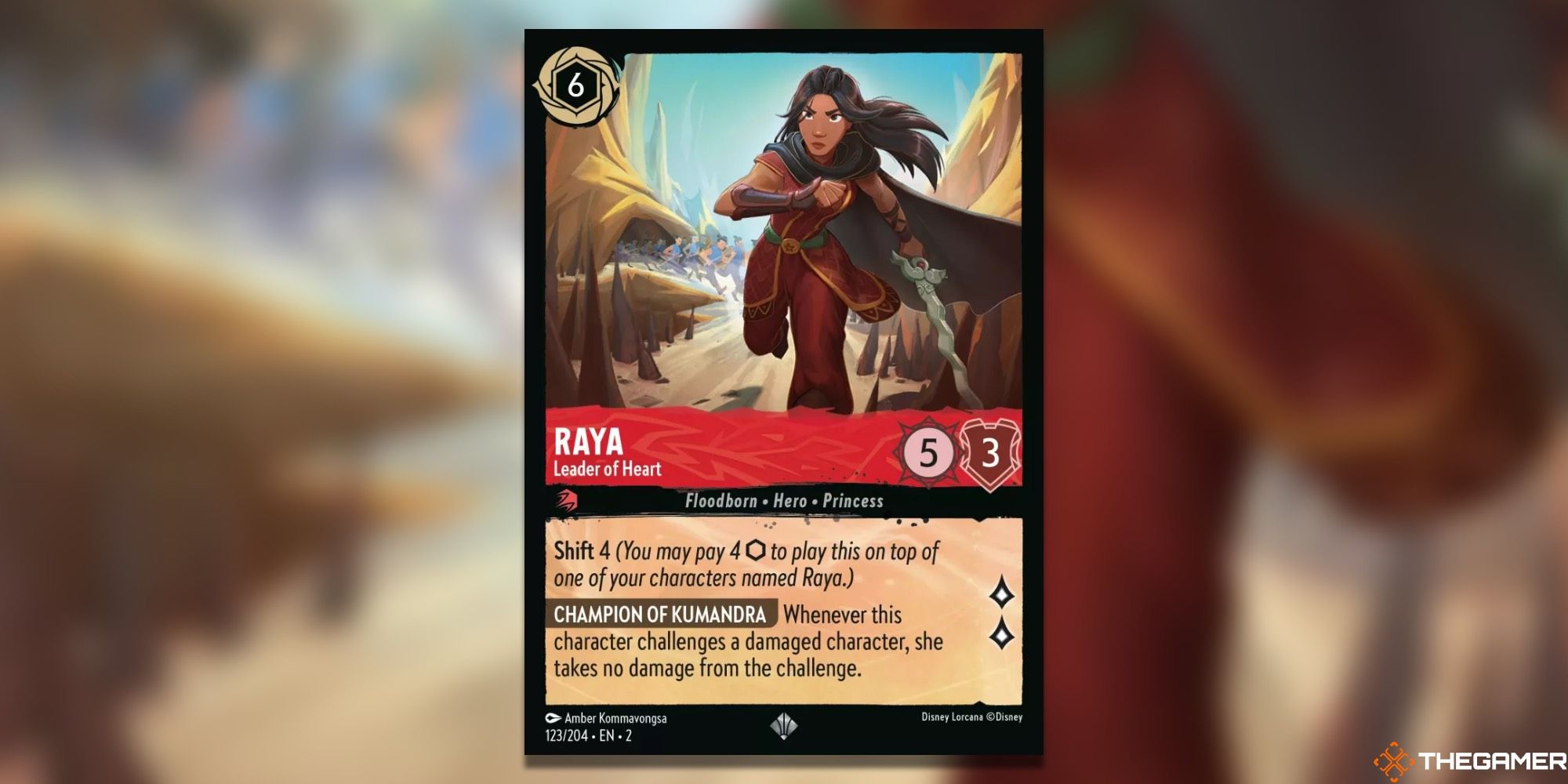 Raya, Leader of Heart, is one of those characters that has the unique ability to truly stay on the board for a long time. Her ability Champion of Kumandra says whenever she challenges a damaged character, she takes no damage from the challenge.
With a plethora of cards in Lorcana that deal spread damage, this ability can really be put to use. The biggest combo could be with Tinker Bell, Giant Fairy from set one that deals one damage to every opposing character when she is played, which sets up Raya perfectly.
She'll poke you when you don't see it coming.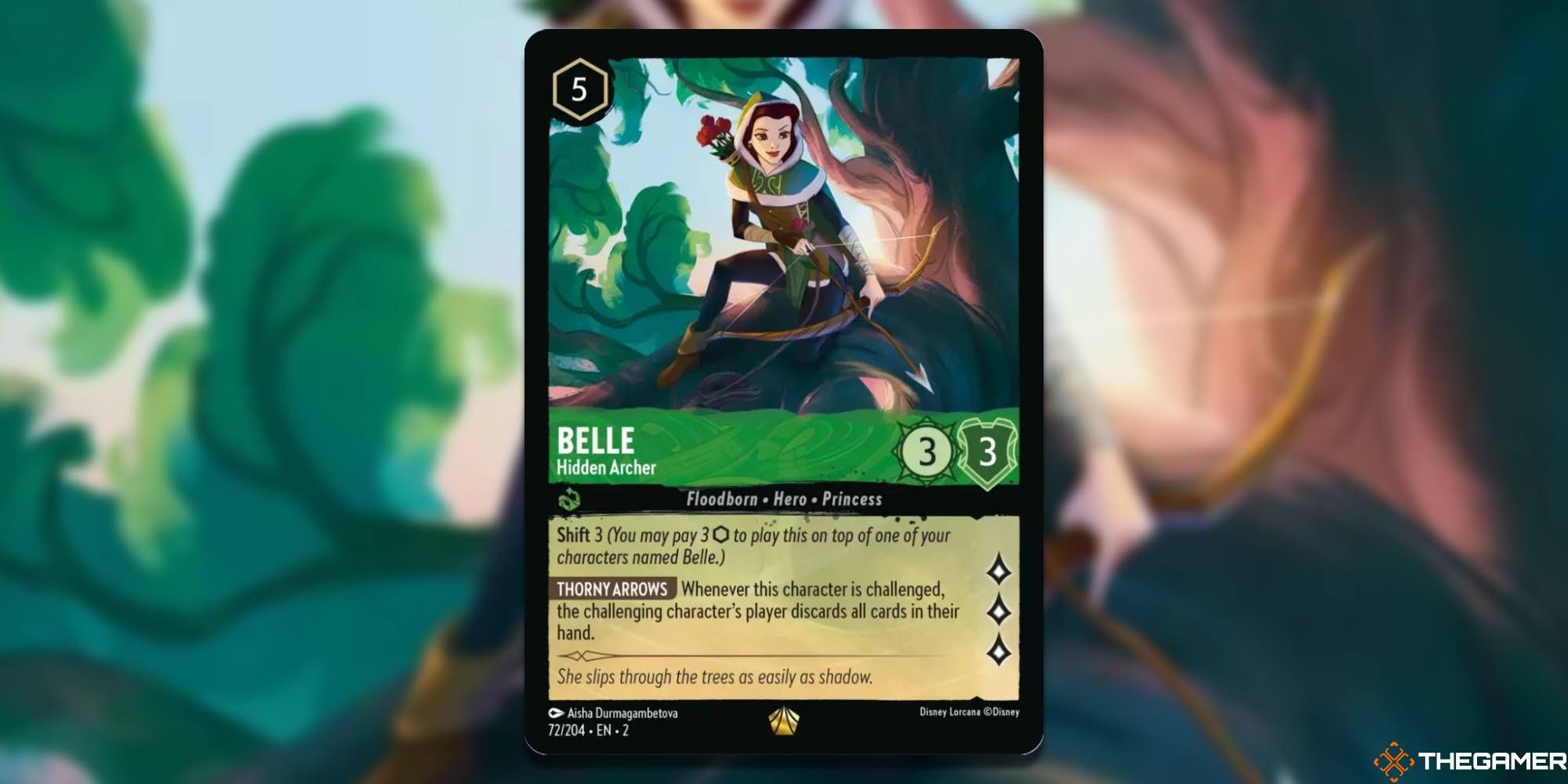 Getting the chance to leave your opponent with zero cards in hand is always a chance to take it, and Belle, Hidden Archer can do just that. Her ability, Thorny Arrows, says whenever this character is challenged, the challenging player discards all their cards.
Related: Disney Lorcana: Every Starter Deck, Ranked
This can truly be an abrupt way to slow your opponent down. Because if they don't have hard removal or cards to deal enough spread damage to take Belle out, she is questing for three each turn and quickly getting you closer and closer to the twenty lore needed to win the game.
2
Cogsworth, Grandfather Clock
Tick tock, tick tock.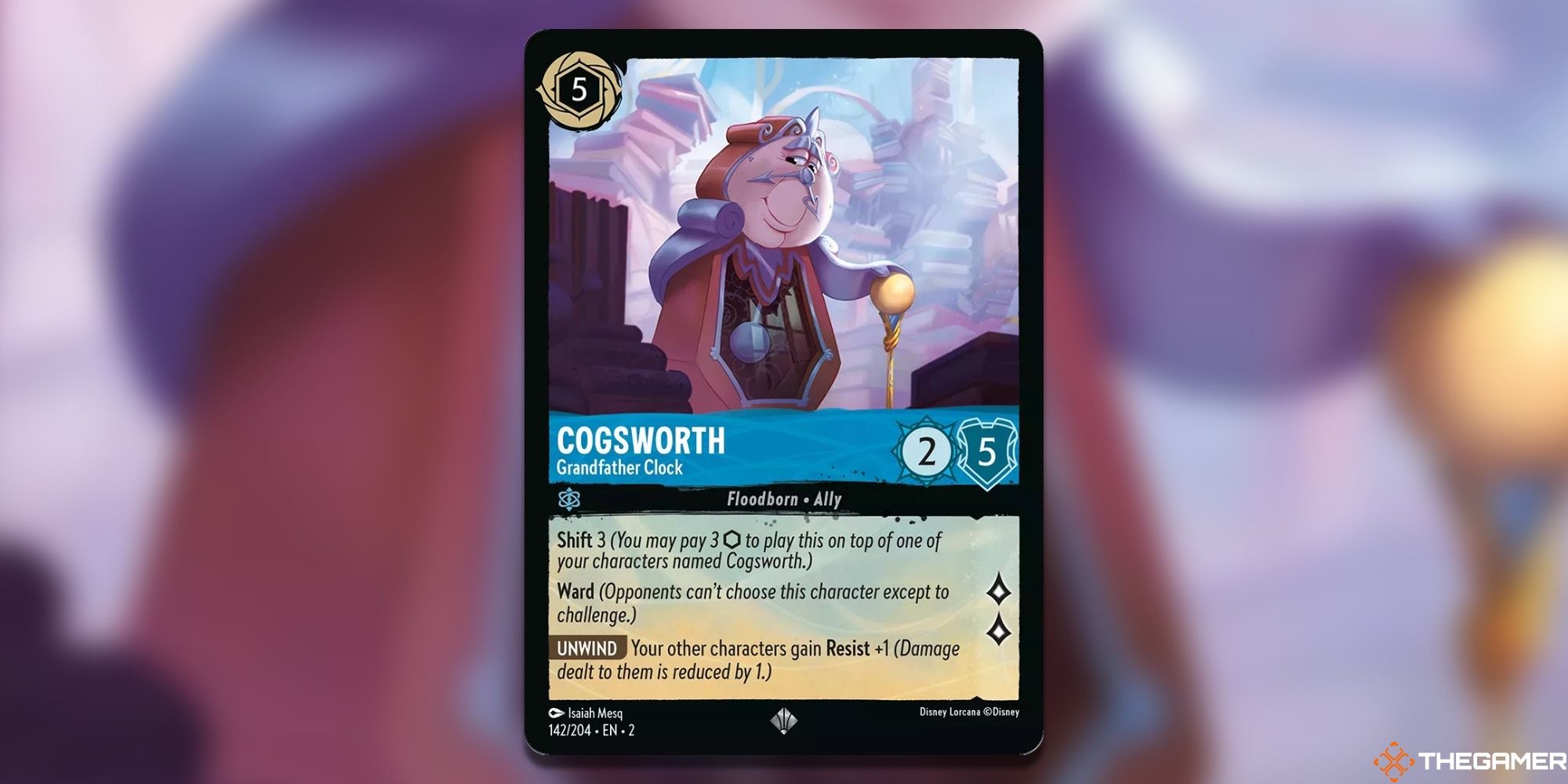 One of the most useful abilities of all Floodborn characters, Cogsworth, Grandfather Clock's ability Unwind, helps greatly. It is very straightforward in that what it does is it gives all your other characters Resist +1.
When all of your other characters are taking one less damage from challenges, it makes it that much harder to clear your board and remove other characters. Cogsworth also has Ward, so your opponents are forced into challenging him if they want him gone, which really makes him a big-time threat once he comes into play.
1
Rapunzel, Gifted Artist
She's drawing her way to a win.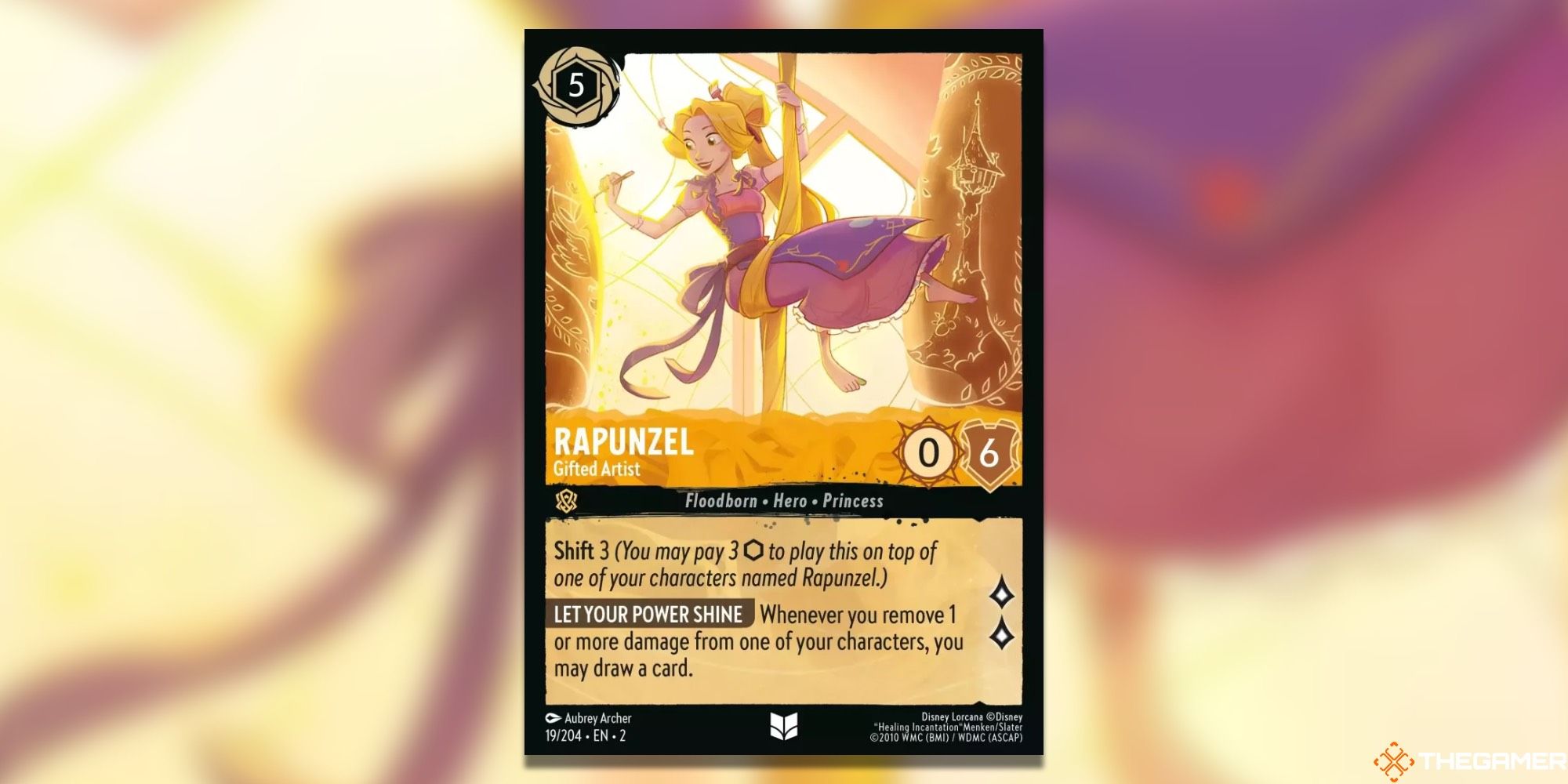 The similarity with all the Rapunzel cards we've seen so far in Lorcana is that they want to heal, which makes perfect sense. Rapunzel, Gifted Artist, follows that trend with her Let Your Power Shine ability, which says whenever you remove one or more damage from one of your characters, you may draw a card.
This works perfectly with Rapunzel, Gifted with Healing, which is in set one of the game. You can play this Rapunzel and then the other Rapunzel and draw a multitude of cards with their abilities combined. There are a lot of other ways to trigger this card besides that, which makes it a great addition to any Amber deck.
Next: Disney Lorcana: How To Upgrade The Amethyst/Steel Starter Deck