A powerful adventurer is a wise one. Wisdom is one of the best ability scores in Dungeons & Dragons, and things aren't so different here in Baldur's Gate 3. It helps you read people's intentions, be aware of your surroundings, resist mind control or other spells that affect your mind, and it can be the source of your magic, depending on which class you're playing.
RELATED: Baldur's Gate 3: All Damage Types, Ranked
Thus, let's talk about how useful Wisdom can be during combat, whether it's for offense or defense, but also the perks of having a decent score outside of fights as well, thanks to the skill proficiencies associated with the ability score.
5
Choose A Class That Uses Wisdom In Combat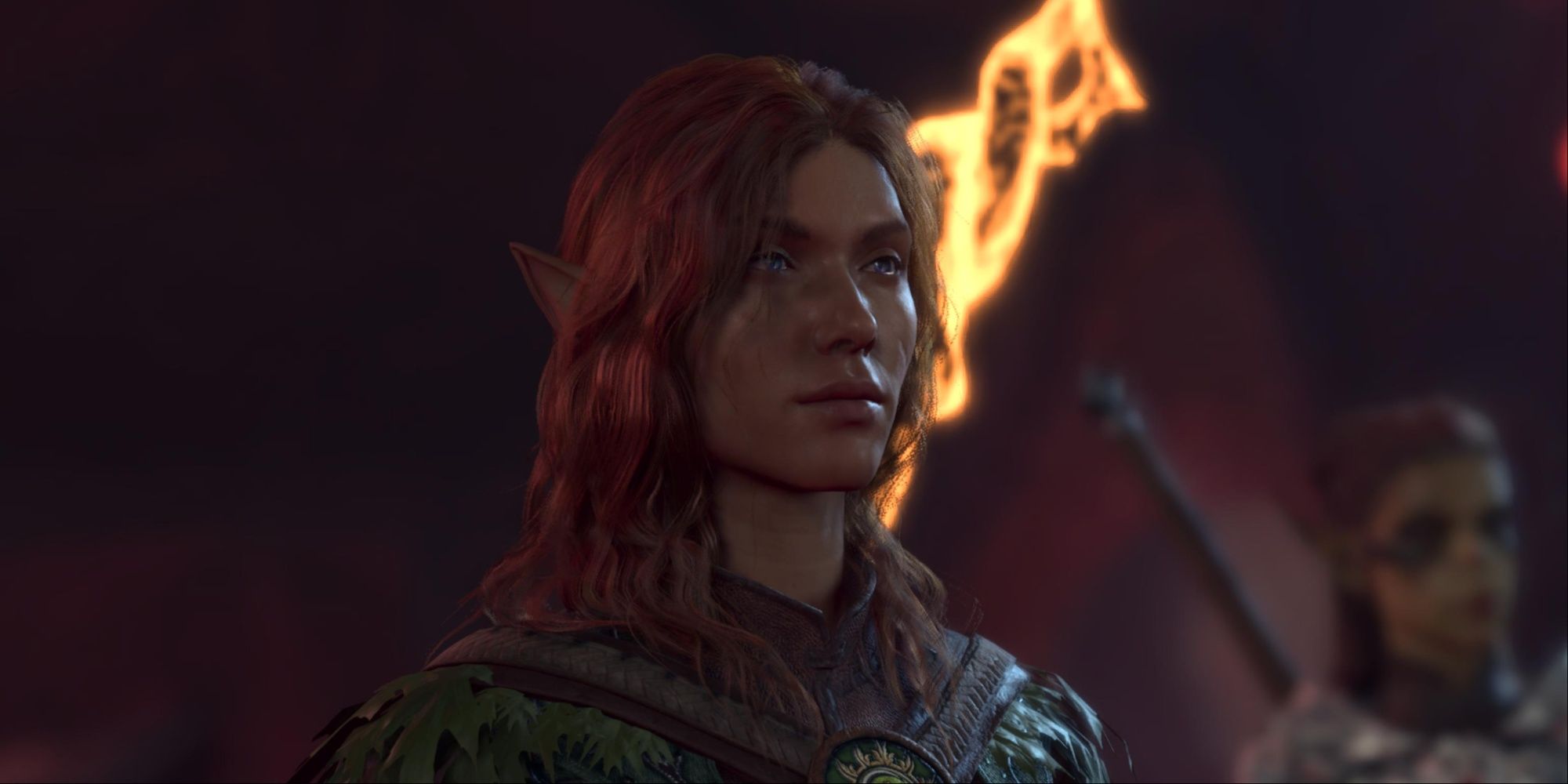 Baldur's Gate 3, despite all of its fantastic roleplay and almost dating-simulator-like interactions, is a game that focuses on combat. That means your character should focus on Wisdom as a primary ability only if it affects how you fight.
Naturally, the classes that need Wisdom are Monks, Rangers, Clerics, and Druids. Monks and Rangers are still martial classes, meaning they rely on physical combat, so even for them, you don't need your Wisdom to be their highest ability – Dexterity is probably the one you want for both of them.
Clerics and Druids, on the other hand, need Wisdom as their primary ability, as it affects their spells. It controls the attack roll, meaning the chance to hit, and the saving throw, a number the opponent needs to pass to avoid the effects of your spell. The higher your Wisdom, the higher the number they need to beat, making their chances of succeeding lower.
4
Be Careful When Choosing Your Race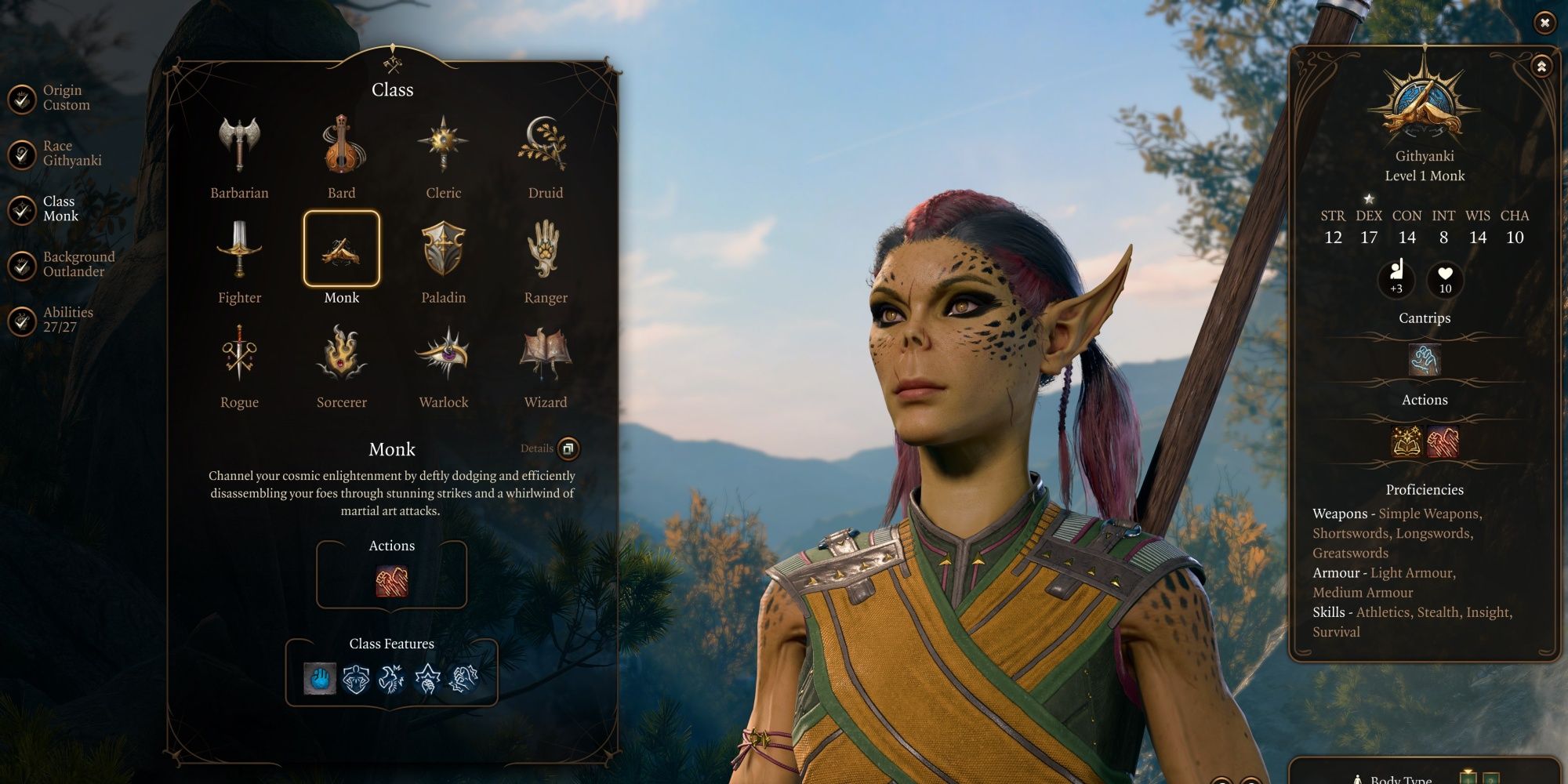 Have you already noticed how often Shadowheart misses her Fire Bolts? There's a reason for that. Some races, such as the High Elves or Tieflings, have innate cantrips and spells, which is a good way of increasing your magic repertoire. There's a problem, though; you can't choose which of your ability scores are used for these extra spells.
In Shadowheart's example, the cantrip you get for being a High Elf – High Half-Elf, in her case – revolves around your Intelligence score, while her main ability score is Wisdom, as she is a Cleric. That means her Fire Bolt will only be easier to hit if you improve your Intelligence, which is not the best thing for her build. As for the Tieflings we mentioned, their extra spells tend to revolve around Charisma, which is also not ideal for you.
RELATED: Baldur's Gate 3: Best Races For A Monk
That doesn't make them bad races for your character, though. It just means you need to be smart about it. High Elves are still a good choice; you can get a cantrip that doesn't rely on damage, like Minor Illusion, Mage Hand, or Light, for example. As for the Tieflings, you can go with Zariel for different Smites. They'll rely on your physical attack and don't have saving throws, so your Charisma is irrelevant.
Alternatively, you can choose races for other features, as quite a few races match with the classes mentioned above. We'll leave our top recommendations.
Monks:
Wood Elves, Githyanki, or Duergar;

Rangers:
Wood Elves, Lightfoot Halflings, Deep Gnomes;

Clerics:
Gold Dwarf, Gnomes in general, High Elves;

Druids:
Elves, Halflings, and Gnomes in general.
3
Make It Your Second Or Third-Highest Ability Score If Possible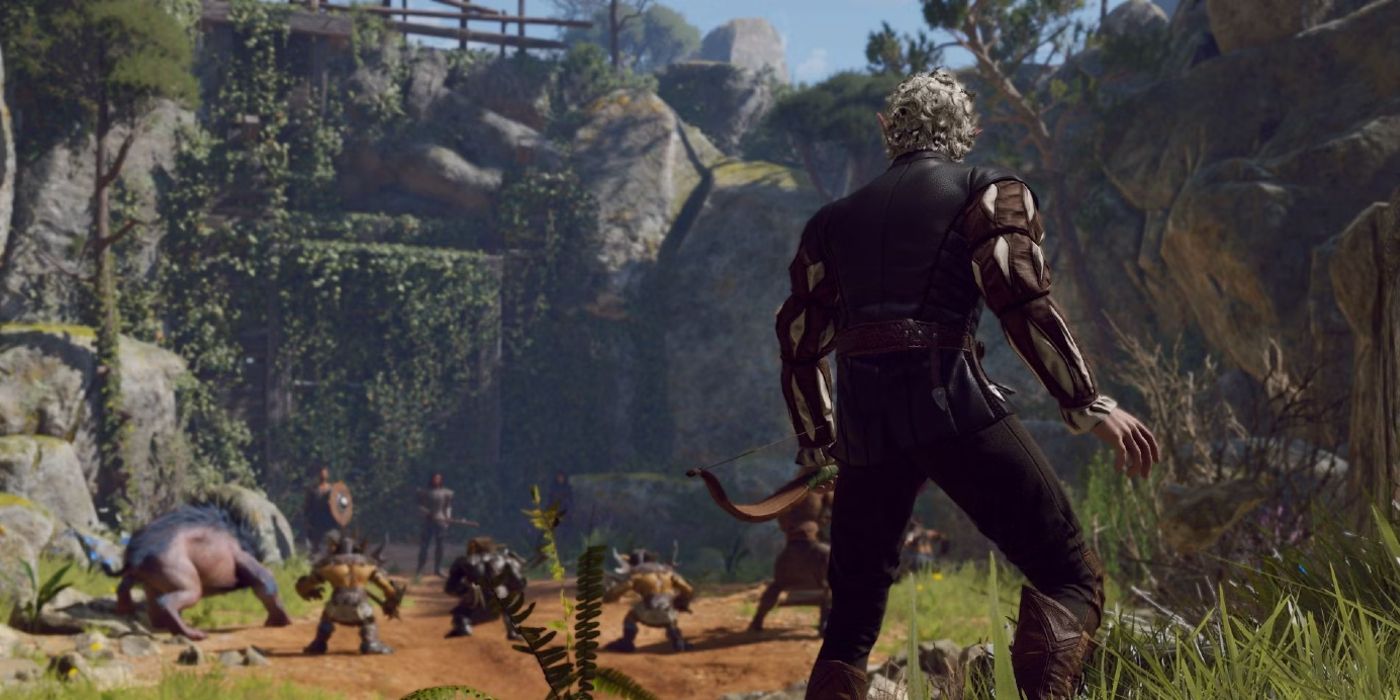 Some classes, mostly martials, have builds that work surprisingly well with only two ability scores, especially if their build focus on attacking with Dexterity instead of Strength. When a build only focuses on two ability scores, you still have enough points to get decent Wisdom.
For instance, a Rogue works well with high Dexterity and Constitution; the former for damage and the latter for not being so squishy. Still, you can leave both at 16 (with a +3 bonus) while also leaving another ability score at 14 (with a +2 bonus) – if you don't mind leaving something at eight (which will give you a -1 penalty).
Thus, if that doesn't break your build, you should consider leaving your Wisdom higher. It will improve many skills for finding hidden paths and items, such as Perception and Survival, as well as Insight for catching lies, and it's the main score to prevent mind control or things such as Hold Person.
Having your heavy hitter mind-controlled can be devastating, so any bonus to your Wisdom gives them a fighting chance, no matter how small. The ability score bonuses are helpful enough for everybody, even when it's not your priority.
Some races we suggested, like Elves and Gnomes, also have an advantage against being charmed or an advantage with saving throws involving Wisdom. That's one of the reasons they're good picks, as the chance of you being mind-controlled or similar is very low.
2
Have (Or Make) A Wise Character In The Party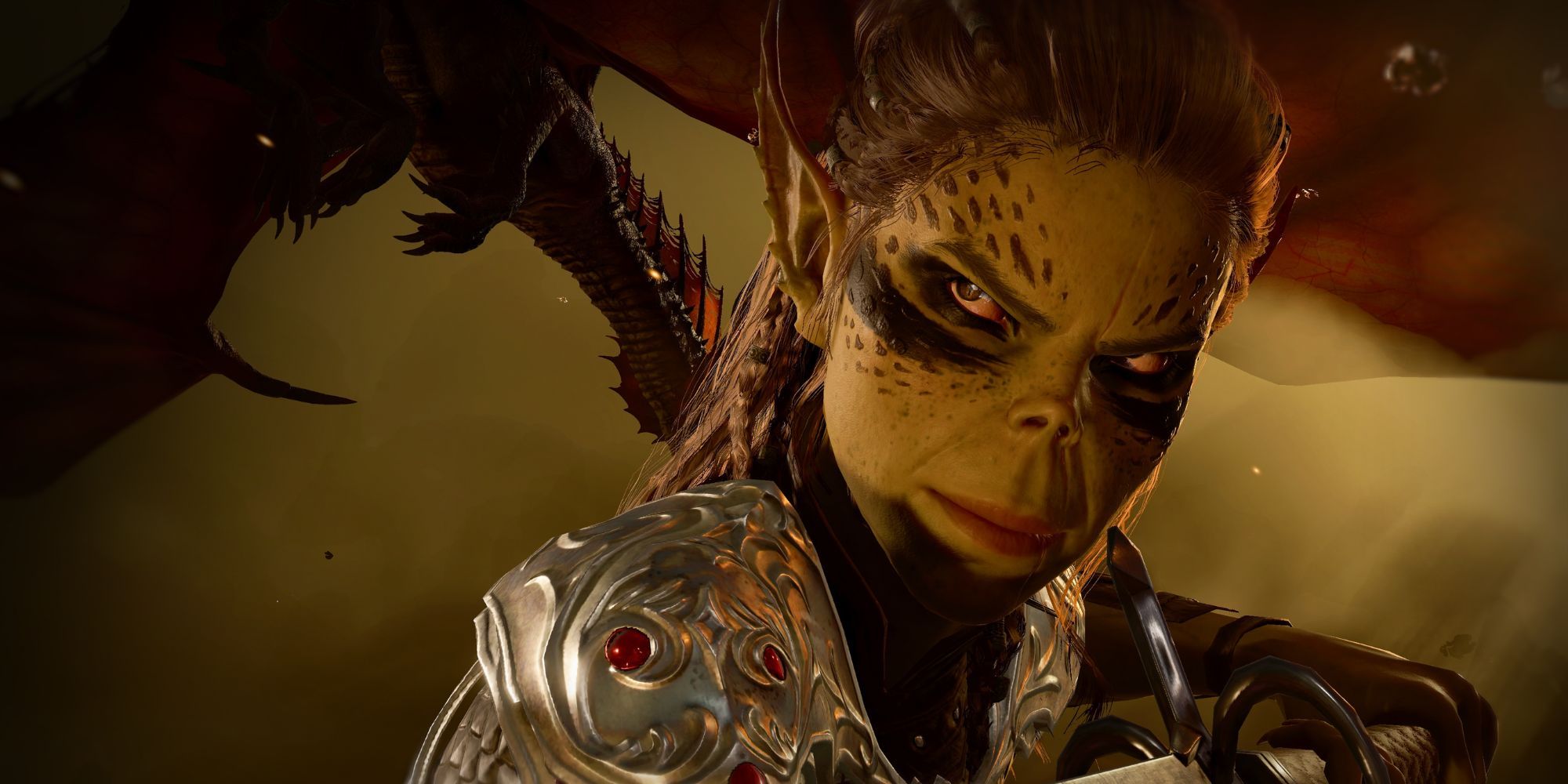 As mentioned above, Wisdom has its uses outside of combat, like searching for paths and items – a pretty creative way Larian Studios adapted the Perception and Survival skills. That said, you're not just one person, but a four-person party, where you control everyone – unless you're playing multiplayer, but that's a different conversation.
RELATED: Baldur's Gate 3: Best Party Compositions
That means, if focusing on Wisdom ruins your build, nothing stops you from adapting other characters into having high Wisdom, as you can respec them as necessary with Withers. Shadowheart already has high Wisdom, along with the Druids Jaheira and Halsin, as Wisdom is relevant to them, but other characters can be adapted depending on your composition.
Astarion can have a decent Wisdom score without ruining him, but you can also give him Expertise on one of those as you level him up, doubling the proficiency bonus on the skill. The same applies to Lae'zel, as you can give her Strength, Constitution, and Wisdom, respectively, and still work well. And yes, Astral Knowledge can cover that partially, but a good score will also help her pass Wisdom saving throws.
A good Wisdom score is helpful if you want to play as the Dark Urge, but intend to resist said urges!
1
Don't Worry Too Much About Feats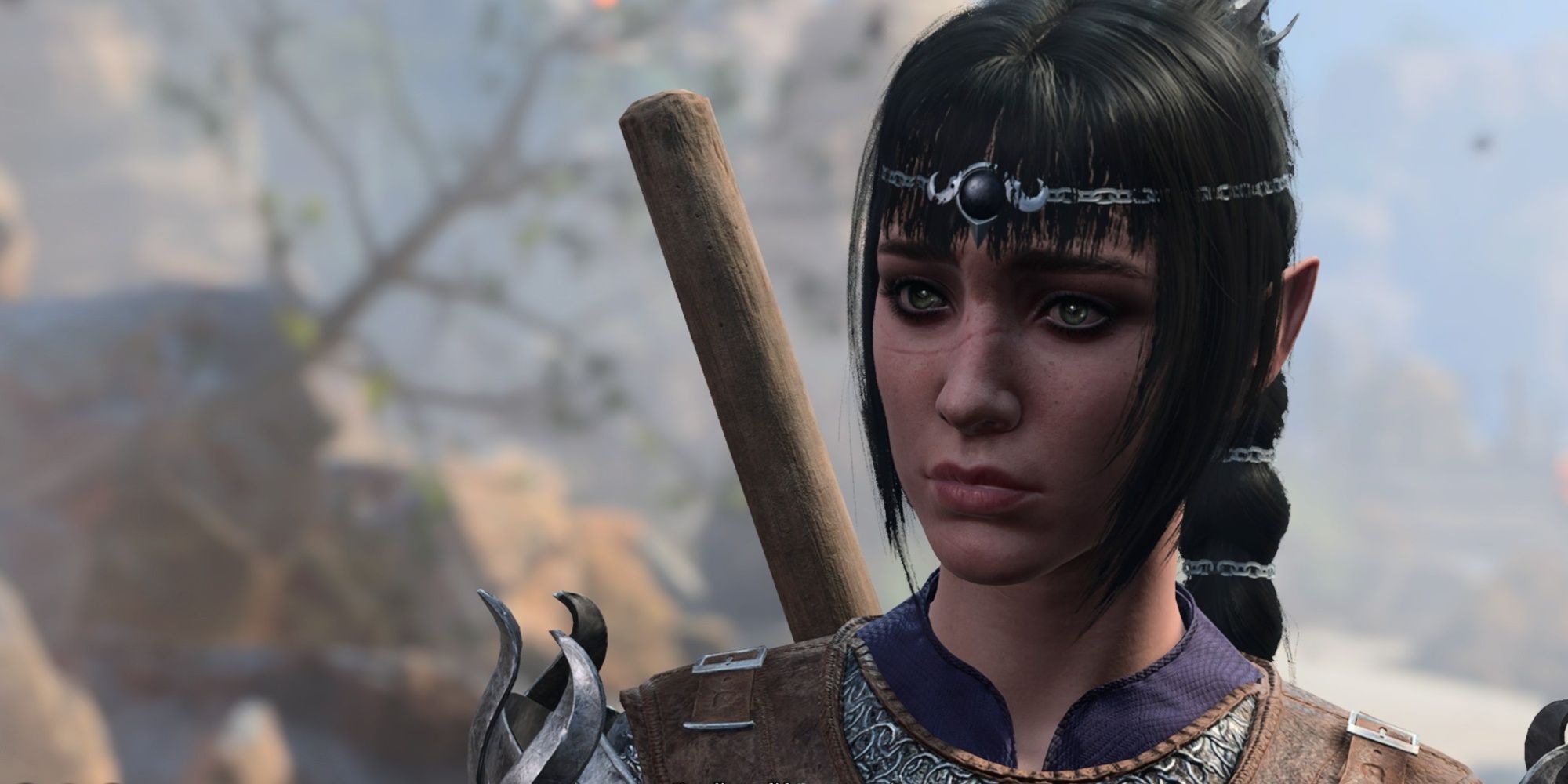 When leveling up, we'll occasionally have to choose between increasing an ability score or getting a feat. Each class gets three opportunities to do that, except Fighters and Rogues, who get four. That makes us weary of which choice is the correct one, but for Wisdom-based classes, especially spellcasters, things are a lot more straightforward.
Most feats will not directly improve your Wisdom. It doesn't make them all useless to you, but it helps narrow things down a bit. War Caster is a good option for spellcasters like Clerics and Druids or Magic Adept for extra spells, but that's about it. Increasing your overall stat – or another one if you've already reached 20 – might be the best call. And you can reach 20 and still get a feat – we just recommend you not get a lot of them.
For example, you can get Shillelagh through Magic Adept: Druid, allowing you to do your basic attacks with a quarterstaff using Wisdom rather than Strength. It's a fun trick for characters like Cleric, but there are still better ways to function. Our ultimate recommendation still is War Caster. Standard combat-based feats are better options for Monks and Rangers, like Alert.
Nothing stops you from getting the Lucky feat, though. Every class benefits from it!
Next: Baldur's Gate 3: Best Shields