As you'd expect from a role-playing game, Super Mario RPG lets you equip Mario, Geno, Mallow, Peach, and Bowser with a variety of different weapons to help them on their quest to take down Smithy.
Also just like an RPG, there is a selection of Ultimate Weapons that tower above the rest of the party's roster that can only be found under special conditions. These powerful tools are essential to taking down some of the later-game and post-game bosses such as Smithy and Culex, so it's worth using this guide to get them as soon as you can.
How To Find Mario's Ultimate Weapon
Out of all the Ultimate Weapons that can be found in Super Mario RPG, Mario's is the most complicated to get and the method of acquiring it is unlike any of the other party members. It's nothing too complicated, but you'll need to go out of your way a bit to get the Lazy Shell, which is by far Mario's best weapon.
To get the Lazy Shell, you're going to need to find two ingredients in the world – a Seed and some Fertiliser.
How To Find The Seed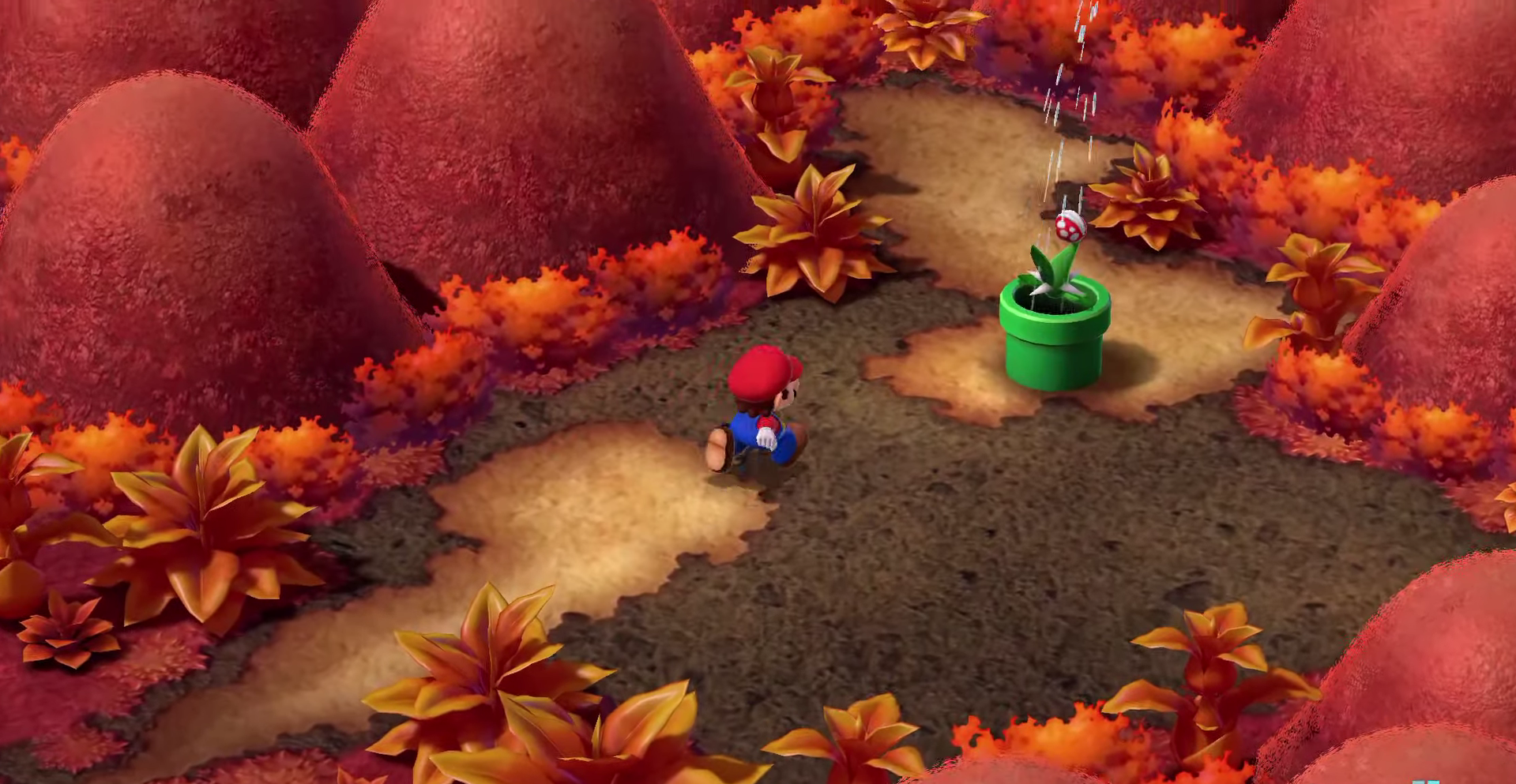 Finding the Seed should come pretty naturally as you play through the main game. Once you find yourself in Bean Valley, you'll need to make your way through pipes to keep moving forward. Eventually, you'll find yourself in an area with a Save Box where a bunch of potted Piranha Plants are being watered. Move into the next room after this one, and you'll go up against a boss called Smilax.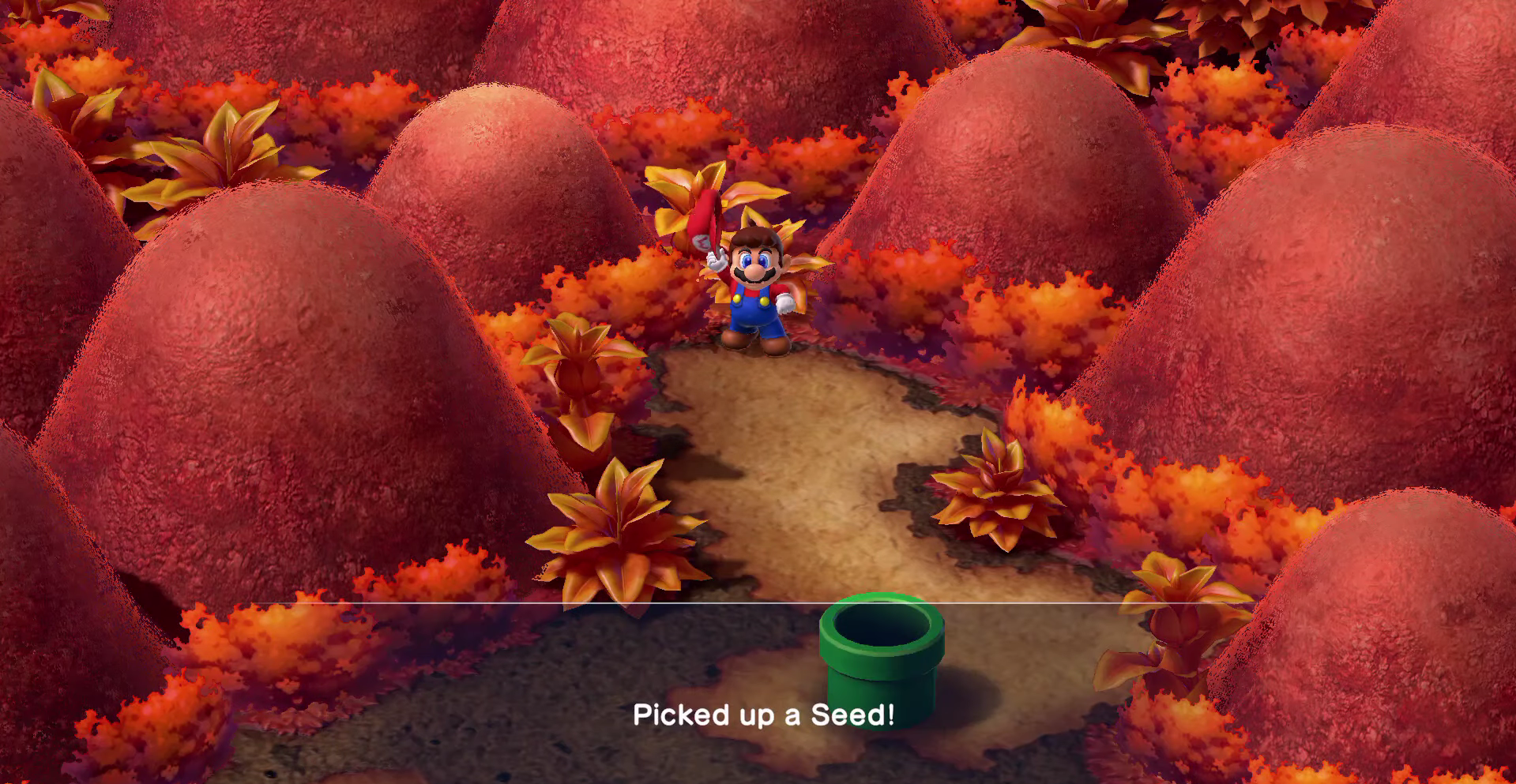 Once you've defeated Smilax, who is relatively easy to beat, the Shy Guy named Beezo watering the plant will fly away, dropping a letter as he does so. Just go up to the letter to find out that it's, somehow, a Seed. Choose to take it and you'll add the Seed to your inventory.
How To Find The Fertiliser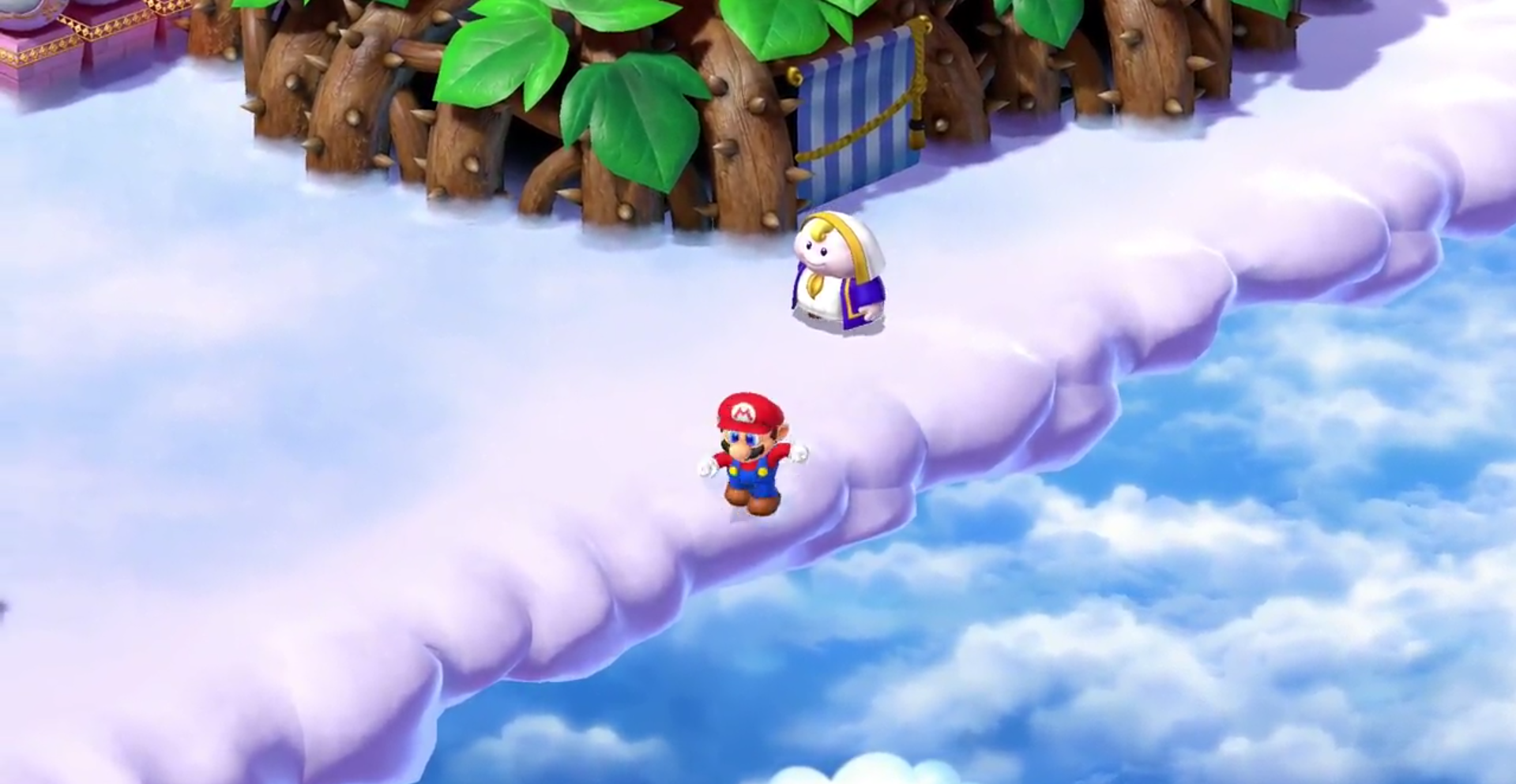 To get the next item required for the Ultimate Weapon, you're going to need to progress in the story a bit more and beat Valentina in Nimbus Land. Once you've done this, head to the Northeast side of Nimbus Land, right where one of the enterable houses is, and you'll find that you can walk in mid-air off the edge.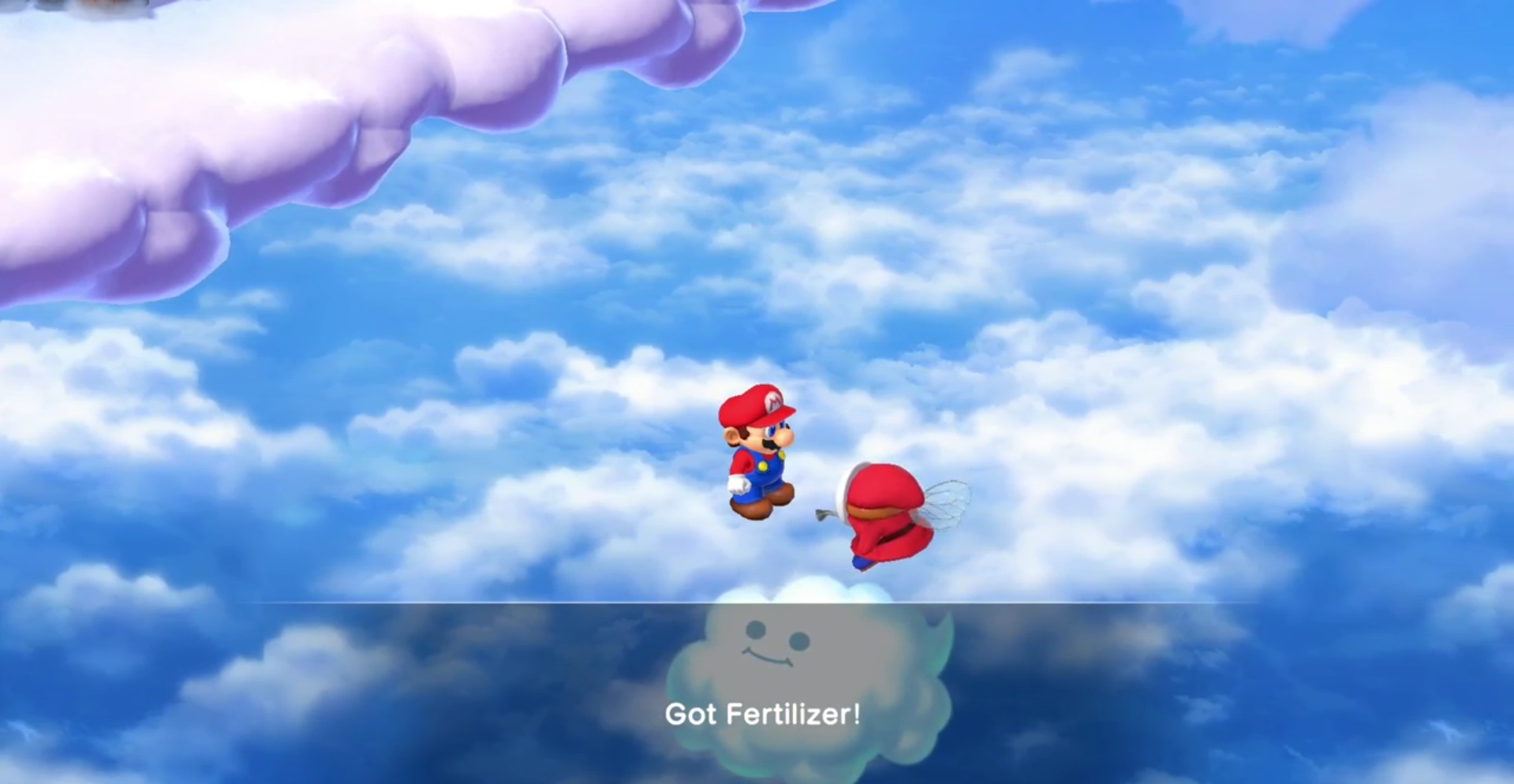 Once you've done this, keep walking until you find the same Shy Guy from earlier, who will offer you some Fertiliser as a reward for finding him.
Or Fertilizer, if you're American.
How To Get The Lazy Shell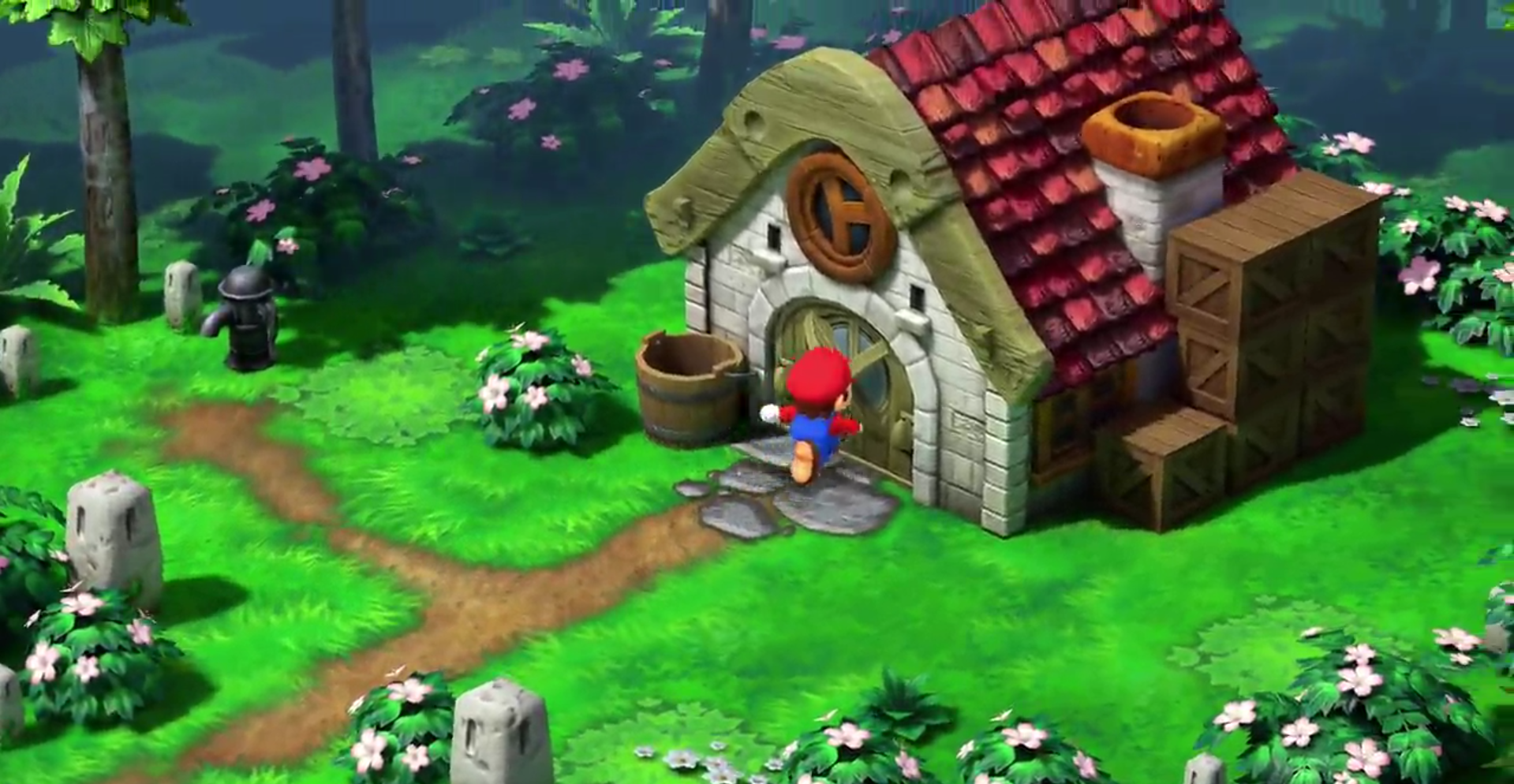 Now that the hard bits are out of the way, all you need to do is head over to Rose Town. In the upper-right section of the map, you'll find a path leading to a house that contains a rather enthusiastic gardener. Talk to him and he'll eventually let you give him both the Seed and Fertiliser, which create a beanstalk that Mario can climb up.
Once you've climbed up the beanstalk, you'll find two treasure chests in the sky that contain the Lazy Shell and the, uh, Lazy Shell. These two items may have the same name, but one is a weapon exclusively for Mario (and his best one at that), and the other is a piece of armour that offers incredible resistance and defense.
The Lazy Shell armour is a fantastic bit of equipment to give to either Peach or Mallow, as they usually take up the healer role of the group. Much harder to be taken down if you've always got a healer at your side.
Where To Find The Rest Of The Party's Ultimate Weapons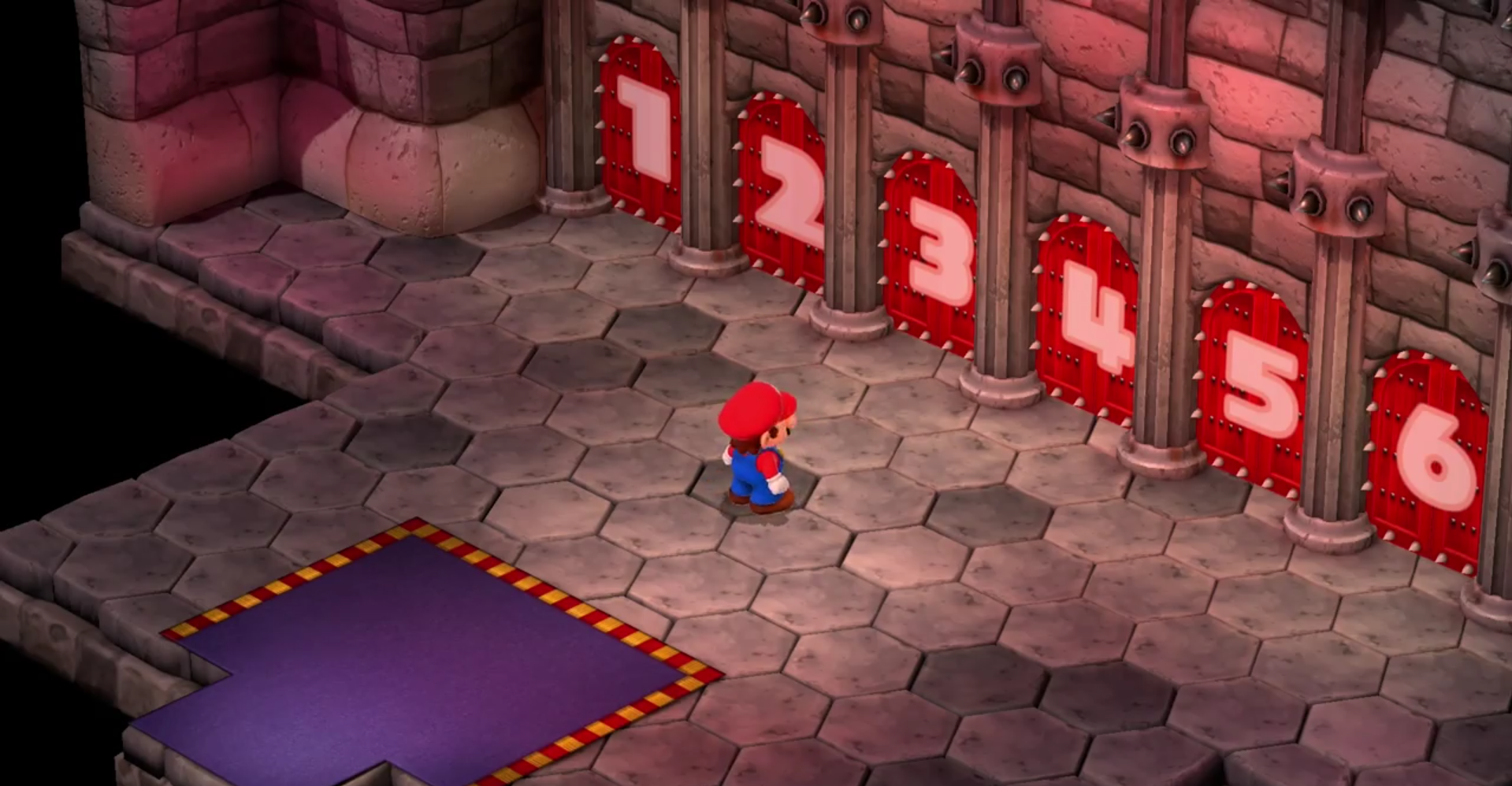 While Mario's Ultimate Weapon is off the beaten path in Super Mario RPG, the rest of the gang's kit can be found in the same area – Bowser's Keep, which is one of the last worlds you visit in Super Mario RPG.
After making your way through a few rooms of enemies, you'll find yourself standing outside six red doors with numbers marked on them. Behind each door is a different challenge, and Mario must beat four of them to be able to progress further through the castle. You'll find the rest of the party's Ultimate Weapons at the end of the four out of the six-door challenges.
Here's the kicker, though – the number on each door is totally meaningless, as what challenge you get when you walk through it is completely randomised. You'll only be able to tell whether you're on the right path to the Ultimate weapon by the challenge you're presented, which we'll outline here.
If you find yourself in a challenge you've already got the Ultimate Weapon for, you can always press the minus button to give up, restarting the run but meaning you can try again to potentially get the door (and subsequently weapon) you want.
How To Find Mallow's Ultimate Weapon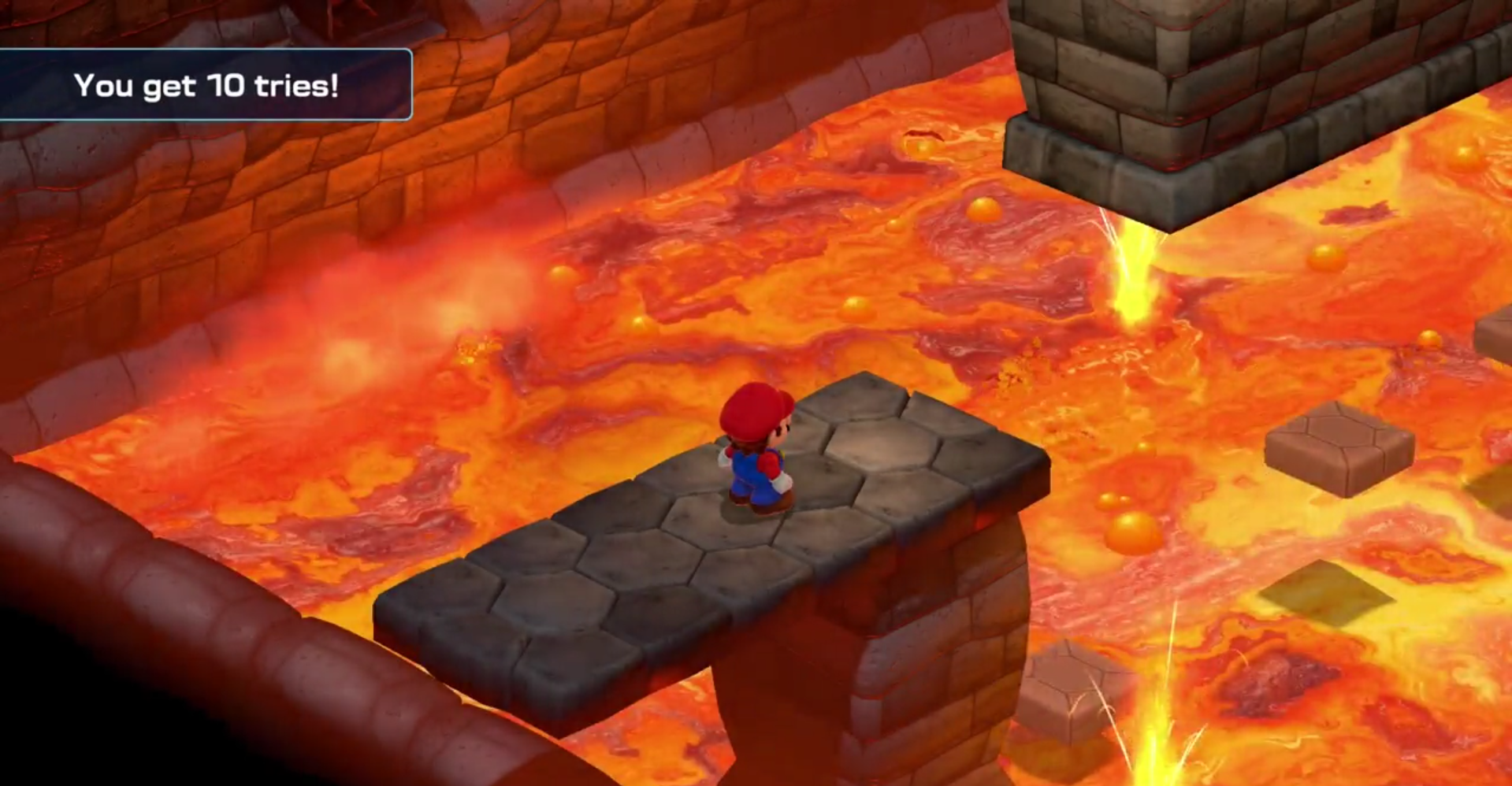 Now that you know how the six red doors work, let's go about finding Mallow's Ultimate Weapon, the Sonic Cymbal. You'll know that you're on the right track to getting the item if the door you enter spawns you into a platforming trial that has you leaping onto platforms above lava, as the picture above shows. This challenge is pretty easy, so just take your time getting the jumps right as you move from platform to platform.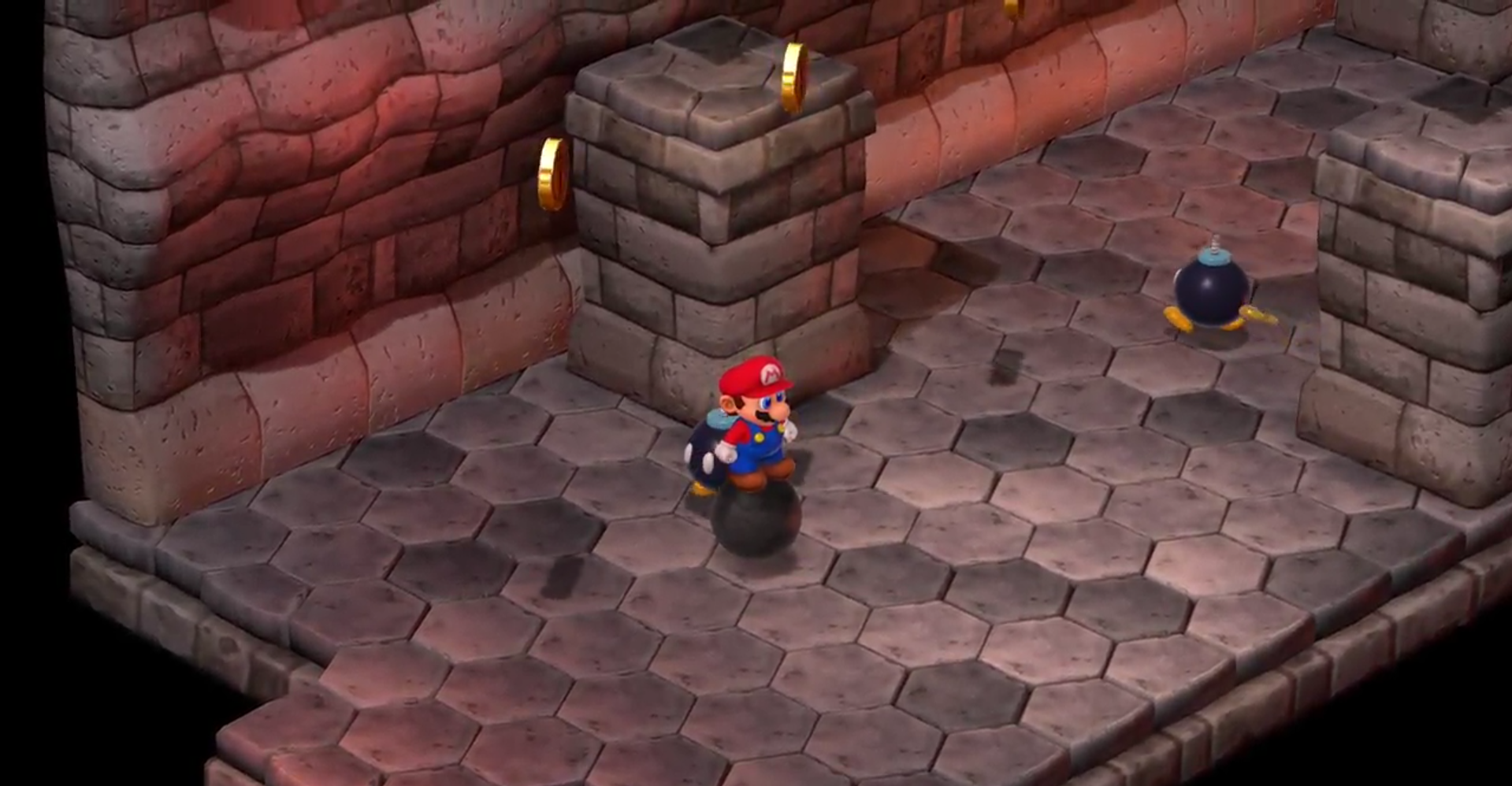 The next challenge room will see you in a room with a cannonball and a bunch of Bob-ombs. Jump on the cannonball and roll it around to use as a platform to reach the ledges, which contain valuable items. If you're not fussed about that, roll it all the way to the end (making sure to avoid the Bob-ombs) and jump up to the platform leading to the door. Easy!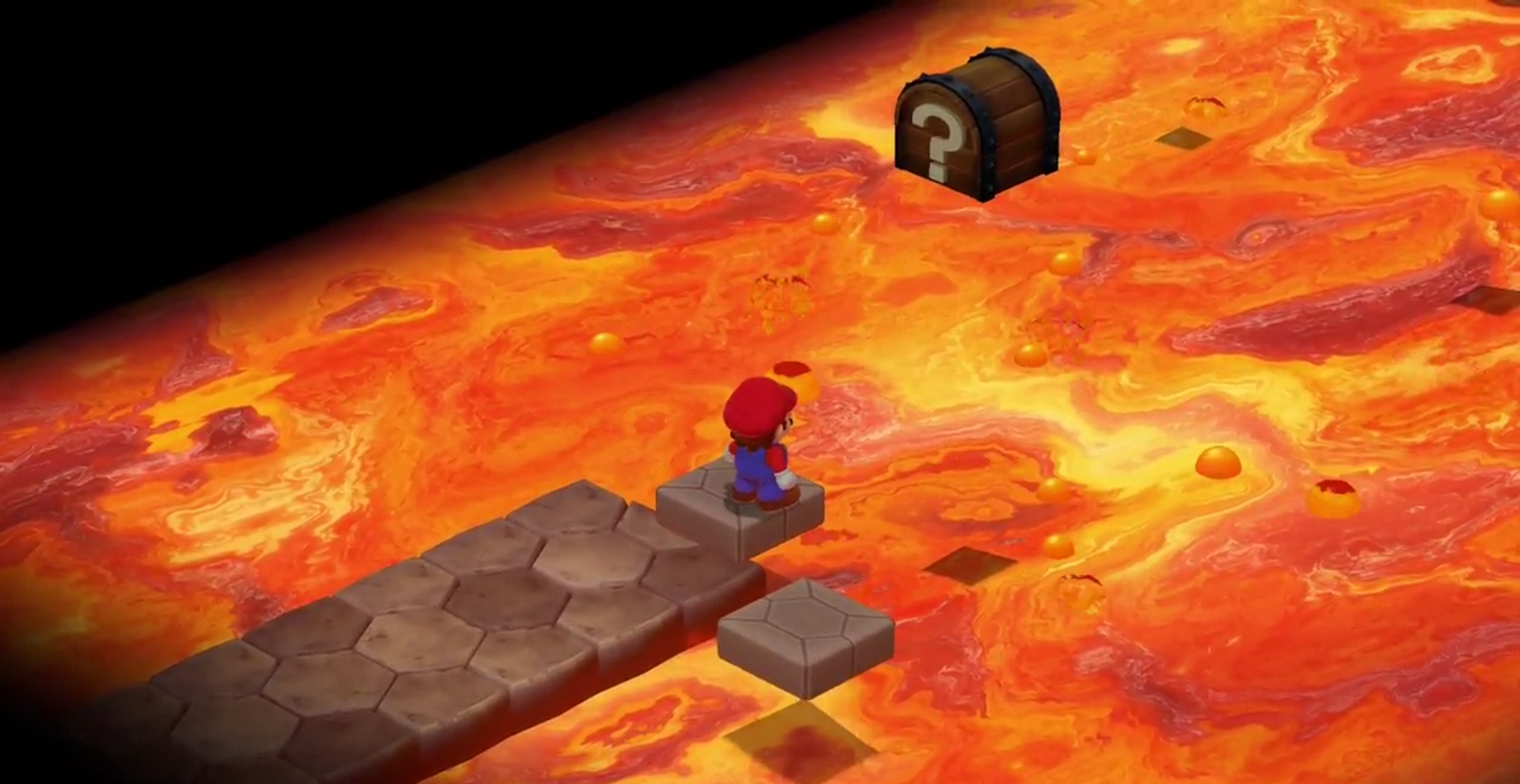 The final leg of this gauntlet has you jumping on a platform that then causes another one to spin around, just like we saw much earlier in the game. Simply jump on one platform, wait for the other to be ahead of you, and then jump on it until you reach the end, choosing to stop for the treasure chests on the way if you're brave.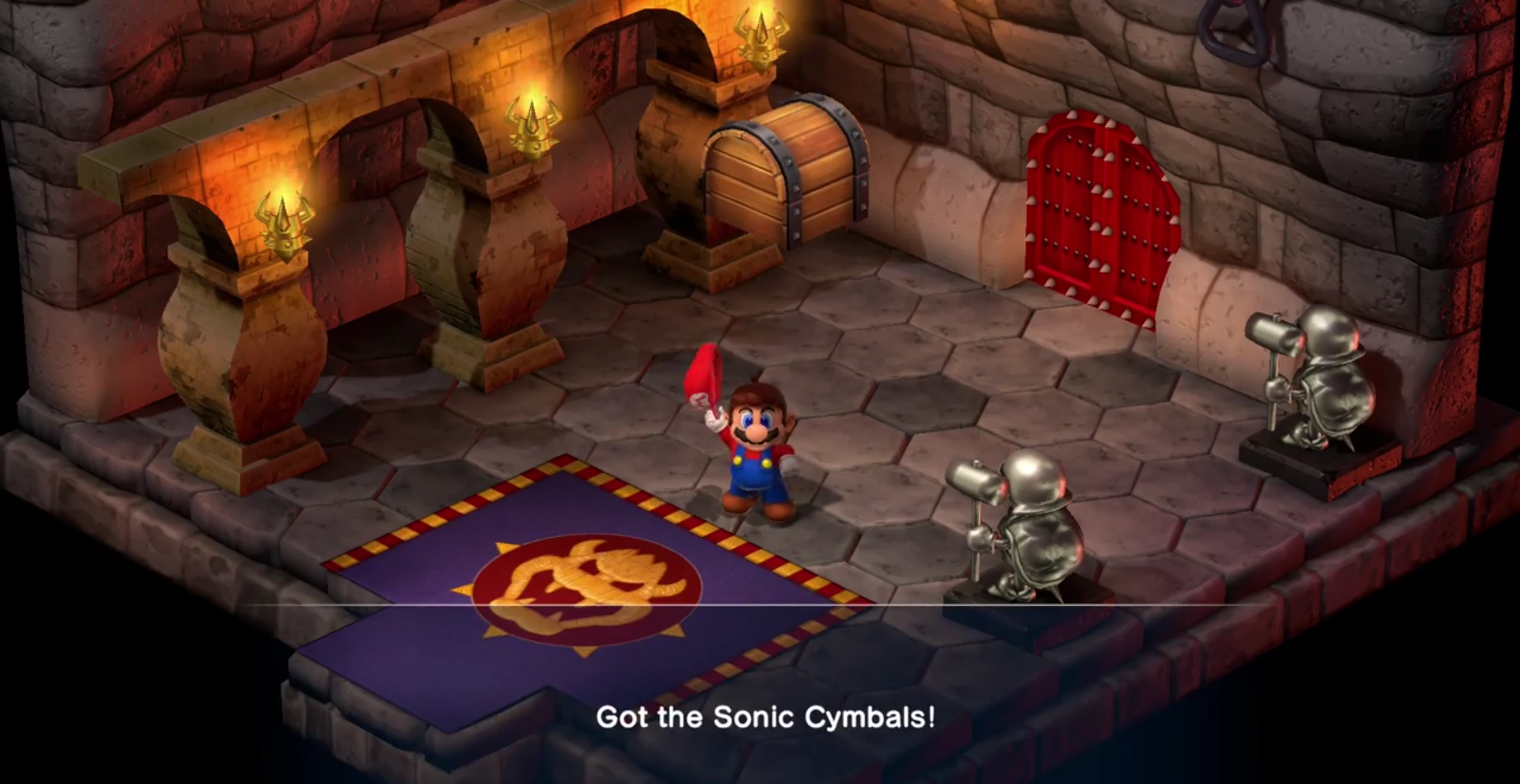 After getting through those three challenges, you'll find yourself in a room with a treasure chest that contains the Sonic Cymbals, Mallow's best weapon in Super Mario RPG.
How To Find Geno's Ultimate Weapon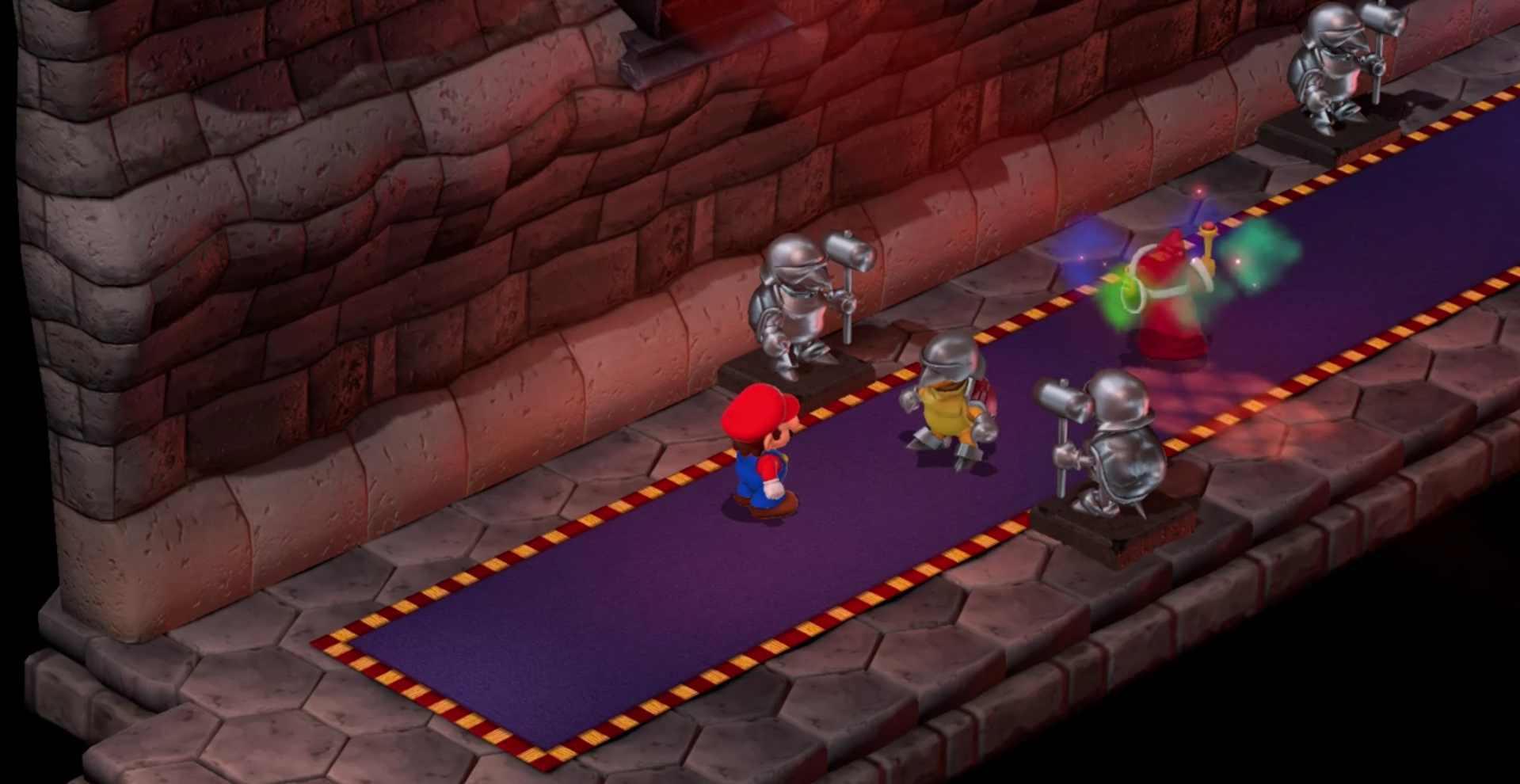 To get Geno's Ultimate Weapon, the Star Gun, you'll need to get lucky and find yourself in a combat gauntlet after going through one of the randomised red doors. There are two of these, but you'll know you're in the right one if it starts with a battle against four Terra Cottas, the turtle enemies that look like they're wearing armour. If it starts with a battle against five Gu Goombas, you're in the combat gauntlet that leads to Bowser's Ultimate Weapon.
After determining that you're in the right combat gauntlet to get Geno's weapon, all you really need to do is make it through 12 rounds against a variety of different enemies. By this point in the game, none of them should be a challenge for you, especially since you can use items and heal whenever you need to.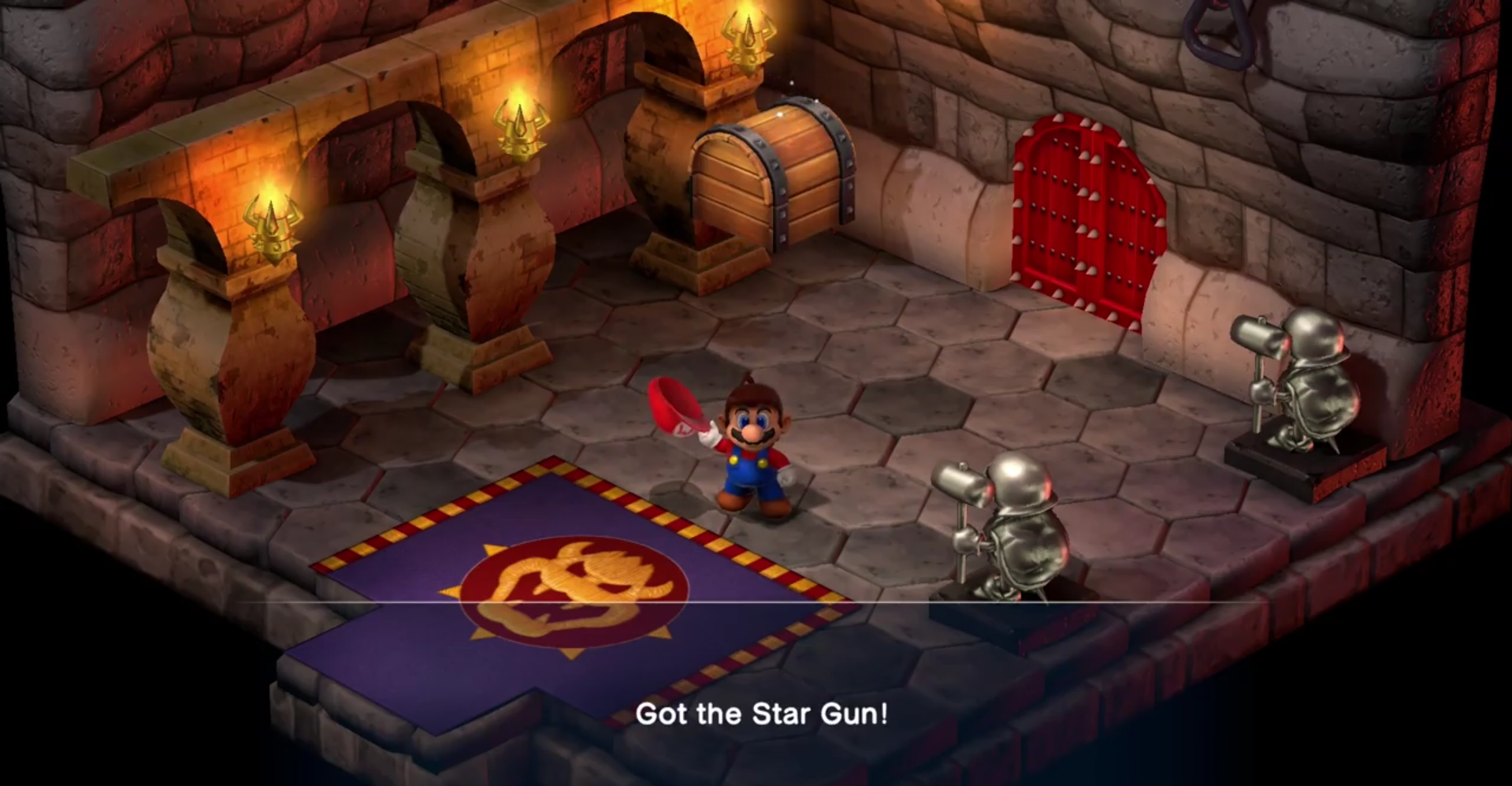 Once you've gotten through the 12 rounds of enemies (which, again, sounds a lot tougher than it actually is, especially if you already got Mario's Lazy Shell), then you'll find a treasure chest in a room that contains the Star Gun. Give it to Geno as soon as possible to make him the most powerful puppet in the Mushroom Kingdom.
How To Find Bowser's Ultimate Weapon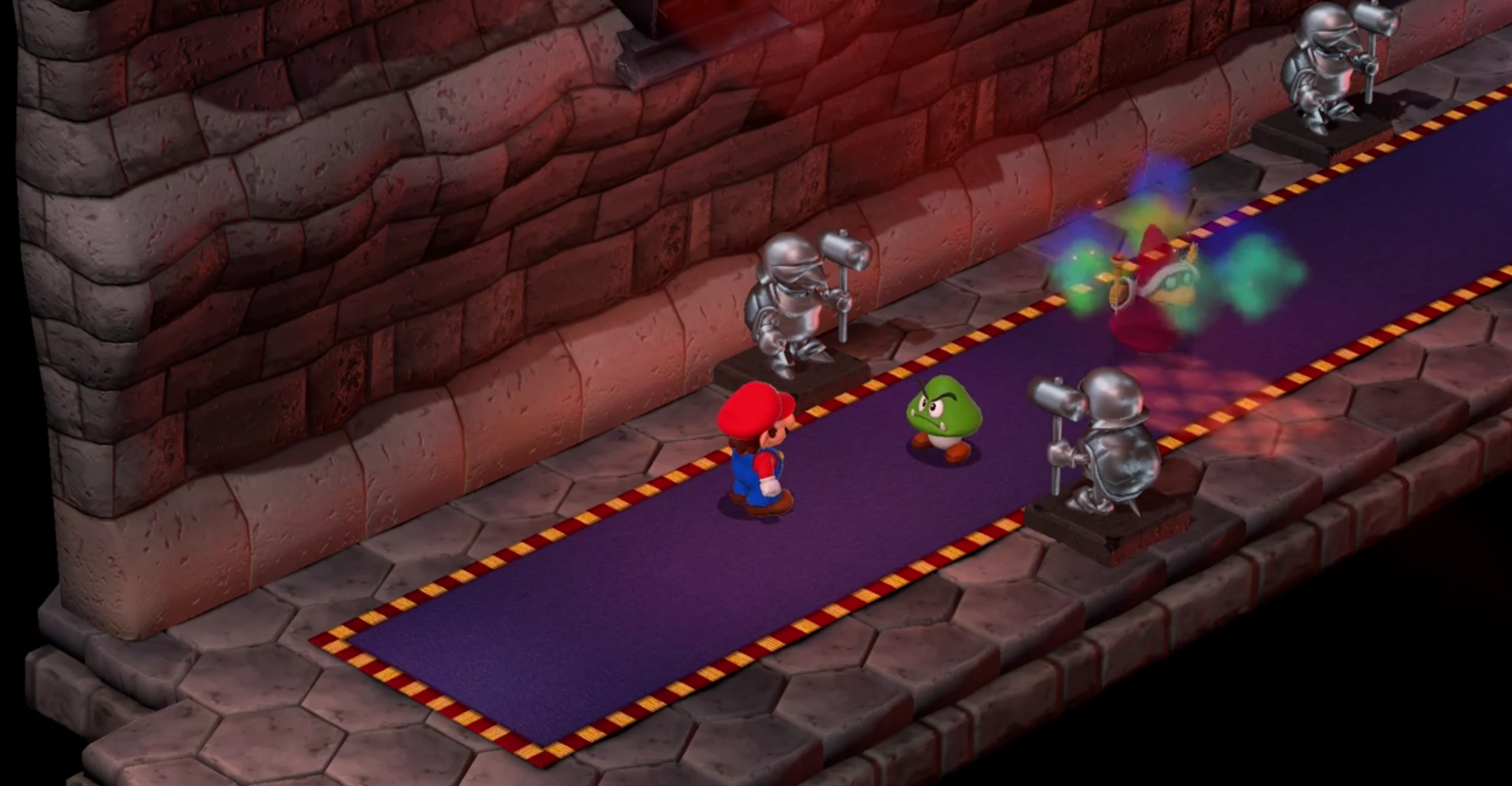 Much like Geno's Ultimate Weapon, Bowser's best bit of equipment, the Drill Claw, can be found in one of the six doors' combat challenge room. This time, you'll know if you're in the right one if the gauntlet starts off with a battle against five Gu Goombas (which are green variants of regular Goombas).
Again, just like Geno's challenge, this challenge against 12 rounds of enemies shouldn't be too tough to clear, as it's all foes that you've faced various times in the game. Just make sure to heal up whenever needed and use your team attack when it's charged, and you should have no problem getting to the end.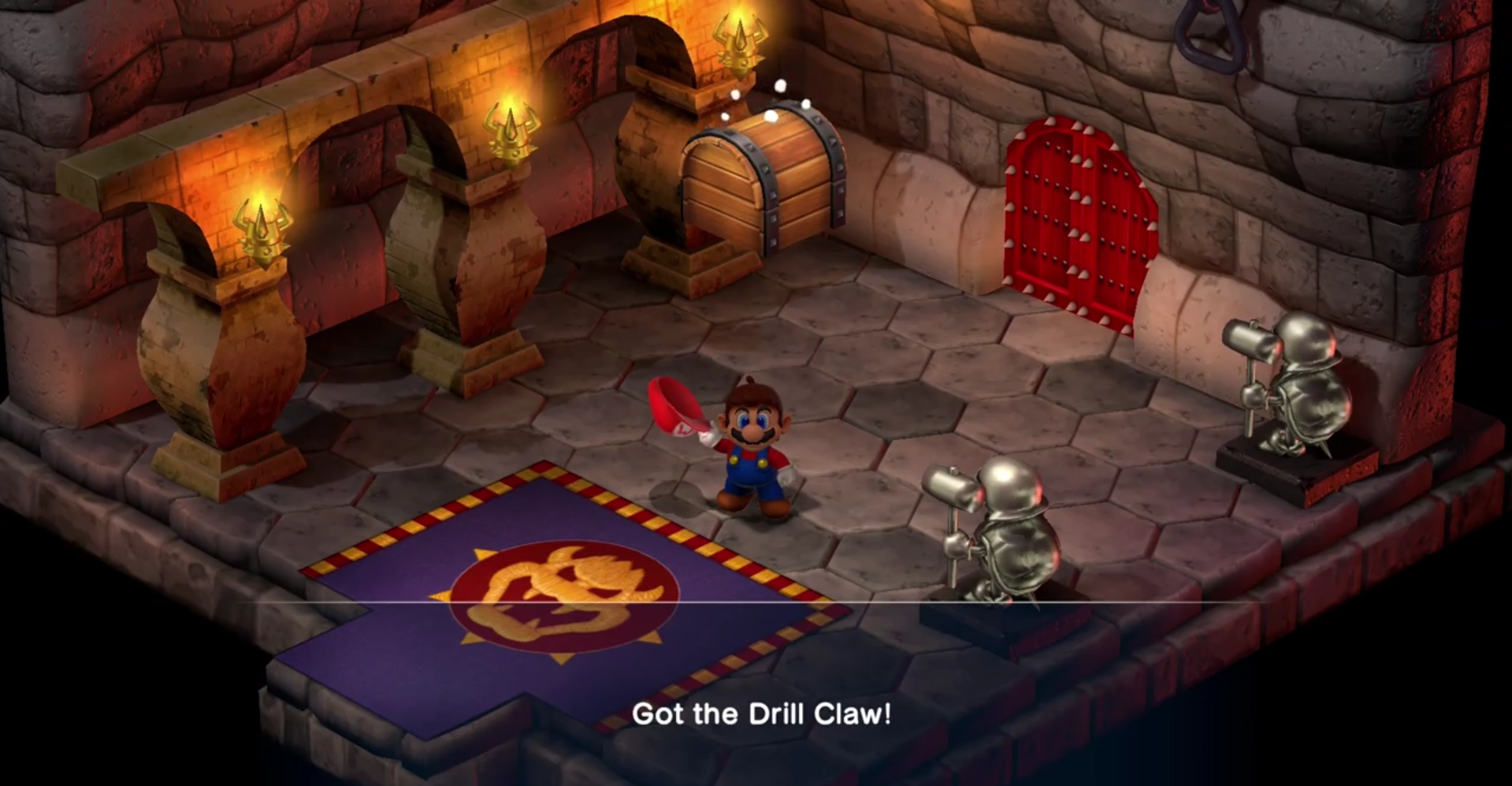 Once you've gone through the 12 rounds, you'll be rewarded for your victory with the Drill Claw, which works in a similar way to Bowser's first weapon, but with a lot more damage applied to each hit.
How To Find Peach's Ultimate Weapon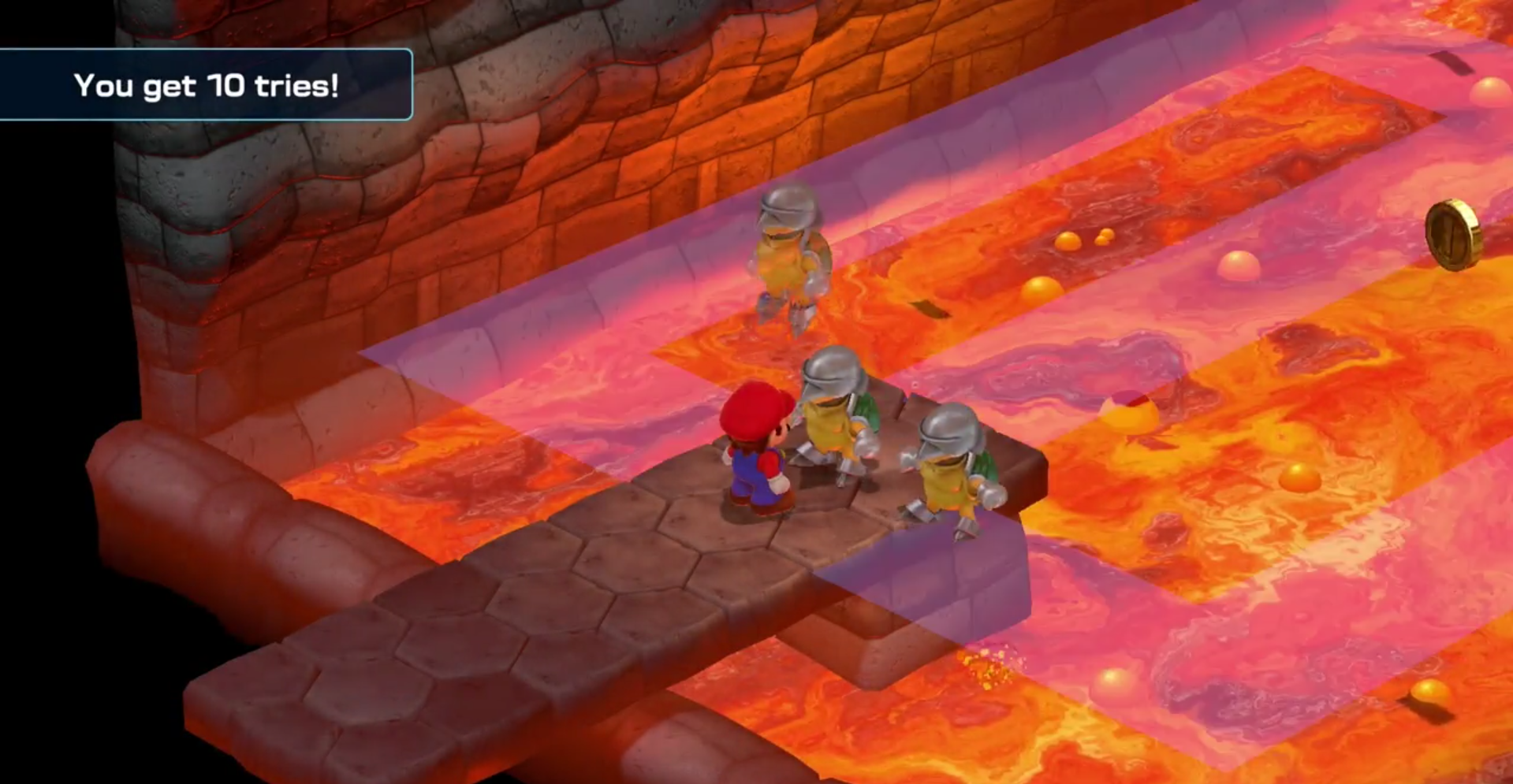 Peach's Ultimate Weapon, the Super Slap, is found after going through a door that leads to a platforming challenge room, which is similar to the one where we found Mallow's Ultimate Weapon. The first room you enter will show a room full of lava that looks like it has no way through. However, you'll quickly see the path light up ahead of you, before turning invisible again every so often.
This is fairly simple to do, but if you're having trouble then move forward until you see the first treasure chest, and then take the path on the right. Then go left after hitting that chest until you reach the next one. You'll want to stick on the left path until you reach the top of the room, before taking a right and jumping over a hole between the final platform and the invisible path.
The second room in the gauntlet is also pretty simple, once again taking place in a room full of lava with platforms that'll help Mario not get burnt. Simply jump on the moving platform when it reaches you, ride it out into the lava a bit, and then jump to another nearby one that'll take you further across. You've got 10 tries to get it right but, beyond the platforms being a little tight, it's not too challenging to do.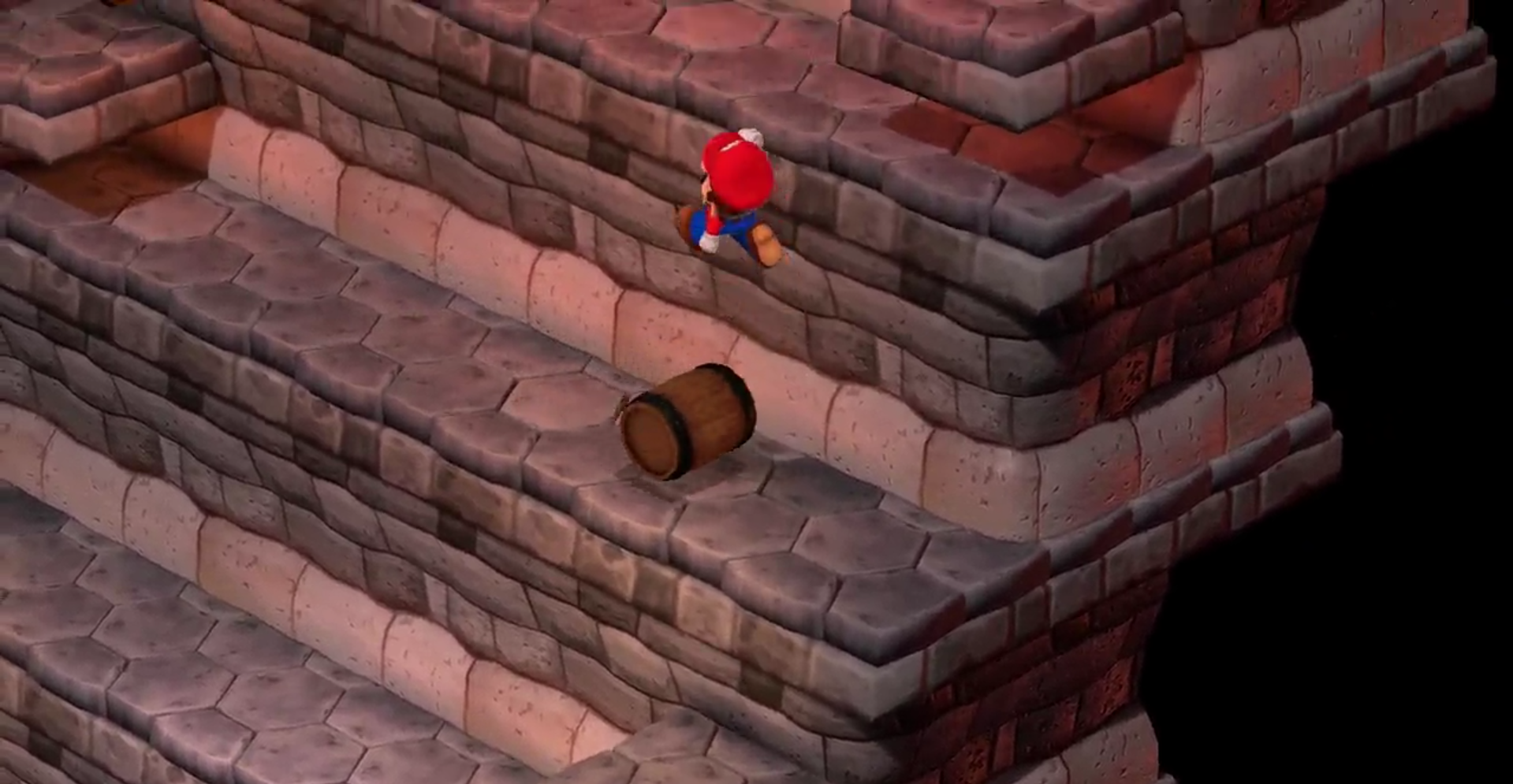 Finally, the third challenge room has you trying to climb up some platforms while barrels are being chucked down at you, just like classic Donkey Kong. This is one of the easiest challenges to complete, as you can make it halfway to the top before barrels are even being thrown. Simply jump over the three or so barrels that come your way and then keep going up the platforms as the monkey prepares to chuck more and you'll clear this one easily.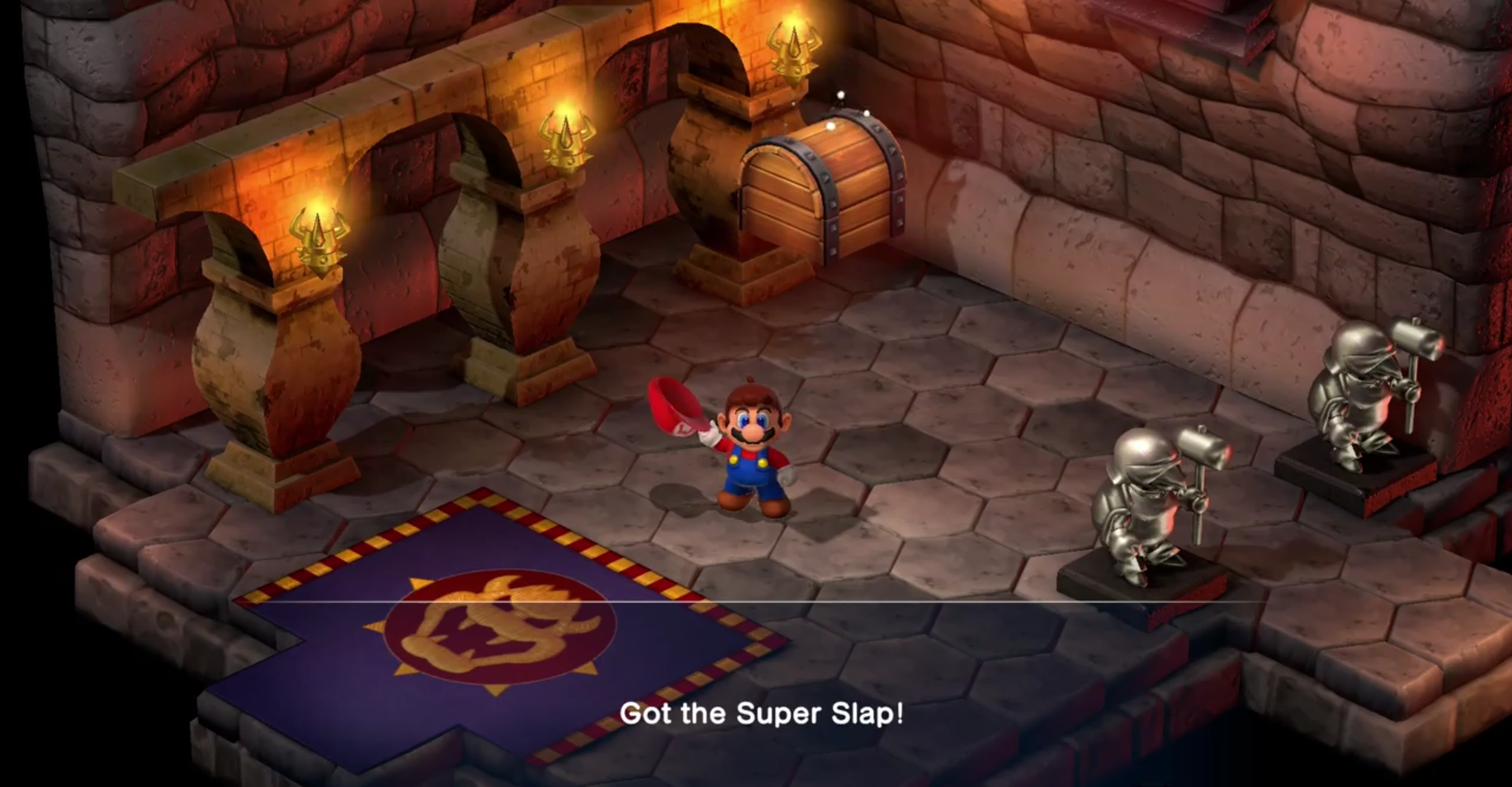 After all that hard work, you'll reach a room with a treasure chest containing the Super Slap. It's a little more annoying to get the timing right for than Peach's umbrella-based weapons, but it's definitely worth equipping for its higher damage.
Next: How Long Does It Take To Beat Super Mario RPG?