Out of all the NPCs in Baldur's Gate 3, Alfira is one of the most well-known and beloved. She's a Tiefling bard that you can meet early on in Act 1. If you manage to save the Tiefling refugees, Alfira will also have a minor appearance in both Acts 2 and 3.
RELATED: Baldur's Gate 3: Who Is The Dark Urge?
Checking in on her and completing her quests will get you one of the best items in the game for charisma-based casters. However, she can be slightly tricky to find if you're not actively keeping an eye out for her. Check out this guide to learn where to look.
Where To Find Alfira In Act 1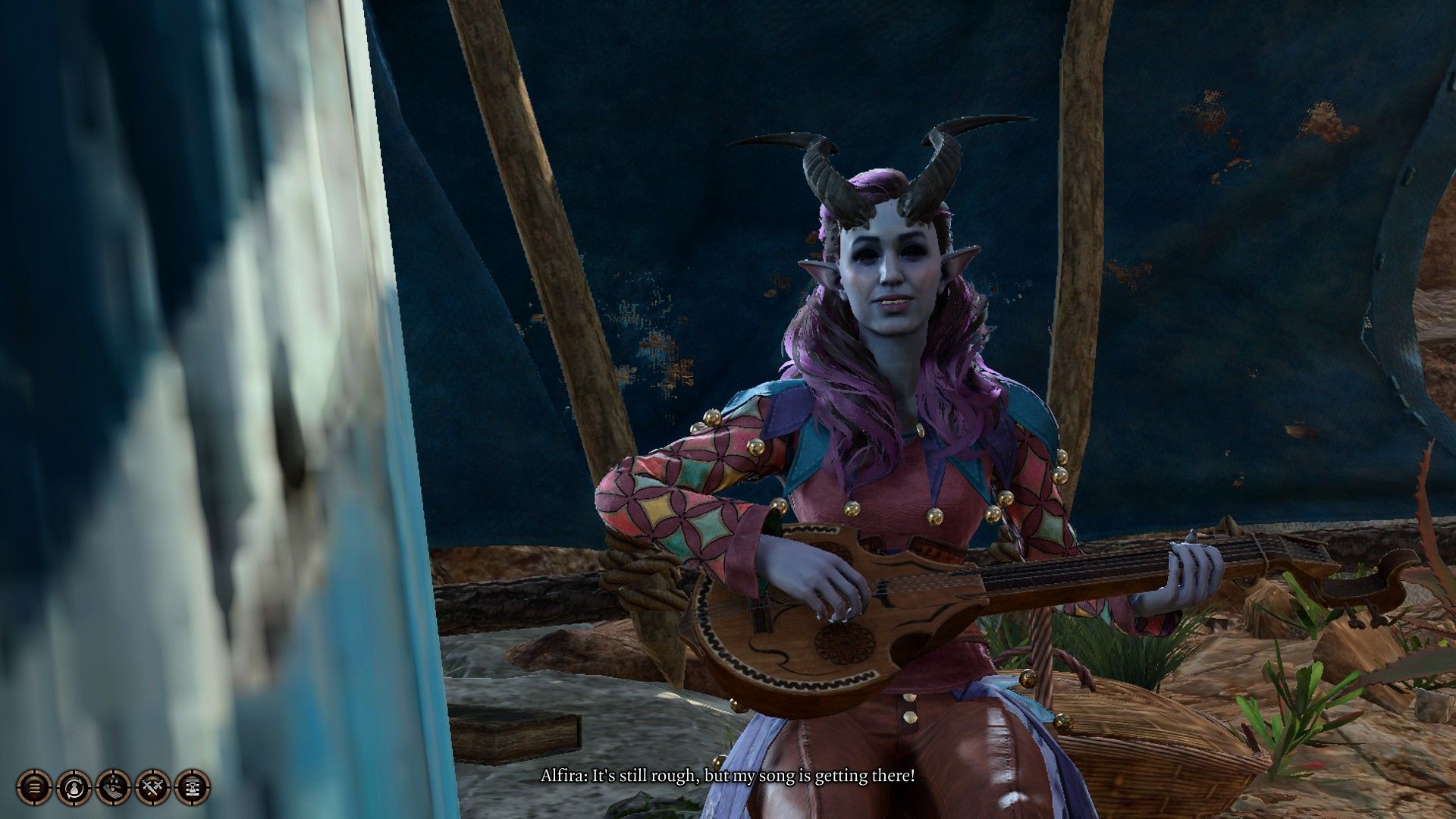 Many people miss meeting Alfira in Act 1 because she's so far out of the way. You can find her playing her lute on a hill at the coordinates X:282 Y:495. When you find her, she's struggling to write a song to honor her deceased music teacher, Lihala. You can offer to help her with her musical-based woes in one of two ways.
You can play along with her using her teacher's old lute. To do this effectively, you'll need to make two performance checks. The first check is a DC 15, and the second one is a DC 10.
Alfira will thank you for helping her by gifting you the lute, and you'll come out of the interaction with proficiency in performance.
You can also talk Alfira through her troubles if you don't think you can make the performance checks. Prompt this dialog by asking Alfira what her song is about. She'll find the perfect word to fill her next verse as she talks about her teacher.
Encourage her to continue by asking her what her teacher would say if she were still with her. You won't get performance proficiency or the lute, but you will get a beautiful cinematic of Alfira playing the song.
Where To Find Alfira In Act 2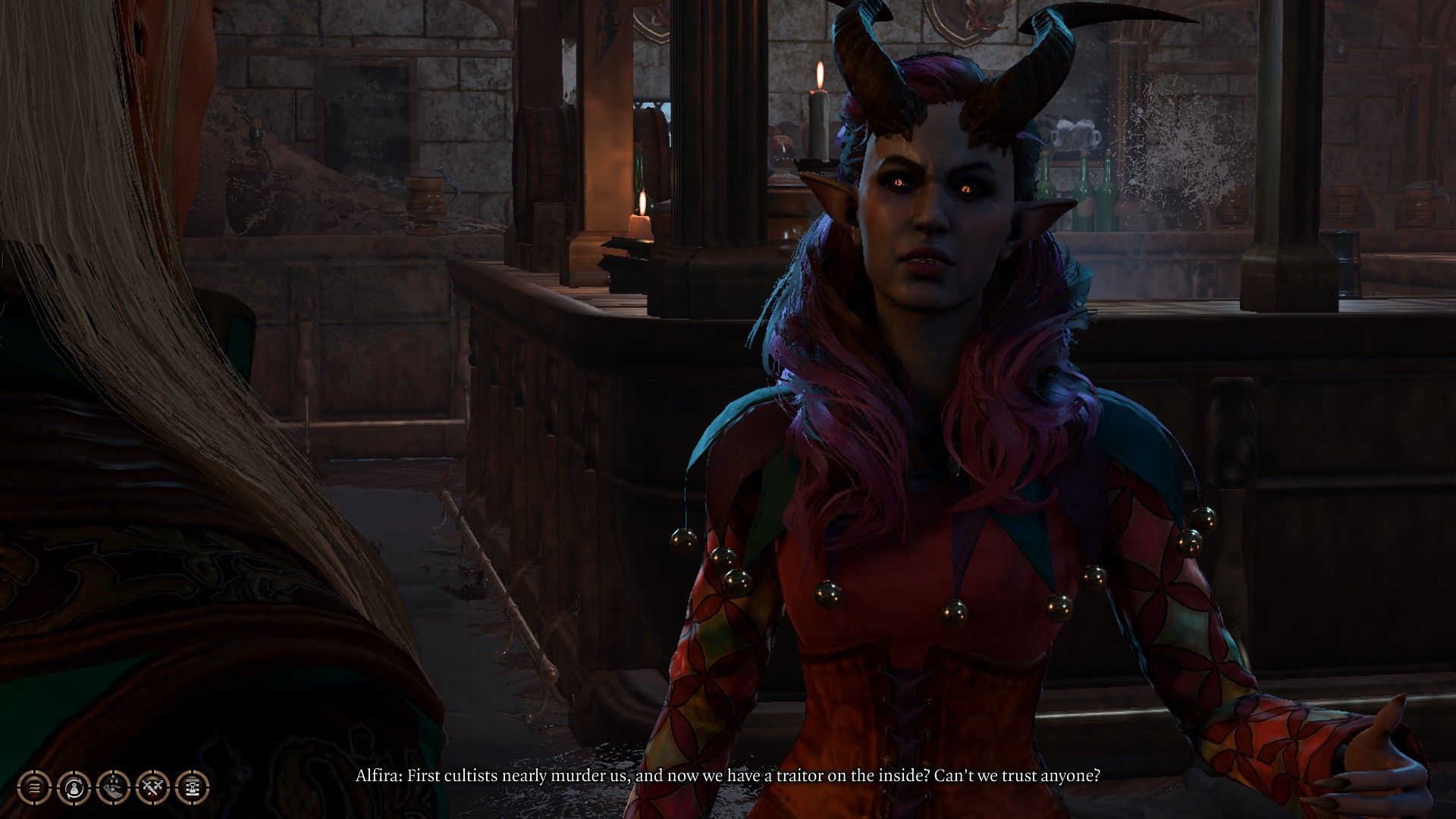 Act 2 brings you to the one safe haven from the Shadow Curse, Last Light Inn. After a quick chat with the famous Jaheira, you're invited into the Inn, where you'll spot Alfira as soon as you walk through the door.
After talking to her and the other refugees in the Inn, you learn that many of the Tieflings you rescued in Act 1 have been captured by the Absolute cultists and taken to Moonrise Towers.
We have a full guide on how to rescue the Tiefling captives here.
If you manage to get Lakrissa out alive, Alfira will give you the Potent Robe. It's one of the best pieces of gear in the entire game for Charisma casters.
Where To Find Alfira In Act 3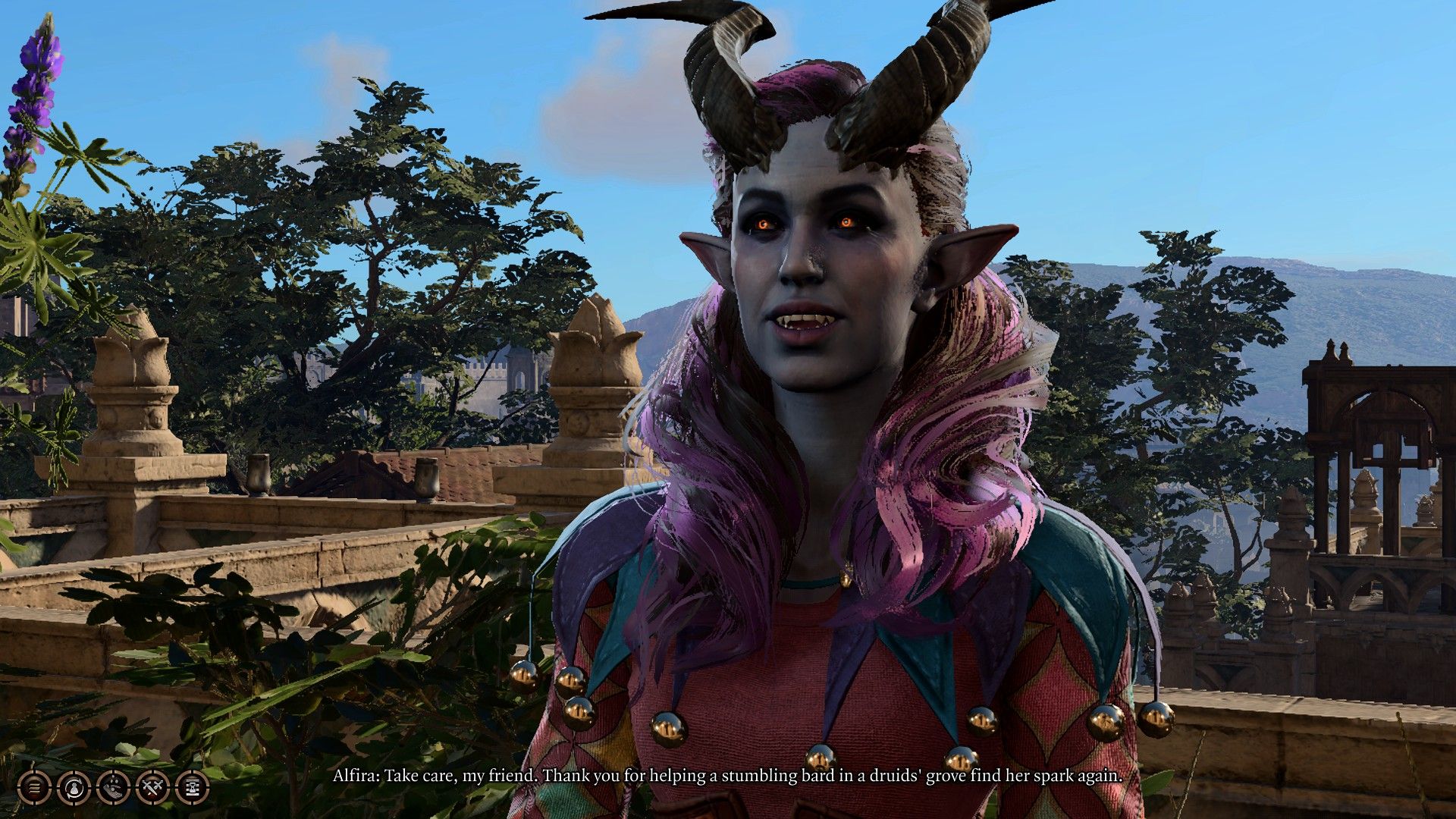 When you walk into the Elfsong Tavern in Act 3, you'll find Lakrissa working. Upon talking to her, you learn that Alfira is on top of the roof at the coordinates X:71 Y:-17. You'll need to locate and climb the iron ladder in order to get to her.
When you talk to her, she will thank you for everything you've done for her. You've inspired her to open her own bard school to teach others the ways of magic and musicianship. In exchange for the help you provided in Acts 1 and 2, she'll gift you her very first lute.
This final section contains a spoiler for the Dark Urge playthrough
How To Find Alfira – Dark Urge Playthrough
If you're playing the Dark Urge, Alfira will show up in your camp during one of your long rests. You've inspired her so much that she wants to be brave like you and become an adventurer.
She'll ask you if she can join your party and travel alongside you. Unfortunately, this interaction doesn't have a happy ending, no matter if you allow her to join you or send her away.
If you are foresighted enough you can save Alfira from this grisly fate. Read our guide to find out how.
The Urge will strike you in the middle of the night, forcing you to murder the poor girl. When you come to your senses, you find your hands covered in her blood. Alfira is almost unrecognizable. Naturally, this will prevent her from showing up in Acts 2 and 3.
NEXT: Baldur's Gate 3: NPCs You Should Keep Alive