The banneret fighter, also known as the purple dragon knight, is a support-based fighter subclass in Fifth Edition Dungeons & Dragons. In the forgotten realms setting, the purple dragon knights are an elite order of fighters from Cormyr, but outside of the forgotten realms the banneret fighter suits any knight who is looking to aid their party.
Related: All Dungeons & Dragons Fighter Subclasses, Ranked By Popularity
This is a subtle support class that lets you extend the benefits of the fighter class to your allies. This class comes without come of the flashy combat moves normally associated with a fighter. However, playing this class smartly and efficiently will leave your party wondering what they'd do without you.
Features Of A Banneret Fighter
Rallying Cry
At third level when you choose this archetype, your second wind fighter feature extends to other members of your party.
The Second Wind fighter ability, gained at first level, lets you use a bonus action to restore 1d10 + your fighter level hit points to yourself once per long rest.
When you use second wind as a banneret fighter, three allies of your choice regain hit points equal to your fighter level as long as they are within 60 feet of you.
Royal Envoy
At seventh level, you gain proficiency with Persuasion, unless you are already proficient in this skill, in which case you can choose to gain proficiency in either Animal Handling, Insight, Intimidation, or Performance.
Your proficiency bonus is doubled for any Persuasion checks that you make as well, effectively giving you expertise in Persuasion. This feature represents your honor and grace that you command as a knight.
Inspiring Surge
At tenth level, your action surge fighter ability also benefits your party.
The Action Surge fighter ability, gained at second level, lets you take one additional action on your turn once per short or long rest, or twice per long rest once you reach seventeenth level.
When you action surge as a banneret fighter, one of your allies within 60 feet can use their reaction to make a melee or range weapon attack.
Bulwark
At fifteenth level, your indomitable fighter ability extends a benefit to your party as well.
Indomitable, the fighter ability gained at ninth level, lets you reroll a failed saving throw once per long rest, or twice per long rest at thirteenth level and three times per long rest once you reach seventeenth level.
When you use the indomitable ability as a banneret fighter, you can choose an ally within 60 feet that has also failed its saving throw to reroll their saving throw as well.
Your Rallying Cry feature, your Inspiring Surge feature, and the Bulwark feature only take effect if the ally you choose can see or hear you.
Best Fighting Styles For A Banneret Fighter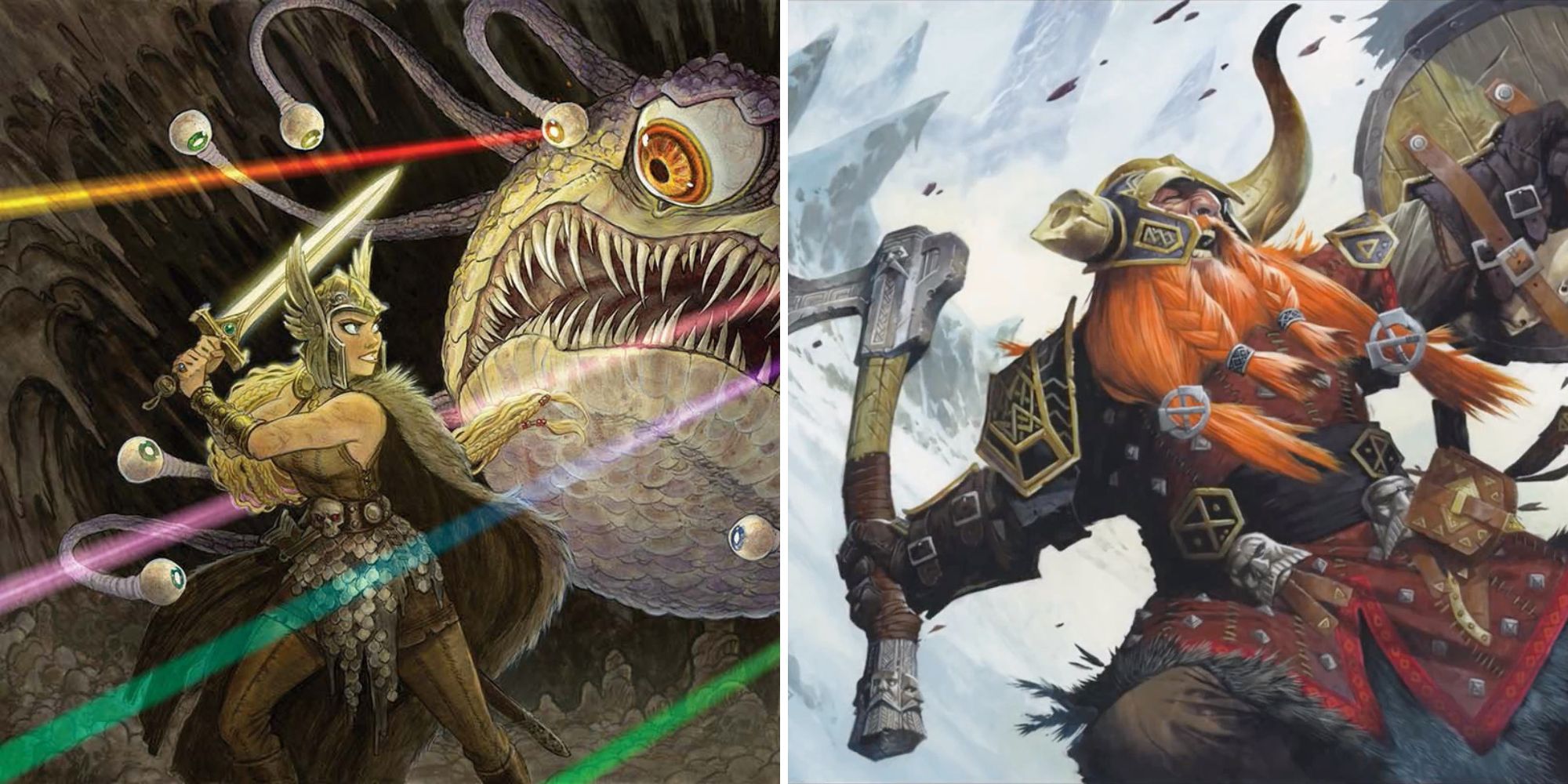 All fighters get to adopt one fighting style at first level, with the option to retrain these styles at higher levels. There are a lot of these styles to choose from, but as a banneret fighter you'll want to choose fighting styles that focus on leading and supporting your allies during combat.
Fighting Style

Description

Interception

When an ally within five feet of you gets hit with an attack, you can use your reaction to reduce their damage by 1d10 + your proficiency bonus, provided you are holding a shield or a weapon.

---

As a banneret fighter you'll usually have your reaction free, making this a great choice for protecting your allies.

Protection

When an enemy attacks a creature that is not you within five feet of you, you can give that attack disadvantage as a bonus action as long as you are wielding a shield.

---

This is another style that relies on your protective abilities, and lets you block an attack,

Superior Technique: Distracting Strike

The Superior Technique style gives you access to archetypes from the battle master subclass rather than a fighting style, with the caveat that you can use them only once per short or long rest.

---

The distracting strike in particular lets you add extra damage to a weapon attack, and grant advantage to whichever one of your allies attacks the target next.
Best Ability Scores For A Banneret Fighter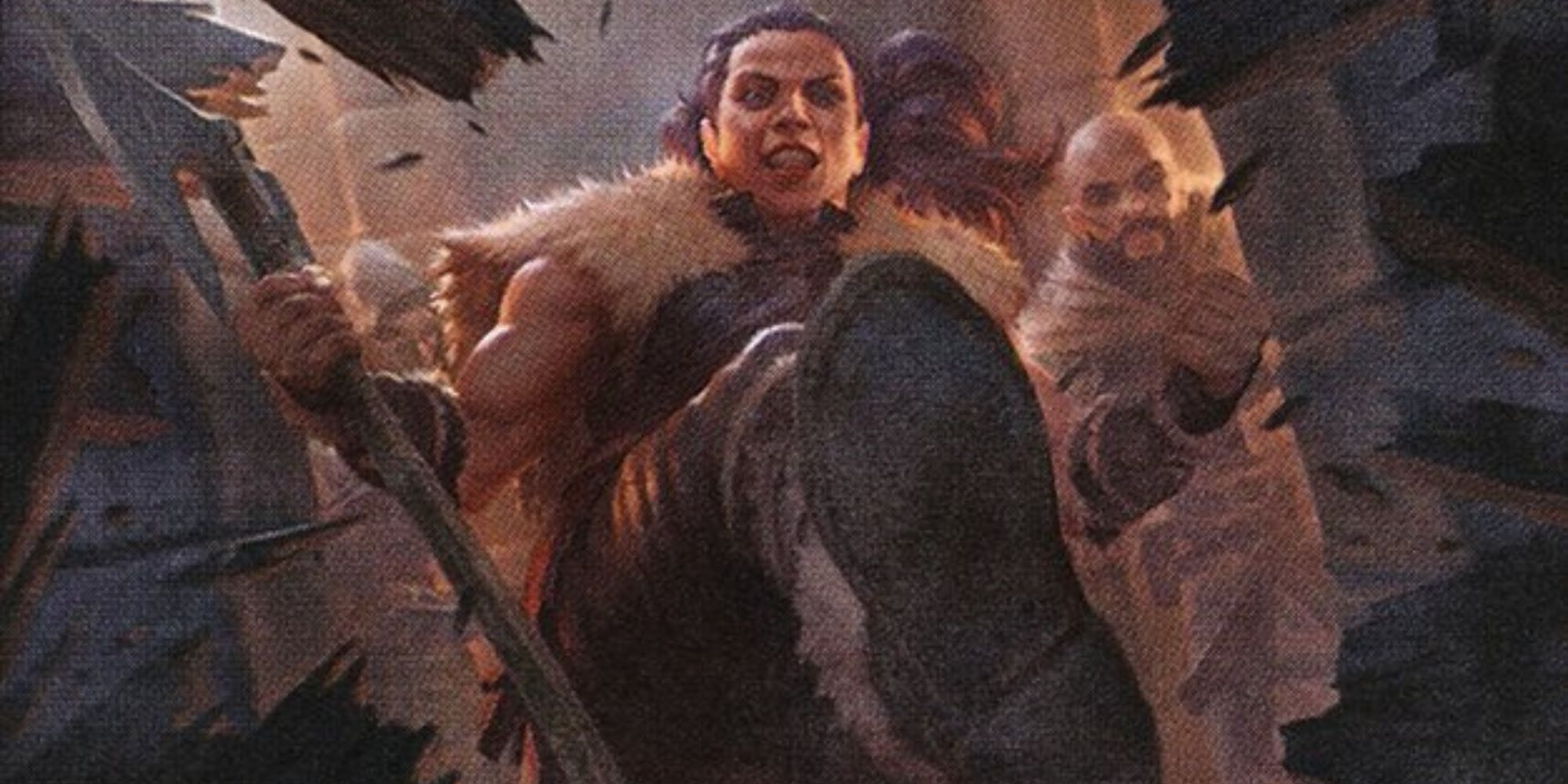 Strength
Strength is the top ability score of choice for most fighters. As a banneret fighter, you will mostly be relying on shields and weapons that use strength, so you will want a high Strength score to make the most of your weapon attacks.
Dexterity
Dexterity is crucial not just for feats of agility but for a high Armor Class. This should be almost as high as your Strength score.
As a banneret fighter, you will also want to wear medium armor and a carry a shield to improve your Armor Class even more, since many of your abilities involve putting yourself between yourself and your allies.
Constitution
Constitution is important for high hit points. Even with a very high armor class, you will still end up taking a few hits so you'll want enough health to stay up and fighting when you can.
Charisma
Charisma doesn't need to be very high, but you'll want this to be a passable skill to make the best of your royal envoy feature. A solid charisma will help you command honor and strength as a knight, so you can put at least a couple points into that.
Dump Stats
Wisdom and Intelligence won't be crucial for a fighter. Whichever of these two is your lowest ability score is really up to you. It's worth noting that some of the proficiencies available from your royal envoy feature use Wisdom, so you may want that score to be higher, but ultimately neither of these skills are very crucial for you and you can dump them.
Best Species For A Banneret Fighter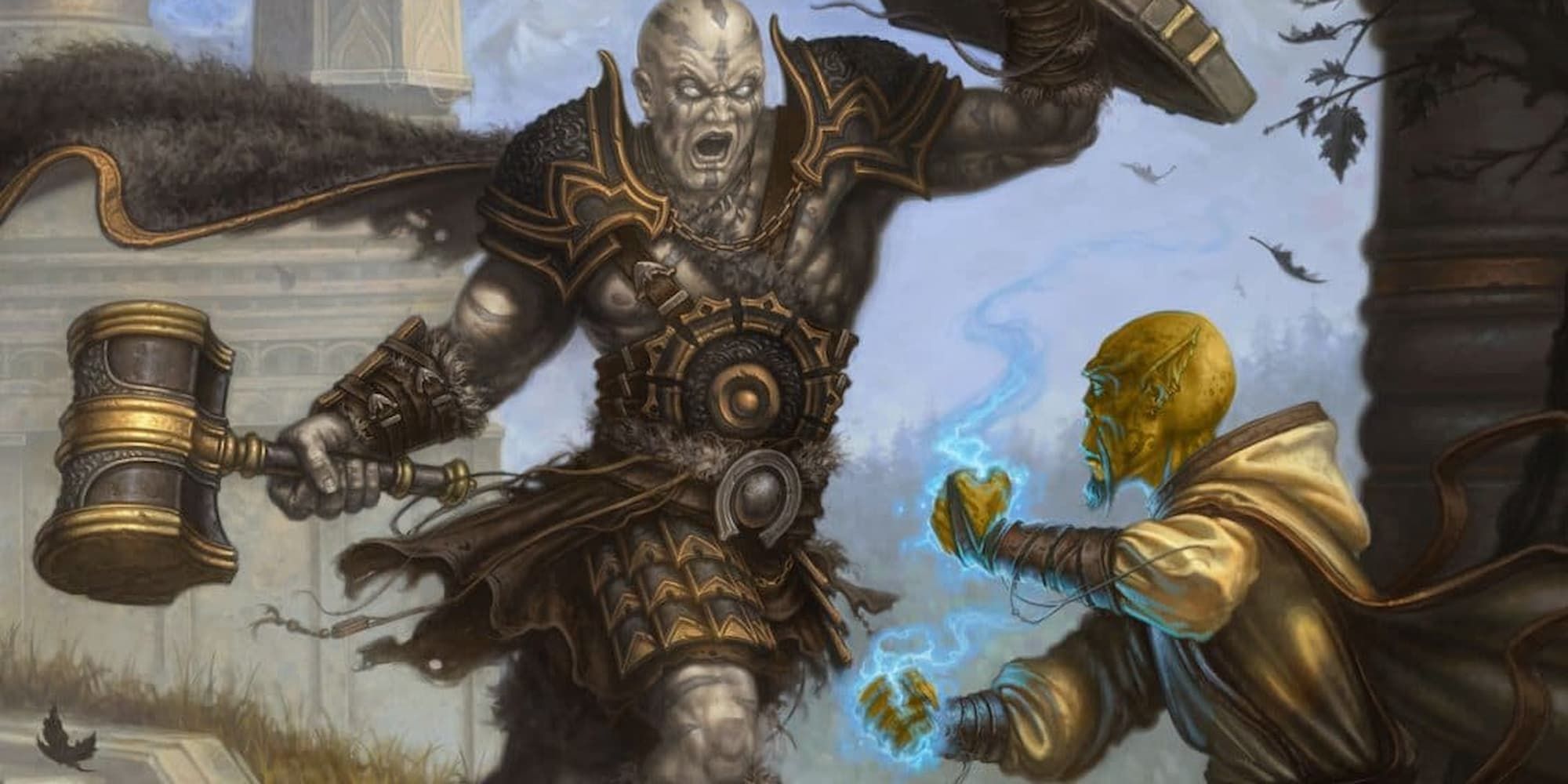 Triton
By playing as a Triton, you can choose your ability score increases. Putting these points into Strength, Dexterity or Constitution will be the best choice for you.
Your amphibious origin grants a number of benefits: you gain a swimming speed, the ability to breathe air and water, and to communicate with any swimming beast. You also gain darkvision and resistance to cold damage.
In addition, you gain access to certain spells. You can cast the spell Fog Cloud once per long rest. You also gain the spell Gust Of Wind at third level, and Water Walk at fifth level.
Each of these spells let you use weather to your advantage, often to make movement and sight easier for yourself and your companions or more difficult for your allies. They will help as you play a support class.
Goliath
Goliath are another strong species that will help you bolster yourself. You can increase your Strength by two points and your Constitution by one point. You gain proficiency in Athletics, resistance to cold damage, and an increased carrying capacity.
You also gain the stone's endurance feature, which lets you reduce damage you take by 1d12 + your Constitution modifier once per long rest.
This is an ability made to bolster yourself, but since so many of your class abilities rely on bolstering your allies, it may come in handy.
Tabaxi
Finally, the tabaxi is a versatile movement class that helps you excel in combat mobility. This species lets you choose your own ability score increases. You gain a natural weapon in your claws, which deal 1d6+ your Strength modifier slashing damage. You also have proficiency in Perception and Stealth.
The best feature of the tabaxi is your 30-foot climbing speed, and the feline agility feature that lets you double your movement speed during combat. For a support class that is built to protect allies, you need to be able to move. This class will give you strong combat mobility and the ability to dart around to the allies you need to protect.
Best Feats For A Banneret Fighter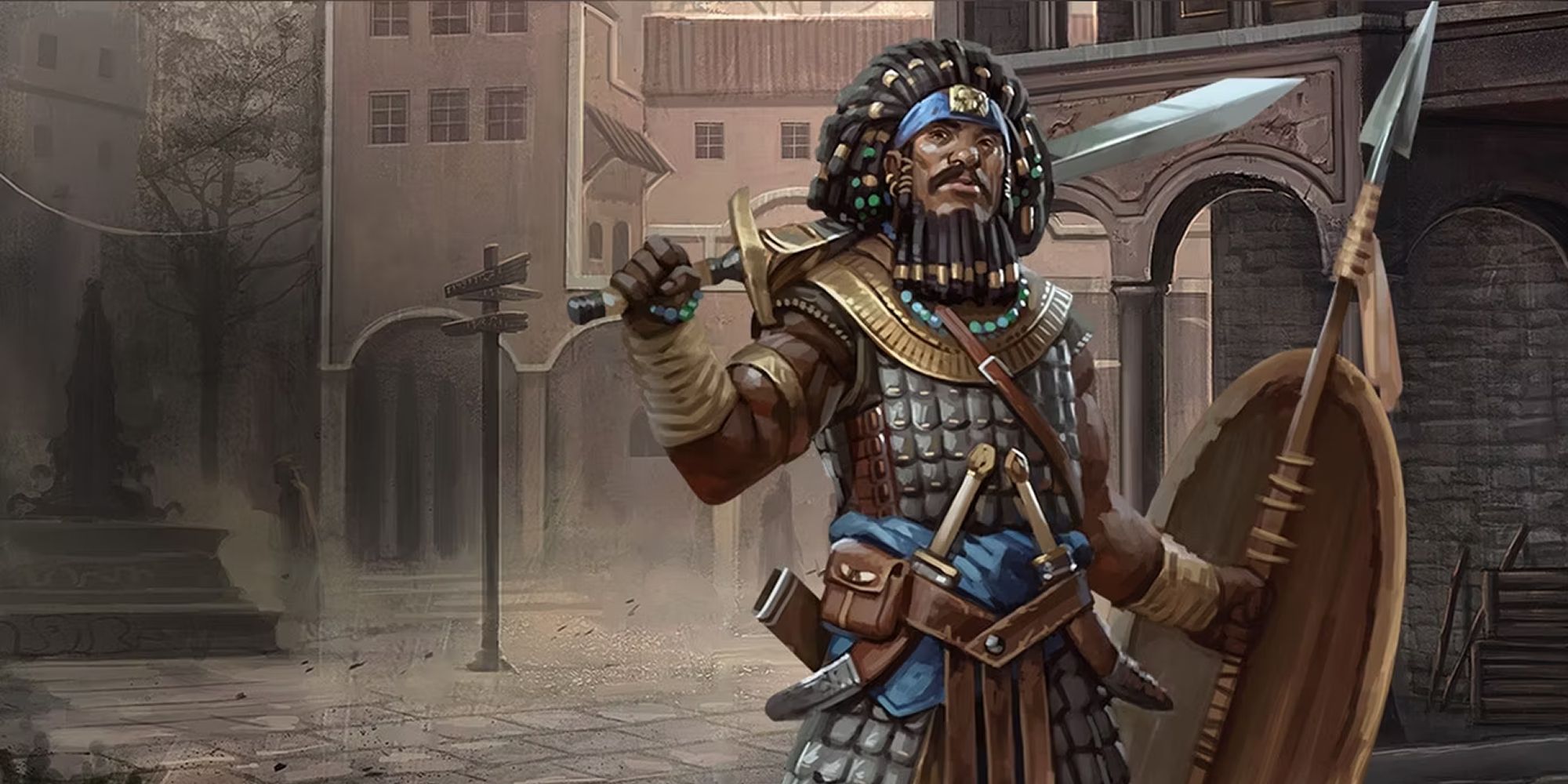 The features of the banneret fighter rely on improving the pre-existing features of the fighter, rather than adding their own unique class features. When choosing feats, look for new abilities that can improve your ability to support your allies.
Inspiring Leader
The Inspiring Leader feat lets you spend ten minutes to inspire up to six creatures, and give them temporary hit points equal to your level + your Charisma modifier. You can use this inspiring ability once per short or long rest, and it's best to use it when you know your party will be entering a fight.
Sentinel
Sentinel is a must-have for any melee protector. This makes the most of your opportunity attacks by letting you take opportunity attacks even if a creature takes the Disengage action. You can also take an opportunity attack against an enemy if it attacks one of your allies rather than you.
In addition, your opportunity attacks stop creatures in their tracks when you hit them.
related: Dungeons & Dragons: How To Build An Inquisitive Rogue