Highlights
Among Us pays tribute to iconic characters like Indiana Jones with its outfits, adding a touch of nostalgia to the game.
The Right Hand Man skin is unique and has a special kill animation, making it one of the best outfits in Among Us.
Players can create stylish and snazzy looks in Among Us with outfits like the black and white suit or the vibrant pink with Flamingo hat.
Among Us became a surprise hit a couple of years after release due to gaining traction on streaming platforms due to being a lot of fun to watch. The party game that involves deception and deduction, was published and developed by indie team Innersloth and can be played with four to ten players online or via LAN.
Related: Among Us Review
However, the best part of the game isn't the friendships made, nor is it the heart-stopping moment you get away with killing another player. It's checking out the outfits everyone wears in the waiting lobby. These are the best outfits to keep your bean stylish.
Updated on November 16, 2023, by Rosa Baumgartl: Among Us regularly adds awesome new customization options, and with the release of the Arcane Cosmicube we thought it would be a great time to add a few more outfits to inspire you. Flaunt your style and come up with your own unique looks by mixing and matching from different bundles.
15
Paying Tribute To Indiana Jones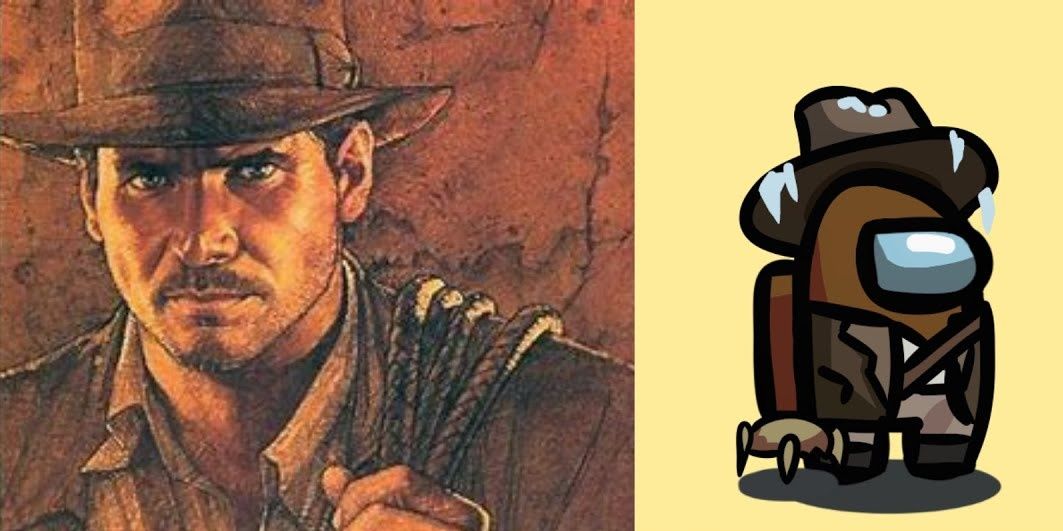 | | |
| --- | --- |
| Hat | Siberia James |
| Skin | Unearthed Wonders |
| Pet | Bedcrab |
Indiana Jones is one of the most iconic characters in pop culture history. One can confidently say that this character is a major reason why Harrison Ford's acting character was such a massive success.
So, given Among Us' massive place in modern pop culture, it was only a given that the game would pay tribute to the classics of the past. This is done quite handily with a costume present in the game that is very much reminiscent of Indiana Jones' outfit. It's easily one of the best Among Us looks.
14
A Crewmate On A Crewmate… With A Crewmate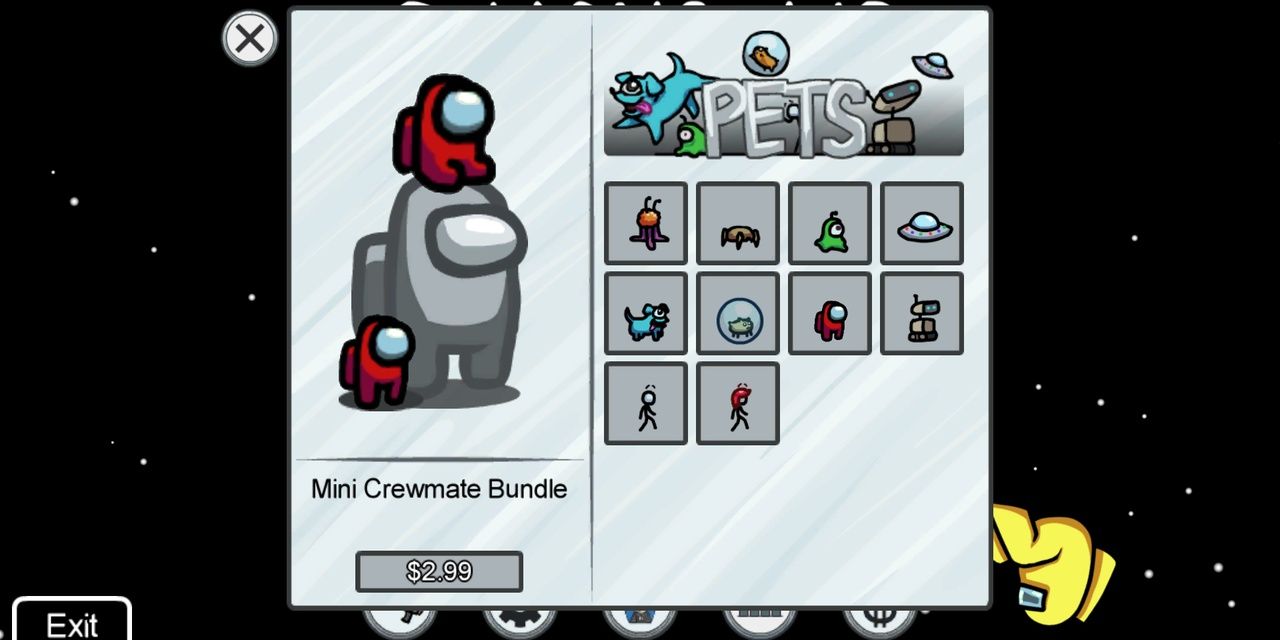 | | |
| --- | --- |
| Hat | Mini Crewmate |
| Skin | Any Color |
| Pet | Mini Crewmate |
Fans of the cute Among Us crewmates can go all out with a combination that Xzibit would be proud of. For this outfit, players need both a crewmate hat and a mini crewmate as a pet.
The end result is an extremely cool Among us character who is downright adorable. Watching this cute trio roam around the map pretty much makes up for all the horrific kills that the player might have to experience… or dish out, if they're the impostor.
13
The Unique Right Hand Man Skin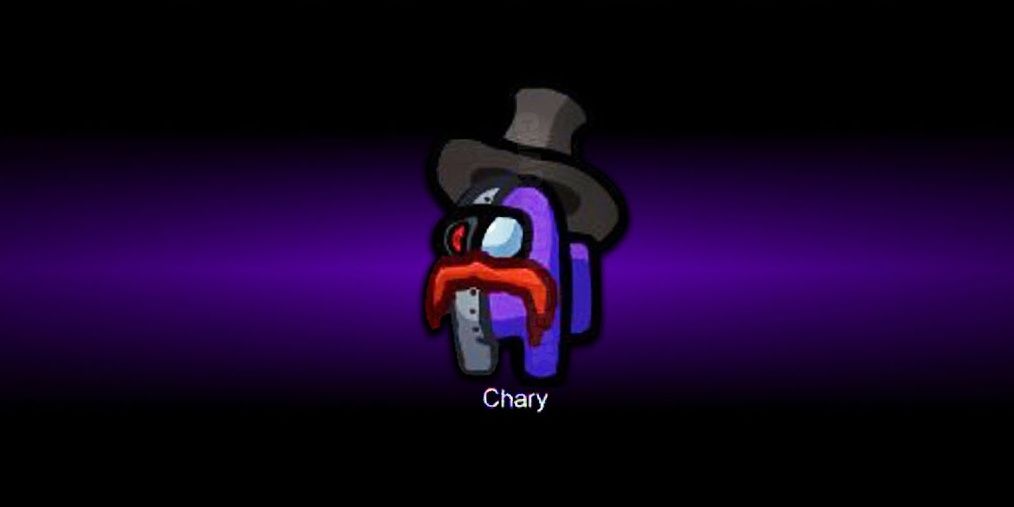 | | |
| --- | --- |
| Hat | Right-Hand Hat |
| Skin | Right-Hand Man: Reborn |
| Visor | Right-Hand Stache |
Out of all the best Among Us outfits on this list, the Right Hand Man skin is especially notable due to its unique look. This outfit is a result of the collaboration between Among Us and Henry Stikmin, and it's pretty awesome to behold in-game.
Related: The Best Hidden Role Games, Ranked
The best part about the Right Hand Man skin is the fact that it's the only skin in the game with a unique kill animation! This fact, by itself, makes this skin one of the best Among Us looks in the game.
12
A Cosplay That's Truly Radioactive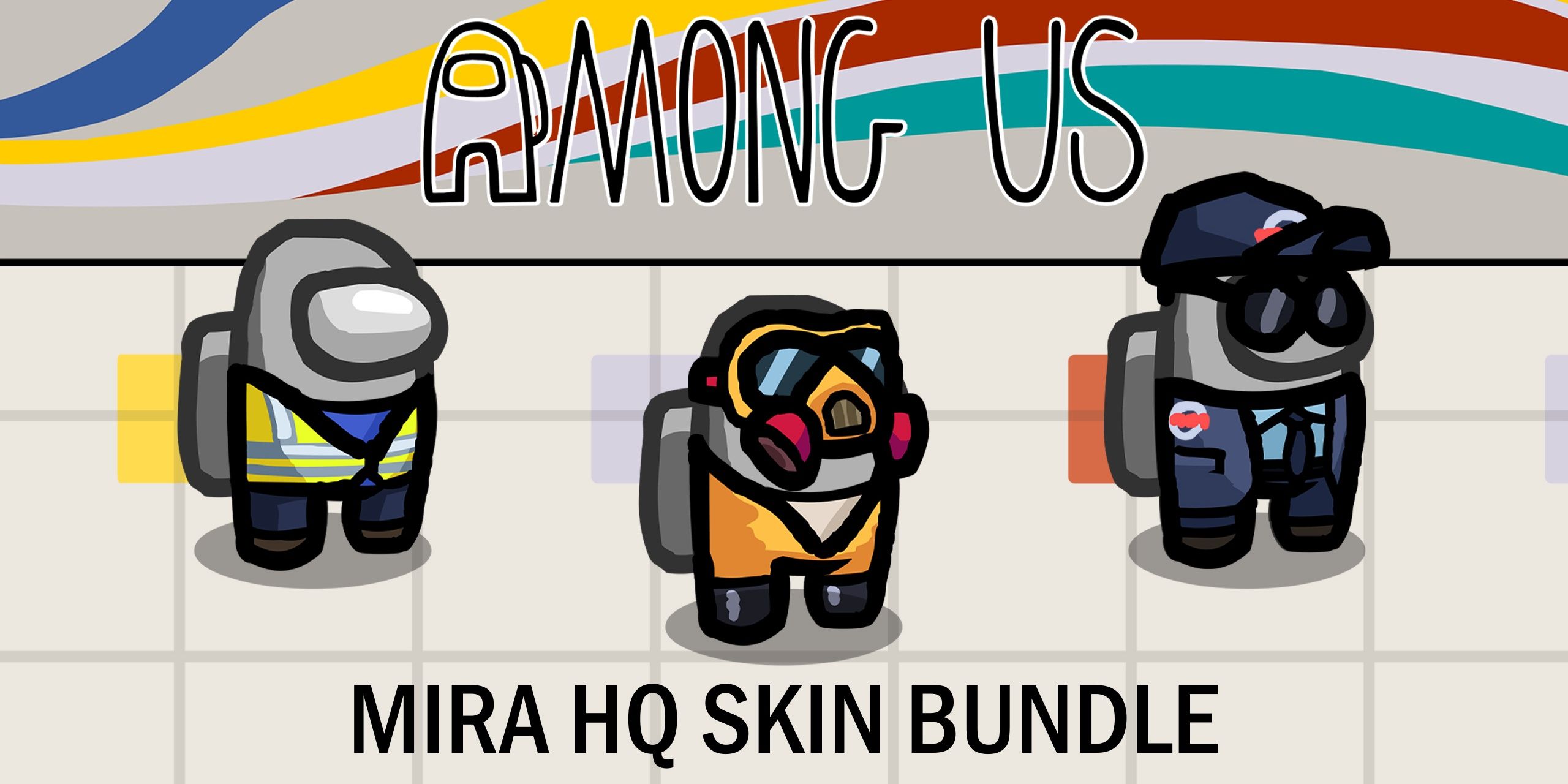 | | |
| --- | --- |
| Hat | Greatest Headset |
| Skin | Hazmate |
| Visor | Blocks Toxics |
The MIRA HQ skin bundle offers up some of the best Among Us outfits. The radioactive suit that players can make their crewmates wear in the game is one such example.
It makes sense for crewmates dealing with nuclear equipment to be dressed up in hazmat suits. With the combination of the MIRA hazmat skin and MIRA hazmat mask, this adds a ton of roleplaying potential to this map if players want to engage in the same.
11
Looking Sharp With A Well-Made Suit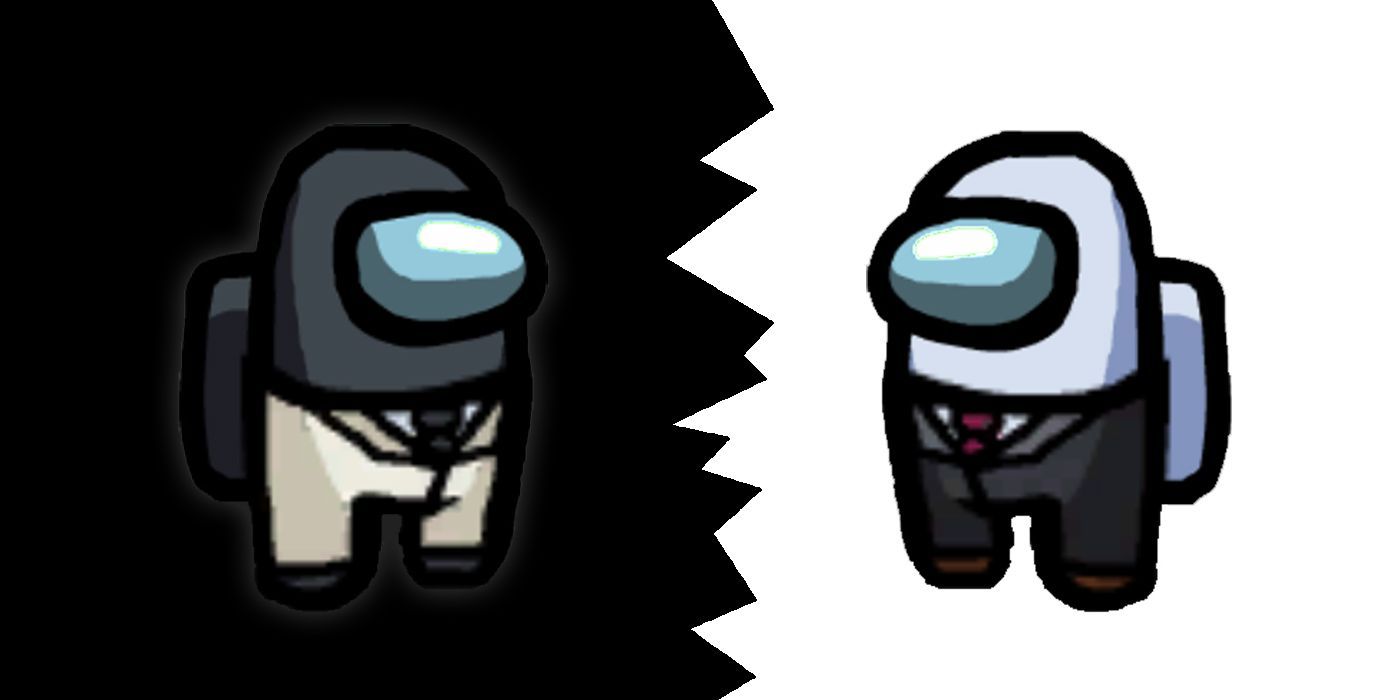 | | |
| --- | --- |
| Hat | Stickmin Brows |
| Skin | Suited Up |
| Skin | Flashy |
Players who want to look snazzy while blaming the wrong crewmates and killing off innocents in Among Us can achieve the same with the black and white suit skin. It's a classy look that feels at odds with all the chaos present in a game of Among Us.
This cosplay allows players to become a cool Among Us character, which is certainly aesthetically pleasing. However, don't expect players to start paying their respects to your character, since that's the last thing Among Us is known for.
10
Brown With Leaf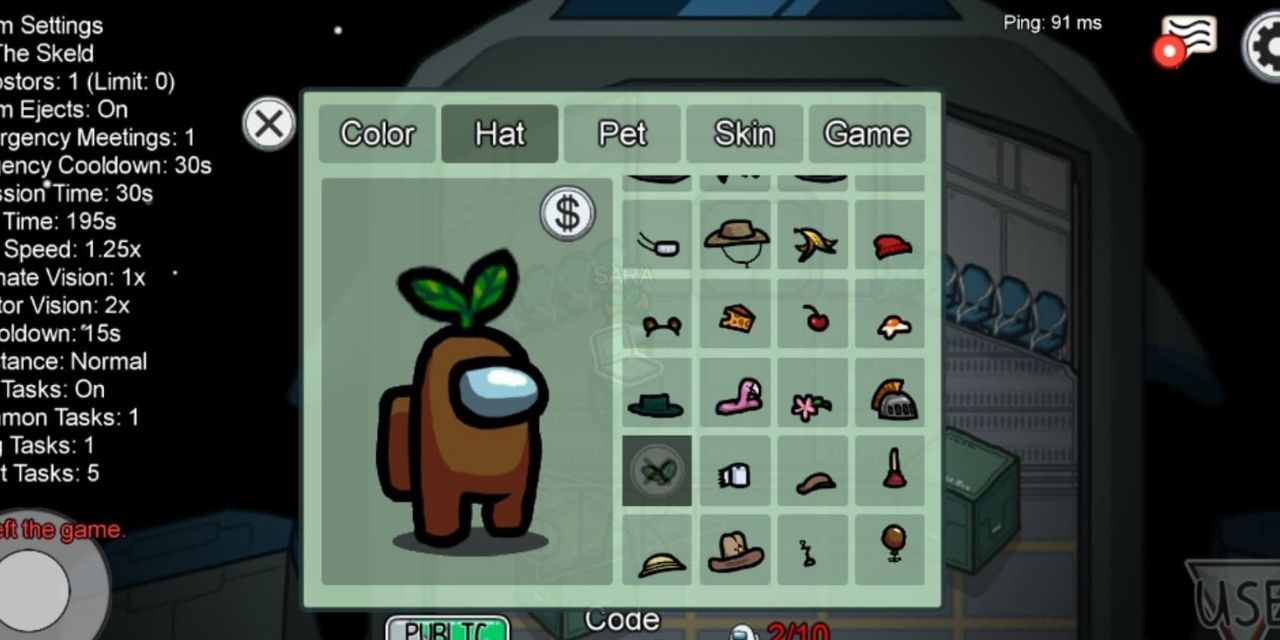 | | |
| --- | --- |
| Hat | Young Sprout |
| Skin | Blue Color |
| Pet | Bushfriend |
Some players like to match the Young Sprout Hat with the orange or purple skin, resembling a carrot. But the brown skin, paired with the vivacious Young Sprout Hat has infinite possibilities. The brown skin represents the soil, so vital to real-life astronauts on their missions in space. Growing crops is a worthwhile investment, giving crewmates a sense of accomplishment and, more importantly, a renewable source of food on their adventures.
The contrast of new life against the ruthless murder of crewmates in MIRA HQ creates a dramatic sense of irony. Innocent new life, cut down mercilessly at the hands of the imposter. What would it bloom into? Players will never know.
9
Pink With Flamingo hat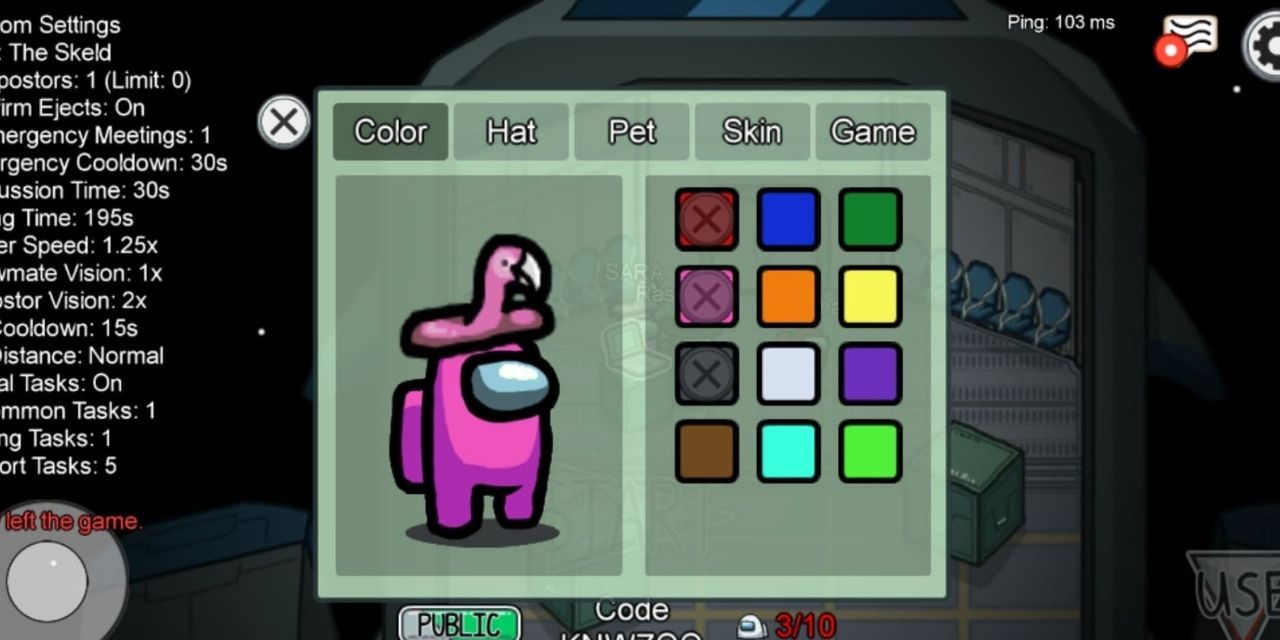 | | |
| --- | --- |
| Hat | Floaty Flamingo |
| Skin | Pink Color |
A splash of color to a bleak space setting, pink with Flamingo Hat is sure to brighten players' days! That is, of course, until they stumble across the mutilated corpse of their new friend.
Related: The Best Party Games On PS4
Flamingos are bright pink birds not commonly found in space. However, they can be spotted throughout the Americas, as well as in Africa, Asia and the Caribbean. They are named after the Spanish word Flamengo, meaning flame colored. This funky pink bird costume is perfect for speeding through tasks, but not great if stealth is a player's main strategy.
8
Elvis Presley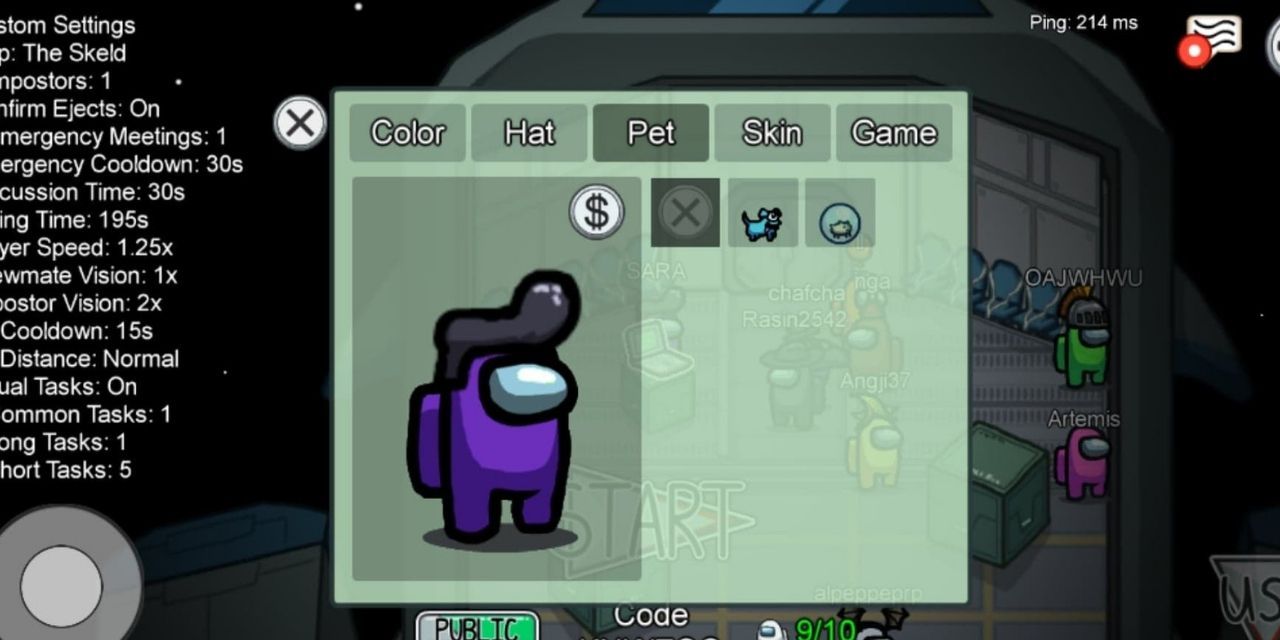 | | |
| --- | --- |
| Hat | Pompous Pompadour |
| Skin | Flashy |
| Pet | Doggy |
A style icon for the ages, now in space. With a jet black pompadour and a dazzling white suit, Among Us players 'Can't Help Falling in Love' with this handsome crew member. Elvis Presley crewmates can "Find Out What's Happening" when the imposter sabotages the space mission and put their "Suspicious Minds" to rest.
Players can even have their very own "Hound Dog" if they purchase the Pet bundle, which comes with a bright blue puppy. "Doncha' Think It's Time" to try on this outfit?
7
Orange Pumpkin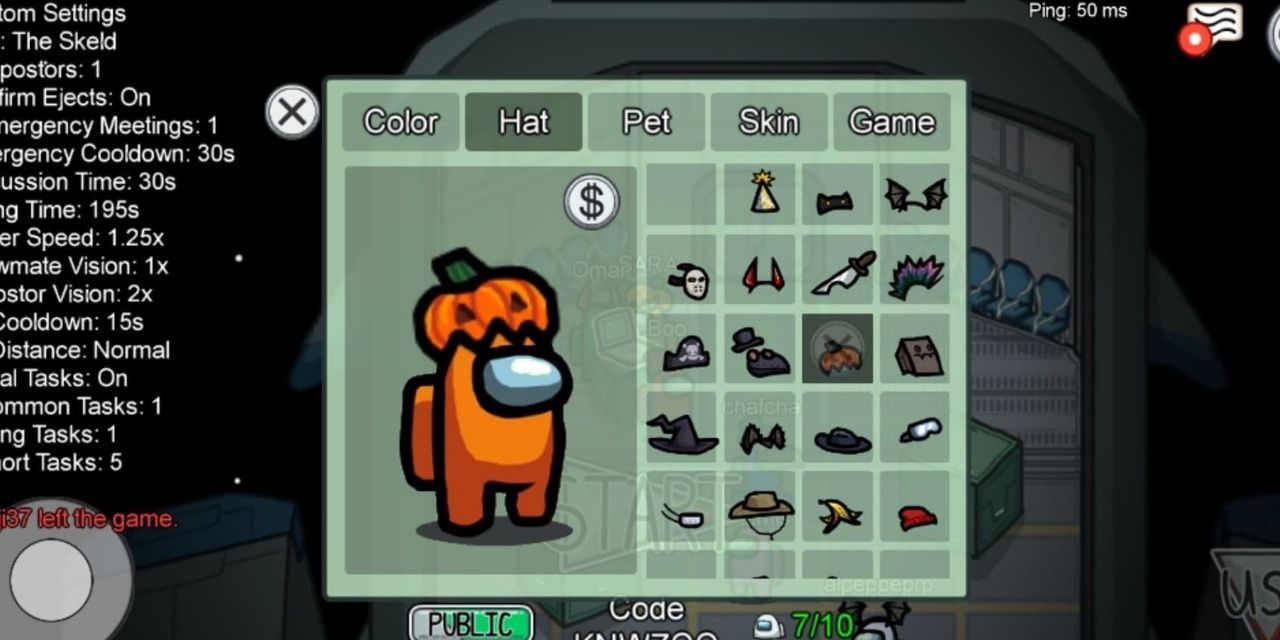 | | |
| --- | --- |
| Hat | Punkin |
| Skin | Orange Color |
| Pet | Franken Dog |
To celebrate the Halloween festivities, Innersloth has kindly added 12 spooky costumes to players customization screen, free of charge! There is something for everyone, but pairing the orange skin with the Pumpkin Hat is a delightfully spooky way for gamers to show off their love for Halloween.
All the Halloween costumes are automatically added to your customization screen if someone plays Among Us during October. But what if someone is late to the party and only gets the game in November? Don't worry, it's not too late for them to fit in with the spooky crowd. The outfits are unlocked based on the device's clock. If the PC or phone's date is changed to October and the game is launched, players can unlock the Halloween hats any time of the year.
6
Black Cat And Mouse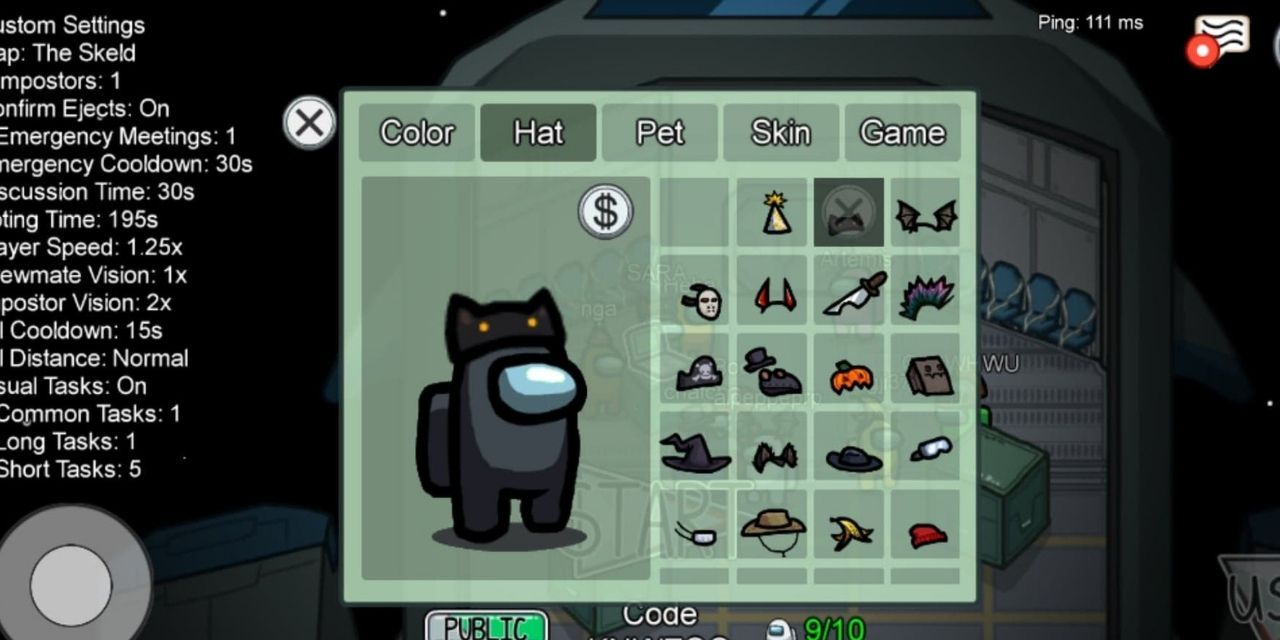 | | |
| --- | --- |
| Hat | Treat Cosmicube |
| Skin | Base Color |
| Pet | Pusheen Cosmicube |
Innersloth also added a Cat Hat to the customization screen for Halloween. A black cat is many gamers' go-to outfit when it comes to dressing up to celebrate this spooky season. These gorgeous creatures have often been the loyal sidekicks of witches, accompanying them on their broomsticks and cooking up magic potions. The black skin, matched with this adorable cat hat and the Pusheen Pet is a great costume.
Related: Casual Co-Op Games For Busy Gamers
For those wanting to take it a step further, the iconic 'cat and mouse' duo makes for a hilarious Among Us costume. If players purchase the Hamster Pet Bundle, they can take a cute hamster pet with them on their spaceship journeys.
5
Santa Claus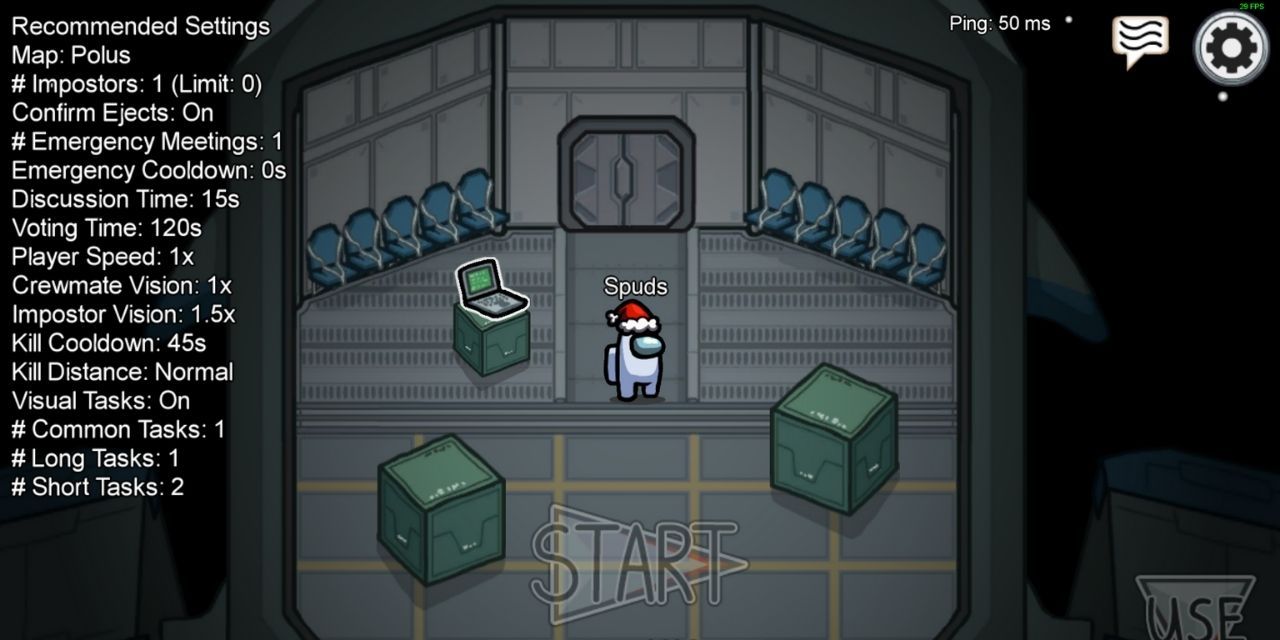 | | |
| --- | --- |
| Hat | Presents Dude |
| Skin | Claus, Mrs Claus |
| Pet | Heimerdinger's Poro |
For those players more interested in the festive season, rather than the spooky season, look no further than this Santa Claus customization option in Among Us! This festive red Santa Hat is a must for those wanting to celebrate Christmas early. Much like the Halloween hats, these festive customization options will automatically be added to a player's wardrobe come December. If they can't wait until then to rock this iconic costume and spread some Christmas joy, they can change the date and time on their devices.
For Christmas hats, players can time-travel to December 24th, 2018. This is the date the Christmas hats were first available. The Christmas Hat will be available as soon as they load the game. Pair it with the red parka jacket from the Polus DLC or the Claus, Mrs Claus dress and players can enjoy the festive season all year round.
4
Yellow With Bag Hat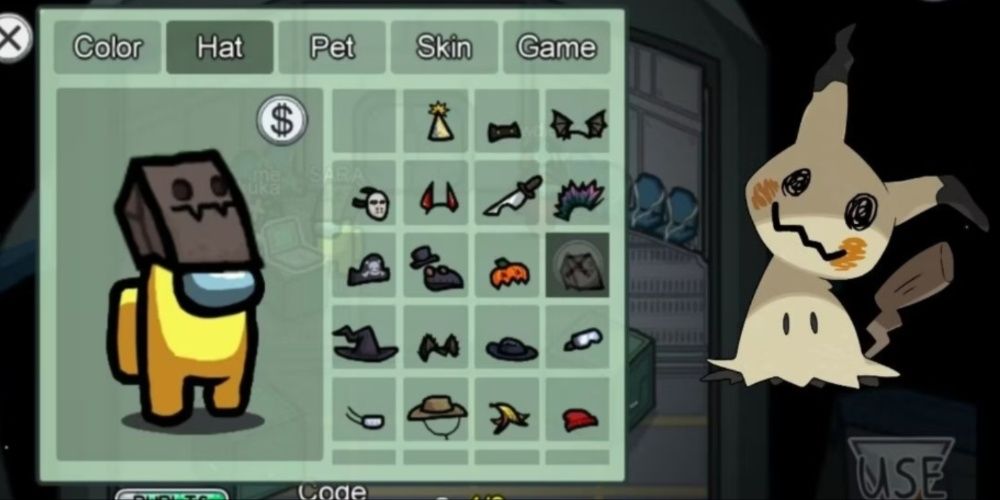 | | |
| --- | --- |
| Hat | Mask, The Monster Mask |
| Skin | Yellow Color |
For fans of the Pokemon franchise, look no further than an Among Us Mimikyu cosplay to scratch that Halloween itch. Mimikyu is a Ghost-type Pokemon, who hides under an old rag, dressed to look like a Pikachu. A Pikachu face is clumsily drawn on with a crayon, sporting the iconic red cheeks and black eyes of the franchise's mascot.
The saddest part about this is the fact that Mimikyu is said to dress as Pikachu to try and make friends with people who would be scared off by its appearance. This could be a great tactic for lulling crewmates into a false sense of security, before brutally leaving their corpse on the spaceship floor.
3
Red With Devil Horns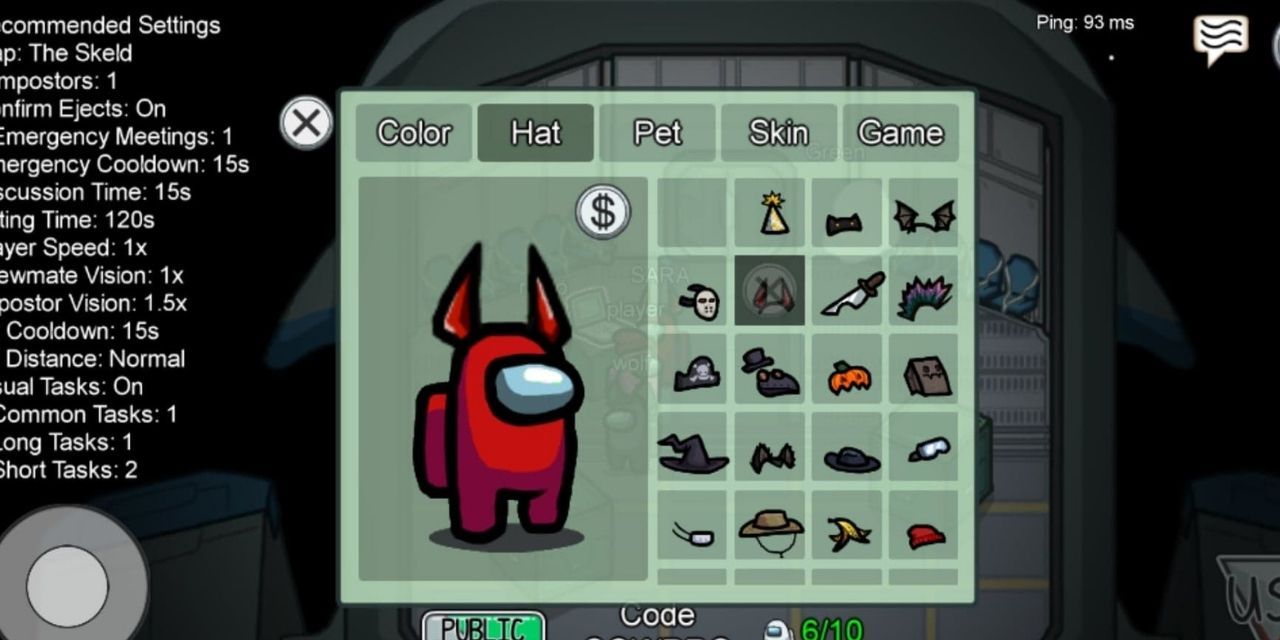 | | |
| --- | --- |
| Hat | Imp-ressive |
| Skin | Red Color |
| Pet | Worm |
This simple costume is perfect for the huge number of players looking to play as the imposter. Add some meddlesome mischief to the Among Us lobby by pairing the red skin with the Halloween Red Devil Horns.
Related: Among Us: Dos And Don'ts For Imposters
Players can match with a friend or significant other by having them wear the more angelic White skin with Halo Hat. If players want to dress in the devilish Red Horns, they'll need to change their device time to October again. If players want the halo, they can purchase it in-game.
2
Camo Soldier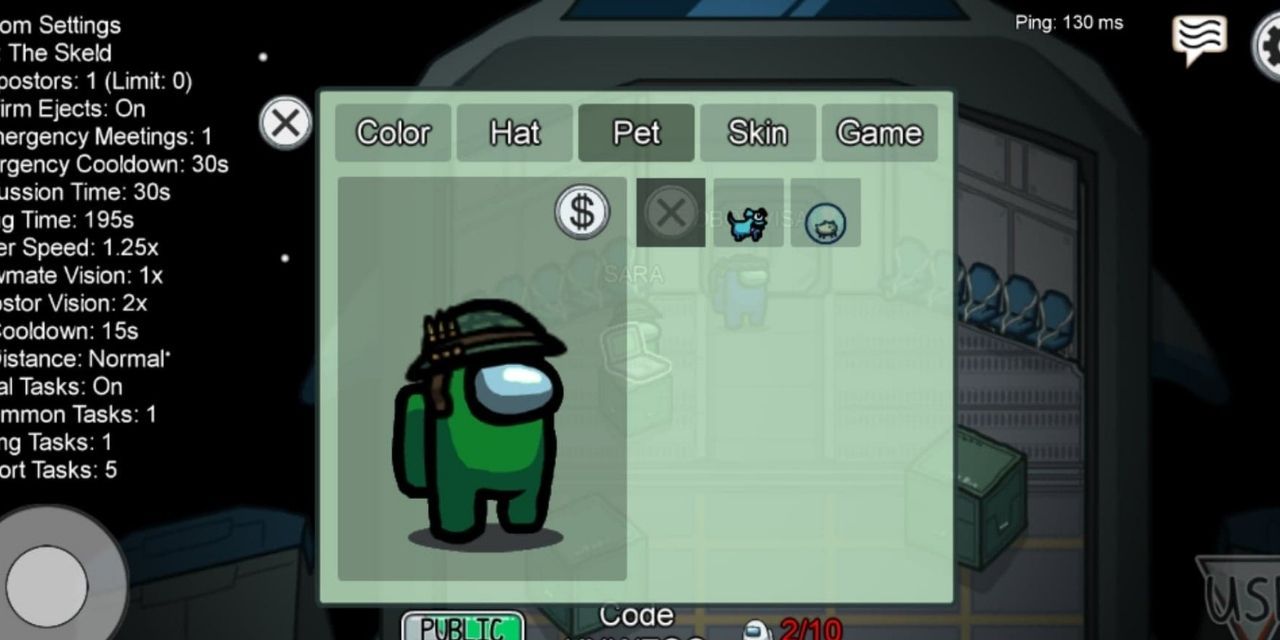 | | |
| --- | --- |
| Hat | Take Cover (Free) |
| Skin | Officer Outfit (Free) |
| Pet | Charles Chopper |
If stealth is a player's main strategy for winning Among Us, the camouflage Solider outfit is perfect for blending into the shadows and sussing out the imposter, or lying in wait for innocent crewmates to wander within the kill range.
The dark green skin, paired with the Soldier hat is a great way to take down the imposter with force. Tie the whole look together with an Officer Outfit skin, and a Charles Chopper pet available through the Airship Cosmicube.
1
Birthday Hat And Birthday Suit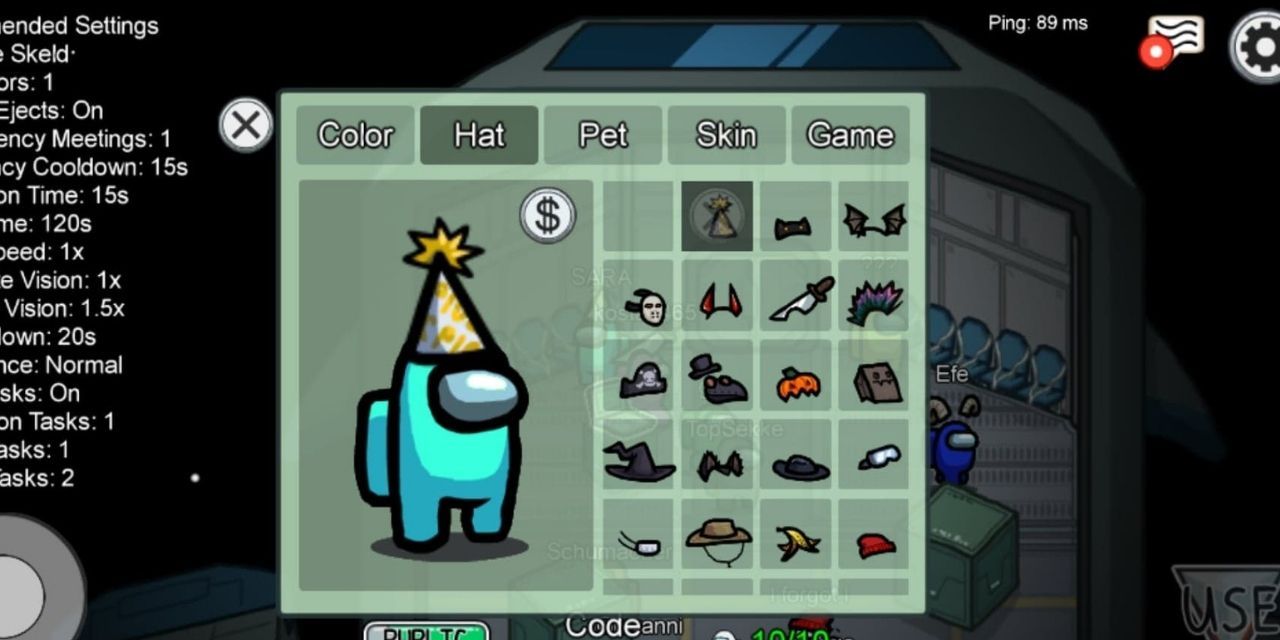 | | |
| --- | --- |
| Hat | New Years 2019 |
| Skin | Present Company |
| Pet | Deitied Guy |
Adding some wholesomeness to a game about killing stranded crew members, the Birthday Hat went viral after a player asked others in the lobby to wear a Party Hat to celebrate their birthday.
Now, it is a great way to add some cheer to any Among Us game and brings people together as no party game has done before. Don a giftbox, and maybe add a cute pet wearing a little hat, and you've got a stylish ensemble. That is, of course, the accusations start flying after their birthday corpse is found lying in electrical.
Next: Among Us: Tips On How To Sabotage