The Miner is a close-range Survivor in Risk of Rain Returns that relies on his unique Heat mechanic. After using his Primary skill enough, the Miner will begin Scorching, empowering his other skills. He has the most mobility and invulnerability of all the Survivors in the game, making him a great choice for speeding through stages without getting hit.
Related: Risk Of Rain Returns: Chef Survivor Guide
The Miner has conditional power that can be tricky to get the timing down on. Still, with a little practice, you'll be able to blaze your way through Petrichor V. Below, we'll take a look at everything you need to know about surviving as the Miner, including the best skills and items to use, and some tips and tricks for succeeding.
Miner Skills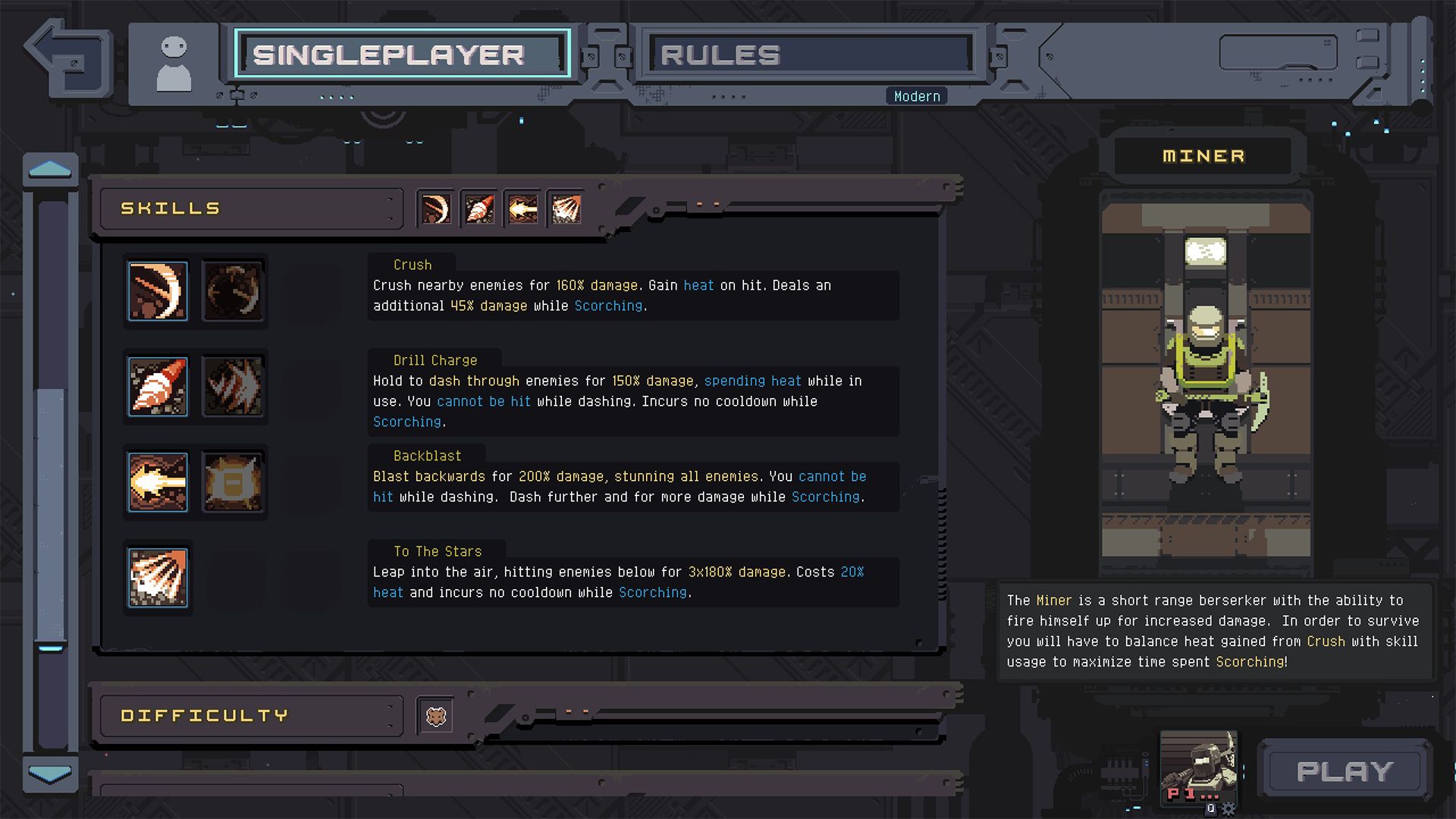 The Miner has the following skills by default.
| Skill | Description |
| --- | --- |
| Crush | Crush nearby enemies for 160% damage. Gain Heat on hit. Deals an additional 45% damage while Scorching. |
| Drill Charge | Hold to dash through enemies for 150% damage, spending Heat while in use. You cannot be hit while dashing. Incurs no cooldown while Scorching. |
| Backblast | Blast backwards for 200% damage, stunning all enemies. You cannot be hit while dashing. Dash further and for more damage while Scorching. |
| To the Stars | Leap into the air, hitting enemies below for 3×180% damage. Costs 20% Heat and incurs no cooldown while Scorching. |
Unlockable Skills
You can unlock the following three skills for the Miner that replace his Crush, Drill Charge, and Backblast.
Skill

Description

How To Unlock

Throwing Axe (replaces Crush)

Toss a pickaxe for 125% damage. Gain Heat on hit. While Scorching, pickaxes pierce, and get thrown more rapidly.

Complete the Providence Trial "Break the Targets!".

---

Complete 25 stages as Miner.

Drill Dash (replaces Drill Charge)

Dash through the air in your held direction. When contacting an enemy, rapidly drill in place for 150% damage for as long as you have Heat.

Kill 8 Elder Lemurians without losing your Scorching status.

Burnout (replaces Backblast)

Explode in a large area for 500% damage, stunning all enemies. Damages you for 25% max health and gain 25% Heat. Cannot die from self-damage.

Complete the Providence Trial "Scorching Heat".

---

Collect 300 items as Miner.
Best Items For Miner
The Miner's main strengths are his decent attack speed, mobility, and invulnerability. Using Drill Charge just right will drastically reduce the overall amount of damage you take, allowing you to pick up more offensive-oriented items and focus on improving the Miner's strengths.
| Item | Description | Why It's Good |
| --- | --- | --- |
| Soldier's Syringe | Increases attack speed by 12%. | Increases overall damage and Heat generation. |
| Barbed Wire | Hurt 1 enemy within 1m for 50% damage every 0.5 seconds. | Increases damage to nearby enemies. |
| Mocha | Increases movement speed by 7.5% and attack speed by 6%. | Good two-in-one item for attack and movement speed. |
| Paul's Goat Hoof | Increase movement speed by 15%. | Increase mobility. |
| Lens Maker's Glasses | Your attacks have a 10% chance to Critically Strike, dealing double damage. | Increases overall damage. |
| Leeching Seed | Attacking enemies heals you for 2 health. | Increases health sustain. |
| Harvester's Scythe | Gain 5% Critical Chance. Critical Strikes heal you for 8 health. | Increases health sustain. |
| Hunter's Harpoon | Killing an enemy increases movement speed by 125% for 1 second. Consecutive kills increase buff duration for up to 25 seconds. | Increases mobility upon killing enemies. |
| Concussion Grenade | 6% chance on hitting enemies to stun them for 2 seconds. | Increases survivability at close-range. |
| Hardlight Afterburner | Add 2 charges of your Utility skill. Reduces Utility skill cooldown by 33%. | Grants additional charges of Backblast or Burnout, increasing mobility or Heat generation. |
| Tesla Coil | Shock nearby enemies for 120% damage. | Greatly increases damage to nearby enemies. |
With these items, you'll mainly be focusing on avoiding damage rather than taking and healing damage. Without enough attack speed items, you can safely charge up your Heat, using Drill Charge to avoid enemies as much as necessary.
If you're using Burnout, you'll want to have a few more healing items like the Medkit, Mysterious Vial, and Sprouting Egg. These will sustain you through the self-damage inflicted by Burnout while allowing you to keep your Heat gauge full.
How To Play As Miner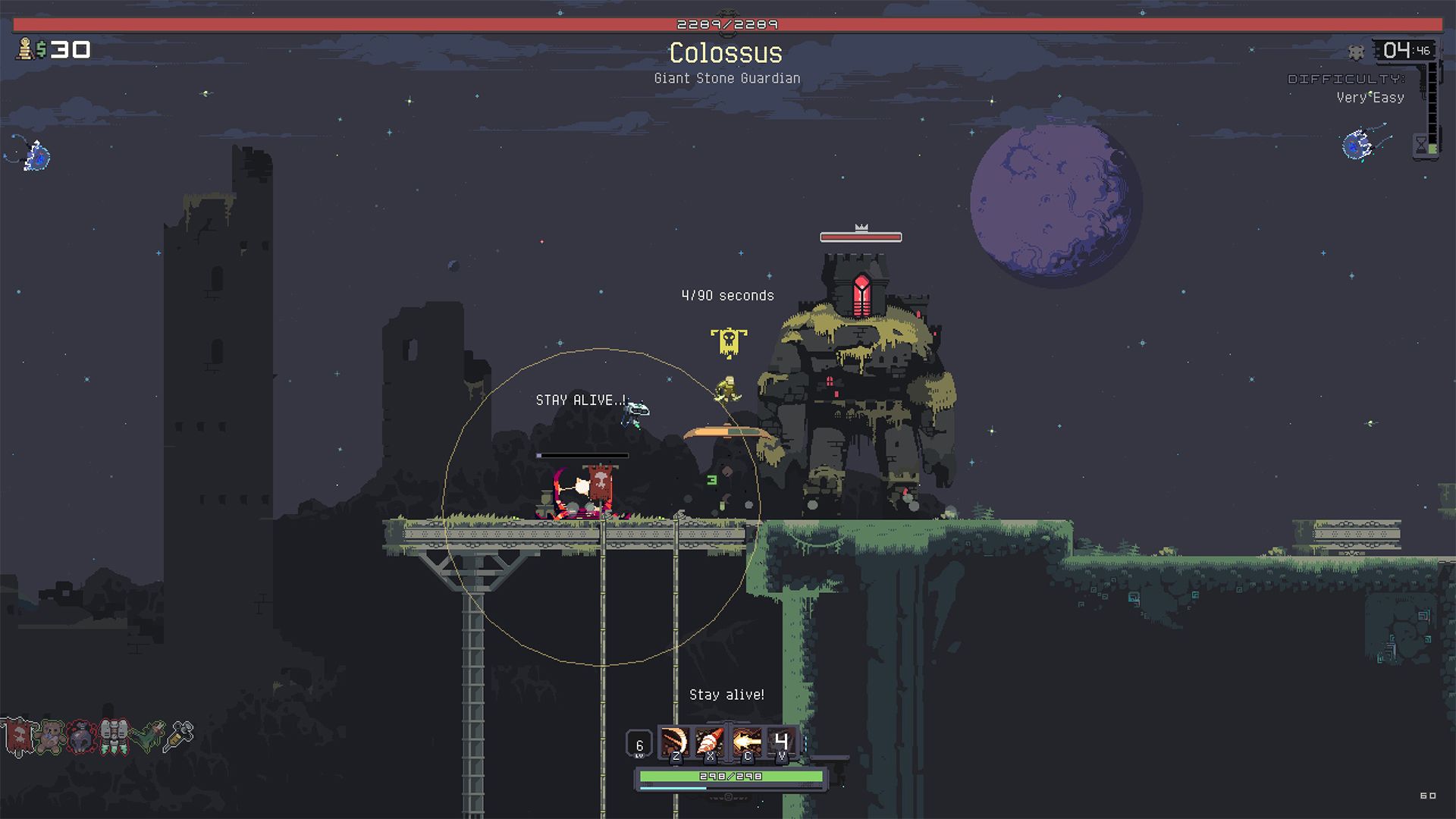 As the Miner, you'll be using your skills to rapidly dash around the stage, avoiding attacks with the invulnerability Drill Charge brings. High mobility and attack speed are the core assets of Miner, and learning how to leverage them will be essential for survival.
Throwing Axes turns Miner into a mid-range brawler, giving him some space to take on enemies at range. While Scorching, Throwing Axes will pierce through enemies, making this skill great for taking down groups of tougher enemies.
Holding down Drill Charge while Scorching will let you charge forward multiple times in a row. This will quickly burn through your Heat, but let you travel great distances to escape enemies.
Maintaining the Scorching effect is essential as Miner. While Scorching, Drill Charge and To the Stars have no cooldown, and your attacks will deal more damage and attack faster. If you're having trouble maintaining Scorching, try switching to Burnout.
While this skill may seem scary due to its self-damaging effect, it's the best way to maintain high Heat. Plus, if you use Burnout immediately after Drill Charge while you are still invulnerable, you won't be damaged by the skill at all. Using this combo, you can keep Scorching up while remaining at full health.
Next: Risk Of Rain Returns: Pilot Survivor Guide