Quick Links
The Skill Tree: Attacks, Passive Moves, And Stat/Range Skills
Support: A Rebellious Resolve, And Futaba's Support
Persona 5 Tactica shakes up plenty of things about the basic Persona structure, and one of the things veteran fans will need to adjust to in P5T is the game's Skill Tree. Instead of your Personas learning new moves as you and your fellow Phantom Thieves level up, now, you'll need to carefully choose who learns what skill and when.
RELATED: Persona 5 Tactica Review – Goodbye For Good From The Phantom Thieves
Planning ahead and building your team well can make all the difference, requiring you to think carefully about unlocking multi-target attacks, HP/SP bonuses, stat boosts, and more. Below is everything you need to know about unlocking new skills in P5T.
What Is The Skill Tree?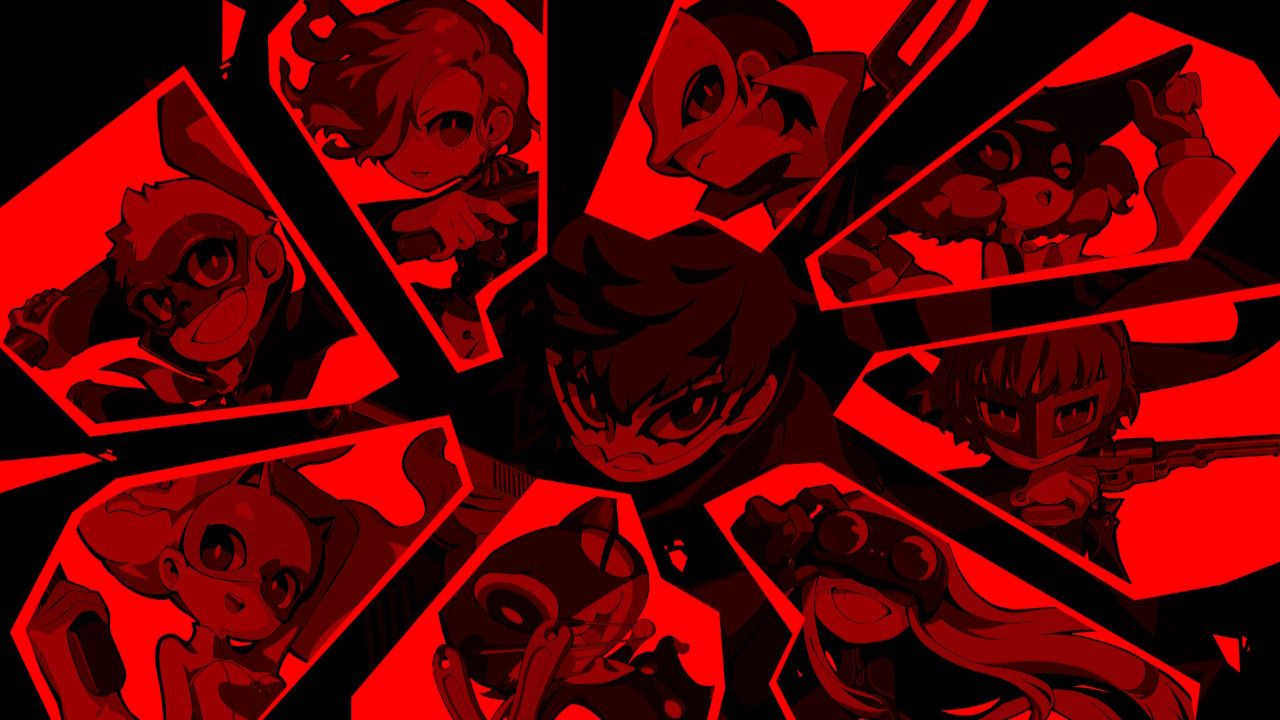 In traditional Persona, you earn new abilities as your team levels up and their Personas gain more experience. In Persona 5 Tactica, however, you need to manually choose which skills you want each Thief to unlock and when.
This time around, you don't learn new moves just by leveling up anymore. Every new move or skill your Personas learn must be a conscious choice you make in the Skill Tree menu, which you can vary between Thieves to create different builds for each.
Spend GP To Unlock New Skills
Though the Phantom Thieves will collectively earn EXP, this only impacts to which level you can create Sub-Personas in the Velvet Room. To build the Skill Tree, you'll be spending GP on new skills instead.
GP can be earned in a variety of ways, like playing the main story, speaking to your team at the hideout when the "Talk" option is highlighted, and completing optional Quests for a wealth of additional GP for a few specific characters.
Every teammate has their own individual GP count. As you go through the game and collect enough GP to unlock something new in the Skill Tree for that character, their info in the "Check Skills" menu will have a yellow exclamation mark at the end.
This activates every time you have enough to buy anything in the Skill Tree, but you may be wise to save up your GP for more expensive skills, depending on how you're building each Thief.
Your most expensive skills will cost 35 GP each, so be mindful of this if you're anticipating building up to these end-game skills.
You Can Rebuild As Often As You Need
If you invested heavily into one area of your Thief's expertise and realize mid-game that you'd rather they focus elsewhere, you're not locked into anything – Skills can be returned to get the full amount of GP back if you've changed your mind.
This new ability with Persona-building allows you to periodically change your methods with any given Thief.
For example, if you're having a tough time with a battle and realize you need a healer along the way, you can rebuild Makoto, Morgana, or Haru to have healing skills for a couple of battles at the expense of another skill you're perhaps not using as much. No build is set in stone, so feel free to change it up as needed.
You can do this any time you're able to access your Skill Tree, which can be a huge help if you know you have a rough battle ahead. Make liberal use of this ability to make your team the best they can be, as you need them to be!
RELATED: Best Tactical Strategy Games For Beginners
The Skill Tree: Attacks, Passive Moves, And Stat/Range Skills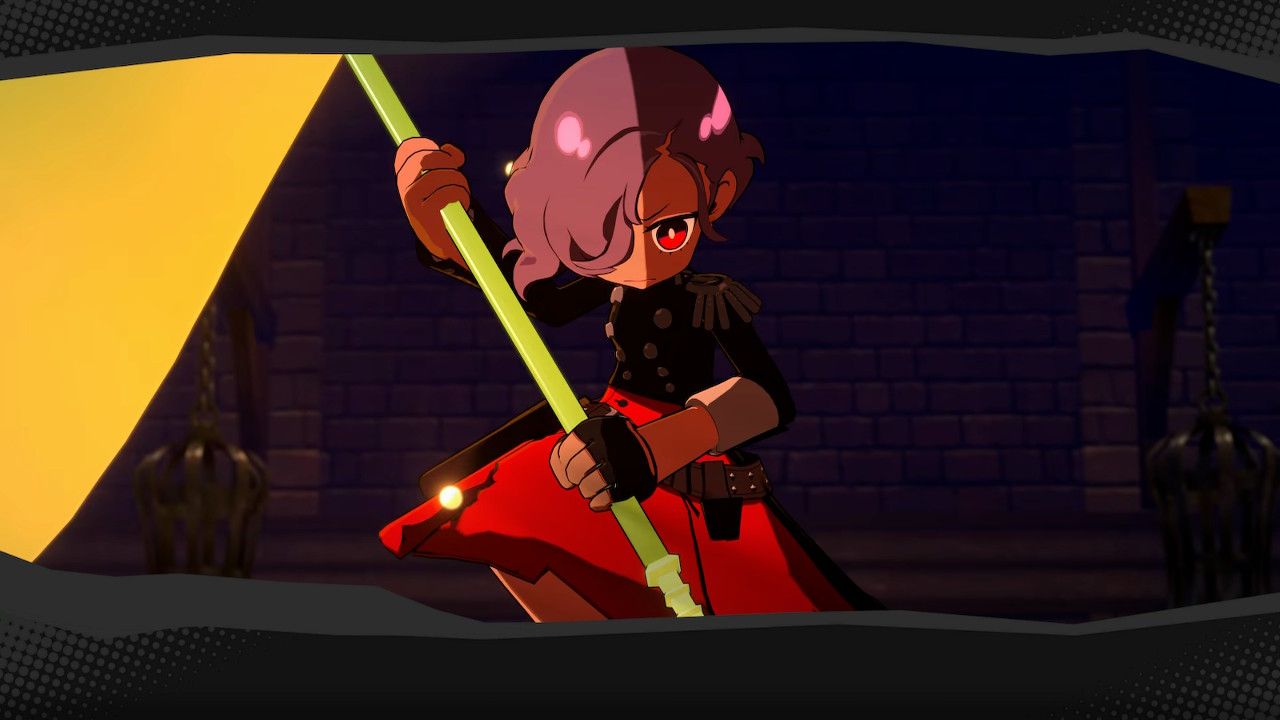 Elemental Boosts And Major Attacks
The left-most column for each of the battle-ready Thieves will be their Persona's elemental attacks and optional defense/healing moves. It will have each Thief's Persona's name in the top row to help remind you.
Although the specific elements, support moves, and Voltage attacks are different for each Thief, you'll upgrade damage-dealing or healing moves by investing in the skills in this column.
Elemental Boosts

Support Skills

Single-Target Elemental Moves

Multi-Target Elemental Moves

Unique Skills and Voltage Attacks

Light-damage single-target elemental move (Base Skill – cannot be unselected)

Slight increase in all elemental damage

Healing or Support move (Typically single-target)

Medium-damage elemental attack

Light-damage elemental attack

Unique Voltage Skill for this Thief (Base Skill – cannot be unselected)

Moderate increase in all elemental damage

Improved Healing or Support move (Typically multi-target)

Heavy-damage elemental attack

Medium-damage elemental attack

Voltage Attack+ (Typically increases range or damage)

Great increase in all elemental damage

–

–

–

Voltage Attack++ (Further increases range or damage)
At the bottom of this column, you'll see a locked skill that costs 35 GP. This skill remains locked for the majority of the game for each Thief, but you'll need to build up to it by upgrading the single and multi-target elemental attacks before buying it.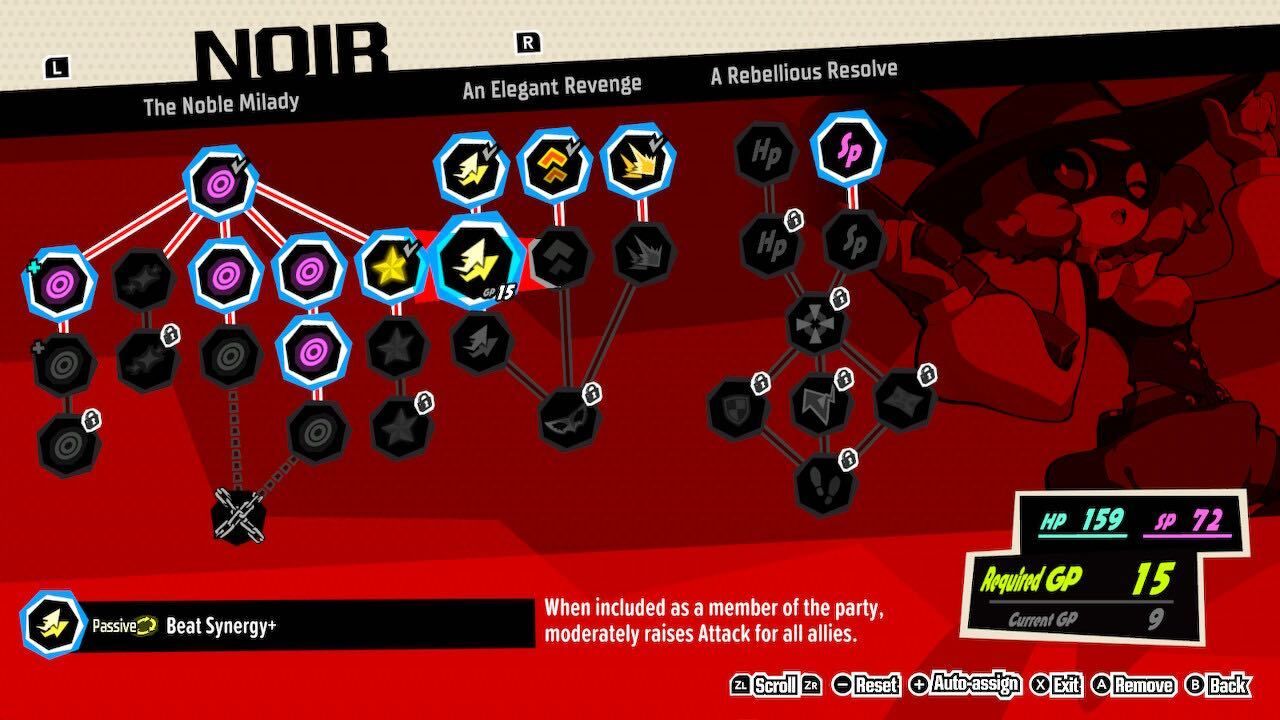 Defensive Skills And Focus Boosts
Though the name is different for each of the Thieves, based on their own unique Persona, the middle column is home to your passive battle skills.
This can cover things like their individual Charge move, their ability to perform a Follow-Up in tandem with another character during battle, and any party-wide boosts they imbue just by being a member of your active party in battle.
Party-Wide Move

Charge

Follow-Up

Small bonus when included in the party (Base Skill – cannot be unselected)

Charge bonus when ending turn without moving (Base Skill – cannot be unselected)

This Thief may shoot a target falling from higher ground in battle (Base Skill – cannot be unselected)

Moderate bonus when included in the party

Boost for their Charge bonus

Follow-Up+ (Follow-Up can activate twice during your turn now)

Large bonus when included in the party

–

Individual boost unique to each Phantom Thief
The final passive skill you can unlock is different for each Thief, but each will cost 30 GP to unlock. These are usually either life-saving or status-boosting, so they're well worth investing in!
RELATED: Best Turn-Based JRPGs For Beginners
Support: A Rebellious Resolve, And Futaba's Support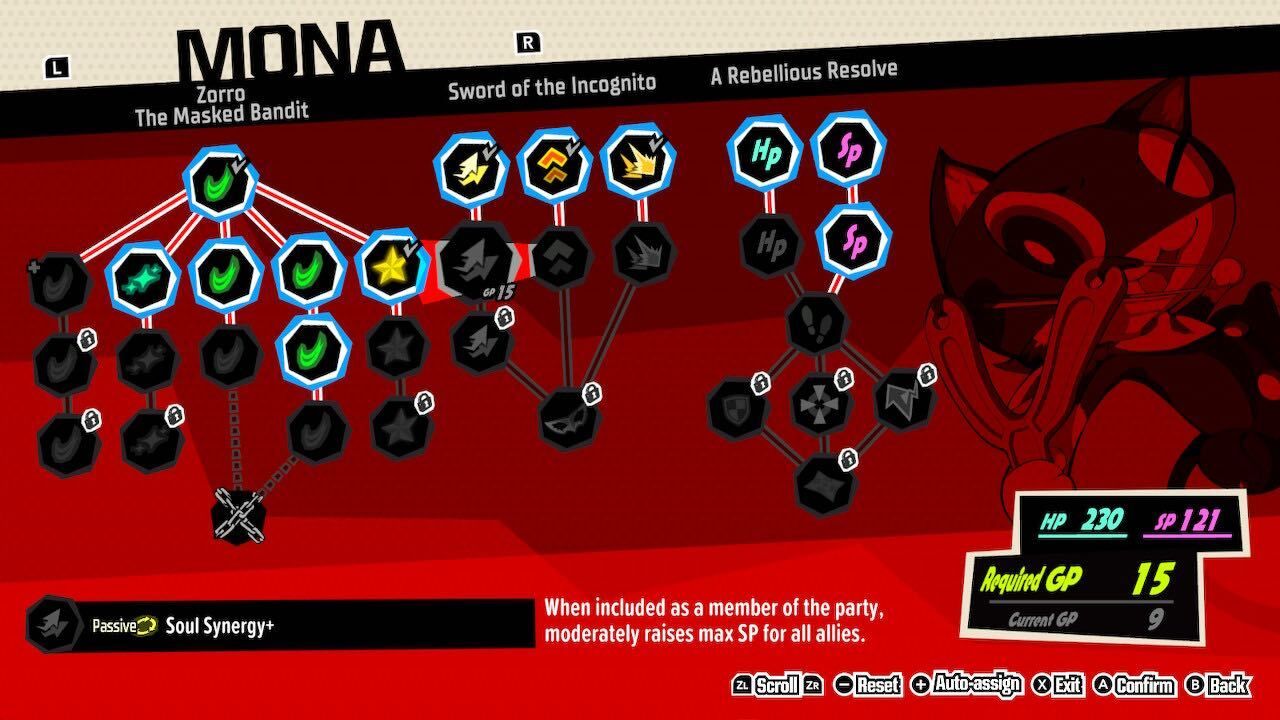 A Rebellious Resolve
The final column is labeled the same for each of the Phantom Thieves – A Rebellious Resolve covers all HP, SP, and movement boosts.
Again, these are individual between Thieves, but the general progression and structure of the column remain the same for each.
| HP-Related Boosts | SP-Related Boosts |
| --- | --- |
| Break & Recovery (Slightly recovers the team's HP after an All-Out Attack) | Soul Repose (Regain a small amount of SP when ending a turn in Cover) |
| Break & Recovery+ (Moderately recovers the team's HP after an All-Out Attack) | Soul Repose+ (Regain a moderate amount of SP when ending a turn in Cover) |
However, the bottom five skills in this column for each Thief will overall be the same, but they unlock in a different order depending on the Thief.
As branching skills, it doesn't matter what the top skill is after HP and Boosts – you'll need to unlock it to access the skills further down in the chain.
The five skills that unlock, regardless of the order in which you can unlock them, are as follows:
Stop & Go: One more square of movement range after Dashing during a battle.
Ironclad Guard: Take even less damage when ending a turn in Cover.
Hawkeye: Ranged attacks can cover one additional square when fired.
Daredevil: Enemies knocked back by this Thief will be knocked back two additional squares.
God-Like Speed: Movement range increased by one square.
These are helpful skills for any Thief you're using actively in battles, so regardless of the order they present in for your favorite Thieves, these are critical passive skills in later levels of Persona 5 Tactica.
Futaba's Navigation Skills
Like the regular Persona 5 games, Futaba's abilities are a bit different from the rest of the Thieves – once again, she's your support and navigation, and her skills reflect this.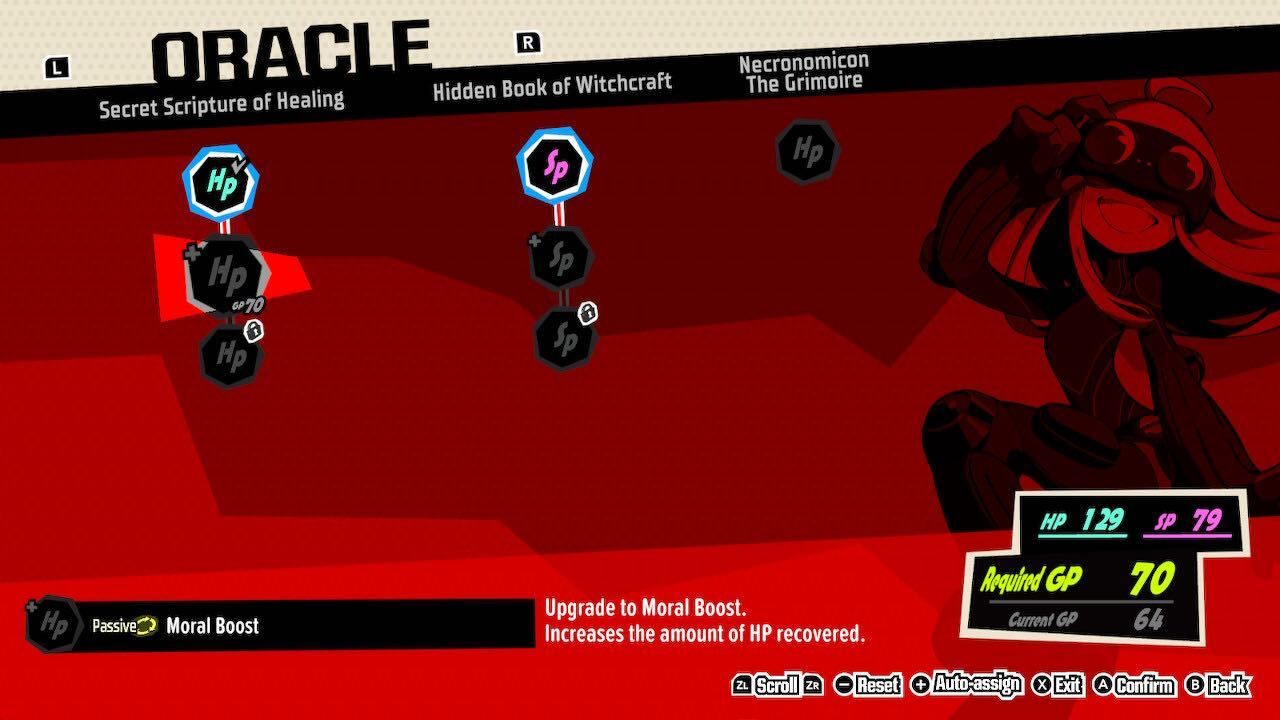 Instead of offensive and defensive moves, you'll find that Futaba's Skill Tree focuses on boosting her support skills for the rest of the team. These skills require more GP than the rest of the Thieves' skills, but they impact the entire party when used.
Futaba is able to sporadically replenish increasing amounts of HP or SP for the team mid-battle, and she can even nullify a fatal attack once per battle after unlocking her most expensive perk.
Her skill tree takes a bit more to fill out, but since they're consistently active no matter which Thieves are in your current party and impact everyone on the field, it's wise to invest in Futaba's skills whenever possible.
NEXT: Are The Persona Games Related?