Age Of Abundance is the first Challenge Of The Month released in Civilization 6. Playable until December 12, 2023, it puts players in charge of Greece as Pericles. The map is the same each time you play, so once you're familiar with the territory you can try the challenge again for a faster time and better score.
Related: Civilization 6: Best Early Game Strategies
If you want to put up the best possible numbers in the Hall Of Fame, this guide has tons of useful information including where to settle, what to build, and how to claim victory as soon as possible.
Getting Started In Age Of Abundance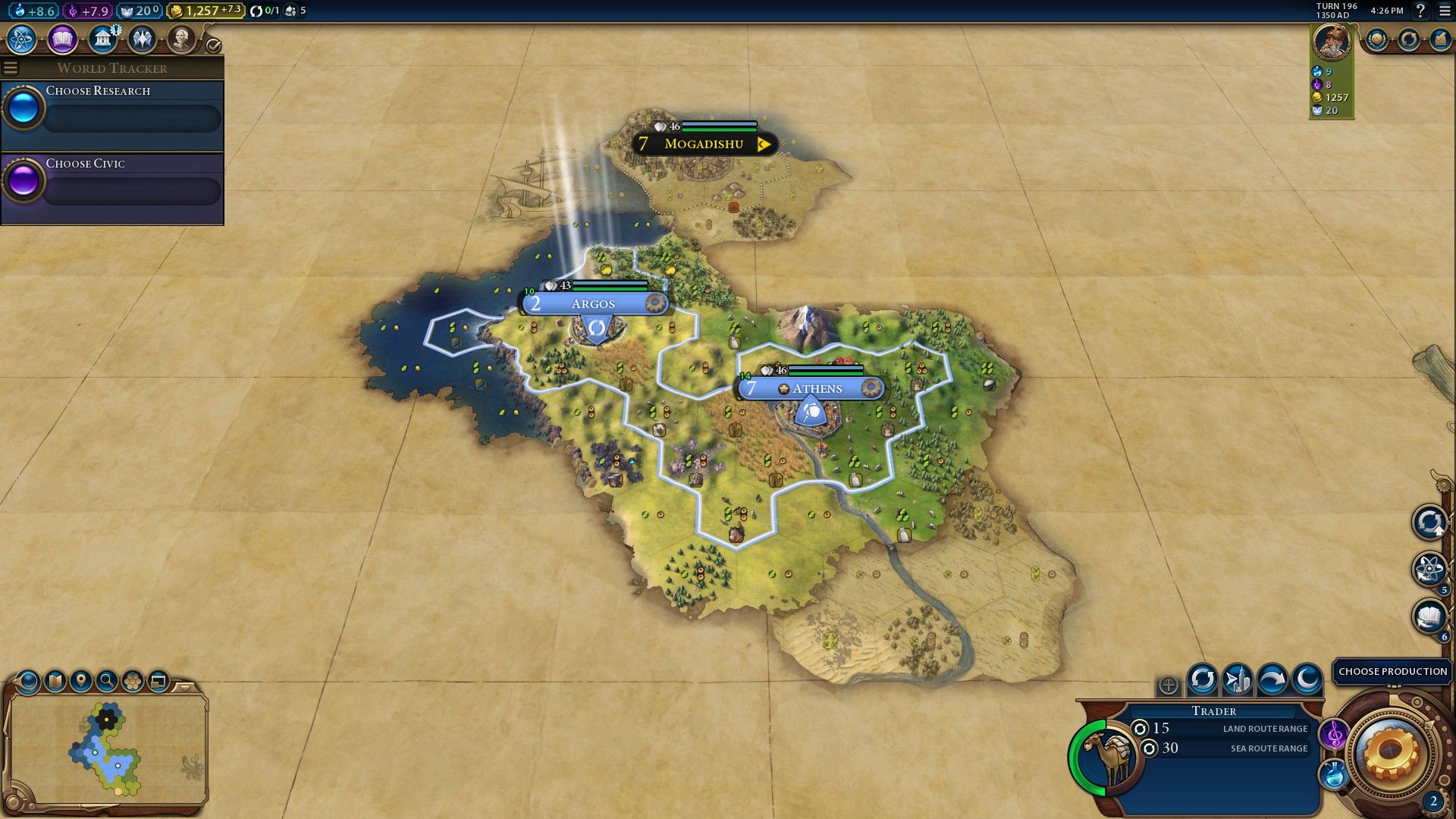 Players start the Age of Abundance with two cities; their capital, Athens, on a river, and Argos on the coast to the northwest. Both have a Monument, Granary, and Ancient Walls pre-built, as will any cities that you settle. Athens has one Builder ready to work and a population of seven, while Argos has two population and a Trader.
You also start with every Technology and Civic from the Ancient, Classical, and Medieval Eras to give you a head start.
Mogadishu, your neighbor to the immediate north, can be vassalized right away to get some extra money, protect your naval trade routes, and give you an immediate Culture boost thanks to Pericles' Leader Ability. Try to fulfill their initial quest to save on Envoys, and don't send more than three total until you can take advantage of their tier-three bonus.
Start by placing an Acropolis in both of your cities; if you zone them on the hills facing the area between the two cities, they'll get their unique bonus for being next to the City Center, and you can fill the gap between them with other Districts or Wonders later.
You start with lots of Gold in the bank but little income – spend the starting cash to get Scouts, Galleys, and Settlers into play. The faster you settle more cities, the sooner you'll be able to reap the benefits.
As you expand, try to have an Acropolis and Commercial Hub in each city, and one to two each of Campuses and Holy Sites to keep your growth on pace. The main purpose of generating Faith is to get Naturalists; you don't need to found a Religion to win this scenario, but it can help.
Where Should You Settle In Age Of Abundance?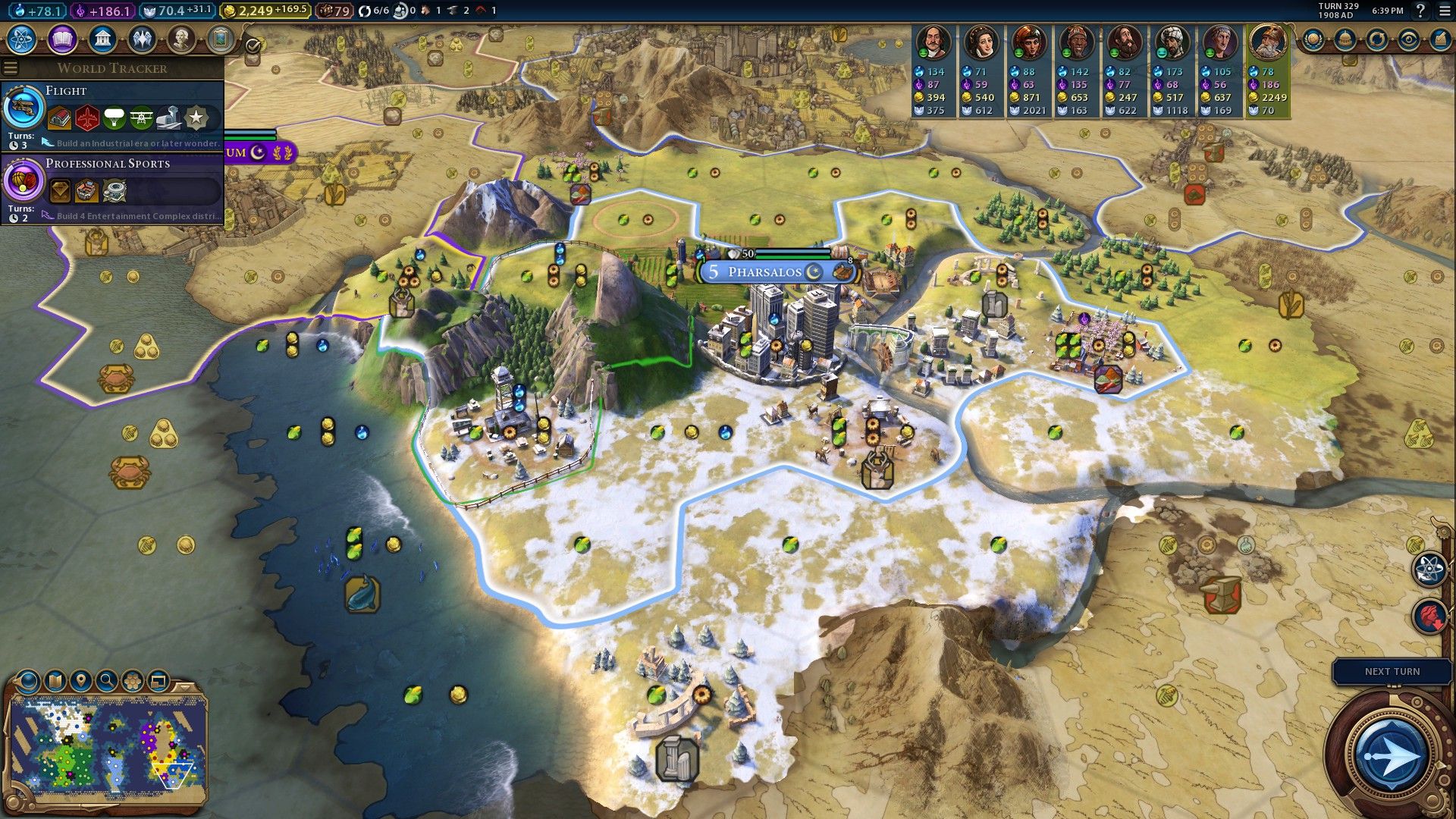 Your first priority should be fully settling your home continent. You don't have to share it with any other players, and if you lock down the entire landmass, you'll never have to. Athens and Argos will both grow large enough to the north that you can mostly focus on settling to the south, along the river and the western coast.
Once you have the Exploration Civic and can start venturing out to sea, you can settle smaller cities on foreign continents to generate extra Gold, Science, and Culture. The purpose of these cities is to support your mainland and to lock down resources and Natural Wonders.
The most important Natural Wonder on the map is Yosemite Valley, located near the southern edge of the map on the continent east of your starting position. Claim it before anyone else does so that you can create a National Park there once you've researched Conservation.
Related: Which Civilization 6 Leader Are You Based On Your Zodiac Sign?
How To Get Tourism In Age Of Abundance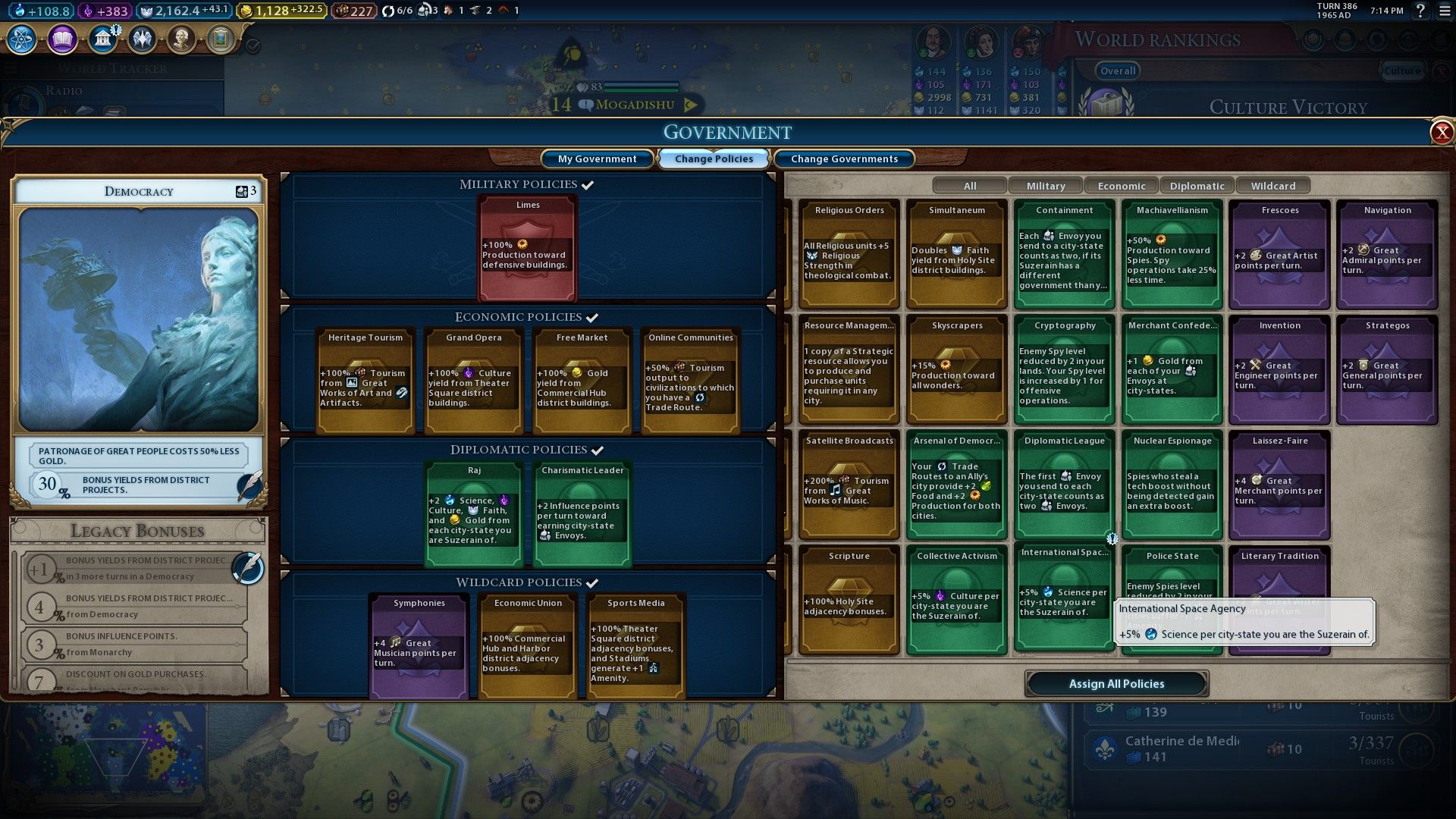 Only a Culture Victory is allowed in this scenario, so everything you do should be angled toward generating as much Tourism as possible. Early on, that means building and upgrading Acropoli to create and store Great Works. Build up your Gold economy at the same time so that you can hurry important projects and purchase Great Works and Relics from other players.
Age Of Abundance doesn't use any DLC content. For longtime players, that means lots of options you've grown accustomed to won't be available.
In particular, you cannot recruit Rock Bands in this scenario, so all your Tourism will have to come from Great Works and Wonders.
The map is positively stacked with resources of all types – use the prevalence of Luxuries to get a high Amenity count, which you can bolster further by placing your Entertainment Complexes to allow their Zoos and Stadiums to affect as many cities as possible.
Once your economy, growth, and production are in a good place, build two to three Art Museums and put Archaeological Museums in any remaining cities. Most of the Great Works of Art available in this scenario are Portraits, Landscapes, and Sculptures. Trade with other civilizations to get the theming bonuses for Portraits and Landscapes, then hoard Sculptures in your third Museum and the Hermitage to keep Kongo from getting them.
Mvemba a Nzinga of the Kongo is likely to be your primary competitor for a Culture Victory on most runs, thanks to his large cities and Nkisi bonus.
How To Win Age Of Abundance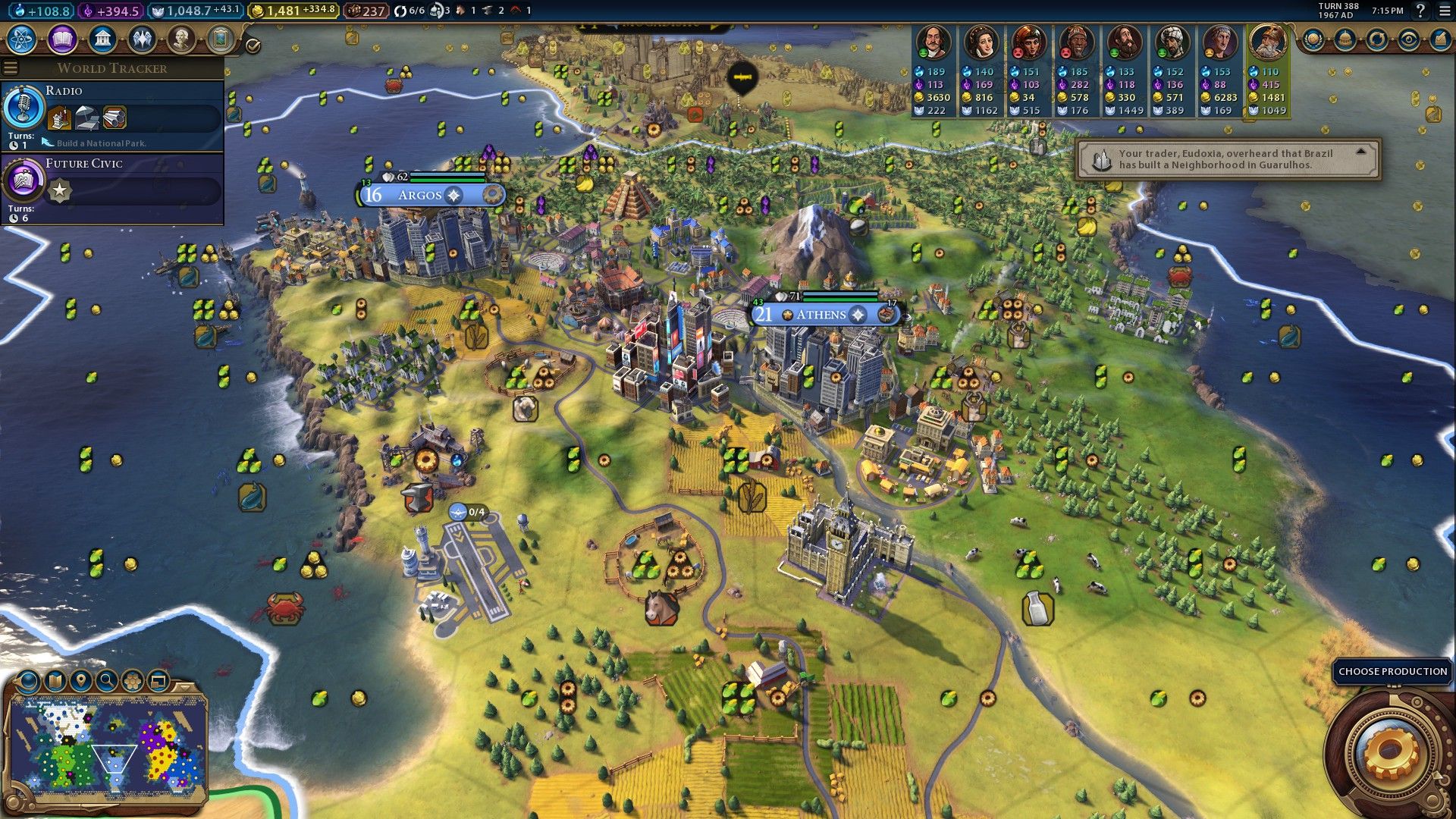 By the Atomic Era, you'll need to shift your strategy entirely to growth and Tourism. This is the point where you'll start building Wonders – zone them early, then switch to the Skyscrapers Policy – and build as many as you can in a short time. The most important ones are Cristo Redentor, Hermitage, Broadway, and the Bolshoi Theater. Chichen Itza is also a good choice for the rainforests north of your capital.
Don't forget about Pericles' Culture bonus for each City-State vassal! The City-States on this map are all Trade and Cultural, so try to get Suzerainty over as many as possible.
If your Science has been lagging behind, build and expand Campuses to catch up. The Computers technology, which doubles your total Tourism, is absolutely essential to victory here. Send Spies to steal Tech Boosts, Great Works, or money frequently.
Your endgame push will center around the Heritage Tourism and Online Communities Policies; get open borders and trade routes with everyone you can, especially opponents with a high Tourism output of their own.
This scenario has some unique Great People – be on the lookout for a Great Engineer that lets your Industrial Zone buildings grant Tourism!
It's likely in the late game that one or more opponents will declare war on you to try and prevent your victory. Even a small navy should be enough to keep them away from your continent, so don't worry too much if this happens.
Once your Tourism growth starts, the key is just to maintain momentum while buying up more Great Works until you reach the threshold for victory.
Next: Civilization 6: Tips For Playing As Cleopatra