Call of Duty: Modern Warfare 3's Zombies mode has a plethora of minor easter eggs for players to find. Hidden perk challenges, puzzles, and interactive items give MWZ a great deal of replayability. Most of these easter eggs are also quite useful to solo players, particularly the Hellhound easter egg.
Related: Call Of Duty: Modern Warfare 3 – A Complete Guide To Zombies
By finding Chunks of Flesh from slain zombies, it's possible to tame a Hellhound to become a permanent ally for the rest of your MWZ match. This pet fights for you, draws enemy attention, and can even revive you. And if you're lucky, you can even pet this dog to unlock a secret acheivement. This guide will showcase how you can go about taming your own Hellhound that you can pet.
Taming A Hellhound
Your first step to taming a Hellhound is to find a doghouse. They will appear on your tac map if you are within close proximity to one, so keep your eyes peeled on your minimap as you explore. Once you find a doghouse, interact with it and feed it Chunks of Flesh. This is an item that rarely drops from slain zombies. Special zombies seem to have a higher drop chance. The threat level of the region determines how much flesh you'll need. Don't feed the Hellhound any additional meat or you risk killing it. The exact flesh amounts are listed below:
Low Threat Zone: x1 Chunk of Flesh.
Medium Threat Zone: x2 Chunk of Flesh.
High Threat Zone: x3 Chunk of Flesh.
There doesn't seem to be any fixed spawn locations for these doghouses, so you'll need to keep your eyes peeled for one while exploring Urzikstan. Once you've fed the Hellhound enough flesh, it will become a permanent ally for the rest of your MWZ match. The Hellhound's durability and damage will depend on the zone it originated from; a T1 Hellhound will be weaker than a T3 Hellhound, for example. Friendly Hellhounds will draw enemy aggro, damage nearby enemies, and revive downed players. Friendly Hellhounds are also extremely durable, making them the perfect companion for solo players.
Farming Chunks Of Flesh

Chunks of Flesh are a rare drop from slain zombies, but you can greatly speed this up with two methods:
Farm an evac site.
Use explosives.
Zombies are much more likely to drop Chunks of Flesh if they are killed with explosives. Lethal equipment, underbarrel grenade launcher attachments, rocket launchers, and PhD Flopper kills all count. Equip your favorite explosive device, find a large group of zombies, then blow them up. You should get at least one Chunk of Flesh to spawn. Repeat this process until you have the desired amount of flesh in your inventory.
Related: Call Of Duty: Modern Warfare 3 – Best Holger 556 Loadouts
How To Pet A Friendly Hellhound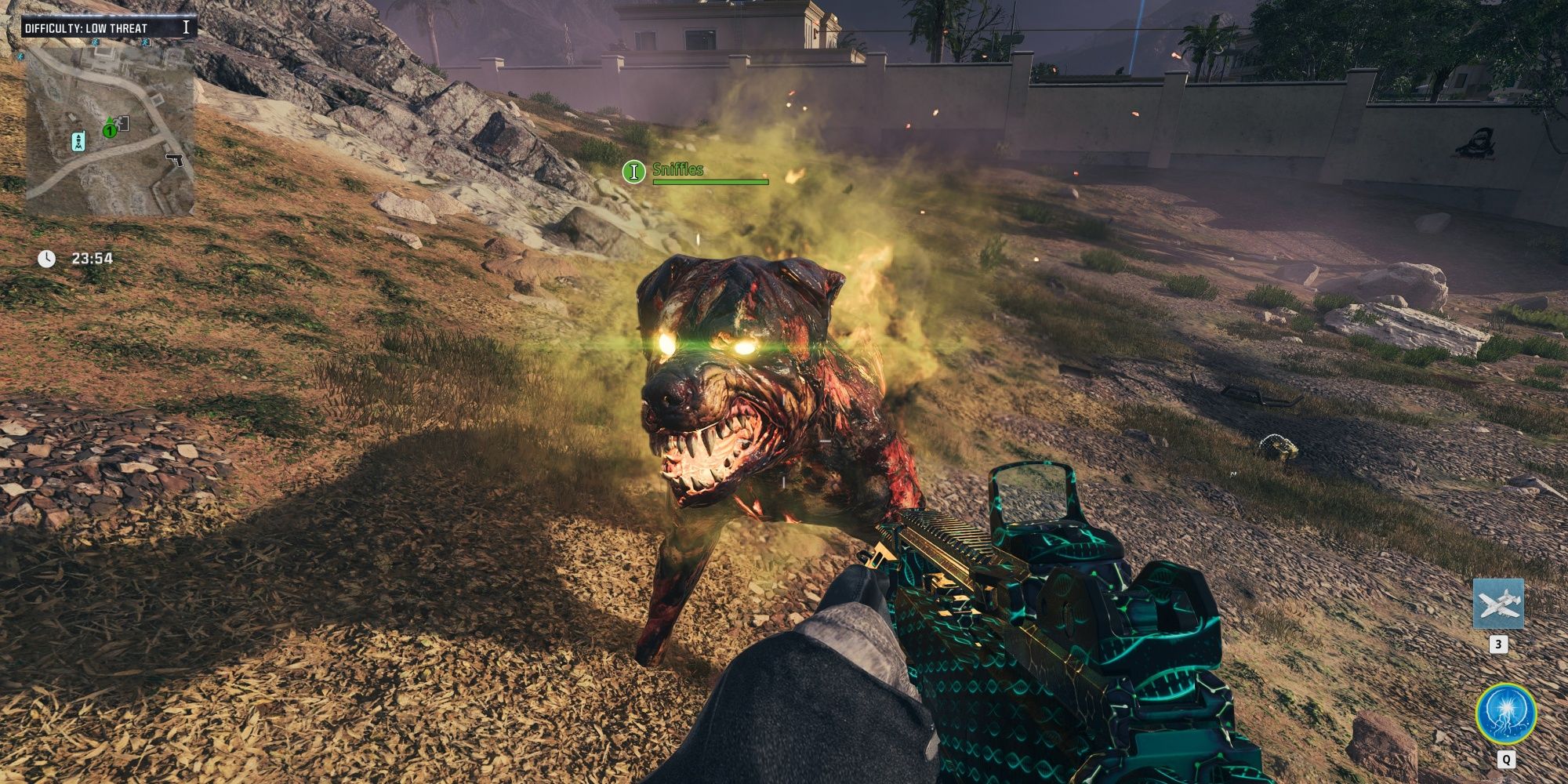 Anyone in your squad can pet the friendly Hellhound. Share the love.
Now that you have a friendly Hellhound, you'll want to find a safe location to bond with your new pet. If there are no nearby threats, you can pet your dog by pressing the interact key. This will play a short animation and unlock the 'You Can Pet the Dog' secret achievement. You only have to pet it once to receive credit. If you are still unable to pet your dog, you'll need to tame another Hellhound.
Next: Call Of Duty: Modern Warfare 3 – How To Unlock Every MWZ Weapon Camo