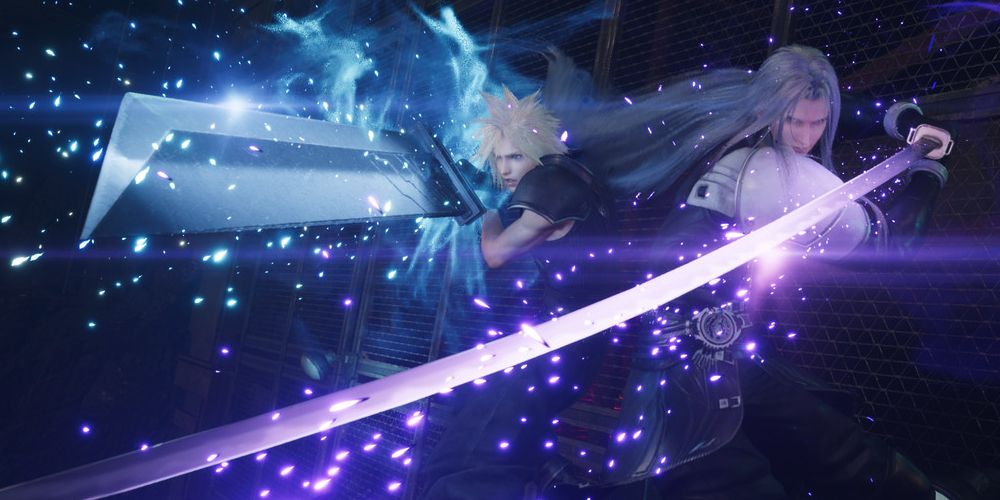 Final Fantasy 7 Rebirth isn't that far away now, as the developers behind the title have been dishing out more and more details to get us nice and pumped for its February 2024 release. We already know that the game will include some much-requested character customization options, and that someone is getting impaled at some point, but it's now been revealed that Final Fantasy 7 Rebirth will also feature a fancy new 'Dynamic' difficulty mode.
Unlike Final Fantasy 7 Remake, which had a Hard difficulty mode you could only unlock after finishing the game, you can choose the hardest option right from the start in Rebirth. Not only that, but this new Dynamic difficulty mode will include level scaling, which means your enemies will level up alongside you as you grow more powerful and gain experience.
It also means you won't be able to grind and overpower your opponents if you pick this difficulty option, which is intended for those of you who want "constant challenge" in their video games. It'll feel especially difficult at the beginning of the game, as none of your Materia or weapons will transfer from Final Fantasy 7 Remake, meaning you'll need to collect and create your powerful items all over again.
Fun Fact: Final Fantasy 7 Rebirth will be the first mainline game in the series to include level scaling in over 25 years, with the last title being Final Fantasy 8 and it's bizarre yet interesting Junctioning System.
You won't actually be starting back at Level 1 though. Earlier this year, it was revealed by Tetsuya Nomura, Naoki Yamaguchi, and Yoshinori Kitase that while Final Fantasy 7 Rebirth doesn't support save transfers, it will start all of your characters at Level 21. If you're wondering why your level starts at such an arbitrary number, the devs explained that this is actually the average level players were in the original game upon leaving Midgar.
A bunch of similar tidbits of info have been dished out to fans over the past few weeks, including the revelation that more spinoff characters besides Zack will be included in Final Fantasy 7 Rebirth. Before all you Genesis fans get excited though, producer Yoshinori Kitase recently stated that he "can't say anything" about the character's inclusion, most likely hinting he won't make an appearance due to the character being modeled after and voiced by Japanese singer Gackt.
Next: Nintendo Needs To Make Good On Its Metroid Prime 4 Promise Before The Switch 2