The first Mario Kart raced onto the video game scene in 1992 for the Super Nintendo and has grown to become one of Nintendo's most popular and successful series. Almost every Nintendo home console and handheld has received a new entry that builds on established concepts with fresh ideas, phenomenal music, and exciting new courses.
Related: The Best Racing Games For Kids
While each Mario Kart receives its fair share of praise, and they often become one of the best-selling games for the consoles they were first released on, there are definitely some that stand out more than others. Start your engines; it's time to look back in the rearview mirror and see which game comes out in first place.
Updated on November 17, 2023, by Kyle Chamaillard. The Mario Kart series refuses to leave the spotlight, and despite not having a proper new entry since 2014, it still remains one of Nintendo's most approachable series today.
Now that Mario Kart 8 Deluxe has received its final batch of DLC, and Mario Kart Tour has stopped receiving new content, we've decided to revisit this list to update these entries and improve the rest by including more information about them.
11
Mario Kart Live: Home Circuit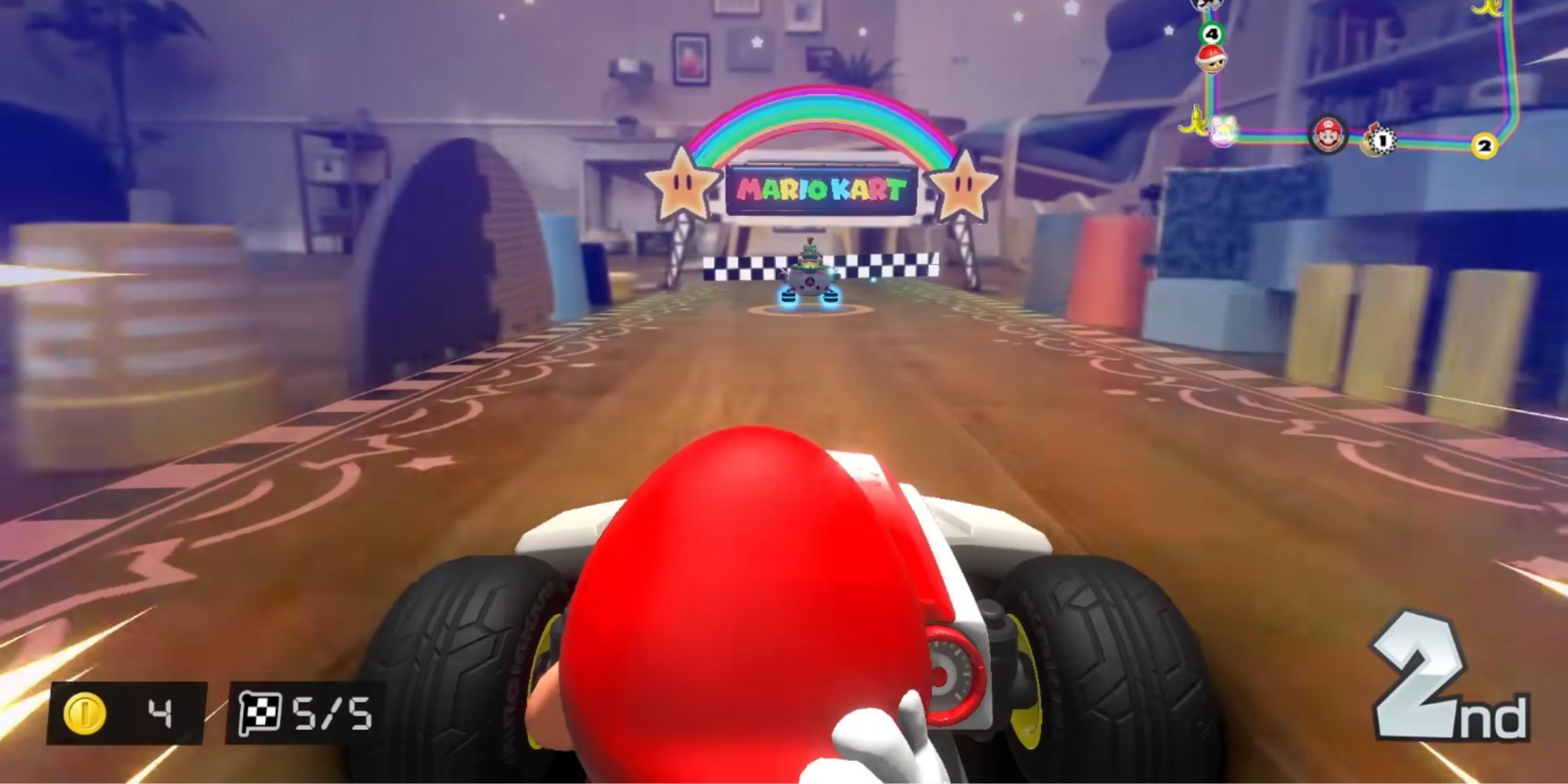 | | |
| --- | --- |
| Platform | Nintendo Switch |
| Release Date (North America) | October 16, 2020 |
Mario Kart Live uses AR technology to turn your living room into a racetrack. It's incredibly neat in theory, but it lacks the replayability of the other titles and eventually becomes another unused Switch accessory like Labo that just takes up space in your closet.
Each version comes with a character on a kart, the gates, and a cartridge for your Switch. You use the console to control the character through a course of your own making and can even race against three other players. To properly enjoy the game, you'll need hard flooring, lots of space, and absolutely zero animals around to interfere with the competition. Again, it can be really fun, but Mario Kart works best when you can just pick it up and play without any hassle.
10
Mario Kart Tour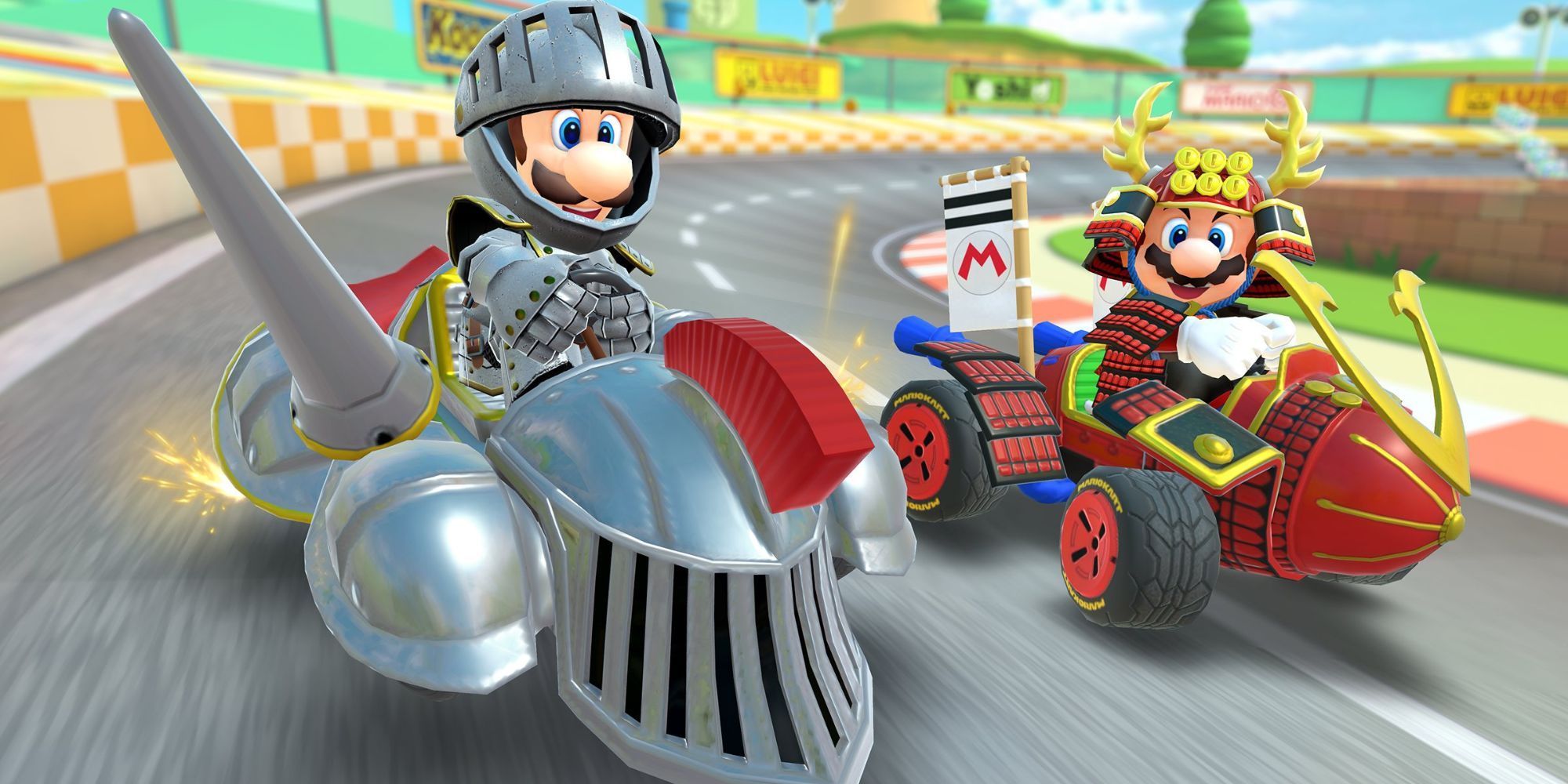 | | |
| --- | --- |
| Platform | iOS, Android, iPadOS |
| Release Date (North America) | September 25, 2019 |
In 2016, Nintendo began looking toward the thriving mobile market and developed titles like Miitomo and Super Mario Run to test the waters. Over time, they would also launch mobile versions of popular titles like Animal Crossing, Fire Emblem, and eventually, Mario Kart.
Mario Kart Tour introduces some great new ideas to the series, such as costumes and using real-life locations like New York and Vancouver as courses. It did receive a fair amount of criticism at launch due to its monetization and frustrating connection issues. Still, frequent updates have helped it make more than $200 million in revenue for Nintendo. It's one of the company's best mobile games and is great to play alone or with friends.
The app has no more content coming its way as of October 4, 2023, but is still available to download if you're curious about this title.
9
Mario Kart: Super Circuit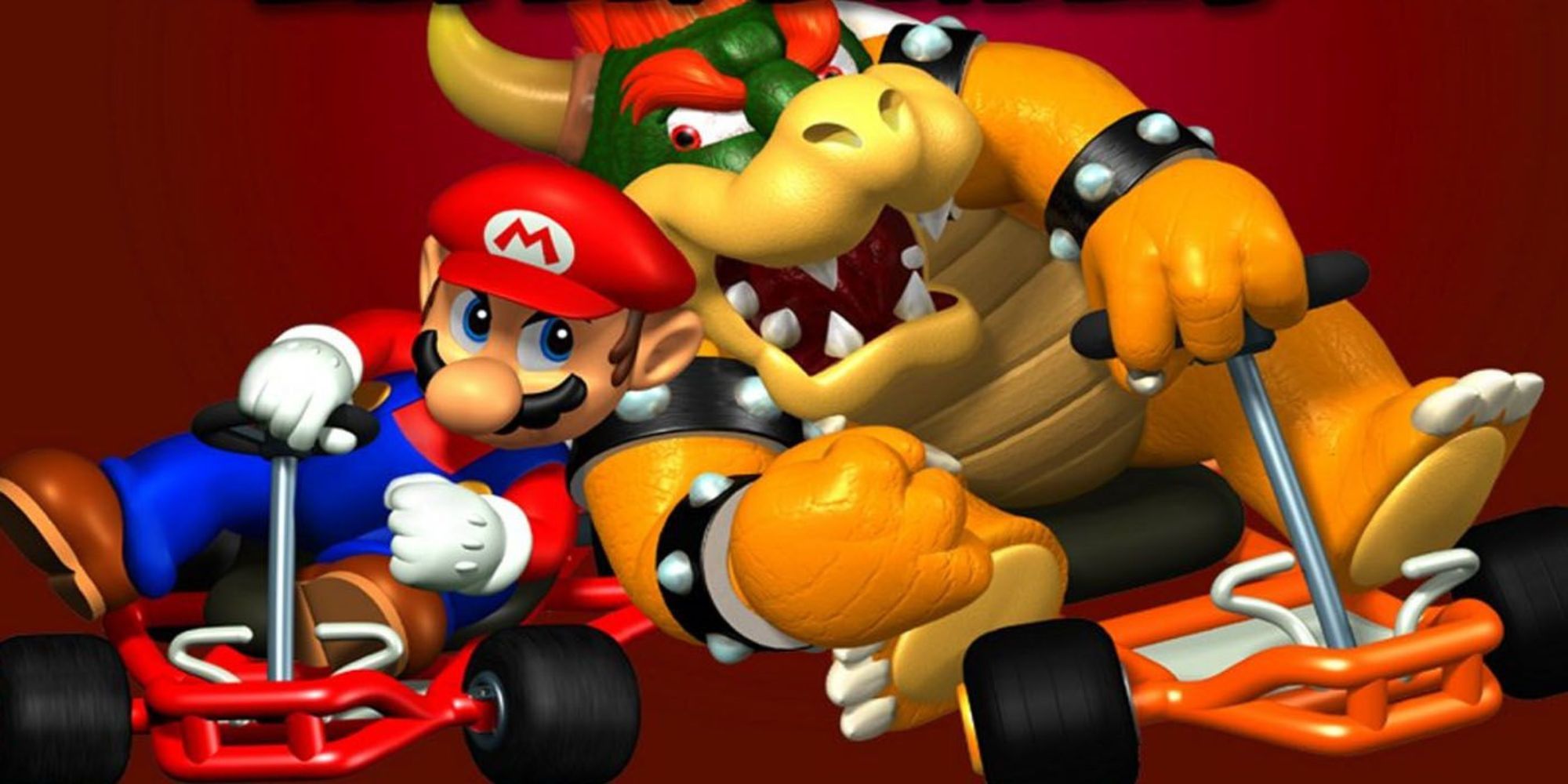 | | |
| --- | --- |
| Platform | Game Boy Advance |
| Release Date | August 27, 2001 |
Mario Kart: Super Circuit was the first game in the series developed for a handheld console. It features twenty new courses and modified versions of the original twenty from Super Mario Kart. With a combination of new and old tracks, it's a great entry for both newcomers and veteran racers.
Related: Mario Kart Items I Feel Bad Using On My Friends
While Mario Kart: Super Circuit has the same roster of racers as Mario Kart 64, their speeds and weights were tweaked for better balancing. It received critical acclaim and was later re-released for the Nintendo 3DS in 2011 and the Wii U in 2015 via the Virtual Console. It's also the best-selling Game Boy Advance game that isn't from the Pokemon series.
8
Mario Kart DS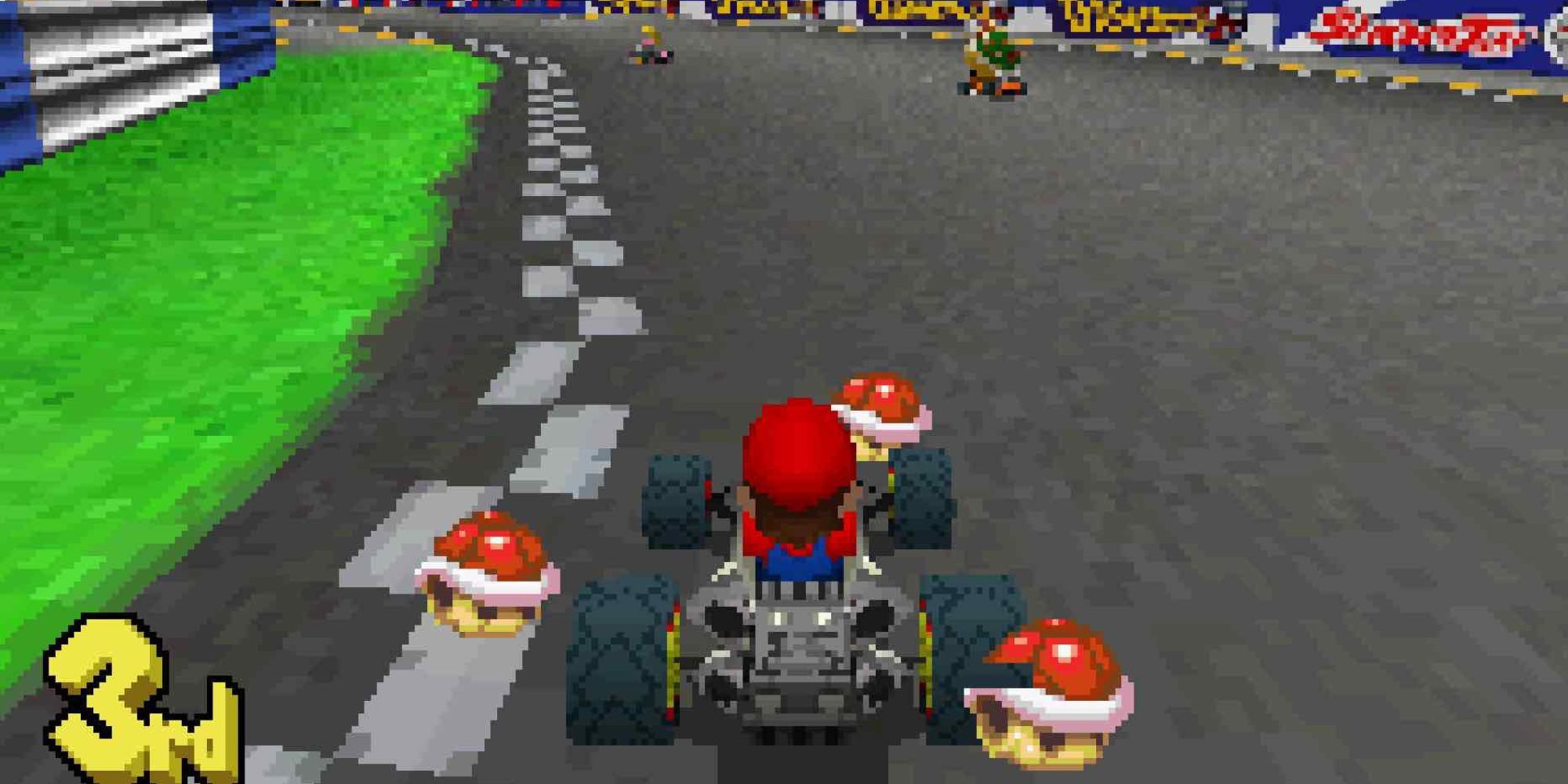 | | |
| --- | --- |
| Platform | Nintendo DS |
| Release Date (North America) | November 14, 2005 |
The second Mario Kart game to land on a handheld console received just as much praise as the first. Mario Kart DS was also the first and only game in the series to contain Mission Mode, which encourages you to complete certain tasks – such as destroying boxes or collecting coins – to unlock emblems for your vehicles.
Not only was Mario Kart DS applauded for its improved graphics, but it was also the first game in the series to introduce online play. It wasn't the greatest, but it put the series on the right path to keep it relevant. Mario Kart DS remains the third-best-selling Nintendo DS game of all time, only behind New Super Mario Bros. and Nintendogs.
7
Super Mario Kart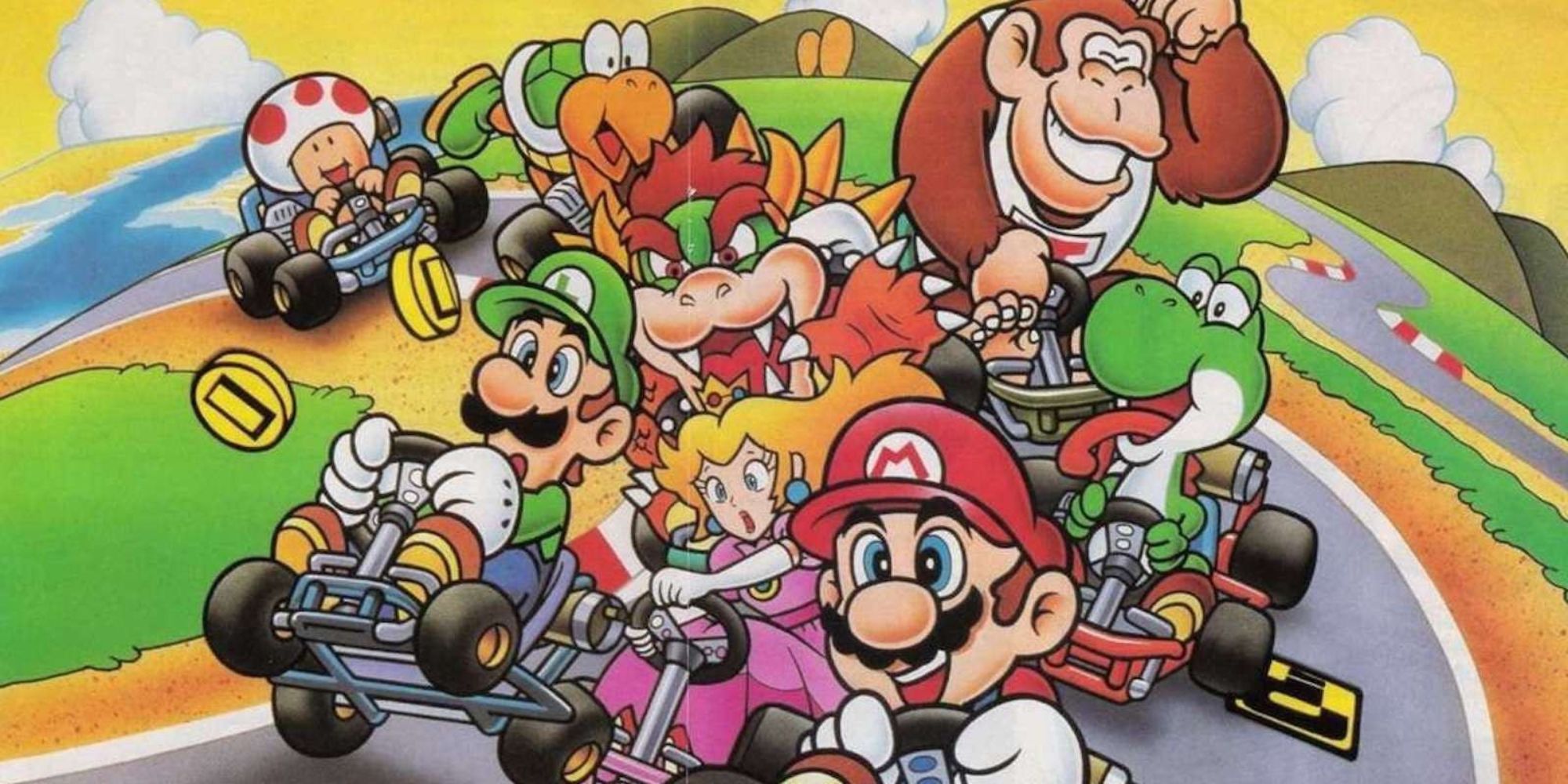 | | |
| --- | --- |
| Platform | Super Nintendo |
| Release Date | September 1, 1992 |
Super Mario Kart is the first entry in the series and pits fan-favorite characters against each other as they race across the Mushroom Kingdom. While its graphics might not hold up as well as other Super Nintendo games, it's still a blast to revisit once in a while.
Super Mario Kart includes eight characters to choose from and four cups to race in, each containing five courses. Many iconic items like the banana peel, mushroom, green shell, and more also got their start here. Many of the original tracks – including Ghost Valley 2 and Bowser Castle 3 – have been revamped and presented in 3D in later entries.
6
Mario Kart 64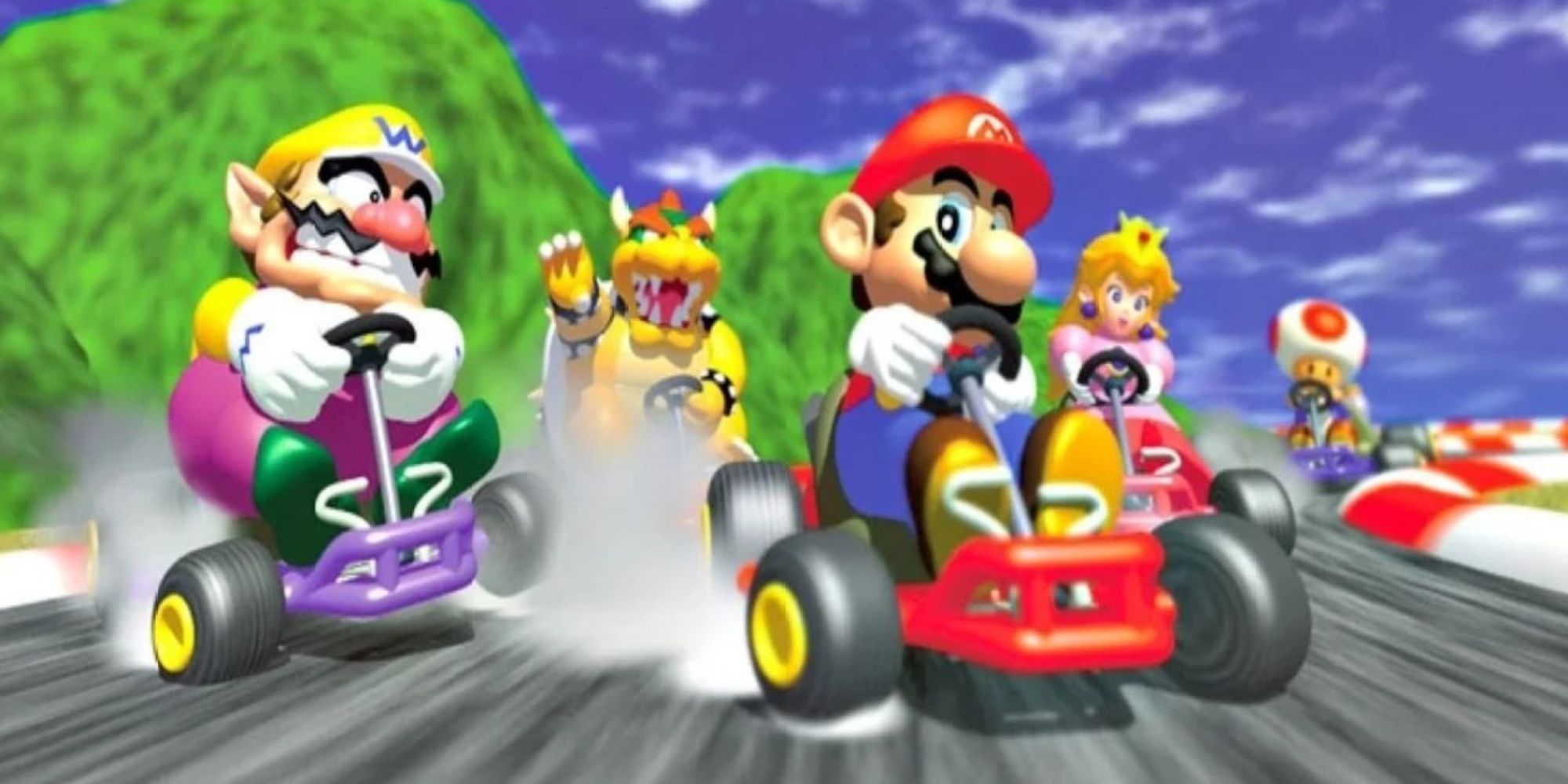 | | |
| --- | --- |
| Platform | N64 |
| Release Date(North America) | February 10, 1997 |
Mario Kart 64 was released only four years after Super Mario Kart but enhanced the immersion by having you race through dense 3D environments. Other updates to the game included races being cut from five laps to the traditional three, four-player support, and item panels being swapped with item blocks.
Related: The Best N64 Games On Nintendo Switch Online
While some characters like Koopa Troopa and Donkey Kong Jr. didn't make the final cut, new ones like Wario and Donkey Kong provided excellent new options for anyone who preferred heavier drivers. Mario Kart 64 contains some of the series' best tracks and music, but it doesn't feel as great to play today as modern iterations.
5
Mario Kart 8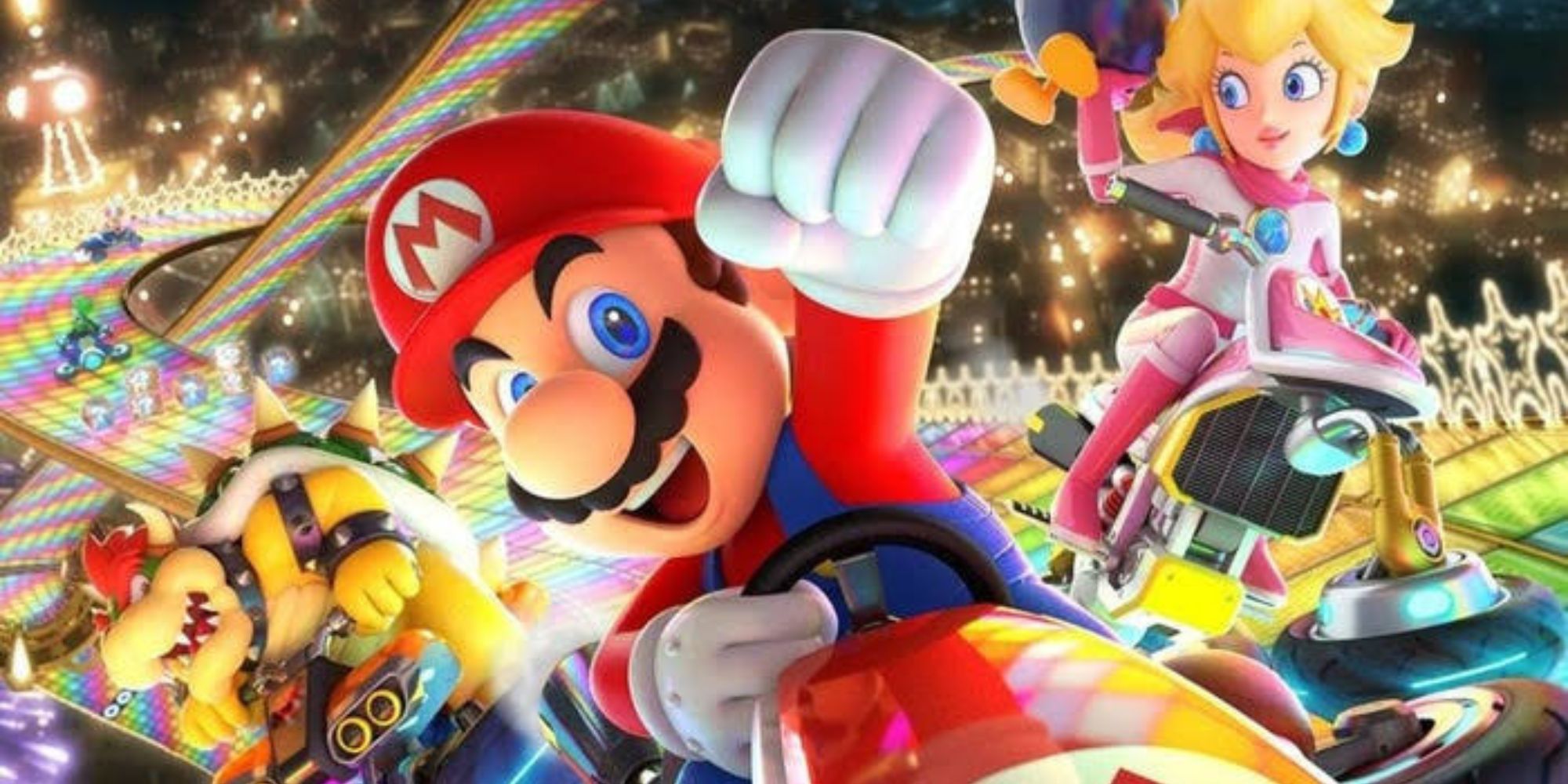 | | |
| --- | --- |
| Platform | Wii U |
| Release Date (North America) | May 30, 2014 |
Mario Kart 8 was released on the Wii U in 2014 and somehow felt like a major jump in quality and content from anything before it. Not only did it have a large roster of characters and courses, but it also introduced an anti-gravity mechanic that allows you to drive on the walls and ceilings of both new and classic tracks.
While the game received generally positive reviews at launch, it did garner criticism for its less-than-stellar battle mode that reused racing tracks instead of creating new arenas. Despite this, Mario Kart 8 became the best-selling Wii U game by shipping over 8 million copies thanks to its well-crafted design, stable online features, and fully orchestrated soundtrack.
4
Mario Kart 7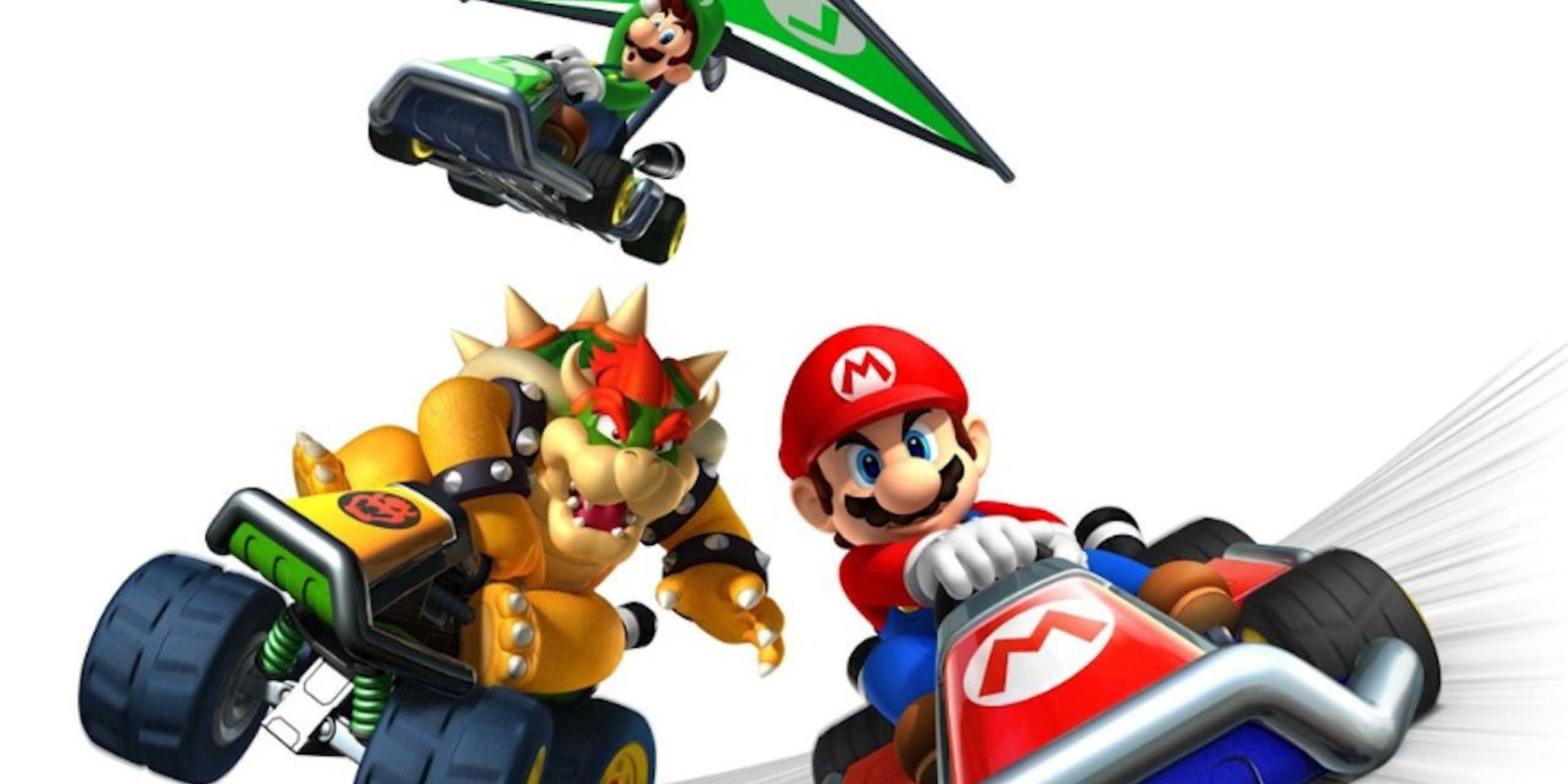 | | |
| --- | --- |
| Platform | Nintendo 3DS |
| Release Date (North America) | December 4, 2011 |
Mario Kart 7 raced onto the Nintendo 3DS in 2011 and added some new dimensions and gameplay mechanics to the long-standing series. Coins made their first appearance since the original Super Mario Kart, boosting your character's top speed once collected. You could also customize vehicles for the first ever, which was tied to another exciting new feature: hang-gliders.
For the first time, you could now soar through the air on particular courses and rush your way through bodies of water on others. All of this and more helped Mario Kart 7 stand out from other entries and allowed it to reach the top of the best-selling games on the Nintendo 3DS list.
3
Mario Kart: Double Dash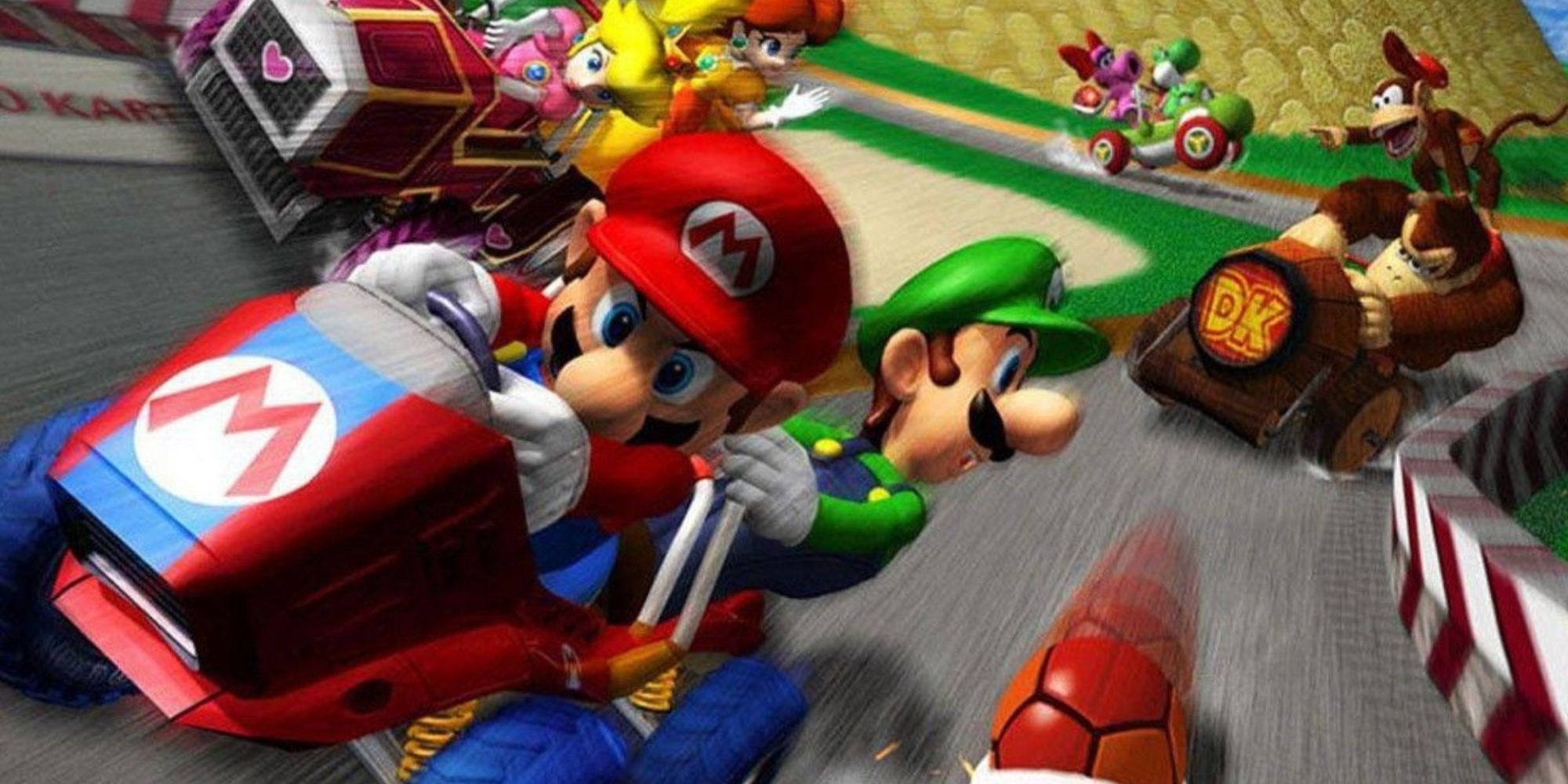 | | |
| --- | --- |
| Platform | GameCube |
| Release Date (North America) | November 17, 2003 |
While Double Dash's graphics might not seem as fabulous now as in 2003, the gameplay is quite literally double as fun. Mario Kart: Double Dash lets you race as not one but two characters at the same time. As one racer handles the steering, the other handles defense by using both classic and new special items that can only be used by specific characters.
You could play as both characters or have a friend tag along in your kart and take over the steering at any time. In addition to this amazing new feature, Double Dash is stocked with some of the series' coolest courses and lets players pick unique kart designs, which were a first for the series.
2
Mario Kart Wii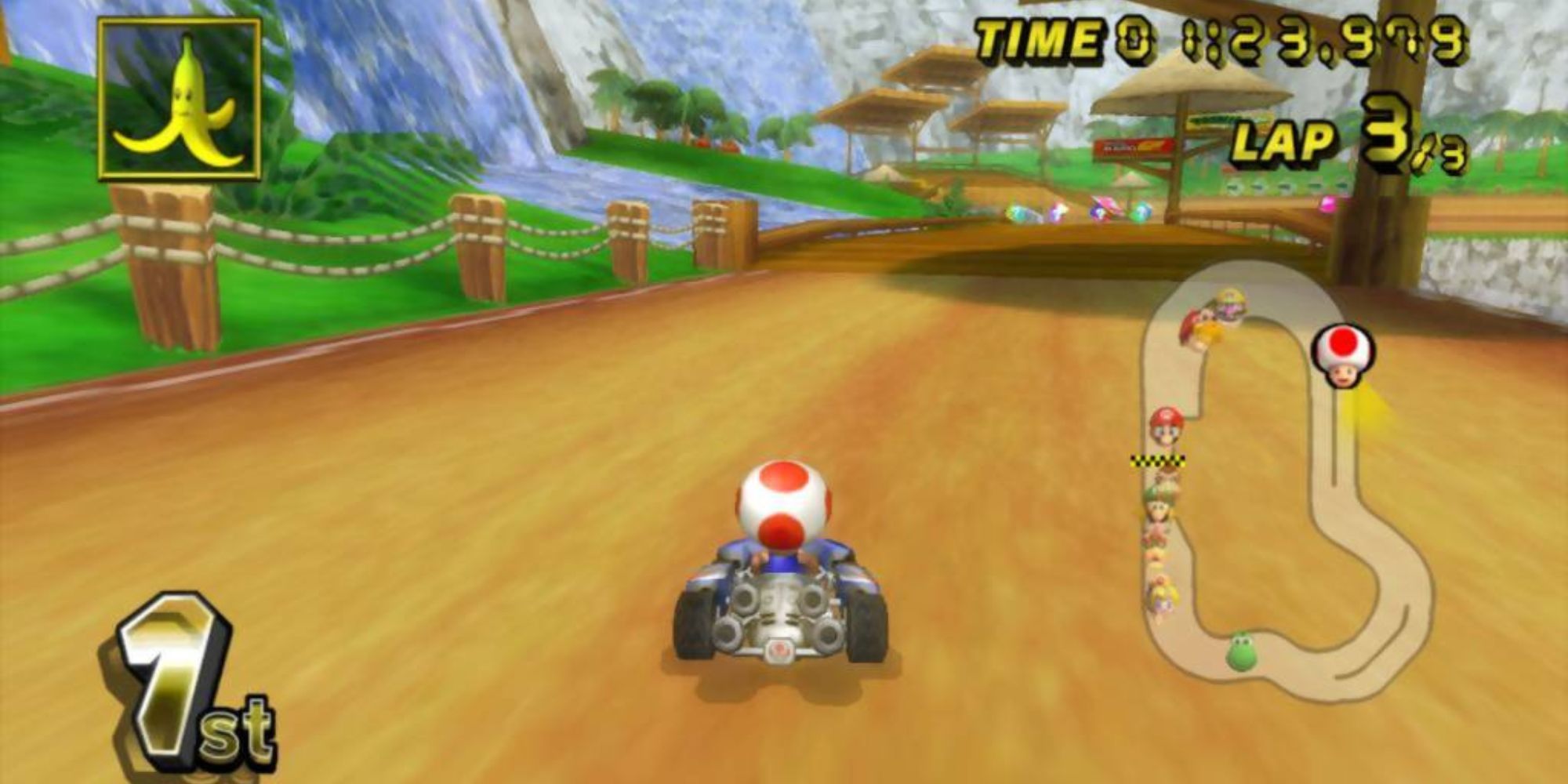 | | |
| --- | --- |
| Platform | Nintendo Wii |
| Release Date (North America) | April 27, 2008 |
In addition to great tracks and characters, Mario Kart Wii introduced the Wii Wheel, which encourages players to use motion controls to steer rather than simply use a joystick or buttons like in previous games. This added an exciting sense of realism to an already immersive experience.
Another stand-out feature was the global online gameplay. You could represent your country while racing against others from around the world on exciting new tracks and courses from the past. Finally, Mario Kart Wii was the first game to introduce bikes as a vehicle, allowing you more freedom when choosing your ride for the upcoming race.
1
Mario Kart 8 Deluxe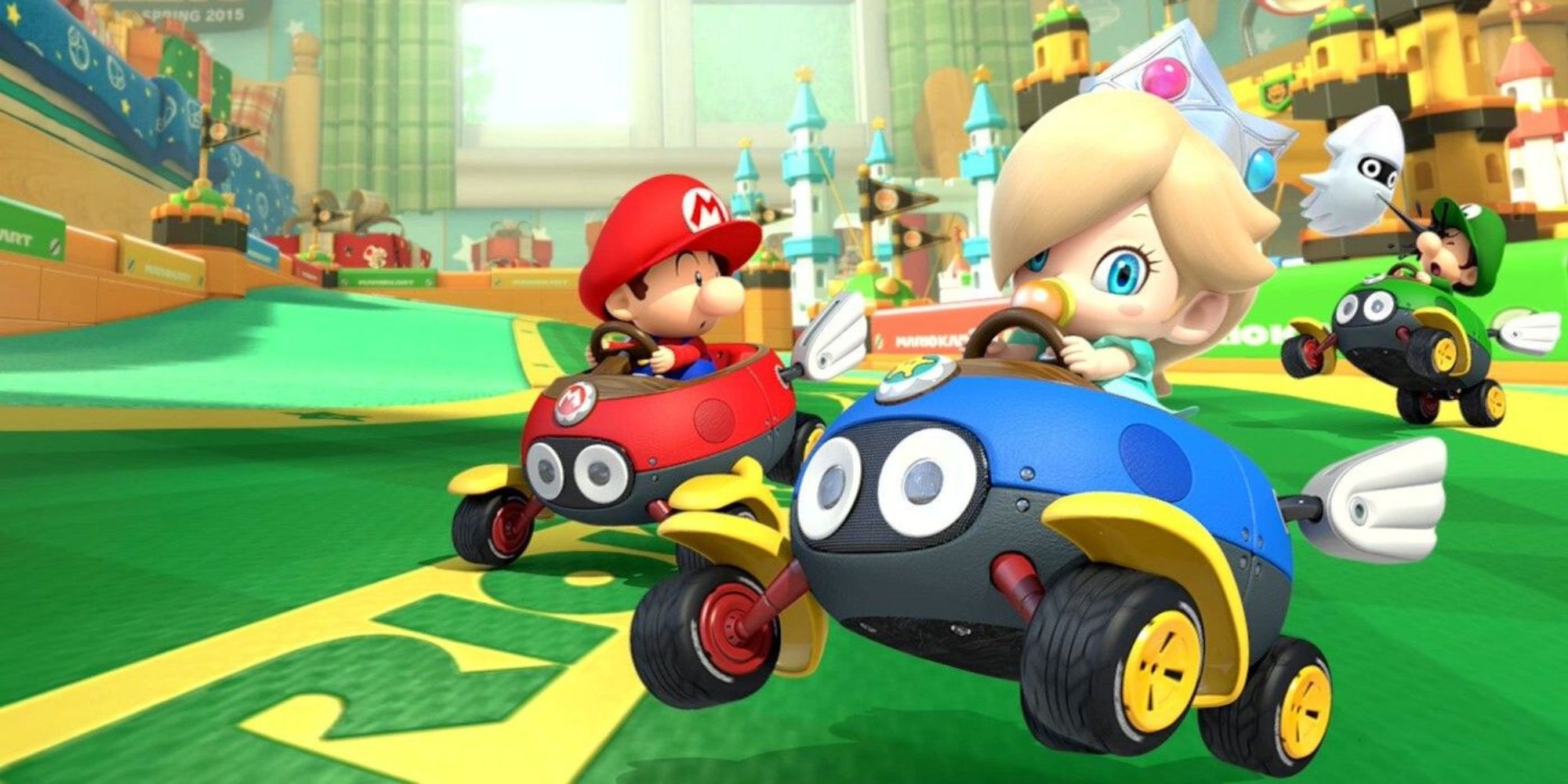 | | |
| --- | --- |
| Platform | Nintendo Switch |
| Release Date(North America) | April 28, 2017 |
Mario Kart 8 Deluxe brings over everything from its Wii U predecessor and not only fixes its biggest issues but also introduces new gameplay features and content that somehow improve an already excellent title. It introduced a handful of new characters, like the Inklings from Splatoon, King Boo, and more. Other minor changes included corresponding karts for the new characters, dual item capacity, new items, and an 8-player local multiplayer feature.
The biggest difference, though, was the addition of new arenas in battle mode and new gameplay modes as well. Mario Kart 8 Deluxe was an incredibly polished product with very few flaws, and it got even better after an additional 48 courses and 8 more characters were added through the Booster Course Pass DLC. Now that it's done, the game has 96 spectacular tracks to race on, which could keep fans busy for years while Nintendo figures out how to create a worthy sequel.
Next: Games With The Longest Wait Between Launch And DLC