Pilot is one of two brand new Survivors added in Risk of Rain Returns. The Pilot has the unique ability to deploy a parachute, allowing him to fly around the battlefield, firing on enemies below from the safety of the clouds.
Related: Risk Of Rain Returns: Chef Survivor Guide
The Pilot is an easy-to-learn, hard-to-master Survivor that rewards skillful use of abilities. If you're wanting to learn how to play as the Pilot, you've come to the right place. Below, we'll take a look at each of the Pilot's skills, the best items to use with him, and some tips for surviving.
Pilot's Skills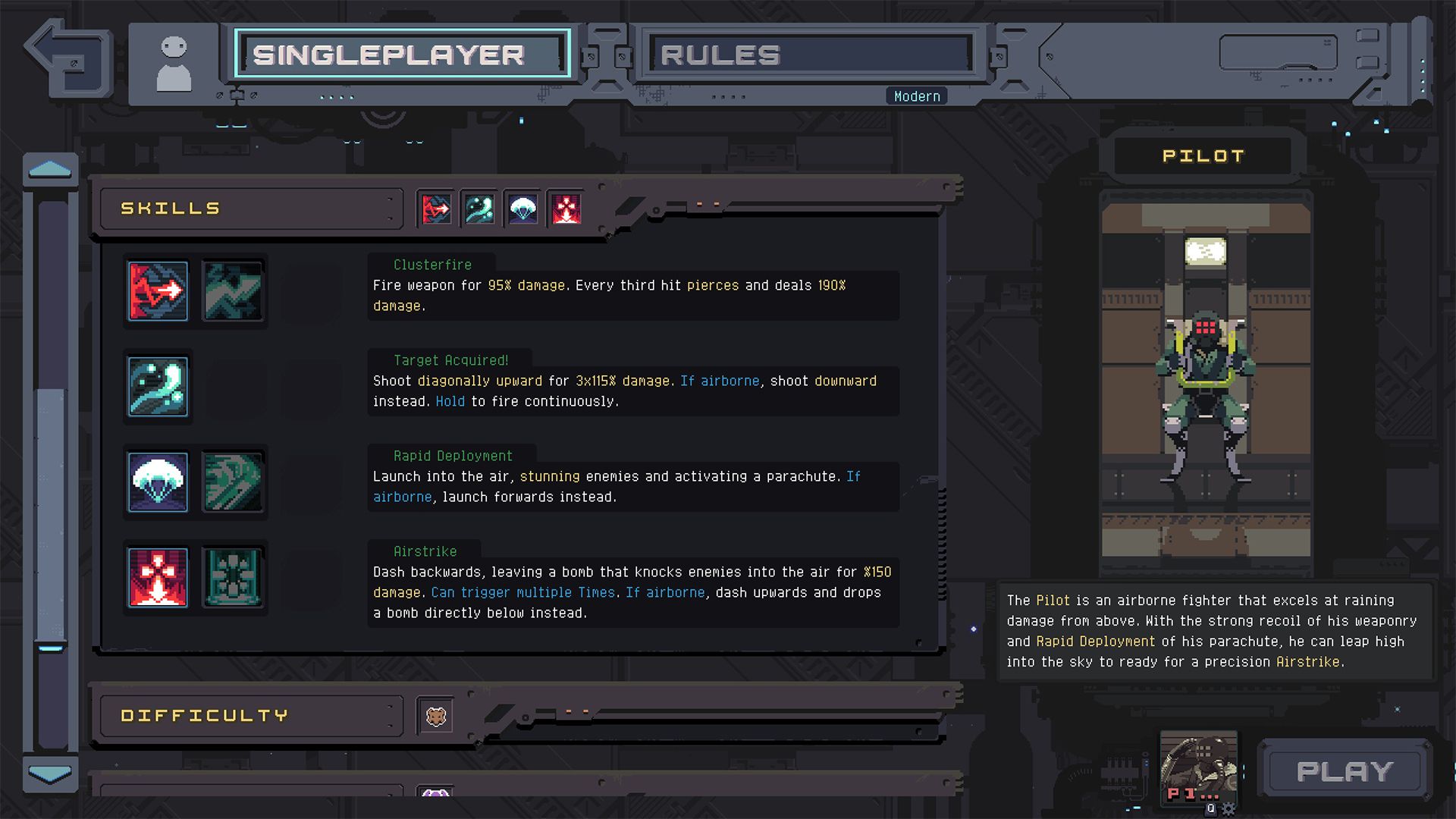 The Pilot's default skills are detailed below.
| Skill | Description |
| --- | --- |
| Clusterfire | Fire weapon for 95% damage. Every third hit pierces and deals 190% damage. |
| Target Acquired! | Shoot diagonally upward for 3×115% damage. If airborne, shoot downward instead. Hold to fire continuously. |
| Rapid Deployment | Launch into the air, stunning enemies and activating a parachute. If airborne, launch forwards instead. |
| Airstrike | Dash backwards, leaving a bomb that knocks enemies into the air for 150% damage. Can trigger multiple times. If airborne, dash upwards and drop a bomb directly below instead. |
Unlockable Skills
You can also unlock the following three skills for Pilot that replace his Clusterfire, Rapid Deployment, and Airstrike.
Skill

Description

How To Unlock

Rapid Fire (replaces Clusterfire)

Rapidly fire weapon for 75% damage.

Kill 30 enemies after launching them using Airstrike.

Aerobatics (replaces Rapid Deployment)

Dash forwards, briefly becoming invincible. Can latch onto and climb walls upon dashing into one.

Complete the Providence Trial "Race to the Finish!".

---

Collect 300 items as Pilot.

Aerial Support (replaces Airstrike)

Mark an enemy in front of you, launching an airstrike for 10×120% damage over time.

Kill 10 enemies without touching the ground or geysers.
Best Items For Pilot
The Pilot has high innate attack speed, especially when using his alternate Primary skill, Rapid Fire. This makes items with on-hit effects extremely strong, as they are able to activate very frequently.
| Item | Description | Why It's Good |
| --- | --- | --- |
| Soldier's Syringe | Increases attack speed by 12%. | Increases overall damage and proc chance of on-hit effects. |
| Lens Maker's Glasses | Your attacks have a 10% chance to Critically Strike, dealing double damage. | Increases overall damage and chance to proc Harvester's Scythe. |
| Mocha | Increases movement speed by 7.5% and attack speed by 6%. | Good all-in-one item for attack and movement speed. |
| Backup Magazine | Add +1 charge of your Secondary skill. | Adds extra charges for Target Acquired, increasing overall ground and aerial damage. |
| Predatory Instincts | Gain 5% Critical Chance. Critical Strikes increase attack speed by 10%, up to 30%. | Increases overall damage. |
| Hopoo Feather | Gain +1 maximum jump count. | Makes it easier to stay in the air. |
| Rusty Jetpack | Decrease gravity while holding the jump button by 10% and increase jump height. | Makes it easier to stay in the air. |
| AtG Missile Mk. 1 | 10% chance on hit to fire a missile that deals 300% damage. | Strong on-hit effect that increases overall damage. |
| Harvester's Scythe | Gain 5% Critical Chance. Critical Strikes heal you for 8 health. | Increases overall damage and improves survivability. |
| Hardlight Afterburner | Add +2 charges of your Utility skill. Reduces Utility skill cooldown by 33%. | Grants more charges of Rapid Deployment, making it easier to stay in the air for longer. |
| Thallium | 10% chance on hit to damage by up to 2×500% damage per second and slow for up to -150% movement speed over the course of 3 seconds. | Strong on-hit effect that also drastically slows enemies. |
| AtG Missile Mk. 2 | 7% chance on hit to fire three missiles that deal 3×300% damage. | Very strong on-hit effect. |
Hopoo Feather and Rusty Jetpack are great items for keeping you in the air, allowing you to rain down on enemies from above with added skill charges of Target Acquired thanks to Backup Magazines.
How To Play As Pilot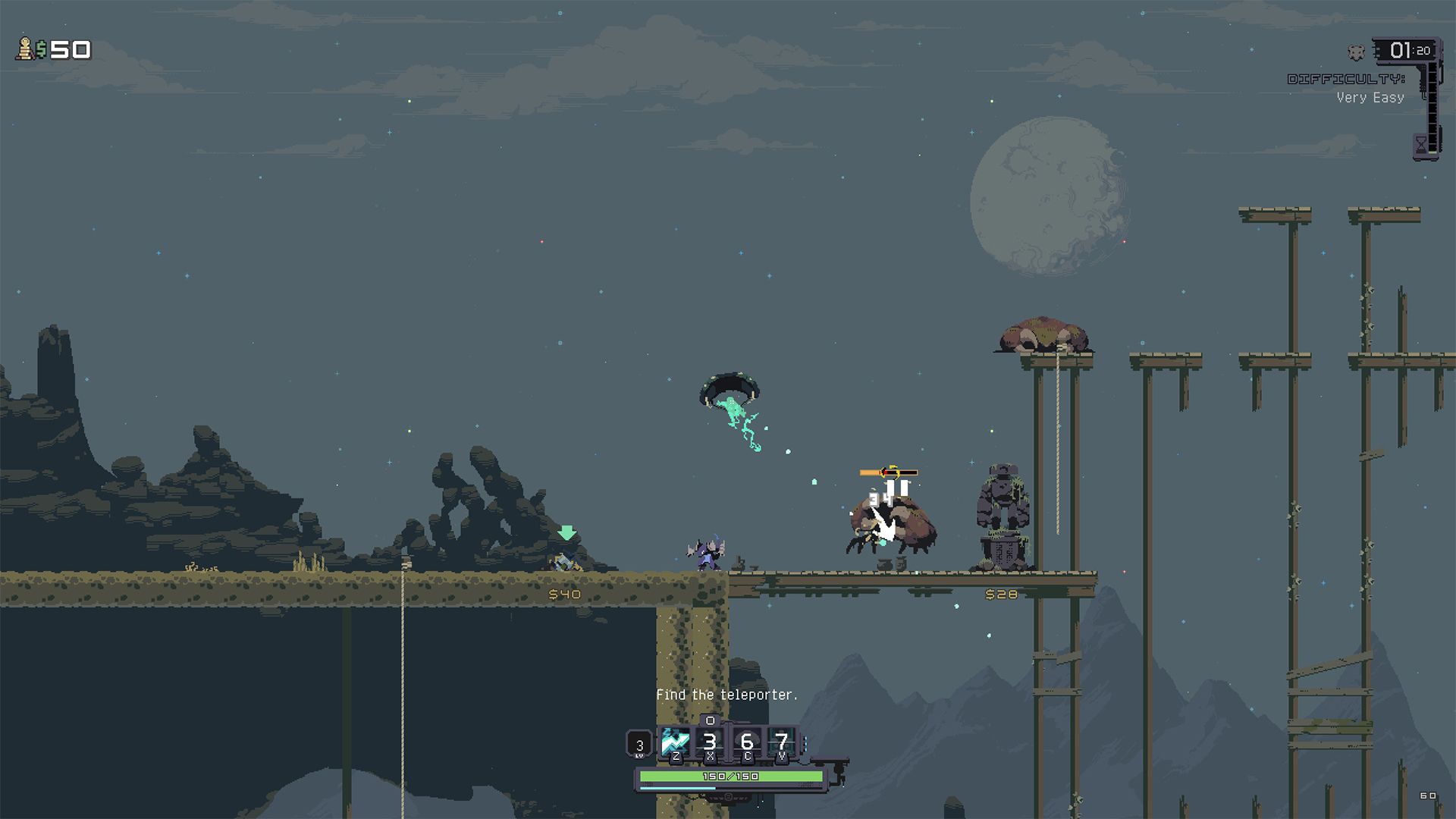 The Pilot is a fast Survivor that can do well on land or air, thanks to the versatility of Target Acquired. With some good on-hit items and a few mobility-boosting items, Pilot quickly becomes unstoppable as he flies around in the air, untouchable.
For his Primary skill, Rapid Fire is a solid alternative that drastically increases attack speed, making it even better at activating on-hit effects. However, the downside to this skill is the slight bullet spread, meaning the bullets are less accurate the further away the enemy is. Also, Rapid Fire doesn't pierce enemies at all, so you'll need some area support from items like Ukulele.
Target Acquired is the bread and butter of playing Pilot. Using this skill on the ground will have you fire diagonally into the air, while using it while airborne will have you fire diagonally toward the ground. Get used to jumping or staying down to activate the different directions this skill can be used in.
Target Acquired has a slight aim adjustment. As long as there is any enemy near the bullets, they will angle slightly towards that enemy, allowing you to hit enemies not directly diagonal to you.
Rapid Deployment and Aerobatics each have their uses, but in general Rapid Deployment is more useful. This skill makes up the core identity of Pilot, being able to fly around above enemies. If you opt for Aerobatics, however, you'll gain the powerful ability to cling and climb up walls, enabling you to reach heights previously unattainable.
Touching a geyser with your Parachute deployed will launch you high into the air. This is a great way to regain height without re-activating Rapid Deployment.
You will become briefly invulnerable while using Airstrike and Aerial Support. If you time it correctly, you can avoid some attacks by using these skills, but don't rely overly on them, as the invulnerability period is very short.
In general, you'll want to use the Pilot's range to your advantage. Use Rapid Deployment to stay out of the range of enemy attacks, hitting them from afar with Clusterfire, Rapid Fire, or Target Acquired. Airstrike can be used to keep you in the air for even longer, thanks to its slight dash upward upon use.
Next: Risk Of Rain Returns: Mercenary Survivor Guide