I never really liked the circus when I was younger. It didn't scare me, it just seemed very boring. It didn't help that the posters for all the circuses that rolled through town looked very cheap and old fashioned, and promised a day of standing around in the cold and wet while your parents didn't buy you those powdery donuts because they were too expensive. We eventually went to the circus in Blackpool, a more permanent and organised affair, but it seemed like a lot of noise and a lot of nothing. I don't think I've been back to the circus since, but somewhere along the way, I got turned around on them.
I'm still not sure I'd be overly enthused about actually going to the circus these days, but there's something about the imagery that moves me. Maybe it's the endless creative possibilities circuses lend to storytelling. Maybe it's TV shows like American Horror Story or The X-Files, or movies like Nightmare Alley or Paprika. Maybe it's a lifelong infatuation with Harley Quinn. Whatever it is, any story that adds in a circus piques my interest, and the latest one is Death Trick: Double Blind, which launches on Nintendo Switch and Steam next year.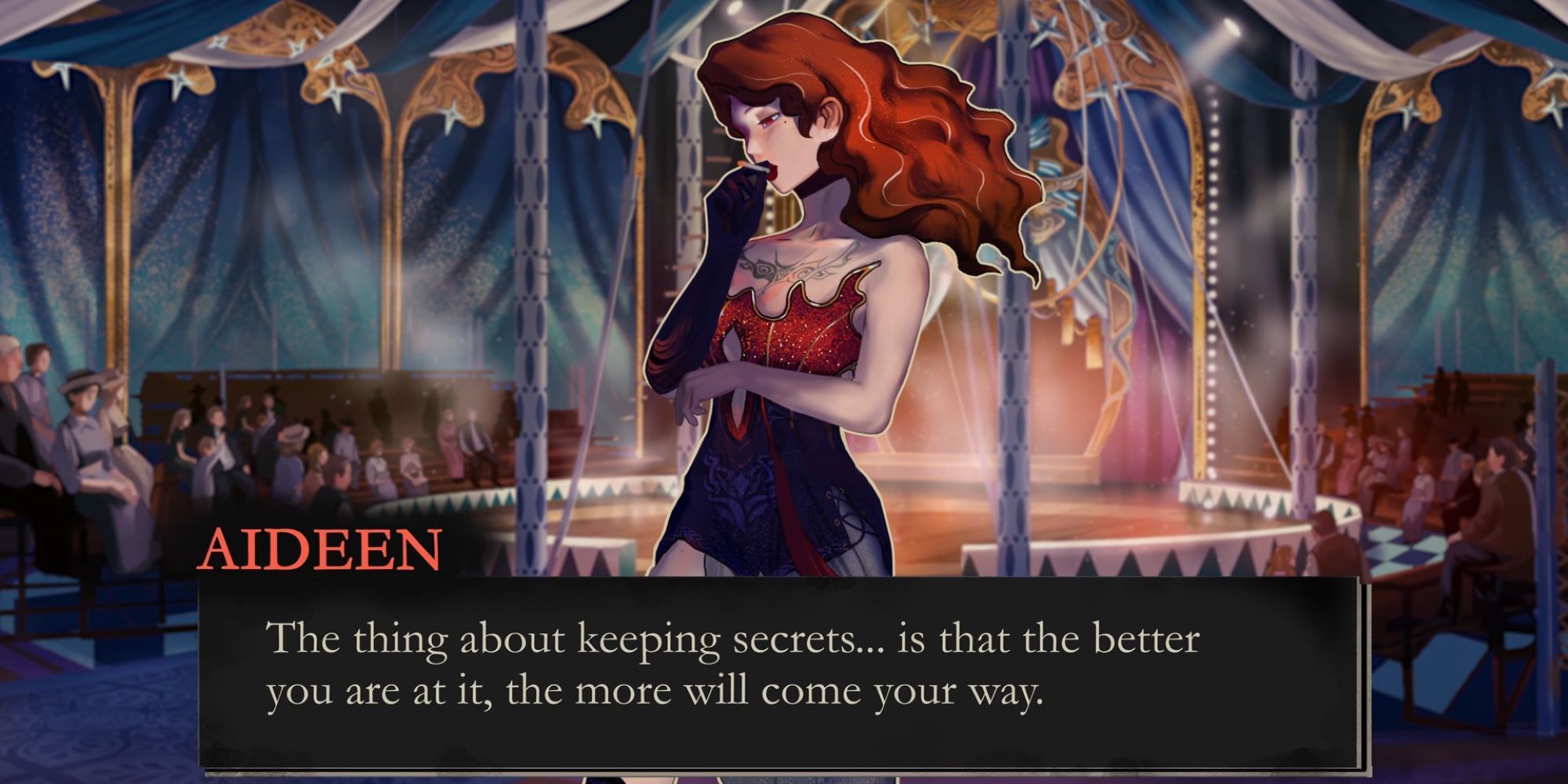 Death Trick: Double Blind is a detective visual novel, where you'll only have limited time each day to follow each lead, meaning you'll need to be selective with which one to follow in order to crack the case. That's an interesting mechanic and visual novels that challenge you to think your way around them often end up being the best kinds, so I'm already intrigued. But mostly, I'm hooked because it takes place at the circus.
You play as a detective with amnesia (which admittedly is less creative, but I'll still give it a chance) on the hunt for a missing magician, with all of the colourful characters of the circus acting as both potential witnesses and potential suspects. Circuses offer unique narrative opportunities – things are never quite what they seem, and their whimsical aesthetics can hold dark secrets. Video games often do for the creepy circus/amusement park angle, in games like CarnEvil or Silent Hill, committing to the terror rather than merging the two ideas together.
I don't know how dark Death Trick: Double Blind will take it. There's a disappearance (which may be a murder), so there's something amiss, but how far it will sink into the tall, dark shadows is all part of the fun. But I am sure that it will explore the circus with an affection that we might not have seen since Circus Charlie (ask you parents).
Dungeons & Dragons has its own circus module, Wild Beyond the Witchlight, which moves away from the grimdark violence that defines the others. In fact, Witchlight can be completed without any combat at all. I'm yet to play it myself, but everything I know about it is intriguing and I already know I'm going to borrow elements from it for the next adventure I write. Maybe video games should do the same.
It feels as though games are missing a trick these days with their dedication to grounded realism. Video games should be grounds for imaginations to run wild, and we've seen how successful Alan Wake 2 has been by exploring dreams and the fabric of reality. I'm excited for Death Trick: Double Blind, but I also know a low budget visual novel can only go so far. The frivolity of the circus feels untapped at a triple-A level, and with so many games moving to grey and grimy photorealism, a bouncy and colourful title with a narrative hook wrapped around the Big Top would be fascinating. Something like Balan Wonderworld but… not Balan Wonderworld. Oh god please no.
Next: Baldur's Gate 3 Has A Serious Lack Of Kobolds