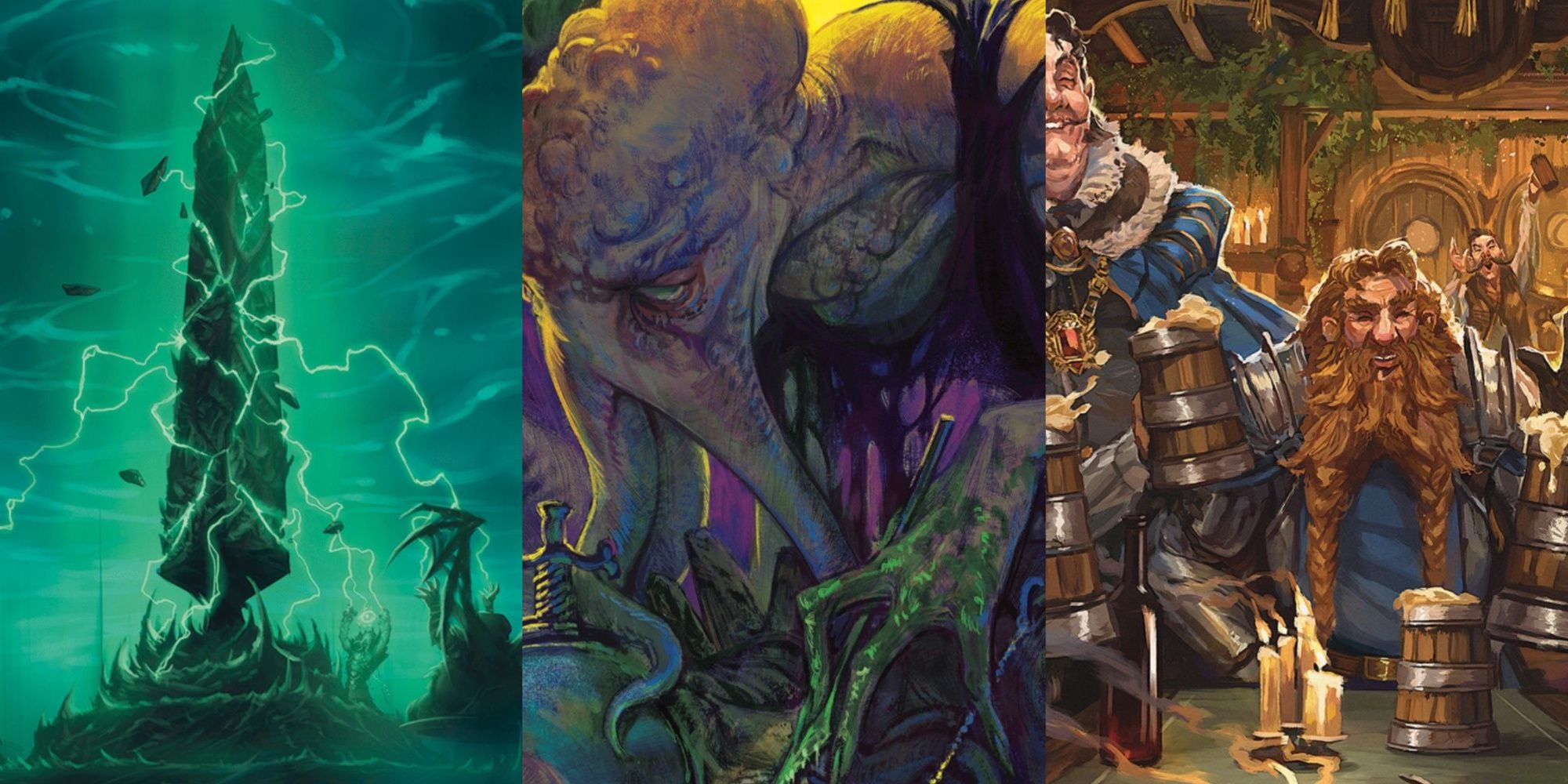 The Lost Mines of Phandelver has served as a popular starter adventure for Dungeons & Dragons ever since its debut in 2014. Several actual plays have been made using the module as a base, and some of its encounters have admittedly become a bit dry and dusty.
Related: Dungeons & Dragons: Challenge Ratings, Explained
Phandelver and Below: The Shattered Obelisk provides a fresh take on an old adventure. The first half of this module is fairly similar to the original Lost Mines of Phandelver, but the similarities end when the second half begins. If you're thinking about running this adventure, here are some of the biggest differences to consider.
7
Phandelver And Below: The Shattered Obelisk Is Longer
What Was Once A Starter Module Is Now A Grand Adventure
Let's start with the obvious. The Lost Mines of Phandelver wasn't an especially long adventure, meant only to last players from levels one through five. It's great to introduce new players to D&D, and can be used as a springboard for other adventures. Phandelver and Below: The Shattered Obelisk is about twice as long.
Your players should finish Phandelver and Below somewhere around level ten through twelve. Most D&D campaigns fizzle out around level ten, so this should be perfect for most tables. If your players are in for the long haul, however, the module's final chapter provides some hooks for high-level adventures after the game ends.
6
The Atmosphere Is Different
It's A Lot More Foreboding
While some audiences might consider The Lost Mines of Phandelver to be a bit "generic fantasy", that may have been by design. The original adventure was always meant to be a springboard to other modules put out by Wizards of the Coast, all of which are incredibly diverse in tone.
Phandelver and Below, in contrast, is firmly in the realm of horror. NPCs will change physically and mentally as they fall prey to the influences of a Far Realm demigod. It's possible your players might change as well, and there's certainly an ominous atmosphere throughout the second half of the adventure.
Phandelver and Below: The Shattered Obelisk contains several instances of body horror and other disturbing content that wasn't in the original module.
If The Shattered Obelisk isn't the right adventure for your group, you can always run the original Lost Mines of Phandelver, then pivot to a different module when you're done.
5
There's A New Bestiary
New Monsters, New Challenges
The Lost Mines of Phandelver was created to be SRD-friendly. All the stat blocks were available either through the D&D starter pack or the game's basic rules. This made it easy for beginner DMs to run an encounter without needing to buy new books. Phandelver and Below: The Shattered Obelisk is meant for more experienced DMs, and this is reflected in its bestiary.
Related: Ways To Increase Your AC In Dungeons & Dragons
Ilithids and other eldritch beings from the Monster Manual make an appearance in Phandelver and Below, along with new creatures made specifically for the module. Most of the new creatures fit the aberration creature type, tying in with the module's Far Realm ties. This new bestiary might be a little unsettling, but they fit the tone of Phandelver and Below just fine.
4
There Are Loads Of New Magic Items
New Psionic Treasures For Your Players To Enjoy
The original Lost Mines of Phandelver was pretty stingy when it came to magic items. There simply wasn't much that you could give a low-level party without things getting horribly imbalanced. Luckily, Phandelver and Below ends at a much higher level, meaning there's more flexibility when it comes to magic items.
Due to the module's focus on the Far Realm and ilithids, many of the magic items have a psionic focus. A lot of focus is put on the powerful mind crystals, but there's something for everyone. There's even a potion that enhances the drinker's protections against psychic effects, which could come in handy throughout the campaign.
Along With Useful Tools For Setting Player Boundaries
Phandelver and Below: The Shattered Obelisk comes with loads of extras to make running the adventure easier. While The Lost Mines of Phandelver was always meant to be beginner-friendly, the reboot goes above and beyond when it comes to DM tools. These range from advice to printouts, and it's abundantly clear that the creators have thought of everything.
Related: Dungeons & Dragons: Tips For Running Demons
One particularly useful bit of advice is the sidebar on player consent in the module's intro. Several of the adventures in Phandelver and Below contain elements of body horror and other disturbing content, which you should discuss with your players in session zero. Other than that, there's also a story tracker to print out, as well as a set of adventure hooks if you're not sure how to connect your players to the story.
2
There Are New Villains
New Threats From The Far Realm
Most of the villains in The Lost Mines of Phandelver were fairly small in scale. There was the self-important Klarg, leader of a gang of goblins who served as the first major encounter of the adventure. Beyond that, the main villains of the module were the leadership of the bandit group known as the Redbrands. It was a very low-stakes adventure that mainly concerned one town.
Phandelver and Below ups the ante by introducing eldritch beings as late-game antagonists. The original baddies from The Lost Mines of Phandelver are still there, but their sins are dwarfed by the cosmic horror that's introduced in Phandelver and Below's second half. Your players will face off against ilithids and an aspect of a demigod from the Far Realms, with possible implications for all of Faerun.
1
Tie-Ins To Other Settings And Adventures
All Sorts Of Hooks For High-Level Adventures
While The Lost Mines of Phandelver was always intended to be a springboard into other adventures set in the Forgotten Realms, there wasn't much to connect it to the setting in general. Phandelver and Below is a bit more thorough in its hooks, which it presents in the final chapter. If your players have reached the end and still want to continue their adventure, there are plenty of options.
The module proposes that, after defeating Ilvaash's aspect, they can set out to take down the demigod for good. If that's not their style, they can explore other obelisks in the Forgotten Realms setting, or otherwise take on a malevolent entity known as the Nematode. Finally, Journeys Through the Radiant Citadel is given a brief mention, with one adventure being recommended as a next step.
Next: Dungeons & Dragons: Best Magical Charms In The Book Of Many Things