Scott Pilgrim is a bit of a scumbag. Bryan Lee O'Malley's iconic, video game-loving hero loves to date high schoolers, mooch off his friends, and wait for everything in life to fall into his lap. He's also a lovable goofball who quickly earns the affection of rollerblading beauty Ramona Flowers, but only after defeating her seven evil exes can the two actually start dating.
This story has defined a generation of nerds for all the right and wrong reasons; the comics reproduced in the form of video games, live-action films, and now an anime series from Science Saru that reunites all the original creators and the cast of the Edgar Wright movie. But instead of retelling a familiar story with striking new visuals, Scott Pilgrim Takes Off is all about not only reimagining what came before, but examining past mistakes and toxicity that have come to define the franchise and its characters. It's okay to forgive, forget, and grow as a person in spite of past failures, and the fact a show can redefine a decade of fan expectations is exceptional.
It's part sequel, part prequel, part reboot, part retelling, and all whatever it wants to be.
Everything starts off as you'd usually expect – Scott Pilgrim is living it up in gay best friend Wallace's apartment until one day he stumbles upon Ramona Flowers, a DVD courier for Netflix who skates around Toronto, and his dreams, delivering old movies. They hit it off, go on a date to a local concert, only for Matthew Pattel to crash the place and challenge our hero to a fight.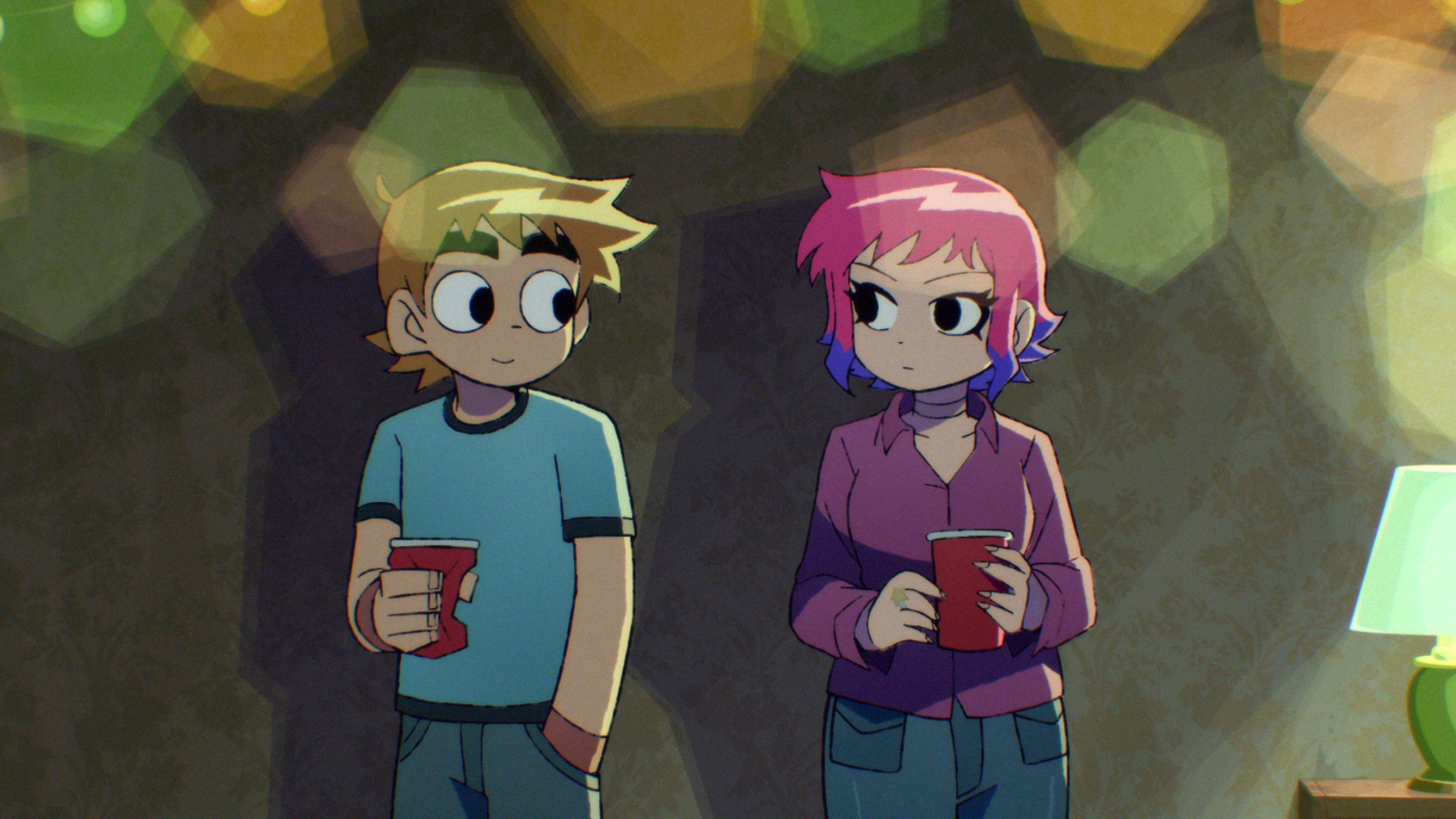 In the comics and film by Edgar Wright, this is when Scott embarks on an adventure to fight Ramona's seven evil exes and win her heart, while she sits back and goes with it. Netflix has threatened to break my legs if I drop any damning spoilers, but I will say that Scott Pilgrim is out of the picture for most of the eight episodes as Ramona embarks on a cheesy journey to solve the reason behind his disappearance and bury the hatchet with more than a few of her old flames.
It's part sequel, part prequel, part reboot, part retelling, and all whatever it wants to be. Expectations are subverted into a new form that pays homage to everything in Scott Pilgrim's history while actively acknowledging where it fell short. Queer characters and many of the women in Scott's life are given more agency, while exes who were once killed in pursuit of Ramona's love are now much deeper, more complicated people who had meaningful purpose before and after the girl of their dreams dumped them.
Did you know that Pac-Man was originally Puck Man in Japan? They changed it since they were afraid people were going to turn the title into a naughty word.
Hearing their backstories and ways in which they've tried to grow, and how in some cases Ramona did them dirty, allows them to be developed in ways the graphic novel only touched on. While the fights we're thrown into are spectacularly animated and imaginative – especially a duel between Ramona and Roxie Richter that features them duking it out across different movies – it's the quiet scenes of dialogue that centre on growth and forgiveness that hit hardest.
Most of us coming into this show will have plenty of nostalgia for the Scott Pilgrim movie, but the reuniting of its cast is Takes Off's weakest aspect. Produced in Japanese first and foremost by Science Saru, the delivery of certain lines can border on awkward monotony as actors try to match the pace of the animation.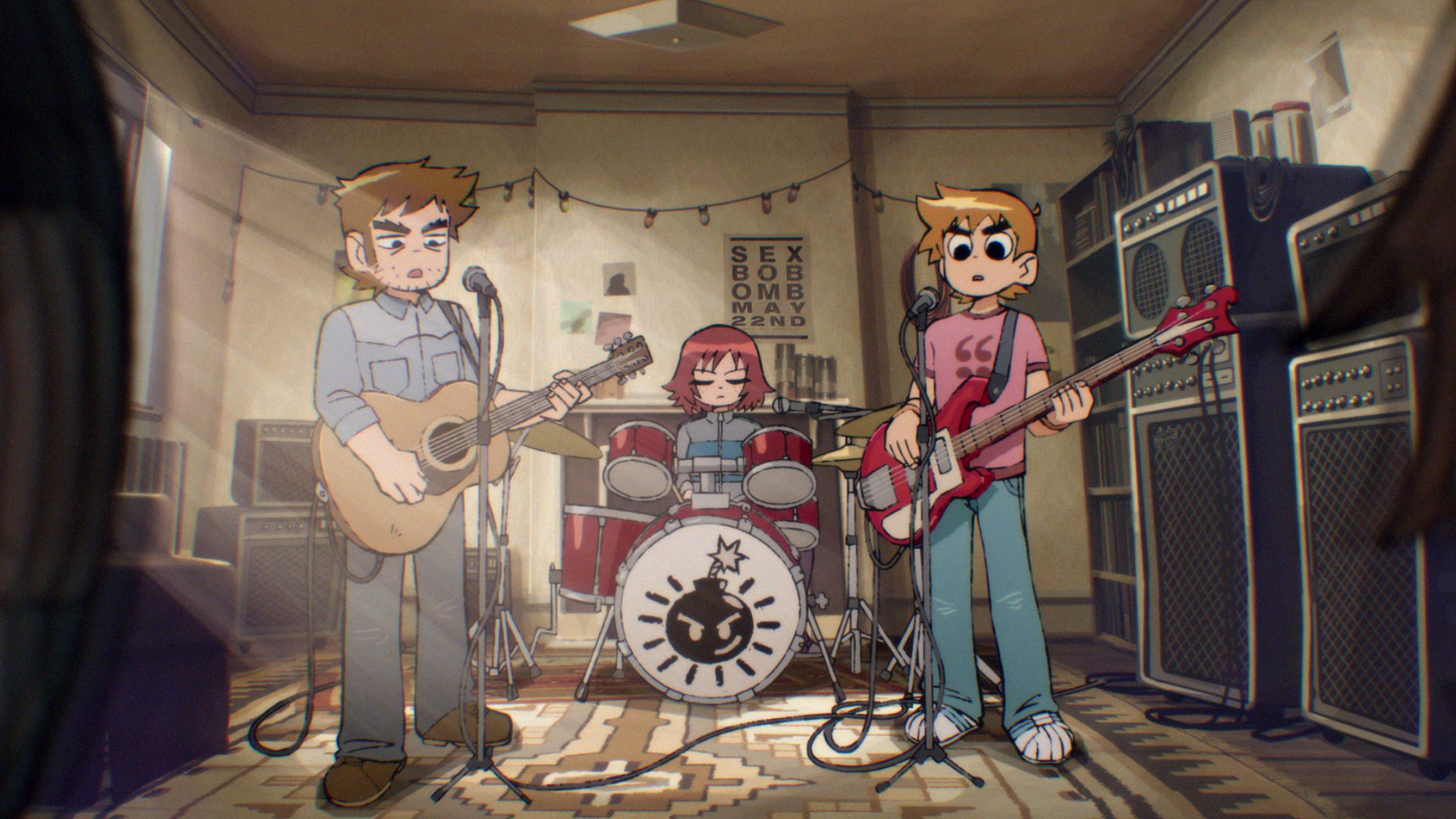 Characters like Julie Powers and Kim Pines sound bored half the time, their delivery not quite matching the visuals on display and sometimes actively working against them. I'd watch the show once dubbed and once in Japanese if you want to make the most of it, no apologies for sounding like an insufferable weeb. That being said, just like the Edgar Wright movie, there is also a charm to the awkwardness, like an edgy teenage comic come to life ready to question its own prejudices.
There are a few standout performances. Michael Cera nails a more comic-accurate version of the character dripping with innocent naivety, while Ramona is brought to life like never before by Mary Elizabeth Winstead. My personal favourite was Kieran Culkin's adorable turn as Wallace Wells, always ready to spread his chaotic fruitiness as he spouts killer one-liners and seemingly lurks in the corner of every big set piece. He's part of a wonderful queer subplot in the middle of the season, which does an effective job of making his homosexuality into more than a cute little punchline.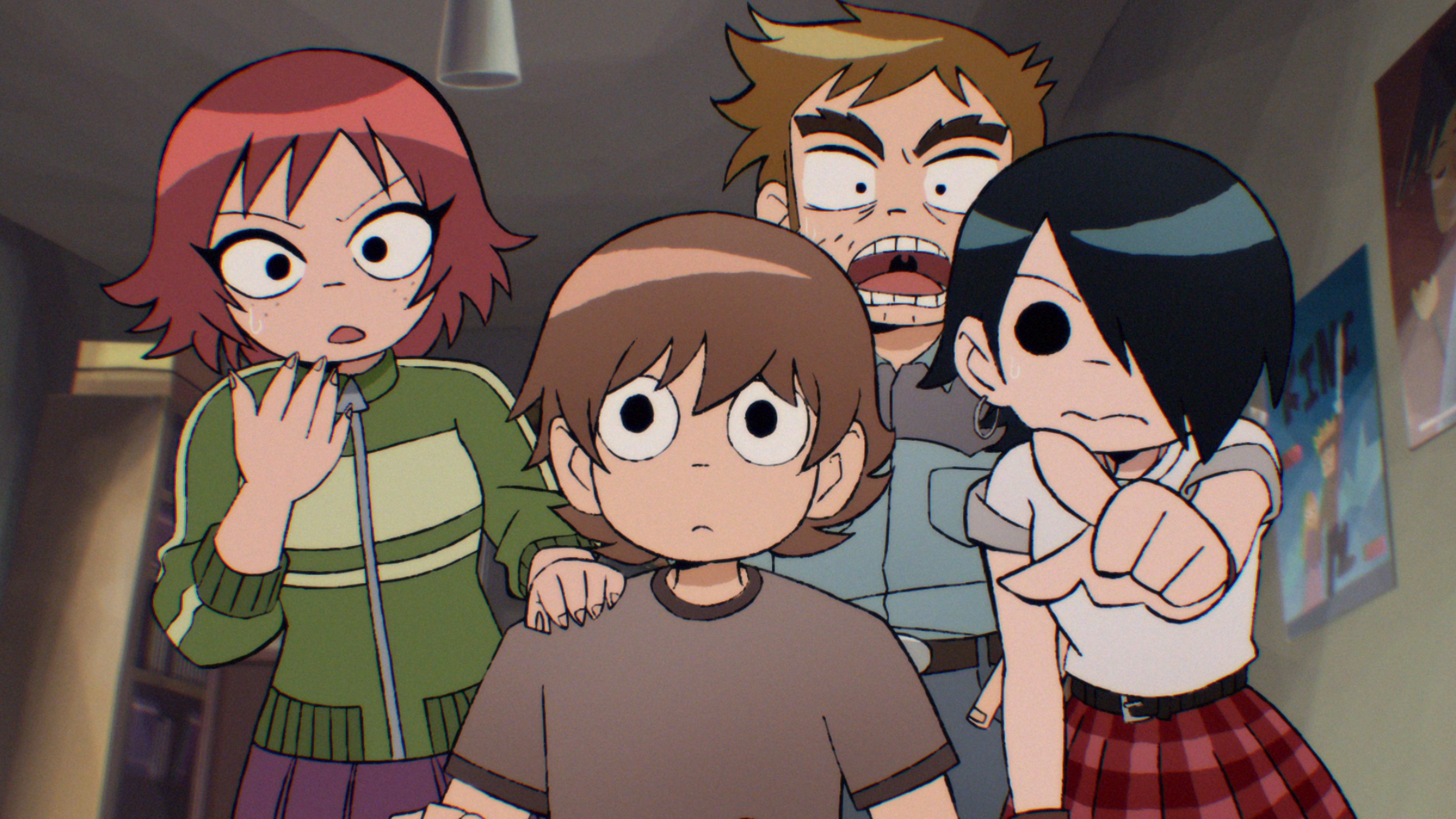 Every episode plays out like an unpredictable level in your favourite video game, focusing on a specific character or dilemma as pieces of the central mystery slowly come together. Takes Off is aware of the position it holds in the chronology and how most of us will be familiar with the canon, and thus it seeks to reinvent itself in a similar manner to Final Fantasy 7 Remake or The Matrix Resurrections. It is effortlessly clever, and I had a hard time figuring out where it was going as narrative twists hit with appropriate impact. It pulls the rug out from under us, and knowing Bryan Lee O'Malley and Edgar Wright were directly involved in the story, it's as if the two joined forces to create the definitive versions of these characters who want to strive to be better people, but equally understand the value of being flawed and accepting growth.
Scott Pilgrim Takes off made me give my nostalgia for the series a long hard look in the face. Like so many others, I saw myself in Scott Pilgrim, his love of anime and video games, and pursuit of trying to find loved ones who understood him for who he was. But regardless of who you are or end up falling in love with, you have to accept that you'll screw up or need to work on yourself, both for the wider world and people you want to keep close. You've also got to have as much fun as possible along the way, and this show delivers that in excess.
Next: The Amazing Digital Circus Is The Biggest Indie Animation In Years