Highlights
Upgrading your weapons and investing in the right skills is crucial in Lies of P to keep up with the increasing difficulty.
The P-Organ, or skill tree, offers numerous options for upgrading your skills, with versatile choices that benefit a wide range of situations.
The P-Organ skills mentioned are exclusive to New Game and New Game Plus, and focusing on skills such as increasing cube uses, perfect guard weapon durability recovery, and link dodge can greatly improve your gameplay experience.
Lies of P presents a formidable challenge that will truly put your skills and patience to the test. To keep up with the game's increasing difficulty, upgrading your weapons and wisely choosing the right skills to invest in are crucial. This is where the P-Organ, essentially the skill tree of the game, comes into play.
RELATED: Lies Of P: P-Organ Upgrade Guide
With numerous options available, it's natural to wonder which skills to prioritize. While your playstyle and build may influence your preference for certain skills, the ones we'll discuss ahead are versatile choices that prove beneficial in a wide range of situations.
Updated on November 17, 2023, by Mohamed El Ouardighi: The newest Lies of P patch brought some big changes to the game. One notable change involves the P-Organ; the Rising Dodge is now a default ability. We've adjusted this guide to reflect the update.
It's important to note that all the P-Organ skills mentioned in this list are exclusive to New Game and New Game Plus (NG+).
10
Increase Cube Uses 1 And 2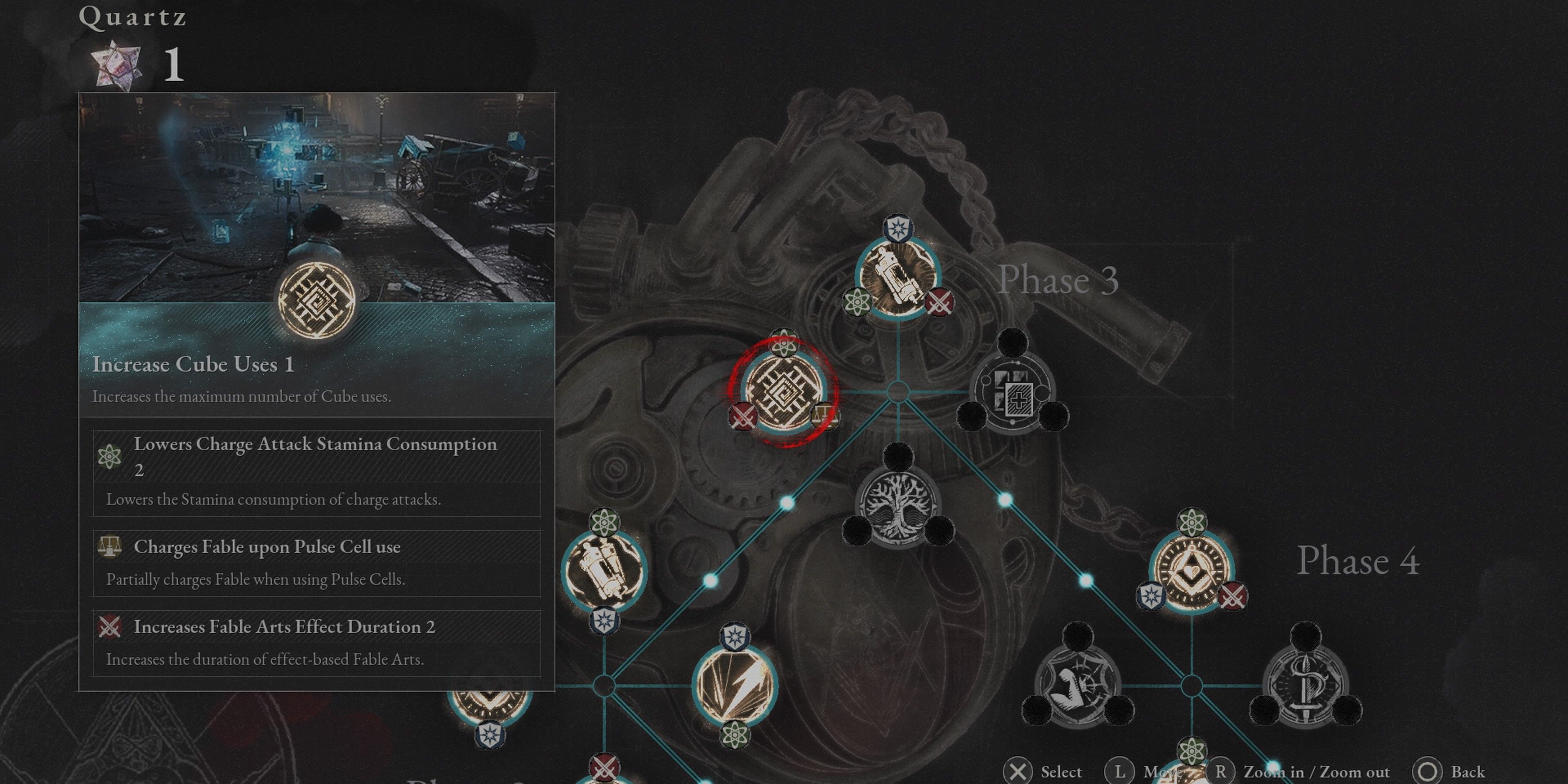 If you find solace in making boss encounters more manageable and enjoy the company of Specter or simply want additional assistance in boss fights, this skill is tailored to your preferences. The Cube serves as a tool to amplify abilities by utilizing the embedded Wishstone, with many of these enhancements related to the Specter.
Initially, you can employ the Cube just once. However, with this skill, you gain the ability to use the Cube multiple times. This ensures that you can deploy the Cube repeatedly, particularly during challenging boss battles. This will increase your odds of emerging victorious against formidable bosses.
9
Perfect Guard Weapon Durability Recovery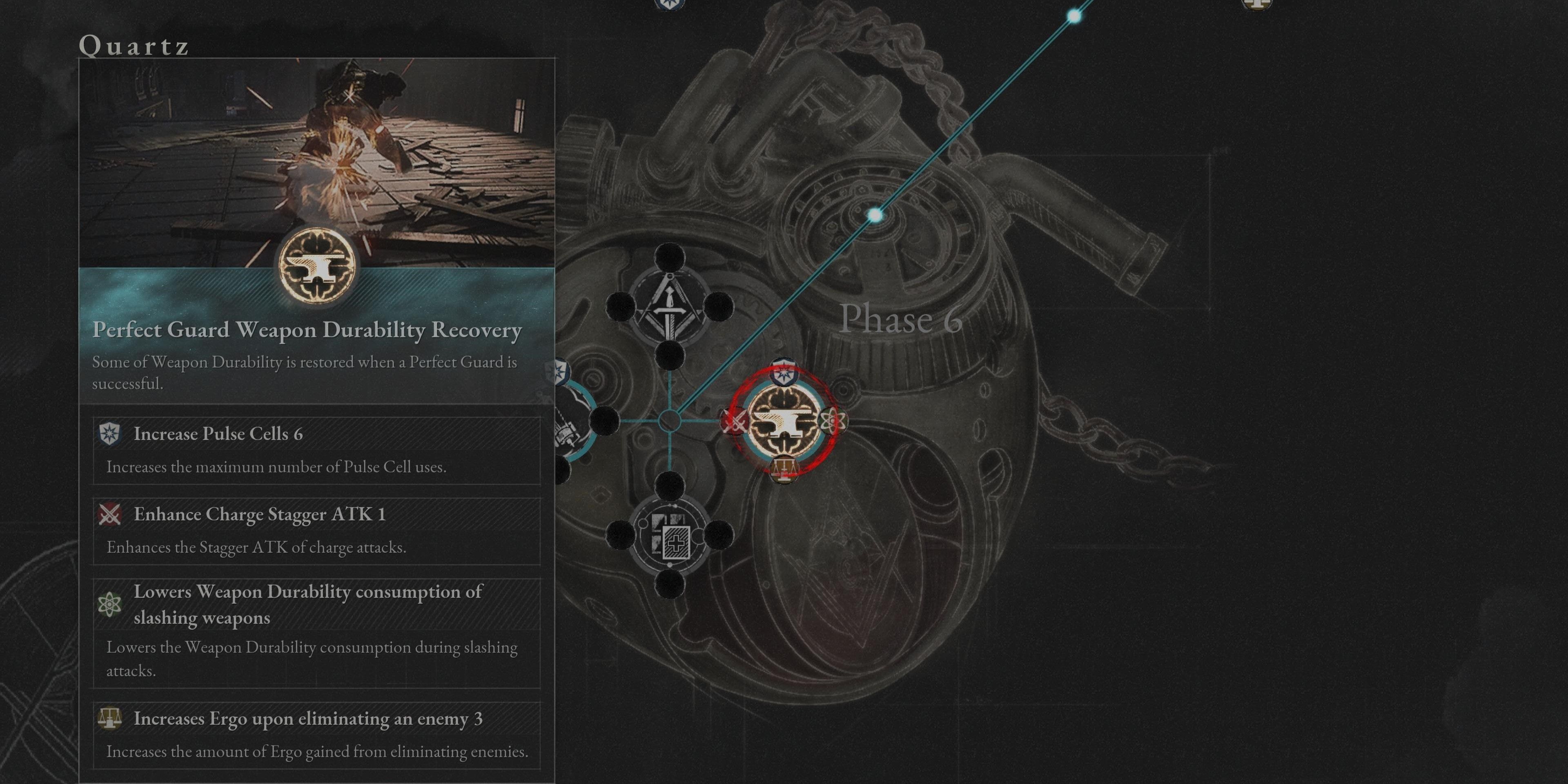 For those who excel at executing Perfect Guards and have honed their skills in this aspect, there's a P-Organ skill tailored to your needs. This skill addresses the issue of weapon durability. As you use your weapon, its durability naturally decreases, and sometimes you won't have the opportunity to use your Grinder to repair it during the heat of battle.
With this skill, you gain the ability to rely on Perfect Guard to restore your weapon's durability as you engage in combat. Not only does this ensure the longevity of your weapon, but it also aligns with the effective and skillful way to play Lies of P through the art of Perfect Guard.
8
Link Dodge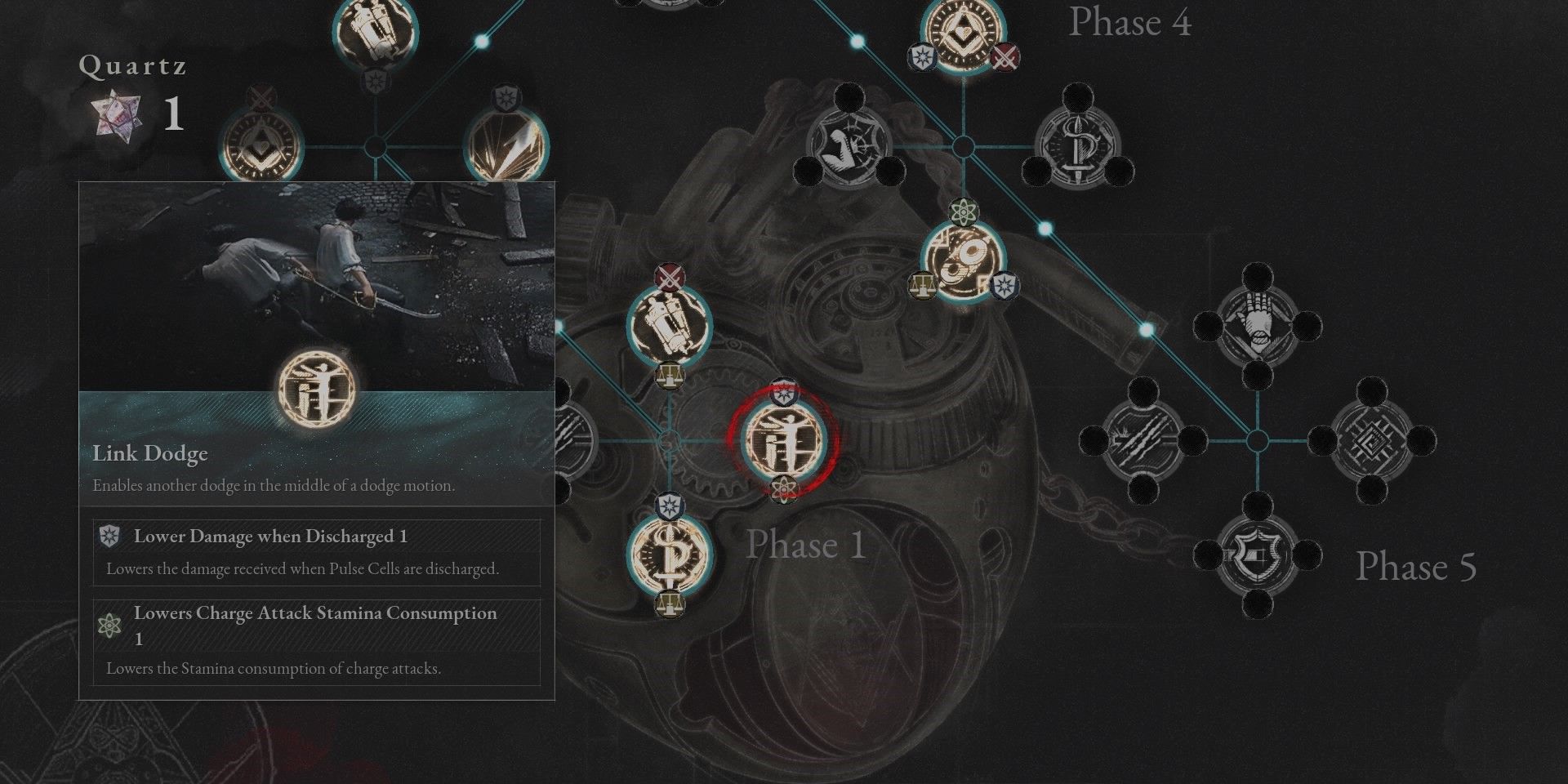 One of the game's most useful skills, surprisingly available early on, is the Link Dodge. In games like Lies of P where dodging is pivotal for evading enemy attacks and maintaining distance, this skill proves to be a game-changer in many encounters.
Related: Lies Of P: Every Mask And Where To Find Them
Essentially, the Link Dodge enables you to execute an additional dodge immediately after the first one. Not only does this create more space between you and your enemies, but it also ensures safer evasion from most of their attacks.
7
Increase Staggerable Window 1 And 2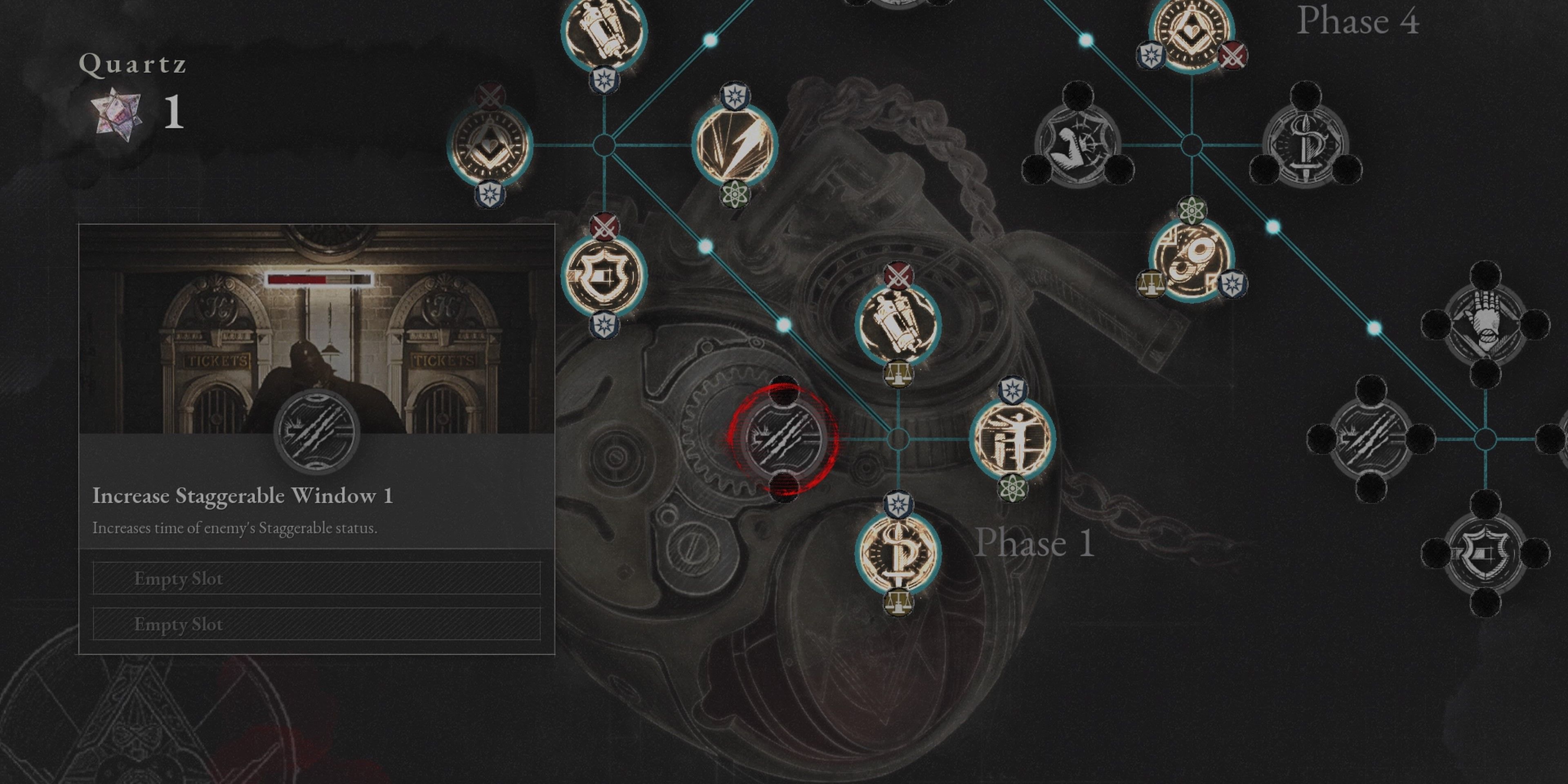 This game features a unique staggering system that comes into play. If you manage to deal sufficient damage or execute a Perfect Guard against multiple enemy attacks, you'll notice a white outline on their health bar. Initially, this staggerable effect is rather fleeting, which might tempt you to hastily go for a charged attack, potentially leading to your death.
This is precisely why the Stagger Window skill holds significant importance, especially during boss battles. Expanding the window for staggering allows you to strategically plan your next charged attack without the need to rush toward the enemy.
6
Add Legion Arms Slots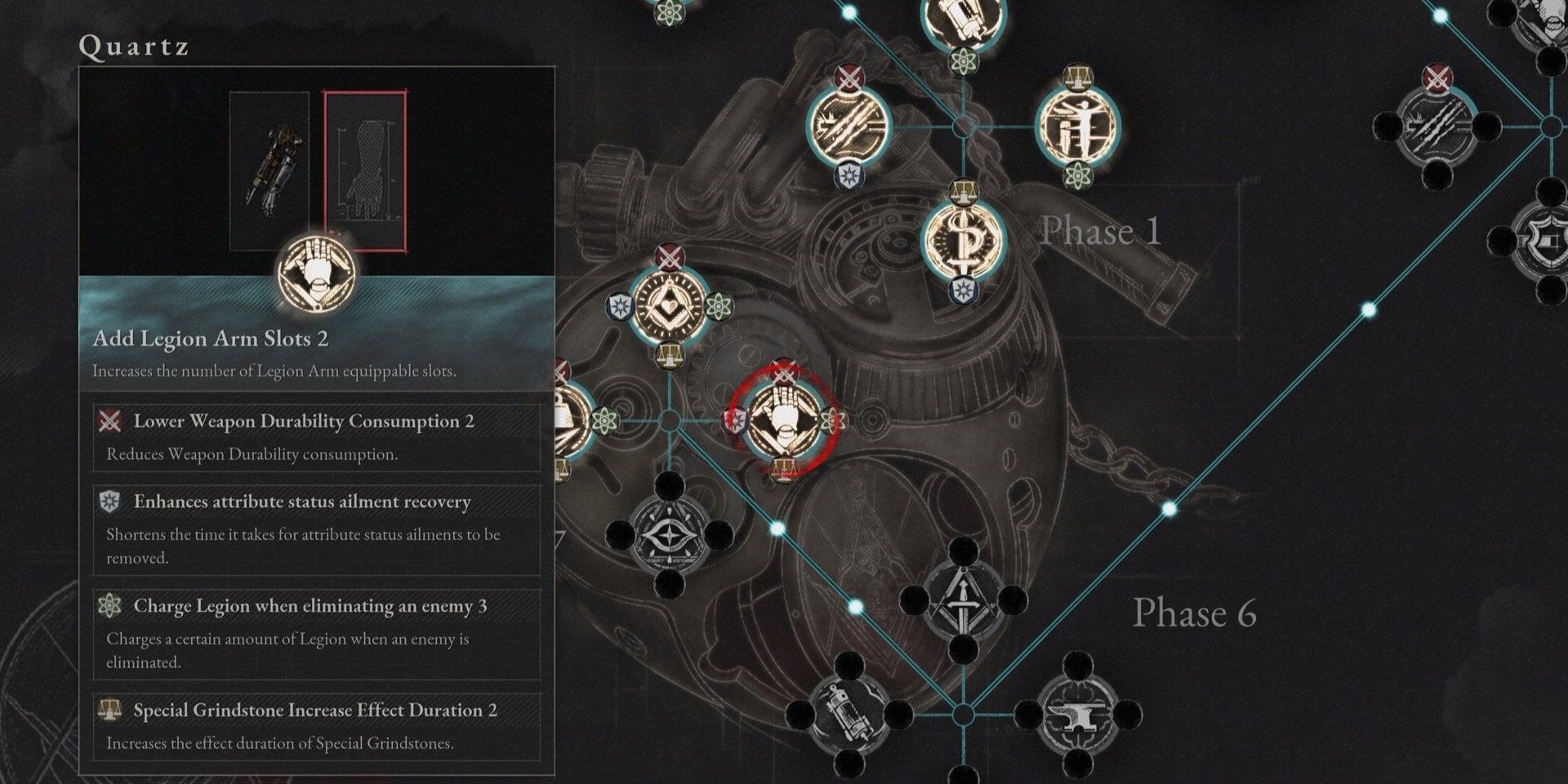 Just like Sekiro Shinobi Prosthetic Arm, P has its own version called the Legion Arms. These gadgets are unique, each bringing its own advantage to the fight. For a long time in the game, you're stuck with just one, and if you want to change, it means trekking all the way back to Hotel Krat. But with this skill, no more running back and forth every time you fancy a switch.
With this ability, you can strap on an extra Legion Arm and switch between them on the fly, depending on what the situation calls for. But remember, it adds some weight to P, so choose wisely. It's like picking the right tool for the job!
5
Add Fable Slots 1 And 2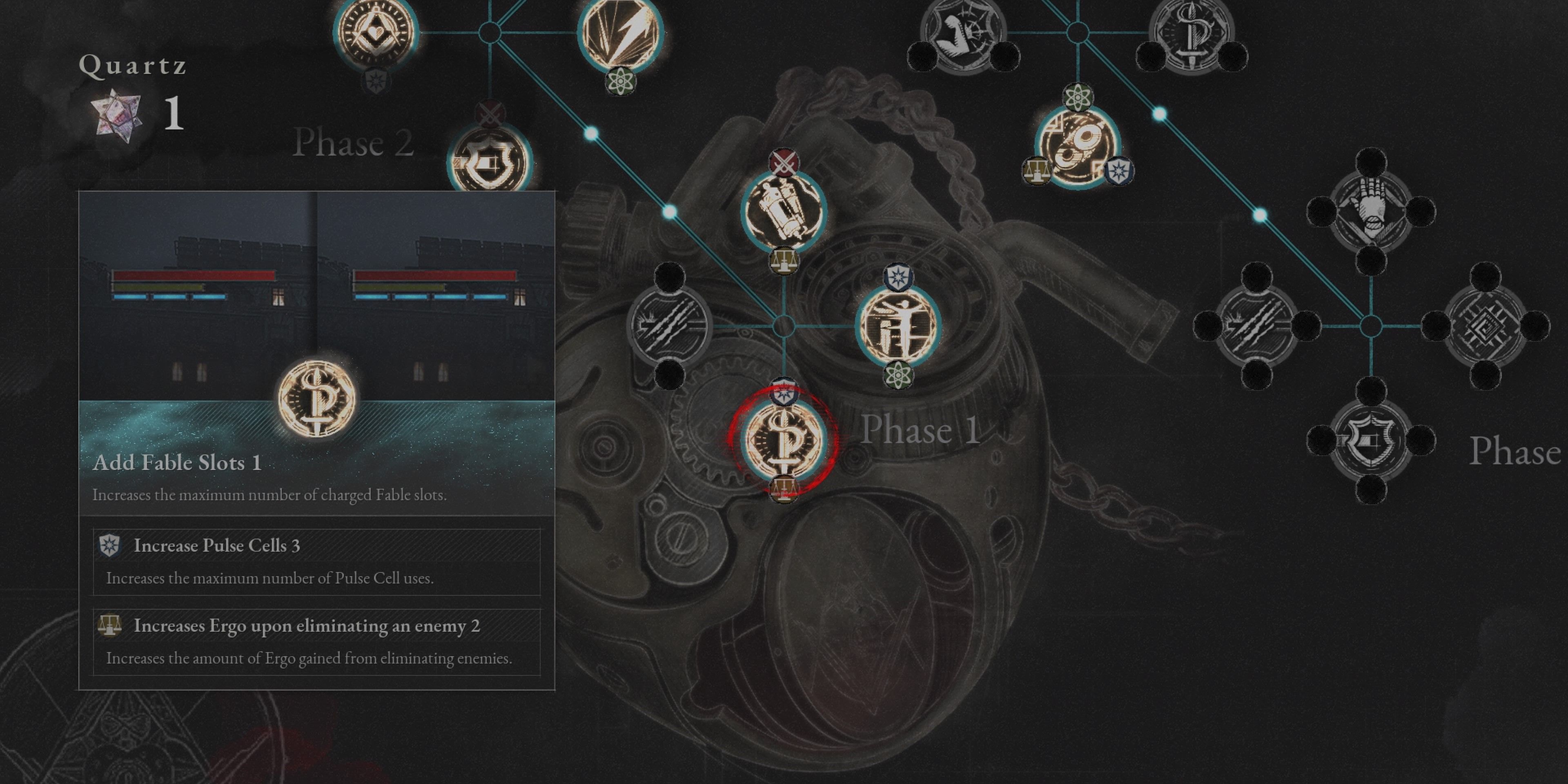 The Fable Arts represent the distinct weapon skills that you can employ during combat, as each blade and handle combination comes with its own skill, and every weapon boasts two unique Fable Arts. However, starting with just three bars for these skills might feel limiting, particularly since many of these skills require two to three bars to execute.
Related: Lies Of P: Black Rabbit Brotherhood Boss Guide
Fortunately, if you relish using these eye-catching and distinctive attacks, you can expand your capacity to a total of five bars. Opting for this skill upgrade allows you to unleash these flashy and potent attacks more frequently in battle, which not only look impressive but some of them pack a substantial punch.
4
Add Amulet Slots 1 And 2 And 3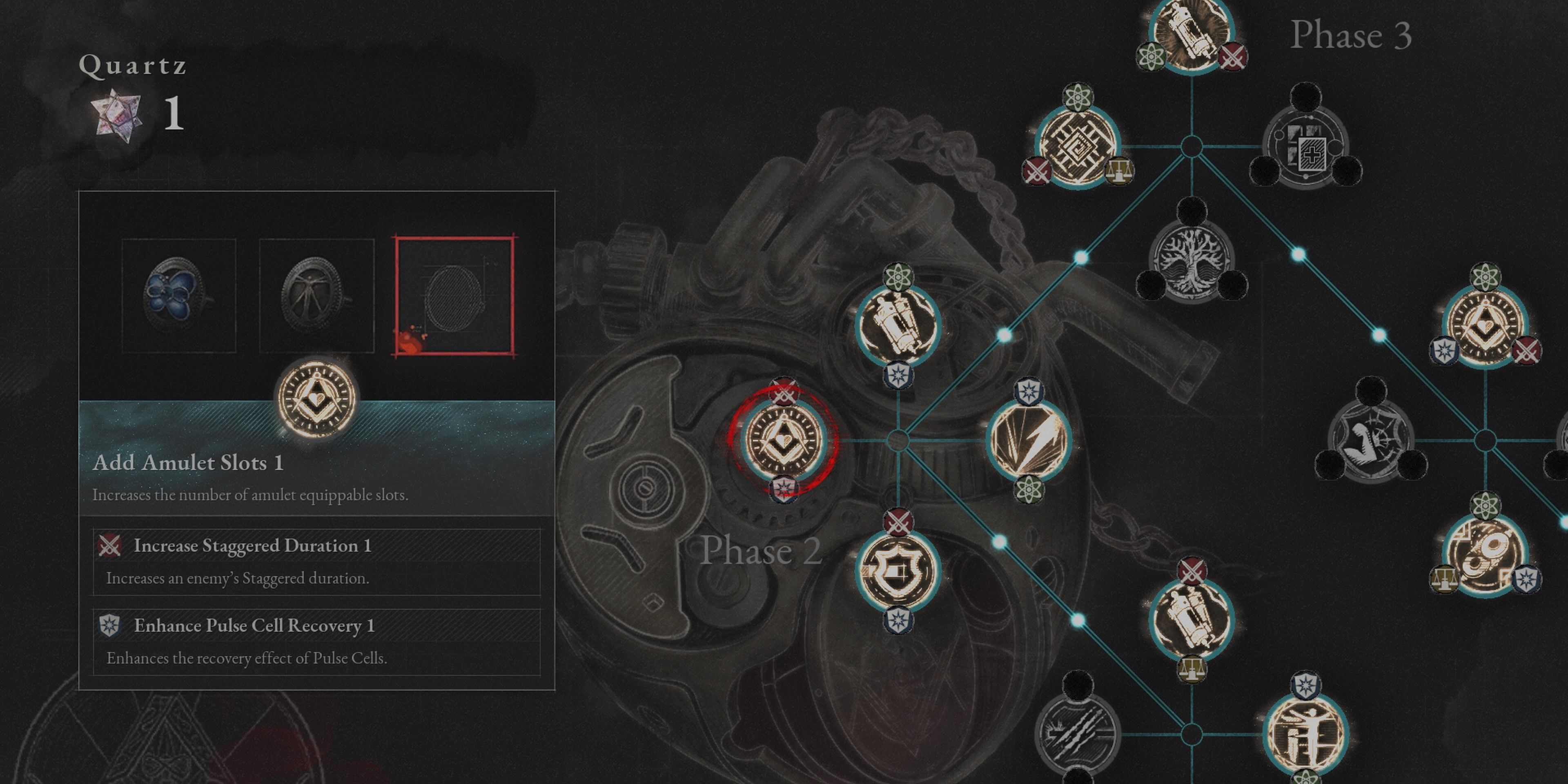 Amulets serve as vital accessories that offer a wide array of additional benefits to your character in this game, and their effects can range from bolstering your offense to fortifying your defense. At the outset, you'll have just two amulet slots, which may feel restrictive given the number of amulets in the game. However, it's possible to expand this capacity to a maximum of five slots.
The ability to equip more amulets is a significant advantage. It allows you to further refine your build and benefit from additional stats that prove invaluable when facing the game's daunting challenges.
3
Retrain Guard Regain 1 And 2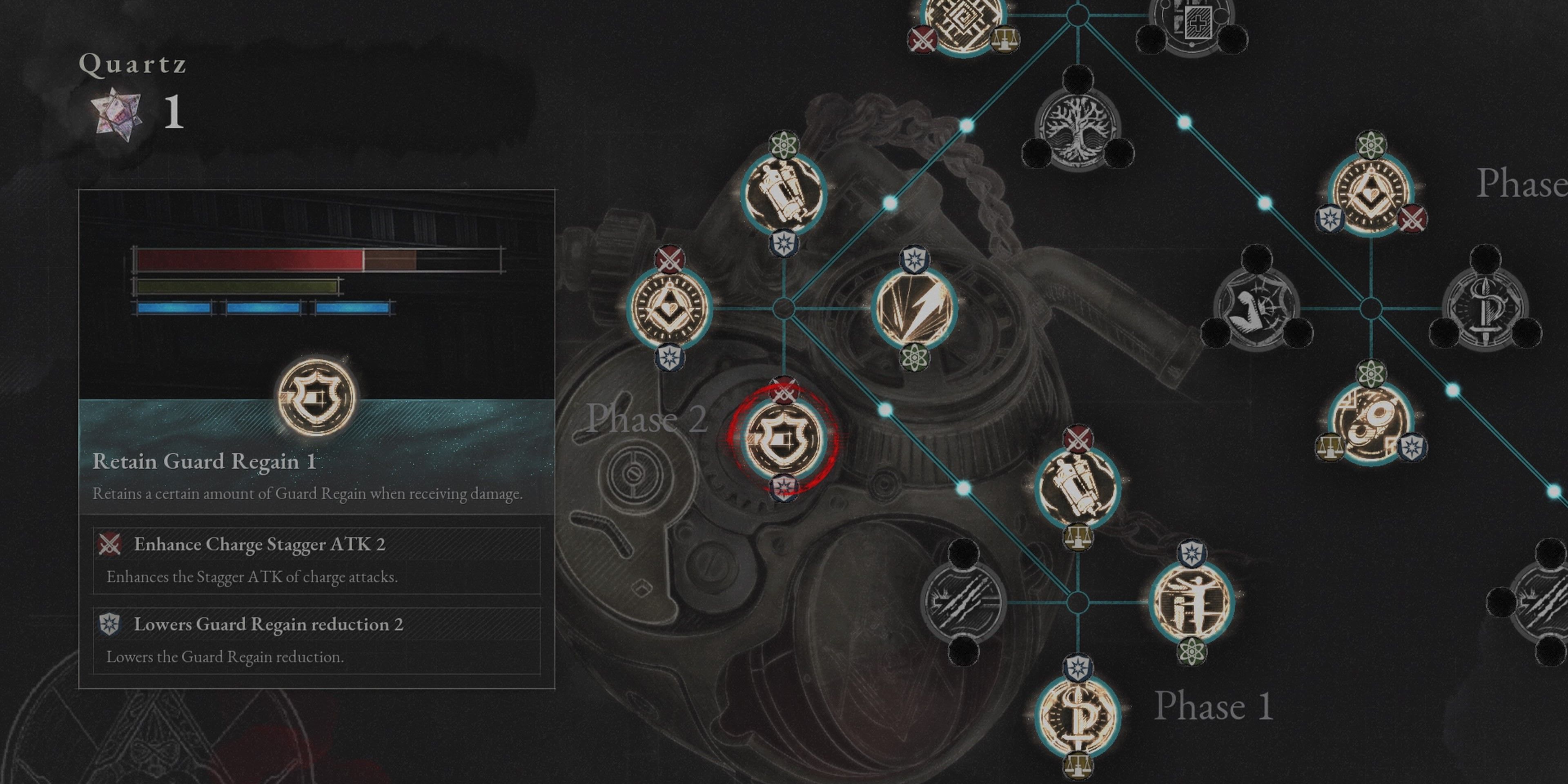 Similar to Bloodborne, when P takes damage, you'll notice a portion of your health bar turning fade, which represents health that you can potentially regain by landing successful hits on your enemies. Initially, it may require quite a few attacks to fully recover this lost health, but with this skill, the process becomes significantly faster.
If you frequently find yourself relying on guarding against enemy attacks, then this skill is a must-have. Sometimes, a single hit can deplete a substantial portion of your health, and having the ability to recover it rapidly not only proves immensely helpful but also allows you to conserve Pulse Cells for when you truly need them.
2
Increase Pulse Cells 1 And 2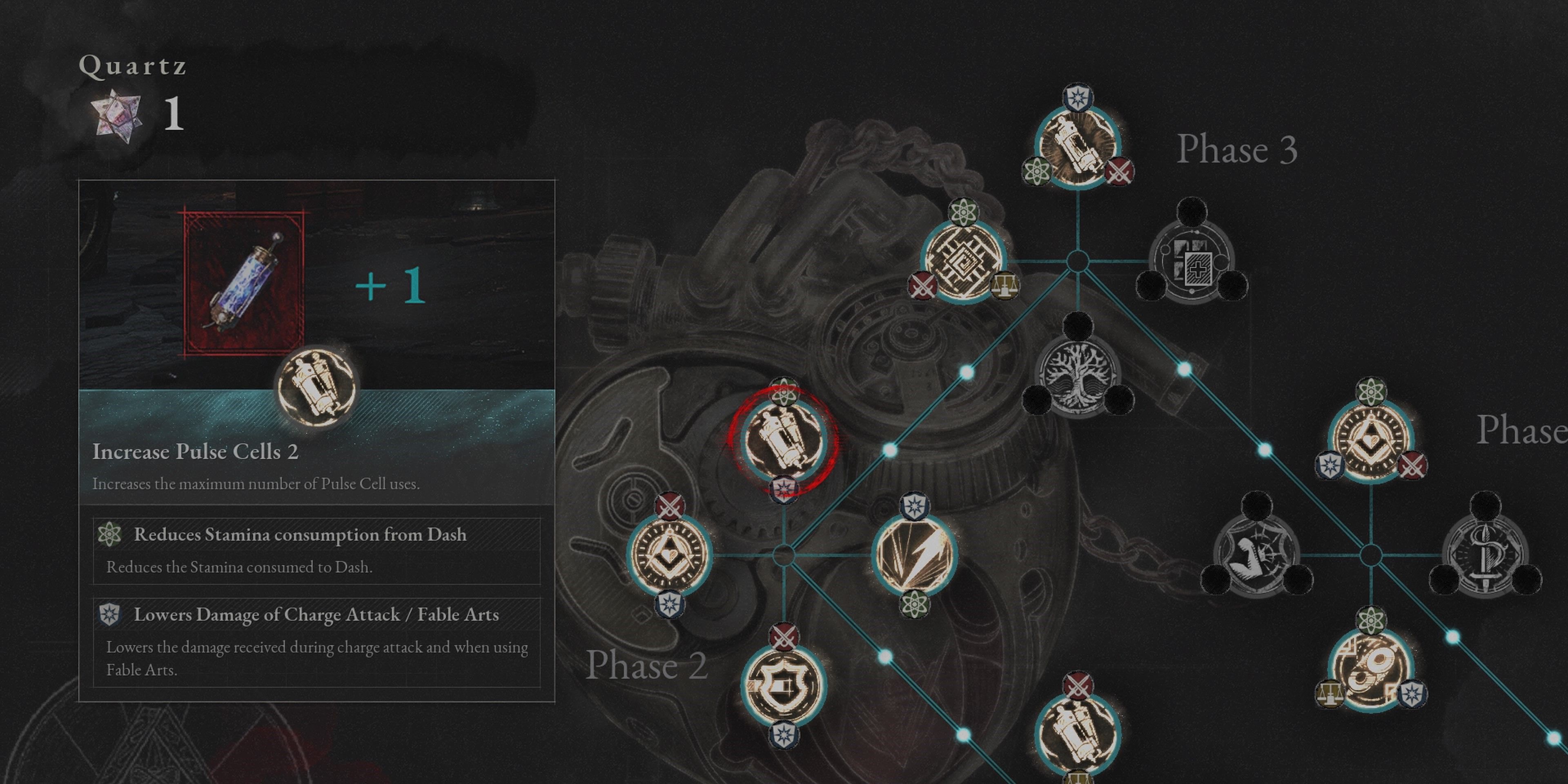 Pulse Cells are your lifeline when it comes to regaining health, serving as your sole method of HP recovery. However, they are limited in supply. Initially, you start with just three, which proves insufficient in the long run, which is why this particular P-Organ upgrade stands out as one of the most valuable choices you can make.
Increasing the number of Pulse Cells in your inventory allows you to heal more frequently, making the numerous boss fights and overall survival much more manageable. This enhancement significantly bolsters your chances of staying alive in the challenging world of the game.
1
Enhance Pulse Cell Recovery 2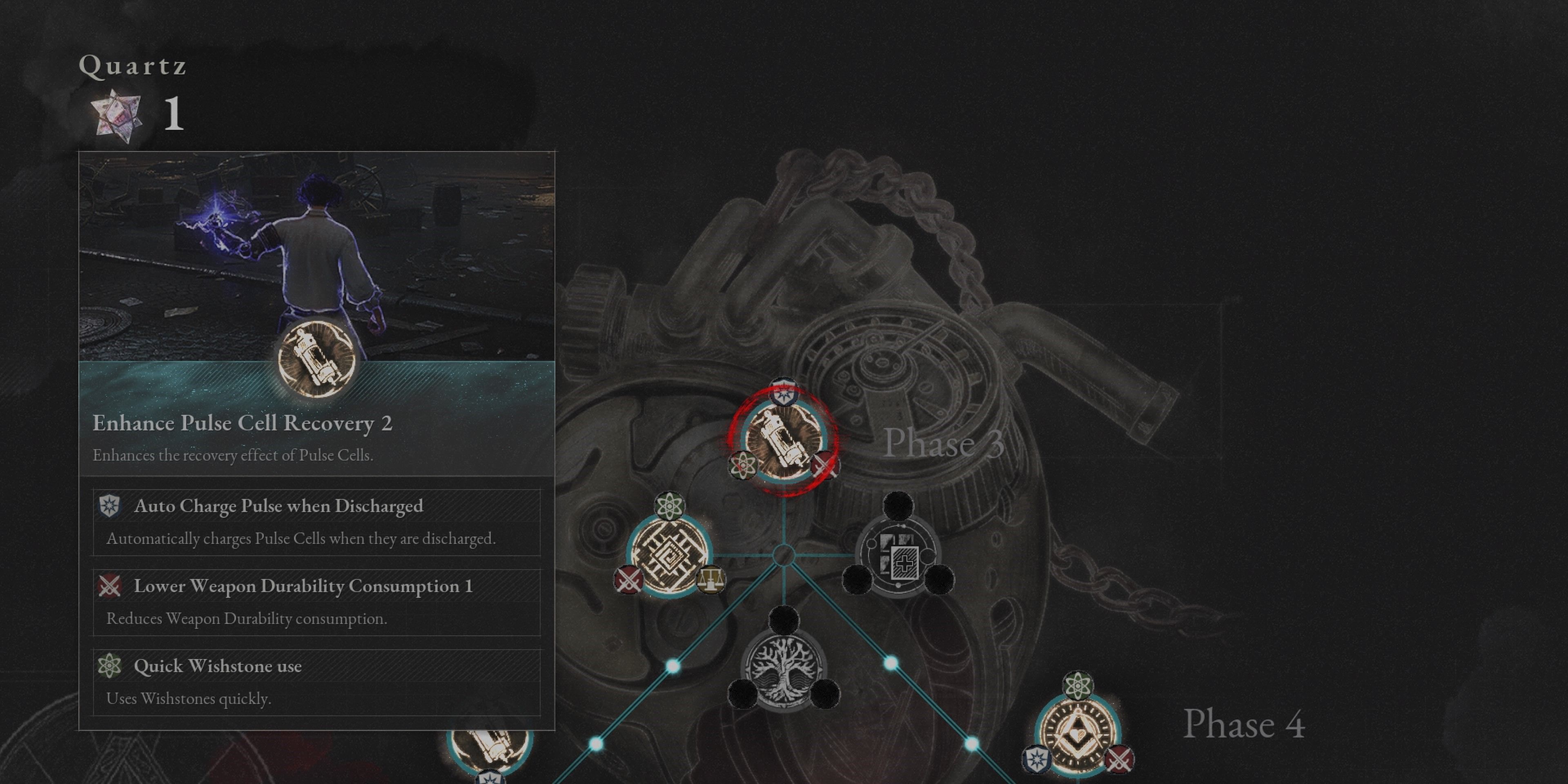 Speaking of Pulse Cells, another crucial P-Organ skill to consider will address their effectiveness. Initially, Pulse Cells only heal a small portion of your health, requiring you to consume more of them to restore your HP to maximum.
Fortunately, there's a skill designed to enhance their effectiveness, allowing your Pulse Cells to go further so you can achieve full HP restoration with just two of them, instead of the usual three for instance. This becomes especially vital during intense boss fights, where enemies can deal significant damage, making efficient Pulse Cell usage essential for survival.
NEXT: Details You Missed In Lies Of P