Quick Links
Donkey Kong And The Origins Of Mario
The Man Who Inspired Mario
Everyone's favorite plumber and part-time hero, Mario, has enjoyed a long history of games, films, comic books, and other animated adventures over the years. Whether he's stopping Bowers's evil plans, competing in kart races, or playing party games, Mario has had a storied career in gaming.
Related: Every Princess In Super Mario, Ranked
After more than 40 years since his creation and his appearance in more than 200 games, the origins of Mario might not be as well known as they once were. Let's take a look at Mario's early history, his creation, and the man behind the gaming icon.
Shigeru Miyamoto
The Godfather of Gaming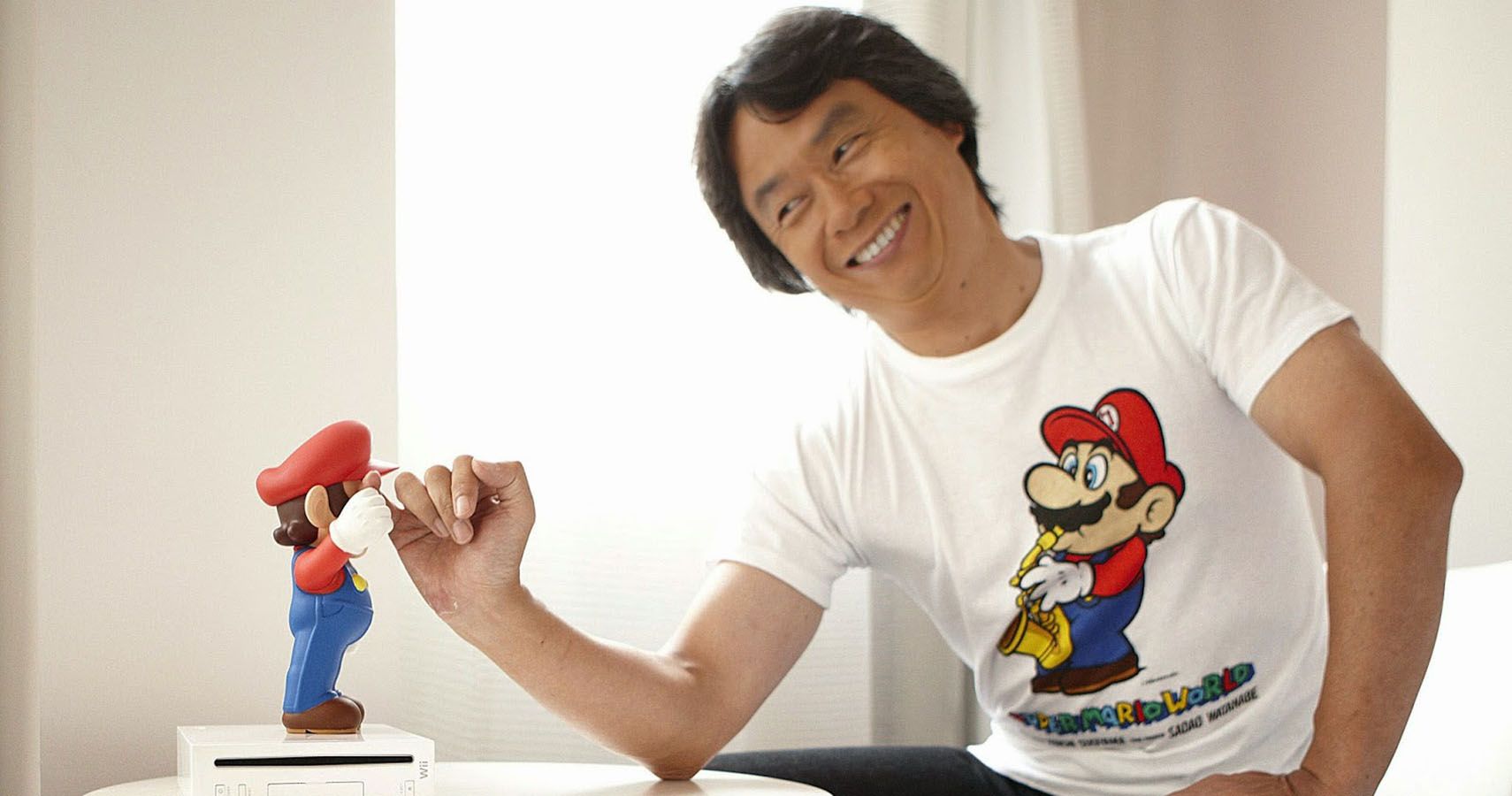 The man behind Mario is Shigeru Miyamoto, a legendary game designer behind many of the most beloved video game franchises around. Miyamoto was born on November 16, 1952, in the town of Sonobe in the Kyoto Prefecture. As a young child, Miyamoto loved to explore the world around him, particularly the unknown regions of wooded areas and caves nearby.
Miyamoto would eventually graduate from the Kanazawa Municipal College of Industrial Arts with a degree in industrial design, hoping to pursue a career being a professional manga artist before pivoting to video games. He was able to impress the president of Nintendo, Hiroshi Yamauchi with toys he developed, which gave Miyamoto the chance to put his talents to use.
The first game he worked on was an arcade title called Sheriff, where he helped design artwork for the game. The game was a moderate hit but failed to make waves in North America, leaving Nintendo with a surplus of unsold cabinets of a number of other games and teetering on the brink of financial ruin. Yamauchi decided that they could take the unsold arcade cabinets and turn them into other games, giving Miyamoto the responsibility to turn them into a successful game.
Donkey Kong And The Origins Of Mario
Climb That Tower!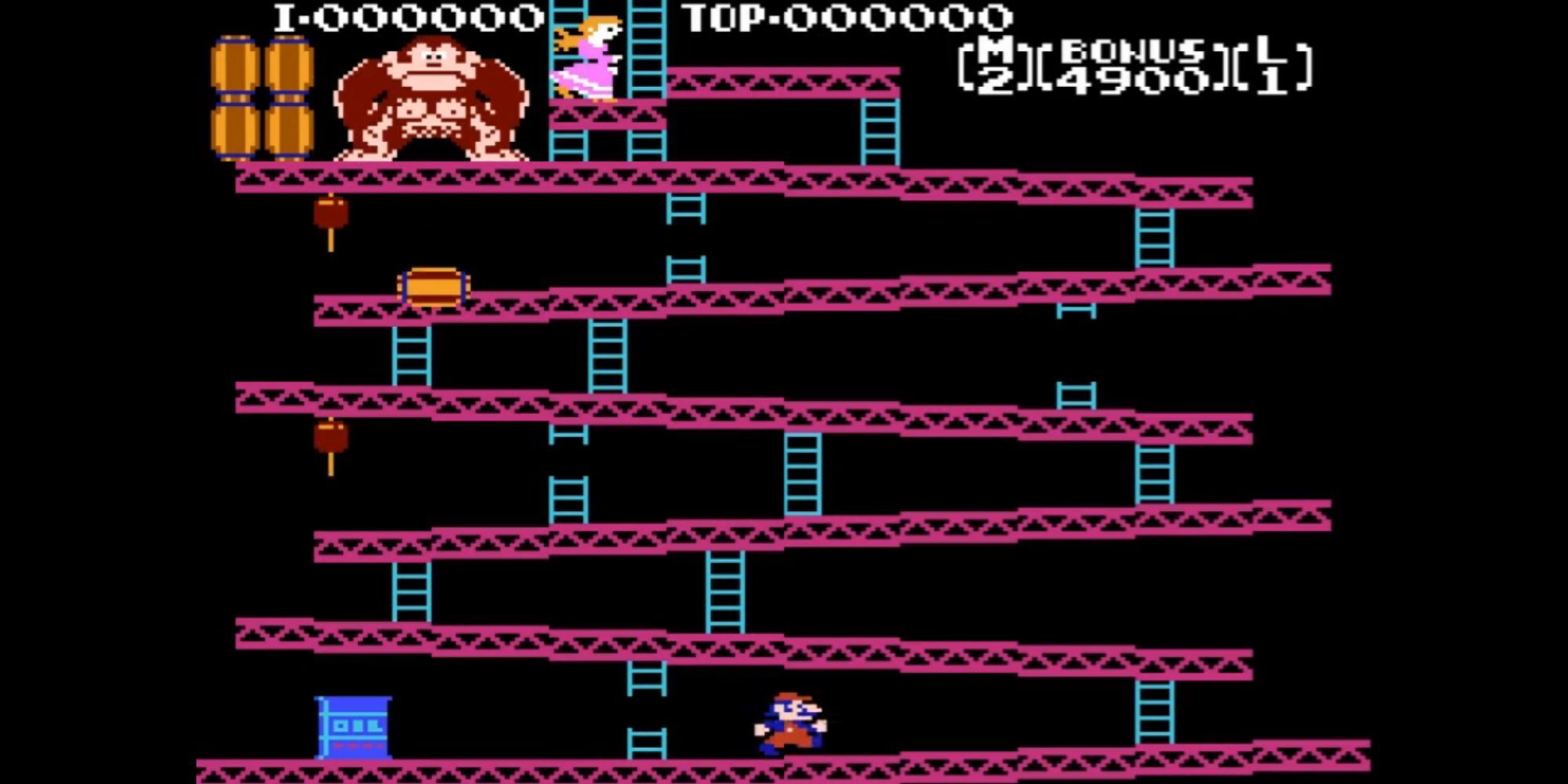 Miyamoto worked to design a new game, one inspired by the love triangle featured in the Popeye comics at the time, changing the dynamics to a gorilla, a carpenter, and a woman. Nintendo had previously tried to secure the rights for a Popeye game but was unsuccessful, prompting a change in characters and design.
Related: Every 2D Mario Game, Ranked
Despite having faith in his project, Miyamoto did not have the technical skills to program the game himself, turning instead to Gunpei Yokoi, Nintendo's head engineer at the time and Miyamoto's supervisor at the time for help. Together they worked on perfecting Miyamoto's concepts, trying out several ideas and directions over time. Characters were originally going to vary greatly in size and be able to move and react in different ways but this was determined to be too difficult to code.
The next hurdle Miyamoto faced was adapting his vision for gameplay. Initially, Donkey Kong players would have to escape a maze while avoiding barrels and other obstacles. The game focused on how fun it would be rather than obtaining a high score, the standard for arcade games at the time. Yokoi saw the original design to be too complicated, suggesting instead players could use see-saws to launch the man who would be Mario across the screen but this too was not feasible for the programming team at Nintendo to implement. This led Miyamoto to come to the conclusion that having ramps and sloped platforms with barrels for players to avoid would make a compelling gameplay mechanic. The player would need to jump over the barrels this way, solidifying the main mechanic for the character who would be Mario.
One of the last major hurdles for the Donkey Kong game to conquer was to add multiple stages to the game. Despite some resistance from the programming team, additional stages were coded, bringing a new dimension of complexity to the game.
The Man Who Inspired Mario
Probably Not Who You Would Expect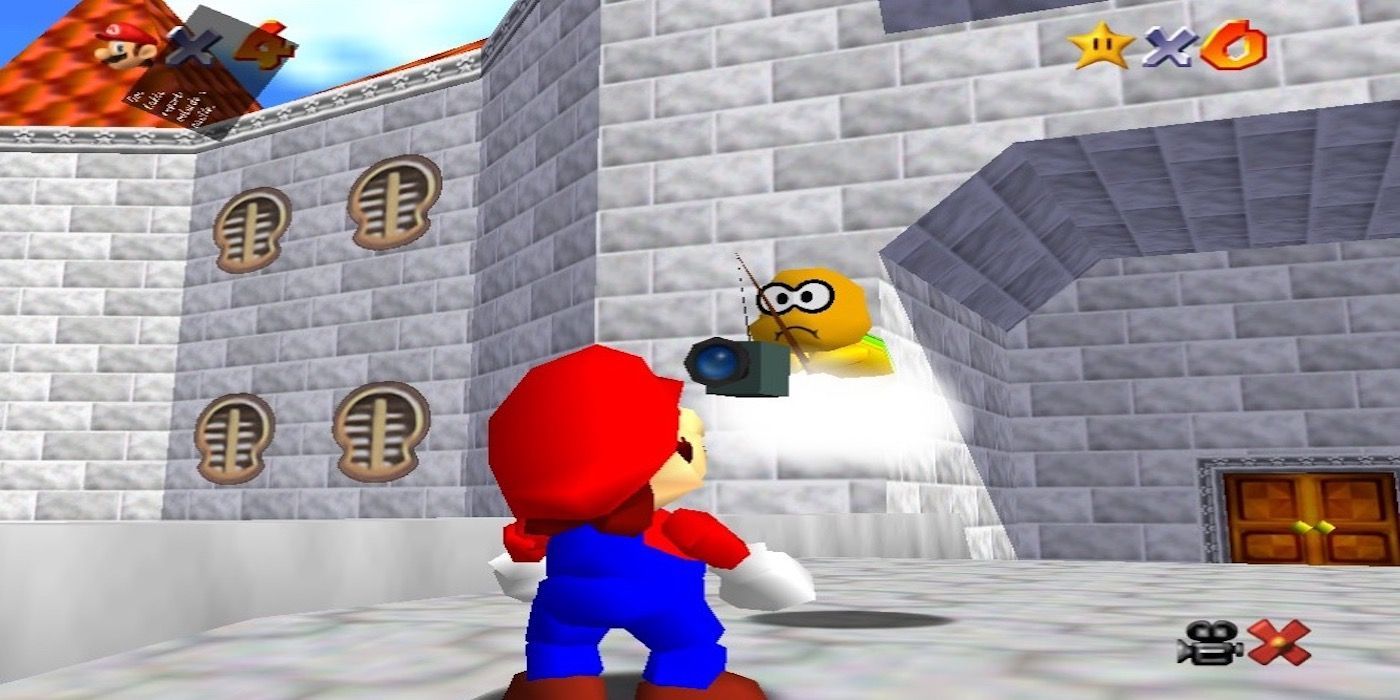 With the game well on its way to production, several American Nintendo employes began to give the unnamed characters some personality. The woman, who was known as Lady at the time, became Pauline, named after Polly James, wife of Nintendo's Redmon, Washington warehouse manager, Don James. The character that players controlled, who was simply called Jumpman, became known as Mario, named after the warehouse's landlord. The names stuck, being used in promotional material, and were even on the American arcade cabinet to help let players become more familiar with the characters.
Related: Super Mario: Every Version Of Bowser, Ranked
The character Mario wouldn't get his own game for a few years, with Nintendo wanting to capitalize on the success of Donkey Kong by releasing Donkey Kong Jr. in 1982. Mario would finally star in his own game in 1983 with the release of Mario Bros. This game also introduced Mario's brother, Luigi, while also giving the two some superhuman abilities. The two brothers could survive falls from major heights with little to no damage and could jump higher than a normal person. Mario Bros. also worked to solidify Mario and Luigi's design. Their outfits consisted of the now iconic overalls and red or green shirts, along with matching hats with their initials embroidered in them.
Their outfits evoked the concept of a plumber rather than a carpenter, leading Miyamoto to change their profession. He also felt that New York City would be a fitting place for the games, given that a plumber in the city would be familiar with the city's massive infrastructure.
Mario, The Character
The Voice Behind The Mustache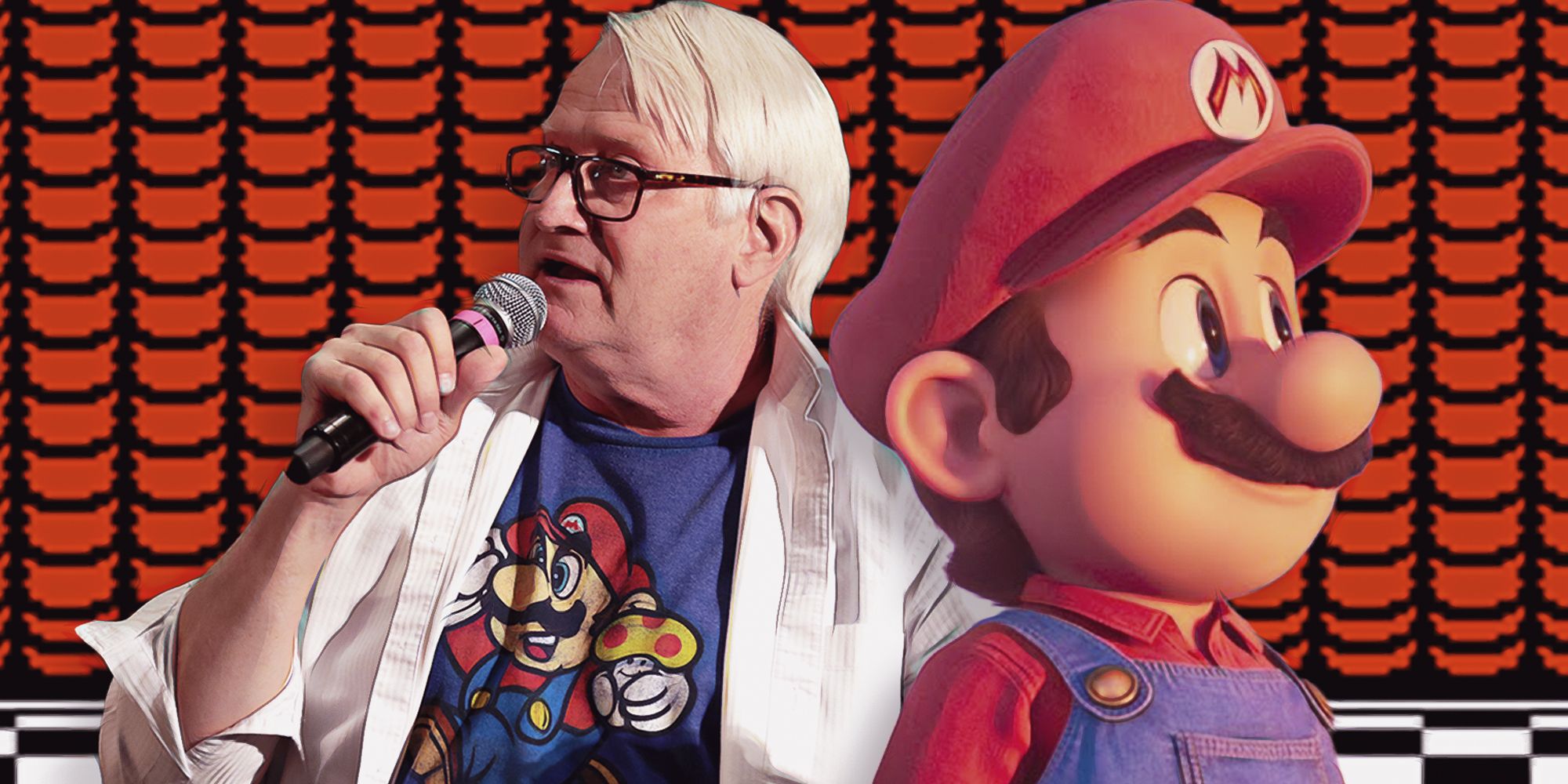 For as iconic as Mario is, no small part of that comes from the voice actor behind the happy plumber, Charles Martinet. His first appearance as Mario was not in a game, but instead at a video game trade show where attendees could talk to a large, virtual Mario head, seemingly holding entire conversations with the character. In actuality, guests were speaking with Martinet who was behind a screen listening to the attendees and their questions.
Martinet would go on to voice Mario in several spin-off games, the first being in the Super Mario Bros. pinball machine in 1992, while first video game appearance for Martinet was in Mario Teaches Typing, which gave him time to perfect his Mario voice and persona. The first major appearance for Martinet was in 1996's Super Mario 64. Miyamoto was on the search for a voice actor for the game, with Martinet jumping on the opportunity. Much of the game's dialog was unscripted, with many of Mario's trademark expressions being improvisations Martinet made up during recording sessions.
Martinet would voice Mario for a wonderful 32 years, turning his hat over to voice actor Kevin Afghani who would go on to voice the plumber in Super Mario Bro. Wonder.
Next: 10 Best Nintendo Games Of All Time