Highlights
Pokemon and APC have teamed up to create a line of high-end clothing and accessories, featuring popular Pokemon characters like Bulbasaur, Squirtle, Charmander, and Pikachu.
The prices for the APC items are quite high, with t-shirts starting at $130 and a denim jacket with Pikachu's face on the chest priced at $300.
In addition to clothing, APC also offers caps, bags, and Pikachu-themed jewelry.
Pokemon has teamed up with quite a few clothing brands over the years to bring unique items to its fans. Pokemon's reach is so extensive that even high-end outlets want to put its creatures and characters on their clothes and next to their logos, and APC is the next brand to be honored with that treatment. Pokemon and APC have revealed a new line of clothing and accessories brought about by their collaboration, all of which is available through APC and some of it is also on sale at the Pokemon Center.
The items Pokemon and APC likely envision being the most popular are the ones available through the Pokemon Center. Pretty much everything in the line seems to be limited to featuring the Kanto starters and Pikachu, naturally. Perhaps a little frustrating for more hardcore Pokemon fans, but after infiltrating pop culture for more than 25 years, those are the four Pokemon that everyone instantly recognizes, and therefore the items those who buy from APC are most likely to click with.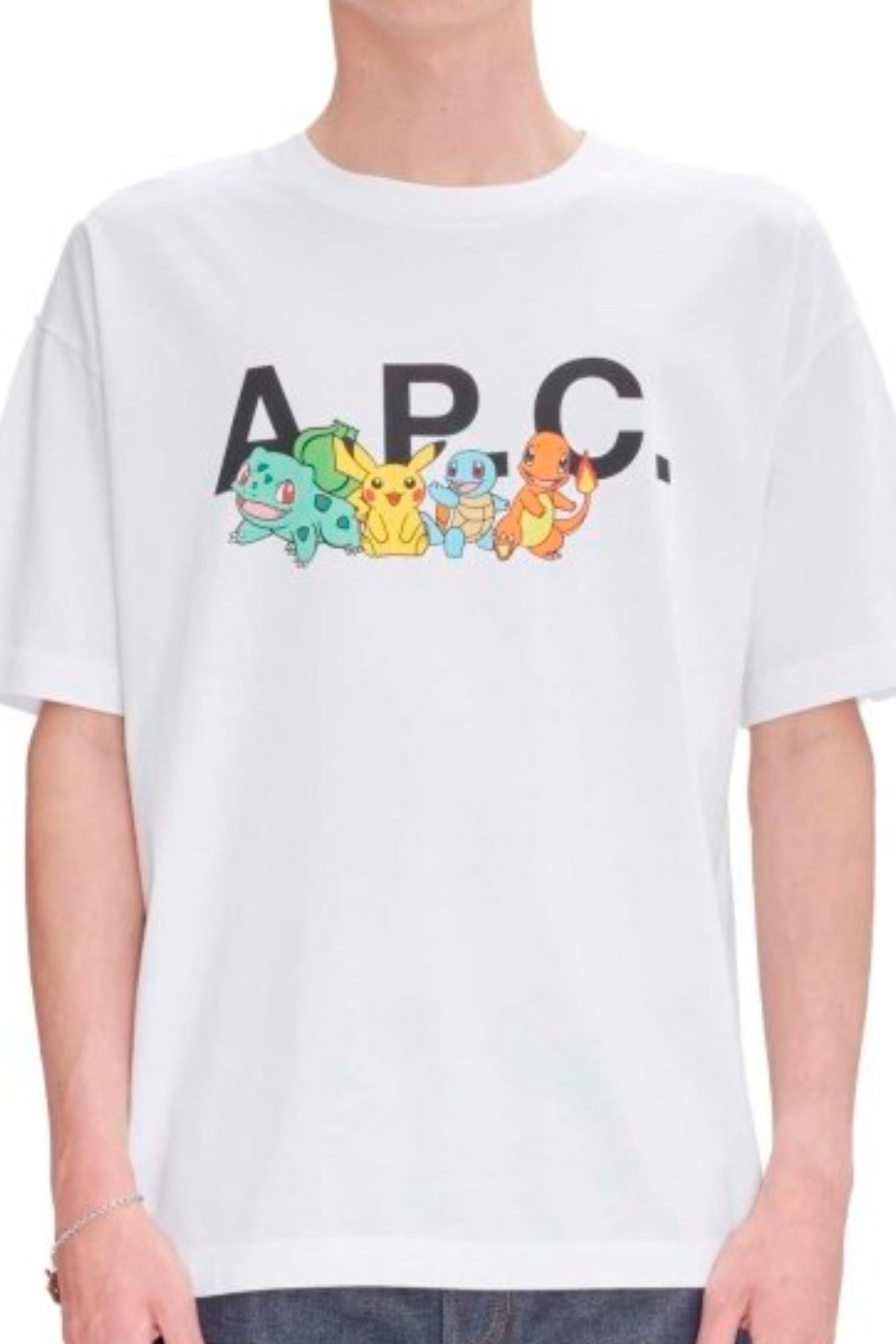 Pokemon x APC White T-Shirt
Pokemon and APC have teamed up to create a line of high-end clothing. The white crew t-shirt as the APC logo across the chest with Bulbasaur, Squirtle, Charmander, and Pikachu sitting in front of it.
Pokemon will be depending on that as APC items sell for quite a lot more than your garden-variety Pokemon t-shirts. The regular white t-shirt, for example, which has the four Pokemon mentioned above sitting in front of the APC logo, which is just the name of the brand in standard black block letters, is $130. All of the t-shirts in the collection are at least $130 with the exception of the women's green and white options which are $10 cheaper.
The prices ramp up from there, all the way up to a $300 denim jacket with a badge of Pikachu's face on the chest. It's the attention to detail with this item, in particular, that ramps up the price, though. A close-up of the jacket's buttons shows that Pikachu's face is on each of them. If nothing from APC on the Pokemon Center piques your interest, caps, bags, and even some Pikachu-themed jewelry is available through the APC website.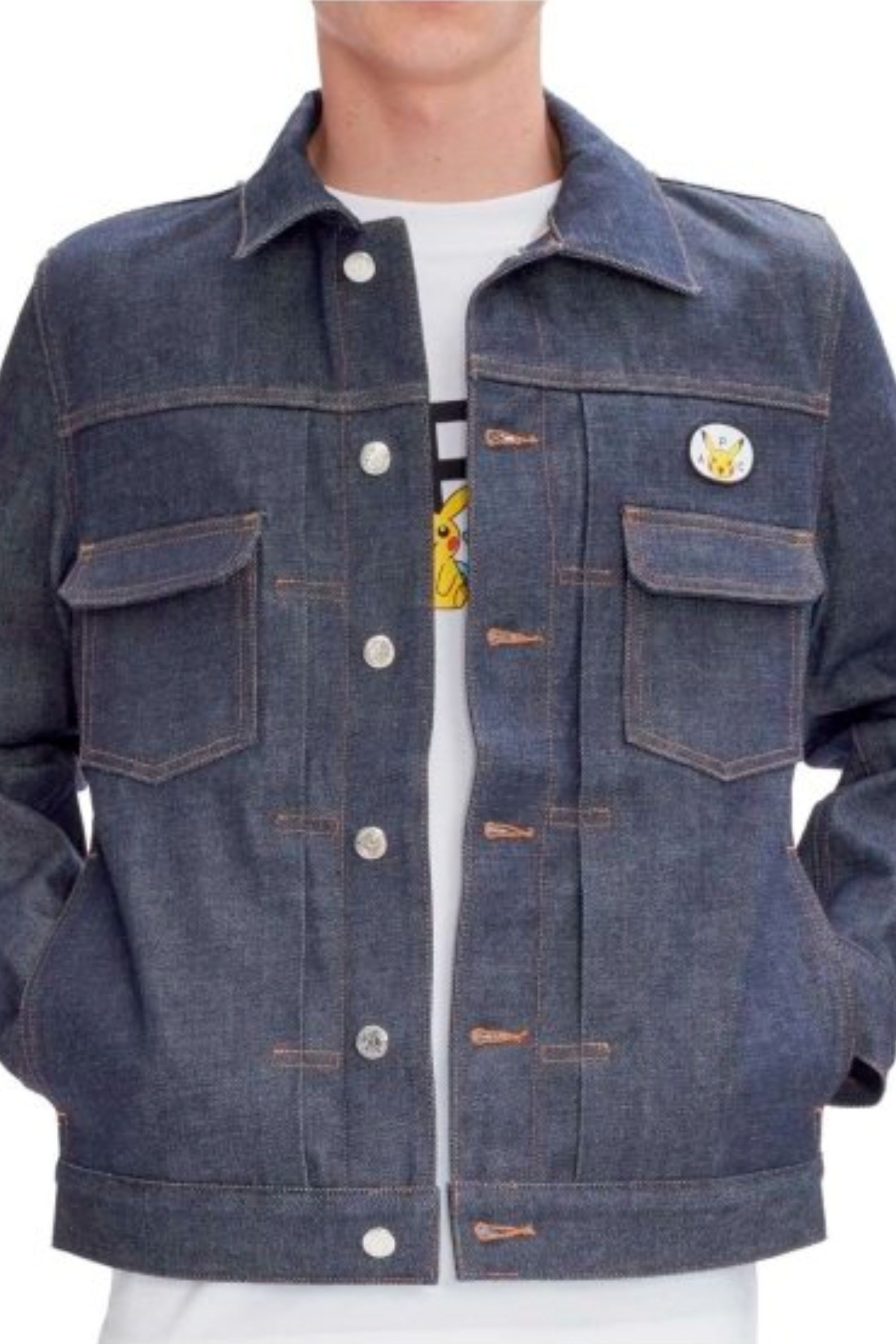 Pokemon x APC Raw Denim Jacket
Pokemon and APC have teamed up to create a line of high-end clothing with some of the world's most popular Pokemon on all of the items. The collection includes this raw denim jacket which has Pikachu's face on the chest and the buttons.
It's been a big week for Pikachu-themed jewelry. Pokemon announced another high-end collaboration a few days ago, teaming up with Tiffany & Co. to create sterling silver Pokemon pendants that will be released in time for the holidays. If you really want to push the boat out, the headliner of the Tiffany collection is an 18-karat gold Pikachu pendant with diamonds on that retails for 4.73 million yen, or a little more than $31,000.
NEXT: Nightmare Before Christmas Squishmallows Up To A Third Off On Amazon