You're exposed to your first optional Quest in Persona 5 Tactica fairly early into the game, shortly after saving Ann from Lady Marie's spell. These Quests aren't necessary to finish the story, but they're intriguing challenges that offer rewards you'll definitely want to snag.
RELATED: Persona 5 Tactica Review – Goodbye For Good From The Phantom Thieves
For the first Quest, you'll need to bring Ann along and have her help defeat every enemy on the board in a scant two turns. The other two Phantom Thieves are up to you, but as long as you're comfortable with breaking enemy Cover and using Triple Threats, Quest One in P5T will be a breeze.
Quest One Overview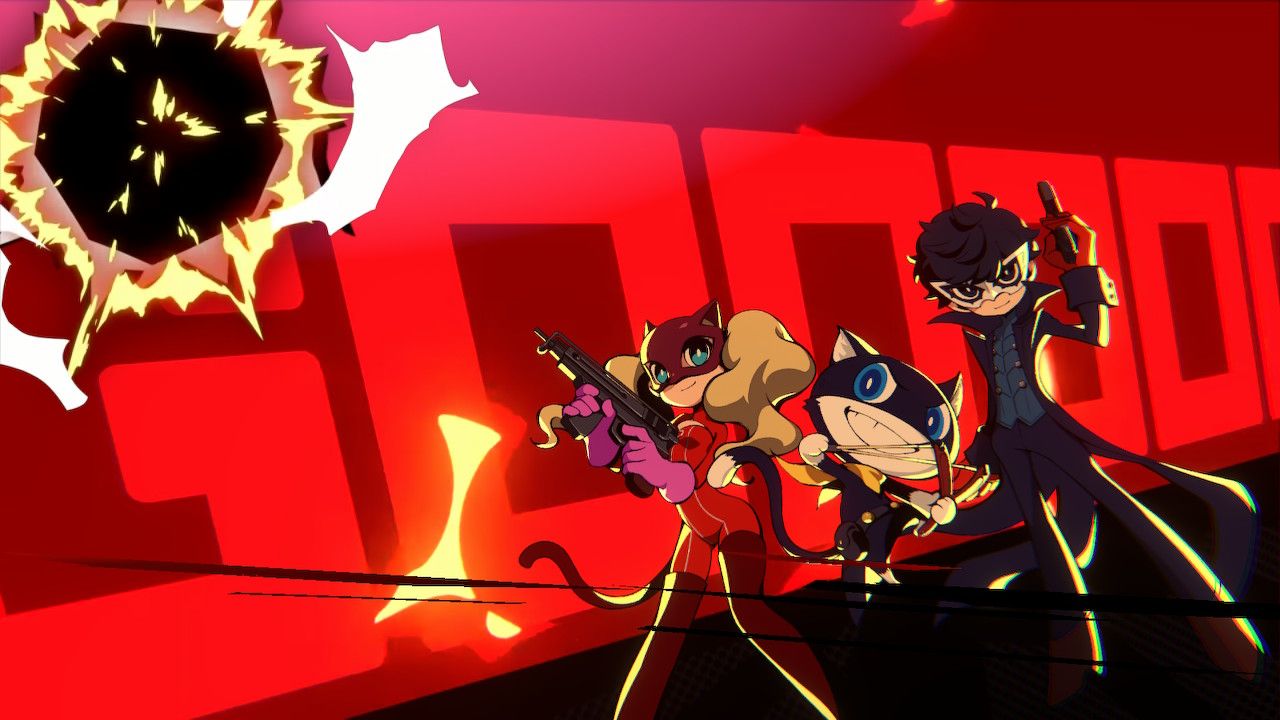 Main Goal

Defeat all legionnaires on the field in two turns.

Unlocks

After Ann has been saved from Lady Marie and can be an active party member.

Notes

Another pair of legionnaires spawns after the first turn.
Multi-target damage moves are critical for removing enemy Cover.
Triple Threat Attacks and One Mores will take you far.
Recommended Party
Depending on whether you take on this Quest as soon as it unlocks or wait to do it until later, you may have a relatively limited party selection when Quest One initially unlocks.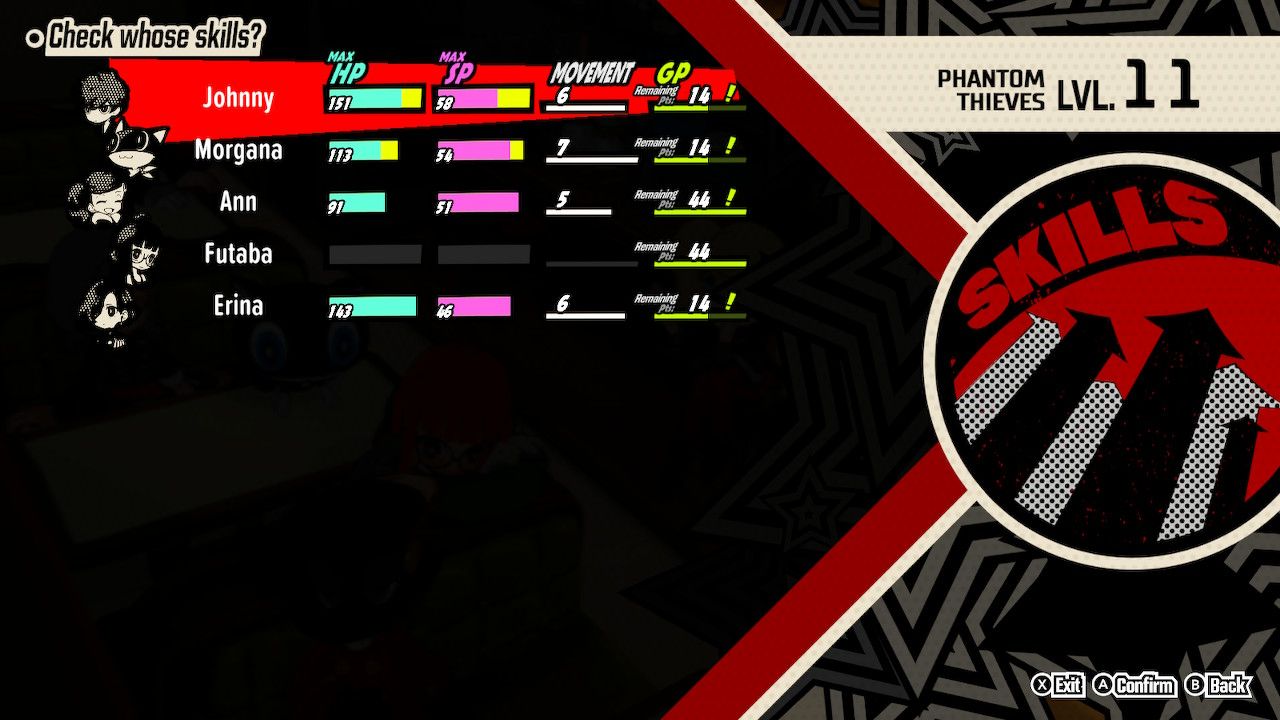 The only requirement for this Quest is that Ann must be part of your party. The other two Phantom Thieves are left to your discretion, but whoever has unlocked multi-target large-range moves in their Skill Tree will be pivotal.
Morgana's Sweep skills may come in handy here for moving enemies within range, as Sweep moves can cause enemies to bounce over Cover and into your line of sight.
Additionally, Joker will likely be able to inflict a significant amount of damage with his Despair moves, especially since the range on even the most basic Eiha is enough to cover the enemies in this Quest.
How To Finish Quest One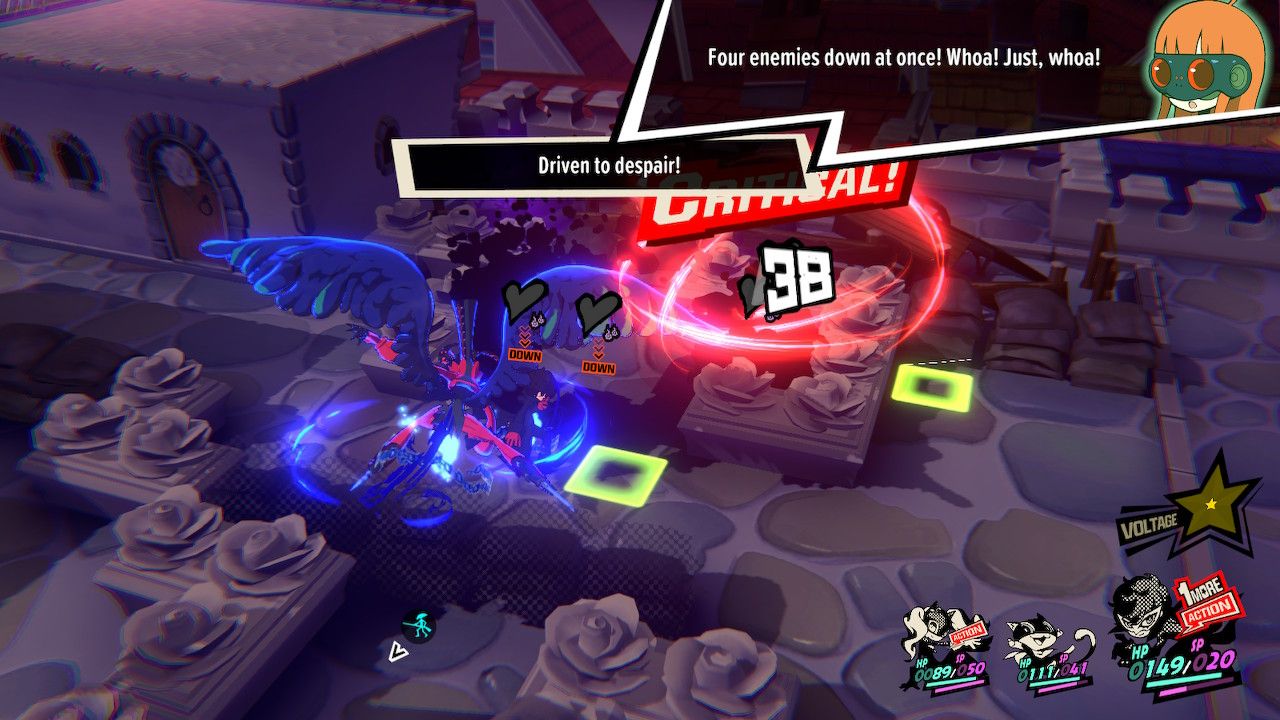 Your introduction to Quests in Persona 5 Tactica, Quest One is arguably the simplest of these tough optional tasks you'll come across in P5T. The goal here is to defeat all enemies in two turns, but the caveat is that a few more appear between turns one and two.
The enemies on the field will be hiding behind two separate sections of Cover, which will require some careful attacks to get them out so that your other Thieves can hit them on their turn.
The key to doing this is using multi-target elemental attacks, which can be accessed on each Thieves' Skill Tree, to break enemy Cover. Whoever has the strongest multi-target attack, have them use powerful Ma-level moves on both groups of legionnaires on the field.
Doing so will remove them from Cover and leave them exposed, allowing for your other two teammates to follow up by attacking these legionnaires when not behind Cover to earn some One More attacks. Without them. you'll likely not reach the Quest's goal in your allotted time.
It doesn't matter which of the Thieves you've brought – adjust your Persona attacks before casting them to be sure you're hitting as many legionnaires as possible in one hit.
ome of the single-target moves have a wide enough range, but multi-target is typically the eaiest way to go.
Regardless of whether you've knocked out the first batch of legionnaires after your first turn, more legionnaire reinforcements arrive before turn two, meaning you'll need to knock these ones out in just a single turn.
Thankfully, their HP isn't the highest, as enemies in the first Quest, making them especially susceptible to Triple Threat Attacks after you've done enough individualized damage.
Once you've got a Triple Threat attack ready, make your Triple Threat your last move of your turn for sake of using the remaining few Thieves to deplete the legionnaire's HP as much as possible beforehand.
When you pull off the Triple Threat, ensure that the little skull icon is next to the legionnaire's HP gauge – this is a surefire way to know your attack will work to KO the enemy.
Outside ensuring that you're carefully planning your One More attacks and Triple Threats on this Quest, dealing enough outright damage is key. Lay the hurt on these legionnaires and Quest One of P5T is over before you know it.
Quests unlock in a pre-set order with the story, but they're optional side quests that can be accessed at any time. If you're struggling, you can always come back when your party is at a higher level.
NEXT: Best Tactical Strategy Games For Beginners