Spider-Man 2 is strongest before the Symbiote suit (literally) creeps onto the scene. Peter Parker and Harry Osborn reuniting to make up for lost time, cycling into old neighbourhoods, sneaking into old haunts, and recapturing past memories while knowing how valuable it is to create new ones – these are the parts I cherish most in Insomniac's sequel. The more it tries to raise the stakes and introduce new character motivations, the more its pace speeds up to a glaring fault.
As the story quickens and less time is given to character development, its disparate elements fail to connect in a way that feels emotionally convincing. Our own Eric Switzer explored the illusion of time in Spider-Man 2, and how Peter Parker's descent into madness doesn't mesh with the machinations of an open-world superhero game. It isn't clear how much time passes during the title's world-altering events, and so, depending on how you play it, the whole thing can feel plodding. After what feels like only a couple of missions, Peter goes from an edgy bad boy to almost murdering his girlfriend, and not once does that arc feel authentic.
If you're still playing through Spider-Man 2, I'd do all the side activities you can ahead of wrapping up the main story, since returning to the world post-game feels at odds with its intentions.
Perhaps it's because we've seen the Symbiote suit storyline touched on so many times in other media that Insomniac was always going to have a tough time nailing it. It's Harry's return and watching the alien that helped bring him back to life evolve throughout the opening act that proves the most compelling, watching as he and Peter work together while thwarting Kraven's plans, both seeing a potential future where they become an unstoppable duo. When Peter meets his death and is revived by the Symbiote suit, the most engrossing parts of his and Harry's arc die with him, and they don't come back.
After that, Miles is sidelined for much of the remaining story while we sprint towards the introduction of Venom and the greater threat of a Symbiote army taking over Manhattan. Kraven is expanded upon also, but dispatched by Venom so quickly and without consequence that the closure I wanted just wasn't enough.
Not to mention that Venom is hardly in this thing, and after the redemption of Mister Negative and the spreading of Symbiotes throughout the city, it feels like the story should have ended already. Instead, I'm introduced to a number of new side activities that shouldn't be a focus when the world around me is about to end. So, I rushed towards the final chapter and hoped the climactic battle would deliver. For the most part, it did, but it wasn't a satisfying conclusion for Peter or Harry's journeys. Miles is given a chance to shine at least, no longer left on read by Peter.
Insomniac is so focused on setting up the pieces for the sequels and spin-offs to come that we aren't given enough time to appreciate isolated character arcs. Venom is defeated by Peter and Miles, who then carry Harry's body outside into the awaiting arms of Norman Osborn. He's all, 'What did you do to my boy?!?!' when he knew Harry had turned into Venom and was en route to destroy the entire city and, eventually, engulf the world in black goo.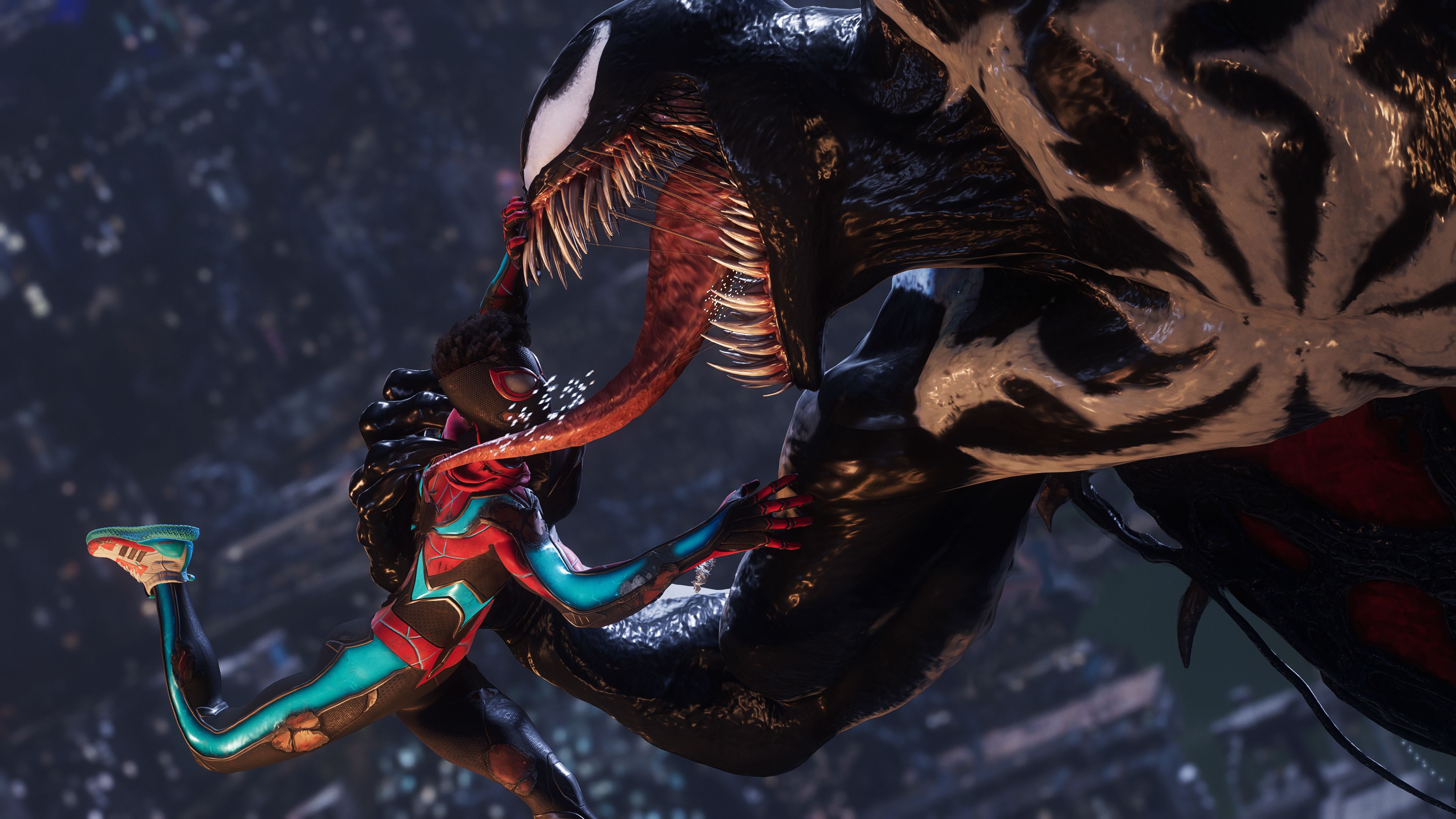 Venom's defeat was necessary, Spider-Man had no intention of murdering his son in cold blood, and assuming that merely to set up a plunge into villainy is clumsy storytelling at best. Ask questions and talk to each other; don't turn your back on what the entire game has spent building you up to. Norman is a grieving man who lost his wife years ago and will do anything to save his son, but after the Venom debacle, jumping right to the G-Serum feels out of turn to me. More time was needed to flesh all of this out.
Epic boss battles, incredible visuals, and an immersive open-world can't make up for a lapse in narrative pacing that scuppers an otherwise phenomenal build-up. It seems silly to demand a superhero story like this be more grounded, but Insomniac gave me those expectations by doing such an incredible job turning its take on Peter, Miles, Mary-Jane, and Harry into people I wanted to root for. When their development is discarded in favour of a sprint toward the finish line, it's hard not to feel disappointed.
Next: If Anyone Can Be Spider-Man, Why Not Miles Morales?