I have concentration issues at the best of times. After I typed that last sentence, I literally opened another webpage and began reading news before I forgot what even made me open a new tab to begin with. It's very easy for me to focus, pat myself on the back for focusing, think about how good I am at focusing, start thinking about a time I didn't focus, and then realize I haven't been focusing for three minutes. Of all the places I've been, it feels like a movie theater is one of the few places I can somewhat keep my attention. Probably because it's dark and pulling out my phone will get me yelled at, the one thing I like less than concentrating.
It's also why I've begun using virtual reality more to focus than I have for actual virtual reality. That's not to say I'm not still into virtual reality. I may be one of the few people around so excited for The 7th Guest virtual reality remake that I bought it day one. By the way – this isn't worth a full column, but The 7th Guest VR using live actors for its ghosts is honestly a nice touch. Yeah. That's right. Before I go on, I'm telling you to buy The 7th Guest in VR. If this convinces anyone, I've done my work for God on this Earth.
Far more than remakes of haunted house CD-ROM games, I've been using virtual reality to shut out the world with darkness and a giant screen and no easy way to check in with any living person. When I've only got an hour to kill, I'm a ball of anxiety – flipping from book to game to TV show, trying to find something I can enjoy in a limited time span. This only serves to allow me to enjoy something for approximately five minutes before I worry it'll be too much work or I'll get lost before I need to leave my apartment. It's a real problem that I've talked to with professionals – some of which happily do not take my insurance!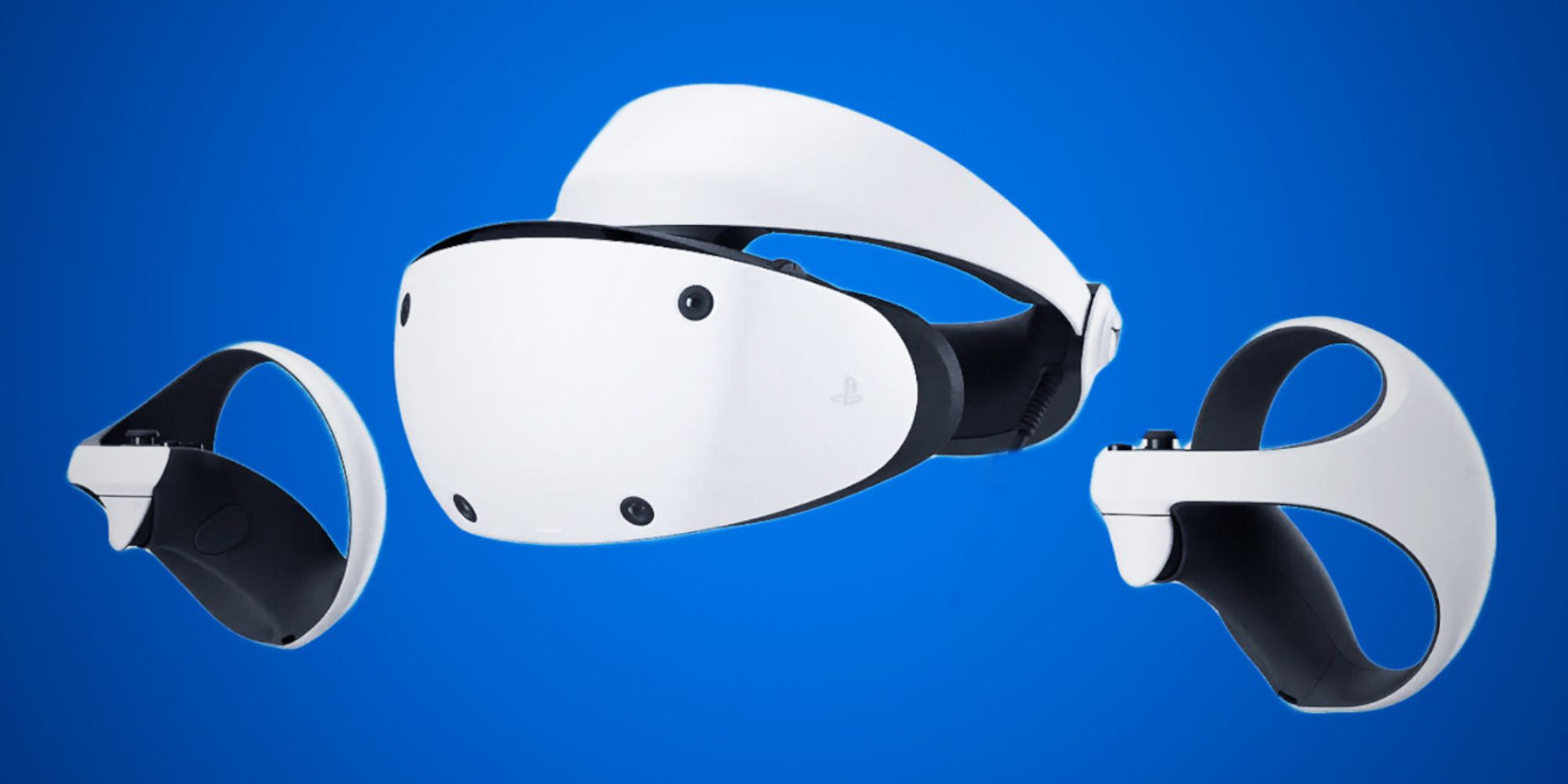 But when I put on a PlayStation VR 2 or Meta Quest 3, I find it easier to watch shows and play games. Existing in pure darkness with nothing around me makes my brain relax just a little more. I used the hour example because, this weekend, I didn't have much time before I had to leave my place to do a show. Normally, I'd just fret and complete a level of Mario Wonder and then panic about leaving too early or too late. With the PlayStation VR 2 on, playing Alan Wake 2 or Spider-Man 2 (Jesus there are a lot of 2's this year) is so much easier for me. My brain is a bit more relaxed. That doesn't mean my attention doesn't flit about, but the important thing is it has far less to flit to. I was able to focus on playing Spider-Man for a full hour, a rarity for me during stressful times.
Again, these aren't virtual reality games I'm spending my time with. These are regular, 2D-screen games and movies and television shows that I've been wanting to finish. It may seem a little obvious, but having nothing in my view except Cyberpunk 2077 helps me just think about Cyberpunk 2077. I don't have access to every toy on Earth or an internet that can show me things to buy, attractive people, or things to buy for attractive people. I can just see what's in front of me. Even if it's a game in which a future internet also shows people things to buy, attractive people, or things to buy for attractive people.
I recognize that this is no reason to spend $500 on a VR headset. I can't recommend you buying what's essentially another television that only you can see. But it's been so much easier for me to have a good time while the world is kept at bay by tight head straps and cheap rubber light blockers. I'm less anxious. I'm less frantic. I'm less likely to jump from game to game to game, looking for something that'll last longer than my brain will usually allow.
I didn't make up this trend. Both the Meta Quest 3 and Apple Vision Pro have advertised themselves by showing off the giant computer desktop screens you can look at. Which makes sense, both in terms of entertainment and in terms of – ugh – work. While it may not be Mark Zuckerberg's dream of cartoon avatars having meetings that could've been an email, it is something useful for fun and profit. Having a giant screen in front of your face is a great shortcut to paying attention when your attention span barely exists.
The only problem is both are also advertised to keep you in touch with the outside world. It's a bittersweet blessing that headset manufacturers are improving visual passthrough on their devices. On one hand, it makes it easier to find your way around a room without smashing your smallest fingers into thes sharpest corner of a bookshelf. On the other, it also makes it easier to check messages and see what's going on in your surroundings for productivity and safety purposes. Which is wrong and, I'll be the first to say it, absolutely evil. All I need is something that makes it impossible for me to do anything except the one thing I actually want to do. How dare you?
Next: I Want VR To Succeed And VR Companies Are Screwing It Up