For too long, people have slept on the magical nirvana that is mechanical keyboards. We say let the people wake up! Nothing beats the satisfying clickity-clack of mechanical key switches under your fingers. Rubber domes just can't compare to the tactile bliss. Once you go mechanical, you'll never go back. The precision and responsiveness are just too good to ignore.
Related: Mechanical Keyboard Vs. Membrane Keyboard: Which Is Better?
However, no two users have the exact same preferences when it comes to the ultimate board. Smooth linear switches or tactile clicks? RGB light shows or sleek minimalism? Full-size or 60-percent compact? Finding your perfect match means balancing feel, features, design, and budget. Seems like a lotta work, right? Don't worry folks, we've got you covered! Just give our picks of the year a quick peek.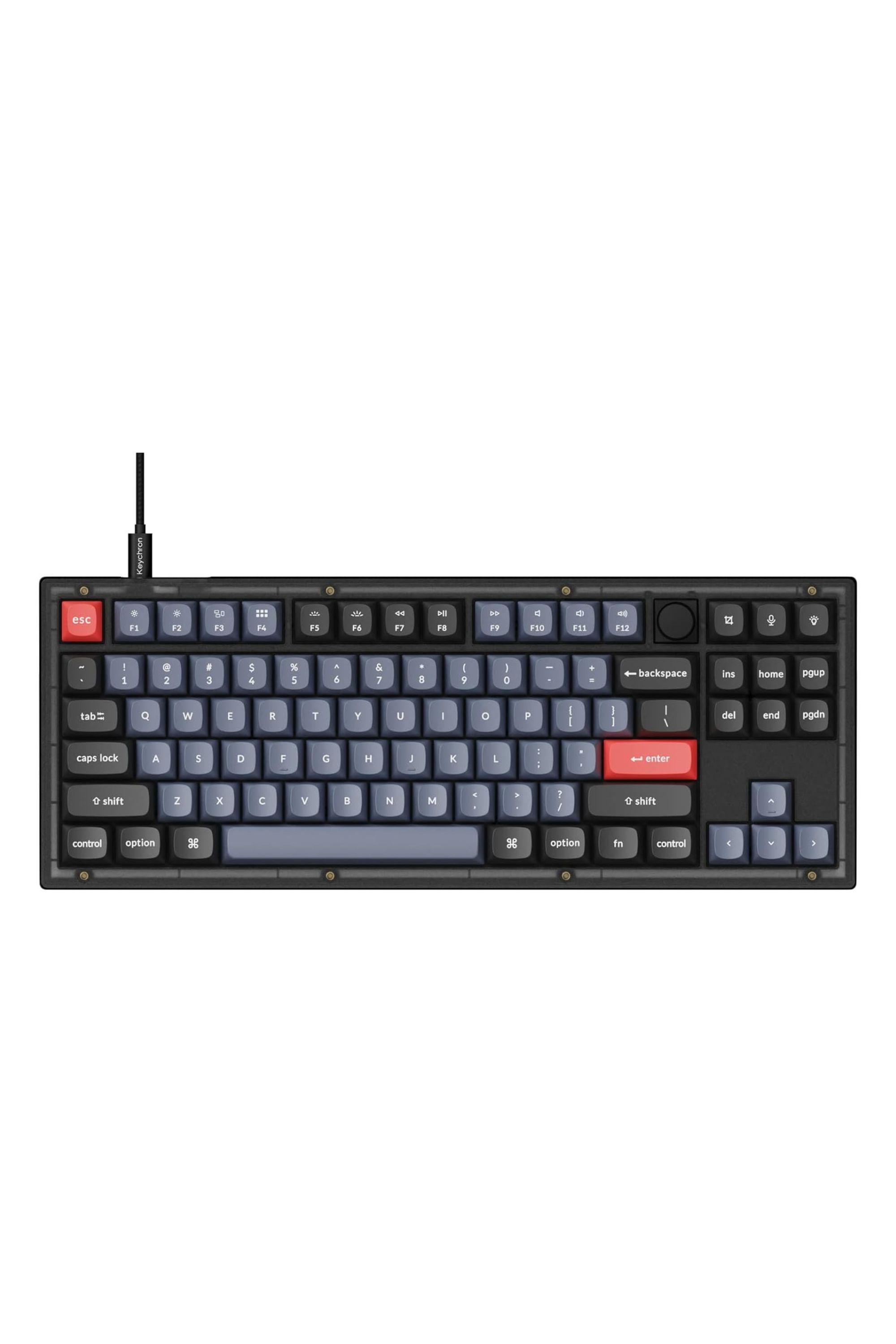 Keychron V3
Best Overall
Type It Your Way.
The Keychron V3 is a customizable 75% tenkeyless keyboard with premium features including hotswap switches, QMK/VIA programmability, RGB backlighting, Mac/Windows compatibility, and optional volume knob.
Pros
Knob version has a physical dial for volume/media controls.
Fully customizable RGB backlighting.
QMK/VIA gives powerful customization options.
Cons
Limited switch selection compared to boards supporting any MX style switch.
Keychron software is not as full-featured as some other options.
When it comes to quality 75-percent keyboards, the Keychron V3 is a standout choice that offers a whole lotta bang for your buck. You see, most keyboards in this price range cut corners on things like build quality, switch selection, and customization options, but not the V3. It's got a durable aluminum frame that just feels rock solid from the moment you unbox it. And the included lubed stabilizers offer buttery smooth and quiet operation without any of that rattly nonsense you find on cheap boards.
Now let's talk switches. The hotswap socket design means you can fully customize the feel by swapping switches whenever you want. Keychron's own Gateron-style browns feel surprisingly nice out of the box. But hotswap opens a world of options for trying all kinds of specialty switches from your favorite brands.
And we haven't even gotten to the V3's best part, the phenomenal programmability powered by QMK and VIA support. We're talking fully customizable RGB lighting, layers, macros, key maps, you name it. If you can dream it, you can program it on this board. Whether you want custom work presets or gaming profiles with intricate macros, the sky's the limit. When you add the optional volume knob and choice of Mac or Windows keycaps, the V3 shapes up as a flexible, customizable champ ready to handle any task, making the Keychron V3 our pick for the best overall mechanical keyboard.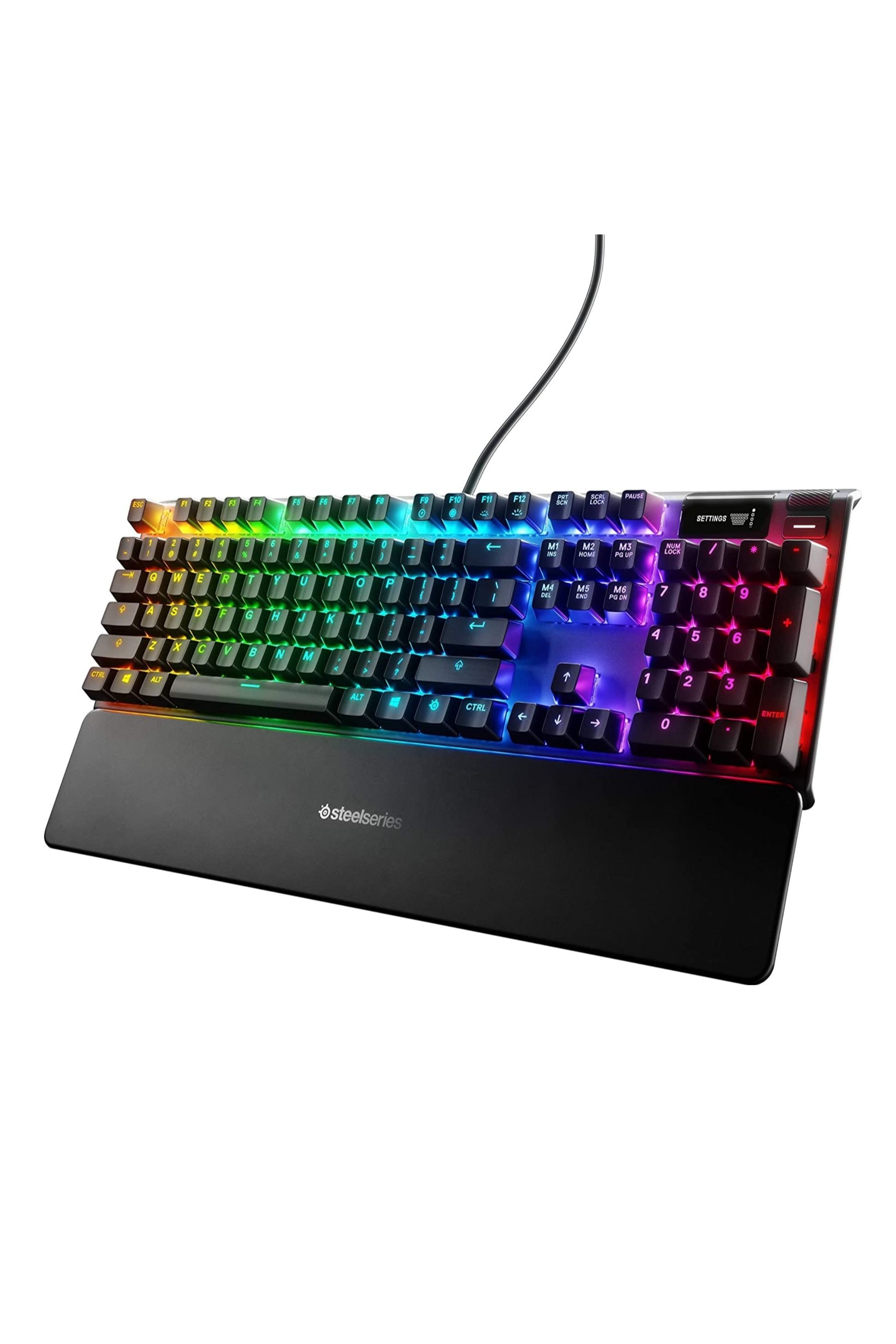 SteelSeries Apex Pro
Best Gaming
Precision. Performance. Perfection.
The SteelSeries Apex Pro stuns with revolutionary OmniPoint adjustable switches enabling unprecedented customization and control for next-level gaming performance.
Pros
Aircraft-grade aluminum alloy frame offers durability.
Per-key RGB lighting is fully customizable through software.
OLED smart screen enables stats/graphics display.
Cons
OmniPoint switches feel different than traditional mechanicals.
Only one USB passthrough port.
Let's start with the star of the show, those revolutionary OmniPoint adjustable switches. Being able to customize each key's actuation point from 0.4 mm to 3.6 mm on the fly is an absolute game-changer. We're talking true per-key perfection no matter your gaming genre or style. Feel like hair-trigger reflexes for intense FPS action? Crank those actuation points down. Need precision for MOBAs? Dial it in. This level of granular control over each individual key's responsiveness opens up a world of possibilities.
Once you get past the high of adjustable switch nirvana, the rest of the Apex Pro delights you with some pretty premium touches. The aircraft-grade aluminum alloy frame exudes rock-solid durability with a slick, minimalist aesthetic. Per-key RGB lighting is another feature you can access through the SteelSeries Engine software, allowing all the animations and integrations you can think of. And with the OLED smart display, you've got a whole extra customizable screen to play with.
Let's not forget this keyboard is smart too. The on-board ARM processor delivers stutter-free anti-ghosting for complex inputs. You also get full N-key rollover and onboard storage for taking settings anywhere. Pair all that with Discord integration, and the Apex Pro shapes up as the total adjustable gaming machine.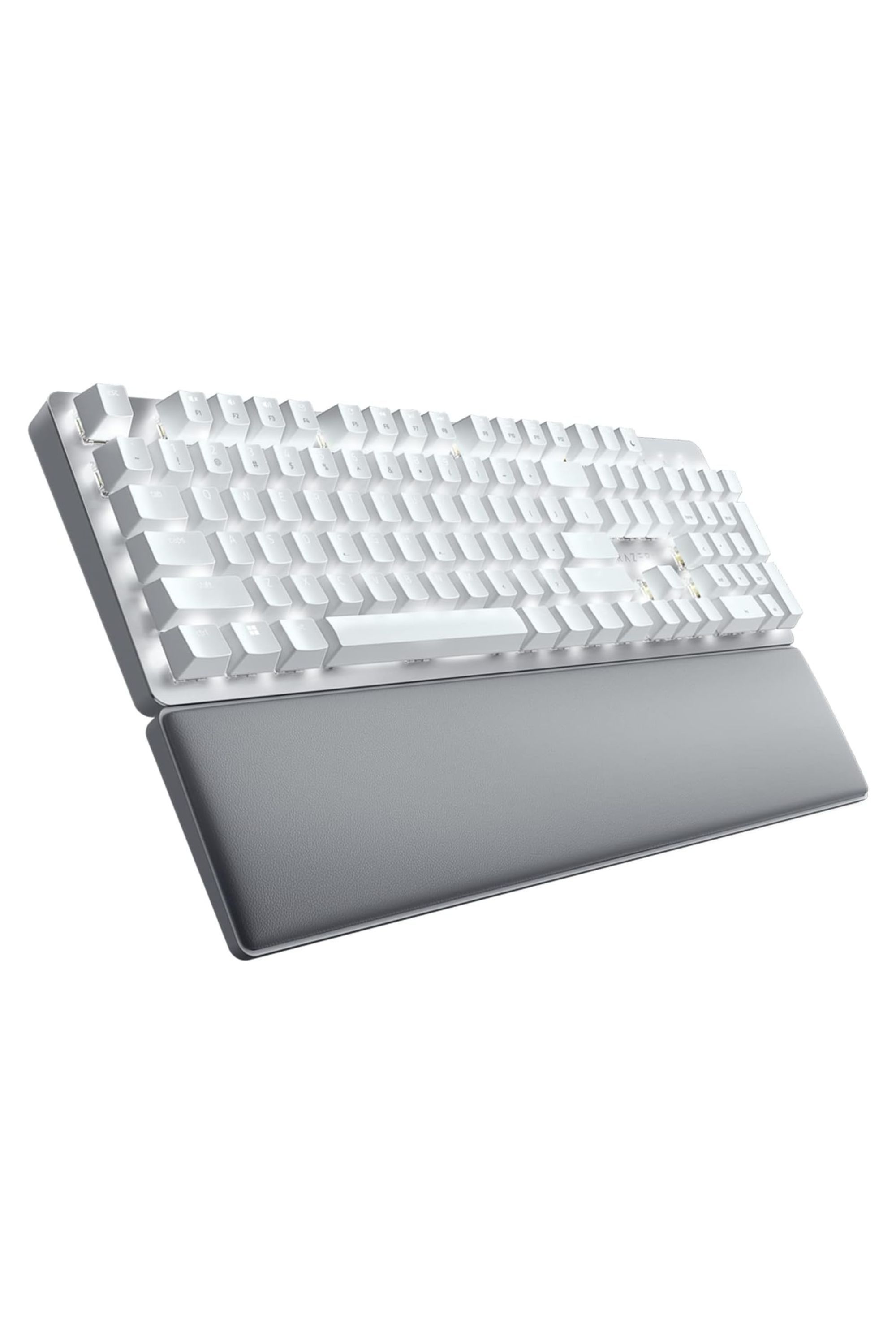 Razer Pro Type Ultra
Best Minimalist
Performance And Play Combined.
The Razer Pro Type Ultra wireless mechanical keyboard brings exceptional performance, durable aluminum design, and extensive customization to maximize your productivity and gaming.
Pros
Smooth, responsive Razer Yellow switches.
Lag-free wireless performance.
Programmable macro keys.
Cons
Mediocre battery life.
The 'American Psycho' aesthetic may not be everyone's thing.
At the heart of the Pro Type Ultra are Razer's own Yellow mechanical switches, delivering smooth linear travel with responsive yet quiet actuation. The included padded wrist rest further enhances comfort for marathon typing sessions. Build quality is superb with an aircraft-grade aluminum top frame providing rigid stability.
For connectivity, you get the choice of using a wireless dongle or Bluetooth. Both options provide a stable, lag-free experience thanks to Razer's HyperSpeed Wireless technology. Battery life is impressive too, at up to 214 hours on a single charge. When it's time to recharge, the USB-C charging port makes it easy.
Coming to customization, each key can be customized with Razer's Chroma RGB backlighting through the Synapse software. You also get per-key lighting effects to make it uniquely your own. And for productivity, programmable macros on the function keys streamline common workflows. At the end of the day, the Pro Type Ultra brings that signature Razer look, feel, and performance to a professional-focused keyboard that doesn't necessarily scream it. The perfect option for those who are looking for a minimalist addition to their setup.
Related: Best Ergonomic Keyboards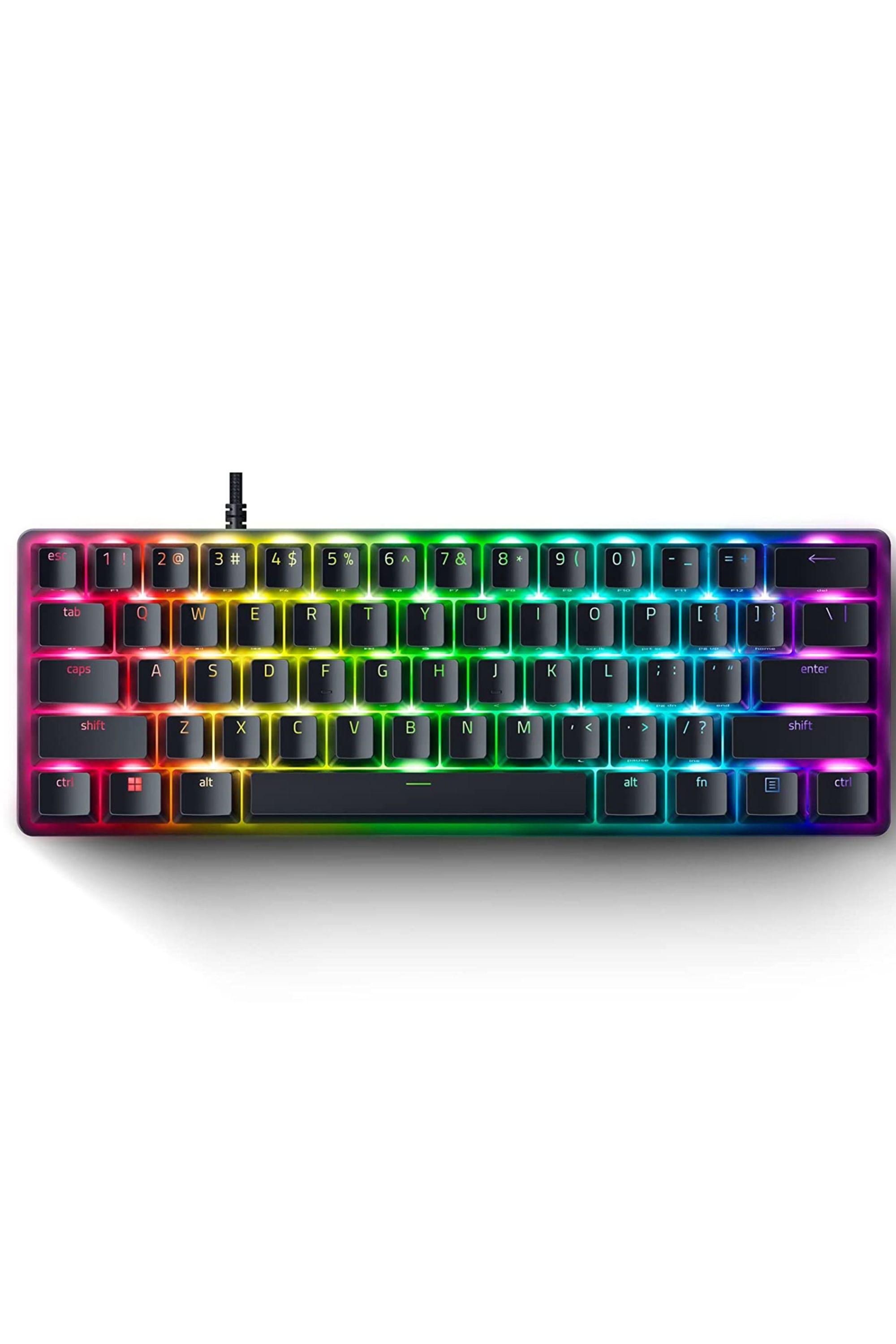 Razer Huntsman Mini
Best Compact
Portability Unbound.
The Razer Huntsman Mini redefines 60% gaming keyboards with its radically responsive optical switches, durable aluminum construction, and full feature set packing RGB lighting, macros, and custom profiling into an ultra-portable petite frame perfect for competitive gamers demanding desktop performance wherever they game.
Pros
The 60% form factor maximizes portability while retaining essential features.
Onboard memory lets you take custom profiles anywhere.
The detachable USB-C cable enables easy transport.
Cons
The compact layout can feel cramped for those with larger hands.
No included wrist rest for additional ergonomics.
The 60-percent keyboard form factor poses a dilemma for serious gamers. On one hand, the compact layout maximizes portability and desk space. But minuscule size often forces compromised performance unacceptable in competitive play. That's why the Razer Huntsman Mini stands as such a monumental achievement in terms of performance.
Let's start with the radically responsive optical switches. These use ultra-fast light beam actuation to register key presses at the speed of light. To be specific, that's 0.2ms response times, or in other words, virtually instantaneous inputs to keep you at the peak of your game.
The rugged aluminum top frame provides military-grade durability to withstand life on the move. And at just 304 mm x 110 mm, it devours minimal desk space whether at home or a crowded tournament. The detachable USB-C cable simplifies tossing it in your bag and plugging in anywhere.
Despite its size, the Huntsman Mini retains the full suite of essential gaming features. 100-percent anti-ghosting ensures even complex commands are executed flawlessly. Fully programmable keys let you craft intricate macros and custom profiles for any game via Razer Synapse. And with 16.8 million colors of Chroma RGB backlighting synced with all your Razer gear, your gaming station will light up at those LAN parties (we never got an invite, by the way).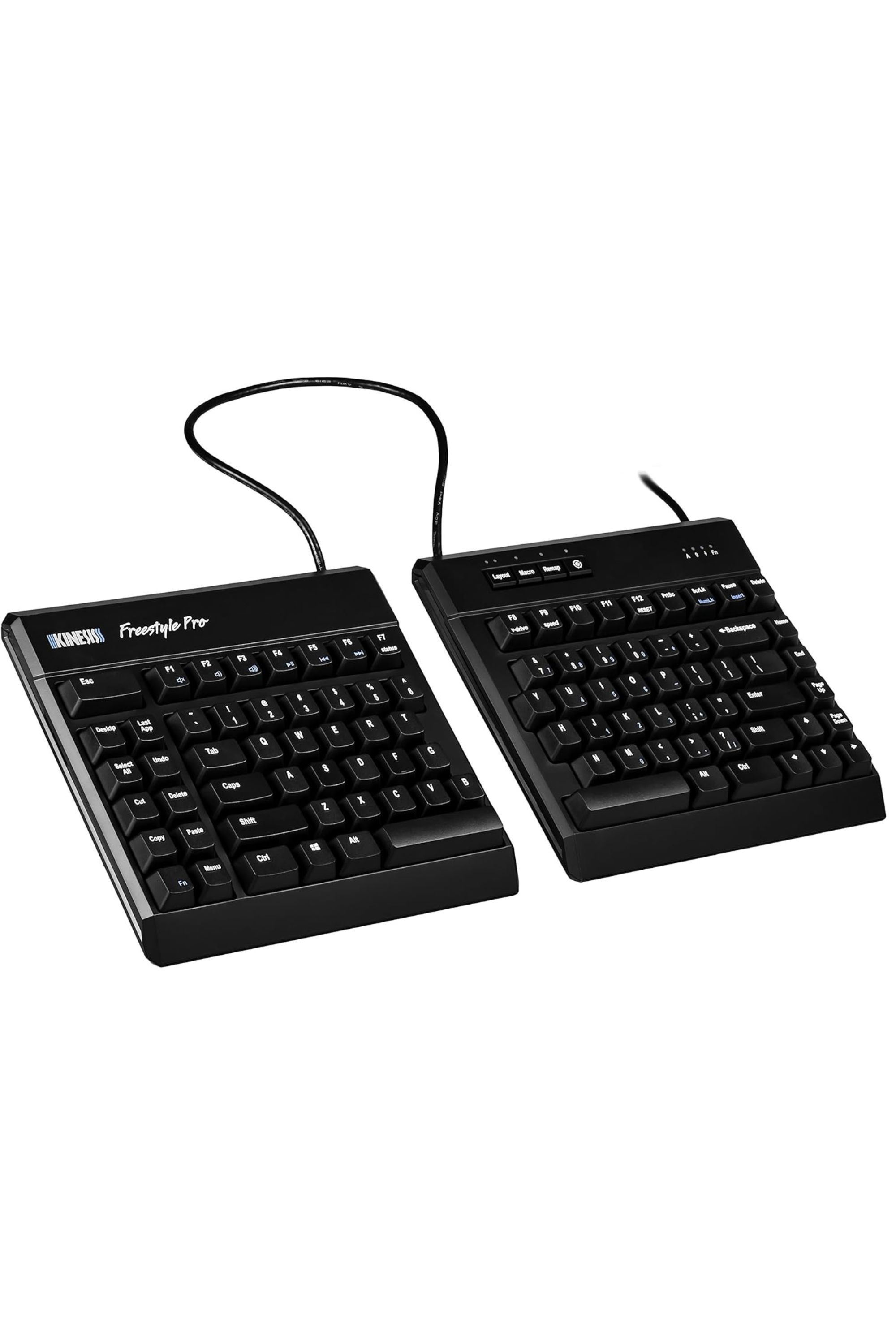 Kinesis Freestyle Pro
Best Ergonomic
Ergonomics Meets Mechanical.
The Kinesis Freestyle Pro split mechanical keyboard delivers ergonomic comfort while retaining the responsive, tactile feel of Cherry MX key switches. Its adjustable split design with left and right modules reduces shoulder and wrist strain. Extensive customization via the SmartSet app allows optimizing efficiency with programmable layers, macros, and lighting.
Pros
It uses genuine Cherry MX mechanical switches for tactile, responsive key presses.
The SmartSet app allows deep customization of layers, macros, and lighting.
Nine dedicated macro keys per side enhance workflow efficiency.
Cons
Not as portable as a one-piece keyboard due to split modular design.
The split design takes some adjustment.
The split mechanical keyboard is a uniquely comfortable option for gamers, coders, and anyone who pounds the keys all day. Its standout ergonomic design features an adjustable split layout with left and right modules that tend to open up your shoulders and reduce wrist strain. You can really dial in a natural position tailored to your body mechanics.
Now we know what you're thinking, "ergonomic" in this context must mean flat, mushy keys like those janky membrane boards from the 90s. We're glad to tell you that that's not the case at all. The Freestyle Pro comes with some legit Cherry MX mechanical switches, so every key press delivers that clicky, tactile satisfaction we know and love. And with full n-key rollover, it can keep up with your fastest finger gymnastics without missing a beat.
You also get onboard programmability to customize key functions however you want. So go nuts assigning macros, layers, and custom lighting profiles to optimize your workflow. There's even a SmartSet app to make it easy to program from your phone if you're feeling extra lazy. For those seeking a keyboard that doesn't force you to choose between comfort and performance, the Kinesis Freestyle Pro is an excellent choice.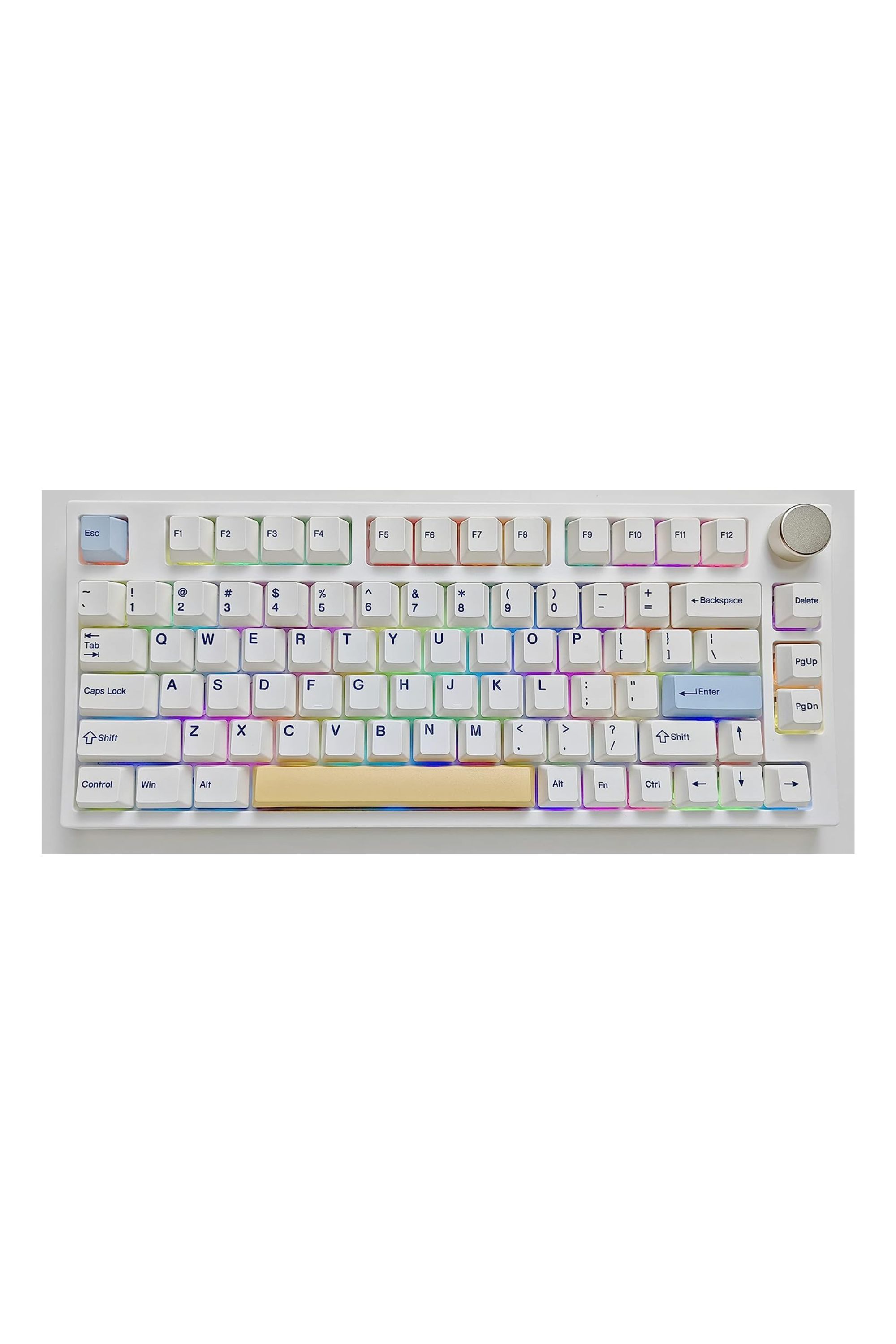 Keydous NJ80-AP
Best Wireless
Customization Unlocked.
The Keydous NJ80-AP reimagines the 75% form factor with an inverted layout for improved ergonomics. Hotswap sockets allow customization of switches. A premium aluminum case and lag-free Bluetooth 5.1 wireless complete the package. Robust programming via VIA empowers advanced customization.
Pros
Hotswap sockets enable switch customization.
Inverted layout improves ergonomics.
Premium aluminum case.
Cons
Software can be tricky for beginners.
Limited switch options out of the box.
The Keydous NJ80-AP brings some refreshing innovations to the increasingly crowded 75-percent keyboard market. Right off the bat, you'll notice the unique inverted layout that places the function row at the bottom. This allows your fingers to access those keys without reaching, promoting a more ergonomic typing position. The floating keycap design also angles each key to match your fingertips for added comfort.
At the heart of the NJ80-AP is the hotswap PCB, which allows you to fully customize the feel by swapping switches whenever the mood strikes. It comes with smooth linear Keydous Pro Reds, but the options are endless thanks to the hotswap sockets. And full RGB backlighting lets you craft lighting effects and animations to your heart's content.
The CNC aluminum case exudes premium quality with some tasteful angular styling that looks great on any desktop. Despite the metal construction, the NJ80-AP remains surprisingly portable at just 317g. But where this keyboard really shines is the wireless performance. With ultra-low latency Bluetooth 5.1 connectivity, you'll experience rock-solid wireless on par with many wired boards. The long-lasting 4000mAh battery delivers up to 200 hours of use on a single charge. For those seeking the ultimate wireless mechanical keyboard experience, the NJ80-AP delivers.
Frequently Asked Questions
Do mechanical keyboards actually improve gaming reaction time?
You bet they do! The consistent and tactile nature of mechanical key switches allows you to execute actions noticeably faster compared to mushy membrane boards. You don't have to bottom out mechanical switches fully to activate them, just a light tap will do. High-end gaming mechanical keyboards also have fancy features like low input lag and rapid-fire matrixes to deliver fast response times. Taking all these factors into account, mechanical keyboards will definitely raise your APM and take your gaming reactions to the next level.
Are lubricated switches really worth the hype?
Lubed mechanical switches live up the hype big time by creating an insanely smooth, almost buttery key press from top to bottom. The lube reduces friction and scratchiness for a vastly more pleasurable typing experience. Your keys will glide effortlessly like they are on ice. Lubing also makes switches quieter, transforming noisy boards into thocky typists' dreams. It's a time-consuming process, so factory-lubed switches save you the hassle while delivering that sweet, smooth feel.
What exactly is n-key rollover?
N-key rollover refers to a keyboard's ability to correctly register multiple keys pressed at the same time. On many cheaper keyboards, only a limited number of keys can be pressed together before key presses start getting missed or ignored. N-key rollover removes this limitation and allows any number of simultaneous key presses to be detected.
Next: Best Gaming Keyboards