Highlights
The collaboration between Magic: The Gathering and Jurassic World brings 26 special cards representing the film characters, perfect for Commander play.
Cards like Grim Giganotosaurus and Hunting Velociraptor offer powerful abilities and alternate casting costs for Dinosaur-themed decks.
The Welcome Too… Saga, along with Henry Wu and Indominus Rex, Alpha, provide unique and strategic options for players.
Alongside Magic: The Gathering's return to Ixalan with Lost Caverns of Ixalan comes a very fun collaboration with the Jurassic World franchise. Found hidden away in Set and Collector Boosters are 26 special cards, designed from the ground up to represent the characters from the films to Magic.
Related: Magic: The Gathering – The Best Blue Cards In The Lost Caverns Of Ixalan
These cards aren't just for Jurassic Park fans, though there is plenty to love if you are. These cards are built for play in Commander, skipping Standard, Modern, and Pioneer legal play entirely. If you want to put together a fun Dinosaur-themed deck, keep these cards in mind.
10
Grim Giganotosaurus
He Won't Go Down Without A Fight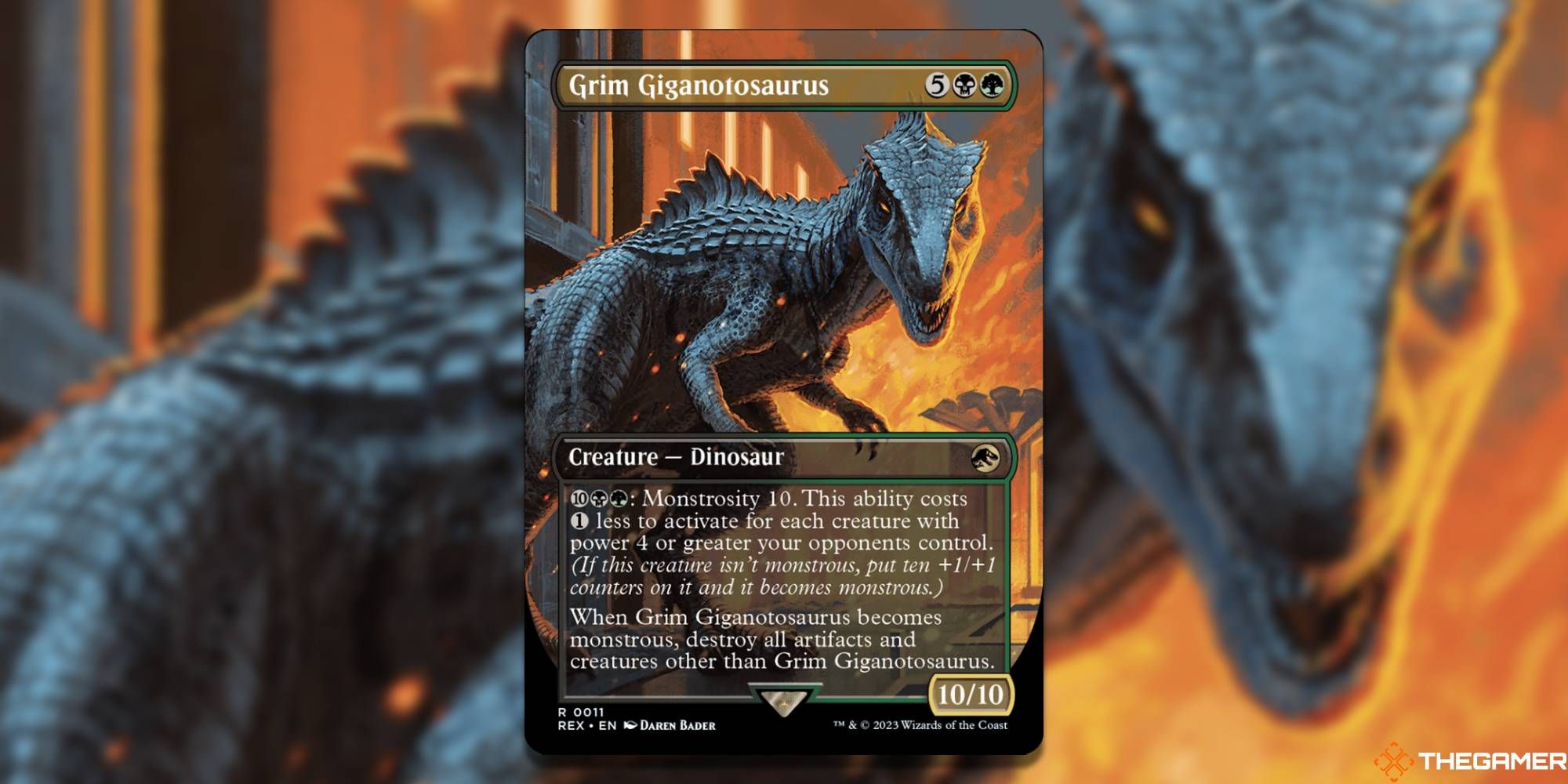 This boy is big, monstrously big. Grim Giganotosaurus is a 10/10 that can become a 20/20 if you activate its Monstrosity 10 ability. It normally costs twelve mana to activate it, but the cost is reduced by one generic mana for each creature with power four or more your opponents control. Once you do, the Giganotosaurs destroys all artifacts and creatures in play except for itself.
The big downside with Grim Giganotosaurus is that it doesn't have a built-in trample effect, making it susceptible to being blocked by little 1/1s all day long. But that's easily fixed with an extra spell or effect, turning it into a powerhouse on the battlefield.
9
Ellie And Alan, Paleontologists
"They Do Move In Herds."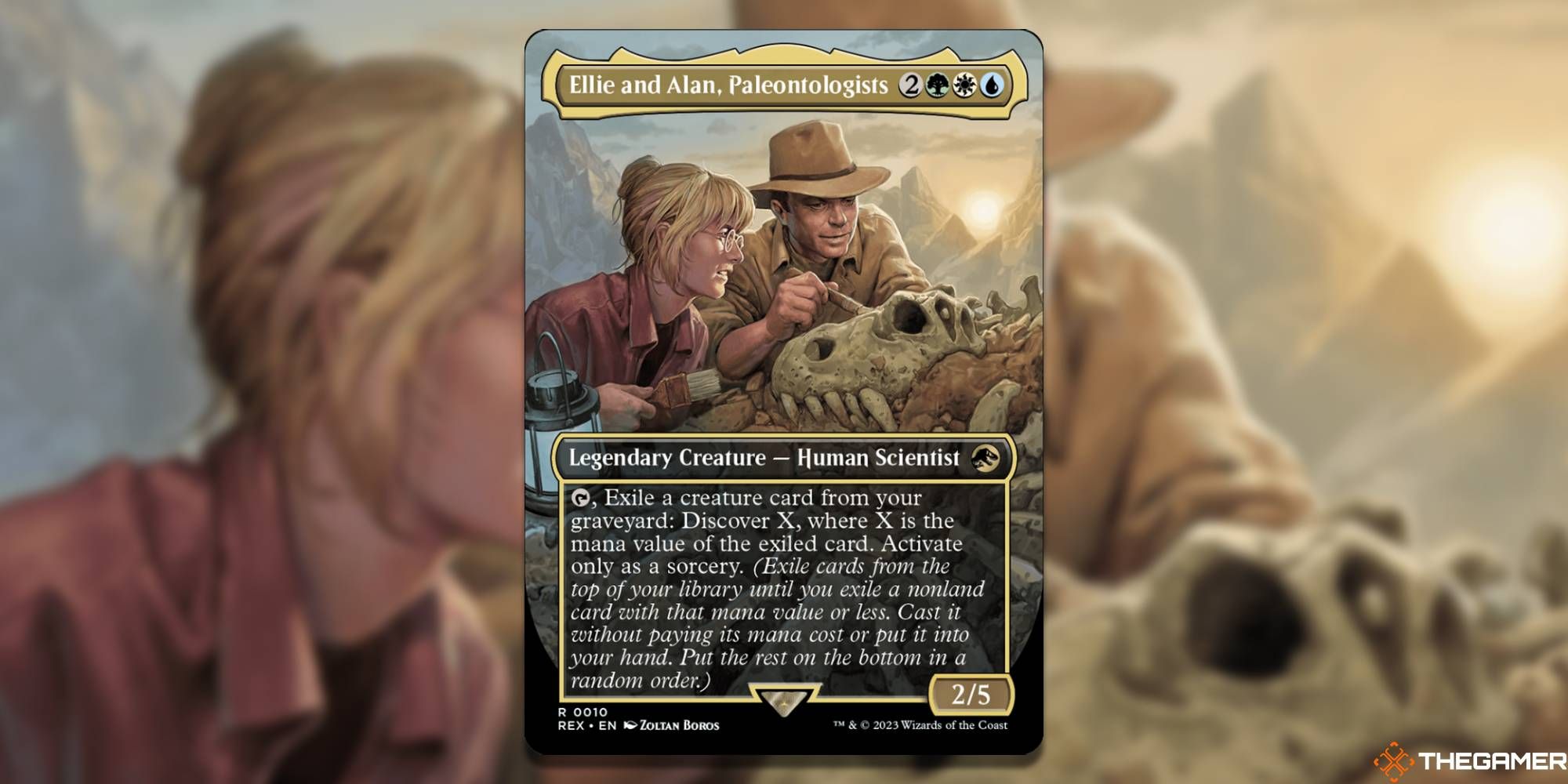 A fascinating green, white, and blue commander, Ellie and Alan, Paleontologists work not just in a Dinosaur-based deck, but anything that fills up the graveyard. Their only ability lets you exile a card from your graveyard to discover for X, with X equalling the mana value of that card.
Discover acts a little like cascade, letting you exile cards from your deck until you find one that matches the mana value of the original card. You can cast that card or put it into your hand, whichever you like. A deck based around this commander takes some focus, you'll want to make sure you hit the right cards after each discover but can be really fun to design.
8
Hunting Velociraptor
"Clever Girl."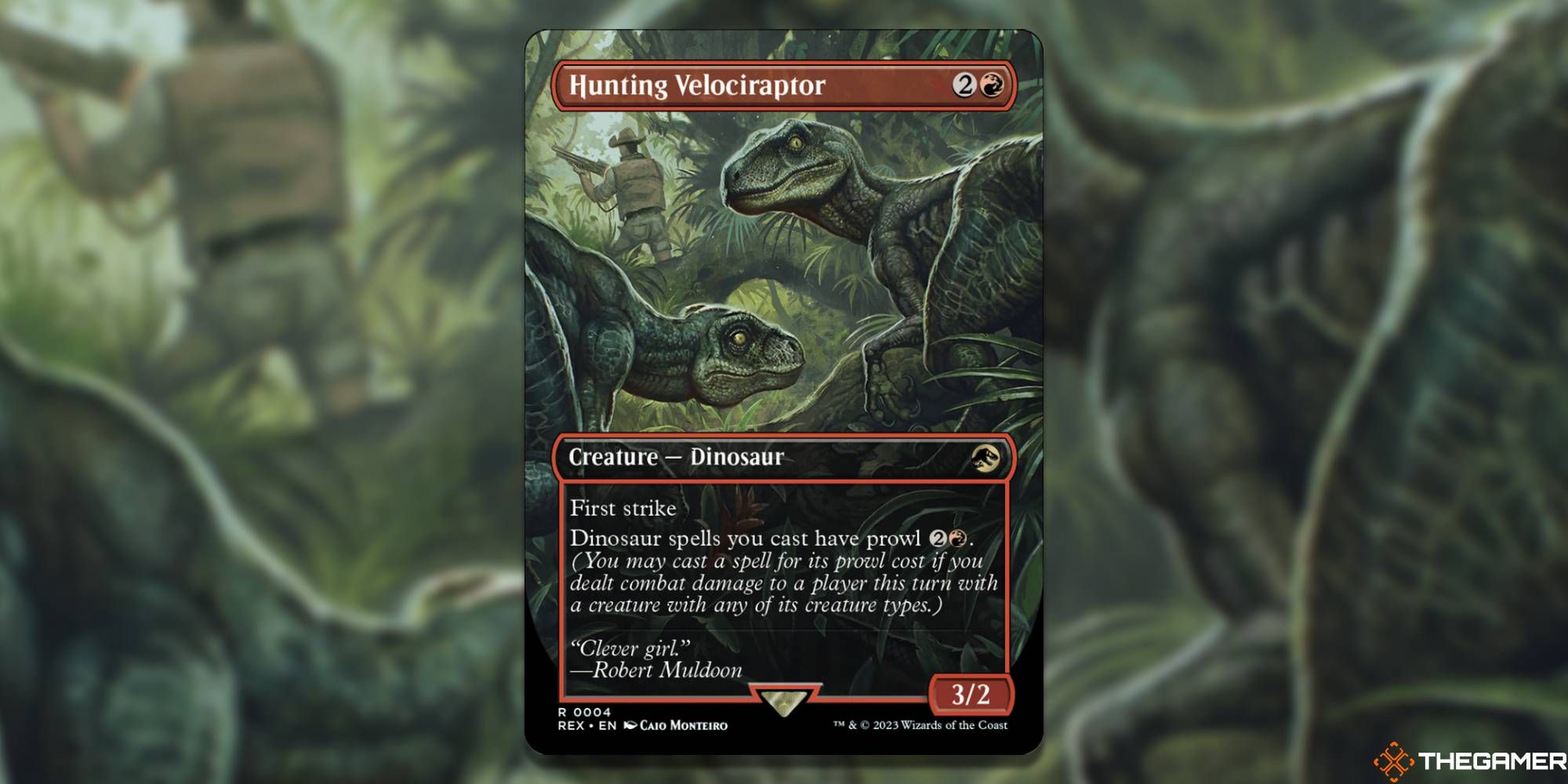 Alternate casting costs can be a dangerous thing for your opponents. Creatures with much higher mana values can suddenly spring up on your battlefield when you have nowhere near enough mana to normally cast it. Prowl is an older mechanic from Morningtide, letting you cast a creature spell for a cheaper amount so long as you have dealt combat damage with a creature that shares that creature type.
Related: MTG – The Best Cards In The Lost Caverns Of Ixalan's Veloci-Ramp-tor Commander Deck
Giving all your Dinosaur spells an alternate casting cost of two generic and one red lets you sneak in some early damage with a small Dinosaur, only to turn around a drop a seven or eight mana one, possibly as early as turn three.
7
Welcome to . . . / Jurassic Park
Why Stop At Just One Park?
A powerful and incredibly thematic Saga and Land, the Welcome Too… Saga gives you tons of value for just three mana. The Saga starts by turning one of their noncreature artifacts into a 0/4 Wall, just a little bigger than the Dinosaur token you get the next turn. Then, in the last chapter, you get to blow up all Walls, letting your Dinosaurs free.
The final chapter also flips the card into the land Jurassic Park, which gives all your Dinosaur cards escape, an ability that lets you cast them from your graveyard. As if that wasn't enough, you can tap it to add one green mana for each Dinosaur you control, like a Kindred Gaea's Cradle.
6
Henry Wu, InGen Geneticist
"You Asked For More Teeth."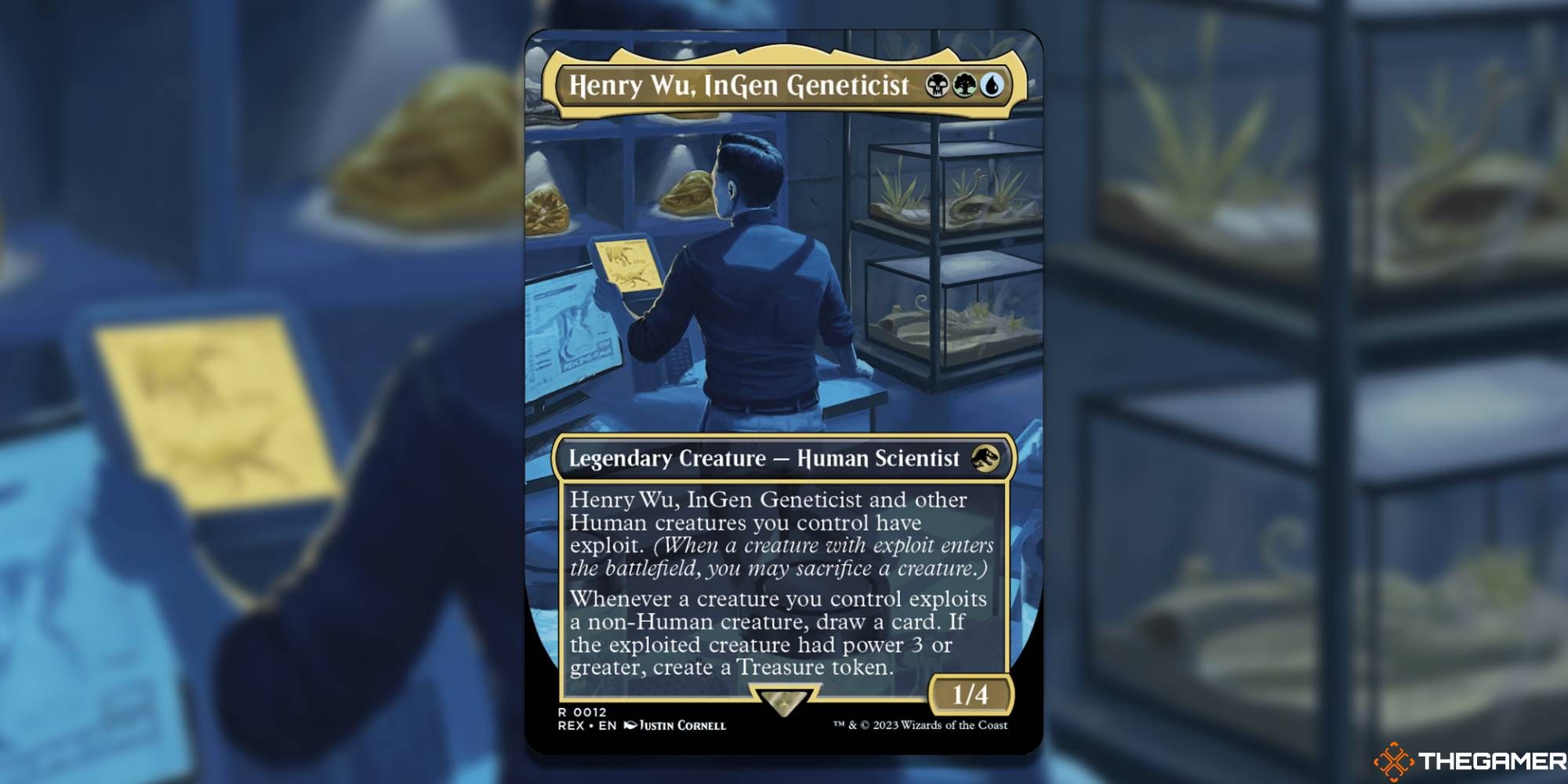 A card not specific to Dinosaurs, genius scientist Henry Wu, InGen Geneticist lets you take all your Humans, himself included, and use them to exploit other creatures, sacrificing them when a Human comes into play.
Then, anytime a creature you control exploits a non-Human creature, you get to draw a card from Henry Wu. If that creature has a power of three or more, you also get a Treasure token. This type of card advantage makes up for the divulging strategies you need to work with by including both Humans and non-Human cards in the deck.
5
Spitting Dilophosaurus
"Nice Dinosaur!"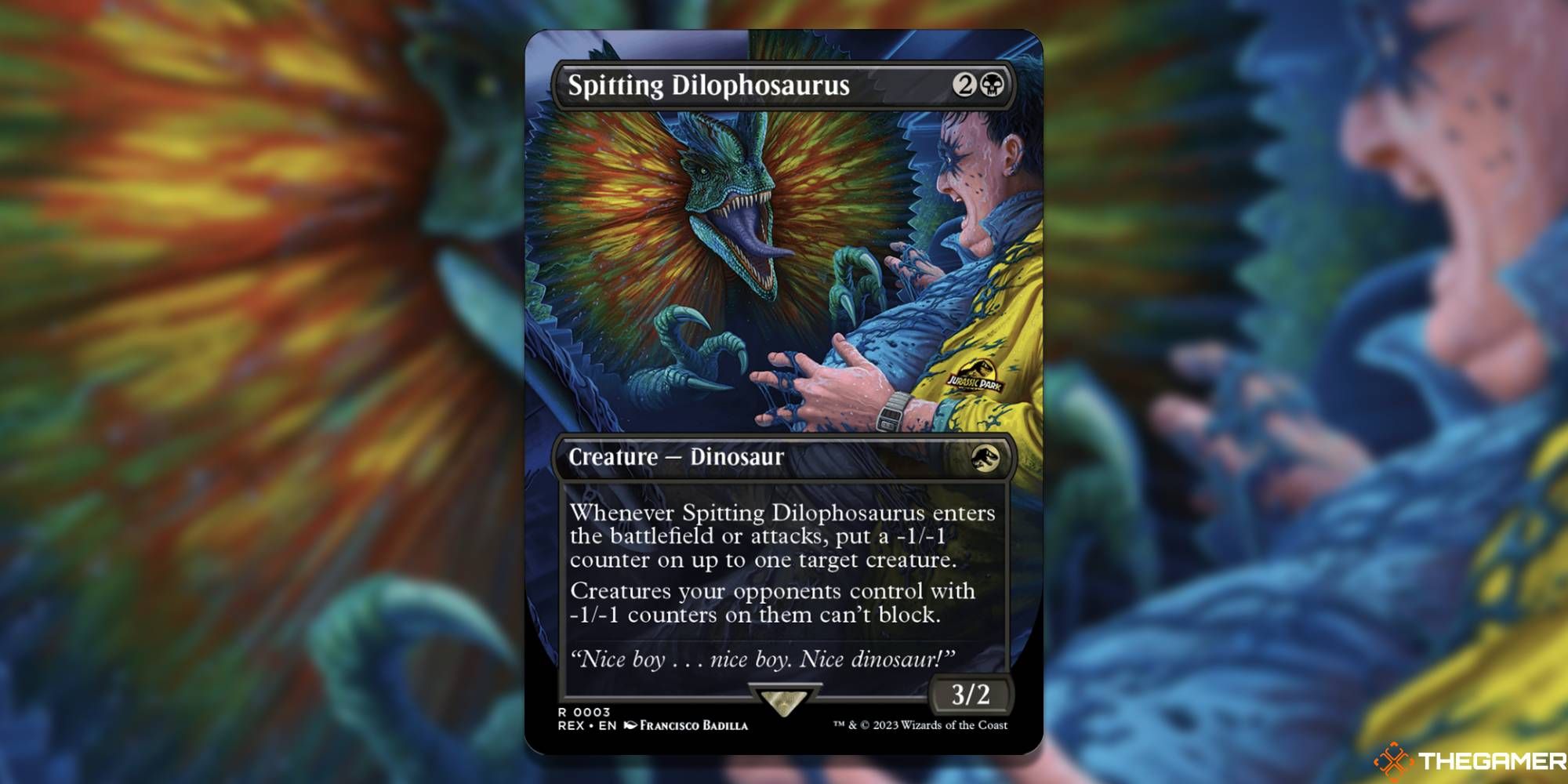 Spreading its venom to Magic is the infamous Spitting Dilophosaurus, the bane of evil programmers looking to perform some industrial espionage. When this Dinosaur enters the battlefield or attacks, you get to spit up a -1/-1 counter on a creature.
Related: Magic: The Gathering – The Best Green Cards In The Lost Caverns Of Ixalan
Then, creatures with -1/-1 counters on them can't block. This ability not only lets you slowly take down your opponent's strongest blockers, but it also works incredibly well with other decks like Yawgmoth, Thran Physician, which also spreads -1/-1 counters around for your benefit.
4
Indoraptor, The Perfect Hybrid
"A Creature Of The Future"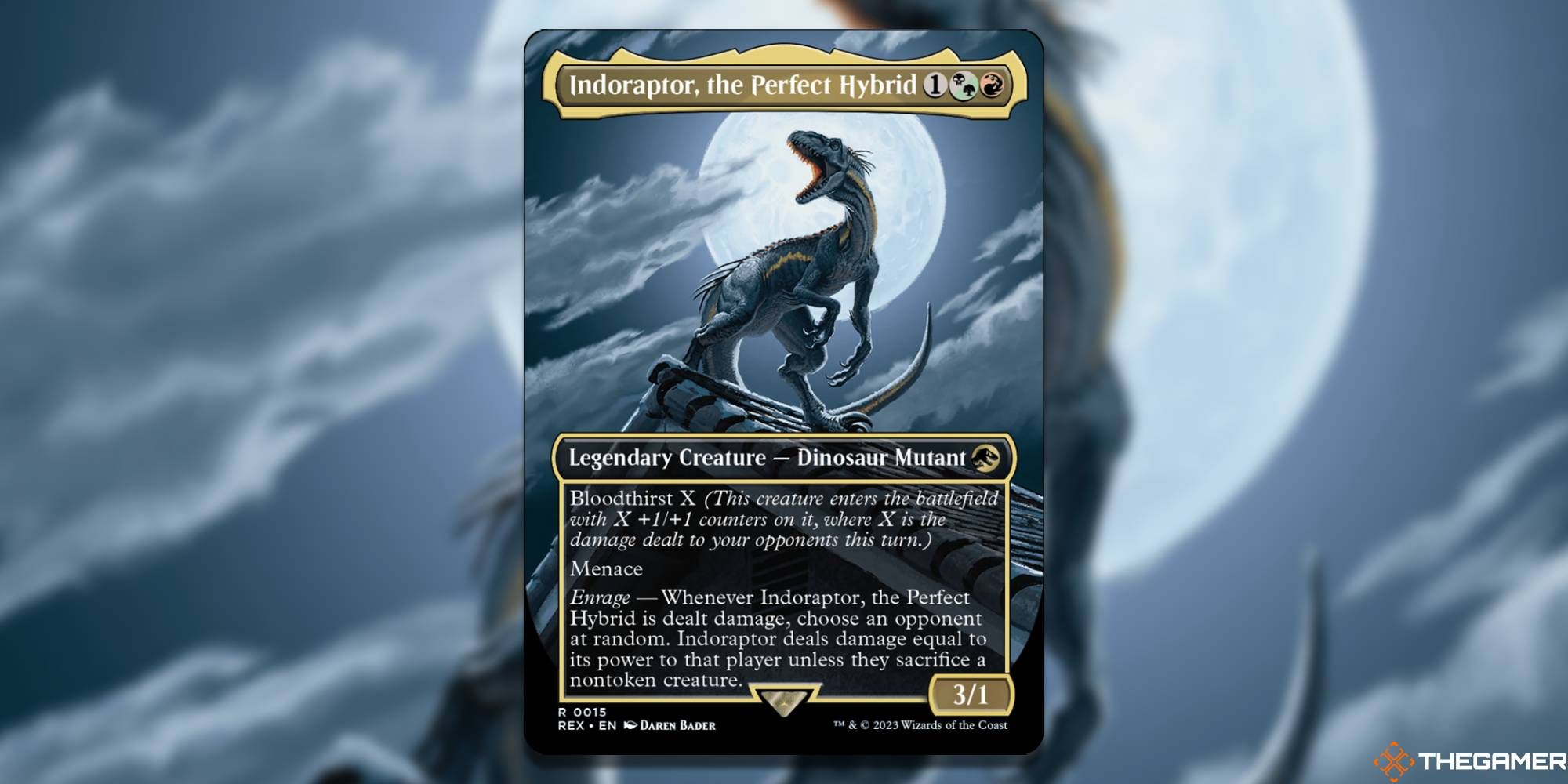 The perfect killing machine, Indoraptor, the Perfect Hybrid comes from the film Jurassic World: Fallen Kingdom, and is a genetically unique creature, born from the fusion of multiple dinosaurs and the skills of Henry Wu.
The Indoraptor has a bunch of abilities, entering the battlefield stronger if your opponents have taken damage this turn thanks to its Bloodthirst ability. Anytime it takes damage means you'll trigger its enrage ability, dealing damage to a random opponent unless they sacrifice a nontoken creature, making it a powerful effect.
3
Savage Order
Only The Strong Survive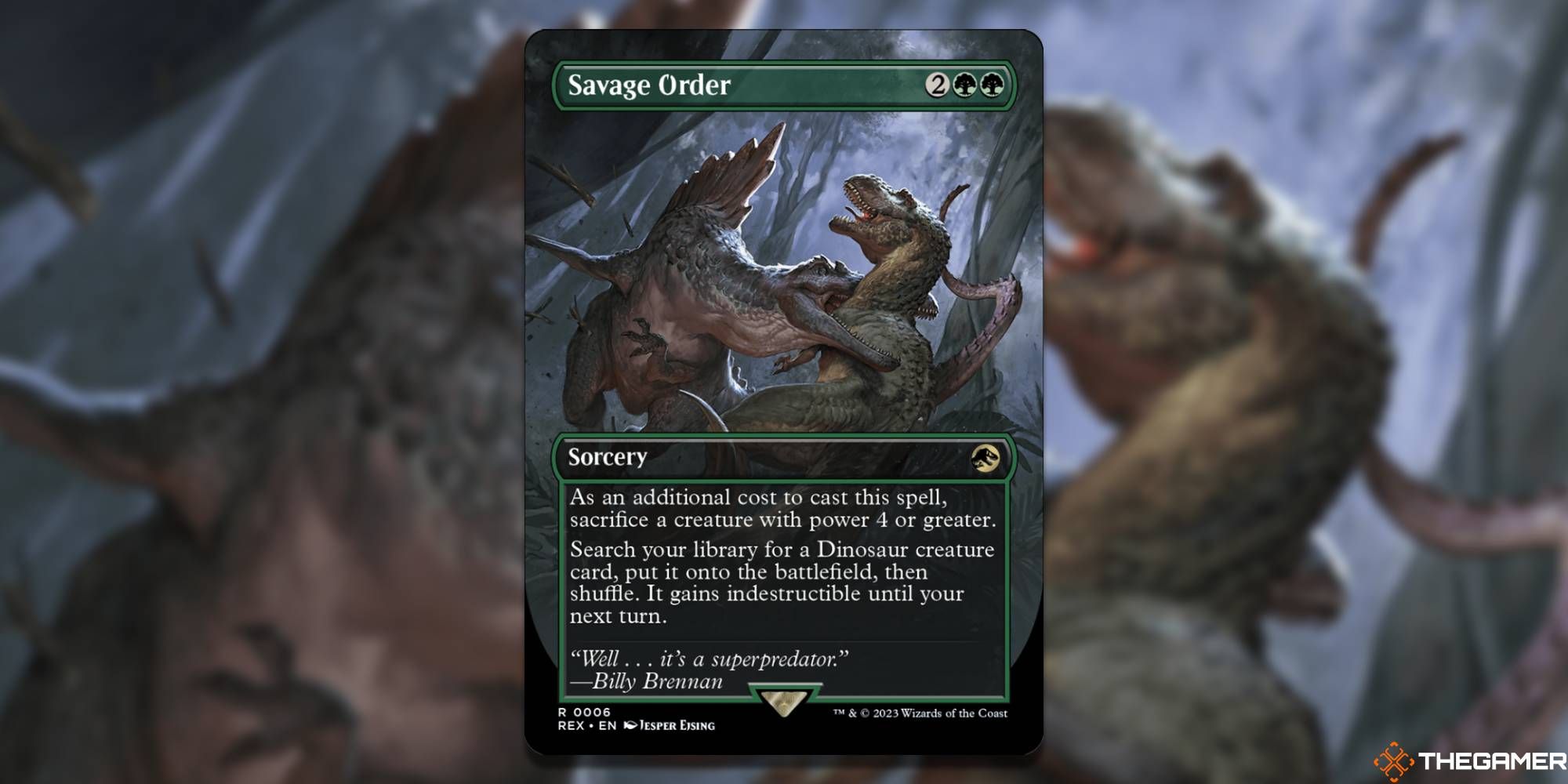 One of the more powerful green spells Magic has ever seen is Natural Order, and Savage Order is the Dinosaur-specific version of it. Casting Savage Order comes with a caveat, you have to sacrifice a creature with power four or more as an extra cost.
In exchange, you get to search your library for a Dinosaur creature and put it directly onto the battlefield. It gains indestructible for the turn too, as if just getting it wasn't enough. Grabbing a creature like Gishath, Sun's Avatar from your deck and putting it into play to quickly overwhelm the board.
2
Indominus Rex, Alpha
A Mutant With Many Abilities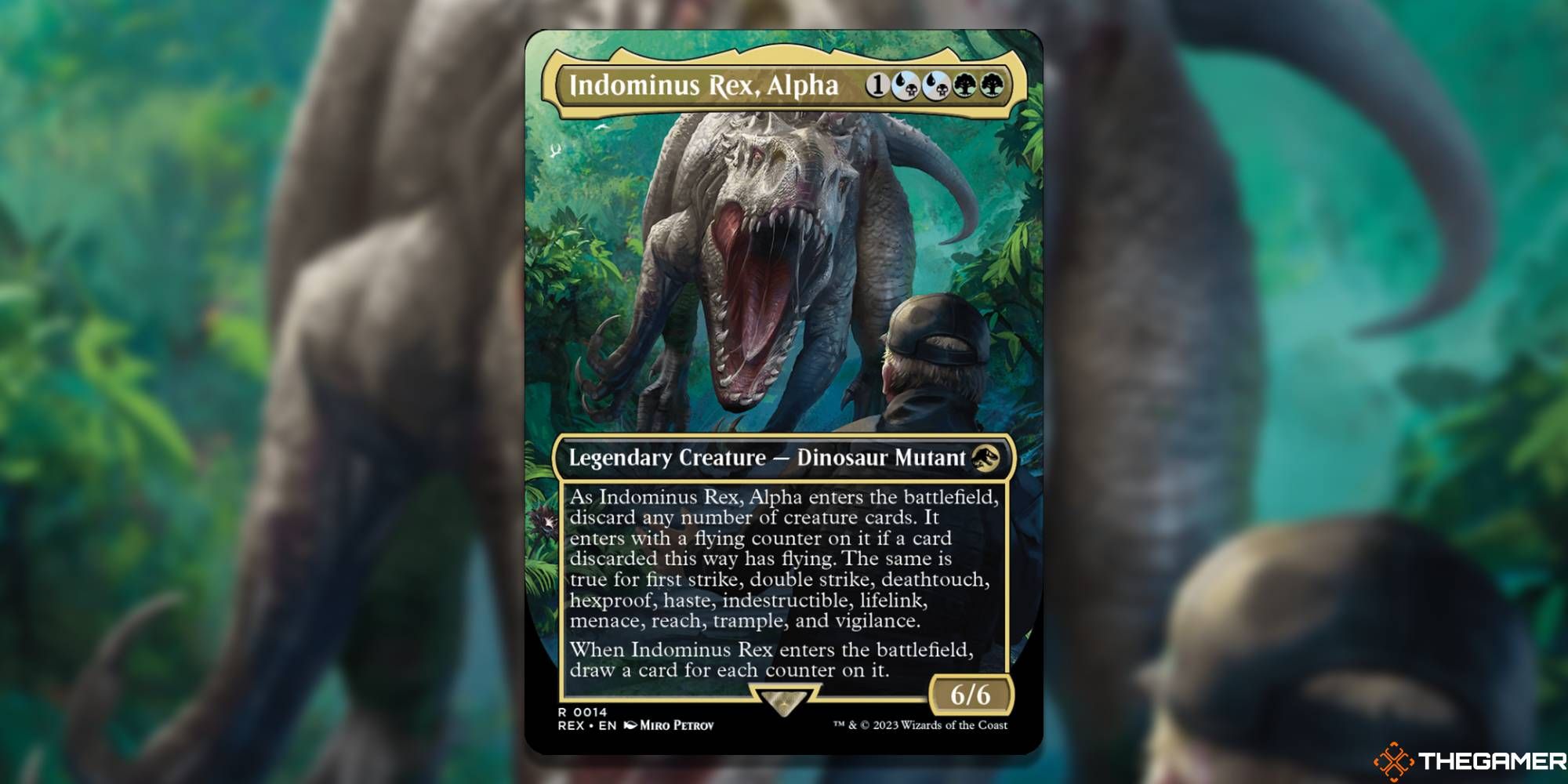 A new breed of Dinosaur from the Jurassic World film that rebooted the franchise back in 2015, this mutant species, an amalgamation of several different species came together in the form of the Indominus Rex, Alpha. This blue, black, and green creature has you discarding creature cards when it comes into play, mimicking the carelessness and ferocity the Dinosaur shows to other animals in the film.
When you discard a creature with a keyword like flying or deathtouch, you get to give Indominus Rex a corresponding counter. Then, you draw a card for each counter on it when it enters the battlefield, all but guaranteeing you get to refill your hand or even draw extra cards if you can load it up with enough counters.
1
Permission Denied
Say The Magic Word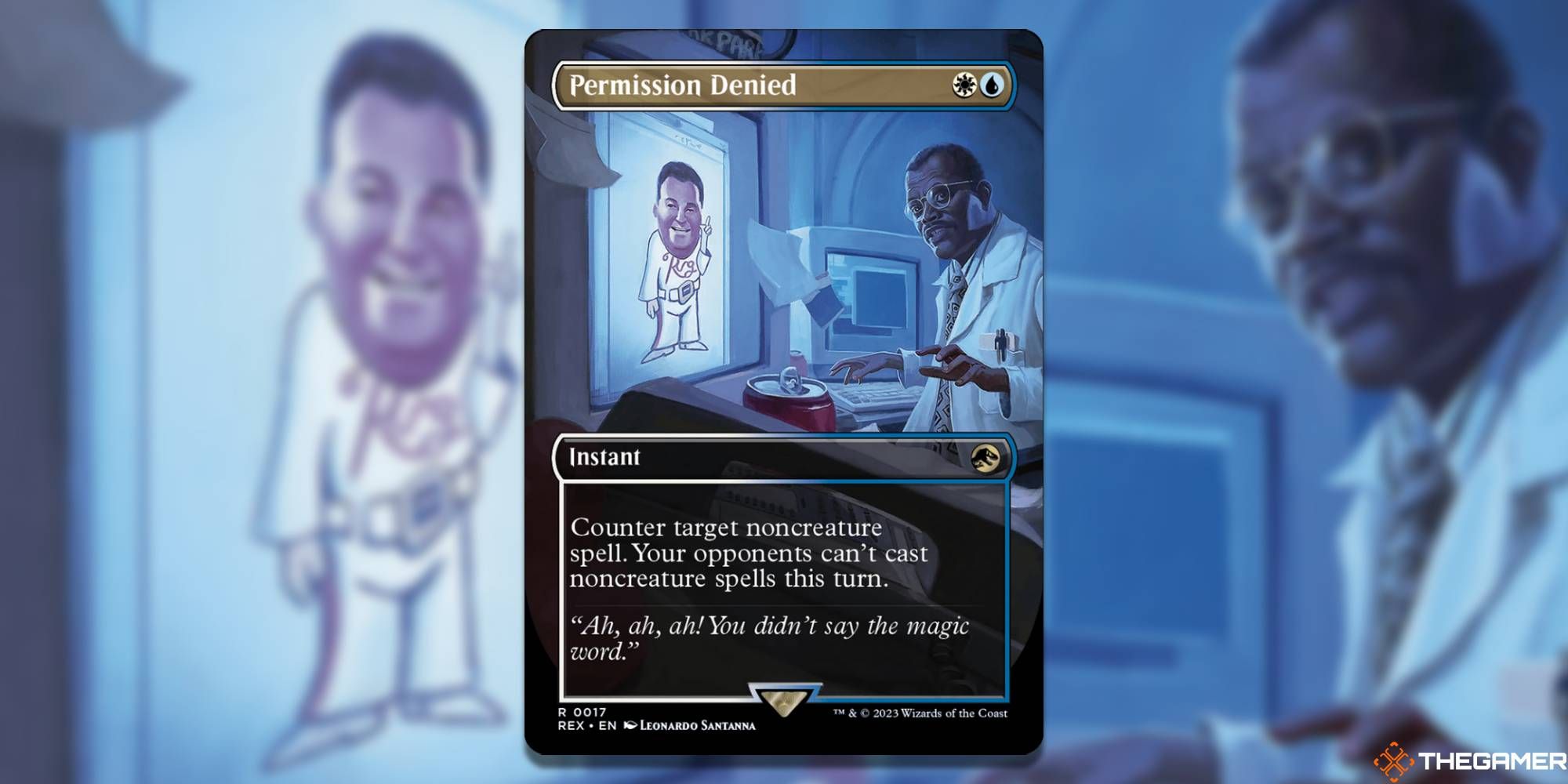 One of the most intriguing cards from the Jurassic Park Universes Beyond collection is Permission Denied, a counterspell that stops more than just one spell. If Permission Denied resolves, you get to counter a noncreature spell for just two mana.
Then, all of your opponents, not just the one you countered a spell, cannot cast noncreature spells for the rest of the turn. Interestingly, as a fun little tech, you can use Permission Denied to counter your own noncreature spells to ensure your opponents won't be able to counter your next play.
Next: Magic: The Gathering – The Lost Caverns Of Ixalan Commander Decks, Ranked