A new ESRB rating for Final Fantasy 7 Rebirth, the second part of Square Enix's reimagining of the original, confirms that there will be "characters impaled or slashed by swords". If you've played the original, you'll get why that's significant. If you haven't…
Spoilers for the original Final Fantasy 7 follow.
In Final Fantasy 7, when Aeirth looks up to Cloud, Sephiroth appears and impales her with his sword, killing her. Rebirth is a reimagining, so this ESRB line doesn't necessarily mean that we'll have to suffer through her death all over again, but it does mean that somebody will likely die at his hands in much the same fashion 27 years later.
Some fans speculate that it will be Tifa who takes her place, but until the game launches, all we can do is speculate. Maybe Square Enix is making us think it's not Aerith this time so that when it is, we're caught off guard. Who knows? Someone's getting impaled though.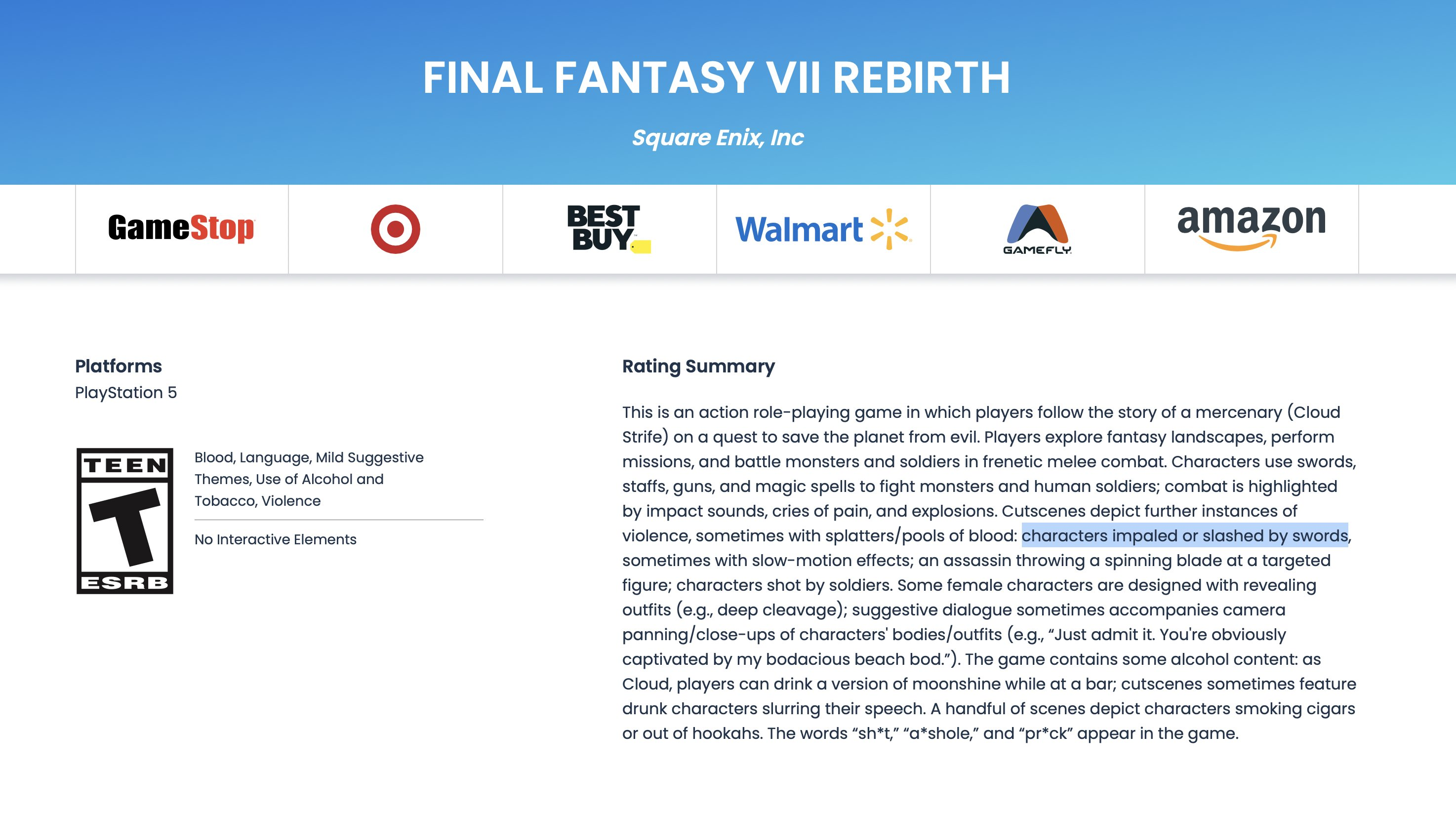 Interestingly, Tetsuya Nomura says that Sephiroth is a "protagonist" in Rebirth. Of course, that doesn't mean he's a hero. Plenty of games, movies, TV shows, books, and all other forms of storytelling put us into the shoes of villains as we watch their evil deeds unfold. But seeing more of his story and uncovering his motivations in more detail could make that pivotal scene all the more heartbreaking. Let's just hope it doesn't mean we're the ones that impale Aerith, yeah?
Anyone could take Aerith's place, but that isn't an invitation to hound the writer online with theories are requests. Kazushige Nojima made this explicitly clear last week when he took to Twitter to ask fans to stop demanding specific characters step up to the chopping block.
"I write every character with love," Nojima said. "You are free to have any opinions or thoughts, but please stop sending me messages saying I should delete this character or even kill that one. I don't want to block or mute too many of you, and I don't want to lock my account."
We do know that Rebirth is taking some creative liberties with its retelling of the original story, as several spin-off characters will be making an appearance despite never having been a part of the original Final Fantasy 7. Zack Fair is just one of those characters. That throws everything up in the air, so playing through the original doesn't necessarily mean you can predict who will suffer impalement this time.
Next: Final Fantasy 7 Rebirth Should Have Zack Sacrifice Himself For Aerith