This article contains spoilers for The Killer.
Earlier this year, a tweet from trailer editor Andrew Hegele went semi-viral on Film Twitter, otherwise known as the loose assemblage of unhinged cinema-obsessed posters dedicated to getting angry about movies every day (I say this with love). In it, Hegele listed several of the best known directors currently working, alongside the length of time it had been since they last directed a film set in the modern day.
Though some of Hegele's counts, like for Kathryn Bigelow and Alfonso Cuarón, are off, it's a fair and interesting point. Our greatest established directors have largely stopped telling stories about contemporary life. Steven Spielberg's last film set in the modern era was War of the Worlds, and if you need a sense of how long ago that was, its press tour coincided with the Tom Cruise couch-jumping incident. Though Wes Anderson's first three films were about contemporary people, he's stuck to the past since The Royal Tenenbaums. Peter Jackson has straight-up never made a movie set in the 21st century.
But David Fincher doesn't really belong on this list because he's made far more films set in the present than in the past. The nine year gap between modern stories on his resume has more to do with Fincher focusing on TV than focusing on a bygone era. There's only one film, Mank, separating Fincher's new thriller set in the present, The Killer, from his last thriller set in the present, Gone Girl. And, though The Killer's story is simple enough in its broad strokes that it could be set at basically any time in history — an assassin botches a kill, the blowback results in someone he loves getting hurt, and he sets off on a revenge mission to kill everyone involved — it's the gig economy specifics that make it sing.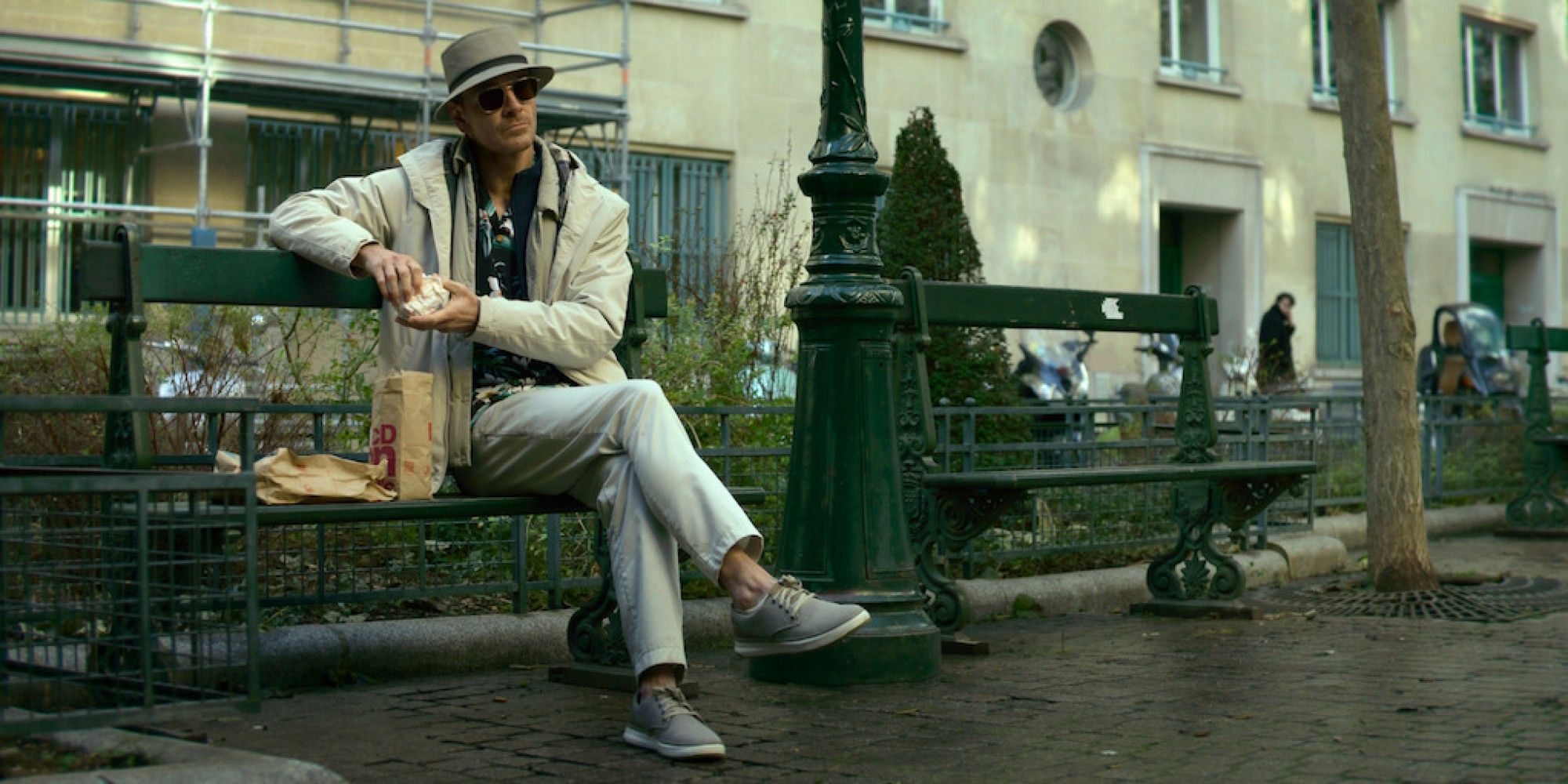 As the movie begins, Michael Fassbender is an unnamed contract killer holed up in a rented WeWork space in Paris, patiently waiting for the right moment to snipe his victim — a rich man in the high-rise apartment building across the street. Some elements of his work ritual are anachronistic — he listens to The Smiths on an iPod Nano — but he, largely, uses modern tech to maximize his efficiency. He monitors his pre-kill heart rate on a smart watch. When he needs to break into a building, he orders a keyfob copier online and picks it up from an Amazon dropbox. Over voiceover, the nameless Killer even quips that he used to work out of AirBNB's but "those Superhosts love their nanny cams." The nature of modern surveillance culture means that he can't remain unseen, he says, he can only hope to go unnoticed.
Much has been made about what, exactly, Fincher is saying about the nature of modern life and the depersonalizing accommodations of the Postmates era. I find that conversation interesting enough, but I'm thrilled that this movie can facilitate discussions about the 21st century at all. My favorite movie of last year was The Fabelmans, a film set in the 1950s and '60s. My favorites of 2023, so far, are Killers of the Flower Moon and Asteroid City, both also set in the last millennium. Those movies are wonderfully specific, while still communicating universal themes, but moviegoers lose out on something when the modern world is not treated with the same seriousness.
Our lives now, though often defined by trivial ephemera, matter and are worth consideration. What does it say about the gig economy that its conveniences fit perfectly into the routine of a murderous sociopath? What does it mean that our technology makes it easier to kill people and get away with it? How should we feel about the ease with which the Killer can avoid people while having all of his needs met? The movie isn't interested in offering answers, but I love that it's raising questions that could only be asked right now.
NEXT: Why Is Ghostbusters Still Getting Sequels?