Starting a fresh campaign in For The King 2 is a daunting experience. With five starting classes, it can be difficult to decide which of the heroes presented is best suited to saving Farhul from the malevolent Mad Queen. Equally unassuming and bursting with potential, each one of these enterprising freedom fighters brings something unique to the table.
Related: The Best RPGs For Kids
The chaos corrupting Farhul brings with it a slew of varied challenges. From deadly combat encounters against the evil forces to dealing with obstacles in the midst of travel, one of the most vital keys to success is securing a diverse pool of talents to choose from. However, not all skills are created equally, forcing you to be careful when making your initial party selection.
5
Stablehand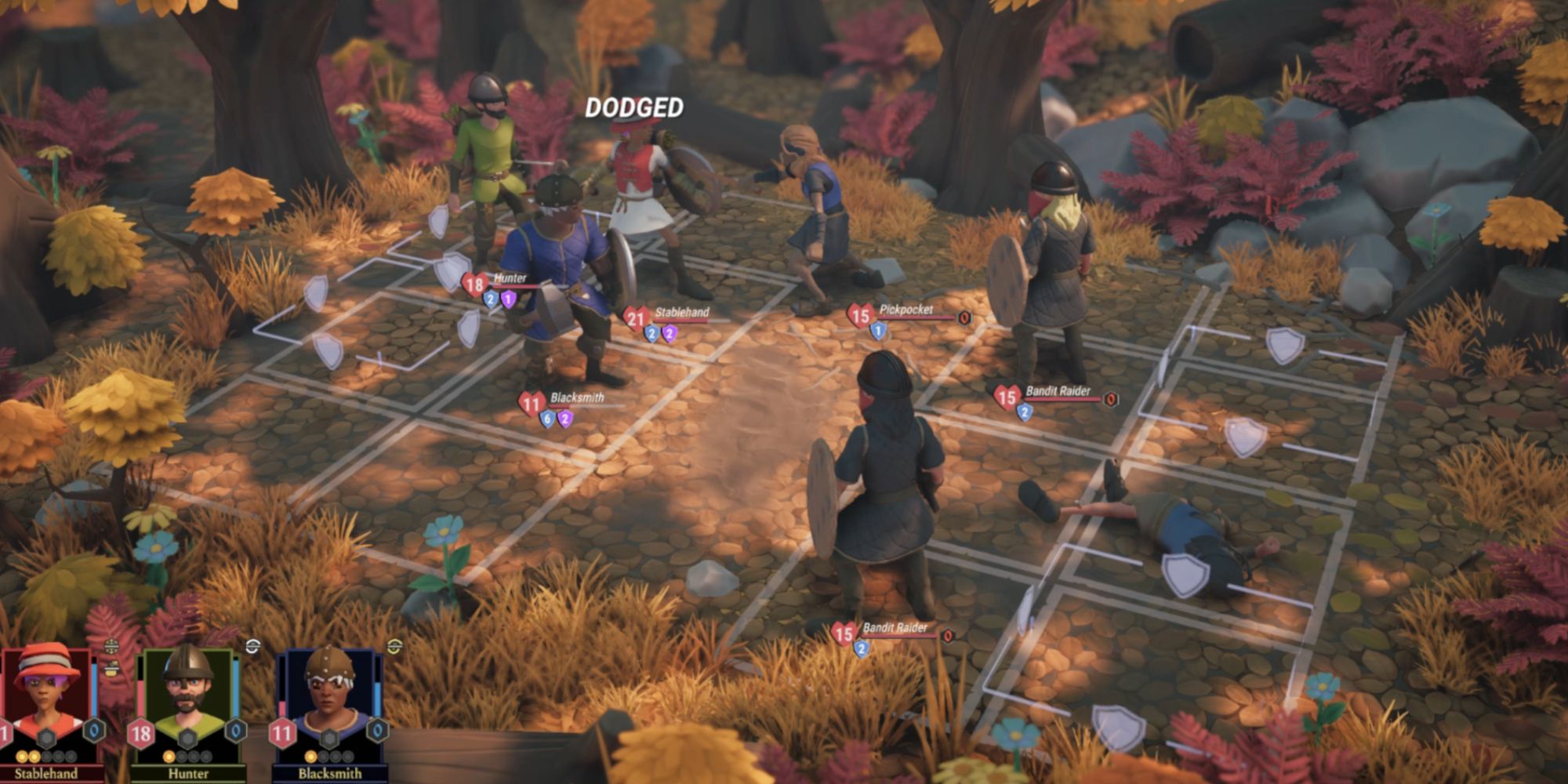 Special Abilities

Passive

Hard Work – Consuming the last focus during combat allows you to complete an extra primary action.

Starting Equipment

Wooden sword
Tinder Pouch
Godsbeard
Safety Stone
On the surface, the Stablehand seems to be rather unimpressive when compared to their more specialized contemporaries. Boasting a modest collection of stats where strength and speed sit towards the top, they make for solid melee fighters. Additionally, their bonus passive ability of Hardwork can be useful in dishing out some extra damage in a pinch. However, its condition of requiring you to use the last of your focus to activate the skill prevents it from being used very often.
The stablehand suffers the most from their lack of utility outside of combat, as well as their relatively low vitality for a frontline brawler. Their base speed does help when it comes to dodging oncoming blows, but when they do eventually get hit it'll surely be felt. Altogether, while there is no wrong class to start off your campaign with The Stablehand unfortunately cannot offer the same benefits as its alternatives.
4
Herbalist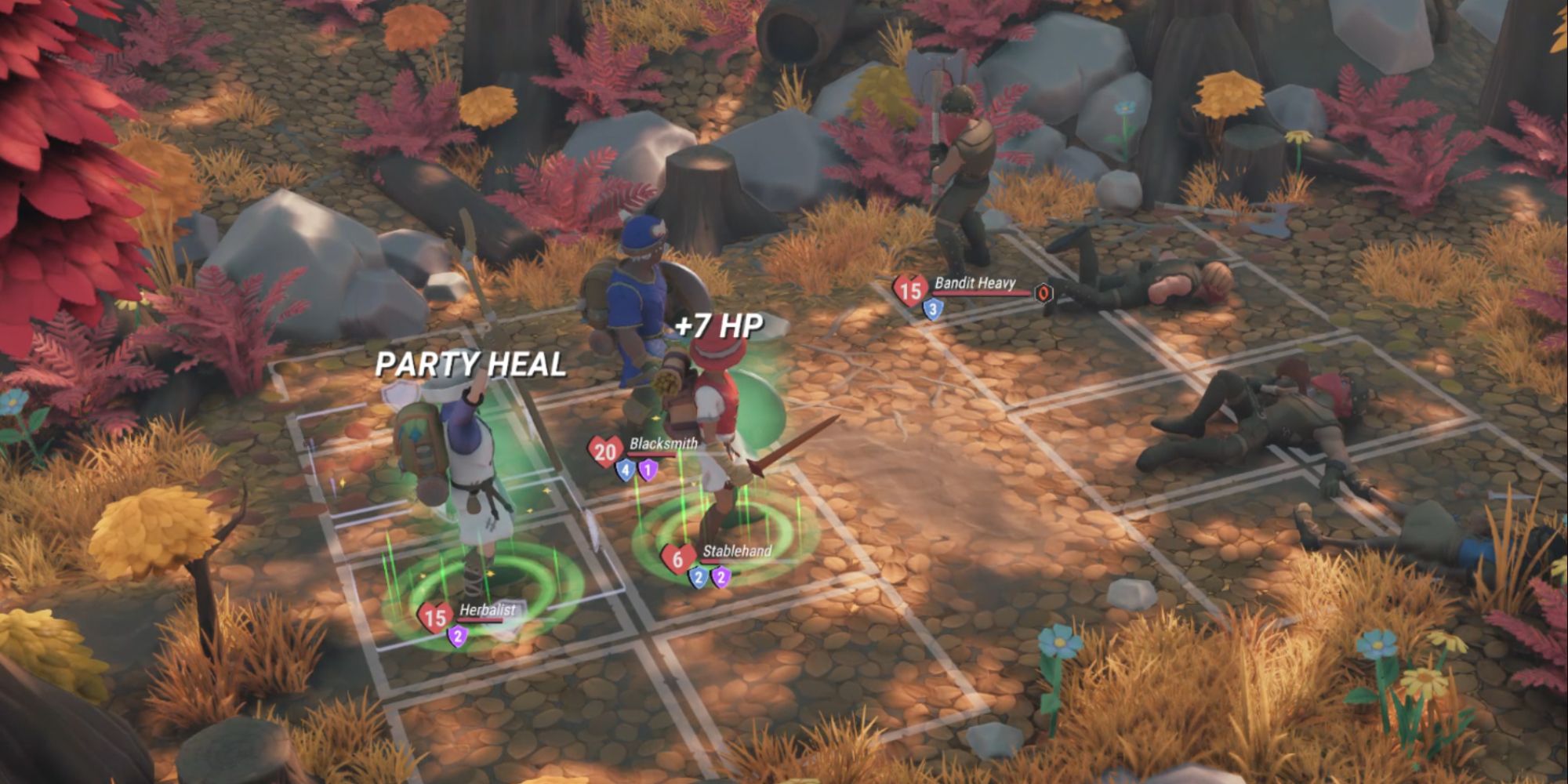 Special abilities

Passive: Find Herb

Chance to gain a random herb at the end of a turn on land or in a dungeon

Passive: Party Heal

Provide partial healing for neighbors in combat, on the overworld, or at rest

Starting Equipment

Walking stick
Tinder Pouch
Godsbeard
Safety Stone
For The King 2 places a large emphasis on proper team composition and the Herbalist is a true team player. With herbs being the primary form of healing, having not only a large stockpile but also using them effectively are vital strategies. This is where the Herbalist shines brightest, thanks to their passive skills. Party healing allows them to simultaneously heal all adjacent party members when they consume a herb which applies both on the map screen and when in combat.
Related: The Best Healers in RPGS
This compounds nicely with the Find Herb passive skill which conducts a hidden dice roll to determine if the Herbalist discovers a bonus herb at the end of each turn. While the herb uncovered may not always be for healing, it will still definitely have a use and with the Herbalist doing their best with their allies nearby, they'll always be able to hand it off if the item will be more useful to one of their comrades. Utility is only half the battle though, as when it comes to combat, The Herbalist starts the campaign as a rather lackluster soldier thanks to their weaker primary weapon.
3
Scholar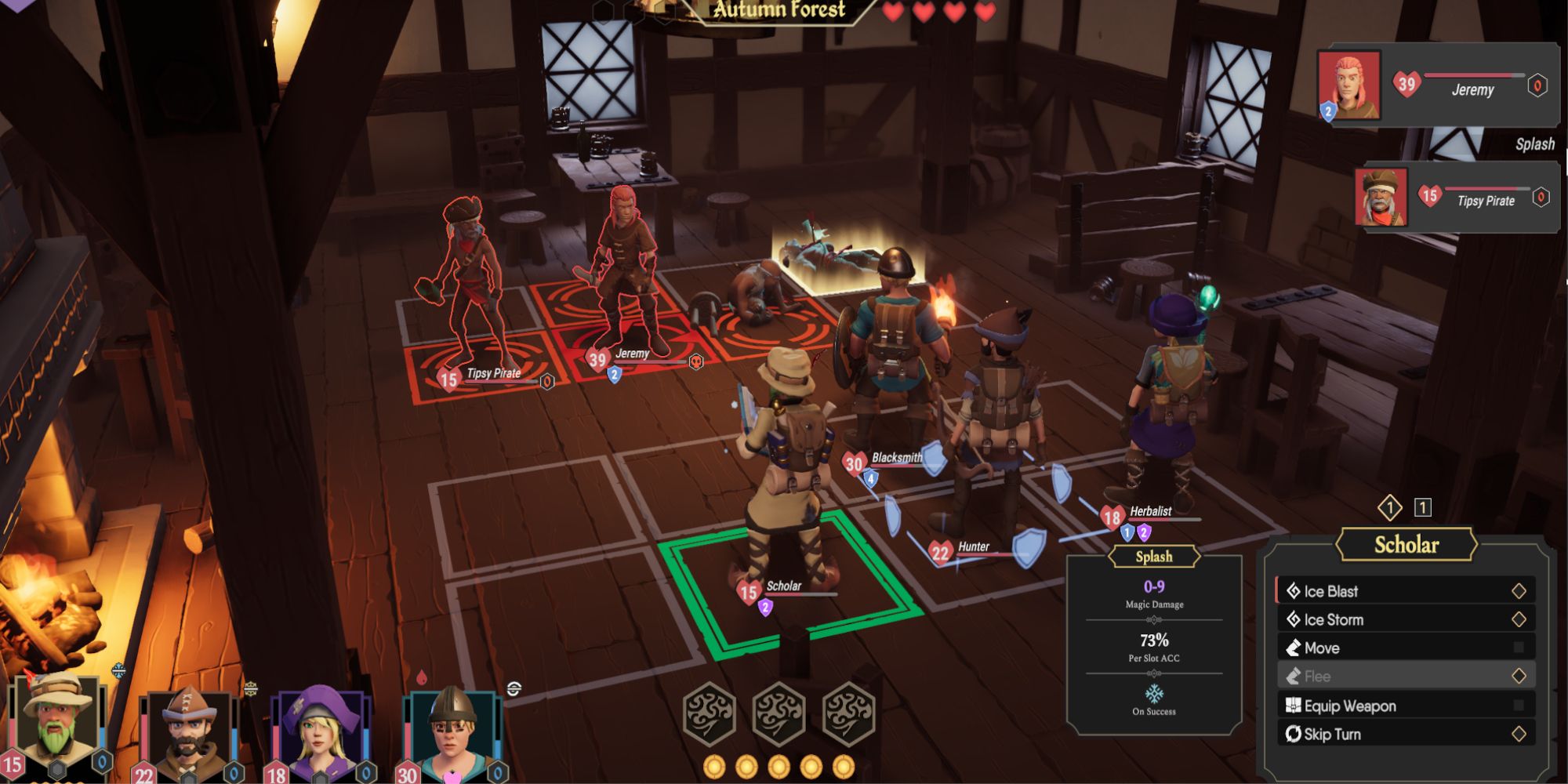 Special abilities

Passive: Refocus

Chance to regain a focus point at the end of your turn on land or in a dungeon

Find scroll

Chance to gain a random scroll at the end of your turn on land or in a dungeon

Starting Equipment

Dusty Book
Tinder Pouch
Godsbeard
Safety Stone
The Scholar packs a lot more punch than the academic name might imply. A magic user, the Scholar has one key difference that separates their attacks from that of the herbalist – the fact that each one is capable of dealing area of effect damage. The lower impact of the blows is made up for by their capacity to soften up multiple opponents at once, allowing the more direct damage dealers an easier time when cleaning up their battered foes.
But that's not all they have, as outside of combat the Scholar plays a large role in navigation and traversal. Armed with the find scroll ability, they can uncover useful items using the same method as the Herbalist. Items like the teleport scroll, when combined with their naturally high intellect, greatly increase their mobility. On top of all this, The Scholar possesses an extremely powerful secondary passive that allows them a chance to freely regenerate focus at the end of every turn.
2
Hunter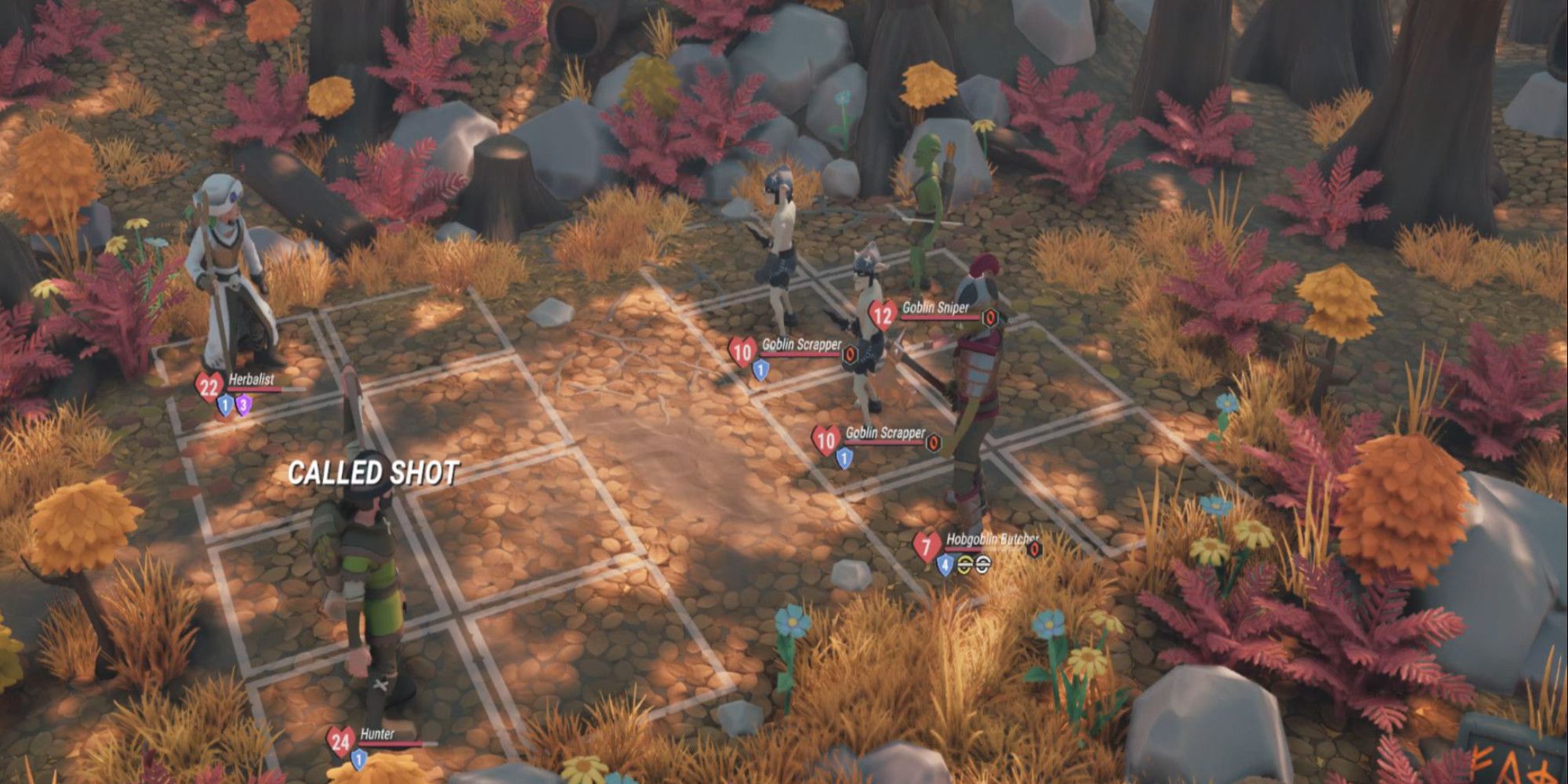 Special abilities

Skill: Elite Sneak

Requires only two lot rolls to sneak solo enemies or three for camps

Skill:Elite Ambush

Requires only one slot roll to ambush solo enemies or two at camps

Passive: Called Shot

Chance for a perfect roll with a bow

Passive: Energy Boost

Chance to gain additional energy at end of turn

Starting Equipment

Simple Bow
Tinder Pouch
Godsbeard
Safety Stone
The Hunter acts as one of For The King 2's most recognizable classes and packs just the kind of punch expected from an archetype bearing that title. For starters, the Hunter has a total of four special abilities which places them leaps and bounds above the other starter classes which only get one or two.
The first batch of these is elite ambush and elite sneak. Both of these have a similar effect in reducing the number of dice rolls necessary to either sneak past enemies or ambush them. When combined with the Hunter's high base awareness, this makes for dice rolls stacked considerably in favor of the heroes. The Hunter's other passive, Energy Boost, is more modest in that it randomly allows them to move one additional tile on the map screen.
By far their more devastating ability is the Called Shot which has a chance to turn any attack with the bow into a perfect attack which deals the weapons maximum damage. While it does restrict the class to a singular weapon type in a game that boasts several alternatives (some more bizarre than others), it does mean that one good bow can turn the Hunter into a force to be reckoned with.
1
Blacksmith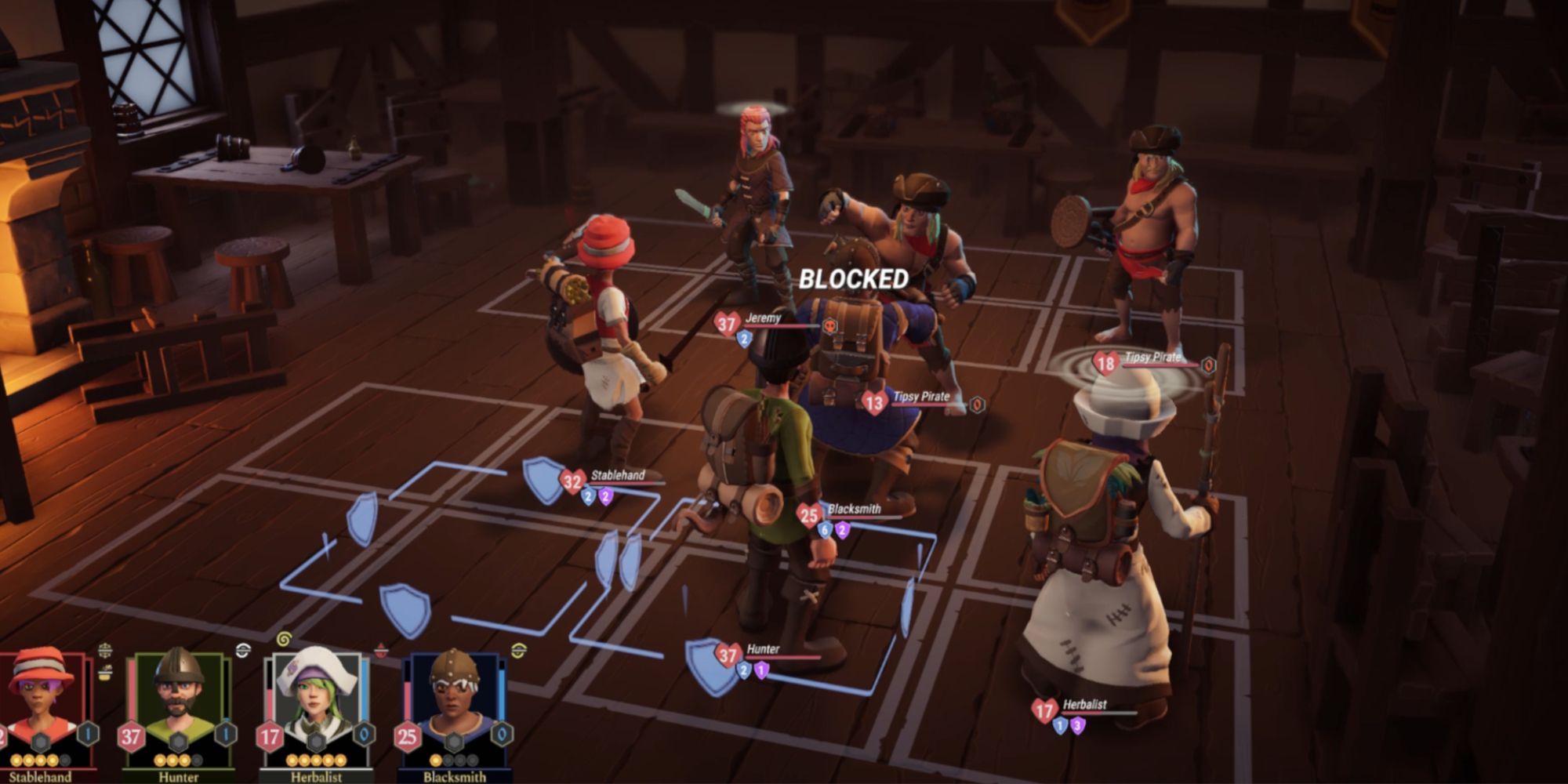 Special abilities

Passive:Steadfast

Chance to completely negate damage from an attack when a shield is equipped

Starting Equipment

Smith Hammer
Simple Shield
Tinder Pouch
Godsbeard
Safety Stone
When it comes to RPGs, it's often more common to see blacksmiths equipping heroes for battle, rather than doing any combat themselves. Thankfully though, the Blacksmith's of For the King 2 are more than ready to join the good fight. Starting the game armed with a high-damage hammer and protective shield, it's their job to protect the more vulnerable members of the party. And to that end, they have their passive trait of steadfast which allows The Blacksmith to completely negate any damage taken so long as they have their shield equipped.
And so, in conjunction with their already high health, this makes them perfect for taking the brunt of the abuse but that's not all they'll do, as their high strength means they are fully capable of dishing out even more punishment than they take. Though they may not have as many flashy skills or abilities as other heroes, their efficacy in combat makes them an invaluable member of any squad. Their only weakness being their relatively low movement opportunities on the map, but assuming they can keep up with their comrades, the Blacksmith will ensure they serve their purpose in bringing justice to the chaotic forces of Farhul.
Next: RPGS With The Best Overworlds, Ranked