This one hasn't been leaked yet, right? Namaari, Morning Mist is getting her very own Enchanted card in Rise of the Floodborn! Disney Lorcana's first expansion launches in local game stores this coming Friday, and there's a (small) chance you can find this card in any pack you open.
Unlike her non-Enchanted counterpart, This version of Namaari, Morning Mist is not brandishing her swords, but instead features the princess of Fang mounted on her serlot, a popular mount among Fang Warriors. Namaari is a Steel four-cost, uninkable character with two Strength and four Willpower, the Bodyguard keyword, and the ability Blades, which reads "This character can challenge ready characters."
Related: Disney Lorcana's Rise of the Floodborn Starter Decks Are Exactly What You Want Them To Be
Enchanted cards are the sixth rarity in Lorcana and the most highly sought-after cards in the game. First revealed just ahead of Gen Con this past August, Enchanteds are full-art versions of other cards from the same set, visually distinct thanks to their unique art and special foil treatment. They play the same as the other cards with the same name, but they look much better doing it.
Namaari, Morning Mist Enchanted From Disney Lorcana: Rise Of The Floodborn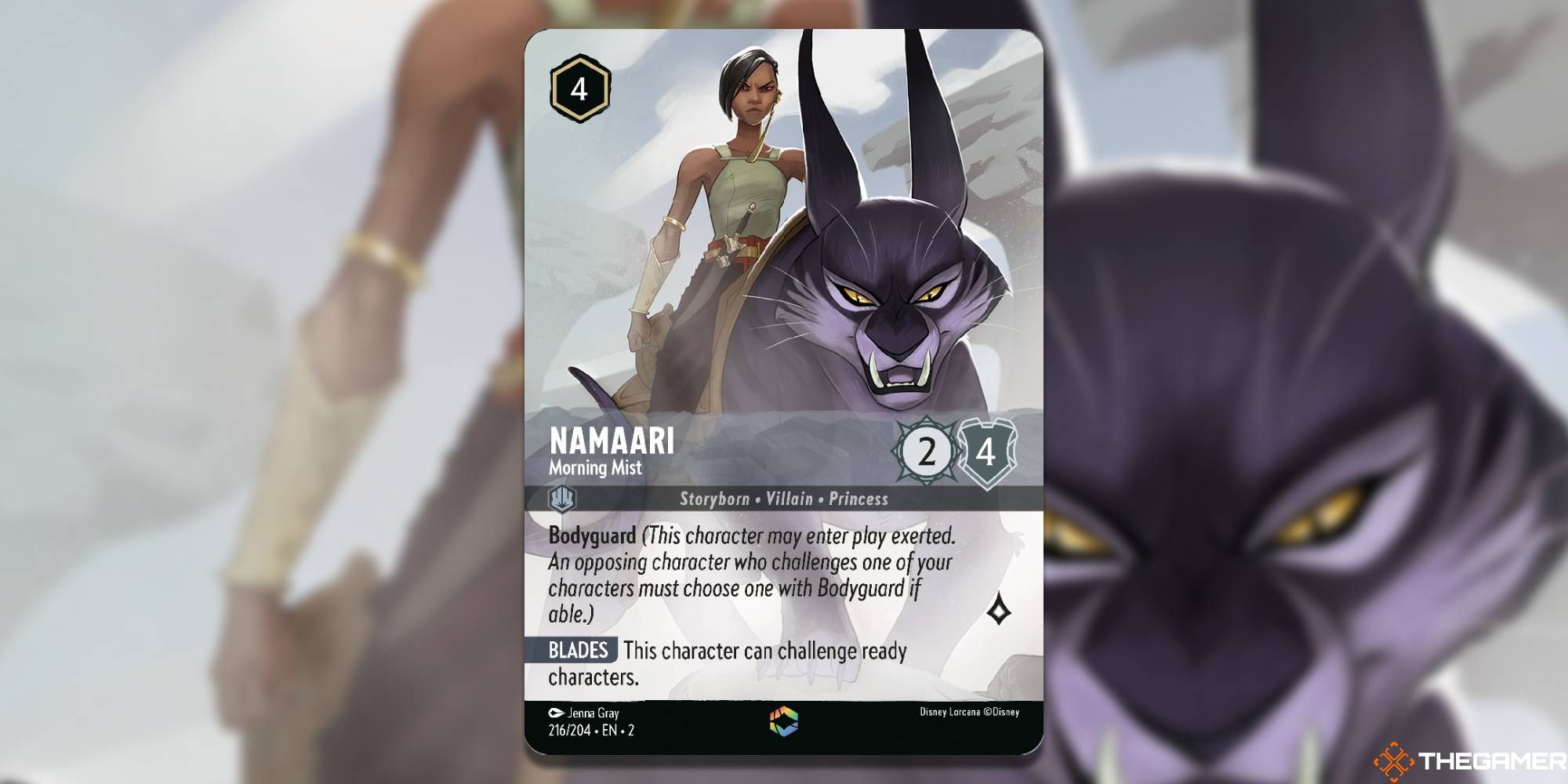 Namaari is unique among most Enchanted cards because both the original Namaari and the Enchanted version have the same artist, Jenna Gray. Gray is the artist behind many Lorcana cards from both The First Chapter and Rise of the Floodborn, including Pumbaa, Friendly Warthog; Ursula's Shell Necklace, Fan the Flames, Scar, Shameless Firebrand; Belle, Bookworm; Queen of Hearts, Capricious Monarch; and HeiHei, Boat Snack; which was also one of the promo cards for The First Chapter's organized play season. This is the first Enchanted card Gray has illustrated.
Rise of the Floodborn is only a few days away, and we've just published our review of the two new starter decks, which are an excellent way to learn about the expansion's new mechanics like Resist, and kickstart your collection. All 204 cards coming to this game in the new expansion have now been revealed, and we've got a handy guide breaking down each and every one of them by color category. We have a ton of great content planned for the new expansion coming up, so stay tuned for more Disney Lorcana: Rise of the Floodborn.
Next: Every Card In Disney Lorcana's Rise Of The Floodborn