Quick Links
Your Opening Hand And When To Mulligan
Disney Lorcana's first expansion Rise of the Floodborn is here with two brand new starter decks to help you begin your collection and learn the expansion's new strategies. The Amber/Sapphire deck called Tactical Teamwork has some great Floodborn cards to experiment with as well as some interesting item-focused gameplay.
Related: Every Card Revealed For Disney Lorcana's Rise Of The Floodborn
If you're looking for a more aggressive deck that can fill the board with lots of cheap characters, including the Seven Dwarfs, Tactical Teamwork has plenty of go-wide potential, with more than a few combat tricks up its sleeve too.
Amber/Sapphire Deck List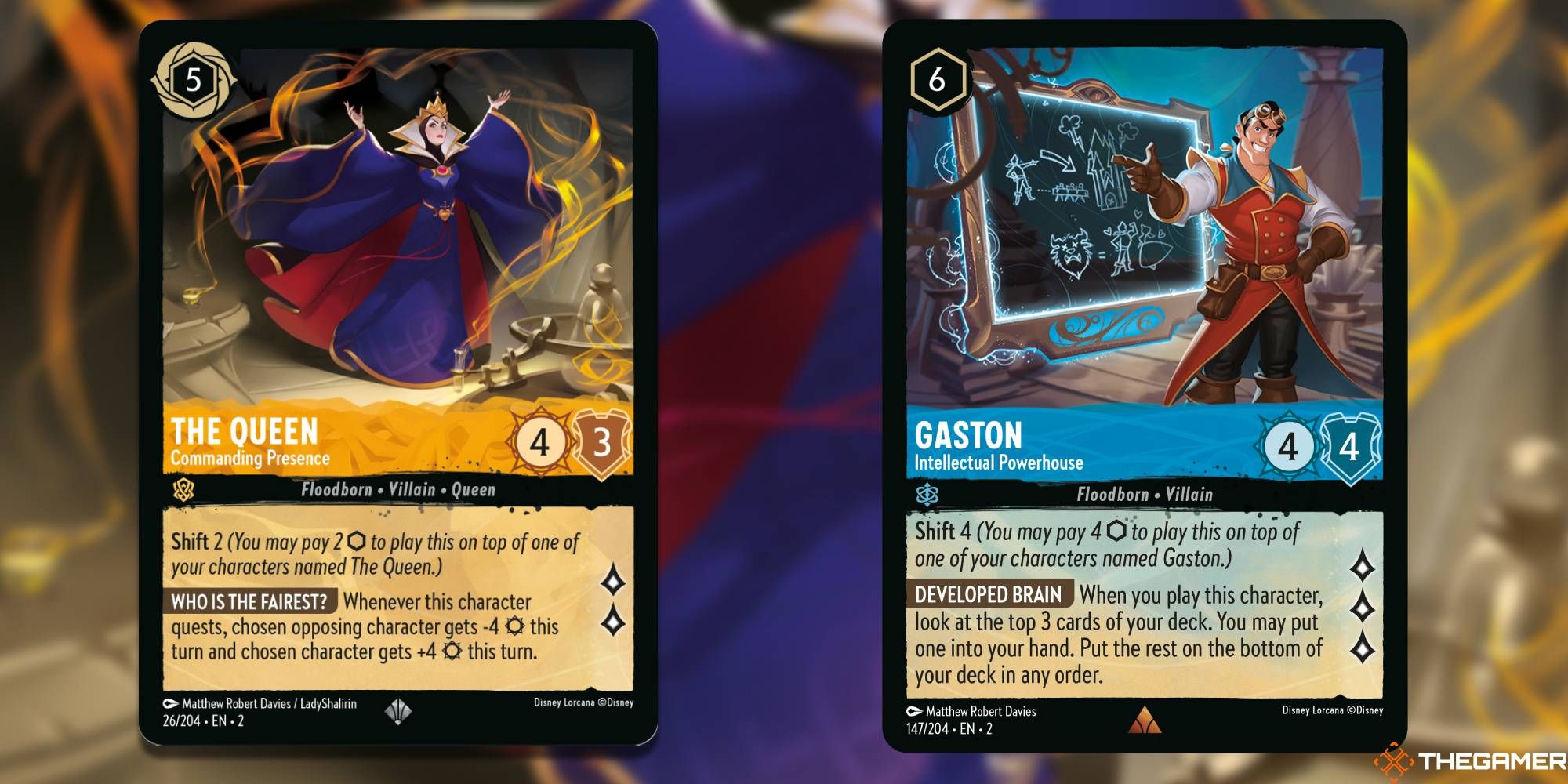 Disney Lorcana Rise Of The Floodborn – Amber/Sapphire Starter Deck

Bashful, Hopeless Romantic (x2)

Christopher Robin, Adventurer (x1)

Doc, Leader of the Seven Dwarfs (x2)

Dopey, Always Playful (x2)

Gaston, Baritone Bully (x3)

Grand Duke, Advisor to the King (x1)

Grumpy, Bad Tempered (x3)

Happy, Good Natured (x2)

LeFou, Bumbler (x2)

Sleepy, Nodding Off (x3)

Sneezy, Very Allergic (x3)

Snow White, Lost in the Forest (x2)

The Queen, Commanding Presence (x1)

The Queen, Regal Monarch (x3)

Painting the Roses Red (2)

Belle, Inventive Engineer (x1)

Cruella de Vil, Fashionable Cruiser (x3)

Gaston – Intellectual Powerhouse (x1)

Hiram Flaversham, Toymaker (x1)

Judy Hopps, Optimistic Officer (x2)

Owl, Logical Lecturer (x3)

Philoctetes, Trainer of Heroes (x2)

The Nokk, Water Spirit (x3)

Winnie the Pooh, Having a Think (x1)

Four Dozen Eggs (x2)

Launch (x2)

Fang Crossbow (x2)

Gumbo Pot (x2)

Pawpsickle (x3)
In total, this deck has:
47 character cards, six action cards (four of which are songs), and seven items.
57 inkable cards, 3 not-inkable.
Key Cards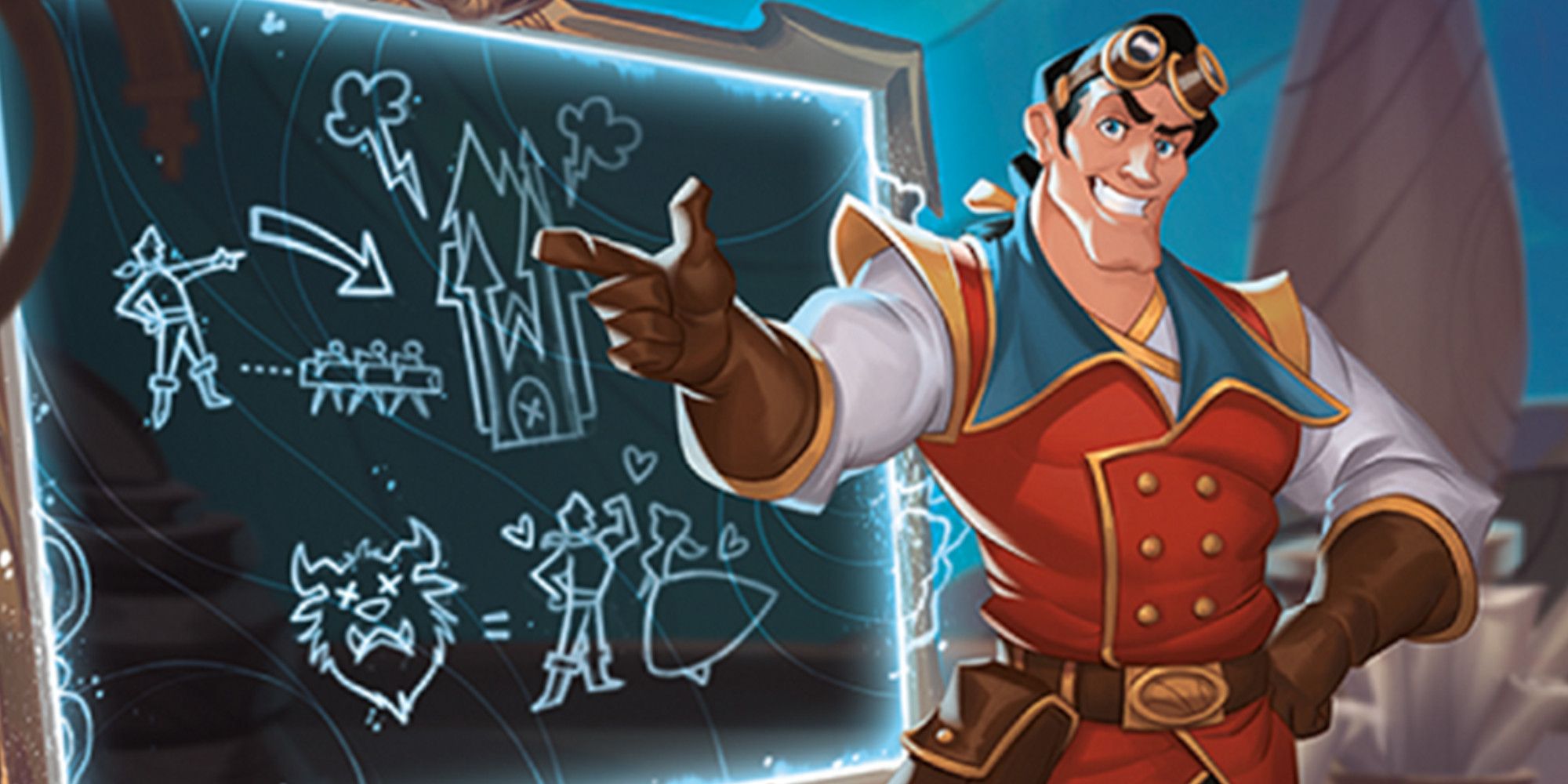 The Seven Dwarfs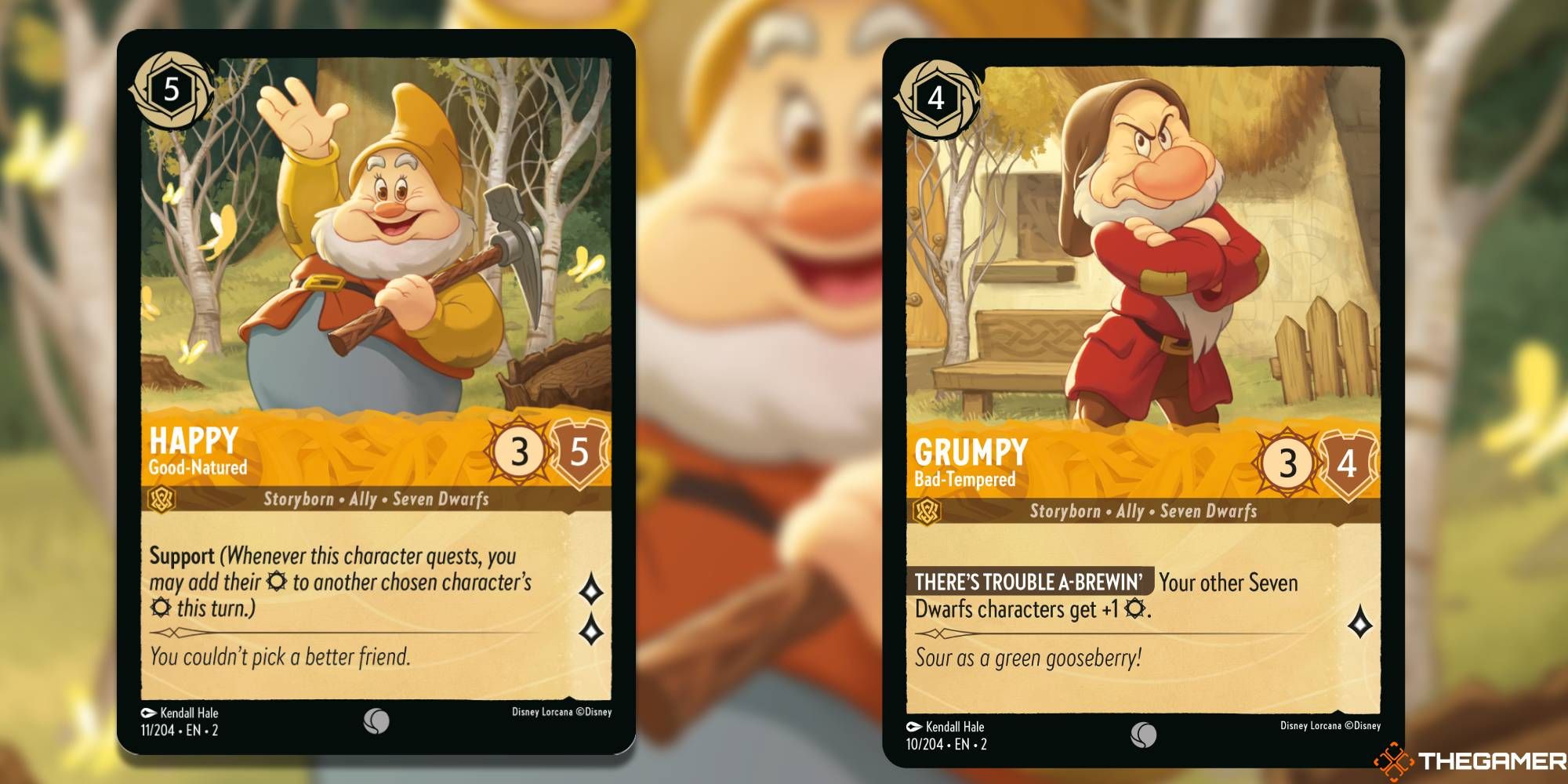 With 17 individual Seven Dwarfs in this deck, you will consistently be drawing and playing Dwarfs every game. While most of them have decent value on their own, some of them have synergies that are important to pay attention to.
For example, Sneezy, Very Allergic lets you give a chosen character -1 Strength every time you play another Dwarf. Getting Sneezy into play early will help you make favorable trades early on an establish a board.
Similarly, Doc, Leader of the Seven Dwarfs lets you play characters for one less ink when he quests, which can be useful for cheating out Happy, Good Natured a turn early.
With his three lore value and 2/5 stat line, Bashful, Hopeless Romantic has incredible value on turn four, but keep in mind he can only quest if you have another Dwarf in play, so make sure you can keep one of the Seven Dwarfs on the board or, preferably, play one on the following turn.
The Queen, Commanding Presence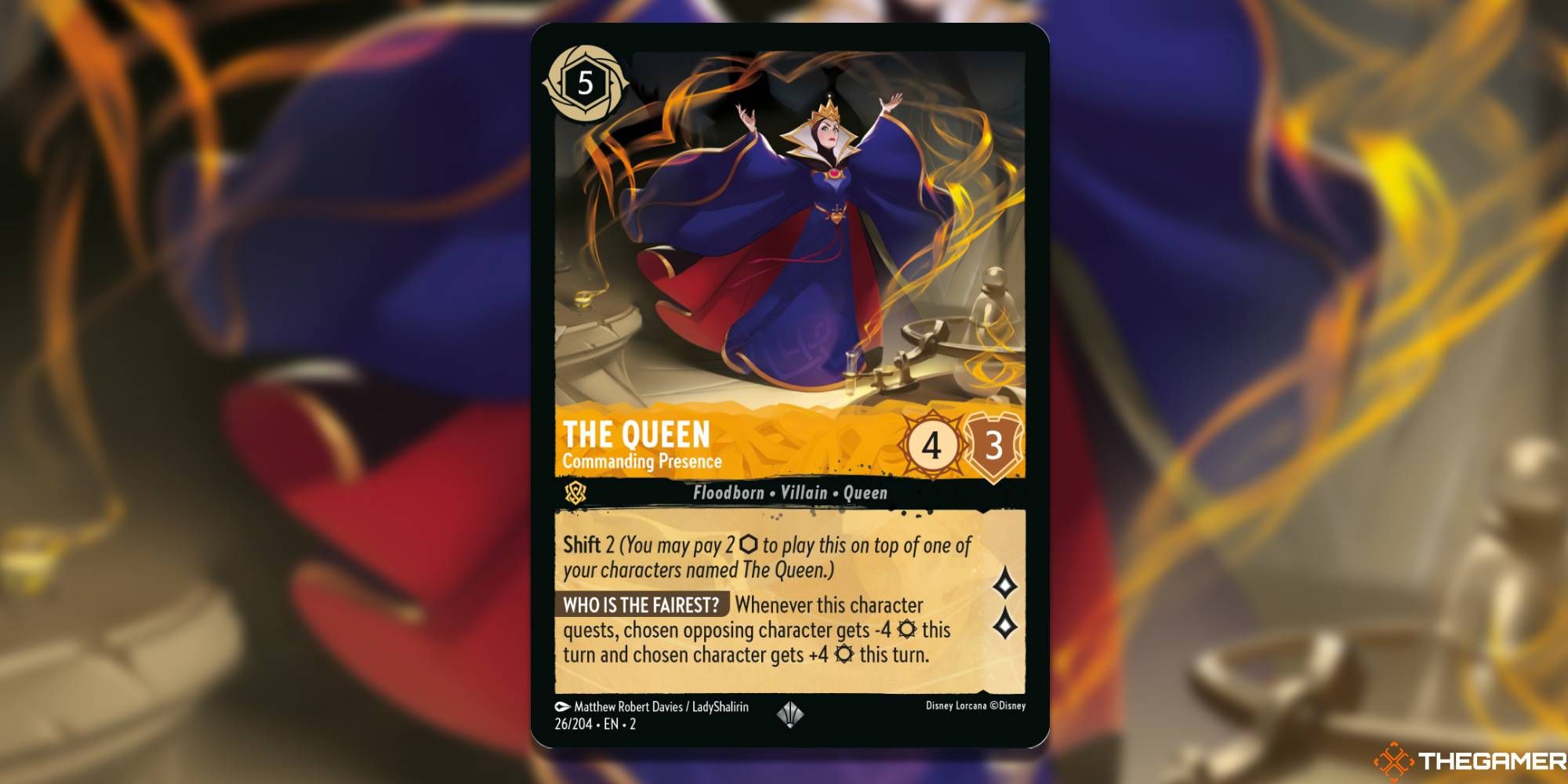 Though there is only one copy of The Queen, Commanding Presence in this deck, her ability is powerful enough to be worth prioritizing, especially if you can shift her onto The Queen, Regal Monarch as early as turn two. Her ability to reduce an opposing character's Strength while increasing the Strength of one of your own characters will likely give eveen your weakest characters you free trades.
Some good candidates for the effect are cheap characters like Owl, Logical Lecturer or Lefou, Bumbler who you won't mind getting banished in a counterattack, but anything you can use to take out your opponents' characters works well with The Queen.
Shifting out The Queen, Commanding Presence not only gives you a discount on her ink cost, but also ensures that you'll get the value out of her ability immediately. If the cards don't align, Doc, Leader of the Seven Dwarfs can still help get her out a turn early.
Hiram Flaversham, Toymaker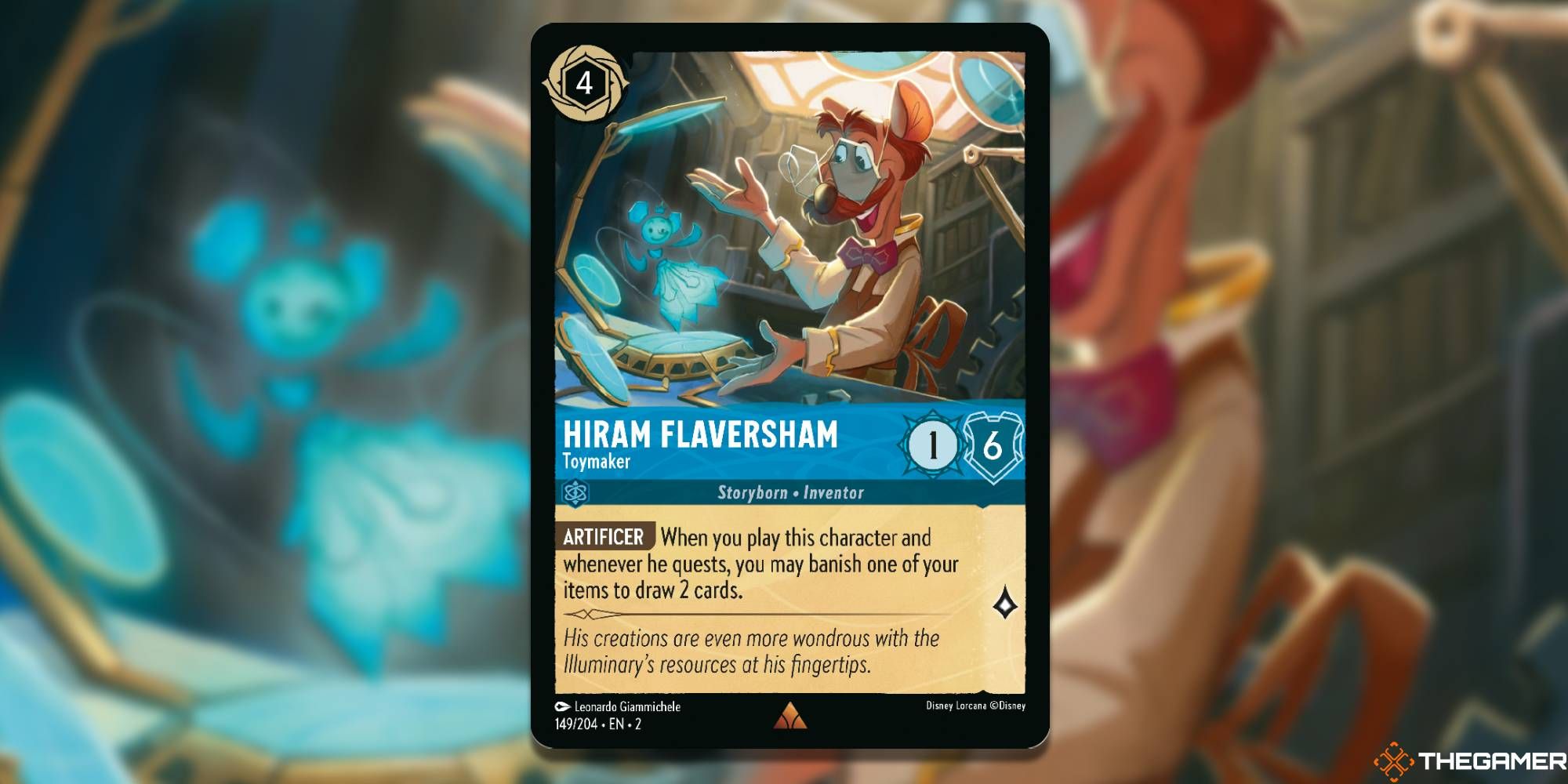 There aren't a lot of characters in Disney Lorcana that allow you to draw multiple cards, so Hiram Flaversham, Toymaker is particularly useful, especially because of his potential to draw two cards every turn.
There are seven items in this deck, and while all of them are worth banishing for two cards, the one-cost item Pawpsicle is the ideal target for Hiram. Keeping Hiram and an item like Pawpsicle can enable you to play a lot more aggressively and add more ink to your inkwell than you otherwise could.
Hiram Flaversham's little sister is Judy Hopps, Optimistic Officer, a cheaper card with a less powerful version of his ability. Try not to play these cards unless you have an item to banish, but Judy can also be used to banish an opponent's item in a pinch.
Four Dozen Eggs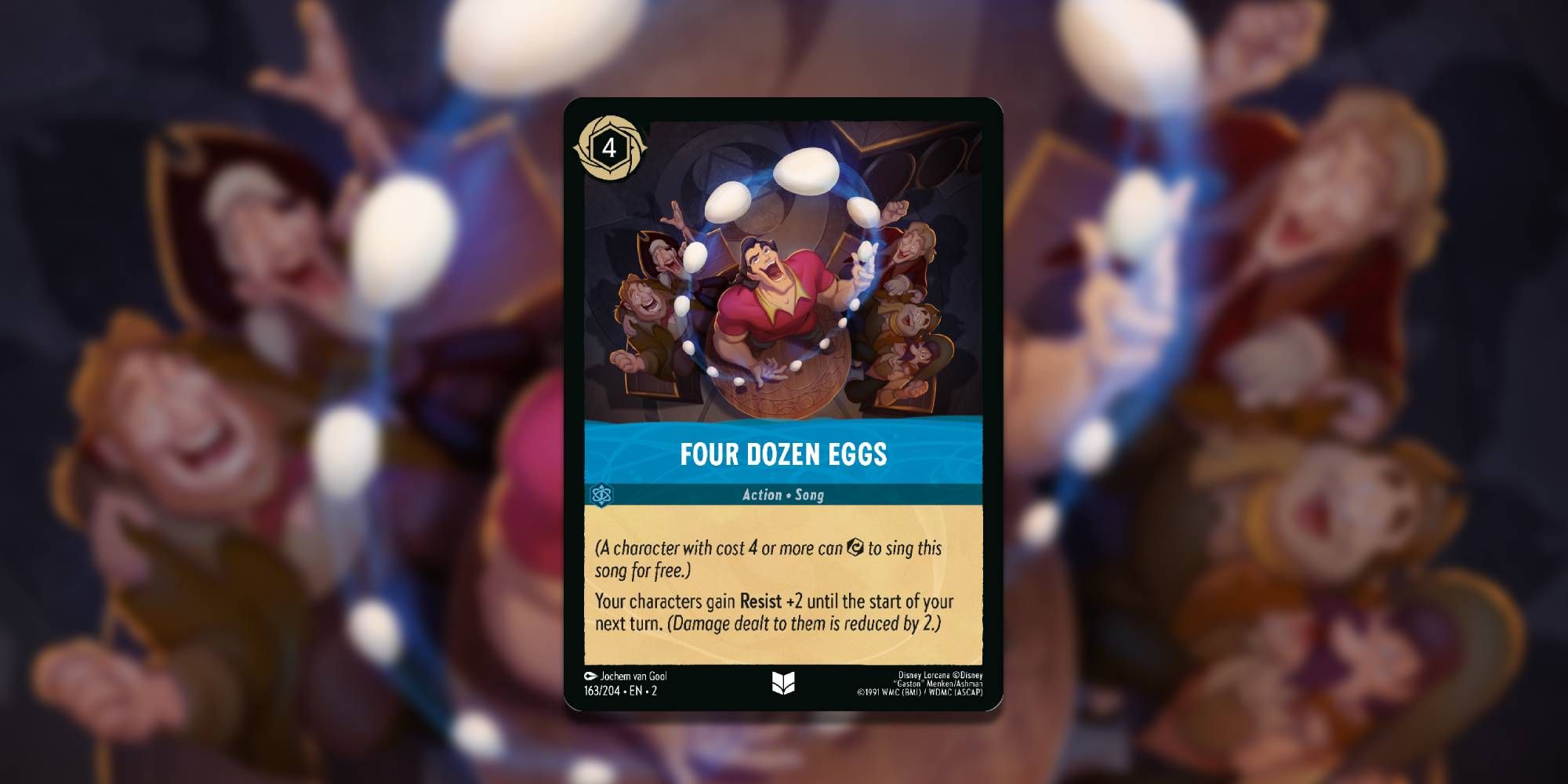 Due to its abundance of low-cost characters and minimal non-inkable cards, the Tactical Teamwork deck excels at playing on curve and building wide boards. Oftentimes, especially when playing against other starter decks, you'll find yourself in situations where both players are building their boards but neither are willing to start questing and risk losing their characters.
In situations where you have several characters on the board, Four Dozen Eggs allows you to significantly mitigate the risk of questing or challenging. You can use it to trade effectively to stop your opponent from pulling ahead, or to protect your questers and ensure you keep your lead. Use Four Dozen Eggs as a means of initiating big turns.
In the event that your opponent is foolish enough to leave some damage on your characters after a Four Dozen Eggs turn, you've got cards like Snow White, Lost in the Forest and Gumbo Pot to heal them back up. These cards can also be useful to get your characters healthy again if you decide to use Four Dozen Eggs to defend the board.
Your Opening Hand And When To Mulligan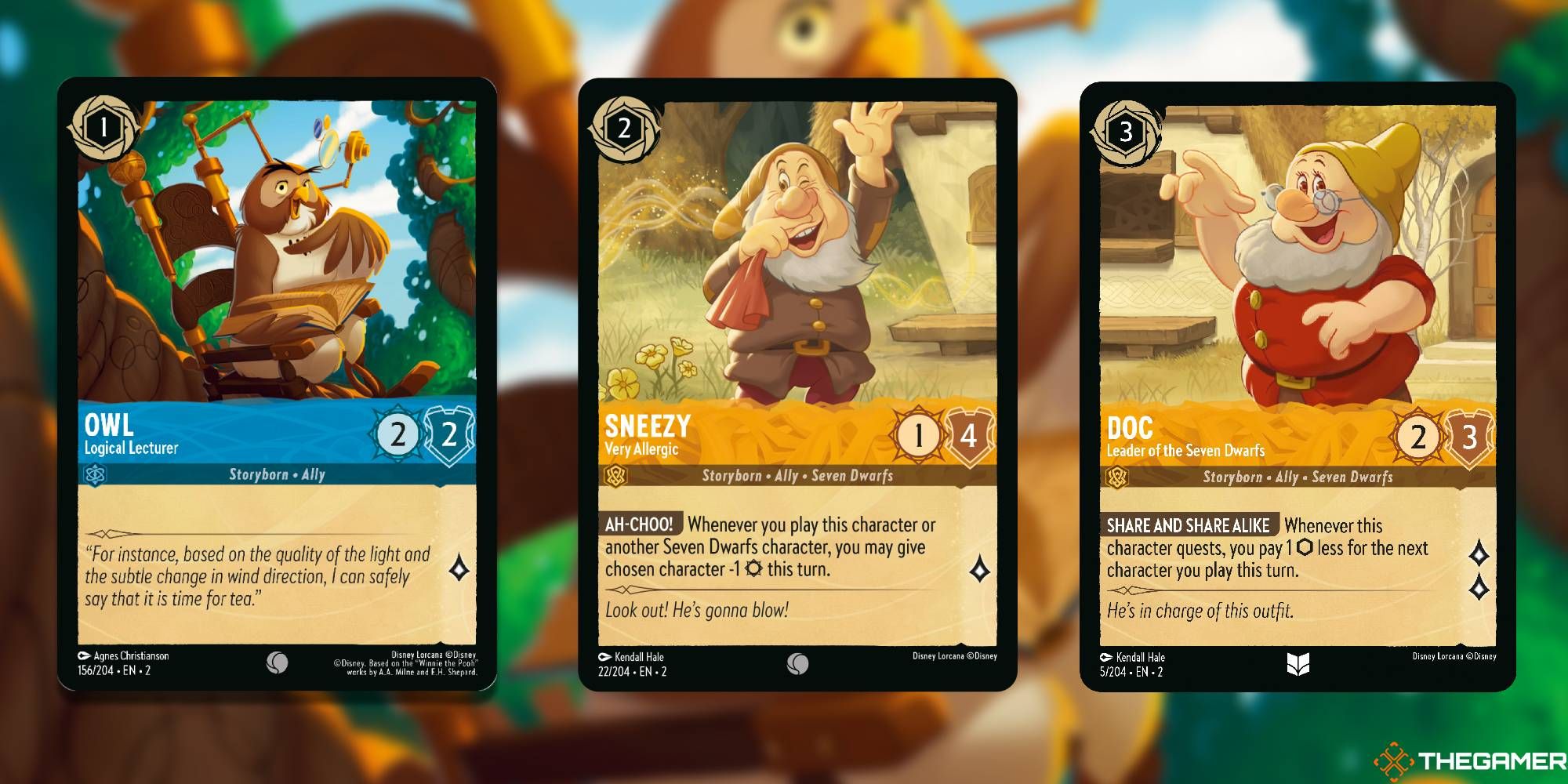 When assessing your opening hand for this deck, keep these things in mind:
Can you play on curve? This deck is excellent at providing cards to play on turns 2, 3, 4, and 5, as that's where the bulk of the deck sits. Try to get string of Dwarves or an item combo going early on and make sure you have something to play and ink every turn.
Prioritize High-Impact Cards. If your initial draw gives you The Queen, Commanding Prescene, its worth throwing everything else out to get The Queen, Regal Monarch. Same goes for Gaston, Intellectual Power House and Gaston, Baritone Bully, or even Hiram Flavorsham and a couple of items.
Launch and Cruella de Vil, Fashionable Cruiser are your only answers to Evasive. If you know your opponent is playing a deck with Evasive, like the other Rise of the Floodborn starter deck, make sure you hanging onto these tech cards to deal with them.
Amber/Sapphire Playstyle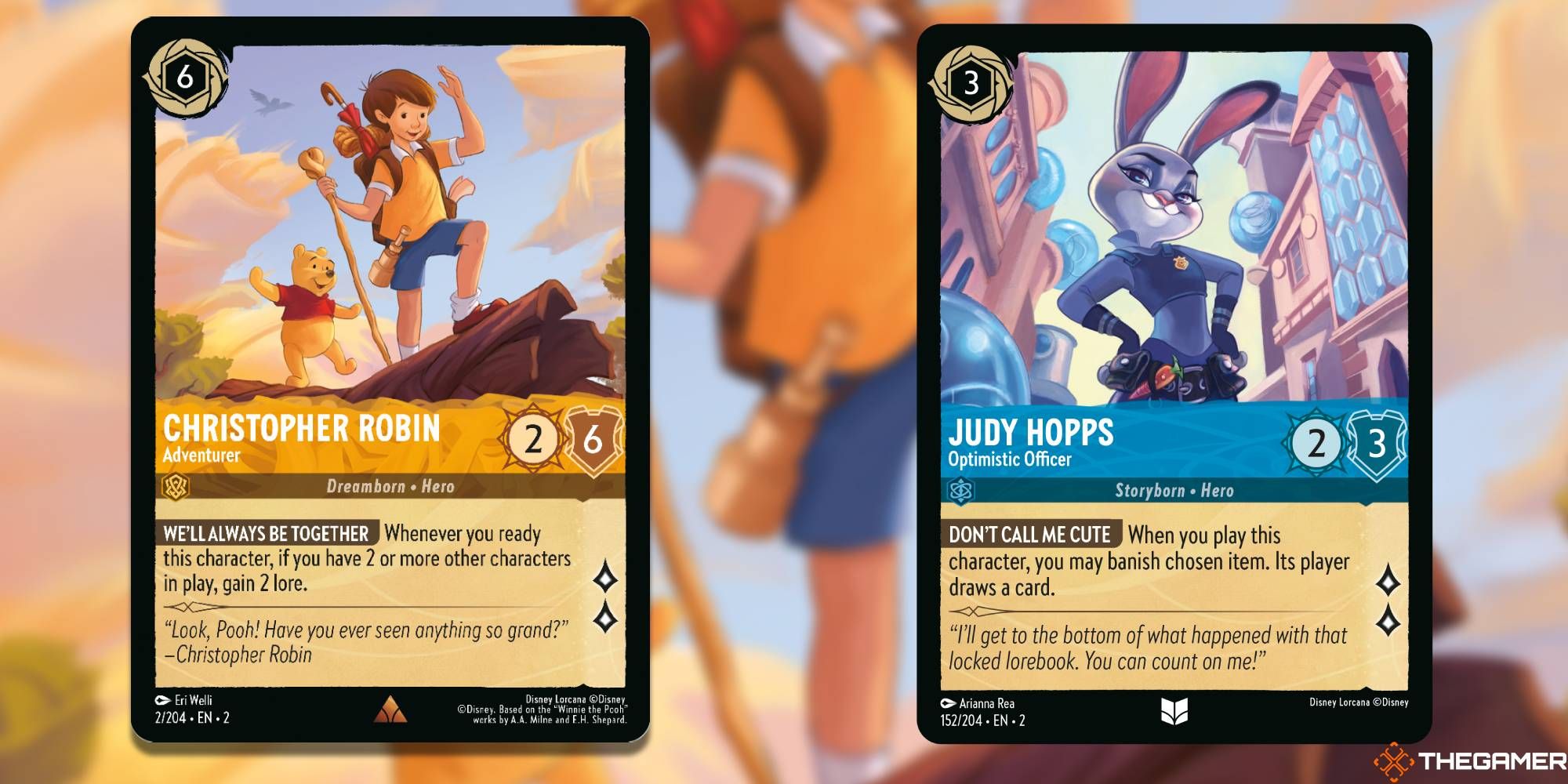 Tactical teamwork is an aggressive deck with low-average ink-cost characters, very few uninkables, and quite a few tricks it can use to catch your opponents' off guard. This deck is designed to play cards on curve from turn one through five to establish a board, then use actions and character abilities to protect your characters and create opportunities to make favorable trades.
It is flexible in that it can pivot from questing to challenging based on the board state, and it can take advantage of quite a few synergies to give you the upperhand.
With Hiram Flaversham, Pawpsickle, Judy Hopps, and Floodborn Gaston, you have many opportunities to draw from your deck and gain a card advantage, which will almost always put your ahead of your opponent in starter deck matches.
Not only does drawing cards give you more options, but it helps you cycle through your deck to find high-impact cards like The Queen, Commanding Presence and Christopher Robin, Adventurer.
Your mulligan is very important with this deck as it will determine how aggressive you can be with questing. Because Seven Dwarfs cards have so many synergies, it's important to think several turns ahead about the order you play them and what effects they will have on each other.
The Queen, Commanding Presence and Four Dozen Eggs can turn your Seven Dwarfs army into a formidable battalion that will often catch your opponent by surprise. Combat tricks that reduce the Strength of your opponent's character, like Fang Crossbow and Painting the Roses, may seem low impact, but this deck relies on trading efficiently, as well as healing with cards like Gumbo Pot, to keep your characters and control the board.
There's a lot of inconsistency built into this starter deck, and you won't always see your one-off cards like The Queen, Hiram Flavorshim, or Gaston, so it's important to work with what you have. Bashful, Hopeless Romantic only needs one other Dwarf in order to quest, while Belle, Inventive Engineer lets you play a Pawpsicles for free.
Little synergies can make a big difference and you should always be looking for ways to combine two cards together to get more value out of your turns.
Weaknesses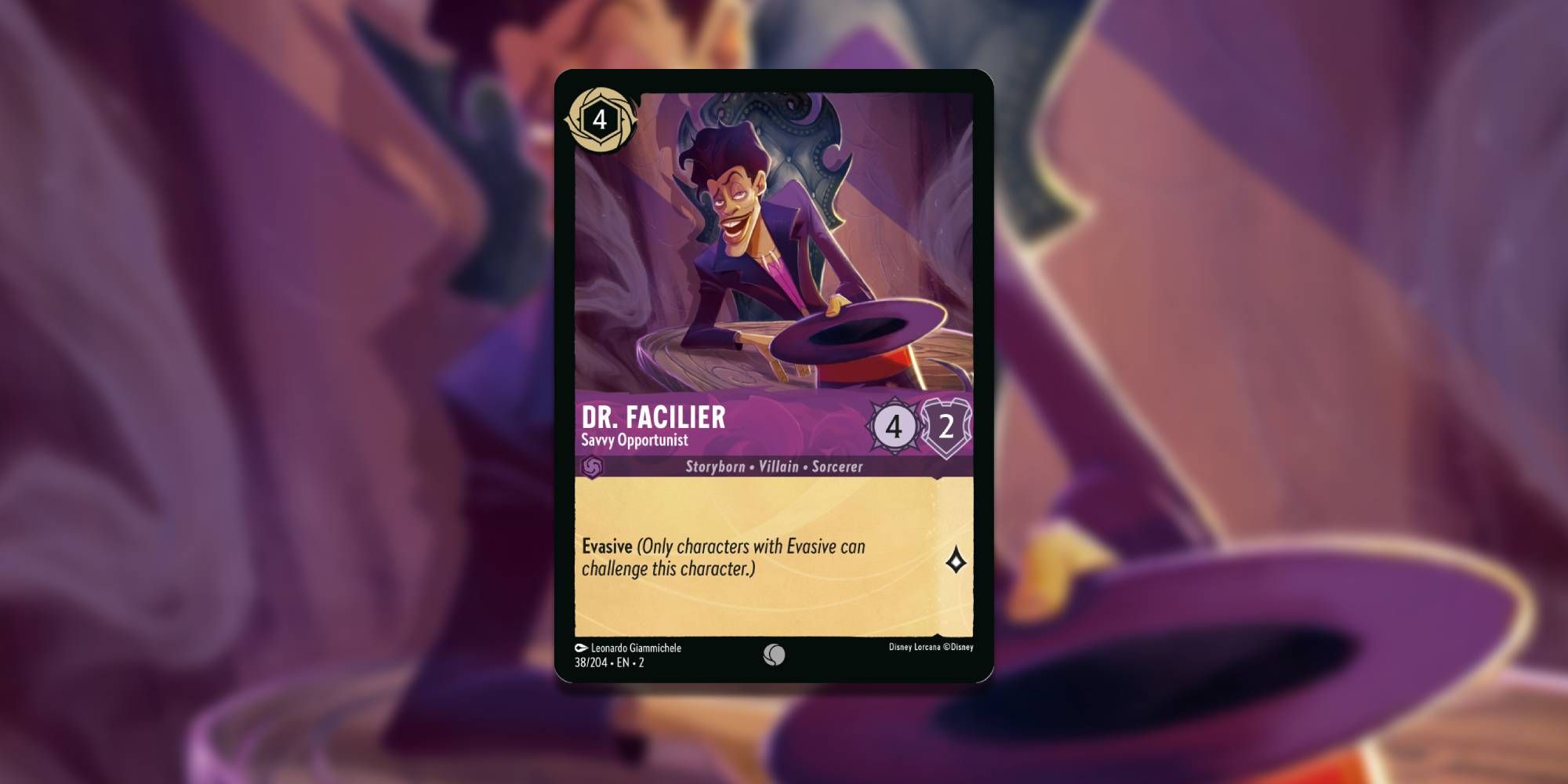 Evasive threats like Dr. Facilier, Savvy Opportunist are difficult for this deck to deal with. Cruella de Vil, Fashionable Cruisier is your only real counter, but Launch can be used in a pinch too.
While combat tricks that change the Strength of your opponents' characters will help you control the board, this deck's collection of cheap characters will struggle to take down big threats like Cinderella, Stouthearted. This deck worst best when it has momentum, so if the opponent is able to control your board early, you may have a difficult time catching back up.
Launch and The Queen, Commanding Presence are your best tools for making big plays to turn the tide, but they can be difficult to find in your deck too.
NEXT: TCG Release Dates 2023