Alan Wake 2 is a sequel many fans have been hungry for, since the world presented by the first game was so unique. It's survival horror without an over-reliance on gore, spending its focus on the story. While Alan Wake 2 certainly delivers on all fronts, with so much time passed, many might not remember what happened in the original game.
RELATED: TV Shows And Movies To Watch If You Liked Alan Wake 2
Thirteen years is no small number. Some players might not remember what happened, others might have not been old enough to even play the first game. While it's highly recommended that you play it, you might not have the time, so here's everything you need to be up to speed with Alan's story.
As expected, Spoilers ahead!
What Happened In Alan Wake?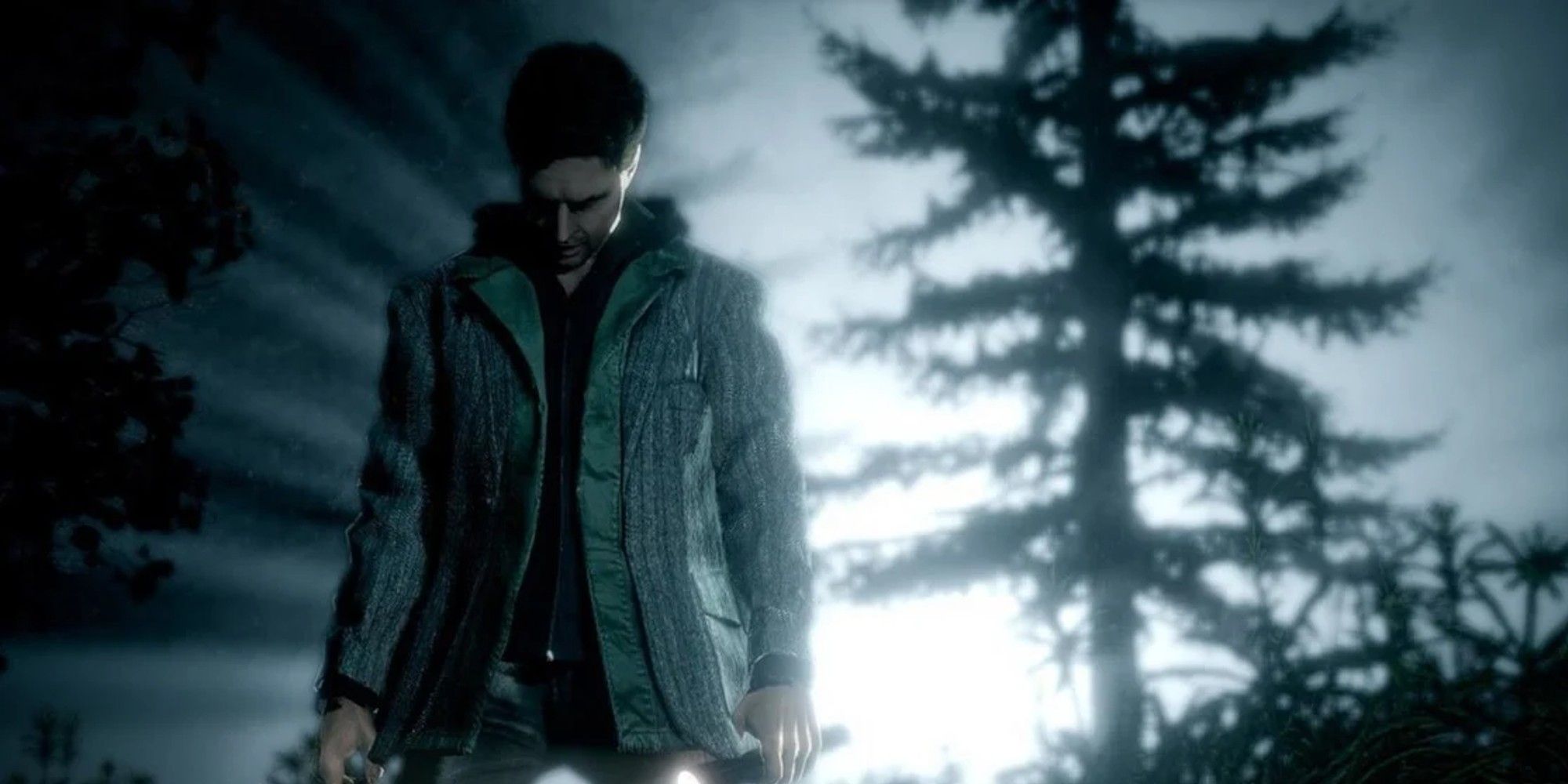 Alan Wake is a famous writer with a highly successful career. His last book (The Sudden Stop) was published two years prior to the events of the game, and he hasn't been able to write a single word since. His wife Alice, a photographer, begs for Alan to take a short vacation with her in Bright Falls, a small and quiet mountain town.
Once in Bright Falls proper, Alan needs to fetch the keys of the cabin he and his wife will be staying at. He was supposed to meet someone named Carl Stucky at a dinner, but instead encounters an old woman dressed in full black. She claims that Stucky fell ill, and gives Alan the keys and directions to the cabin.
The Cabin was in the middle of Cauldron Lake, named such since it was a volcanic crater lake. As the couple is settling in, Alice gives Alan a typewriter, saying that the real point of the trip was for Alan to try to write something, and to see Dr. Emil Hartman, a renowned psychologist known for treating artists.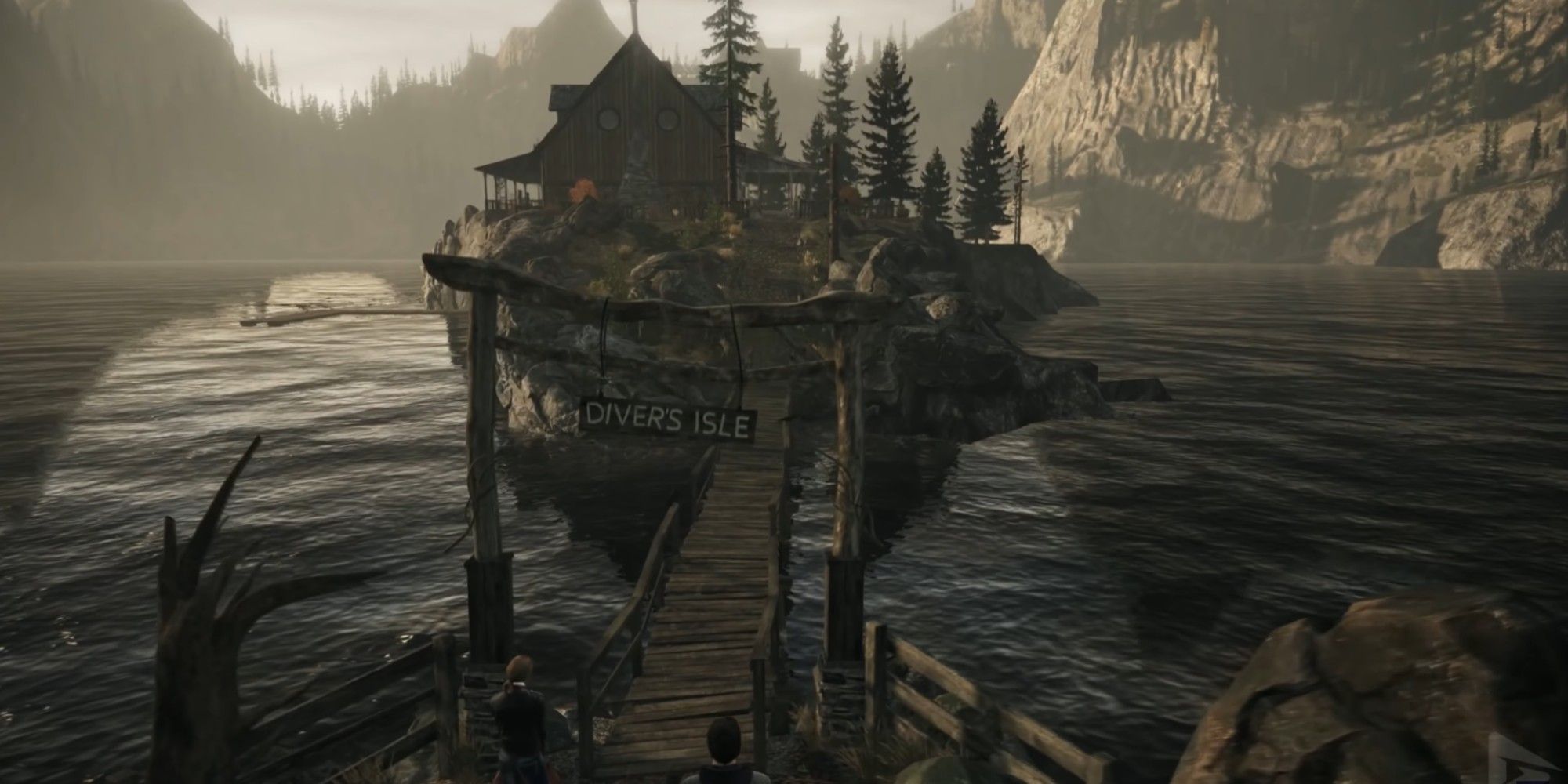 Alan is angered by this, and leaves the cabin, knowing that Alice won't follow due to her fear of the dark. He doesn't make it far, since he hears Alice scream for help and runs back. He finds Alice submerged in the dark waters, and jumps after her.
After some brief visions of Alan and the old woman in black, he wakes up in his car, seemingly having driven it off the road. The last thing he remembers is diving after Alice, but now he's not even wet. He leaves the car in search of help.
Alan tries to get to a nearby gas station, so he can call for help, but encounters men covered in shadows trying to kill him, Carl Stucky among them. As he slays them like he had to in his dreams, they disappear in a puff of smoke.
These shadows are called Taken, as Alan learns while finding hidden messages with his flashlight.
He also finds several pages of a manuscript called Departure, with his name listed as the writer. He has no recollection of writing it, but the words that appear in those pages become true all around him. He decides to keep collecting them and move on.
Once at the gas station, he contacts Sheriff Sarah Breaker to tell her about his wife being missing, that he last saw her at their cabin. The Sheriff informs Alan that there's no cabin in Cauldron Lake, since the last one sank decades ago. The Sheriff takes Alan to the police station for further questioning.
Alan learns that a whole week has passed between the fight with Alice and him waking up in the car, but hides most of it from the police. He gets a call from a supposed kidnaper that demands the pages of Departure in exchange for Alice. Just then, Alan's agent Barry shows up, and since he isn't under arrest Alan leaves the police station with the help of Barry to find Alice.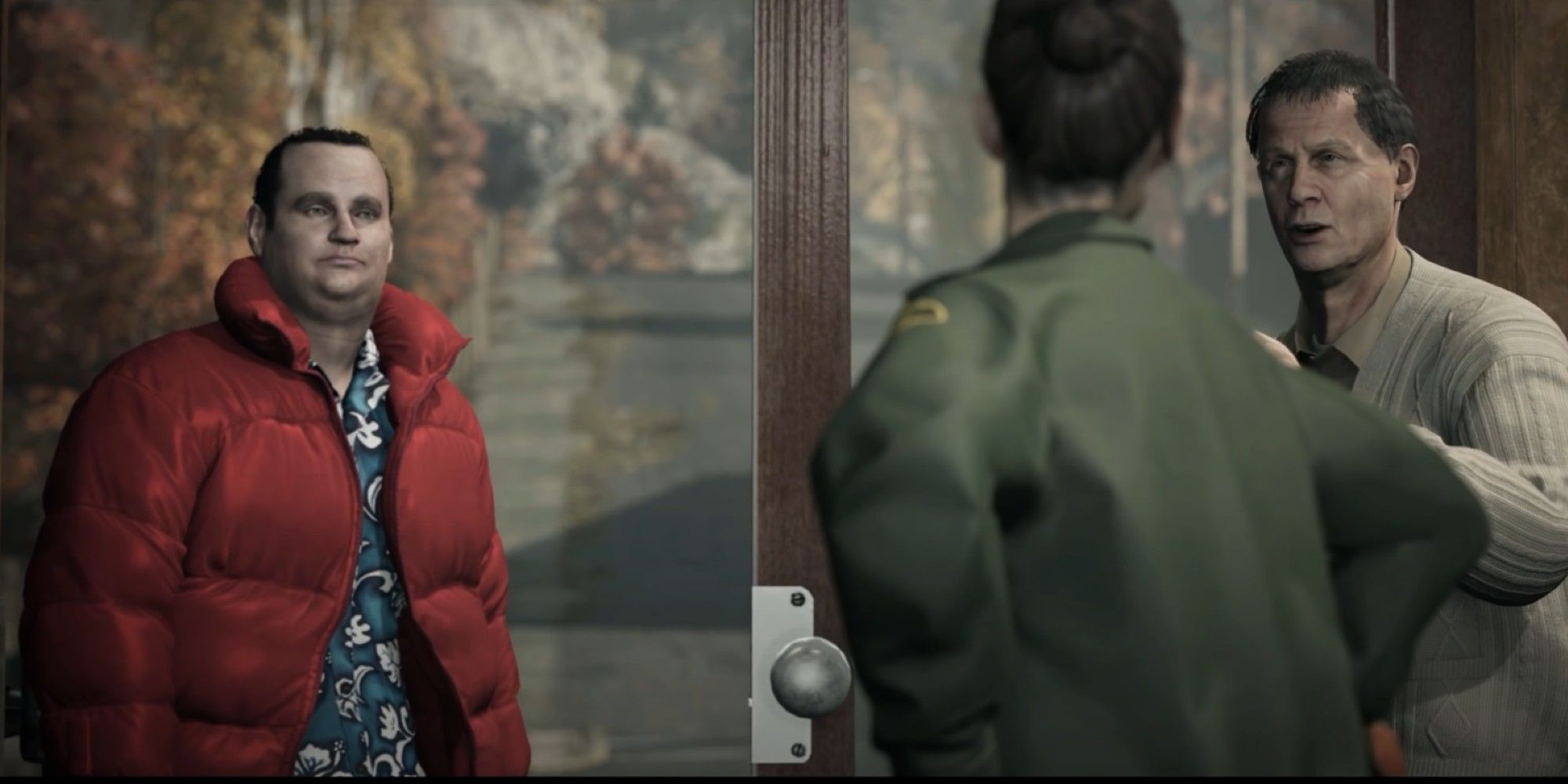 Alan tells everything to Barry, who doesn't believe him until he starts seeing the dark figures as well. Alan goes alone to find the kidnapper, a man named Mott. After a short fight, Mott runs off. It's at this time that an FBI agent named Nightingale enters the scene, chasing Alan.
Alan meets with Mott once again, but this time Mott is being tortured by the old woman in black. Mott never had Alice to begin with, and after this a tornado flings Alan towards Cauldron Lake. He wakes up in the care of Dr. Hartman, telling him that everything that's happened is in his mind and that Alice drowned.
Alan doesn't believe him and tries to escape the lodge of Dr. Hartman. He learns that Mott was being used by Hartman to lure Alan to his lodge, and that the Dr. seems to know plenty about the Taken and darkness surrounding the town. Barry arrives to help Alan escape, and they go to find out the truth of what's really going on.
RELATED: How Long Does It Take To Beat Alan Wake 2?
In their research, they learn that a strange being known as the Dark Presence is trapped in the lake, trying to escape with its power to turn fiction into reality. Years ago it tried to do this with Thomas Zane, a poet. Thomas Zane is the strange voice that Alan has been hearing, guiding him throughout the game, in the form of a diving suit.
The Dark Presence lured Zane into working for it by taking the form of his late wife, Barbara Jagger (the old woman in black). With great effort, Zane was able to keep part of his will and write a volcanic eruption that sank the island. Yet this was only temporarily, and the Dark Presence needed to gather its strength while waiting for a new writer.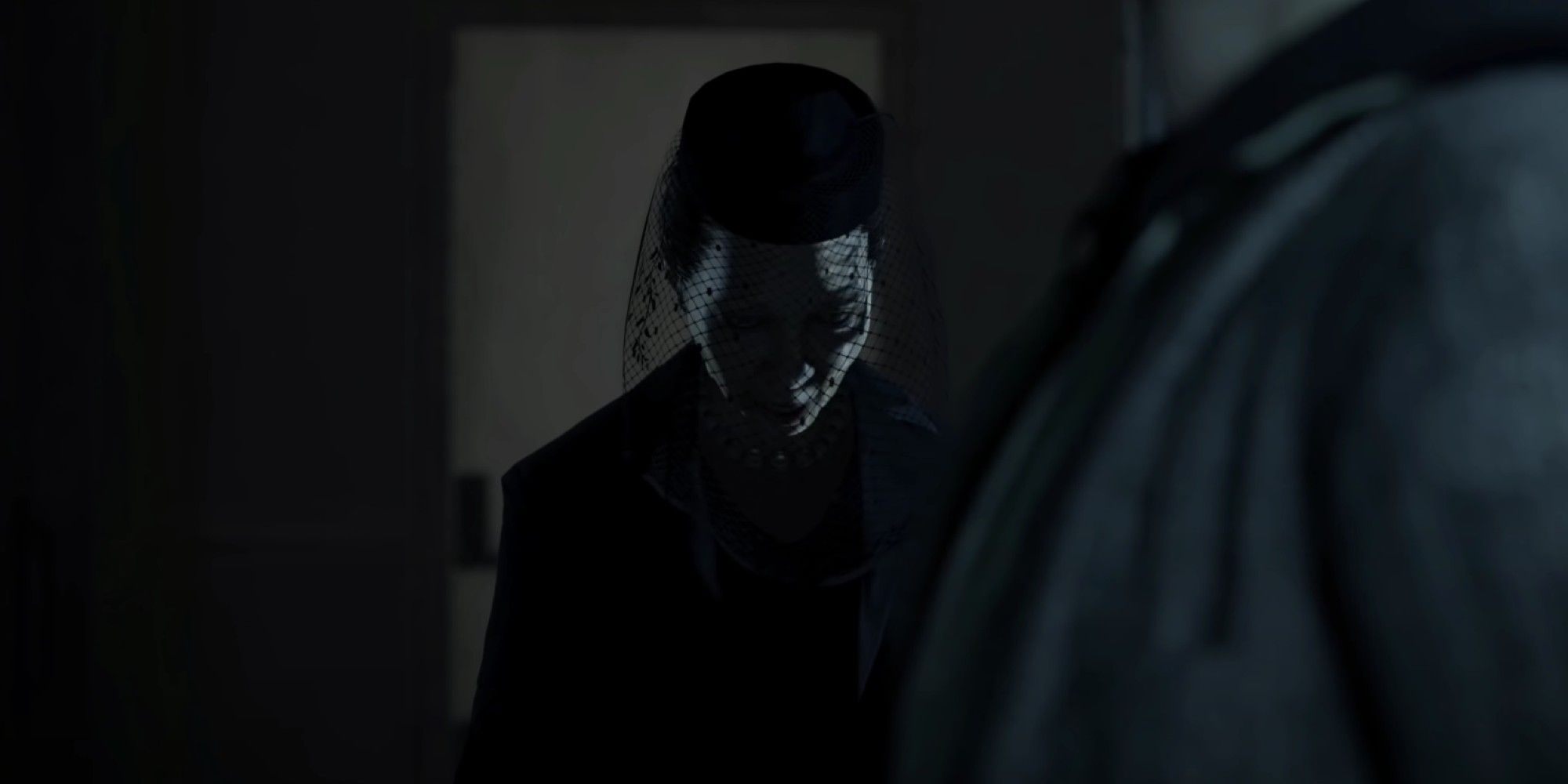 Alan realizes that during the week he's missing from his memory, he was being influenced by the Dark Presence to write Departure, a way out from the lake for good. It's keeping Alice alive as a bargaining chip, forcing Alan to finish his work.
Alan and Barry are soon after arrested by Nightingale, the FBI agent. At the police station, the Taken begin an assault and take Nightingale away. The Sheriff helps Alan and Barry get to Cynthia Weaver, a hermit that prepared for the Dark Presence's return.
Nightingale doesn't become a full Taken, instead he can be seen at the end of the game clearly having been affected by the Darkness.
Weaver gives them the Clicker, a light switch seemingly connected to nothing that can destroy the Dark Presence. It can do so thanks to the narrative power given by Alan's writings. Alan knows that he must go alone to Cauldron Lake and face the Dark Presence one last time.
Alan dives into the lake, ending up in the Dark Place. Thoughts and ideas are made real here, and this is where Alan finds the old woman in black, Barbara Jagger. He destroys her with the Clicker, but that's hardly the end. To keep the Dark Presence at bay, Alan must stay behind much like Zane did before him. He finishes Departure by giving Alice a way out, and ends it with "It's not a lake, it's an ocean."
Is Alan Still In The Dark Place?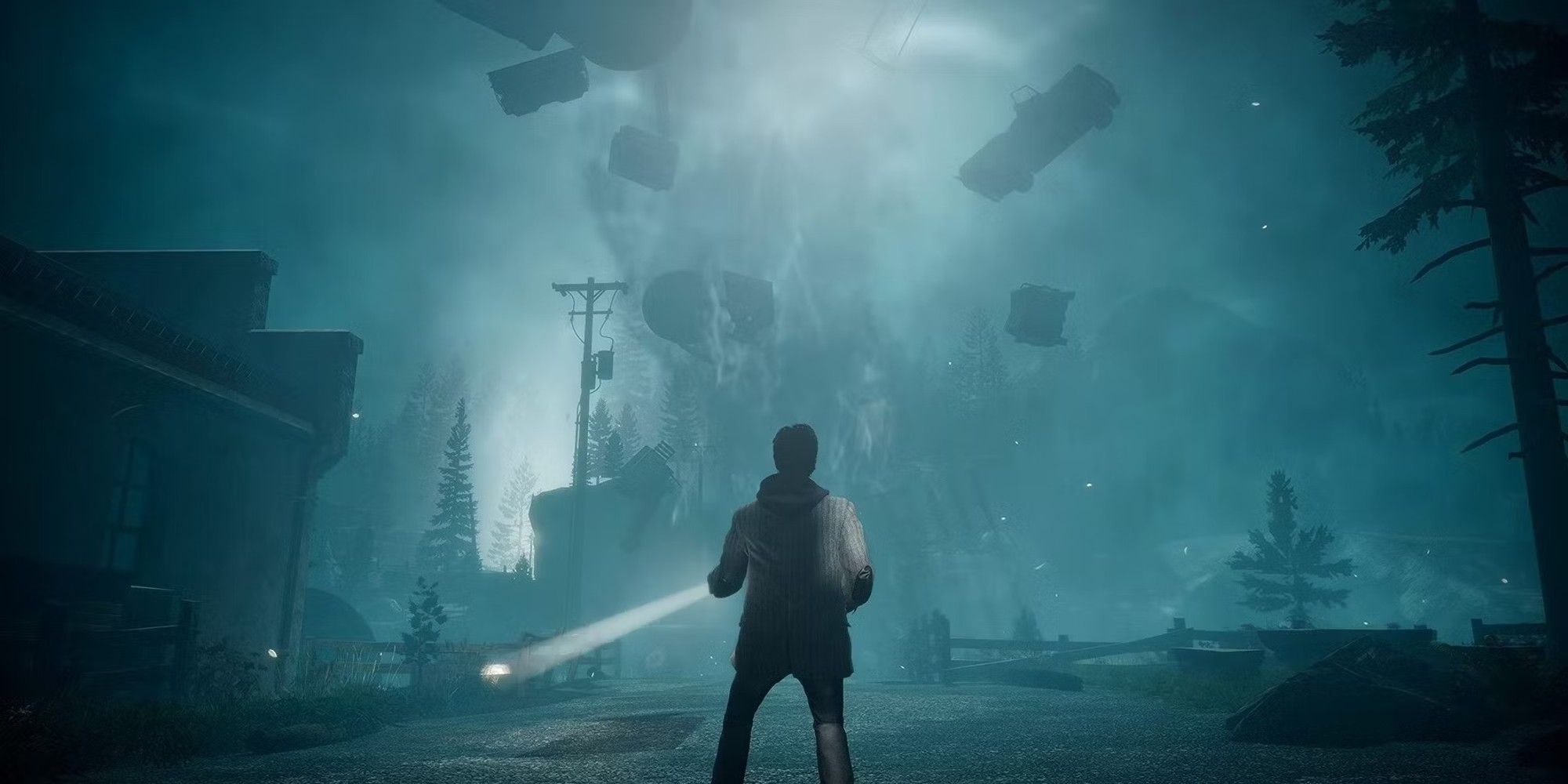 There are two additional chapters that hint at Alan finding a way out. In the first one, The Signal, Alan needs to face an irrational version of himself that, out of fear, keeps sending hordes of Taken to slay his rational self. Zane does his best to guide Alan to safety, as does an imaginary Barry that represents his will to survive.
In The Writer, Alan faces off one final time against his irrational self, having to face all kinds of monsters and illusions. Once he catches up to his other half, they merge, but Alan remains in the Dark Place. To have any hope of escaping, he begins to write a new story: Return.
What Happened In Alan Wake's American Nightmare?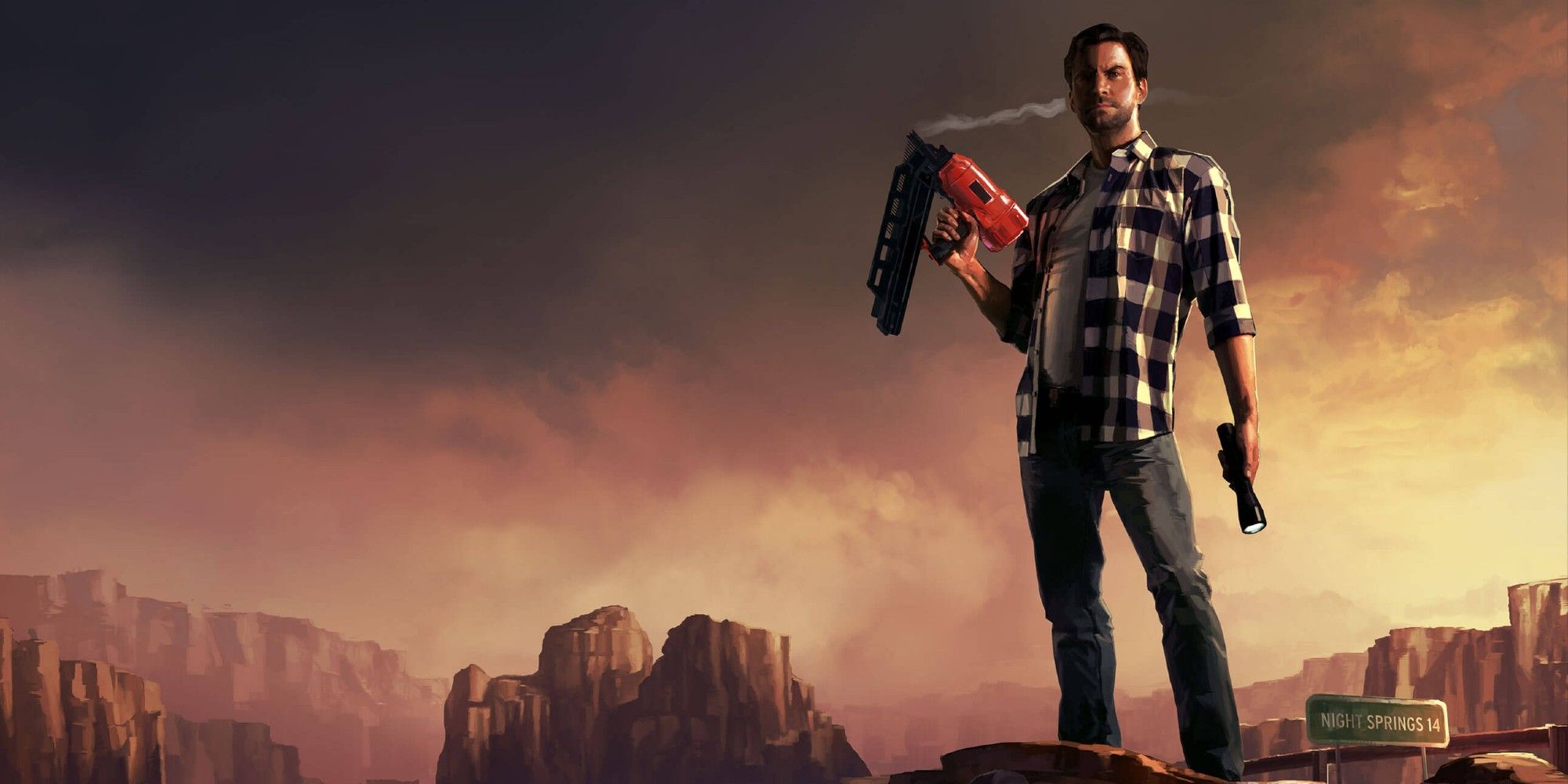 The story in American Nightmare involves the fictional TV show Night Springs, a show reminiscent of The Twilight Zone that Alan can watch at different televisions throughout the original game. We see Barry (Alan's agent) asleep at a hotel with the TV on, when suddenly an episode written by Alan Wake begins.
Here, the Dark Presence created Mr. Scratch, an evil Doppelgänger of Alan with the mission of destroying Alan and his loved ones, like Alice. Alan not only managed to escape the Dark Place here, but he's also now a Champion of Light, able to rewrite the surrounding reality. His escape wasn't without effort, since it seems it took him two years to do it.
Mr. Scratch, being made of the Darkness, has the ability to control the Taken and sends them after Alan. Searching for a source of light, Alan escapes to a motel, meeting Emma Sloan. She first thinks he's Mr. Scratch, since even if their clothes are different, they look identical.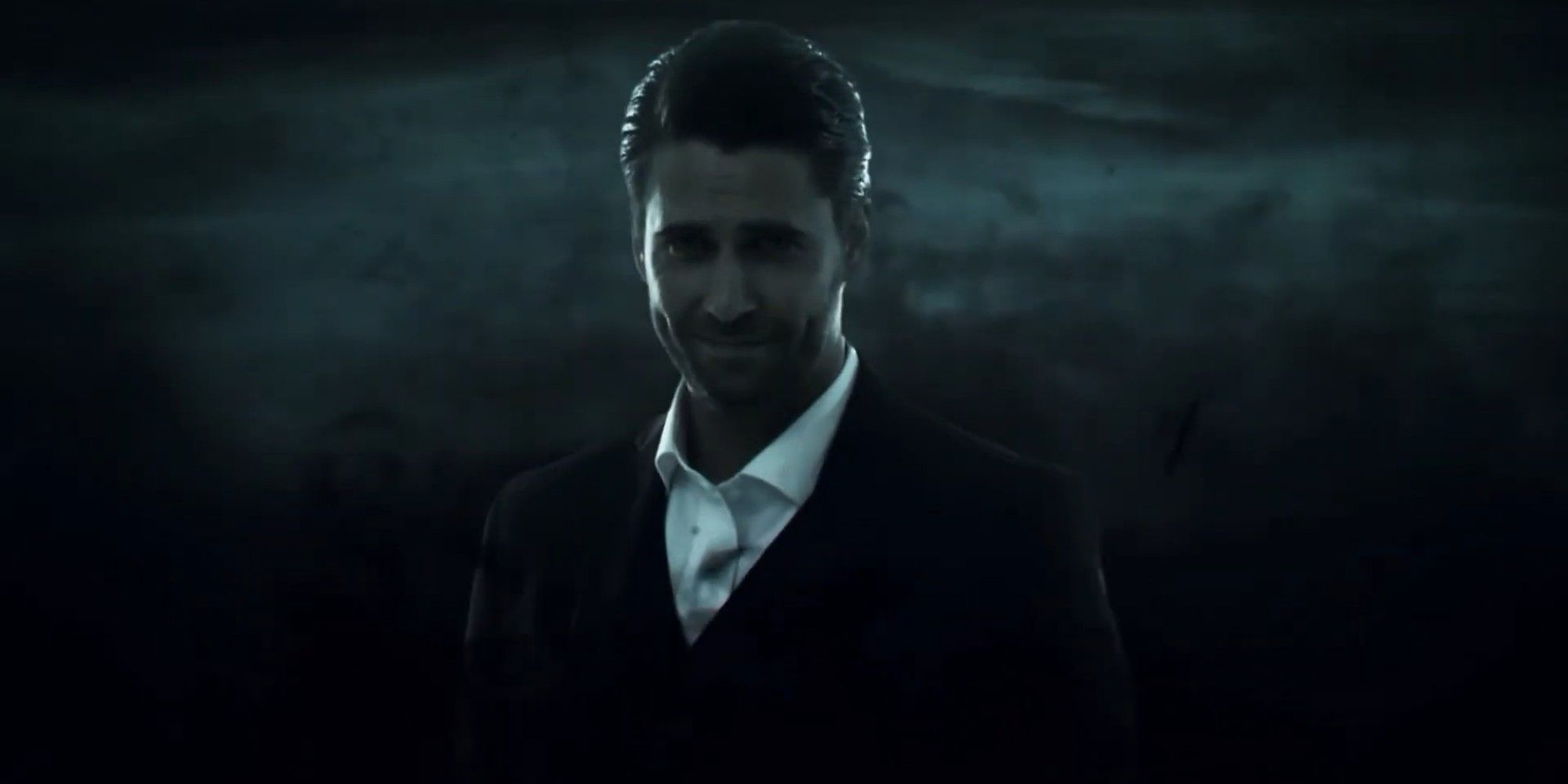 Emma informs Alan that Mr. Scratch was there the night before, and gave him a typewritten page. This allows Alan to alter reality, letting him stop the Taken horde. His altered scene has a meteor collide with a satellite, sending it crashing down against the Taken. While Alan is away altering the scene however, the Darkness takes Emma.
Alan then heads to a nearby observatory, meeting Dr. Rachel Meadows. She had also met Mr. Scratch, and was tracking a strange signal sent just before the satellite was hit. Alan also learns from Rachel thar Mr. Scratch needed that signal, therefore it must be key in defeating him. Before they can continue their research, they're attacked by Taken.
RELATED: Alan Wake 2: The Best Words Of Power Upgrades
After fending them off, the weak signal gives Alan a page of a story. It leads him to a drive-in theater, where he meets Serena Valdivia. Serena is being infected by the Darkness, but Alan saves her before she becomes Taken. Serena is then able to tell Alan that Mr. Scratch plans to have a world where the sun never rises.
Needing to change reality before that can happen, Alan goes to the projection room, so he can use the page from the signal. Since it's incomplete, it doesn't work, and Mr. Scratch sends him back only a few hours before to trap him in an impossible loop.
Alan wakes up near the motel, having to retrace his steps back to the theater. Emma and Rachel have a vague recollection of the previous loop, doing their best to help Alan. Emma is still consumed by the Darkness, while Rachel is able to get a bigger portion of the signal for Alan. Still incomplete, Alan is sent back in time once again.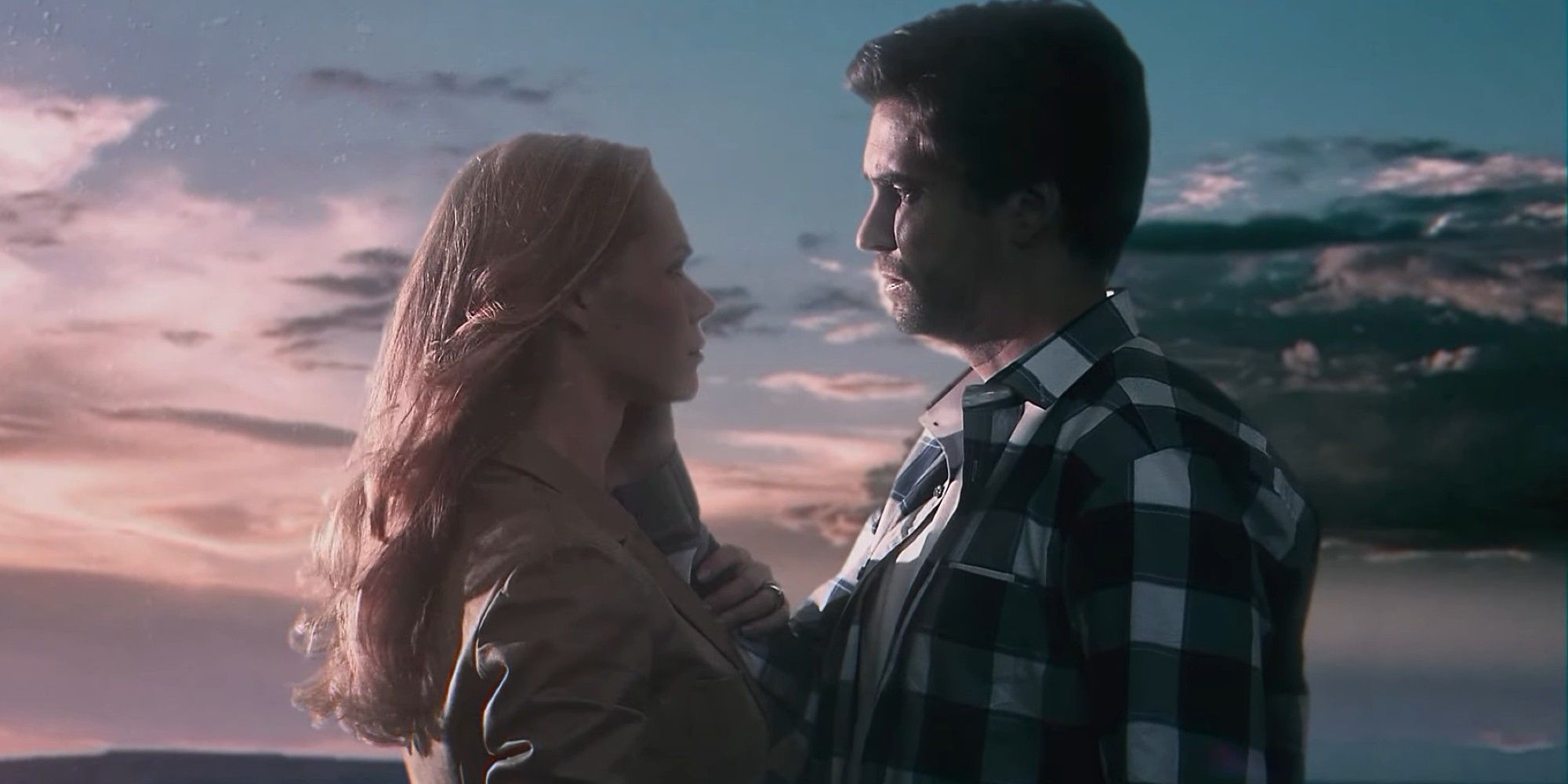 The third and final time, Alan manages to save Emma and helps Rachel get a complete signal. With it, he manages to rewrite reality at the theater, burning Mr. Scratch out of existence. The movie shown in the theater is one made by Alice, and shows her and Alan reunited on a shoreline.
It ends with the narrator questioning the veracity of everything that occurred, since it likely all happened in Alan's mind. Still, in a post credit scene, we see Barry finally waking up, feeling that he could hear Alan's voice somewhere.
NEXT: Games To Play If You Like Alan Wake 2