Like A Dragon Gaiden: The Man Who Erased His Name is a to-the-point action-packed adventure featuring equally time-efficient ways to make money. This spin-off takes you on a journey back in time – if you've already experienced Yakuza: Like A Dragon (aka the seventh mainline game).
RELATED: Like A Dragon Gaiden: The Man Who Erased His Name – Combat Tips
There's a lot of money being thrown around in Sotenbori and Isezaki Ijincho, with plenty up for grabs if you're savvy enough to take it. If you want to know how to make money in The Man Who Erased His Name, then you have a few options to choose from depending on how you'd like to play.
Contains Minor Story Spoilers
Buy The Drop Rate Level Up From Akame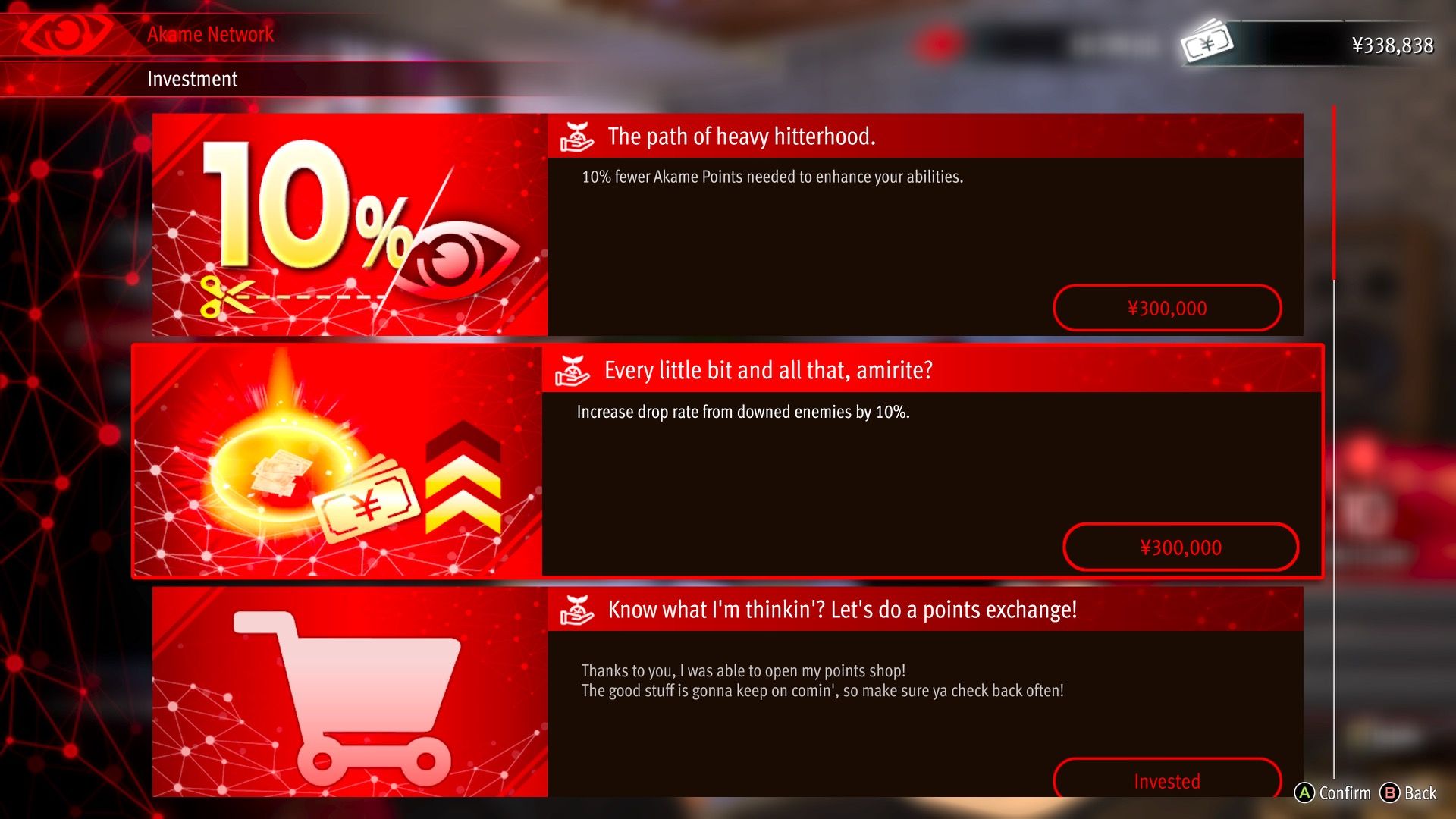 Once you unlock the Akame Network and gain access to her store, you'll be able to invest in her Network for various benefits, including an increased drop rate from downed enemies.
You'll be able to increase the drop rate by set increments each time the next tier becomes available:
Increases drops by five percent for 100,000 yen.
Increases drops by ten percent for 300,000 yen.
Increases drops by 15 percent for 500,000 yen.
Leveling this up as early as possible will yield high returns as every future fight will present the opportunity to earn much more money than you would have normally.
Over the course of your playthrough, you'll receive significantly more in earnings from random street battles, making this a great passive way to earn money by thinking ahead early.
Certain enemies, like those in the Coliseum, do not drop anything upon defeat as their rewards are already built into the task's completion.
RELATED: How Long Does It Take To Beat Like A Dragon Gaiden: The Man Who Erased His Name?
Sell Plates & Spare Gear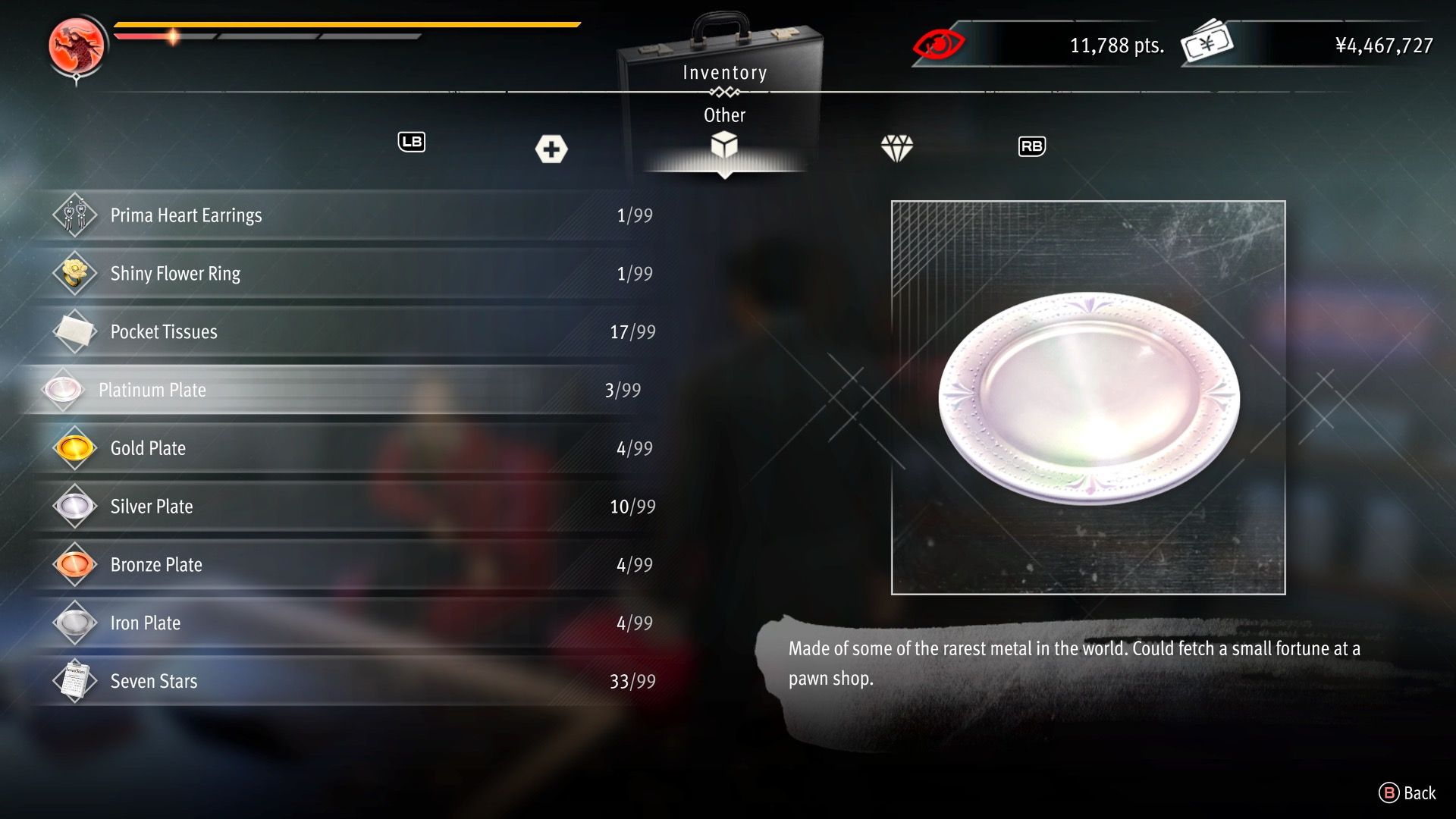 If you find yourself collecting dozens of metal plates and unused items, head over to Ebisu Pawn Shop to sell all of them for cold, hard cash.
This is another fantastic way to passively earn extra money by just looking out for some glowing objects while you play.
You can also exchange points via Akame's shop to acquire more plates and convert them into cash.
If you plan to use Akame's shop to buy plates or other items, you'll get great value from investing in the reduced points exchange cost in Akame's Investment menu.
Become An Ace Gambler (Or Cheat)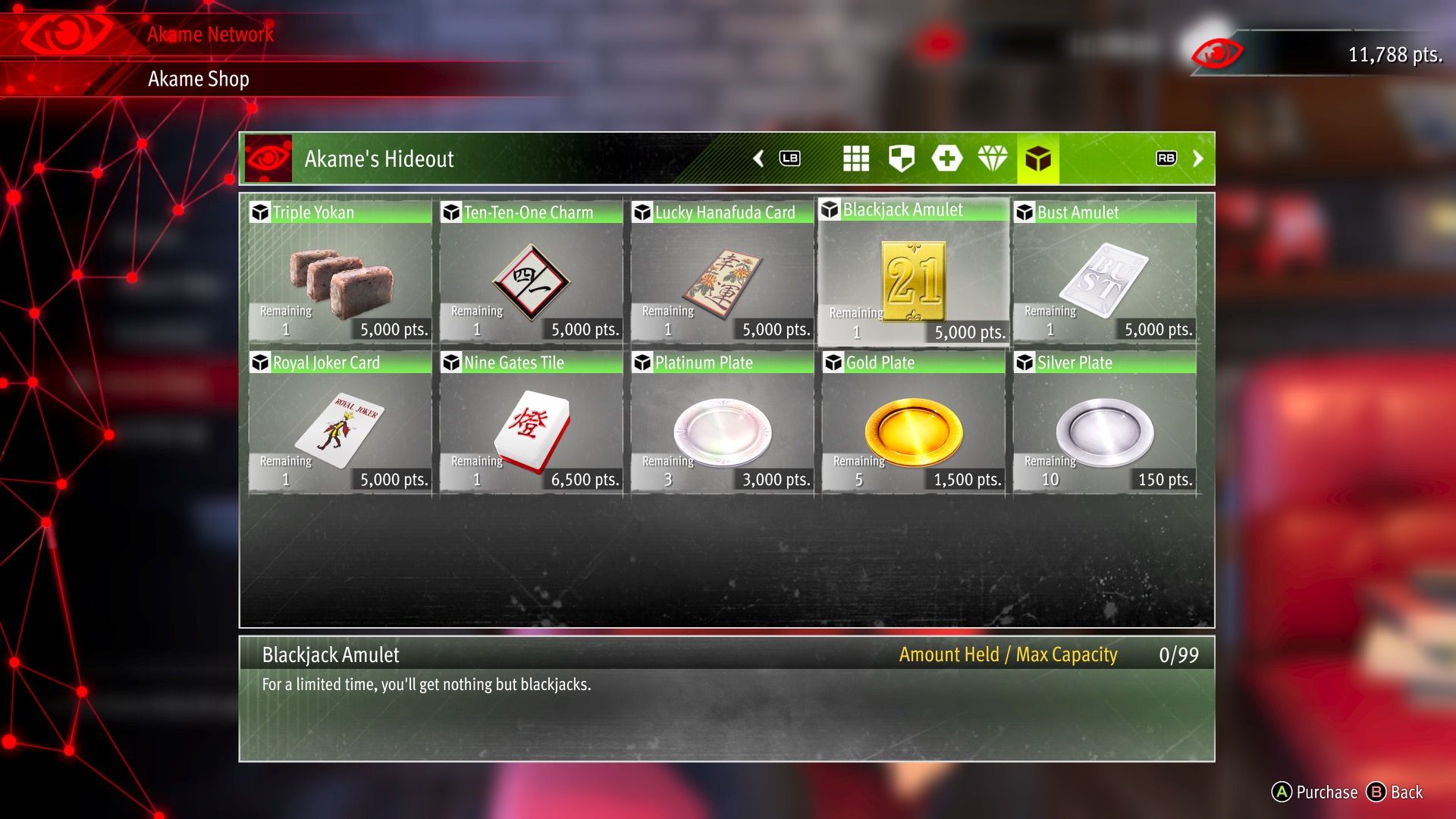 There are multiple casino games you can play to earn money, but playing requires you to either have previous knowledge of the game in question (like Blackjack) or else you'll have to learn from scratch.
However, if you find these games too hard or winning fairly to be too slow, there are multiple special items that will allow you to guarantee victory in a certain game.
The Akame Shop sells the following items that will help you bypass the mechanics of actually playing to win.
| Special Item | Effect |
| --- | --- |
| Blackjack Amulet | For a limited time, you'll only get Blackjacks |
| Bust Amulet | For a limited time, the Blackjack dealer becomes more likely to bust |
| Lucky Hanafuda Card | When flipping in koi-koi, you're more likely to acquire the card needed to complete a combination |
| Nine Gates Tile | Allows you to get a Nine Gates in mahjong |
| Royal Joker Card | Makes you more likely to assemble a good Poker hand |
| Ten-Ten-One Charm | Produce Ten-Ten-Ones in oicho-kabu |
| Triple Yokan | Causes triples to appear in oicho-kabu |
Complete High-Tier Requests From Akame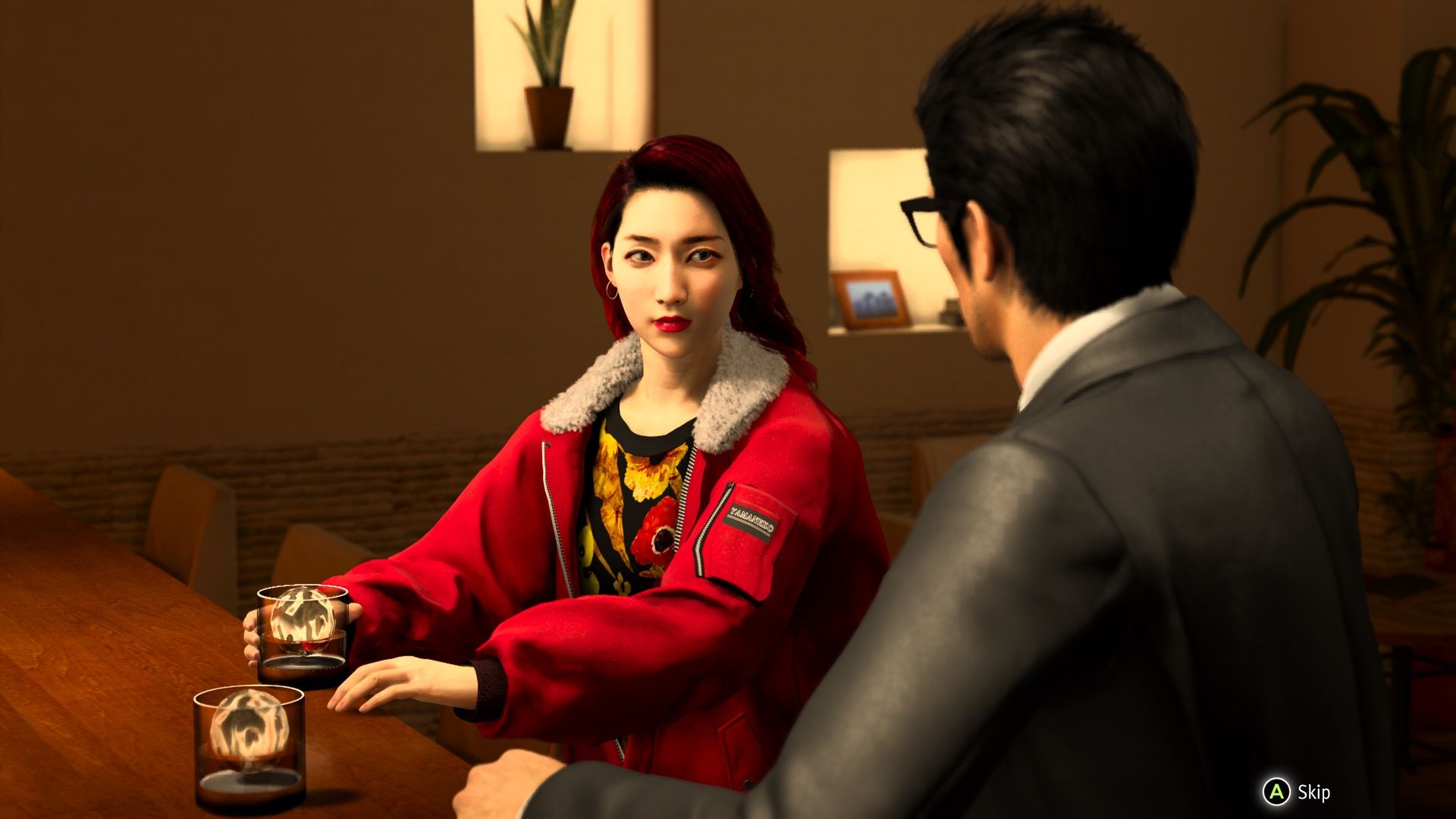 Substories function a little differently in Like A Dragon Gaiden: The Man Who Erased His Name, as you'll receive them as Requests through the Akame Network.
You can preview the rewards for each substory, which usually include a chunk of cash and some amount of points as well.
If your sole goal is to make money fast in The Man Who Erased His Name, then simply sift through the requests and select the ones that offer the most money to maximize your time.
Various requests will reward in excess of 1,000,000 yen, so you have multiple ways to earn money for upgrading your abilities.
Completing these requests also raises your level in the Akame Network, so there will be more than just money to reward your time.
Farm Hell Team Rumble Coliseum Battles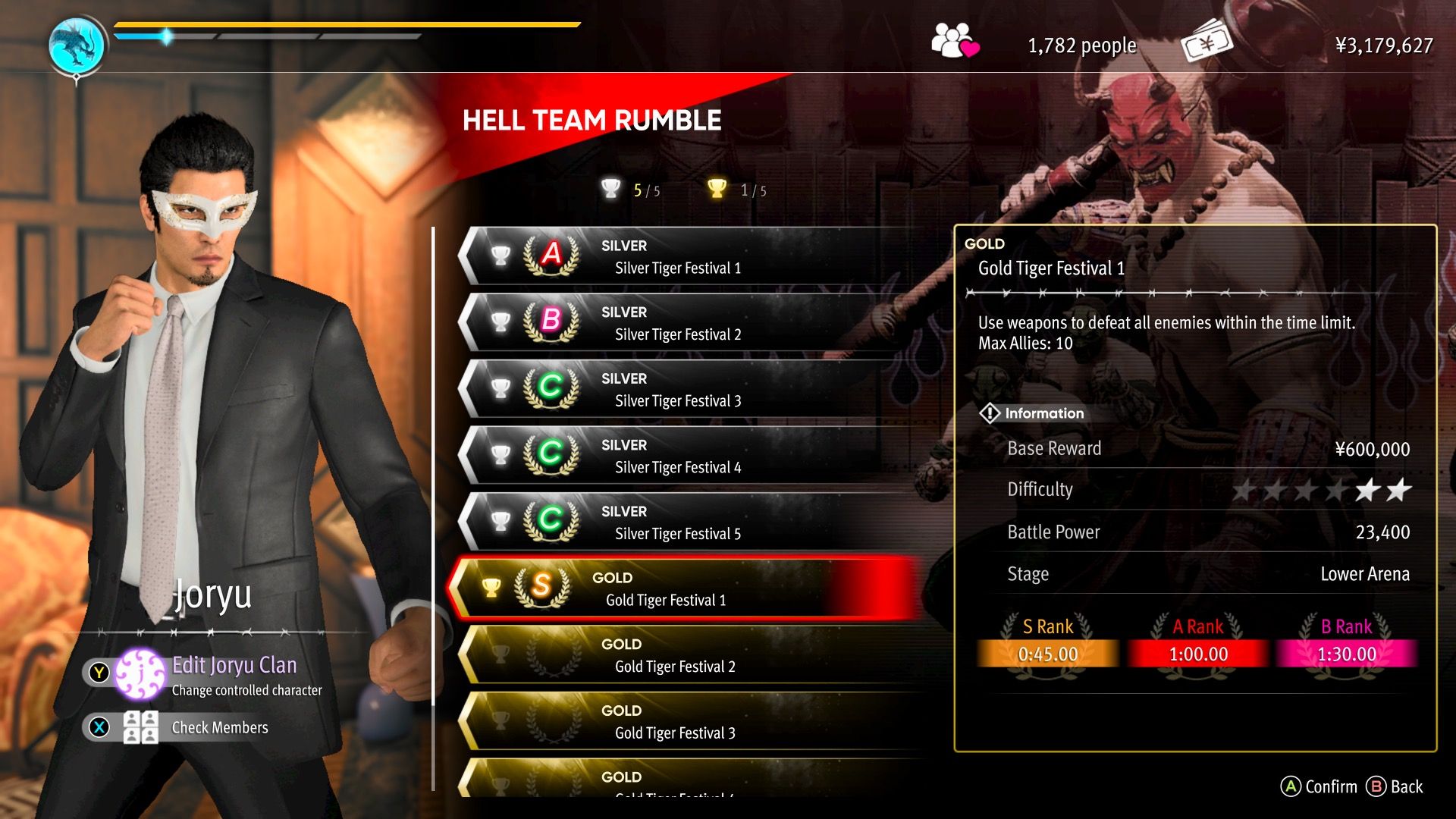 Farming the Coliseum is the fastest way to make money in Like A Dragon Gaiden: The Man Who Erased His Name.
Hell Team Rumble in particular offers an incredible amount of money for each victory in battle, and playing with a team takes some of the onus off your shoulders.
However, while this method is the fastest, there are a few (simple) steps of setup required:
Progress the story until you unlock the Coliseum.
Recruit at least four (preferably ten) other fighters to fight with you. You can recruit additional teammates in the fighters' lounge.
Assemble your team and repeatedly challenge whichever battle you can finish fastest.
"Easiness" is relative to how far you've progressed, your roster of fighters, and their levels.
The first round of the Silver Tiger Festival or Gold Tiger Festival should be safe places to farm as you make millions fast in The Man Who Erased His Name.
If you can beat the festival stage quickly, you will get a tidy bonus based on your performance.
From worst to best:
C-tier
B-tier
A-tier
S-tier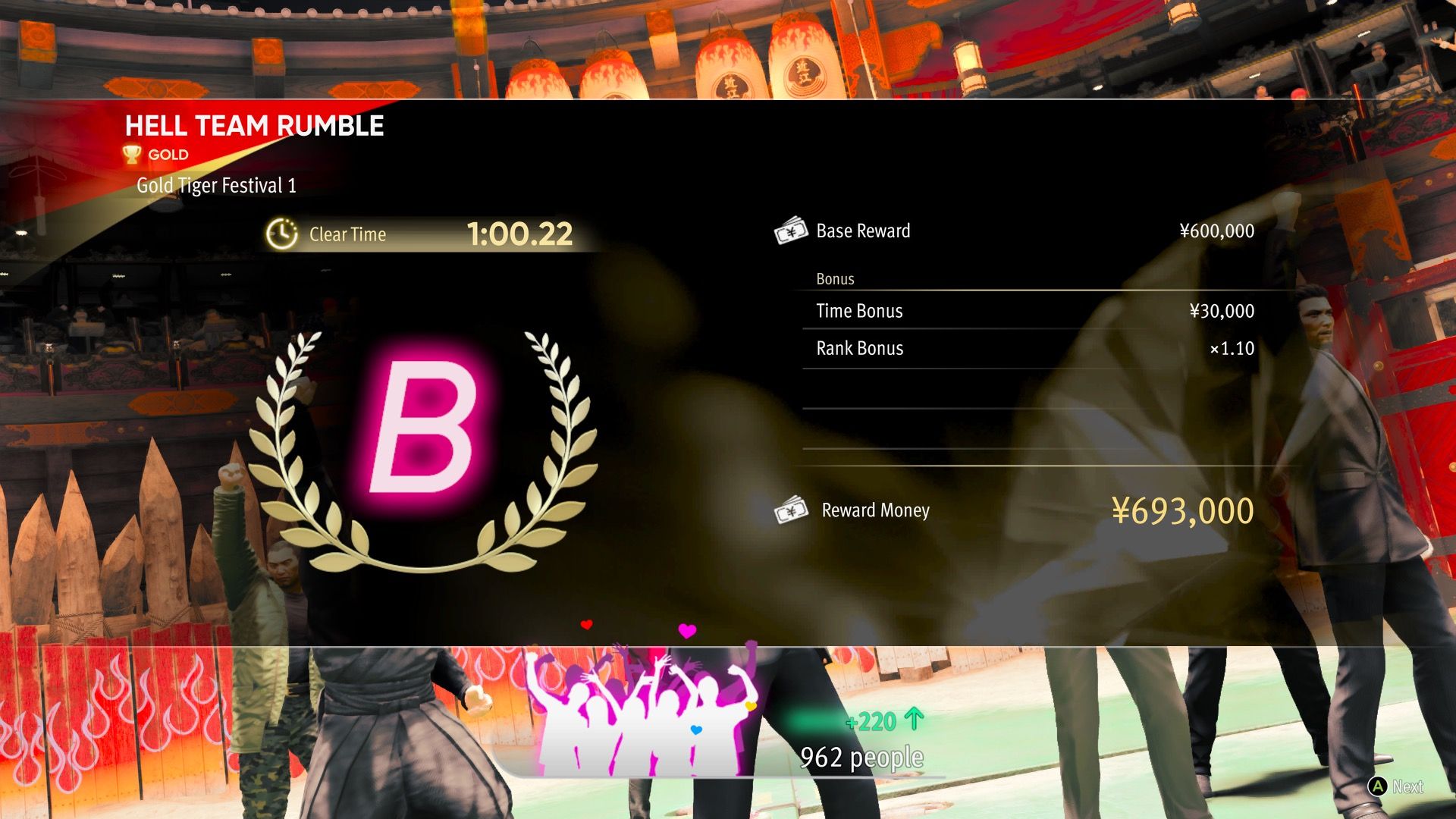 Earning higher tiers of completion by finishing the stage quickly will net you a bonus amount of money based on which tier you've completed. The higher the tier, the higher your bonus.
Once you've beefed up your team to include about ten fighters at least above level ten, you should be able to start raking in millions for less than 15 minutes of your time.
Farm the Coliseum, and you'll have enough money to buy anything you could ever want in Like A Dragon Gaiden: The Man Who Erased His Name.
NEXT: Like A Dragon Gaiden: The Man Who Erased His Name Review – Like A Boss