Quick Links
How Does Combat Work In Sandrock?
How To Get New Weapons In My Time At Sandrock
In an area as dangerous as the desert around town in My Time at Sandrock, it's no wonder your builder needs to know how to hold their own in combat. Whether it's Logan and his gang of bandits or the always-offensive Geeglers waiting to strike, you're in for quite a few hand-to-hand experiences in Sandrock.
RELATED: My Time At Sandrock Early Access Impressions – Frontier Fun
Thankfully, there are plenty of different weapons for you to use to fend off these fiends, and the townsfolk are always interested in keeping their skills sharp, ready to spar with you for practice at almost any given moment. Be ready to kick some butt!
Updated on November 13, 2023: Now that we've progressed more into the story and have unlocked our guns, we're back to update our My Time at Sandrock combat guide to add new weapons and info.
This guide is a work in progress. As we level our builder and unlock new weapons, we'll update our guide to reflect the new info!
How Does Combat Work In Sandrock?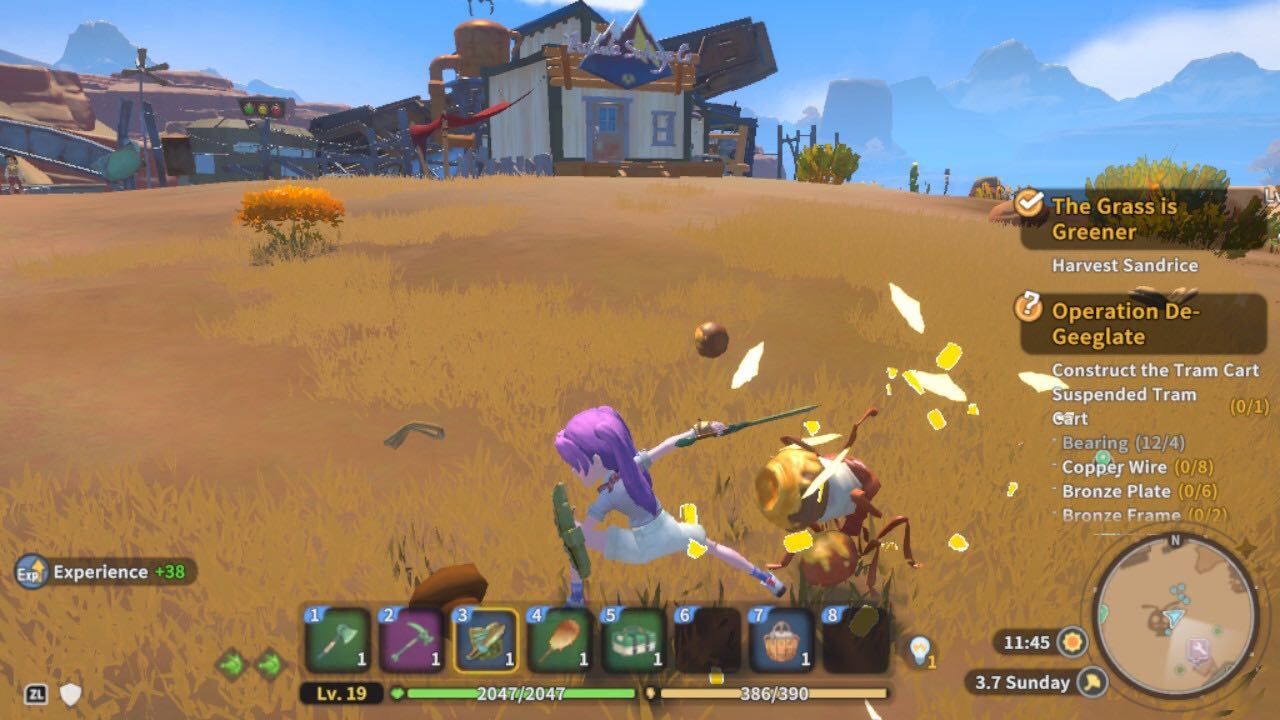 In My Time at Sandrock, combat is your builder's primary method of defense against the assorted monsters and bad guys lurking out in the sands.
Some of the monsters will let you sneak past, not attacking unless attacked first, while others are far more aggressive and attack on sight.
Before you get too far into My Time at Sandrock, you'll likely have noticed a few stray monsters not far from your Workshop.
You'll notice the further you wander through the desert, too, that there are plenty of various monster spawns outside Sandrock proper.
Monster spawns always happen in set locations, and they'll be denoted on your map as a grayish icon of the monster that spawns there. This way, you can either find the fight you're looking for or avoid the area altogether.
Once you've begun making tools as part of your initial arrival in Sandrock, you can use your tools as weapons until you get actual weapons a bit later on. The better the tool is, the more damage it will deal.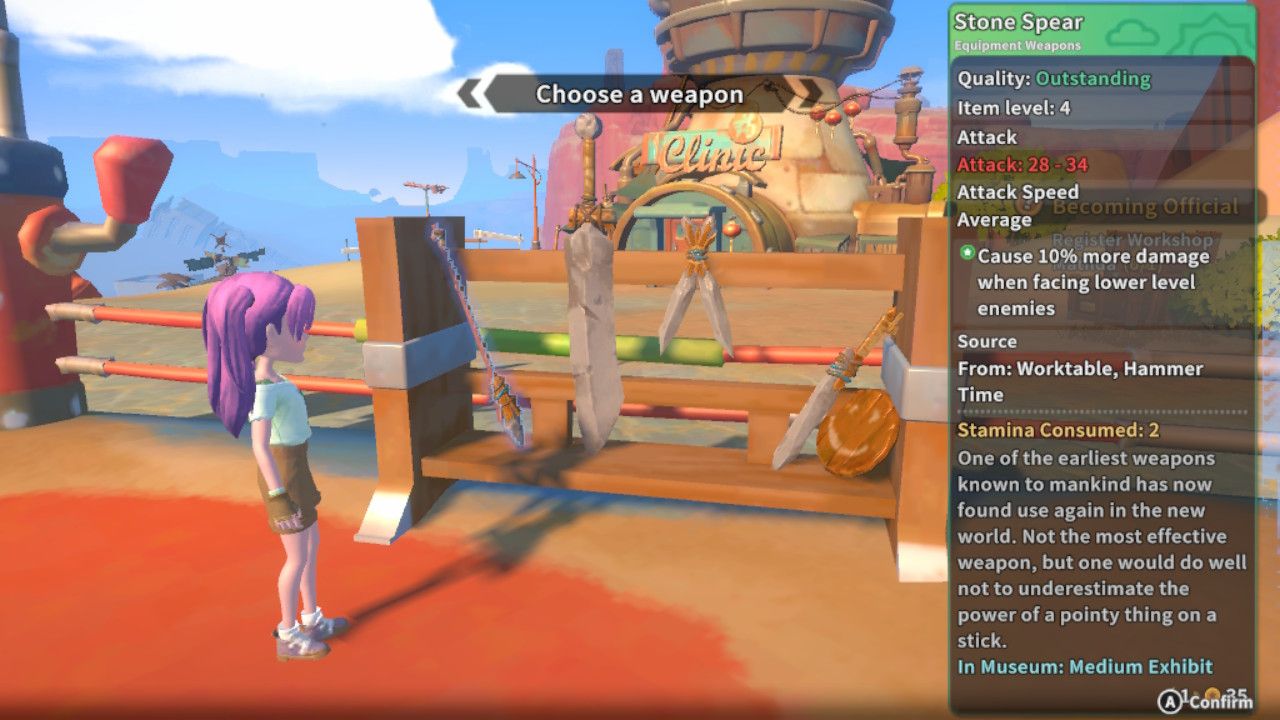 Enemies always have their level displayed over their head, so be careful about taking on enemies of a higher level than your builder.
Different Weapons Offer Different Perks
As you try out different weapons in My Time at Sandrock, you may see that your weapon has gained a unique perk based on the type and quality of the weapon. This primarily has to do with its rarity and attributes.
For example, certain weapons may deal more damage to enemies or imbue a defensive property for your builder.
Make different weapons and experiment with what works best for you! You can check out a weapon's stats from your inventory before choosing what to use.
Additionally, be sure you're spending your Combat Knowledge Points as you earn them. You can unlock combo attacks specific to each weapon, boost your stats, and more.
Sparring Offers Practice And Relationship Points
Bold and brash as he may be, Pen is the costumed superhero in town, and after a bit of teasing, he'll give you the basics on how to fight.
When you first spar with Pen, you'll be able to choose one of four weapons for the tutorial, which offers a bit of insight into how that weapon works.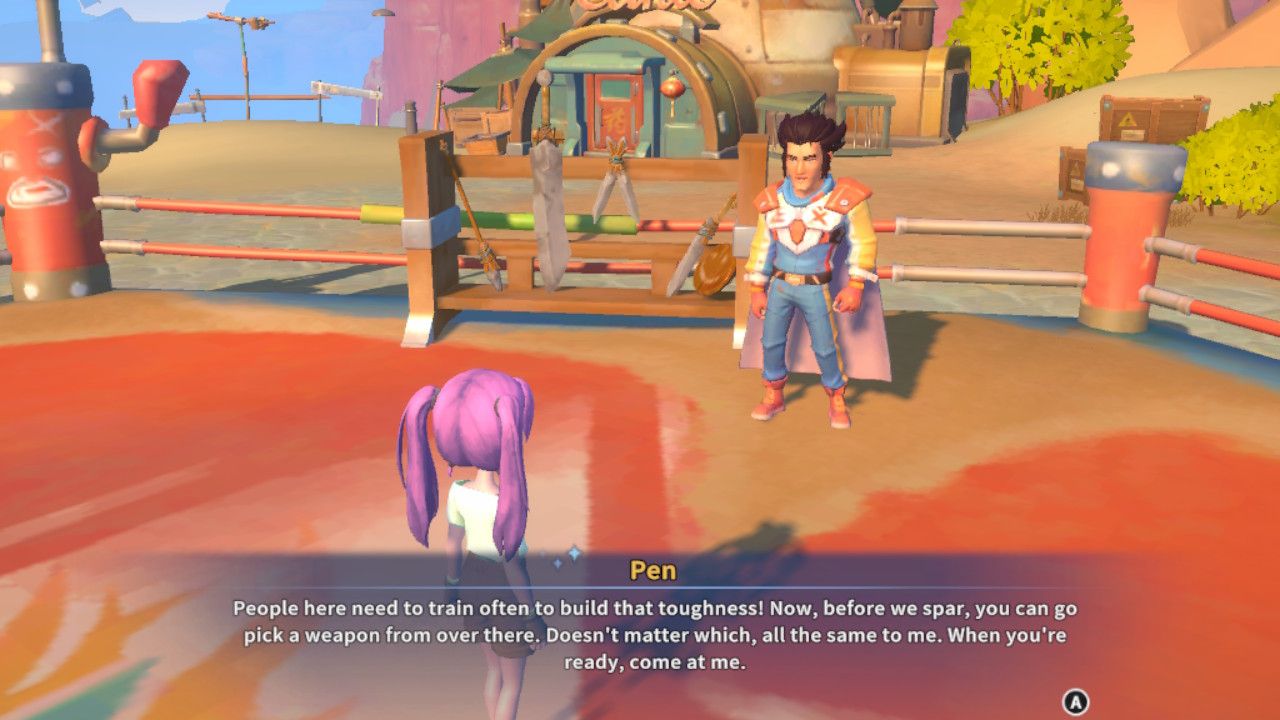 The spear has a slightly weaker stab but a longer range, allowing you to keep your distance.
The large sword takes longer to actually swing but dishes out more damage per hit.
The sword and shield offer both offense and defense, both with solid stats for each.
The daggers are rather quick to use, but they require you to be within close range of the enemy.
Once you've chosen a weapon, Pen gives you a comprehensive tutorial on offense, defense, and combining the two in a proper fight. It's quite likely you'll lose here, but absorb the lessons and apply them when actually in combat!
From here, you can then invite the townsfolk to spar with you. They have different reactions to winning or losing, but you'll typically earn relationship points with your opponent in addition to the helpful fighting practice.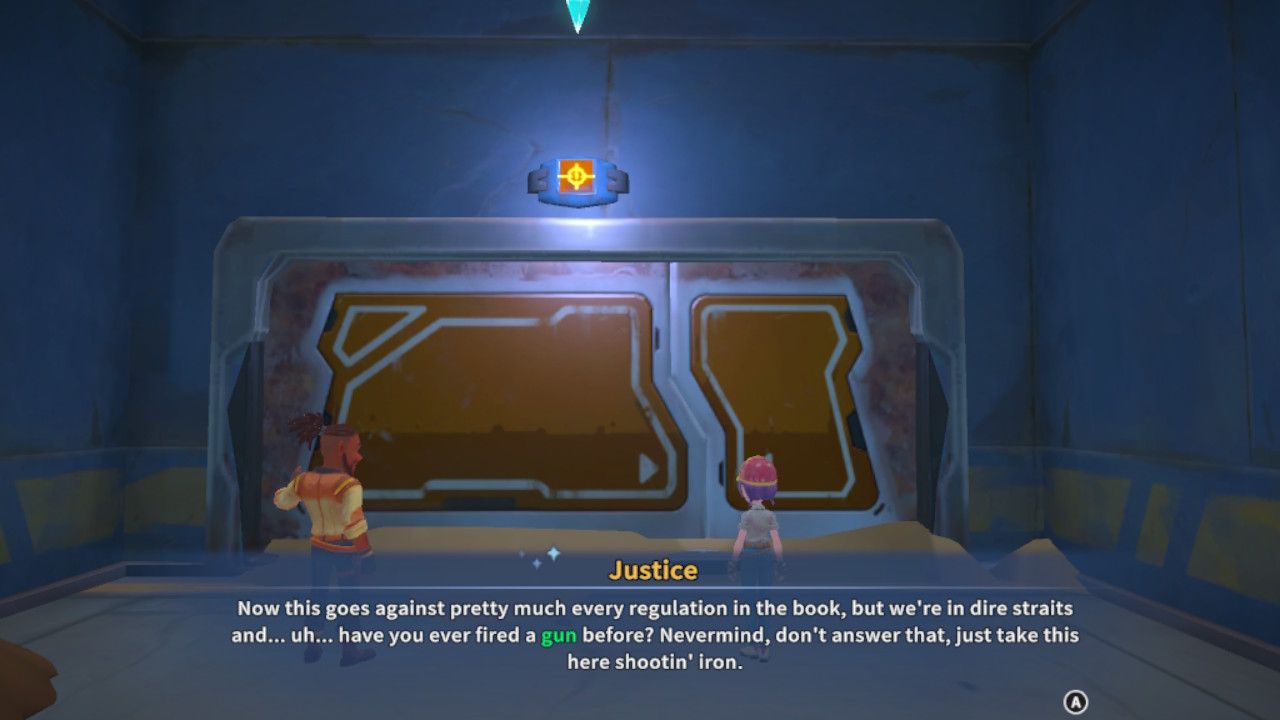 How To Unlock The Pistol
When you and Justice fall from the recently repaired suspended tram car and into the abandoned ruins of Geegler Station, you've got quite an army coming your way. Thankfully, Justice has a spare gun he's able to give you.
Unless you've been using Fireworks or Throwing Stones, this may be your introduction to ranged combat, which allows your builder to keep a distance while still attacking. Without question, the gun is much better than your starter projectiles!
You'll need both gunpowder and ammo to use your gun, both of which can be made at your Workshop or purchased. You're never forced to use the gun, but it certainly comes in handy!
You can later unlock different guns from the Commerce Store, like other weapons, which you can then build yourself back at the Workshop.
RELATED: My Time At Sandrock: Complete Relation Perk Guide
How To Get New Weapons In My Time At Sandrock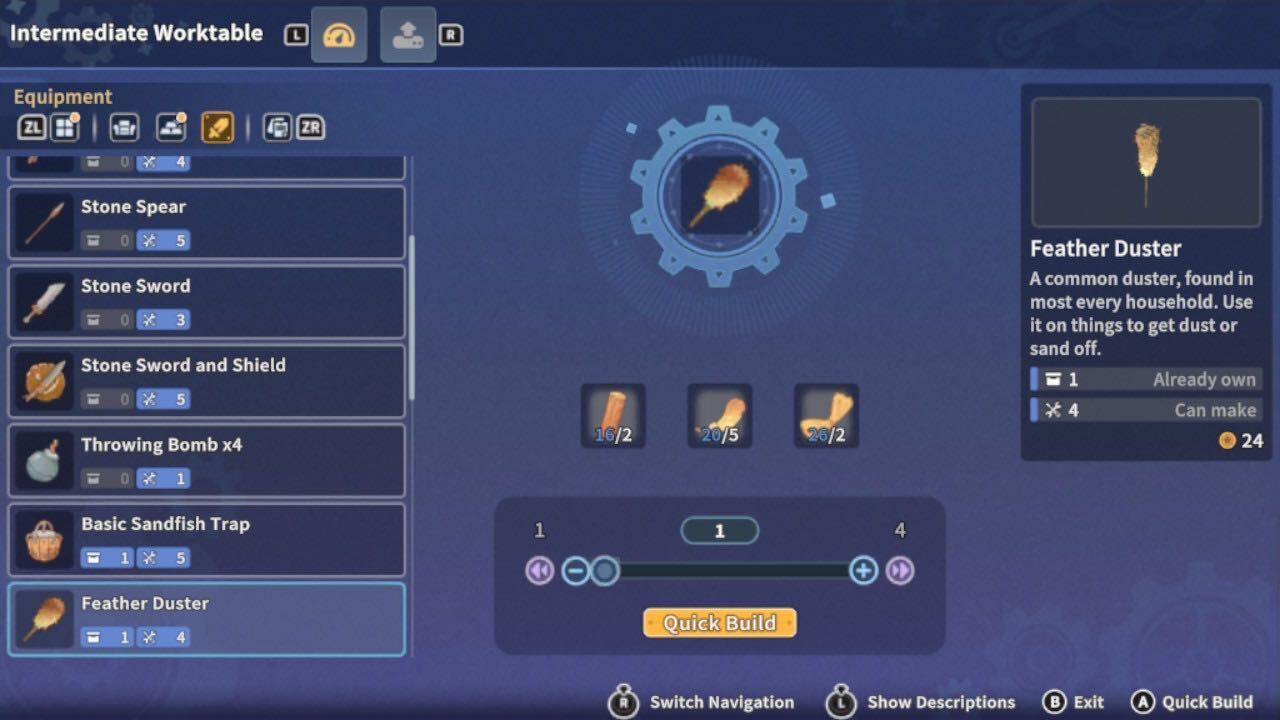 Make Melee Weapons At The Worktable And Forge
As a builder yourself, it's probably not a surprise to learn that you can make weapons at your Worktable, if you have the blueprints and materials necessary.
Additionally, once you've built the Forging Machine at your Workshop, you'll be able to make all manner of weapons – both melee and ranged – straight from the machine.
The Forge is your primary weapons manufacturing machine in My Time at Sandrock, with the very best weapons limited to the Forging Machine and its upgrades.
Weapons Made At The Worktable
Weapon Name

Materials

Damage

Stone Sword and Shield

8 Stones

---

2 Wooden

---

2 Copper Bars

27-32

Stone Spear

8 Stones

---

2 Wood

---

3 Quartz

24-28

Stone Daggers

8 Stones

---

2 Thread

---

3 Cactus Spikes

24-27

Stone Greatword

10 Stones

---

3 Copper Bars

---

2 Yakmel Horns

32-37

Throwing Bombs

1 Bronze Bar

---

2 Gunpowder

50
Weapons Made At The Forging Machine
Weapon Name

Materials

Damage

Forging Machine Required

Bronze Daggers

2 Bronze Sticks

---

2 Hardwood Sticks

---

2 Thin Threads

43-53

Forging Machine

Bronze Spear

3 Bloodstones

---

6 Bronze Bars

---

3 Copper Wires

52-66

Bronze Sword and Shield

1 Bronze Plate

---

3 Bronze Stick

---

2 Copper Screws

47-60

Bronze Greatsword

2 Bark

---

3 Bronze Plates

---

3 Copper Screws

57-70

Iron Daggers

6 Heliconia Nails

---

6 Steel Bars

---

2 Twine

66-82

Iron Spear

3 Cast Iron Rods

---

2 Hardwood Sticks

---

2 Opals

81-100

Iron Sword and Shield

2 Bronze Plates

---

2 Copper Screws

---

5 Steel Bars

73-92

Iron Greatsword

2 Copper Screws

---

6 Steel Bars

---

2 Tanned Leather

88-106

Alloy Daggers

4 Composite Fiber Threads

---

6 Magnesium Aluminum Alloy

---

3 Moonstones

115-142

Intermediate Forging Machine

Alloy Spear

6 Agate

---

6 Magnesium Aluminum Alloy

---

4 Manganese Steel Bars

141-173

Alloy Sword and Shield

4 Magnesium Aluminum Alloy

---

2 Manganese Steel Blades

---

4 Sisal Threads

127-158

Alloy Heavy Sword

2 Chromium Steel Plates

---

2 Hardened Leather

---

5 Magnesium Aluminum Alloy

154-184
More weapons unlock as your builder's level increases, so keep checking the table for the best weapons!
Buy Melee Weapons From Hugo
If you'd rather spend your hard-earned Gols than your hard-found materials, Hugo operates Hammer Time, the blacksmith shop not far from your workshop. Interact with the cash register to the left of the door to open his shop.
Not only does Hugo sell materials, but he's also pretty good at making assorted melee weapons. Everything you've tried in the sparring circle is available for purchase, so if you've found a new favorite weapon, grab it for a price.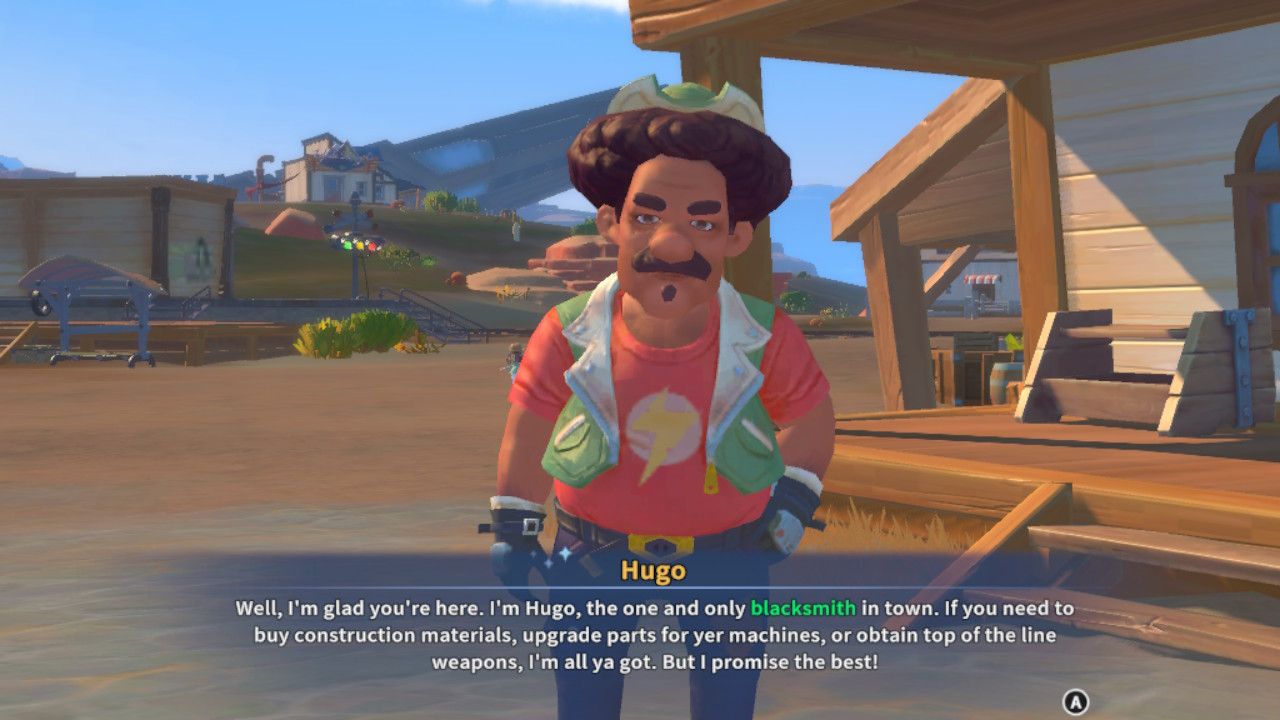 All Weapons At Hugo's Shop
| Weapon Name | Cost |
| --- | --- |
| Stone Sword and Shield | 125 Gols |
| Stone Dagger | 85 Gols |
| Stone Spear | 130 Gols |
| Stone Sword | 170 Gols |
| Bronze Sword and Shield | 775 Gols |
| Bronze Dagger | 550 Gols |
| Bronze Spear | 600 Gols |
| Bronze Sword | 640 Gols |
Like other shops, the cost of items at Hammer Time is fully dependent on the current market price, so always try to go when the price is down, so you pay less!
Find Projectiles To Use As Ranged Weapons
As you go about life in Sandrock, you'll begin finding items you can use as ranged weapons to safely fire from afar at your foes.
You'll eventually have access to far more of them, but Throwing Stones that come from various rocks and rock scraps, as well as the Fireworks you get from handling the Rocket Roosters act as ranged weapons.
These tend to deal less damage, but for the trade-off that you're able to keep your distance. You'll also continue to unlock new ranged weaponry throughout the game, offering far more variation in the later chapters.
NEXT: Link