There will have been plenty of times throughout your life where you've wished you could be inside your favorite video games. Battling Bokoblins beside Link, eating wumpa fruits with Crash, maybe even taking a walking tour of The Lands Between. That last one's not really my scene but I'm sure others would love it. All of those things are a pipedream, but driving around in your very own Mario Kart, that can be a reality.
Full-size, real-life Mario Karts actually exist, and you can own your very own for less than ever right now on Amazon. Usually priced at $399.99, the Kart is 20 percent off and available for just $319.99. Boasting a 24V battery, the Kart has three speeds, flying along at 8mph when your foot is all the way down. No, that isn't that fast, but if you hadn't figured this out already, the Kart is for kids and not designed for you to take out on the open road so you can really open her up.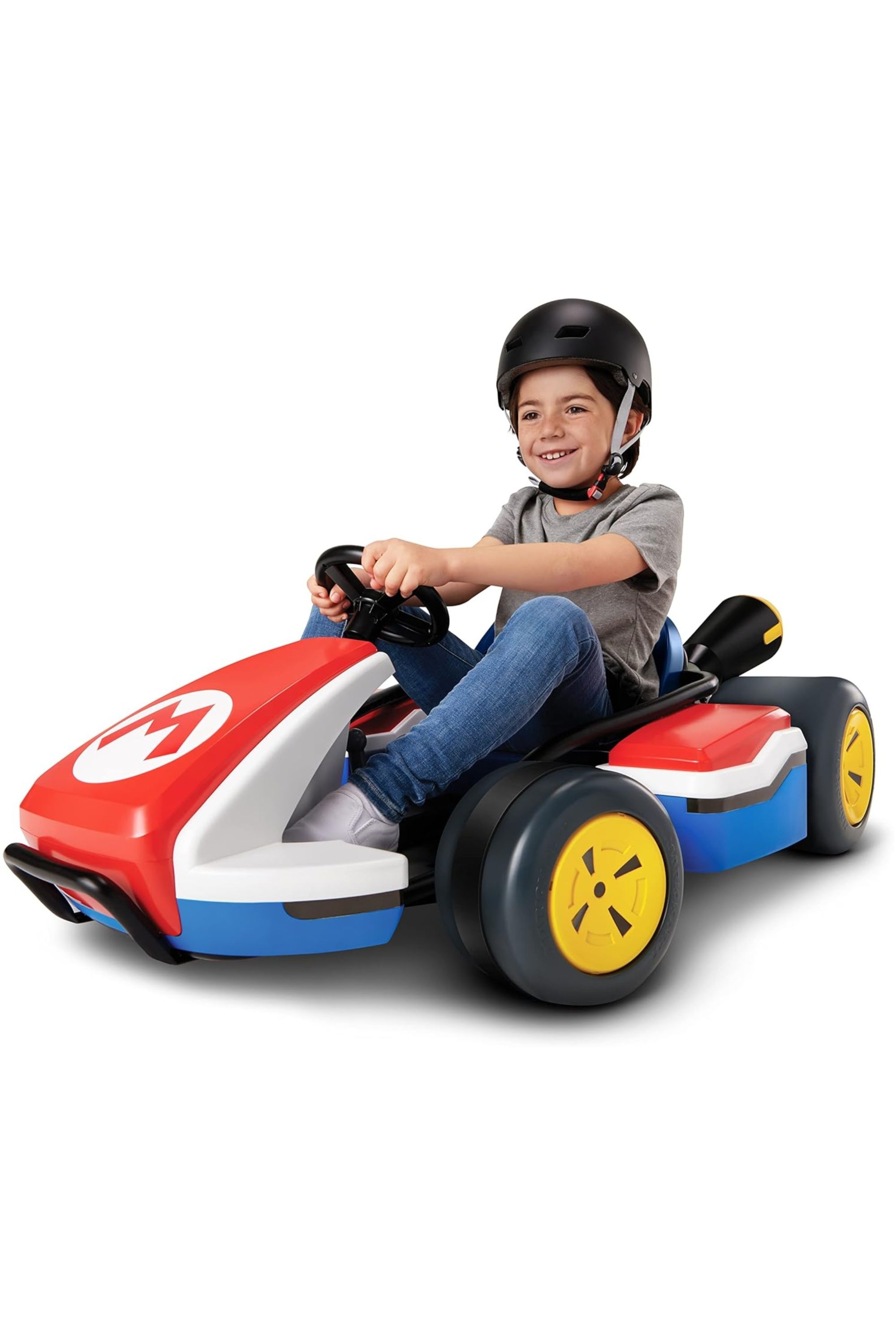 Mario Kart Ride-On Electric Car
$320 $400 Save $80
Ever wanted to drive an actual Mario Kart? Well, now you can, or at least your kids can. This real-life, ride-on Mario Kart has three speeds and a top speed of 8mph. It can also reverse, and music and sound effects from the games emit from a speaker inside the Kart.
Yes, that does unfortunately mean that you're probably not going to fit. Then again, I've seen Bowser sitting in one of these and he's way bigger than me (right?) so you can bet I'm going to have a damn good go. The only problem with that is I'm assuming the Kart will struggle to hit that top 8mph speed with me sitting in it. I'll likely be passed by people strolling by so I'll need to load my pockets with banana skins ahead of time so I have something to throw at them.
There's a weight limit of 81lbs on the Kart so no, I won't actually be trying it myself, and unless you weigh less than 81lbs, I'd recommend you avoid doing so too.
On top of looking just like the real thing, it'll also sound exactly like Mario Kart when driving the vehicle too. Sound effects and music from the games emit from a speaker in the steering wheel while you're driving, making this as close to the real thing you'll ever experience. Well, the closest thing outside of traveling to Nintendo World where you can take a spin on the AR Mario Kart ride.
Even at 20 percent off, $320 might be a little much for a real-life Mario Kart for some people. Especially when Nintendo has some pretty great Switch bundles available for similar prices this holiday season. The traditional Mario Kart 8 Deluxe bundle has returned, and Super Smash Bros. Ultimate has been bundled with an OLED Switch too for what might be the console's final festive season before it's replaced by Nintendo's rumored successor.
NEXT: GameStop Has Mario And Zelda Christmas Trees And They're On Sale