Mario games are not typically known for their hair-raising difficulty. Being aimed at general audiences and families who might be settling down with a controller for the first time ever, sadism and cruelty don't tend to be on their agenda. Super Mario Wonder is no different; it's a lightweight affair, with more helping hands available than a wiggler family reunion.
Related: Super Mario Wonder: Ways To Make The Game Even Easier
Regardless, Nintendo always likes to tip its hand on occasion and deliver some unexpectedly grueling trials. The Star Road in World and 'The Dark Side of the Moon' in Odyssey are prime examples, but how does Wonder fit this grand tradition? Which of its levels are the toughest?
10
Bulrush Express
Reaction-Based Nightmare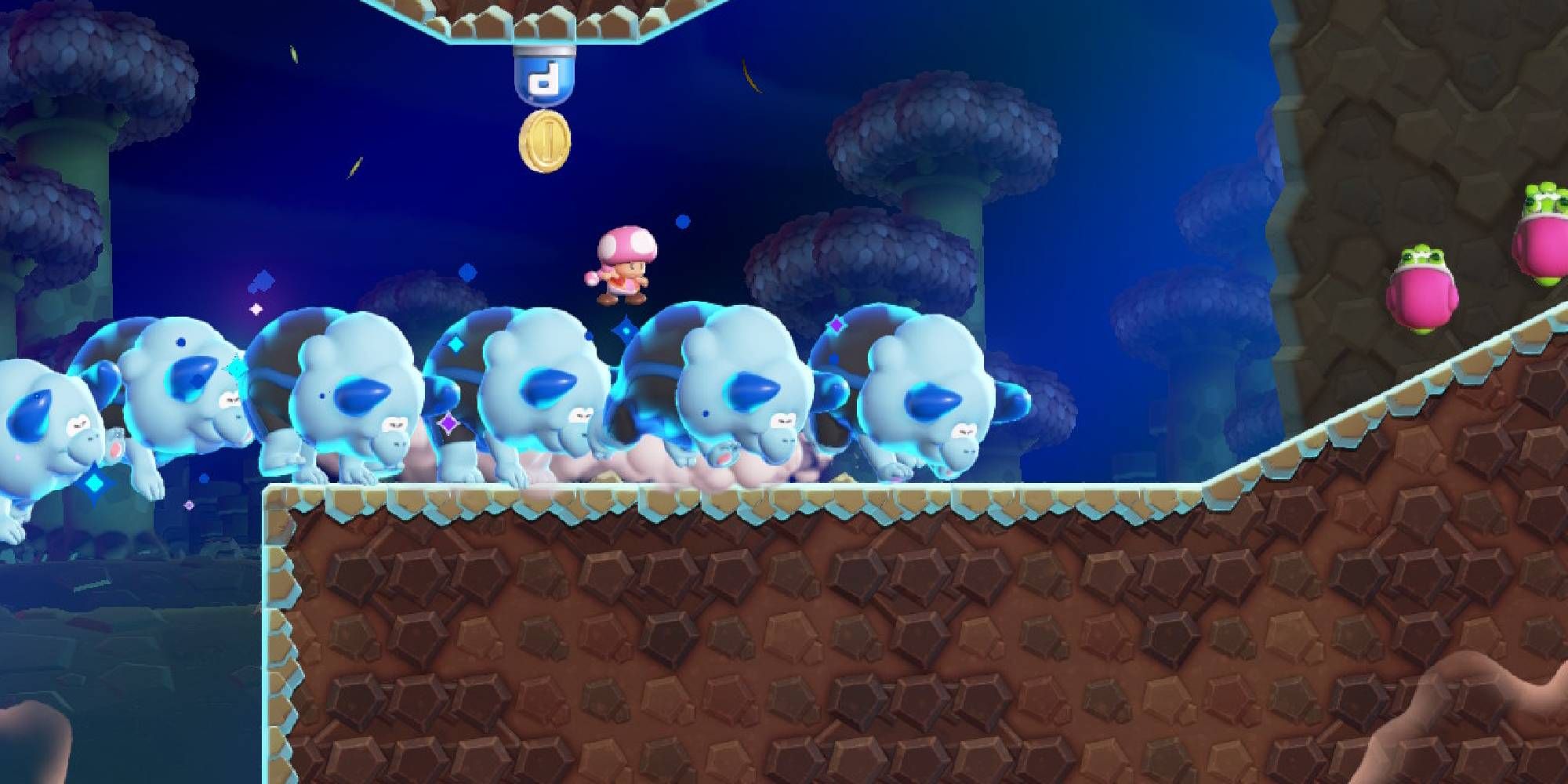 Autoscrollers have always been the bane of many gamers' existences, and this stage is no different. It takes a concept introduced only two stages prior – riding a wave of stampeding Bulrushes – and expects you to know it top-to-bottom. One errant jump means plummeting to your doom.
Exacerbating matters are the collectibles. They're placed in spots purposely designed to waste your time, like above walls of breakable blocks; in doing so, the Bulrushes, and the screen, catch up with you, and you're out of luck. If you've any hope of reaching that 100 percent, be prepared to try and try again.
9
Jump! Jump! Jump!
Rhythm Hell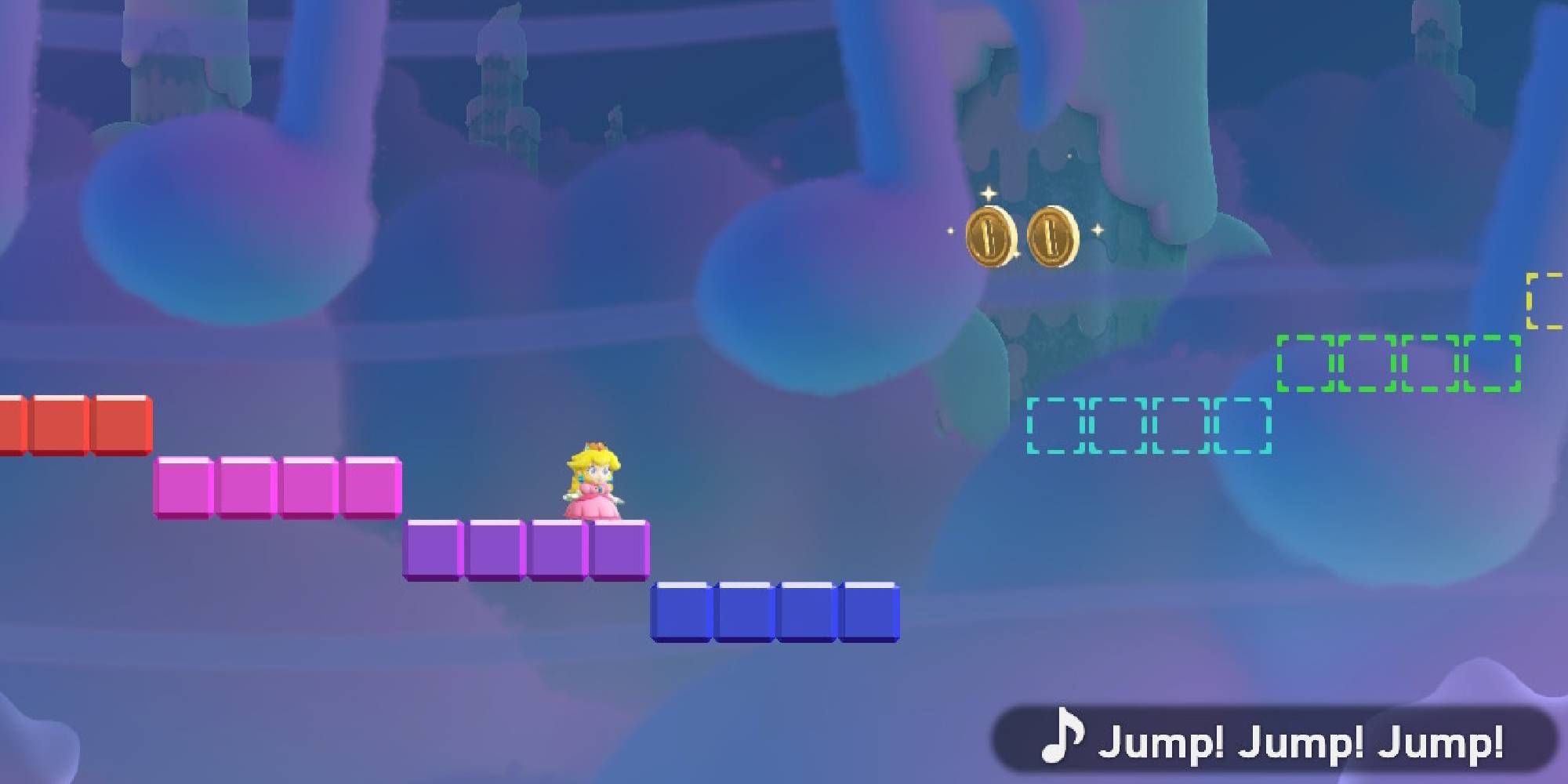 Following in the hallowed footsteps of such frustration-rending forebears as Beep Block Galaxy, this level demands you crank your volume all the way to max. Why? Because the platforms, impossibly precarious as they are, appear and disappear in perfect synchronization with the music.
There is genuinely no margin for error. From the very outset, you've got to hold that dash button and jump like a sugared-up kangaroo as the music's tempo increases and your chances of having to start all over multiply tenfold. Better hope you can feel the rhythm!
8
Zip Track Dash
Mario Run With A Budget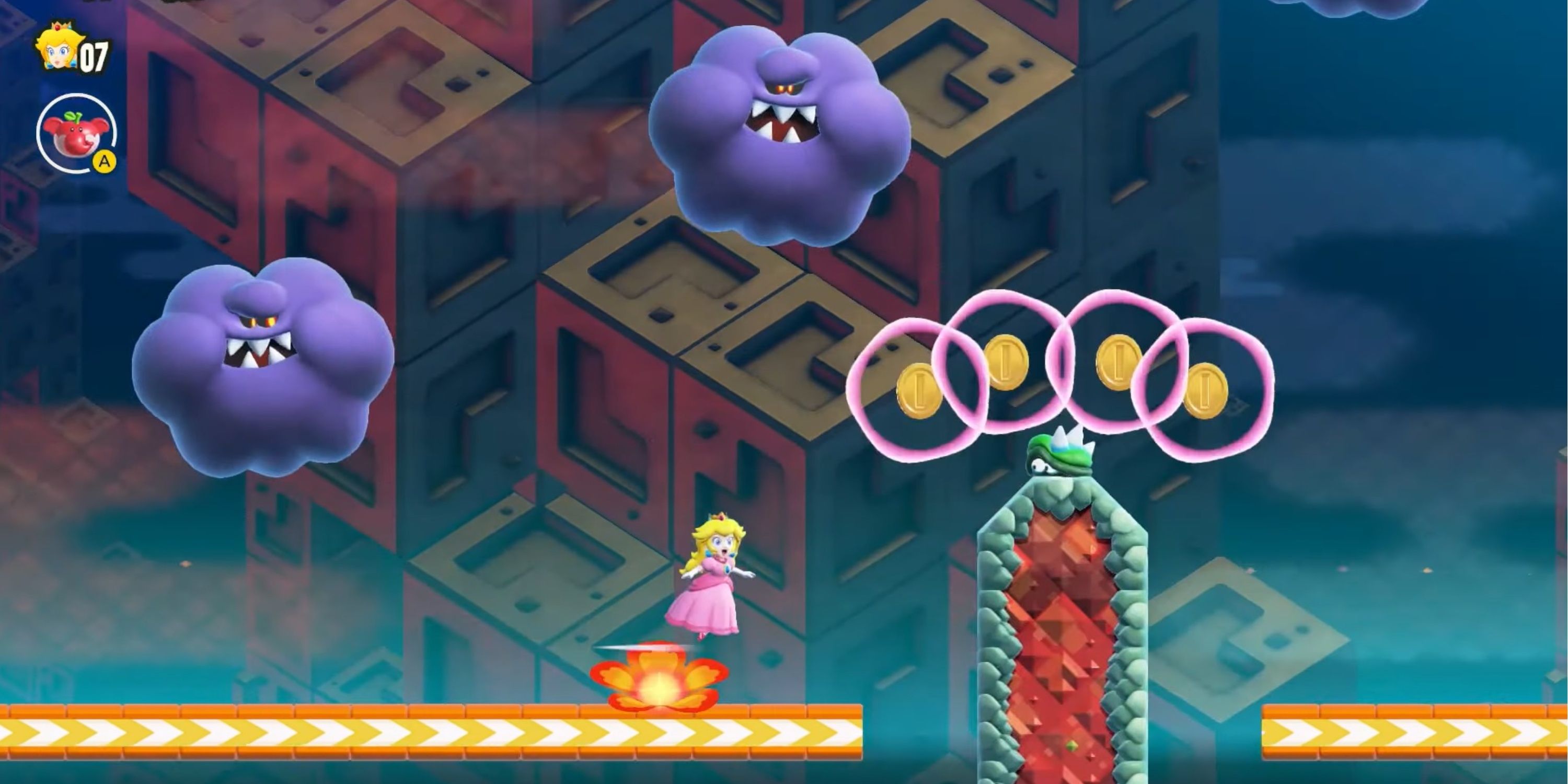 World 3, Shining Falls, concerns the Master Poplin putting you through a series of tests to determine whether you're worthy of his Royal Seed. The final one is Zip Track Dash, and it's again another nail-biting exercise in rapid autoscrolling and reaction times. An assortment of conveyors, both above and below, automatically propel you forward.
Related: Super Mario Wonder: All Palaces And Battleships, Ranked
You'll be jumping, leaping, and jumping some more to avoid being dumped into the nearest bottomless pit. In addition, the Wonder Seed here is hidden in a particularly devious location, requiring you to effectively break the map and travel above the boundaries of one conveyor.
7
Color-Switch Dungeon
Link Would Be Proud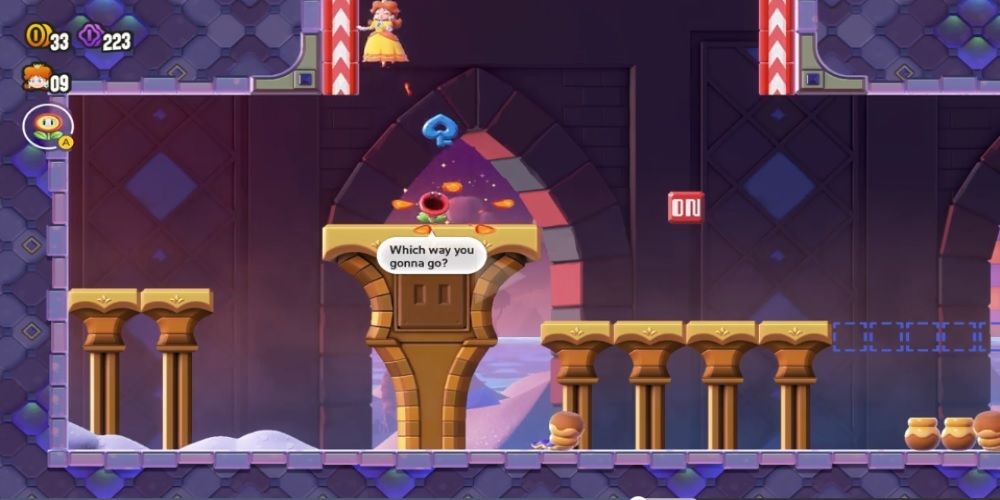 Unlike our other entries, this stage ranks for toughness not in terms of how many hazards it chucks your way but for how much it'll tax your grey matter. This is a classic Mario 'ghost house' stage through and through, complete with doors that lead nowhere, pits that are actually exits, and more hidden goodies than you can shake a Fire Flower at.
The core gimmick is a series of switches that alternate between red and blue blocks, which can either form or disintegrate walls and platforms depending on their orientation. The final puzzle demands that you somehow realize you need to travel backward and under platforms you already navigated. We give a nod to World 5's Light-Switch Mansion, too, which is difficult in a similar vein.
6
Sunbaked Skirmish
Desert Smackdown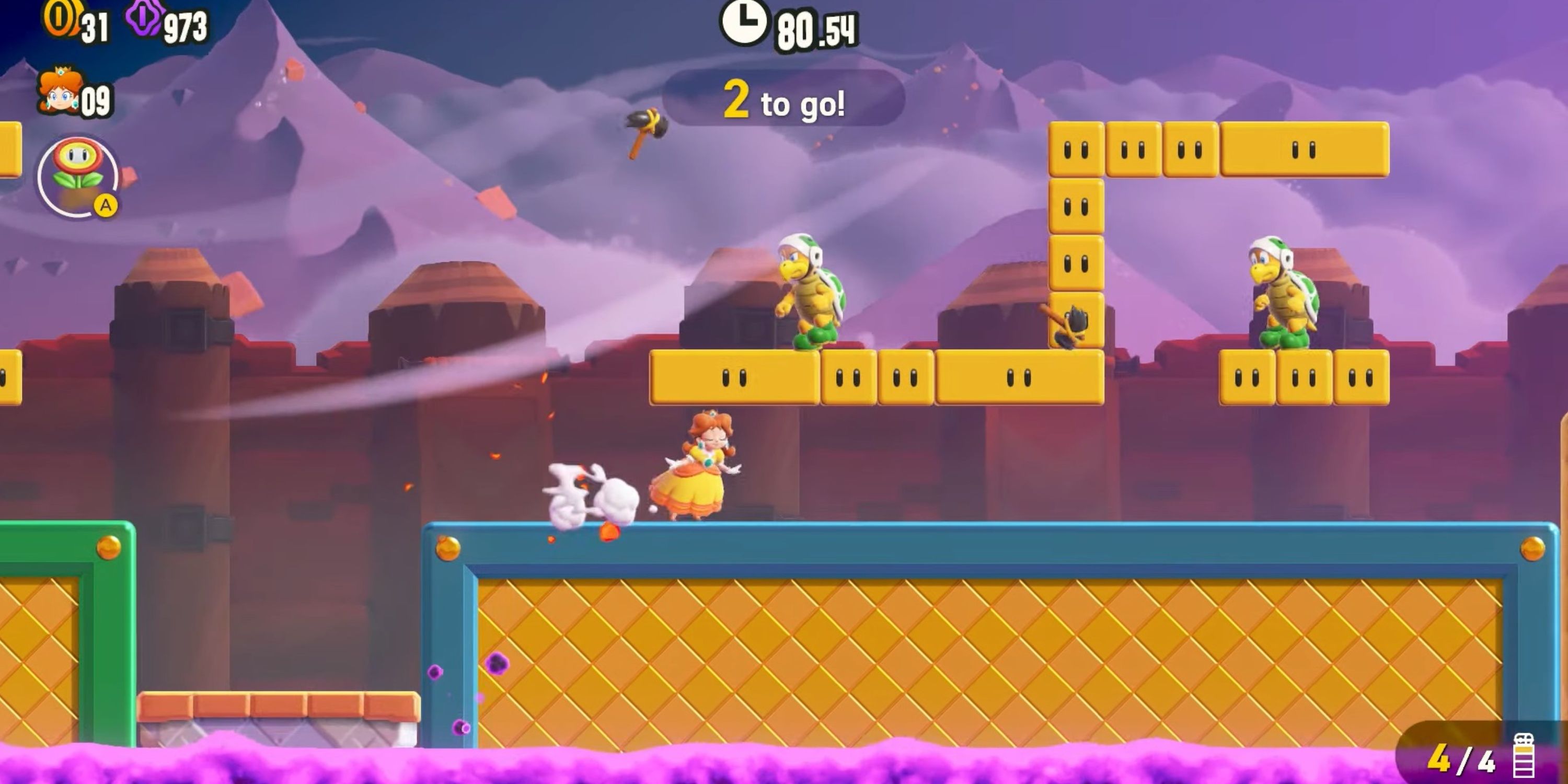 Every couple of worlds, the game throws in a KO Arena stage. These task you with eliminating three or more waves of enemies, all while a hopelessly relentless timer counts down. The quicker you finish, the more collectibles you earn at the end – so those angling for full completion will be getting mighty familiar with these.
Sunbaked Skirmish is by far the trickiest of the lot. The enemy types you deal with are perhaps the most irritating in the entirety of Wonder: mummies that can only be beaten by unraveling them; melon Piranha Plants that sit just out of reach; snakes that dart around mindlessly; and then, once your patience, and health, are worn thin, a small army of Hammer Bros. Buckle up.
5
Hot-Hot-Hot!
Burn, Baby, Burn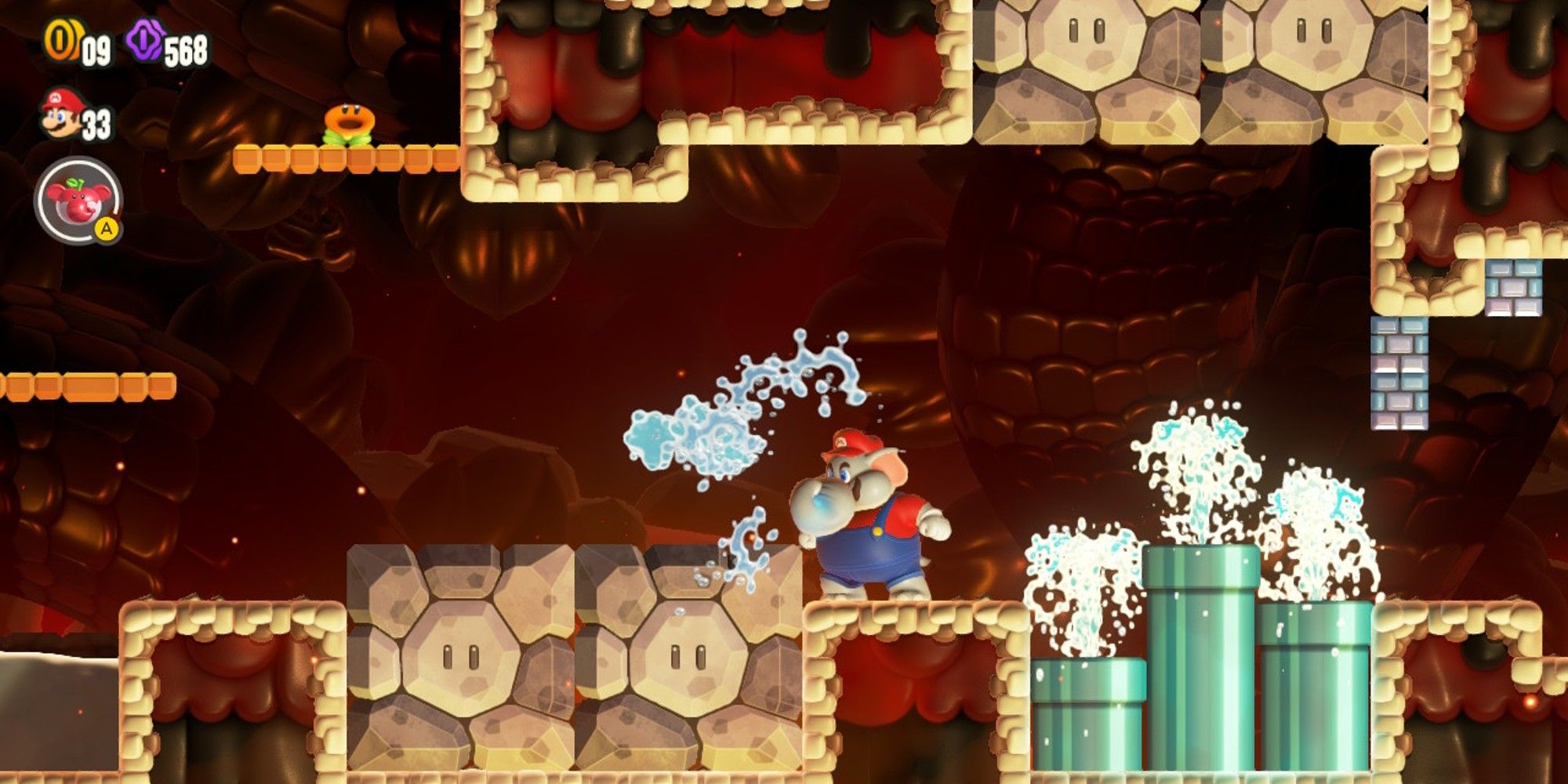 As is an absolute, unshakeable tradition, the final world before Bowser's castle is lava-themed. And so, the Earth goes on turning. The toughest chapter in this hellhole is Hot-Hot-Hot!, which takes the mechanic of tossing water around (either via elephant form or by cumbersomely breaking pots of H20) and adds deadly consequences. The stage is constructed almost entirely from red-hot blocks that'll kill you if you so much as brush a mustache hair against one.
Related: Super Mario Wonder: Every World, Ranked
Hence, you best get to extinguishing. It's all too easy to waste a water pot when an enemy walks into you, requiring that you damage boost across the scalding surface and hope for the best. The devilish masterstroke comes when the level asks you to do so while also wall-jumping. If those blocks reignite in the process, well… who's for Mario stew?
4
Climb To The Beat
Rhythm Hell 2.0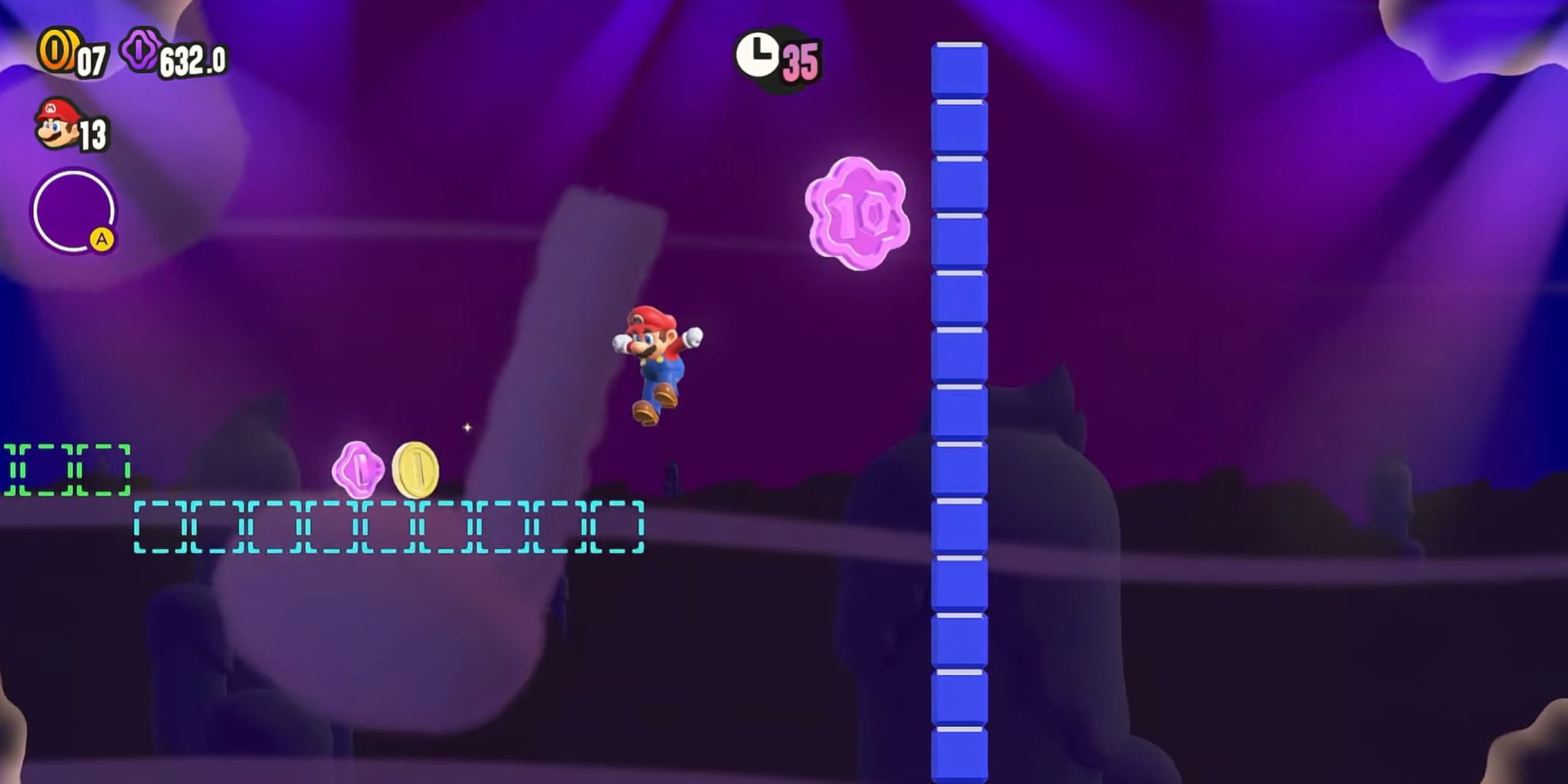 After beating Jump, Jump, Jump!, you'll likely be thinking to yourself: "God, I hope that rhythm gimmick doesn't resurface." And yet… you know, don't you? You know Nintendo isn't going to let you get away that easy. Come the Special World, and it's back with a vengeance. Climb To The Beat is pure misery, especially if you aren't musically inclined.
Everything that sucked about the prior stage has been dialed up here. The stabbing soundtrack now plays at twice the speed; the single-block platforming now encompasses wall-jumps; and the purple coins are barely reachable within the time limit. Who slipped the orchestra that Red Bull?
3
Piranha Plant Reprise
The Semifinal Test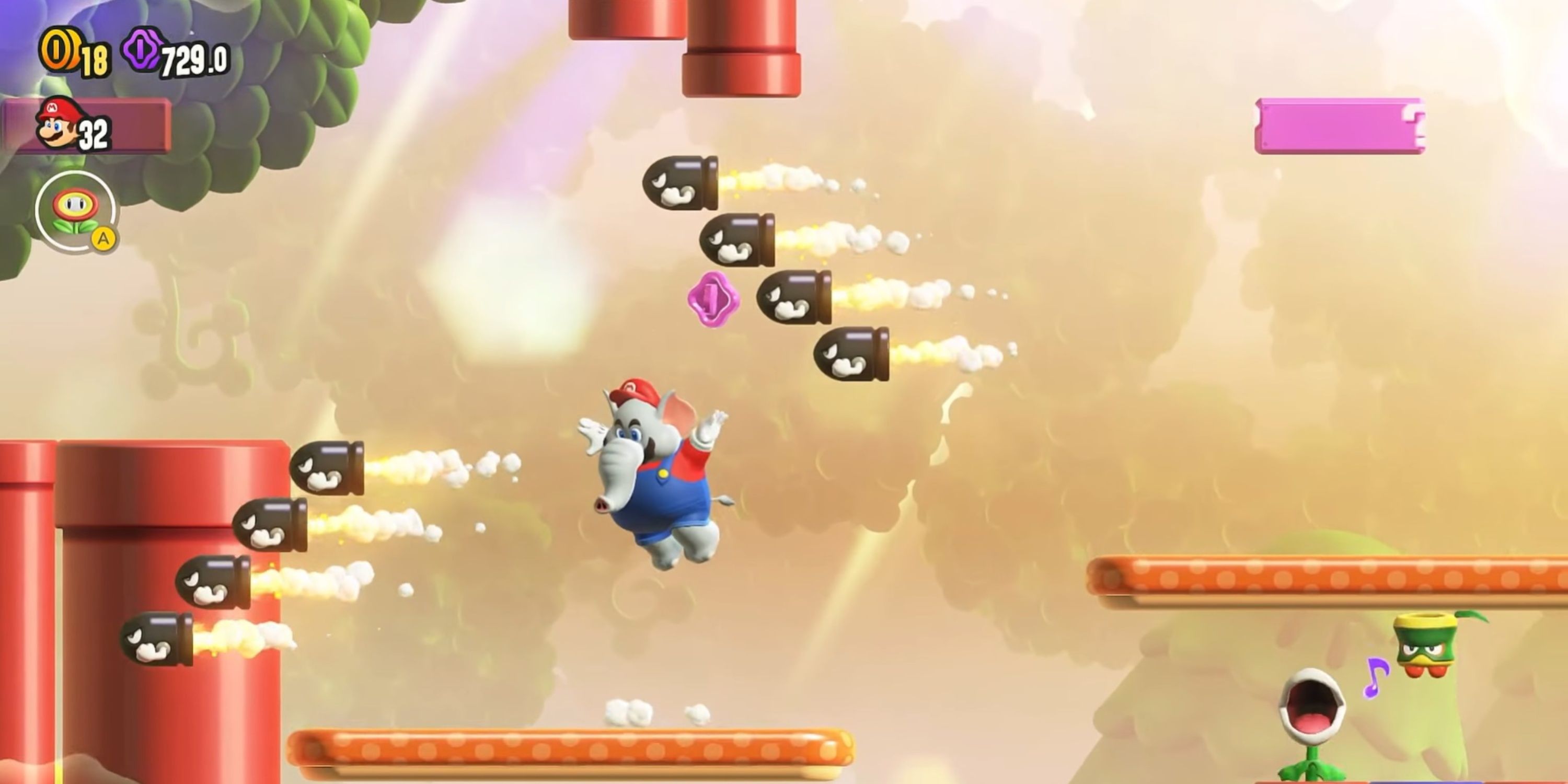 Ah, isn't it nice when your work is done for you? The top three spots on our list were practically pre-ordained, given that Nintendo themselves designated the final trio of Special World stages as 'the toughest in the game.' Seriously, it says so right in the dialogue. And who are we to argue? The first, Piranha Plant Reprise, serves as an encore for a (now infamous) World 1 stage where Piranha Plants burst into song.
It might seem cute and quirky, but the stage is anything but. This time, a battalion of Bullet Bill blasters emerges on every other verse, primed to splatter you across the pavements of the Flower Kingdom. The Piranha Plants themselves also take to wandering around the platforms, having sprouted feet – and the whole thing's an autoscroller. Sweet mercy.
2
Wonder Gauntlet
The Final Test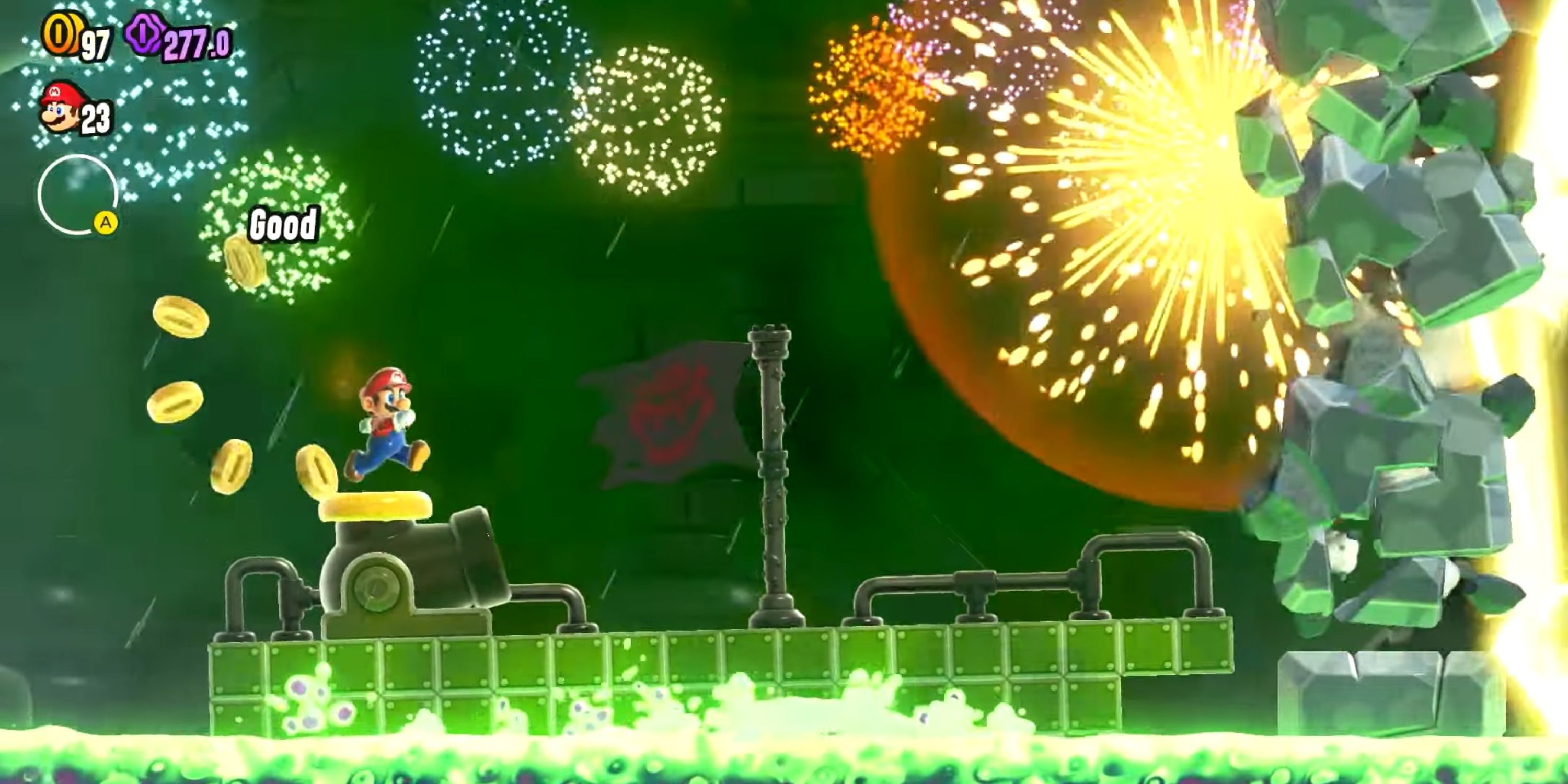 Oh, those pranksters at Nintendo. Despite being dubbed 'The Final Trial,' this is, in point of fact, not the last stage, but it sure as heck feels like it. The only (full-length) stage in the game without a single checkpoint, it's ironically tougher than its successor in some ways. Here, almost every Wonder Flower effect is strung together in a row, making for some chaotic combinations that you'll need to be quick on your toes to survive.
Serpentine dragons and undulating pipes snake their way atop boiling goop. A block-based pirate ship must be commandeered. Swinging ropes dangle above lava. Creepily elongated Goombas lurk in dark rooms. It is, in a nutshell, a platforming plumber's worst nightmare.
1
Badge Marathon
The Final-Final Test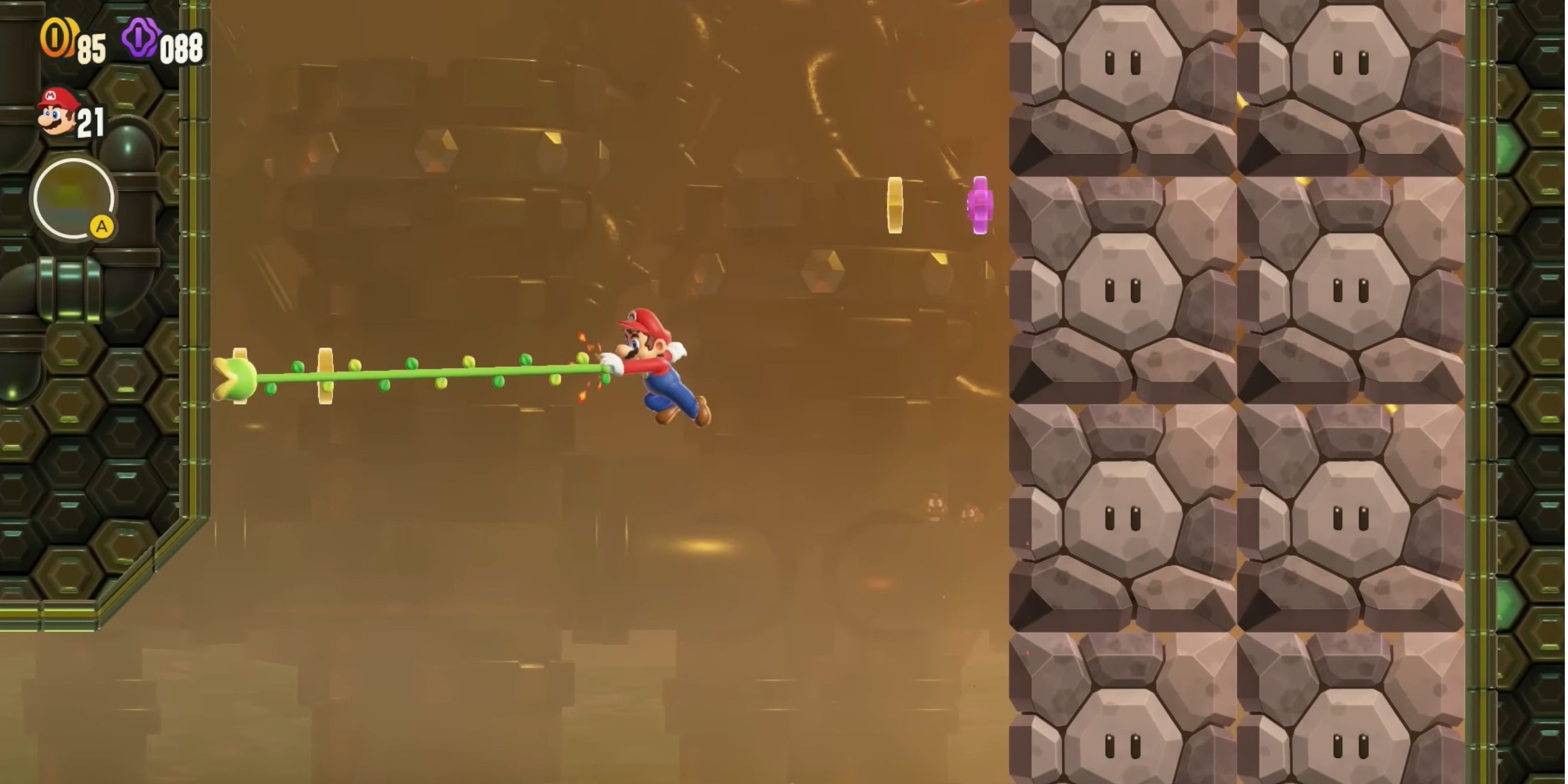 Have you ever watched a professional speedrunner play a Mario game? Or a hapless soul take on, for instance, Kaizo Mario World? If so, you'll doubtless have seen them pull off bizarre, frame-perfect tricks and maneuvers and thought "a mainline Mario title would never." Well, Wonder has.
Badge Marathon pulls zero punches. You will need to be aware of every scrap of movement tech as you wrangle with the often-awkward physics of the game's badges, which are forcibly assigned to you on each screen. Fancy Jet Running over pools of magma? How about Vine Grappling onto scorching boulders? Platforming behind clouds while invisible? Jog on, Ninty.
Conquer it, though, and you'll feel that sweet satisfaction only Mario games can provide.
Next: Super Mario Wonder: All Special World Stages Ranked By Difficulty