Quick Links
Where To Find The Realm Of Beginnings
How To Defeat Memories: "They" Too Were Once Flawless
Genshin Impact has built itself a reputation for being a fairly casual game with accessible difficulty levels. While this is true for matters like exploration and regular combat, there are also some considerable challenges to be found. Trounce Domains, for instance, invite you to relive your memories battling Teyvat's most powerful foes.
RELATED: Genshin Impact: Pro Tips For Playing As Nahida
The Realm of Beginnings is a Trounce Domain that is part of the Quest Line Sapientia Oromasdis Chapter: Act Two – Homecoming, Nahida's second Story Quest. Take on the challenge of 'They' Too Were Once Flawless in this domain. Confront the Guardian of Apep's Oasis and other foes for a chance to earn plentiful rewards, including coveted Weekly Boss Drops to level up your character talents.
Where To Find The Realm Of Beginnings
This Domain is found in an underground cave in the Desert of Hadramaveth. More specifically, it is located northwest, towards Gavireh Lajavard.
A quest marker will help you find your way around the first time you need to access it, as getting there is key to Nahida's Story Quest's climax.
Finding the cave is easier than the average Sumeru Desert cave. All you need to do is head northwest through the Desert of Hadramaveth, until you've pretty much left the area.
Be mindful not to try to cross through the massive sandstorm in the middle of this area, as it will make it harder to find your way through.
You can access the cave through two entrances in total, one on the northeast side, and one on the west. Each is relatively near a Teleport Waypoint, though these are high up and you will only find the cave entrances if you are at ground level.
The first one is as easy as dropping down from the Teleport Waypoint west of The Sands of Three Canals. The cave entrance is west of that spot, and you will only encounter an Eremite on the way in, so this is a hassle-free route.
There are some Vultures here that will try to attack you, but you do not have to engage. If you keep walking, they will not chase too far after you.
The second entrance is near the Teleport Waypoint up north. Head towards the fork that is just a little ways ahead when you go west. You should see some Hilichurls and a Mitachurl at the cave entrance. You will arrive if you follow that path further in.
The domain is a little further away if you go through this entrance, but not by much.
How To Defeat Memories: "They" Too Were Once Flawless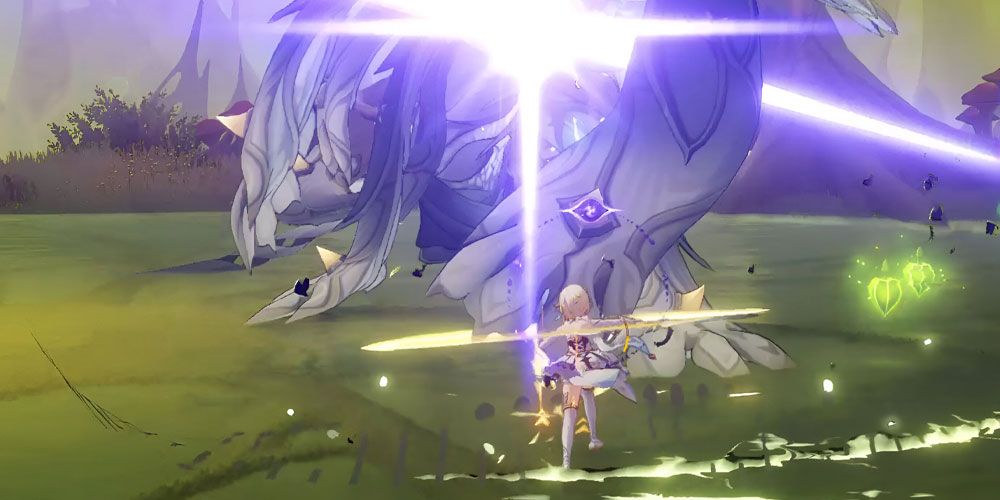 This challenge has three phases that you need to clear to be able to claim your rewards. You must defeat the Guardian of Apep's Oasis in two different forms, as well as defeat some hordes of smaller, corrupted foes while you try to protect the Heart of Oasis in the middle of the Domain so it becomes successfully purified.
Phase One
The first phase of the challenge is a one-on-one fight against the Guardian of Apep's Oasis in a weakened state. Although it is not at full strength, it is still capable of causing a lot of damage. Its attacks consist of:
| Move | Description |
| --- | --- |
| Emerging Strike | This is the first attack it will perform. As soon as you enter the site, the Guardian submerges into the ground, swimming over to the nearest character and launching out from underneath them. It will immediately perform a massive swipe with both of its front limbs, causing Physical DMG. |
| Body Sweep | Spins once over itself to swipe over a large area with its body, dealing Physical DMG on hit. |
| 4-Part Combo | The Guardian attacks in a sequence, performing a swipe with its front limb, a body sweep, a big slam forward, and finally, another sweep. Each attack will deal Physical DMG on hit. |
| Remote Crusher | Submerges four limbs into the ground that will reemerge in the location of the nearest character, slamming down over the surrounding area and dealing Physical DMG on hit. This attack is easily dodged as the AoE markers appear on the ground before the attack can hit. |
| Triple Slam | Taking the center of the Arena, the Guardian will frantically jump up and slam down, causing ghostly, spiky orbs to appear and wildly flail around in all directions. If a character gets hit by an orb, they will take Physical DMG. |
| Tail Sweep | Performs a "back and forth" sweep with its tail for a total of two hits, dealing Physical DMG. This attack only occurs when the character is behind the Guardian. |
Phase Two
During the second phase, the Guardian will leave the Arena and the Fire Seed (Heart of Oasis) will drop from the ceiling into the middle of the ground. The purification process will begin, which will attract many corrupted, smaller foes you will need to deal with in waves to clear this part of the challenge.
According to the Ley Line Disorder, purification will increase as the waves of monsters are cleared, and it will decrease when the Heart of Oasis is attacked.
There are six different types of enemies, also known as Proliferating Organisms. They will spawn at random, and each one has a specific function. Their attacks are as follows:
Proliferating Organism

Move and Function

Preliminary Proliferating Organism

Deals a melee strike to inflict physical DMG and slow down the purification process.

Launches a small orb to deal Dendro DMG and slow down the purification process.

Protective Proliferating Organism

Generates a Dendro shield that will grant all nearby organisms DMG immunity. The shield refreshes every 0.5 seconds until the organism is defeated.

Pernicious Proliferating Organism

Quickly rolls to the Heart of Oasis and explodes, significantly slowing the purification process. However, if it is defeated before then, it will regenerate energy for party members.

Predatory Proliferating Organism

Consumes nearby Preliminary Proliferating Organisms to enter an enhanced state in which it can quickly chase after a character while biting up to eight times.

Provender Proliferating Organism

Buffs up to three nearby Preliminary Proliferating Organisms, increasing its DMG and interruption resistance. Defeat the buffed Preliminary Proliferating Organisms to lower its HP.

Perch Proliferating Organism

Spawns barriers around the character to limit mobility. It doesn't deal any DMG.
Phase Three
Clearing phase two will cause the Guardian of Apep's Oasis to reappear, this time at full strength as it has been "revived." Its appearance will be different; it will look less scorched and corrupted. Most of its attacks will also be different from its phase one attacks. The moves it can perform are as follows:
| Move | Description |
| --- | --- |
| Emerging Strike | This is the first attack it will perform. As soon as it reappears, the Guardian submerges into the ground and swims over to the nearest character to launch out from underneath them. It will immediately perform a massive swipe with both of its front limbs, causing Physical DMG. |
| Triple Airstrike | Marks an area in the ground and summons forth Dendro energy to strike in that spot three consecutive times. This attack causes Dendro DMG. |
| Helix Shower | Spawns a lot of double helix-shaped projectiles and fires them at the character, dealing Dendro DMG on hit. |
| Double Swipe | This is a close range attack. The Guardian will swipe its body twice, dealing Physical DMG on hit. |
| Aftershocks of the Apocalypse | In the center of the arena, the Guardian will jump up and down in rapid succession, creating an area around it to be affected by Dendro. This area will cause Dendro DoT. The guardian will also mark three spots and form three Shields of Revival's Hymn. When a character gets inside, they can avoid a fatal attack from the Aftershocks of the Apocalypse. |
All Challenge Rewards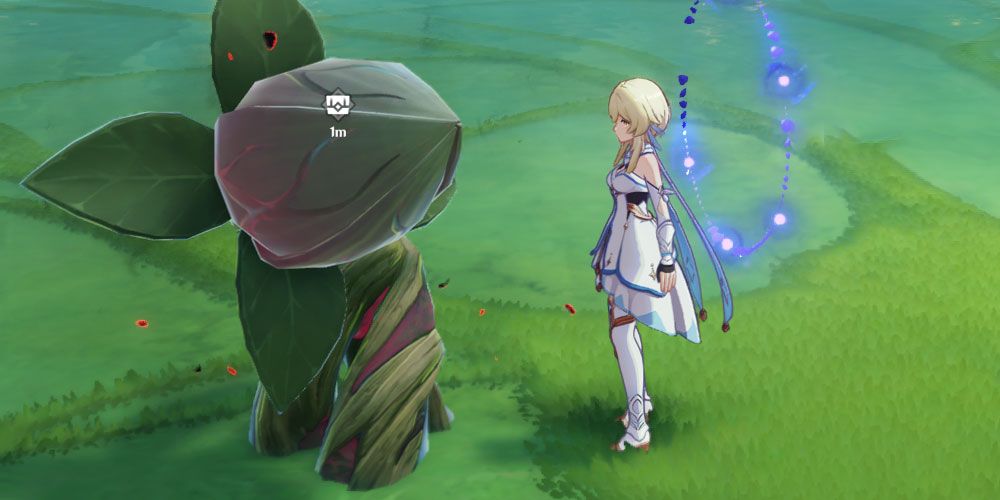 Trounce Domains have a cost of 30 Original Resin to claim rewards for the first three times you complete challenges. The regular cost is 60 Original Resin otherwise.
It is only possible to claim rewards once a week per domain. Any subsequent challenges will not allow you to claim rewards from the Ley Line Blossom.
Completing challenges will give you a chance to obtain some of the following rewards:
World­span Fern
Primordial Greenbloom
Everamber
Nagadus Emerald Sliver
Nagadus Emerald Fragment
Nagadus Emerald Chunk
Nagadus Emerald Gemstone
Berserker Artifacts
Instructor Artifacts
The Exile Artifacts
Gladiator's Finale Artifacts
Wanderer's Troupe Artifacts
Dream Solvent
Midlander Weapon Billet (all types)
Challenge rewards will be dependent on the challenge level; the higher the level, the higher the potential to claim better rewards. These rewards are also random.