Quick Links
How To Unlock The Ranch In Tales Of Arise
How To Farm In Tales Of Arise: Beyond The Dawn
Tales of Arise: Beyond the Dawn's vast, dense world of Dahna is jam-packed with things to do and see, with managing a Ranch being among them. While this feature isn't a necessary thing to do, it proves valuable over time. It will help you drastically with Recipes you otherwise would have an excruciating time finding supplies for when simply exploring.
RELATED: Tales Of Arise: Beyond The Dawn – Every Boost Ability
While the Ranch system only has you raising Livestock for meat, you will unlock many different animals and enhancements to your Ranch that reward you with rarer meats for the more unique recipes that typically come with the best stat buffs and bonuses. Ultimately, the Ranch may be a Sub-Activity, but it feels mandatory in the grand scheme of things.
Updated November 12, 2023, by Seth Parmer: With the features of the Ranch being accessible early in the Beyond the Dawn expansion of Tales of Arise, we have decided to update this list and bring much-needed changes to it, making tables cleaner, adding which Recipes the meat harvested from the Livestock can used in, how to access it in the DLC, and much more!
How To Unlock The Ranch In Tales Of Arise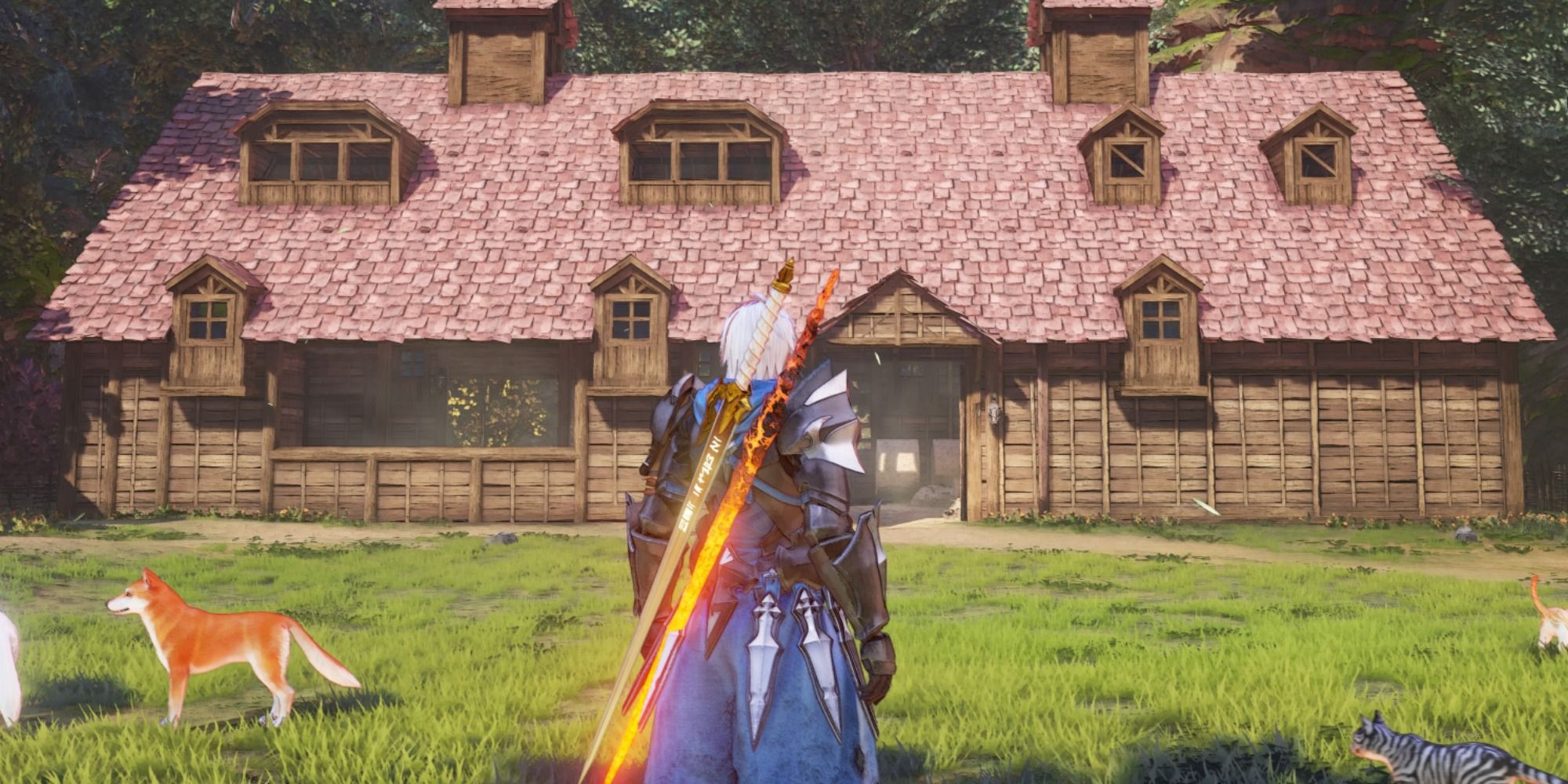 After the Cyslodia chapter of Tales of Arise, you will be on your way to Viscint, the capital city of the "land of green," Elde Menancia. However, on your way to Viscint, you must pass through the Traslida Highway, home to many plantation workers and animals.
On your way through the Traslida Highway, you will find an old man who collapsed on the street. Using Shionne's Healing Artes, you have the option to patch the old-timer up, which he repays the favor by telling you about his Ranch, allowing you to use it if you wish.
Additionally, you will also receive 800 Gald and 110 Skill Points for helping him out. From there, the Ranch is accessible at the bottom right exit of your map, just before the path that leads you to Viscint.
Pharia Ranch Guide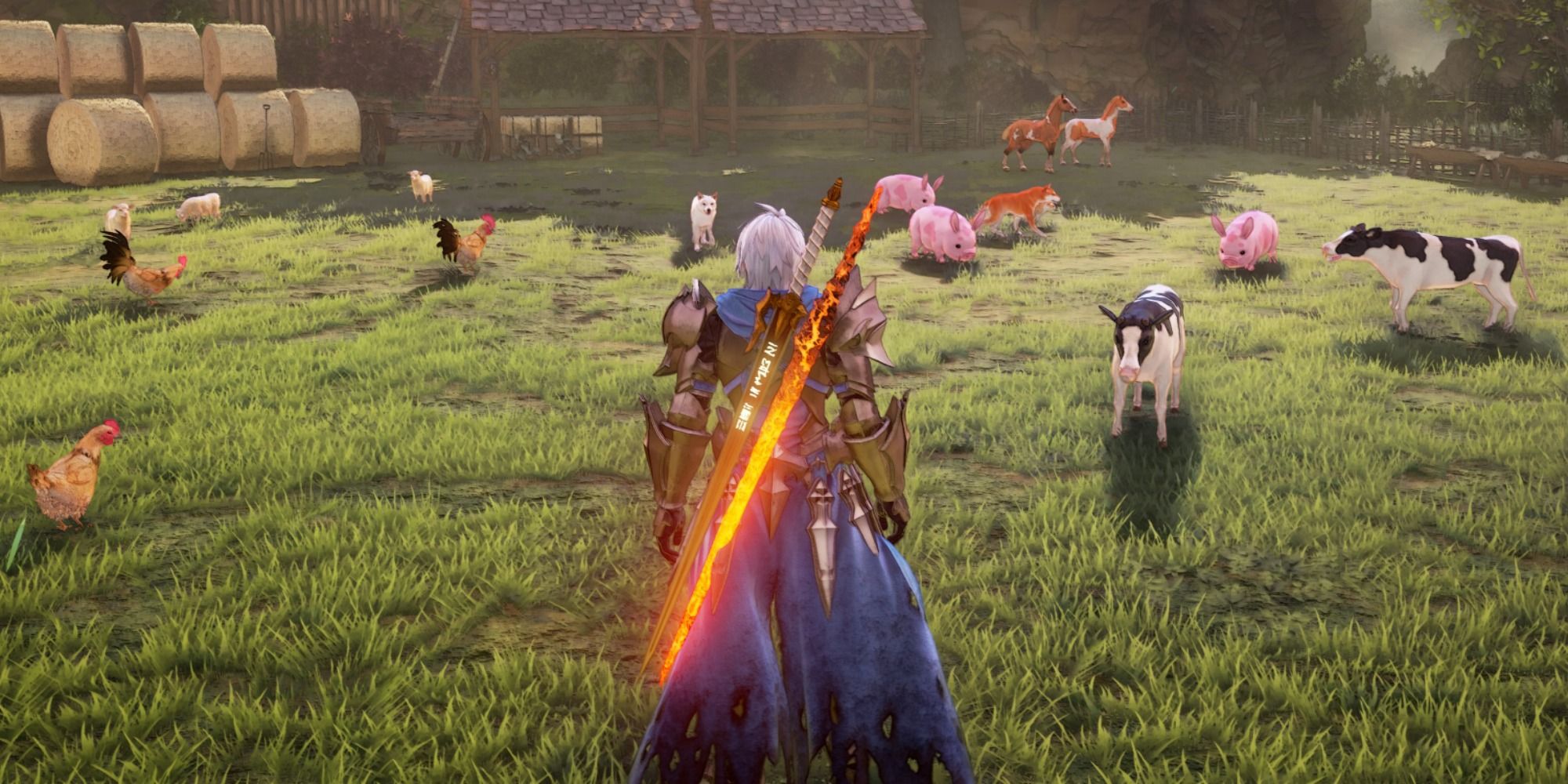 After making your way to Pharia Ranch, you can finally start raising Livestock for cooking ingredients. To begin the process, talk to Bogdel (the old man you revived in the previous step) and follow the small tutorial prompt that appears.
However, many systems are at play when raising your Livestock that will directly affect the number of ingredients you get back and the time it takes you to raise it.
Potential threats can also prevent your Livestock from reaching maximum maturity. Below are the steps and information on how to run the Ranch successfully!
Number Of Livestock
When starting with the Ranch, you will be limited to three Barn Slots to raise animals and only have access to Pigs, Cows, and Chickens.
However, if you keep using the Ranch and steadily harvest resources, you will eventually unlock four and max out at five slots total. There are also six different animals for you to raise, but we will touch on that a bit later.
Guarding Your Livestock
When raising your Livestock, you may encounter invasive animals such as mice that will impede the growth of your animals, leaving you with far fewer resources harvested when the process is complete. However, there are ways to prevent mice and Zeugels from attacking your animals that should be looked into and executed whenever the inevitable presents itself.
When guarding your Livestock, you can set up to four guard dogs or cats to help protect your animals from getting attacked by stray Zeugals or mice. Dogs are great for chasing away Zeugals, while cats hunt away mice that make their way into the Ranch.
However, some situations may call for you to intervene and chase them off yourself. In general, your Livestock should be fine with the default two dogs, two cat setup, but if you notice a high attack from mice or Zeugals, you may want to place three of the counter animals on guard duty instead.
Livestock And Their Harvest
As mentioned earlier, you will eventually gain access to six different animals to raise and gather unique harvests from for cooking recipes. The number of each ingredient collected is determined by the Livestock's health and growth, which depends on the step above, so make sure you take the precautions necessary to protect them.
Below is the list of each Livestock and their harvest. While you only gather the Livestock's meat, some are nearly impossible to find when exploring the world of Dahna (like Horse Meat and Rappig Meat, for example). Meat is required for a large portion of the Recipes found in the game, and using the Ranch to its full potential allows you to obtain it quickly and efficiently!
Livestock

Harvest

Recipes

Pigs

Pork

Pork Bun
Wiener
Mabo Curry Bun
Eastern Rice

Cows

Beef

Chicken

Chicken

Roasted Chicken
Sandwich
Murus Flegit Porridge

Horses

Horse Meat

Sheep

Sheep Meat

Rappig

Rappig Meat

Grilled Rappig
Mabo Curry
Dohalim Pancakes
Social Mabo Curry
Feeding Your Livestock
After selecting your Livestock and assigning them to their Barn Slot, the next step will be selecting their Feed. While nothing is essential to note here, this primarily involves the time frame needed to wait until your animals mature fully. Below is the list of every Feed type, its price, and their respective time buffs.
Feed Name

Feed Price

Feed Time

Standard Feed

0 Gald

Slowest Maturity Time.

---

Not recommended.

Fattening Feed

300 Gald

Second slowest Maturity Time.

---

Recommended for large Livestock (Pigs, Rappigs, and Cows).

Speedy Feed

300 Gald

Second fastest Maturity Time.

---

Recommended for all Livestock.

Miracle Feed

600 Gald

Fastest Maturity time.

---

Recommended for all Livestock.
Rewards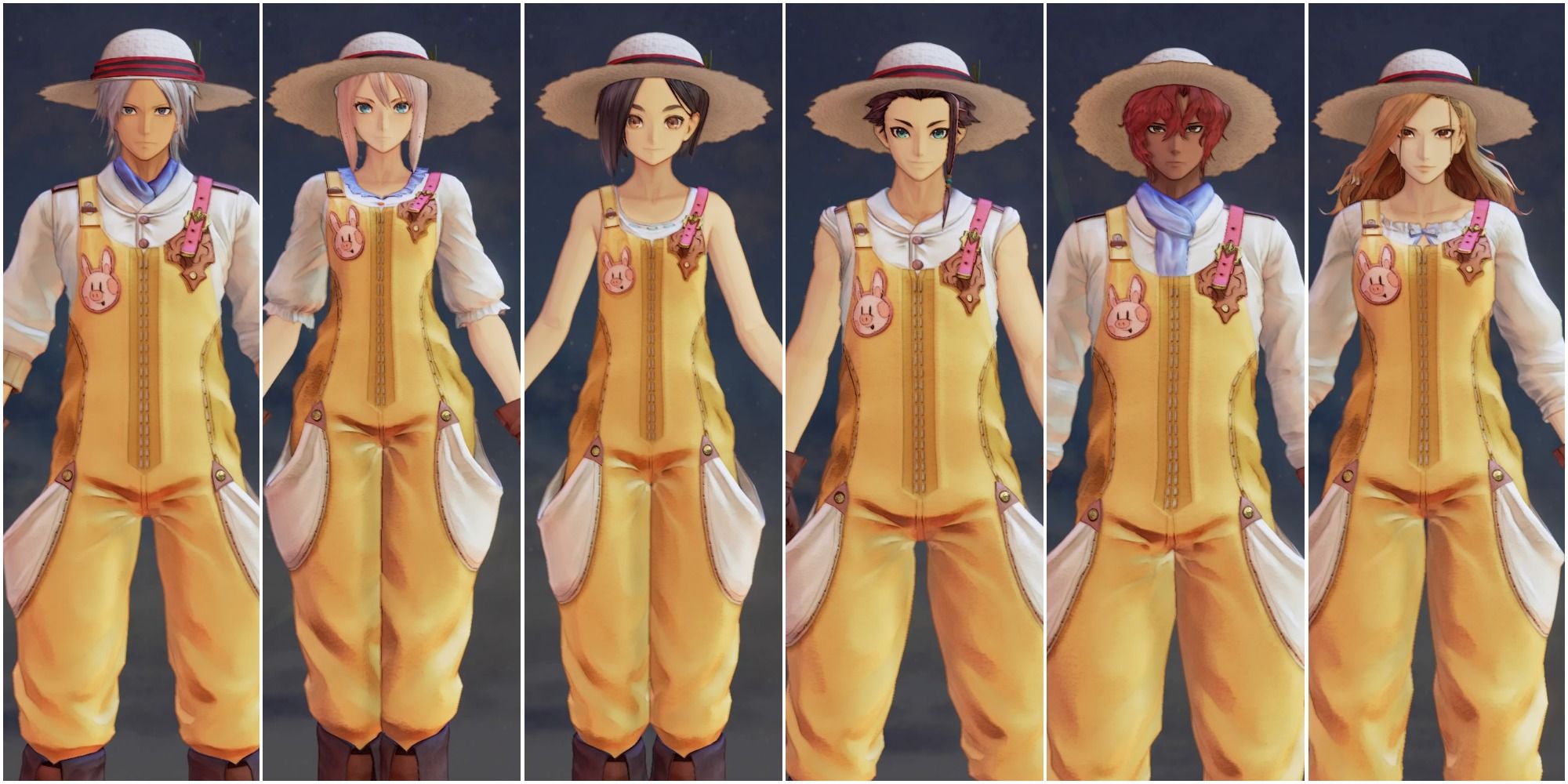 After you gather enough ingredients and use the Ranch for a while, you will unlock various rewards, such as new Titles in the Skill Panel and outfits for your entire Party. While the costumes are nothing more than cosmetics, the Titles are enormous, offering new perks and abilities that help aid Law in battle.
Below is a list of everything you can earn from using the Ranch often. Aside from obtaining rare meat and a consistent flow of ingredients, the Ranch also rewards you in other meaningful ways when you least expect it.
Unlocking The Outfits
After you gain access to the Ranch and raise a few livestock, you will be able to take on the Sub-Quest "The Stud from the Plains," which entails picking up a work uniform from a woman in Viscint and delivering it to Bogdel at the Ranch. After you do that, Bogdel will inform you that one of his bulls got loose, and you must find and return it safely.
The bull is straight ahead from the exit of Pharia Ranch, surrounded by Zeugles. After defeating the Zeugles, you will head back to Bogdel and claim your reward. Bogdel will give you 2,300 Gald, 160 Skill Points, and a Farmer Outfit for each Party Member.
Law's Titles
As mentioned briefly before, Law receives two Titles from participating in the Ranch Sub-Quests, which help him out greatly in combat. Below are the Titles, their Completion Bonuses, Skills, and how to obtain them!
Caretaker
Title/Skill Name

Description

Caretaker

---

Title

Obtained by completing Pharia Ranch Sub-Quest (unlocking the Ranch).

Counter Edge Upon Enemy Defeat

---

Skill

Allows Law to activate Counter Edge by using a basic attack after defeating an enemy.

Awakening Battle Chain Bonus

---

Skill

When in an Awakened State, Battle Points earned in combat are increased.

Faster AG Recovery

---

Skill

Speeds up Law's AG recovery rate in battle.

Mid-Air Evasion

---

Skill

Allows Law to dodge once when in mid-air.

Increased Boost Gauge from Enemy Downs

---

Skill

Law's Boost Gauge rate increases when he downs an enemy with a Boost Attack that matches their trait.

Caretaker

---

Completion Bonus

Increases Law's Defense by 10. (Unlocked after obtaining all five Skills in the Title)
Friend To The Animals
Title/Skill Name

Description

Friend to the Animals

---

Title

Obtained by unlocking five Barn Slots and six Livestock. (Using the Ranch frequently)

AG Restored By Perfect Evading/Guarding

---

Skill

Law restores his AG by executing perfect guards or perfect evasions.

Increased BG at Battle Start

---

Skill

Law's Boost Gauge is increased when he enters combat encounters.

Increased Near-Death Defense/Elemental Defense

---

Skill

When Law is near death, his Defense and Elemental Defense increase.

AG Restored Upon Enemy Defeat

---

Skill

Whenever Law defeats an enemy, his AG gets restored.

Awakening Battle Chain Bonus

---

Skill

When in an Awakened State, Battle Points earned in combat are increased.

Friend to the Animals

---

Completion Bonus

Increases Law's Defense by 50. (Unlocked after obtaining all five Skills in the Title)
How To Farm In Tales Of Arise: Beyond The Dawn
Upon starting the Beyond the Dawn expansion in Tales of Arise, the Ranch will be inactive until you gain access to your first Bonfire during the 'Warmth' quest. After gathering the needed ingredients, Alphen and the rest of the Party will make a campfire at Adan Lake.
After this, you will see a Trader near the Campfire. Speak to them to open the 'General Store' menu. From here, navigate down to the 'Manage Ranch' option. Select it to open the Livestock Menu, enabling you to manage your Livestock.
Here, you can choose which animals to raise (send to the barn) and how to guard them (cats and dogs), and you can even claim the ingredients gathered from them once they have reached full maturity!
How To Visit The Ranch In Tales Of Arise: Beyond The Dawn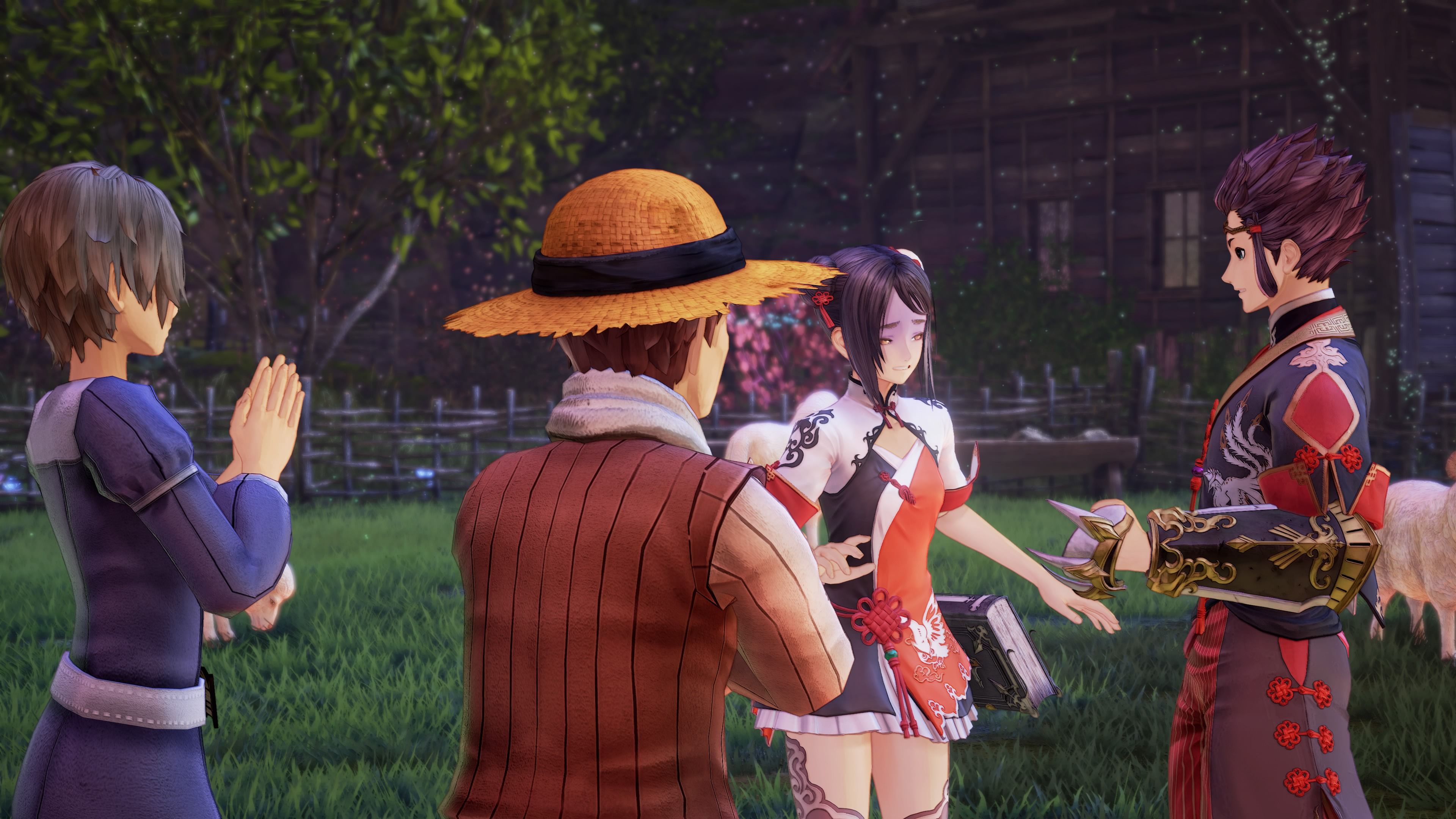 While you will be able to use the features and resources of the Ranch very early in your journey in the new expansion, physically visiting the Ranch won't come until a bit later during the 'Budding' quest.
Once here, you can pick up new Sub-Quests centered around the Ranch, but you will unfortunately be unable to earn new Titles or Outfits this time around. But you can still chase rats and mice away from your precious Livestock!
NEXT: Tales Of Arise: Beyond The Dawn – Venoflage Boss Guide