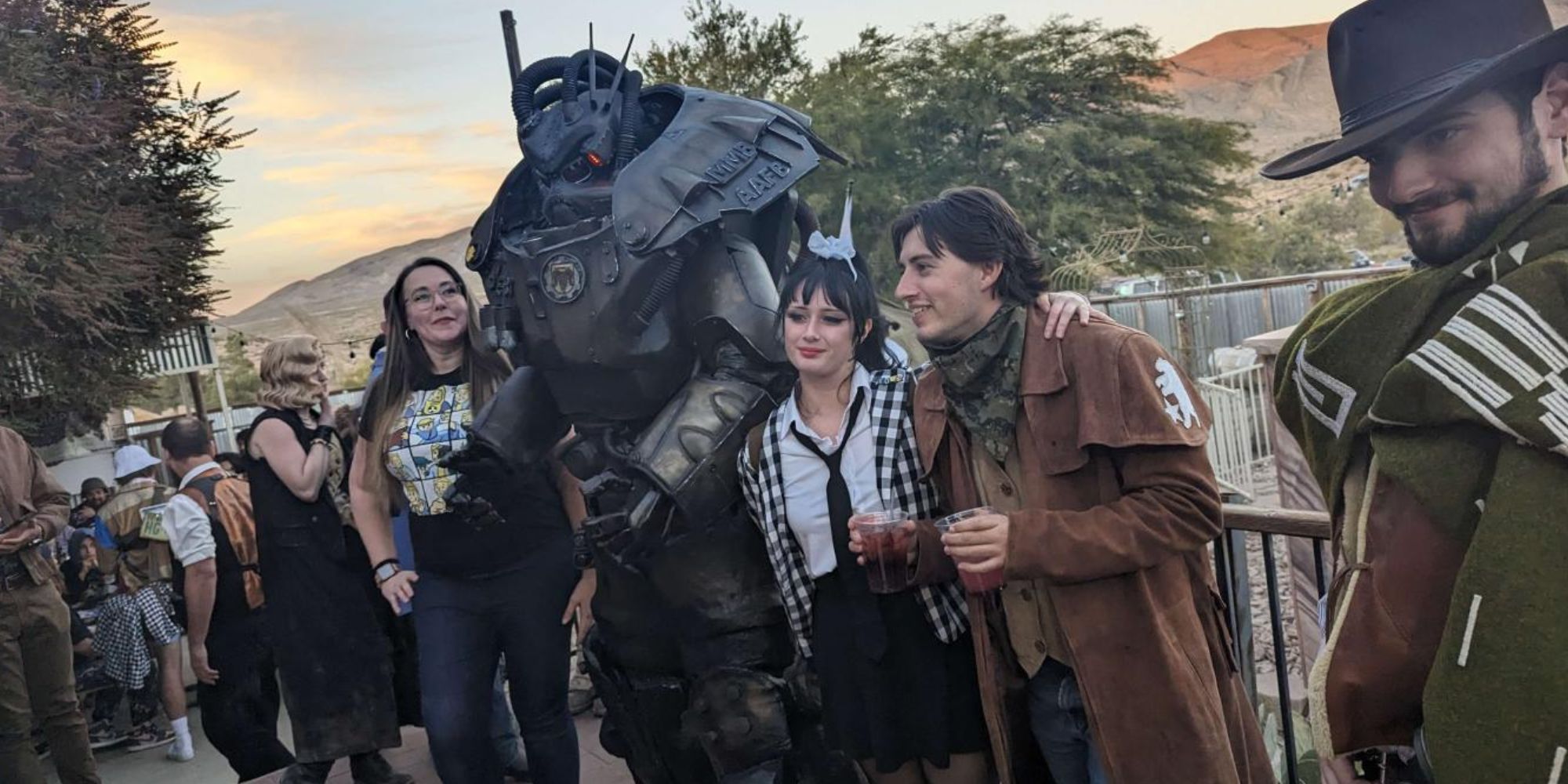 Fallout fans have flocked to the real-life Goodsprings, Nevada, to mark this year's Fallout: New Vegas Day. Amassing in the town where The Courier wakes up after taking a bullet to the brain, the small town is currently full of fans in gorgeous cosplay, as they all mark the thirteenth birthday of the fan-favourite instalment.
Much of the event centres around the Pioneer Saloon – a landmark that any fan of the game is sure to recognise. In real life, it's much more animated, with the Saloon hosting a whooping 36-hour party to celebrate everything New Vegas. The party is still going on at the time of writing, and it's not set to die down until 9pm tonight.
Obsidian itself is in attendance, sharing snaps of some of the cosplayers showing off their creations at the event. There's no shortage of niche references here, as fans cosplay everyone from iconic radio host Tabitha to Craig Boone (perched on a dinosaur and about to snipe Jeannie May Crawford, of course).
It looks like the event was huge on both days, bringing a bunch of fans into the Pioneer Saloon and the neighbouring General Store. Cosplayers can be seen everywhere, and it wasn't just the human fans getting in on the fun, with someone's pup going as the best boy in the whole desert, Rex.
Fans are also paying their respects to actor Matthew Perry, who passed away on October 28, 2023. Perry gave an unforgettable performance as the smooth-talking villain, Benny, in New Vegas, and was a huge gamer himself. Before his New Vegas gig, he was a big Fallout 3 fan too, so he's always had a special place in the fanbase.
This is the second Fallout: New Vegas celebration held in Goodsprings, so with any luck, it will continue to be an annual event. It's the starting place on everyone's New Vegas tour of Nevada, of course, so it makes sense to get everyone together for a weekend once a year.
Who knows? Maybe by the next year, we'll have some news on future instalments in the Fallout series. We'll almost definitely have the TV show to watch by then, anyway, so it would be a good time for news on another game, even the leaked Fallout 3 remaster.
Next: Boss Battles Help Dungeons & Dragons Come To Life