In My Time At Sandrock, you'll be spending much of your time befriending the people of Sandrock and working together with them to help improve Sandrock itself. Friends help friends, and you'll be doing a lot of friendly helping through handling commissions for people.
RELATED: My Time At Sandrock: How To Craft And Upgrade Tools
Everyone in Sandrock can post commissions to be solved, such as asking for materials, food, and even machines, and it's all done using the city's Request Board. In this guide, we'll cover where to find the Request Board, what sort of commissions you can take, and how you can even request your own to the Civil Corps.
What Is The Request Board?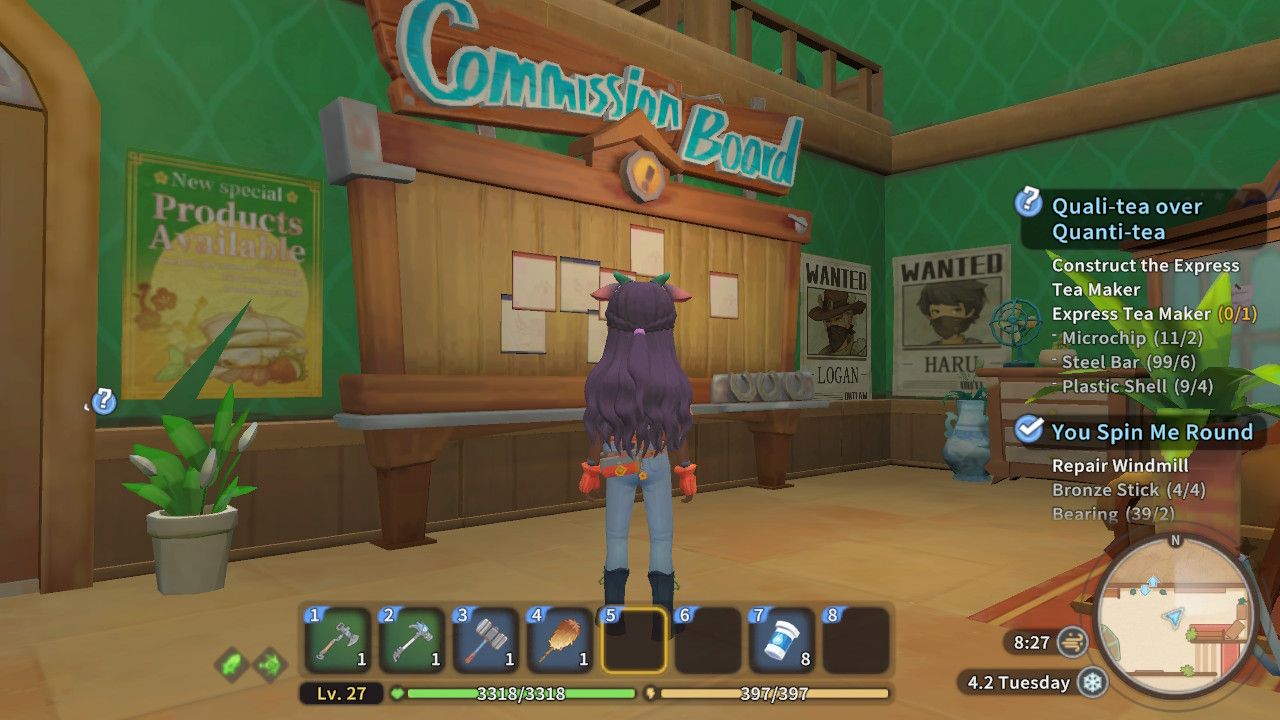 Similar to My Time at Portia, a major source of Gols comes from completing commissions for the city and townspeople of Sandrock.
Commissions are special requests from townspeople separate from side and story missions. Townspeople will request several of a specific item, such as Bronze Plates or Copper Bars, and you'll need to fulfill their request within a time limit.
The Request Board is located on the left wall inside the Commerce Guild, and each day, new commissions are posted on it.
The amount of commissions available also changes each day, along with the person posting them, their reward, their time limit, what item they'll be requesting, and how many they ask for.
Initially, you can only accept one commission a day, but as you increase your Workshop Reputation level, you'll unlock the ability to do more commissions a day.
What Types Of Commissions Are Available?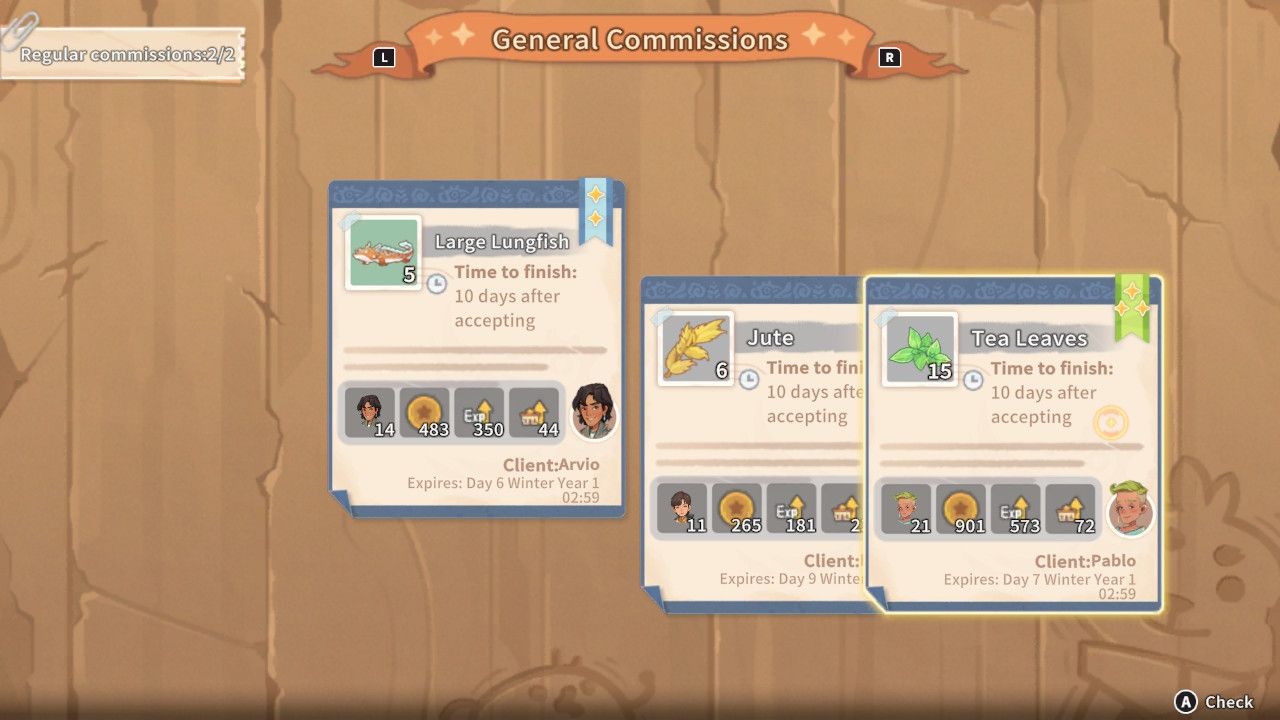 There are four types of commissions you'll come across: Building Commissions, General Commissions, Story Mission Commissions, and Free City Commissions.
Building Commissions
Building Commissions are the first type available to you, and are unlocked after you complete the tutorial missions and move into your workshop.
These commissions will have you crafting processed materials such as Bronze Bars, Copper Wire, or weaponry and deliver them to the person requesting the commission.
Sometimes, these commissions may request machines such as the Tailoring Machine.
These commissions reward you with Gols, Workshop Reputation, Relationship Points with the person who requested the item, and Experience Points.
Machine-building commissions also reward you with a small amount of Commerce Badges, which can be spent at the Commerce Guild Store inside the Commerce Guild.
General Commissions
General Commissions become available after reaching Workshop Level Two, and these commissions will have you either growing, processing, or acquiring various types of food and cooking ingredients.
Characters may request cooking ingredients such as Tea Leaves or processed foods like Salted Sandfish.
General Commissions also reward you with Gols, Relationship Points with the person who requested the commission, Workshop Reputation, and Experience Points.
Story Mission Commissions
Story Mission Commissions are special commissions that become available during certain story missions such as In Trusses We Trust.
These commissions do not count towards your daily limit and will be requested by characters involved in the story mission, such as Heidi during In Trusses We Trust or Zeke during Moisture Farm Blues.
Like Regular Commissions, these request processed or crafted materials specifically relating to the story mission at hand and ask for many of the same items as well, such as Marble Bricks.
Story Mission Commissions reward you with Gols, Workshop Reputation, Relationship Points, and Experience Points but generally offer more Gols and Workshop Reputation than normal commissions.
Free City Commissions
Free City Commissions are another type of special commission and are only requested by Yan.
These commissions only request machines and items built on an Assembly Table and can ask for story-related items, such as Suspended Tram Carts, if you've finished their related story mission.
Free City Commissions offer an increased amount of Gols, Workshop Reputation, Experience Points, and Commerce Badges, but they only offer relationship points with Yan.
What Is The Civil Corps' Request Board?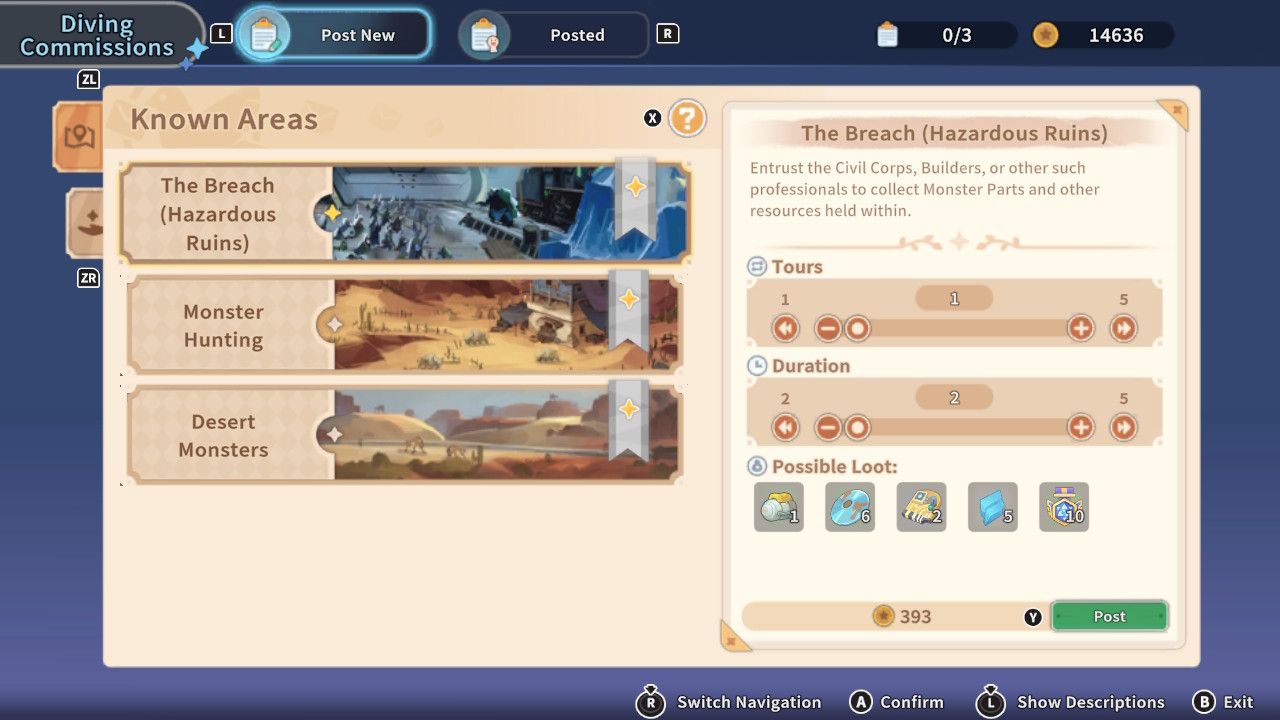 After progressing through several story missions, you'll unlock the ability to post your own commissions, and the Civil Corps will complete them.
The Civil Corps' Request Board is located inside the Civil Corps headquarters on the western side of town, and you can post two types of commissions with them: Ruins Diving Commissions or Item Request Commissions.
Ruins Diving Commissions send them to a specific location or specific ruin, and they'll bring back a variety of items depending on the location chosen.
Item Request Commissions allow you to specifically request that the Civil Corps find material for you, such as Raw Animal Skin, Coarse Leather, or Fine Hair.
Each commission type can be customized in two ways.
Increasing the amount of tours done will increase the amount of items they find and increase the cost in Gols while increasing the duration of the commission will lower the cost.
Finding new locations, exploring new ruins, and defeating new monsters will expand the number of items and places the Civil Corps can go for a commission.
NEXT: My Time At Sandrock: Unsuur Romance Guide